Everyone knows that Italy is THE place to go for a romantic vacation. Everything about this country makes it the idyllic place to visit for honeymoons, anniversaries, or just an escape from it all.
While some destinations in Italy may be obvious, there are other places to consider while planning your trip. If you have the time, it's even better to travel around the country visiting a few of these incredible places and experience the best of each town!
Visiting Italy for the first time? Check out these Italy travel tips and things to know before going to Italy!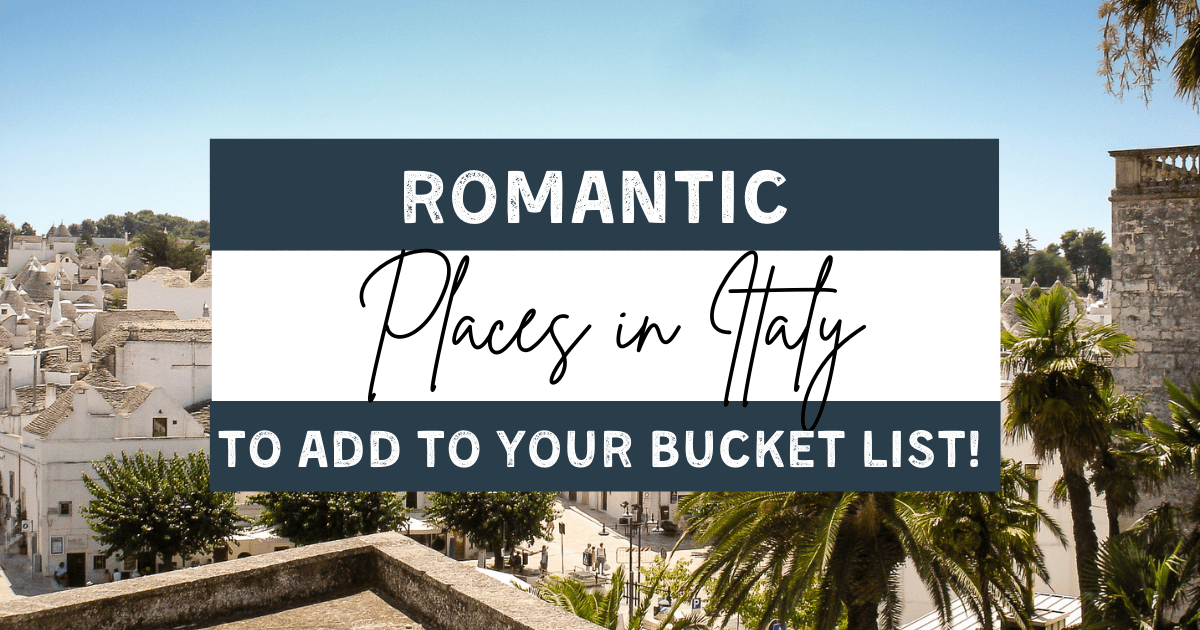 This post contains affiliate links which means I earn a small compensation when you click or purchase through one of my links at no additional cost to you! Feel free to read my disclosure policy. Thank you for supporting my blog!
Plan your next vacation using these tools!

✈️ Book flights: SkyScanner
🏨 Book hotels: Booking.com
🚘Book car rentals: RentalCars.com
🎫Book tours: GetYourGuide
🍽️Local food experiences: EatWith
🌍Favourite travel item: Packing cubes
🧳Favourite travel bag: Osprey 40L Fairview
📱 ESims: Airalo
🩹 DIY Travel Medical Kit
💸 20 Cheap Travel Items Under $20
The Dolomites
Recommended by Veggie Wayfarer
There are few places in the world that are as quintessentially romantic as Italy. Many travellers immediately think of Amalfi, Sicily or even Rome and overlook the beautiful dolomites in the North of Italy. The Dolomites are known for skiing in the winter and hiking in the summer but did you know you can partake in some very romantic activities on the lakes nestled in the Dolomites? Think romantic boat rides on the water, or set up a picnic with views over emerald green waters and towering mountains? Bet that peaked your interest!
So where is the magic at? Well, that depends on what kind of magic you are looking for. Lago di Sorapis is known for its turquoise waters surrounded by snow-capped mountains. You will need to hike 14 km up to get to the lake though. If hiking is not in the books for you, try going to Lago di Braies and rent a boat for an hour (€19 per hour). Be sure to get there early as this is one of the most popular lakes in the region.
However, the undisputed most romantic place is the fairytale lake of Lago Di Carrezza! With crystal clear waters in 50 shades of green and blue, reflections of the Latemar mountain and an easy little hiking trail around the lake it is a winner on all fronts. Additionally, the lake has a big parking spot opposite the entrance which costs 1€ an hour and has a few food stands dotted around in case you get hungry.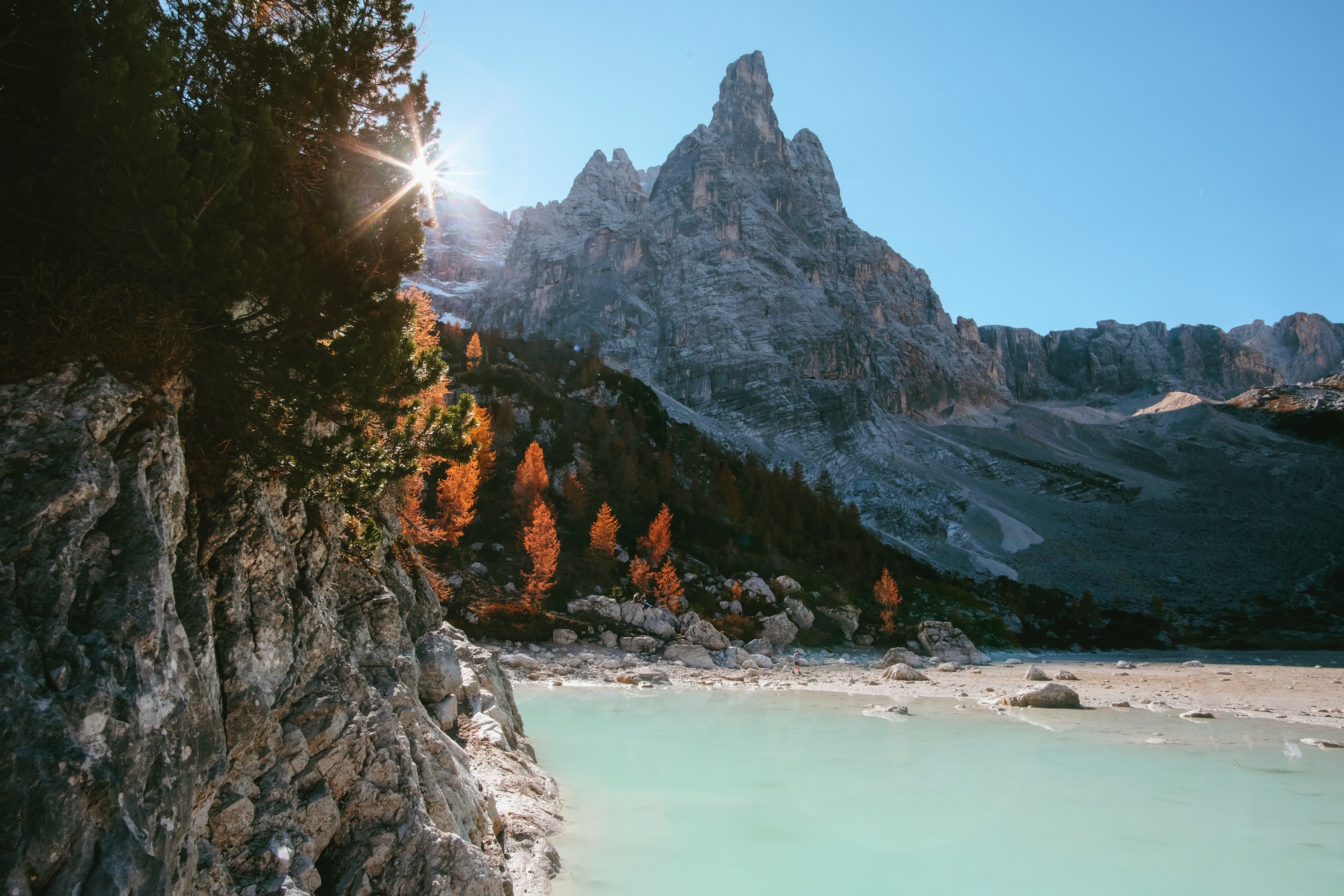 Bosa, Sardinia
Bosa, Sardinia Lotte of Gezond Weekmenu About 45 kilometers below Alghero, at the mouth of the river Temo, you can find the pretty village of Bosa. Bosa is a very romantic destination, you can spend hours wandering its charming streets. Or grab an espresso in one of the cute cafes and watch the old Italian men bicker about politics whilst sitting on a bench.
Overlooking Bosa is the Serravalle Castle, also known as the Castello dei Malaspina. The castle was built in the 12th century and well-preserved. Serravalle Castle is located on an 80-meter-high hill and can be reached via a steep staircase. The view from the Castle is worth the climb though, as you can overlook Bosa village as well as the beautiful bay and sparkling ocean.
Because of its multicolored houses Bosa is actually known as one of Italy's most picturesque villages. Wandering through the labyrinth like streets you'll come across houses in every color of the rainbow. If you like swimming: there is a nice beach at Bosa Marina. And if you like olive oil, you are in luck as Bosa is renowned for the exquisite quality of its olive oil. Be sure to stock up in one of the little shops in the old town. A romantic place to stay is the Palazzo Pischedda. This boutique hotel offers a lovely view over the Temo River. Tip: ask for a room with a whirlpool!
Positano
Positano is one of those places that looks like it's plucked right from a fairy tale. Even the cab drivers will tell you it's the most romantic place to visit in Italy. From scenic views, boutique accommodations, and incredible restaurants, Positano, along the Amalfi Coast, is a must-visit for anyone looking for a romantic vacation or to celebrate a honeymoon or anniversary.
Whether you're browsing shops, strolling about town enjoying gelato, lounging on the beach, or enjoying one of many restaurants and bars with jaw-dropping views, you'll never want to leave this beautiful town.
Must-have experiences include dining at La Tagliata, above Positano, for farm-to-table cuisine overlooking the coast. There is free transportation to and from the restaurant, and will be one of your most memorable experiences. Be sure to visit Franco's Bar for a drink before dinner and watch the sunset over the town. For a relaxed meal with romantic vibes, dine at Hotel Palazzo Murat and be whisked off your feet with the service and cuisine!
There are numerous rental properties to stay at (and better bang for your buck!) or a few boutique hotels. There is no such thing as a bad view in Positano, but you may want to check where it is on a map, since there are a lot of stairs! Rent your own place and meander through the markets and bakeries to grab items for breakfast in bed!
You'll be swept away into paradise in Positano – be sure to add it to your list!
Planning a destination wedding in Italy? Check out these 10 best wedding locations!
Taormina
The beautiful island of Sicily is, overall, an incredibly romantic place to visit. The island seductively draws you in through its history, secrecy and luscious scenery, and this is particularly true of the quaint little town of Taormina.
Situated on a high hill overlooking the Ionian Sea on the eastern side of Sicily, Taormina is renowned for its beauty, heritage and the spectacular view of Mt Etna – the most active volcano in Europe. The streets of Taormina are straight out of a story book, with cobbled old streets lined with local shops selling a variety of quirky goods and hidden restaurants serving much-loved Italian cuisine.
For a romantic evening, stroll through the well-kept Public Gardens of Taormina. Not only is it a quiet and secluded place that offers some of the best views of Etna in town, but it also has a scandalous history of its own. The accompanying villa to the Gardens was initially settled by Lady Florence Trevelyan, a Scottish noblewoman who left her home country after a secret affair with the heir to the throne of England, Edward VII!
Padua
Recommended by Average Lives
Padua is one of the most romantic places to visit in Italy. You feel like you are wandering through authentic Italy, like something out of a movie. In Padua, you will be able to stroll hand in hand through the delightful piazzas, admire the frescoes and history. All of the best things to do are accessible on foot, so you can stroll from attraction to attraction and take in what the city has to offer.
Some places make you fall in love, and Padua is one of them. Relax in Prato Della Valle, which is a piazza full of 78 statues that surround the canal. Also, there is the option to take a romantic walk along with the Riviera San Benedetto or admire the Scrovegni Chapel, where you can see a famous kiss on the frescoes painted by Giotto. It is one of the most important pieces of Western Art and is a romantic attraction.
To make the most of your dreamy and passionate time in Padua, head to Piazza Capitaniato, find one of the many bars, surrounded by the historic buildings, surround yourself with the beauty of the city and raise a glass (of spritz?) to your love.
San Gimignano
Recommended by PlacesofJuma
One of the most romantic places to visit in Italy is certainly San Gimignano. This enchanting place is located in the hilly Tuscany area and is for many a must see on any roundtrip. San Gimignano is also named as the Medieval Manhattan in Italy: And really, the historical old town with the many high medieval towers creating an imposing scenery. Some of these towers are up to 50 meters high and 14 of the former 72 are still well preserved until today.
Nowhere in Italy can you still find a higher density of these medieval towers. Due to its good preservation, the entire city center of San Gimignano has been placed on the UNESCO World Heritage List.
Really romantic is a walk through the old stone alleys of the historic old town. You'll discover something beautiful at almost every corner and you'll also find countless opportunities for taking lovely photos. Also culinary you will get your money's worth during your vacation, because there are plenty of good restaurants to visit. For dessert you should definitely try the ice cream of Gelateria Dondoli on the main square Piazza della Cisterna. This has already been crowned 2 times as ice cream world champion.
The area around San Gimignano is also wonderfully romantic, with its hilly vineyards and ideal for walks in the countryside. Here you can also find amazing accommodation, the so-called agritourism accommodations. Recommended is the Castello di Fulignano – a beautiful castle with apartments, huge pool and a wonderful panoramic view over the hills of Tuscany.
Alberobello
Recommended by LooknWalk
Located in Apulia (Ita: Puglia), Alberobello is a picturesque destination, high on the bucket list of those looking for romantic places to explore.
The small city has been made a UNESCO World Heritage site because of the distinct and rather strange trulli – whitewashed houses featuring dry-stone walls, without mortar, topped with conical roofs.
Alberobello can easily be visited as a half-day trip from Bari, which can easily be reached by flights from all over Europe as it is served by an airport. Alternatively, you can fly into Rome and take the train or bus to Bari.
From Bari, there are buses and trains available, and the Alberobello train station / bus stop is really close to the main trulli district, Rione Monti. Another district, Aia Picola, is still a residential area and is not visited by tourists much.
The main thing to do here is to explore the small streets and the various trulli lining them up. There's even a trullo church – that can be visited inside. Some trulli have been turned into souvenir shops, others into cafes or restaurants, and you can even sleep in some – just make sure to book well in advance.
Corso Vittorio Emanuele, the street leading from the church to the main trulli area, is gorgeous and offers a lot of photo opportunities. There's nothing more romantic than walking hand in hand, only stopping for a photo and a kiss.
Rome
An obvious choice might be Rome, but until you've visited for the first time, you can't understand how magical and romantic it is! It draws you in with its ancient charm, fantastic food, unbelievable views, history, and character.
Rome is those places everyone should visit once, and if you're looking for an incredibly romantic spot to visit in Italy that's easy to get to, this timeworn city should be on your list!
There are tons of activities to do throughout Rome to spend your days, from touring historic buildings, strolling through markets, gazing at ruins, indulging in some of the best food in the world, meandering through the Borghese Gardens, holding hands while eating gelato in the evenings, or sitting in front of the Pantheon with an Aperol Spritz admiring the views.
There are many hotels nearby, but some of the best places to stay at are Airbnbs or VRBO properties, since they can often get you views unmatched to those of hotels! Unique Home View Trevi Fountain has prime views of the Trevi Fountain, or A Window on Pantheon is right next to one of the most beautiful buildings in Rome.
Ferrara
Ferrara is located in the Emilia-Romagna's region, and sits approximately 50 kilometres north-north-east of Bologna. It's easily accessible by car or public transport. Ferrara obtained the recognition of UNESCO World Heritage Site in 1995 and has a unique urbanism, which harmoniously blends the Middle Ages and the Renaissance. The city's history is strongly connected to the Este family, who ruled in Ferrara for centuries.
It's one of those beautiful towns that you can visit on foot, in fact the old town is not very big. Among the romantic things to do is to walk through the ancient medieval streets of the city that enclose art and history, do not miss Via delle Volte.
A suggestive cobble stoned street that has a large number of arches and suspended passages: they were used by city merchants as a passage from warehouses to their residences, is something spectacular!
Walk along the walls and visit the magnificent Este castle, especially at night is illuminated, to conclude divinely with a dinner in a restaurant with an authentic atmosphere, Try the cappellacci of pumpkin that are seasoned with meat sauce or butter and sage or another typical dish is the pasticcio di maccaroni. Recommend the enoteca "Ai Brindisi" the oldest in the world but you have to book in advance.
Venice
Recommended by WorldAdventurists.com
Venice is one of the most romantic cities in the world that completely oozes romance around every corner. Also one of the most picturesque cities in Europe, Venice is a great option to celebrate love. Built in a lagoon on the Adriatic Sea, Venice does not have any roads, just canals and charming streets and alleyways.
Allow yourself to wander and get wonderfully lost through the maze of streets. Walking through a historically preserved city like Venice will charm you. Steal a kiss in mysterious passageways or walk hand-in-hand while you enjoy gelato and admire the well-preserved history.
Arguably the most romantic thing to do in Venice is to take a gondola ride. Though it seems pricey at first, it quickly becomes worth every penny. Floating through the canals and seeing Venice how it was meant to be experienced, as you admire the beauty of the old palaces and local houses, is magical.
The top of the bell tower, or the top of the clock tower, have incredible views of Venice and the lagoon.
A lovely restaurant is Trattoria alla Madonna. It is hidden in a narrow street close to the Grand Canal and the Rialto Bridge. The restaurant feels authentically Italian and serves traditional Venetian cuisine.
Portofino
Recommended by That Travelista
Portofino is a small fishing village, hidden away in a natural harbor along the coast of the Italian Riviera. With the popular cruise ship stop of Genoa to its north and the Instagram-famous Cinque Terre to its south, Portofino often gets overlooked in the typical Italy itinerary. But that is precisely what makes it a spectacularly romantic destination.
With its pastel-colored buildings, cute boutique shops, and yacht-studded harbor, Positano is a place dreams are made of. There are plenty of free activities to do here, too, like making a small hike up to Castello Brown for panoramic views or taking a dip in the refreshing Ligurian waters.
But the most romantic way to experience Portofino would be to spend a night or two at the Belmond Hotel Splendido, though it will set you back a pretty penny. Those looking to enjoy Portofino on a more modest budget can instead stop by for lunch or dinner, in order to still experience the hotel's romantic atmosphere and views over the harbor.
Verona
Recommended by Travel Passionate
Verona is the 'city of love' as it is where Shakespeare based his famous play 'Romeo & Juliet' that tells the story of star-crossed lovers. You can visit Juliet's house in Via Capello and see her 13th century Gothic home with its famous balcony. Outside there is a bronze statue of Juliet which is perfect for Instagram!
Verona is a beautiful city for wandering. There are lovely old stone bridges over the river Adige like Ponte Pietra and the riverside castles of Castel Vecchio and Castel San Pedro. This castle is not open but you can climb the steps or hop on the funicular (€2) to the large balcony at the top that overlooks the river.
There is a maze to lose yourselves in the beautiful gardens at Palazzo Gusti and the main market in Piazza Erbe. Taking a passeggiata- evening stroll- is very romantic and the mini Colosseum in Piazza Bra regularly has operatic performances.
The perfect place for a romantic dinner for two is Laconda di Castelvecchio. This is one of the oldest restaurants, dating from 1831 with antique furniture, a romantic ambience and great Veronese cuisine or climb the Lamberti Tower for romantic aperitifs high above Verona!
Villasimius
Recommended by Strictly Sardinia
Villasimius is a fabulous holiday destination for any kind of travelers – groups of friends, families with children and especially couples are bound to love the stunning beaches with fine sand and incredibly clear waters.
There are many beaches to pick from so you can go to a different one every day. Punta Molentis is protected and only 500 visitors are allowed there, so if you fancy visiting make sure to head there extremely early (be there no later than 8:00 am) or book a sunbed at the local kiosk so as to reserve a spot. It's actually fairly priced!
For incredible, romantic views and if you want to get away from the crowds, hike to the Aragonese tower that overlooks the gorgeous Porto Giunco beach.
Finally, treat yourself to a private boat trip along the coast to admire the incredible beaches and hidden coved. If you are lucky, you may even spot dolphins.
Panzano
Recommended by Groovy Mashed Potatoes
Drive under an hour from Florence into the Tuscan hills and you will find the romantic village of Panzano. Located in the Chianti wine region, this quaint town is surrounded by wineries and filled with cozy Italian restaurants. It's worth adding to your Italy itinerary for some downtime from the bustling cities.
Where to stay
For an authentic Italian experience, stay with your loved one at Podere Felceto, a family-owned olive oil farm overlooking the Tuscan countryside. The tranquil farmhouse has an outdoor pool you can unwind at. Grab a bottle of Chianti Classico wine and two wine glasses from your room and relax poolside.
Where to eat
For a romantic evening, eat at Ristorante Oltre Il Giardino, an intimate restaurant with excellent pasta and meat dishes. Start your dinner off with a glass of Prosecco, an Italian bubbly.
For your next night, switch it up at a lively restaurant owned by the internationally known butcher, Dario Cecchini. At his restaurant, Officina Della Bistecca, you are invited through the back of his butcher shop and up the stairs to a dining room where you are served five different courses of steak. It's like the Italian version of a Brazillian steakhouse.
For a fun daytime activity book a wine tour and tasting at Castello di Verrazzano.
Florence
Recommended by Faraway Worlds
With its cobblestone streets, river views and Renaissance architecture, Florence is the perfect place for romance. Take your time to discover this beautiful city with your loved one. Wander through the charming streets, spying the distinctive dome of the Duomo through the buildings, and sip on Chianti at a little bar in one of the pretty squares. Stroll along the Arno river in the early evening and see the reflections of the city in the water.
For a particularly romantic trip, consider staying in a palazzo. The old town of Florence is dotted with old palaces, many of which have been turned into apartments or hotels. But no matter where you stay in Florence, you'll find beautiful architecture and interesting landmarks just around the corner. Go to the expansive Boboli Gardens across the river and enjoy a picnic in a shady corner. And find somewhere with a beautiful view for dinner at least once during your stay.
If you can afford it, go to the Michelin-starred restaurant at Villa Bardini for a meal with stunning views. If not, head to the Piazzale Michelangelo with a bottle of wine and enjoy the sunset over the lovely city.
Matera
Recommended by Limitless Secrets
Matera is a stunning city located in the region of Basilicata in the South of Italy. This city is quite special because it's one of the oldest continuously inhabited cities in the world! Actually, people have lived here since the Paleolithic period, in some sort of cave dwellings named "Sassi di Matera". Those Sassi are part of the UNESCO World Heritage Sites since 1993.
Can you imagine wandering in a 10,000 years old place? That's one of the reasons why Matera is one of the most romantic places in Italy!
If you want to get the best views at sunset of this beautiful troglodyte city you can go to one of the two viewpoints: Belvedere di Piazza Giovanni Pascoli or Belvedere Luigi Guerricchio. Another great place to admire the city from above is from Matera's Cathedral as it's located on top of a hill.
If you want to make your trip in Matera unique you should spend the night in a Sassi. You can take a look at the 3-Star hotel Thymus Residence nei Sassi for example. Some of its suites are equipped with Turkish baths or spas. You can also have a romantic dinner in a Sassi like in the restaurant Baccanti.
San Marino
Recommended by The Directionally Challenged Traveler
An amazing romantic city in Italy, is the tiny micro-country (and city) of San Marino – the oldest country in the world. It boasts breathtaking views of the Italian countryside while being home to an impressive castle. Breakaway from the crowds of the cities in Italy, and travel to San Marino.
The best thing to do in San Marino is to explore the towering castle on the peak of Monte Titano. There are three towers looming over the city- dating back to the 11th century! The First Tower, Guaita is the oldest tower built in the 11th century and most famous. The Second Tower, Cesta, is on the highest peak and is home to a museum holding over 1500 weapons dating back to the Medieval Era. The Montale, the third tower, is on the smallest summit and is not open to the public.
There are also plenty of museums to intrigue you. The National Museum dives into the rich history of San Marino, the beautiful Basilica de San Marino is a step back in time, or for travelers who prefer more unusual items – visit the Torture Museum. Have a romantic al fresco dinner at Ristorante II Beccafico that overlooks the countryside while utilizing fresh, local ingredients.
No matter what you decide to see in San Marino, you'll be glad you visited this underrated city in Europe.
Montepulciano
Recommended by The Office Escape Artist
Italy is so wonderfully romantic. The lilting language, the world-renowned wine, the ancient history & architecture, the beautiful cities, and the deliciously decadent food – can you imagine anything more romantic than a destination like this?
Unfortunately, many Italian destinations are filled to the brim with tourists toting selfie-sticks and these cities (and menus, and language) have become less authentic.
These destinations are popular for a reason and are definitely worth visiting. But if you're looking for something really authentic, Montepulciano in Tuscany is the perfect romantic destination for you.
Montepulciano is a quiet hilltop town that hasn't yet been overtaken with tourism. Menus are in Italian first and English by request. The largest crowds are the school children making their way to class in the morning.
Life feels authentically Italian in Montepulciano. It's a great place to escape the grind (and the crowds!) and really savor la dolce vita.
Enjoy croissants and cappuccino or charcuterie and wine on the gorgeous balcony of Caffe Poliziano. The balcony overlooks the rolling Tuscan hills and has a view unlike any restaurant you've dined at before.
And no trip to Montepulciano is complete without visiting (at least!) one of the many wine cellars in the city. Cantina Gattavecchi, Cantina Contucci, and Cantina Crociani are three wonderful options – but Montepulciano offers many more.
In between your wine tours, there's nothing better than meandering the streets with your love and exploring all the nooks and crannies hidden in this cute hilltop town. Montepulciano feels like a well-kept secret, which is what makes it the perfect romantic destination.
Cinque Terre
Recommended by She Wanders Abroad
If you're looking for the most romantic places in Italy, you definitely have to put Cinque Terre on your list! Situated in Italy's Liguria region, Cinque Terre comprises five small fishing villages located right along the coastline: Riomaggiore, Manarola, Vernazza, Corniglia and Monterosso al Mare.
While each village is different and deserves its own spotlight, due to their small size it's entirely possible to visit all of them at once, even if you have only one day in Cinque Terre. The villages are closed to car traffic so you can wander around peacefully, hand in hand with your loved one while admiring the cute colorful houses and the incredible panorama of the Mediterranean Sea.
If you're feeling adventurous, you can hike between the villages but if you would rather not walk that much, you can opt to take the train or the ferry that connects the villages. Monterosso al Mare is the only town where you can find a beautiful white sandy beach so if you want to take a dip in the sea, that's your place.
It's worth spending the evening in Manarola, which is arguably the most popular of the five villages. If you're looking for the best viewpoint of the town, check out Nessun Dorma, where you can sip a glass of wine while taking in the beautiful sunset colors right by the sea.
Related Posts
Pin it for later!