One of my favourite places to visit in Italy is the Amalfi Coast. Similar to Cinque Terre in Italy's north, the Amalfi Coast, along the is dotted with villages of all shapes and sizes.
Located in the southwestern region of Campania, the Amalfi Coast has some unmissable spots to visit, known for its extraordinary beauty and medieval cliffside fishing villages.
Recognized as a UNESCO World Heritage Site, the Amalfi Coast truly has the most unbeatable views in Italy; its rugged cliffs are dotted with beaches, colourful buildings, and fishing boats, with lemon groves and vineyards dispersed through the villages.
Here are nine unmissable places along the Amalfi Coast to help you plan your trip to Italy!
Is this your first trip to Italy?
Here's what to know before going!
This post contains affiliate links which means I earn compensation when you click on the links at absolutely no extra cost to you! Feel free to read my disclosure policy. Thank you for supporting my blog!
Plan your next vacation using these tools!

✈️ Book flights: SkyScanner
🏨 Book hotels: Booking.com
🚘Book car rentals: RentalCars.com
🎫Book tours: GetYourGuide
🍽️Local food experiences: EatWith
🌍Favourite travel item: Packing cubes
🧳Favourite travel bag: Osprey 40L Fairview
📱 ESims: Airalo
🩹 DIY Travel Medical Kit
💸 20 Cheap Travel Items Under $20
Best places to visit on the Amalfi Coast
From seaside fishing villages, jaw-dropping views, the freshest seafood, and ultra-relaxing vibes, here are the best places to stay and play on the Amalfi Coast!
Positano
Positano is an iconic town along the Amalfi Coast that is the epitome of a fairy tale town. It's one of the most well-known places that draws thousands of tourists annually, and is a photographer's dream!
This stunning seaside town is nestled along the coast where buildings of all shapes, sizes, and colour dot the towering rocky cliffs above a dazzling blue Tyrrhenian Sea. It's no wonder Positano is one of the most romantic places in Italy and popular amongst honeymooners!
There are plenty of things to do in Positano as you spend your day browsing through linen and ceramic shops, paintings and jewellery from local artisans, the Church of Santa Maria Assunta, or hanging out and relaxing at a beach club.
Head to Franco's Bar for incredible sunset views and tasty cocktails before heading out to dinner. All of the cafes and restaurants provide fantastic views, so don't worry about finding that picture perfect location.
Some favourites include Caffe Positano, Il Ritrovo, and La Tagliata, settled above Positano in Montepertuso, where everything served is grown or raised on the farm, is all-inclusive, and comes with a free shuttle to and from your hotel or villa!
While Positano is meant for rest and relaxation, it makes a great base location to get to smaller towns along the Amalfi Coast.
There are a number of fantastic places to stay in Positano, whether you're looking for world-class hotels or a self-catered villa. There is no bad location in Positano. In fact, the town is quite walkable, with plenty of beautiful wisteria-lined alleyways and unique cafes and shops to browse through.
If you arrive by ferry and are staying in Positano, keep in mind you will have to carry your suitcases up from the beach, depending on where you are staying. There are quite a bit of stairs, which is a huge reason why Italy is a place to travel with a carry-on backpack!
Maiori
Another amazing spot to visit along the Amalfi Coast is the town of Maiori, which has beautiful beaches, gorgeous scenery, and amazing food, with less crowds and a laid-back atmosphere.
Maiori's top attraction is their beautiful sandy beach. Surprisingly, it is the longest stretch of beach along the entire Amalfi Coast!
This means tourists can relax on the fine black sand from either end of town. There is a free section, as well as private beach clubs with sun loungers and umbrellas for rent. Restaurants, and facilities with restrooms and showers are easily accessible.
Maiori has a flat landscape, which is also a rare find along this stretch of Italian coastline. Visitors stroll along its wide and impressive waterfront promenade that spans the length of the town. It is full of beach front hotels, restaurants, cute cafes, and shops, enough to keep any traveller busy!
This is also what makes Maiori perfect for families travelling with infants or young children. And with less crowds and wider sidewalks, it is the ideal destination for those planning a trip with chronic pain or mobility issues.
Maiori is famous for its lemons, which surround the town in groves, and are used in several local dishes. Kids and adults alike can enjoy granita, an icy, sweet dessert made from lemons, a perfect treat on a hot summer day. And make sure to sample the tasty Limoncello, typically sipped as a digestif.
You can even walk the Sentiero dei Limoni, a scenic path that meanders through the terraced lemon groves. It links the towns of Maiori and Minori, and has amazing views of the rugged cliffs, and towns below! The walk is moderately difficult, takes around 1.5 hours, includes stairs and is often unshaded. Just remember to bring water.
Hotel Sole Splendid makes for a fantastic stay in Maiori. This hotel sits at the beginning of town and offers sweeping panoramic views of the Amalfi Coast and Mediterranean Sea. The rooms are charming, spacious, and include a daily breakfast. There is also a covered rooftop terrace, and a private beach with sun loungers.
Recommended by Two Empty Passports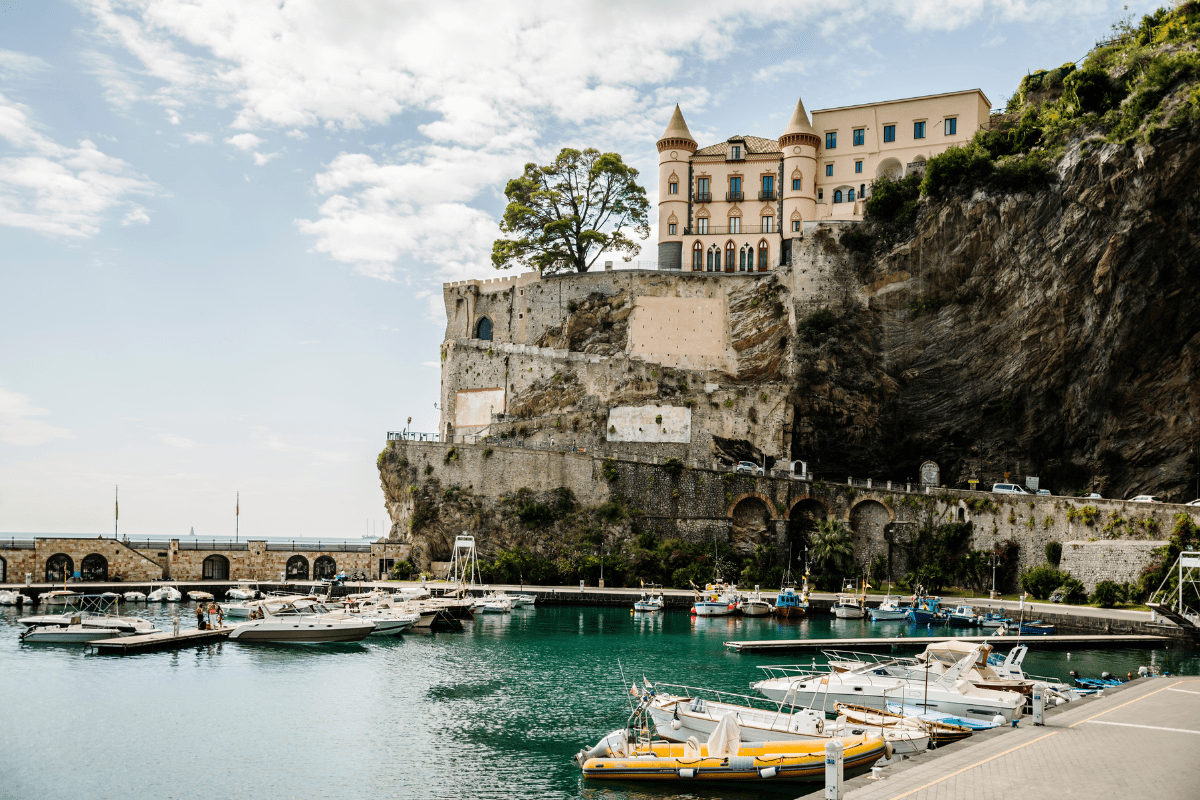 Furore
Furore is a true jewel of a village along the Amalfi coast in Italy. World-renowned for its classic medieval charm, as well as the iconic Fiordo di Furore (Fjord of Furore) bridge that spans across the Tyrrhenian Sea.
While Furore is a small village, and might not get as much attention as its neighbours, like Sorrento and Positano, it's still truly a not-to-miss spot on the Amalfi.
There are no ride-hailing services like Uber available in Furore like you might find in larger cities in Italy. So, the best way to get around is to rent a car or Vespa and drive yourself, and take guided tours for more remote locations.
The best things to do in Furore are to swim on the beach under the Fiordo di Furore, stroll around the ancient fisherman's village, and visit some of the medieval churches in town.
Chiesa di San Matteo Apostolo, Chiesa della Madonna di Tutti Santi, and Chiesa di San Giacomo Apostolo (Furore) all have historical significance to the village, with the Church of St. Matteo being the largest, but it is technically in the neighbouring village of Pianillo.
For day trips from Furore, you can visit the glowing blue Grotta Dello Smeraldo cave via a small boat.
Some of the best places to eat in Furore include the L'Incanto restaurant which is perched on a hill overlooking the seaside.
Fish is a staple in the area, which is caught fresh daily from the Tyrrhenian Sea. Bianca Zita Ristorante is also a favourite restaurant in the village that specializes in seafood dishes like Fritto Misto di Mare (fried mixed seafood), seared tuna, and calamari.
Many tourists choose to visit Furore itself as a day trip, just to see the iconic beach and Fiord, and then leave. If you're looking for a more relaxed and authentic spot, Furore has a lot to offer as a tourist destination.
Recommended by Katie Caf Travel
Capri
If you've set your sights on visiting the Amalfi Coast, then one place you can't miss is the island of Capri.
This picturesque Mediterranean island is best known for its crystal clear waters, famous Blue Grotto, and panoramic views of the Bay of Naples. When visiting the Amalfi Coast, Capri is a perfect day trip destination.
Ferries to Capri depart daily from the town of Sorrento. Take an early morning ferry to maximize your time and make the most of your day in Capri.
Upon arrival, take a boat tour circumnavigating the island. The boat tour is one of the best ways to appreciate the island's scenic beauty and rocky cliffs. While on the boat you'll be guided to some small coral-lined alcoves in the cliffs.
Most boat tours also take you through the tunnel of the Faraglioni – a distinctive rock formation off the coast of the island.
If sea conditions are favourable, don't leave Capri without visiting the Blue Grotto. Many boat tours include a trip to the grotto, which saves you the time and hassle of getting there.
Entering the grotto can be a harrowing experience – you'll have to lay completely flat in the boat and enter between swells – but once inside you'll delight in the otherworldly blue glow of the water.
Once landbound again, take the bus to Anacapri (upper Capri) and ride the chairlift to the top of Monte Solaro. This is an excellent spot to take in views of the Bay of Naples and the island below you.
Before descending the mountain, be sure to grab a drink or small plate at the cafe at the top. It may be the most expensive Aperol Spritz of your trip, but the memory will be worth it.
Recommended by World by Weekend
Salerno
Salerno is a city situated in Southwestern Italy, in the Campania region and is best known for its long history and its natural beauty.
It is famous for its breathtaking views of the Mediterranean Sea, is also recognized for its vibrant culture, and is home to some of the most beautiful beaches in Italy. Salerno is also one of the best day trip destinations from Rome.
There are so many things to do in Salerno. You can explore the famous medieval Castle of Arechi, and its surrounding area, this popular destination in Salerno is located on top of Monte Bonadi, offering visitors a stunning view of the Salerno coastline.
You can also visit Museo Diocesano di Salerno, a former seminary that was restored for a museum that houses some interesting religious paintings and artifacts.
Take advantage of watching and admiring the beautiful sunset in Piazza Della Concordia. Visit the historic and important Salerno Cathedral known as the Duomo; this fascinating 11th-century Romanesque-style cathedral is home to a precious religious artifact dedicated to Saint Matthew; this is also where his remains of Saint Matthew are located.
Don't miss out parmigiana alle melanzane, a traditional Italian recipe in Salerno. One of the best places to dine in is Calice e Tagliere, serving authentic Italian cuisine. You can also find the best wines here and delicious local cheese.
And if you are looking for a cozy place to stay in Salerno, check out Salerno Mare e Luci, located in the city centre. A perfect place to stay after having an exciting day roaming around Salerno's beautiful old town.
Recommended by Guide to Day Trips
Amalfi
No trip to the Amalfi coast is complete without a trip to the town of Amalfi itself.
This small town of around 5,000 people has a long history, is well connected to the rest of the coast and stunningly beautiful. It's a must-see destination.
Like many towns in this strip, it is sandwiched between the water and the mountains with buildings snaking their way back from the coast and up the hills. The colourful buildings, the church bells and everything else combine for the picture-perfect image of the Amalfi coast that you imagine before visiting.
It also has a small beach strip by the water and has a popular restaurant and bar scene.
History lovers will especially love Amalfi. First mentioned in documents in 596, Amalfi became a republic in 839. Between the 9-11th centuries, it was a powerful maritime republic with a powerful fleet which helped dominate the Mediterranean trade routes.
This made Amalfi a powerful and wealthy city and there are signs of this wealth today. There are ancient towers, arsenal and the Sant'Adrea cathedral (Amalfi Duomo) from this time to see.
The town was purposefully built with many alleys to confuse attackers. A must-do activity is just to wander and get lost in them with a delicious gelato as your reward.
It's also worth a stop at the Antico Arsenale della Repubblica di Amalfi (Old Arsenal) which shares the naval history of Amalfi and the Amalfi Duomo to see the old cloister.
Amalfi is popular and it's at its busiest during the day. If you can visit in the later afternoon and evening, this can be more enjoyable. However, it is worth a visit whenever you can fit it in.
Recommended by Dive Into Germany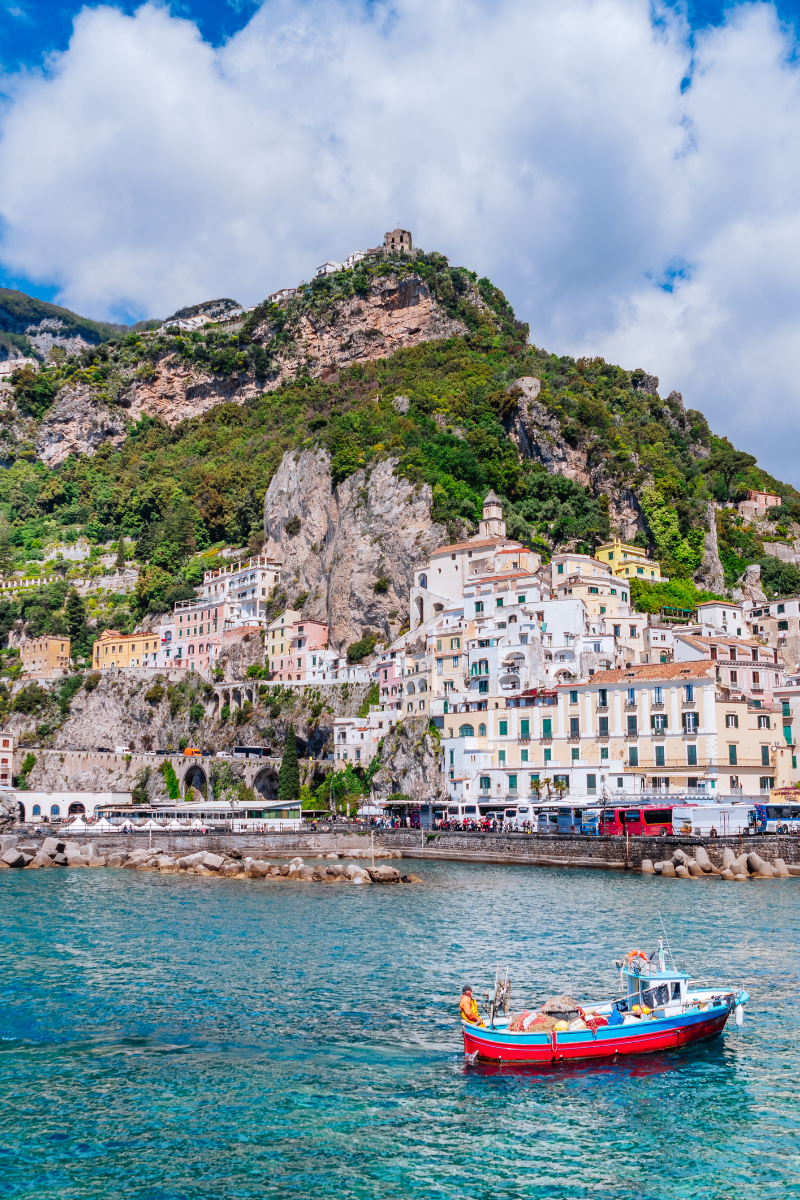 Ravello
Visitors flock to Italy's Amalfi Coast to luxuriate in world-famous Positano or explore the beautiful seaside town of Amalfi. But both towns are the gateway to a smaller, lesser-visited town that sits high on the cliffs above them — the enchanting town of Ravello, Italy.
Many visitors overlook it when they visit the Amalfi Coast, but there are enough unique things to do in Ravello to make it worth at least a day trip or overnight.
Getting up the mountain to Ravello is straightforward. You can take a 10-minute bus or taxi ride up the mountain. Once there, the town is very pedestrian-friendly and you can walk just about everywhere.
One of the best things to do in Ravello is visit the 1,000 year old Villa Cimbrone with its beautifully manicured terrace gardens. The expansive Infinity Terrace sits 1,200 feet above the sea, and offers wide views that are absolutely stunning.
In the town's historic centre you'll find Villa Rufolo. Built in the 13th century, it now also has a luxury hotel and hosts musical performances throughout the year. The Duomo di Ravello, originally built in the 11th should also not be missed with its ornate artwork. It's one of only a few remaining gilded bronze church doors in all of Italy.
Ravello is a delight for shoppers with boutiques selling Majolica ceramics, handmade leather sandals, and unique Italian keepsakes. Wander through the old town historic district and you'll find works of art along with plenty of good places to enjoy the local cuisine.
Ravello never really gets overly crowded, but for the best experience, plan your visit in the spring or fall and avoid the summer heat and Italians on holiday.
Recommended by TravlinMad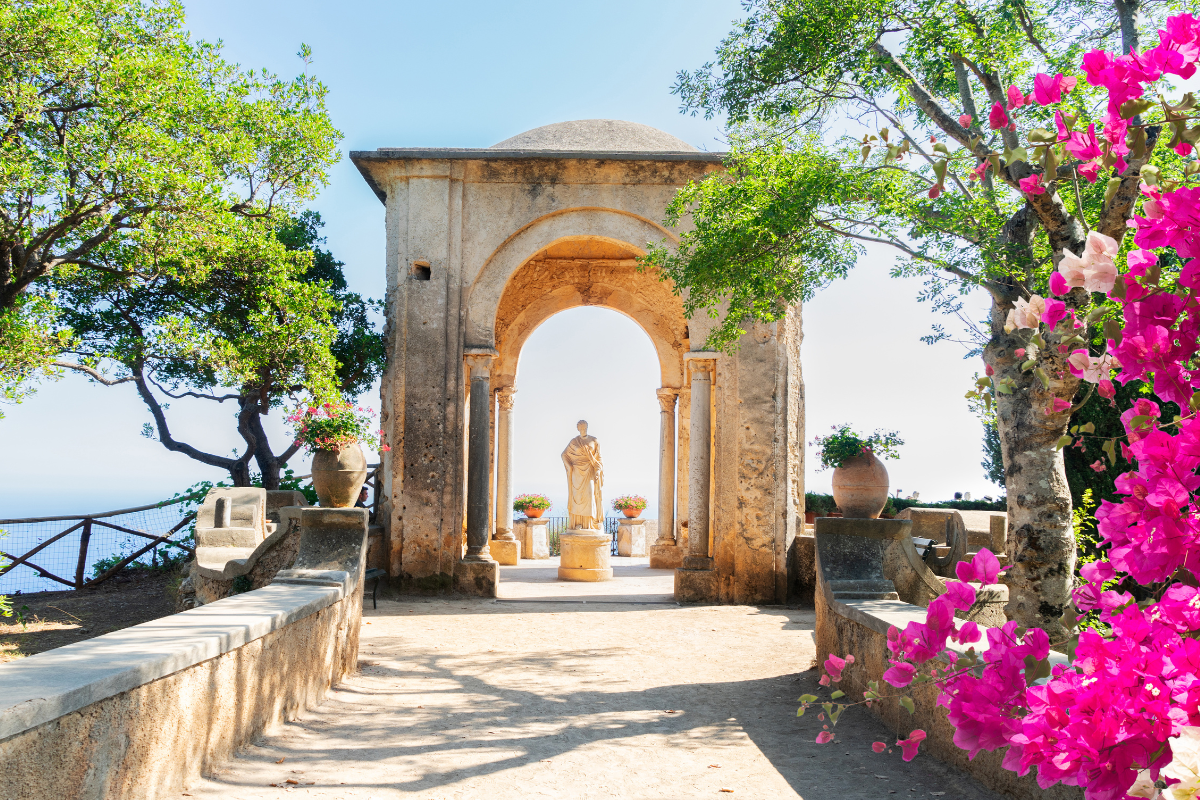 Atrani
On the Amalfi Coast in southern Italy, there are so many beautiful places to visit, but one destination that cannot be missed is Atrani.
This small village is tucked away from the larger, more famous towns of the coast like Amalfi and Positano, but offers a unique experience for anyone looking for an authentic Italian getaway on the Amalfi Coast.
Atrani is one of the smallest villages in Italy—it's only about 0.2 square kilometres!
Despite its size, it has held onto its traditional charm with narrow alleys and cobblestone paths connecting all parts of town.
The most iconic building is Santa Maria Maddalena church, which dates back to 1617 and stands at the entrance to town. You'll also find plenty of local restaurants serving fresh seafood dishes and offering stunning views of the sea.
The biggest draw of Atrani is its gorgeous cove beach. The main beach is just steps away from downtown and is known as Spiaggia Grande. It's a great spot for swimming, sunbathing, and snorkelling with crystal clear waters and easy access from shore.
You can pay around 25 Euros for a lounger and umbrella and spend the day relaxing on the beach with occasional dips in the sea when you get too hot.
Atrani may not be as well-known as some other towns on Italy's Amalfi Coast but it should definitely not be overlooked!
Recommended by I Heart Italy
Sorrento
One hour drive south of Naples, the charming coastal town of Sorrento is definitely worth visiting for anyone doing an Amalfi Coast trip.
Sorrento is situated in a great location in the Gulf of Naples on the top of the cliffs on the Sorrentine Peninsula. It offers some absolutely superb coastal views of not only the bay, but also of Mount Vesuvius and even Capri on a clear day!
Sorrento is an unmissable stop due to its picturesque streets and historic buildings, as well as its breathtaking views and many activities to do.
Hike the 'Path of the Gods' for incredible views, or if you prefer – head to one of the waterfront cafes or restaurants in Sorrento and admire the views from the roof deck terrace with an Aperol Spritz in hand!
Hotel Regina Sorrento has a great rooftop terrace and is in an ideal location if you want to book overnight here.
Also be sure to check out lively Piazza Tasso – Sorrento's main square, as well as Corso Italia – the main shopping street in Sorrento. Pick up some souvenirs here such as limoncello, some hand made ceramics, or the leather sandals that Sorrento is known for!
From Sorrento's picturesque port Marina Grande, enjoy a boat trip to the stunning island of Cape and the Blue Grotto, or even take a boat along the Amalfi Coast.
Often the boats will take you to beautiful caves and villages that can't be accessed by road, so you'll get to see lots of things you might otherwise miss. After the boat ride, enjoy dinner at Marina Grande port – home to the best seafood restaurants in Sorrento!
40 minutes walk from Sorrento brings you to the Regina Giovanna Baths, situated in an impressive location between the cliffs. The water is a beautiful turquoise colour and the baths are really popular to swim in – you definitely must visit when you come to Sorrento!
Recommended by 24 Hours Layover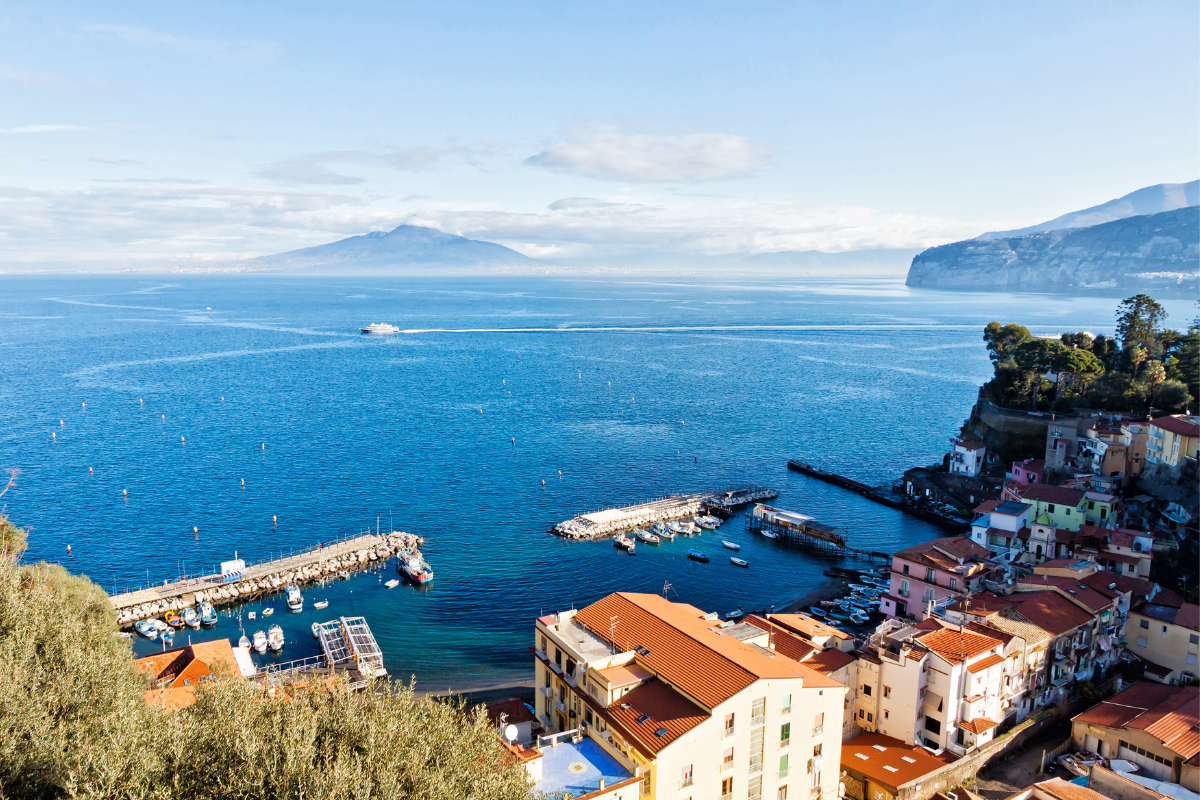 Related Posts
Pin it for later!