Planning a visit to Bologna and wondering what there is to do for free?
We instantly fell in love with Bologna's vibe, its vibrant food scene and history, amazing architecture, and welcoming locals.
We specifically chose to visit Bologna for the food, and we were surprised by the many free things to do while spending two nights in this historic city.
When people ask what Bologna is known for, most people would assume it's known for its food. Which isn't wrong! Bologna is one of those places that Italians flock to for food, so you know it's good!
That being said, Bologna is also known for a ton of other unique things to do, like its music history, museums, and work-life balance.
Being a student city, there are a number of fun and free things to do in Bologna. You can spend an entire weekend there without spending a dime.
Some of the most fun and free attractions in Bologna take visitors around the historic city centre. You can spend an entire day enjoying Bologna for free!
So! If you're looking for free things to do in Bologna, let's have a look at how you can spend a day or a weekend wandering the city and getting a true feel for what Bologna is all about!
This post contains affiliate links which means I earn compensation when you click on the links at absolutely no extra cost to you! Feel free to read my disclosure policy. Thank you for supporting my blog!
Plan your next vacation using these tools!

✈️ Book flights: SkyScanner
🏨 Book hotels: Booking.com
🚘Book car rentals: RentalCars.com
🎫Book tours: GetYourGuide
🌍Favourite travel item: Packing cubes
🧳Favourite travel bag: Osprey 40L Fairview
🩹 DIY Travel Medical Kit
💸 20 Cheap Travel Items Under $20
What are some of the top free things to do in Bologna?
Finestrella: Bologna's Hidden Canals
Finestrella is an absolute must-see while visiting Bologna! It's free to visit and will often have a lineup but it's one of the most picturesque and unexpected finds in Bologna. Often referred to as "Little Venice", here you'll find the remnants of the old canal that once flowed through the city.
There's a tiny door you can open to the most beautiful views. Even though it was dry when we visited, it's still one of the most scenic spots in town. Don't miss out on checking out the views from the other side of the street, too.
It's hard to imagine Bologna looking more like Venice than it does now, but it was actually once a city of canals! These canals helped transport people, and goods around town.
As the city grew, many of the canals were paved over, but you can get an idea of what Bologna looked like in the past.
Tip: If you're having a hard time finding Finestrella, look for the lineup! There is an incredibly Instagram-worthy and picturesque window overlooking the old canal.
Stroll through the town's many Porticos
The streets of Bologna are lined with porticos. It was actually a requirement while homes were being built to have them, so they're all unique.
There are almost 50 km of porticos in Bologna. This makes it really convenient to get around the historic centre in rain, snow, sun or wind!
Porticos in Bologna have been recognized from UNESCO for their historic significance, and there are over 600 porticos in the city! Each one has a different style.
The longest portico in Bologna stretches almost 4 km to San Luca, a popular viewing point.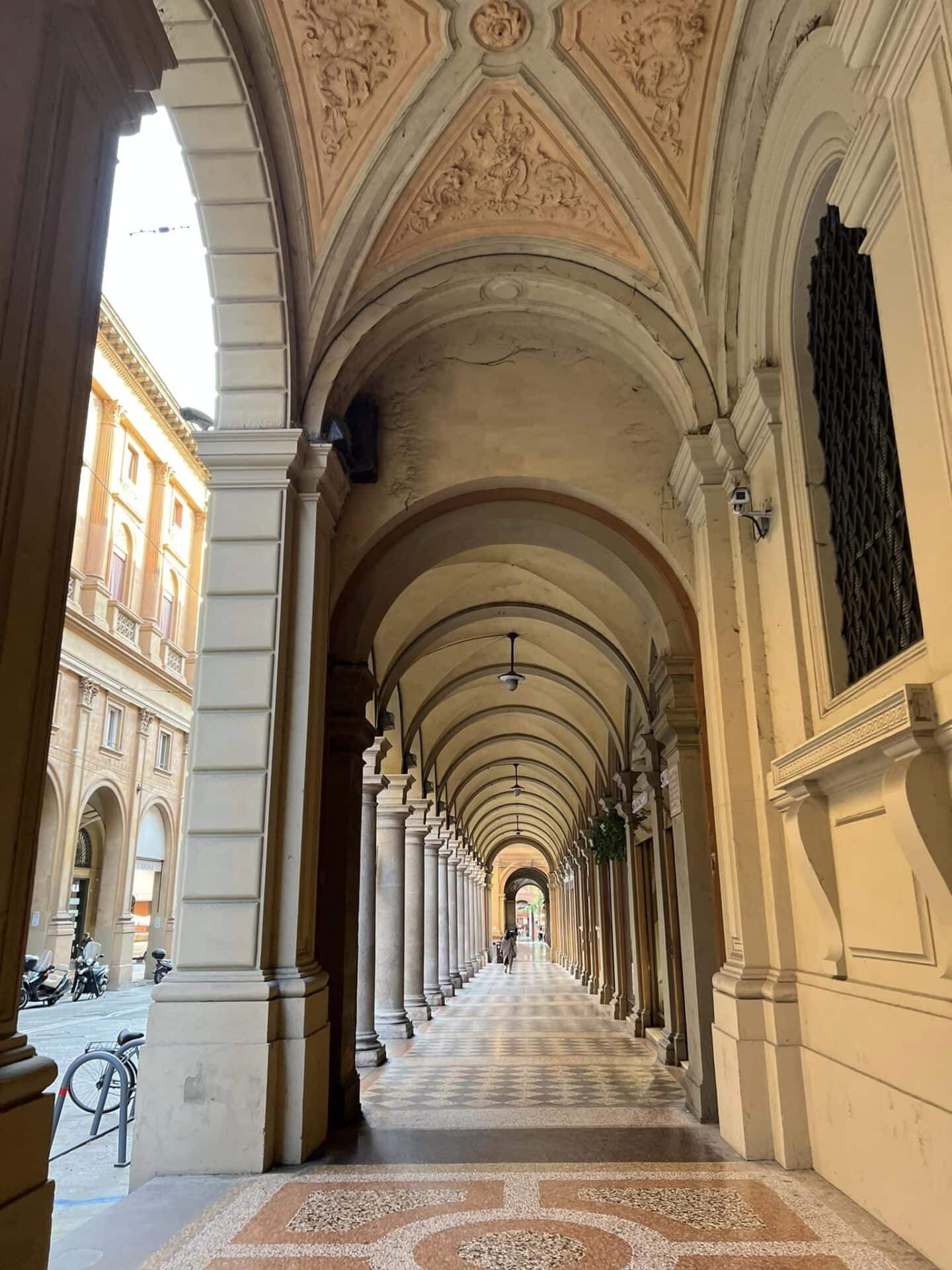 What can you do in Bologna for free?
See Piazza Maggiorre from above at Palazzo D'Accursio
If you're looking for a unique vantage point of Piazza Maggiore and don't want to spend any money, head over to Palazzo D'Accursio!
You can get a great view of the Piazza and Basilica di San Petronio from above for free by visiting the top floor of Palazzo D'Accursio!
Follow the stairs to the top floor and peer through one of the two windows at the end of the hall.
Tip: Want a better view? Climb the clock tower (Torre dell'Orologio) for 12 euros by booking your time slot online.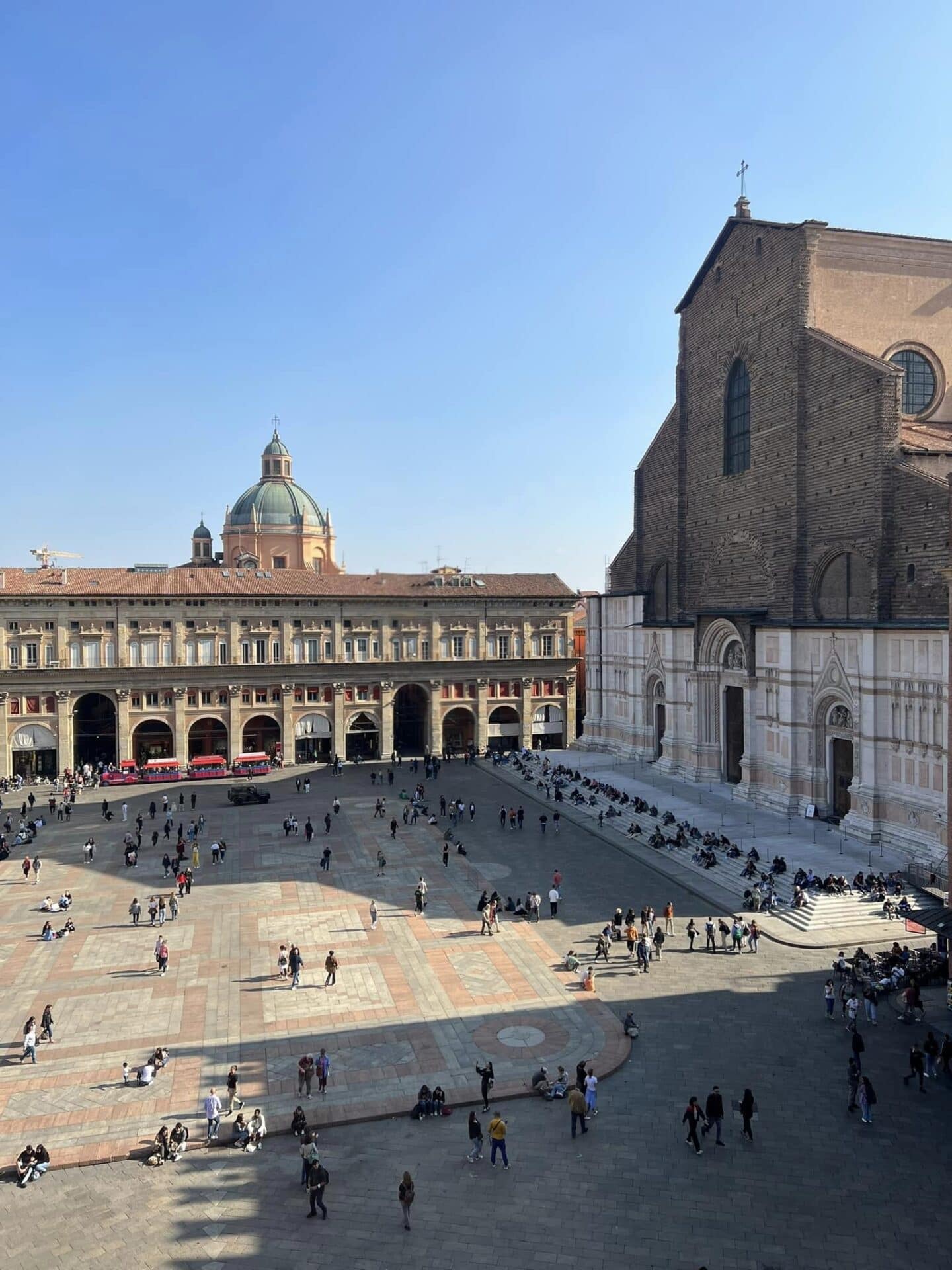 Related: Where to Find the Best Views of Bologna
Snap a photo at Neptune Fountain
Right next to Piazza Maggiore is Neptune Fountain, a 16th century fountain that was deemed so beautiful that many European cities copied it.
Neptune Fountain represents the God of Water – a fitting choice since Bologna used to contain a network of canals. Water meant power and wealth – and Bologna was and still is one of the wealthiest cities in Italy.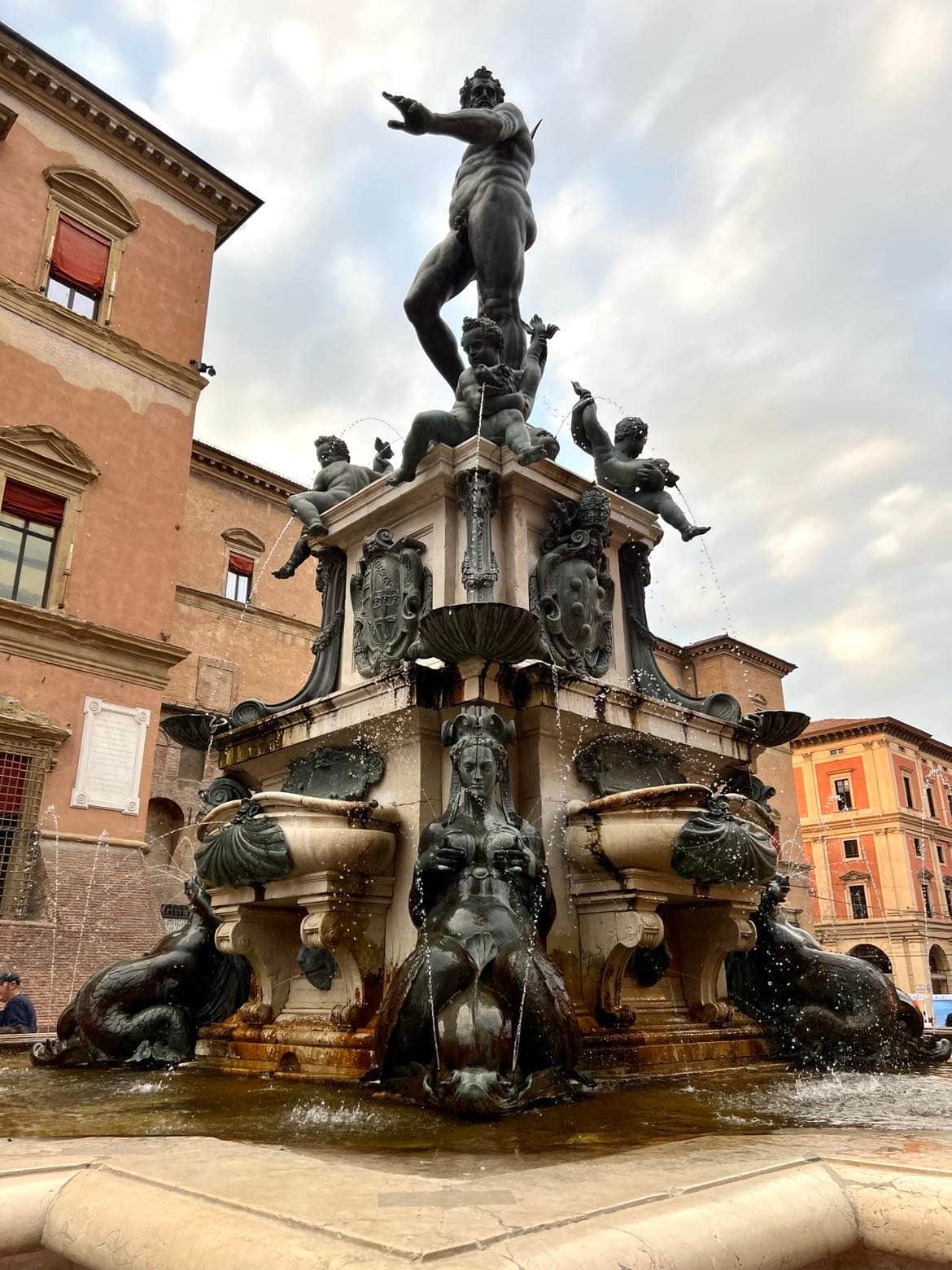 Related: Bologna's Anatomical Theatre – a Must See Spot!
Shop at the City's Oldest Food Market
Bologna's oldest food market is known as the "Quadrilateral". It's also the most popular, as evidenced by crowds of locals buying their fresh produce, meat, and seafood through the tiny alleyways.
Numerous vendors line the historic streets with a tradition that dates back to the Middle Ages. You'll pass by bakers, fishmongers, butchers, and a variety of local shopkeepers selling fresh cheese, wine, pasta, and street food!
If you're standing in Piazza Maggiore, pass through the ancient archways and head over to Via Drapperie, Via Clavature, Via degli Orefic, or Via Pescherie Vecchie, and you'll get a feel for what the old market is about.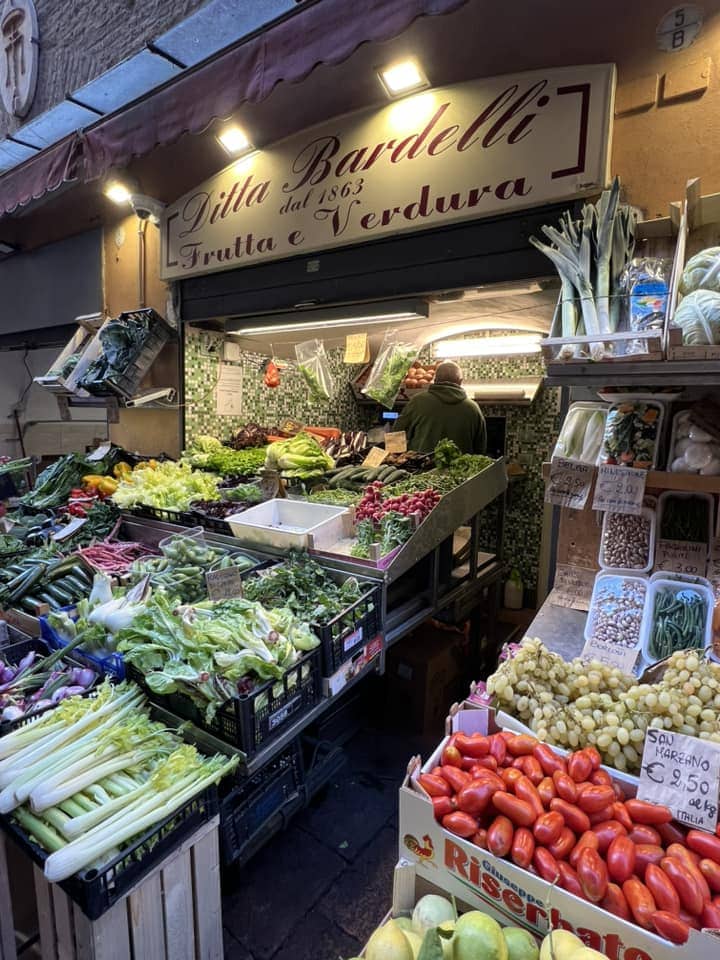 Some of these market stalls have been passed down through generations, and many have kept the historic architecture and even furniture.
Tucked away in this network is the Mercato di Mezzo, a covered market with a number of restaurants to try should you wish to dine amongst old-world charm.
Visit a Museum
If you're visiting Bologna during the week, museums are free to view.
The museums are excellent and are well worth visiting if you're curious in learning something new, whether it's anatomy, paleontology, military history, mineralogy, etc.
The museums are small enough to be toured within 45 minutes to an hour if you take your time, and you'll be bound to learn something new.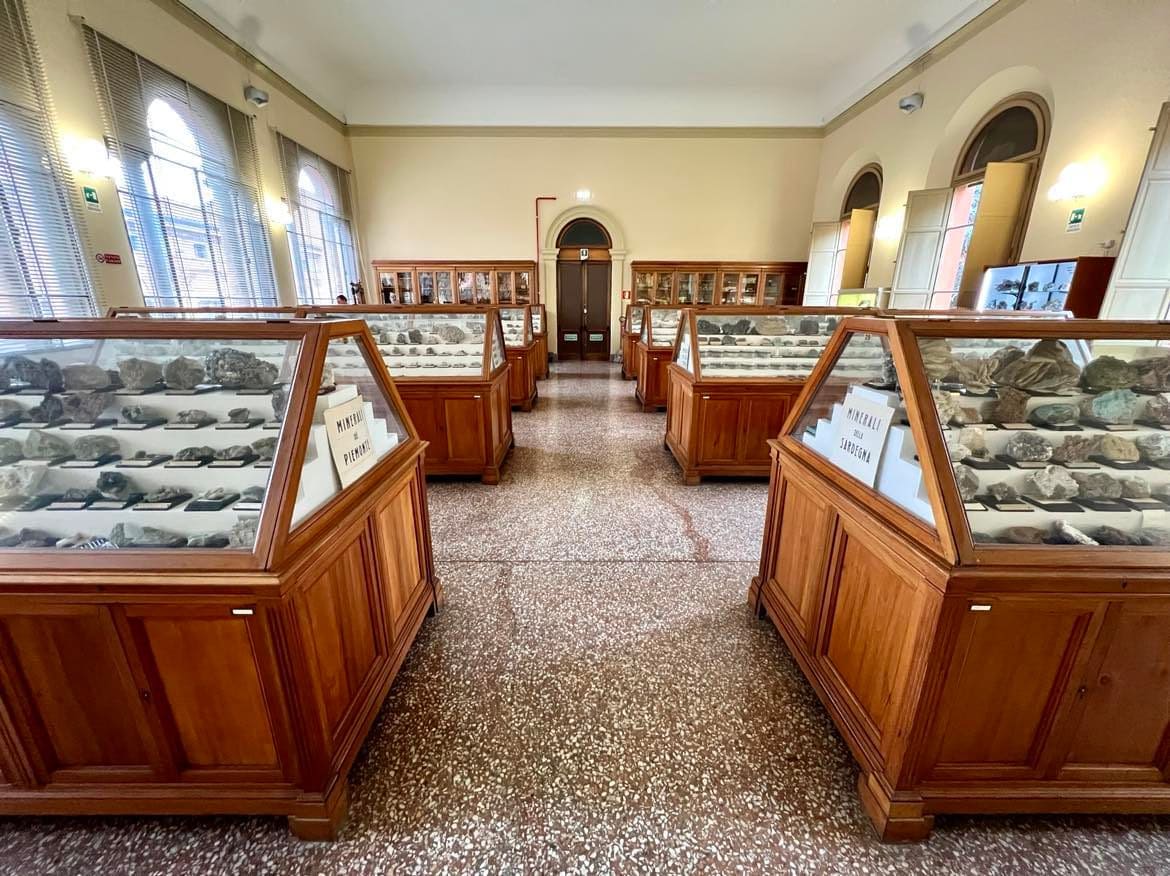 On weekends, you can view them by guided tour only, which is only 5-6 euros a person – money well spent. You'll often find these tours run by students who are passionate about their field of study and you'll learn much more than if you did a self-guided tour.
Tours are generally run in English. We had free-reign at the Anatomical Wax Museum which needed no explanations!
We were informed by our guide at the Mineralogy Museum that students are encouraged to learn in English.
Fields such as mineralogy, geology, zoology, etc. are so specialized and global, that for ease of communication using the same terminology, English is the language generally used across the world.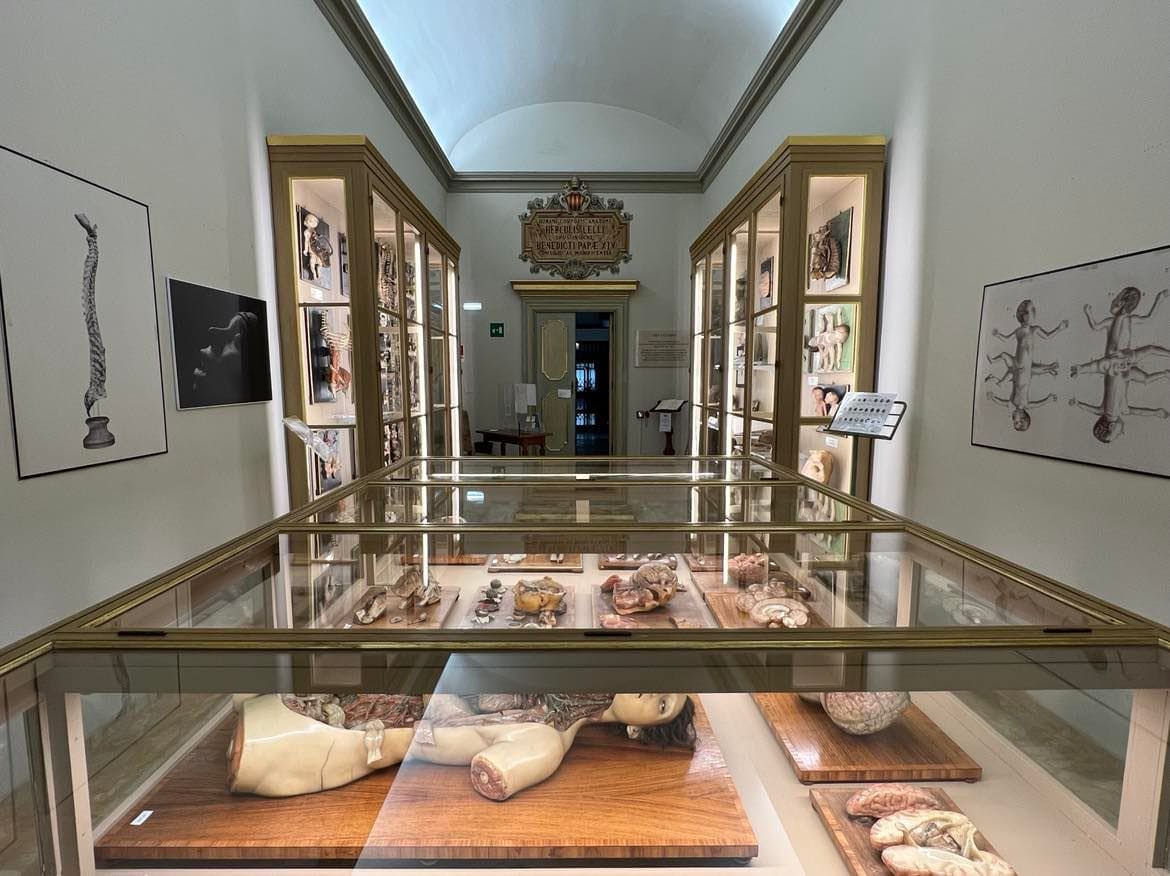 Free museums in Bologna
Since Bologna is a university town, there are a number of fabulous and bizarre museums dotted around the city. As a bonus, these are completely free to visit! Be sure to check online for time tables.
Related: Bologna's Archiginnasio – the Oldest University in Europe!
Visit a Church
The most obvious church to see in Bologna is Basilica di San Petronio.
This marvellous 14th century unfinished church stands proudly in Piazza Maggiore and is one of Bologna's major landmarks.
Basilica di San Petronio is the fourth largest church in Italy, and sixth largest church in Europe!
Construction began in 1390, the facade remains only partially covered in marble, giving it a unique appearance.
Once inside, you'll see a beautiful interior filled with 22 chapels decorated in a variety of styles, since construction took part in different eras.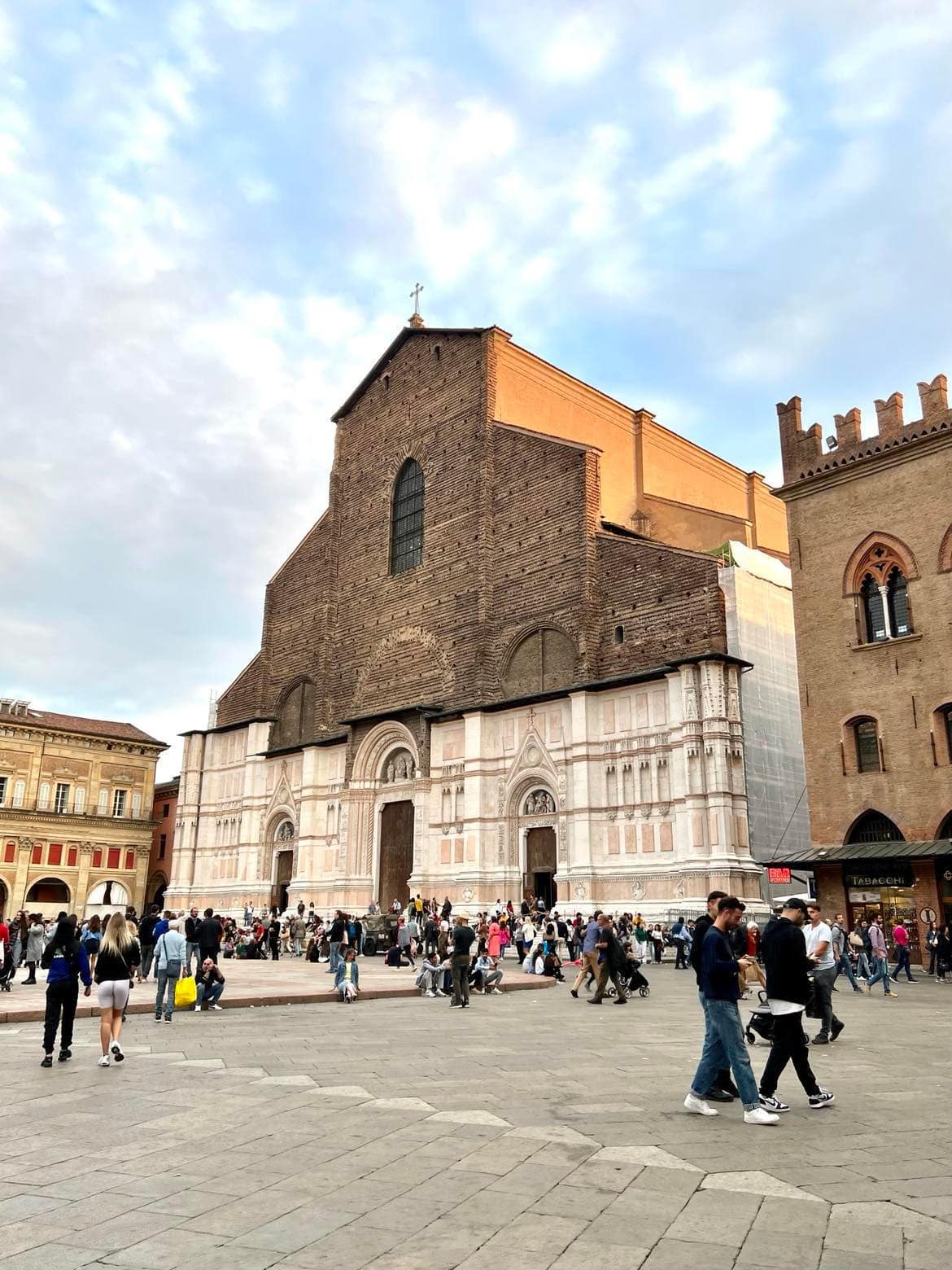 The most famous chapel inside Basilica di San Petronio is the Music Chapel. This happens to be the oldest musical institution in Bologna – dating back to 1436 – where there is still a functioning organ and the oldest still in use!
The Chapel of the Three Wise Men is also very popular, adorned by frescoes done by Giovanni da Modena, featuring representations of "Heaven and Hell."
You won't be able to miss the largest sundial in the world in a closed space, the Cassini sundial, which measures 67 metres/220 feet!
Note: Entry to San Petronio is free, but if you want to take photos, it will cost you! A photo ticket is €2.
Admission times: Daily from 9:30 am – 1:00 pm and 2:30 – 5:30
Tour a local farmer's market
A surefire way to immerse yourself into local life is to visit a farmer's market and see what's on offer!
From fresh cut flowers, baked goods, fruit, vegetables, and handmade goods, this is always one of my favourite things to do while visiting a new city!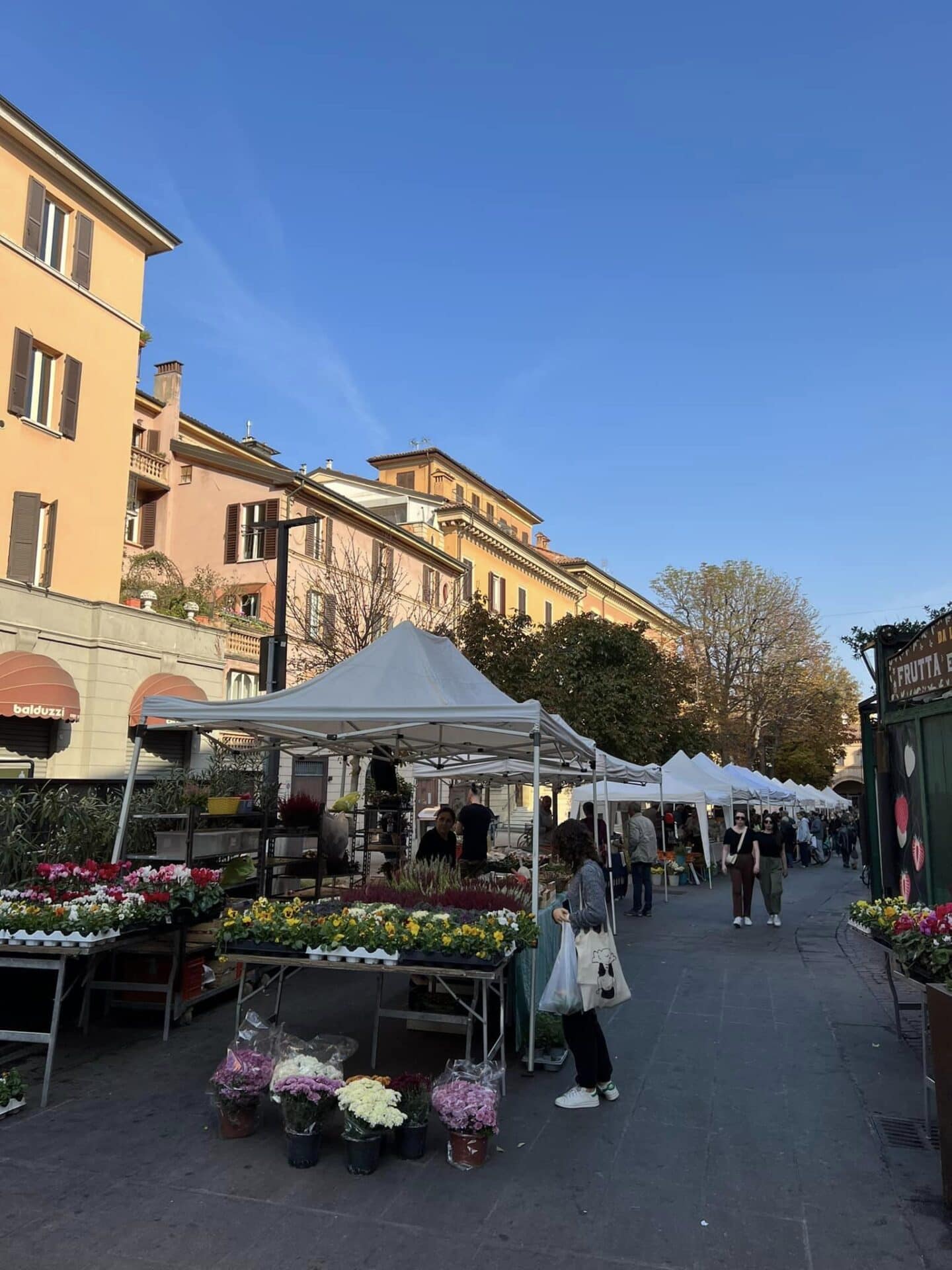 Unusual things to do in Bologna for free
See where Maserati was founded
We happened upon this building by chance while wandering the streets, but finding the building where Maserati was founded was one of the coolest discoveries!
Maserati was founded in December 1914 by 5 brothers: Alfieri, Bindo, Carlo, Ettore, and Ernesto Maserati.
The logo is inspired by the Fountain of Neptune in Piazza Maggiore!
Where to find it: Via de' Pepoli, 1/a, 40125. There is a small plaque on one of the buildings that I just happened to look up at just at the right time!
Stroll through the old Jewish Ghetto
The ancient Jewish Ghetto in Bologna is in the heart of the medieval centre and still maintains its original structure; a maze of alleyways and suspended passages, covered bridges, and small windows.
It's indicative of an entire community forced to live in a confined area from 1556.
There are a number of plaques indicating important landmarks. One of the ones that stood out most to me is the plaque in memory of 83 Jewish citizens who were deported to German extermination camps during WWII.
Visit the complex of Seven Churches at Santo Stefano
Don't miss out on visiting Santo Stefano. The Basilica of Santo Stefano was one of those unusual finds in Bologna and is a must-see place while visiting the historical centre of town.
Commonly known as the complex of Seven Churches due to a complex of different buildings merging together throughout the ages, it will surely capture your attention as soon as you walk through the doors.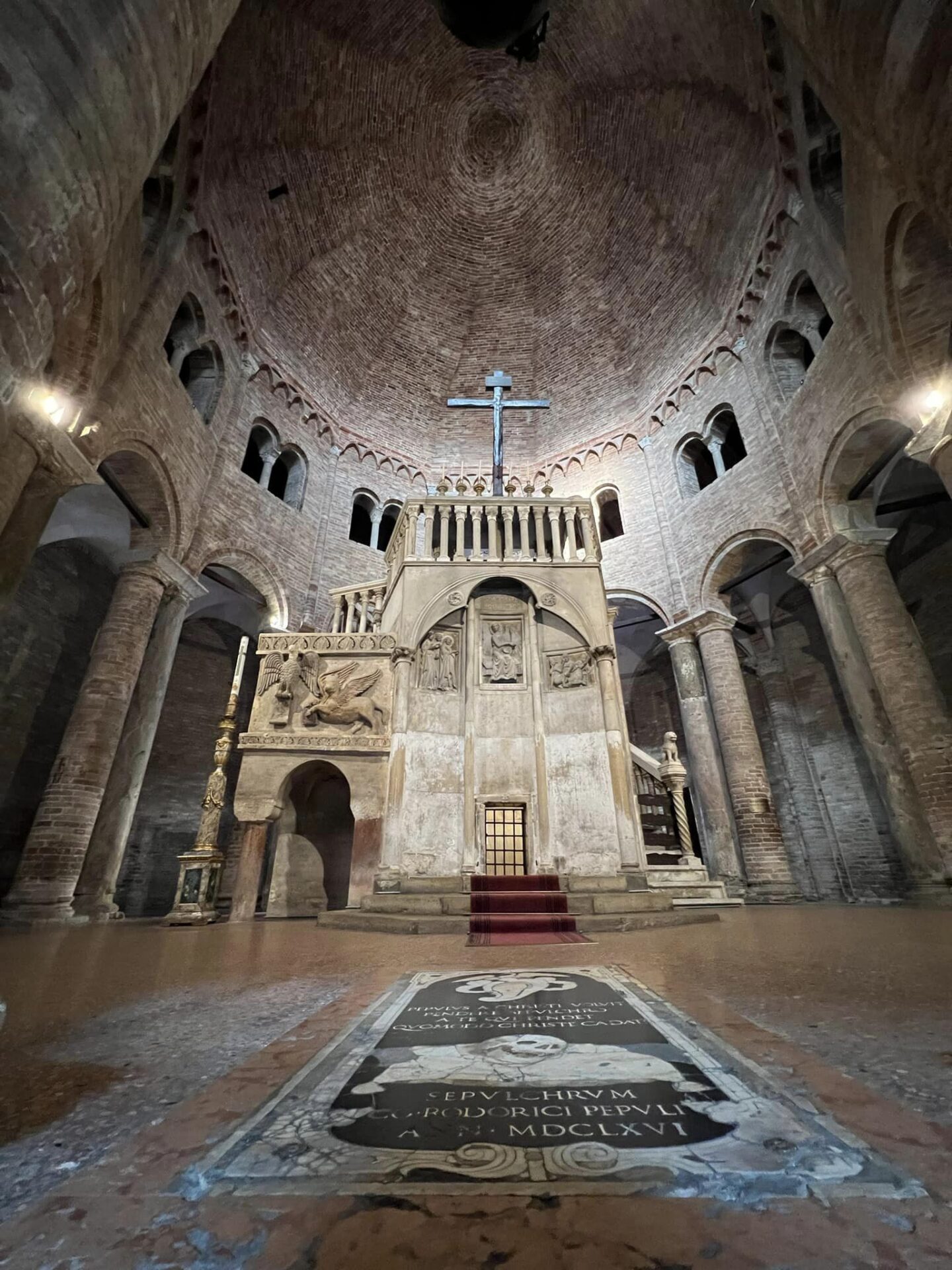 It's one of the most unique religious sites with architecture spanning centuries of Bolognese history with Romanesque, Lombard, and ancient Roman elements.
Enter from the side of Palazzo Santo Stefano, where you'll be in the part of the church known as the Chiesa del Santo Sepolcro.
It was originally built as an alternative (and much safer) pilgrimage to the Holy Sepulcher of Jerusalem – where Jesus is said to be buried and resurrected – than it would've been to the Holy Land itself.
Next door is Pilate's Courtyard, named after the basin Pontius Pilateis said to have washed his hands after condemning Christ to death.
Past the courtyard is the Chiesa della Trinita, which connects to a small museum.
The fourth (and last remaining part of the original seven churches) is Santi Vitale e Agricola, the city's oldest.
Pin it for later!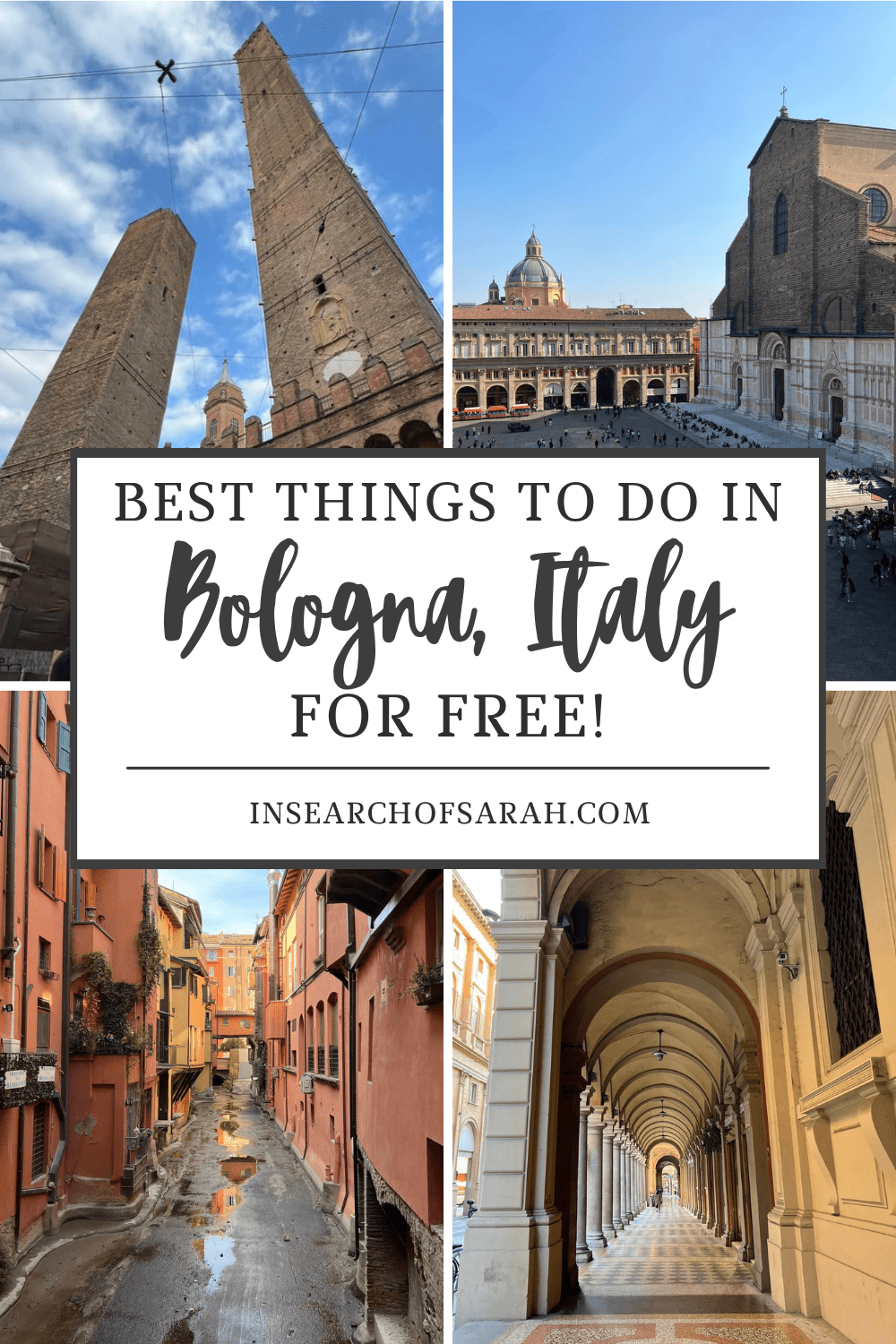 Related Posts