Finding it difficult to get into the Christmas spirit this year? There are a ton of fun ways to celebrate the holiday season in Niagara Falls to get you in the mood!
Niagara Falls gathers crowds all throughout the year, but it's especially magical during the holidays.
If you're looking for Christmas activities in Niagara Falls, take part in one of these seasonal activities to get some holiday cheer!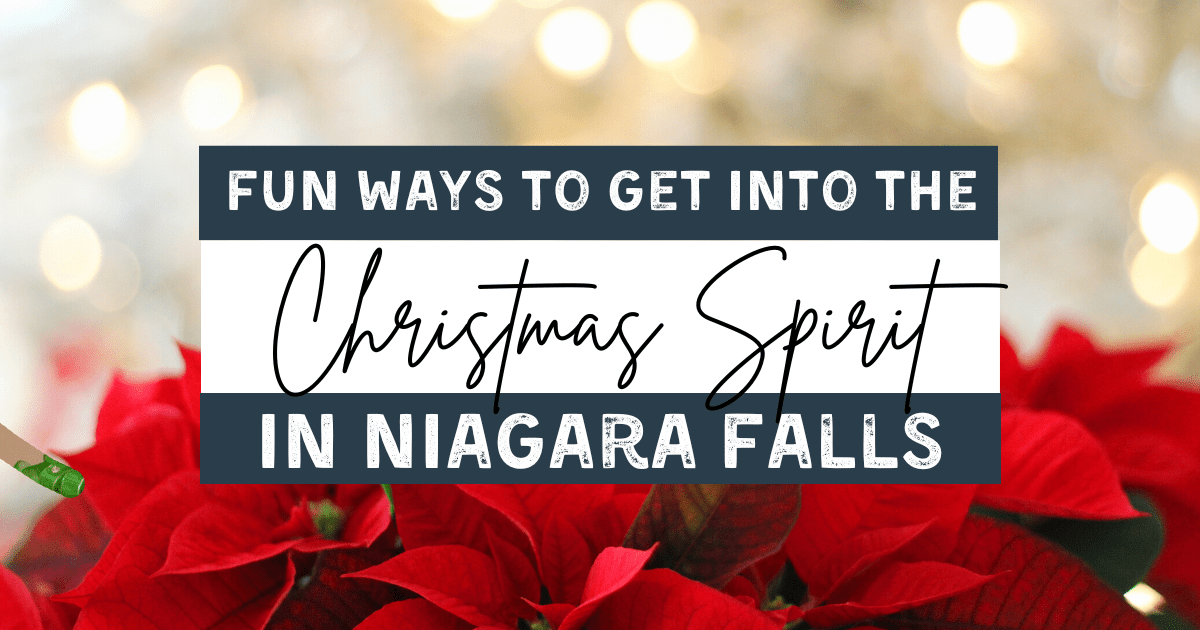 This post contains affiliate links which means I earn compensation when you click on the links at absolutely no extra cost to you! Feel free to read my disclosure policy. Thank you for supporting my blog!
1. Be dazzled by the Winter Festival of Lights
One of my favourite things to do in Niagara Falls during the holiday season is to take a drive through the Niagara Winter Festival of Lights, and this year they're celebrating 40 years with 101 nights of twinkling lights!
This free thing to do in Niagara Falls is open to everyone and runs from November 13, 2022 – February 22, 2022.
The Festival of Lights spans 8 km along the Niagara Parkway, Queen Victoria Park, and the Dufferin Islands with animated lit installations, larger than life displays, and beautiful projections, lighting up Niagara Falls unlike any other time of the year! There are over 3 million lights for you to enjoy!
Take a walk through the parks, drive along the Festival of Lights route, or view the lights from local restaurants and hotels!
The dazzling lights will surely lift your spirits this season (and maybe even inspire you to put your own lights and Christmas tree up at home!).
Be sure to stick around for the fireworks at the Falls, starting at 8 pm on evenings, check out the illuminated falls, and follow the new Hot Chocolate Trail to keep you warm and cozy!
And psst – adults! You can also get adult hot chocolate beverages!
Related: Where to go Ice Skating in Niagara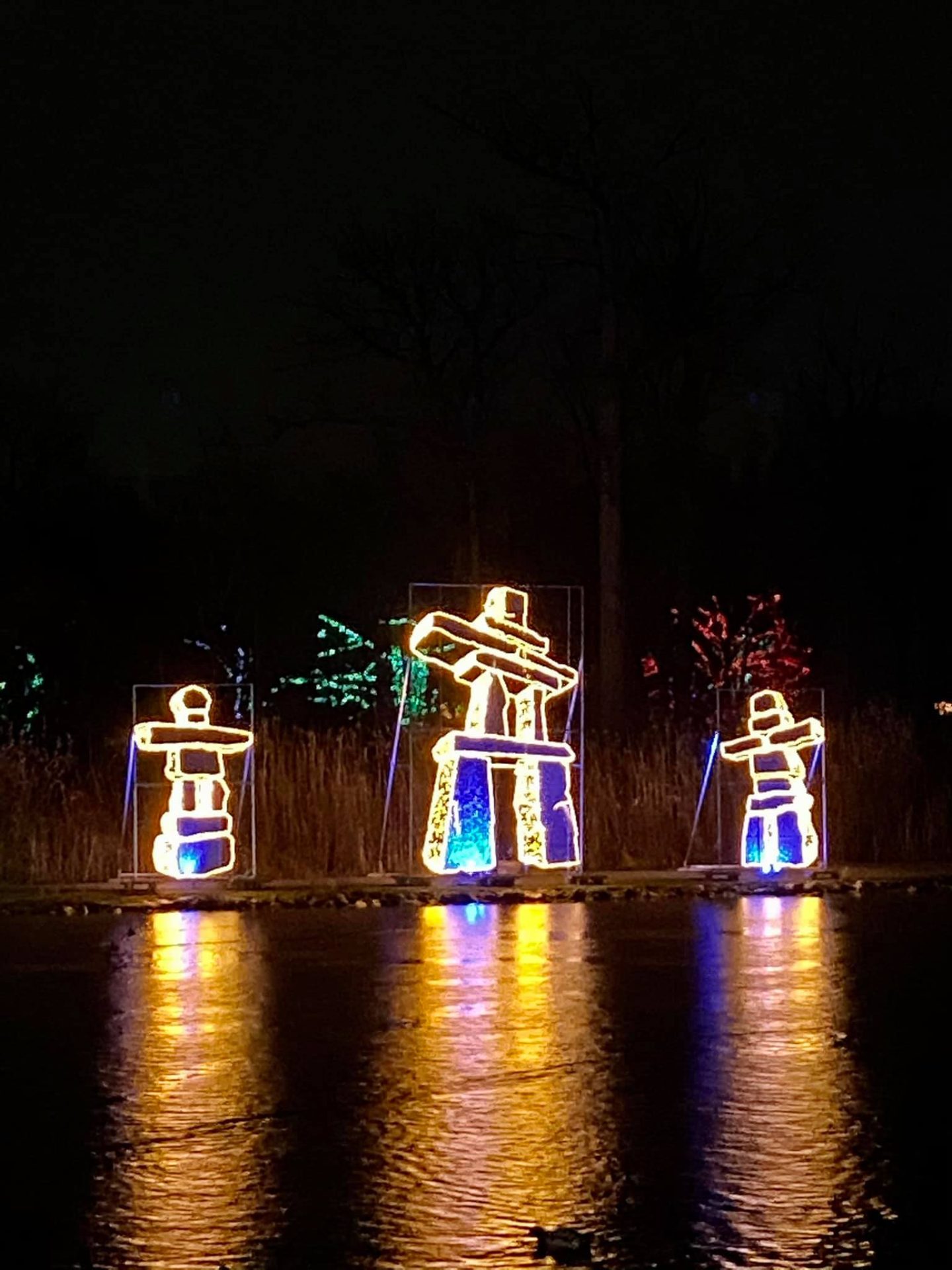 2. Shop for loved ones at the Niagara Falls Christmas Market
We happened upon the outdoor Christmas Market by chance last year, and it was one of the best holiday-themed experiences in Niagara Falls we could have had!
Queen Street closes down for pedestrian traffic, and market stalls are lined up and down the street, featuring local businesses and artisanal vendors of all kinds: food, artists, handmade goods, and more!
The Christmas Market in Niagara Falls runs weekends from November 12th-December 18th. The hours are Fridays from 5:00 pm – 10:00 pm, Saturdays from 1:00 pm – 10:00 pm and Sundays from 12:00 pm – 4:00 pm.
The Christmas Market is bigger and better than before! It also includes over 30 light structures, interactive art displays, live music at night, string lights, glow swings and see-saws, fire pits with Muskoka chairs and so much more!
Come enjoy Christmas-themed street food and Canadian holiday treats and drinks to be enjoyed near the fire pits.
What better way to get into the Christmas spirit by getting an extra dose of Christmas cheer, browsing for gifts for loved ones, and enjoying twinkling lights in a cozy atmosphere?
Address: 3605 Queen St, Niagara Falls
Related: Where to go Sledding and Tobogganing in Niagara
3. Snuggle up in a winter Snow Globe at Old Stone Inn
Looking for a holiday-themed date night to get into the Christmas spirit?
Take some time to relax before the hustle and bustle of the holiday season by dining with loved ones.
Head over to the Old Stone Inn and dine in the privacy of your own dome or cabin for a rustic Canadian dining experience this winter!
Winterfest in the Square is magical. This unique outdoor dining experience allows up to 6 people to dine in a clear snow globe or private cabin with a three-course prix-fixe meal. Pair it with local wine or craft beer, or grab a drink from the individual beverage station or bottle service menu.
Domes are heated, but come dressed for the cold temperatures and enjoy under snowflakes and stars this winter.
Address: 6080 Fallsview Blvd
Reservations required
Related: Where to Cut Your Own Christmas Trees in Niagara
4. Stroll through the Floral Showhouse's Poinsettia Show
Poinsettias are one of those plants we only see around Christmas. What better way to enjoy these red and white festive plants than at the Floral Showhouse?
Experience Niagara's Annual Poinsettia Show, featuring traditional holiday landscapes with touches of bright lights and colours that make the magic and warmth of the holiday season come to life.
Get lost in the Christmas spirit with a stunning display of 1400 poinsettias unlike anything you've seen before!
P.s. this display may leave you feeling inspired to add a few poinsettia plants at home! Just remember these are highly poisonous to your feline friends!
Related: Fun Things to do Outdoors in Niagara this Winter
5. Be enthralled by Fallsview Casino's Christmas on Ice
Rave reviews state that one of the best ways to get into the Christmas spirit in Niagara Falls is by seeing the Christmas on Ice show! It's a crowd favourite every year!
You'll enjoy world-class ice skating in a winter wonderland, filled with holiday cheer and national championship ice skaters, dancers, and signers.
This whimsical ice skating masterpiece is on from November 24th – December 9th, 2022 at the Avalon Theatre, 6380 Fallsview Boulevard.
Grab your tickets to Fallsview Casino's Christmas on Ice. All ages welcome!
Related Posts
Pin it for later!