We are so fortunate in the Niagara Region to have so many fun things to do outdoors to keep us busy this winter season, like sledding, hiking, skating and more! Niagara really is an outdoor lover's paradise!
If you're looking for things to do this winter in the Niagara Region, this list has you covered from Grimsby, Beamsville, St Catharines, Niagara-on-the-Lake, Niagara Falls and beyond!
The Niagara Region is one of those awesome places to visit in Ontario in the winter, because there are so many outdoor activities to do, and luckily for us locals, we don't have very far to go!
Time to strap on those winter boots, bundle up, embrace Canada and brave the outdoor elements with these best things to do outdoors in Niagara in the winter!
Last updated: October 2023
Don't let the cold weather prevent you from getting outside and enjoying what the Niagara Region has to offer! There is no such thing as bad weather – just bad clothing! You can still have fun outdoors this winter, it'll just require a little layering! 😉
This isn't an exclusive list of everything there is to do in Niagara, but this is focused on what there is to do outdoors this season (2023).
I look forward to adding to this list (I've already updated this a few times!) as I discover more fun things to do around me this winter. Being at home has allowed me to really explore what's around me, including lots of hidden gems, and take up some new hobbies!
This post contains affiliate links and I may earn compensation when you click on the links at absolutely no extra cost to you! Feel free to check out my disclosure policy. Thank you for supporting my blog!
Go Hiking
The thought of hiking in the cold weather doesn't appeal to a whole lot of people.
I wasn't sold on it either until our first snowfall, and it turned the landscape into a magical winter wonderland. Now I could write all day long about the awesome trails we have to hike during the wintertime.
Fortunately in Niagara, we are blessed with an abundant amount of hiking trails to take during the winter. Plenty of them are safe to do so (even when the snow is covering the ground), so all you really need to do is bundle up, get some sturdy footwear, and go explore!
My recommendations? I fell in love with my winter hiking boots from Mountain Warehouse. I have complete confidence that they will keep me upright. I also bought a winter jacket that is rated to -50 degrees.
I can't recommend these two products enough and I tell everyone about them. The best part is – there's almost always an epic sale at Mountain Warehouse!
One thing I'm glad I did this year was get out on the trails. It gave me a heads up as to which ones would be safe during the winter under a foot of snow!
When I say safe, I mean ones that don't have large crevices or gaps like many sections of the Bruce Trail, where you can misstep and slip in between rocks if they're snow covered. I also mean ones that aren't close to the edge or ones with a lot of tricky elevation changes!
Finding frozen waterfalls should be on your winter hiking bucketlist too!
Safe winter hiking trails in the Niagara Region
Beamer Memorial Conservation Area, Grimsby (free)
Ball's Falls, Lincoln ($8 per person admission)
Short Hills Provincial Park, St Catharines (Black Walnut and Swayze Falls loop) (free)
Woodend Conservation Area, Niagara-on-the-Lake (free)
Shagbark Nature Trail, Fort Erie (free)
Heartland Forest, Niagara Falls (free)
See more beautiful winter hiking trails in Niagara!
PS. want to set a hiking goal this year? Sign up with 52HikeChallenge and set a goal to hike 52 times this year! Plus, with all the hiking trails right here in Niagara, it's not hard to get outdoors and experience our Canadian winter!
Icewine Tasting
Canada is known for its wine and icewine, and what better way to experience winter in Niagara than to sip local icewine!
Typically the Icewine Trail Touring Pass is available in January. You'll be able to purchase a pass and book your Icewine experience at some of the Niagara-on-the-Lake wineries!
What is Icewine?
In a sense, it's like drinking liquid gold. It's a dessert wine made from grapes that were frozen while still on the vine, where they dry into raisins.
The naturally occurring sugars in grapes, so once they're pressed, it's like a super-concentrated version of grape juice. It's labour intensive, which is why ice wine is typically more expensive and sold in smaller bottles.
My Favourites
Many Niagara wineries are offering curbside pickup and reduced shipping rates.
Where to go Icewine and Wine Tasting Outdoors in Niagara
Konzelmann Winery
If you're looking to cozy up next to a firepit this winter and sip some award-winning wines, Konzelmann Winery in Niagara-on-the-Lake is offering fireside flights!
For $35, you'll get your own private firepit for 45 minutes, a flight of seasonal wine (including my seasonal favourite, mulled wine!) paired with smores board!
Available weekends from December – March.
Creekside Winery, Jordan Station
Lounge in your snow pants at Creekside Winery! Available daily from 11 – 4 pm. Wines by the glass and charcuterie boards offered at their outdoor seating patio. Buy a bottle of their Vidal Icewine to take home – you won't regret it!
Peller Estates Winery, Niagara-on-the-Lake (Indoor)
Looking for a unique experience? Check out the Peller Estates Icewine Lounge as a part of their Greatest Winery Tour. Note that this is an indoor activity but they also offer a Winter Luxe Lounge on winter weekends for 4-10 guests. Pick from a variety of menus and wine, and enjoy their seasonal cocktails!
Bonus: Don't miss out on the icewine marshmallows roasted over an open fire!
When Do You Drink Icewine?
It's best served chilled after a meal – think of it as a dessert! I like mine with cheese or on its own. You can also pair it with chocolates or rich pâtés.
Fun fact about icewine: Harvest only happens once during the winter, once temperatures fall below –8ºC for 2-3 nights in a row. Grapes are hand-picked at night or in the early hours of the morning and pressed while they're still frozen, in an unheated building. Anyone want that job? 😂
Skating at Wayne Gretzky Estates
Visiting Wine Country doesn't have to be during the warmer months! You can go skating at Wayne Gretzky Estates in Niagara-on-the-Lake at their very own skating rink!
How appropriate for this part owner and former NHL star to have an ice rink!
Admission is $10 which gets you one hour of skating ($5 for Wine Club Members).
Guests are encouraged to bring their own skates and helmets, but you can also rent them for $10. I figured I'd be doing a lot more outdoor activities this winter and actually bought my own pair of skates from Canadian Tire and I love them. I did get mine on sale, but here's a similar pair (and less money, too!)
The skating rink is available early December through to mid-March. Book here.
Looking for another place in Niagara-on-the-Lake that has an outdoor skating rink? Check out the Ice Rink in the Gardens at the Pillar and Post! It's free for guests and the public.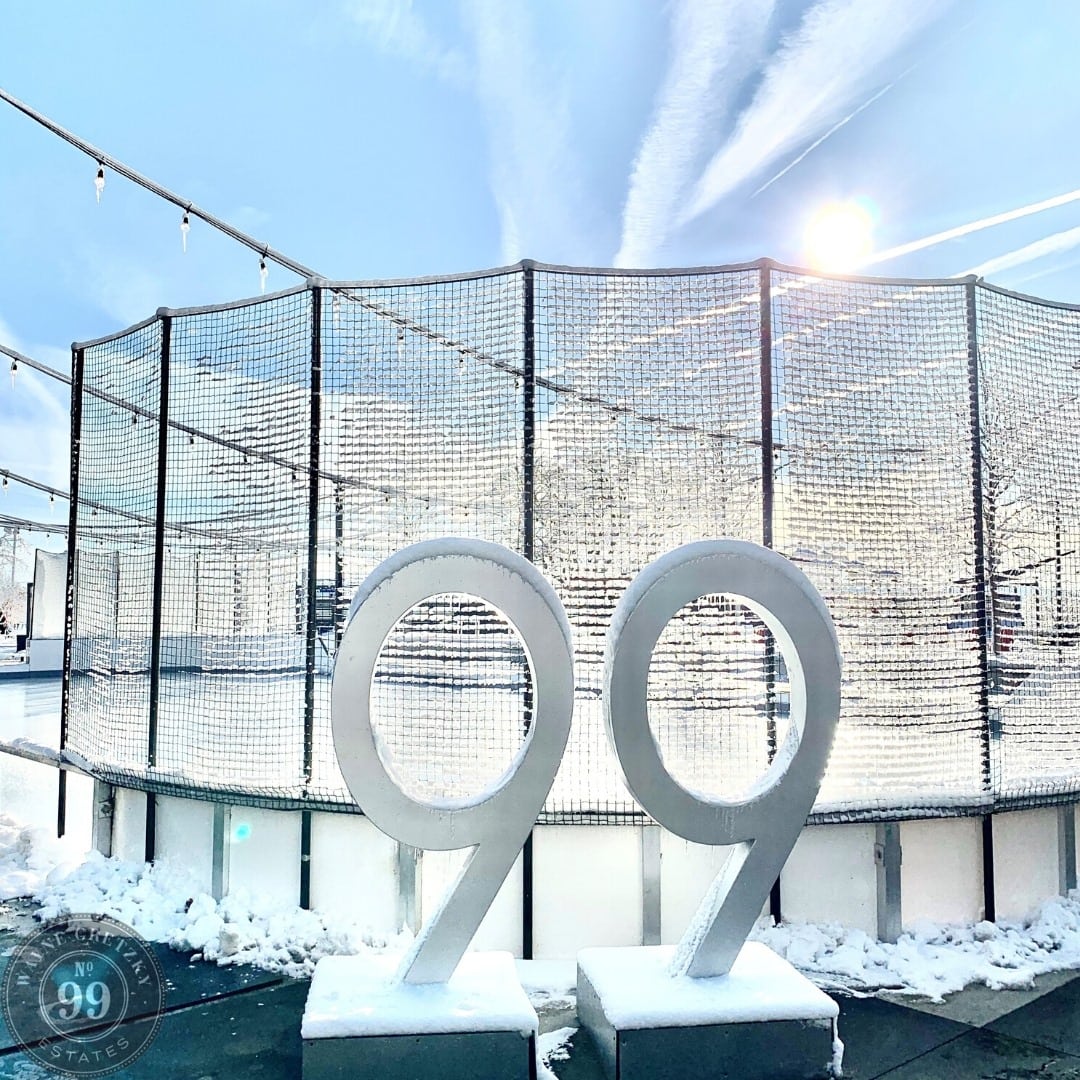 Outdoor Skating Rinks in Niagara
Fortunately for us, there are also plenty of free public outdoor skating areas in Niagara!
Hilary Bald Park, Beamsville
St. Patrick's Park, St Catharines
Woodlawn Bush, Welland
Lions Outdoor Skating Rink, Niagara Falls
Pillar and Post, Niagara-on-the-Lake
Looking for more outdoor skating rinks in Niagara?
Check this out!
P.s. need skates? Sport Chek has a ton of skates to check out! (And, if you sign up here, you'll get 10% off your purchase!)
Note: At the time of this article being published, I am still in touch with our local townships to see which indoor skating rinks and community ice rinks are running this year (post-lockdown) – stay tuned!
Go Tobogganing and Sledding
Sledding was one of my favourite activities growing up. I have so many family memories that I will cherish. It's a fun way to get some activity in (maybe even tire out the kids?) and create those family memories that will last a lifetime!
Where to Go Sledding in Niagara
Check out some awesome places to go tobogganing and sledding in Niagara (with directions!), with spots ranging from Grimsby to Niagara Falls and beyond.
P.s. Don't have a sled? Grab yours here!
Drink Local Beer Outside at Bench Brewing Company
Starting Sunday November 20th (2022) from 10 am – 6 pm, Bench Brewing Company is hosting their "Crafted @ Bench Winter Market" on their patio, which now have heated bubbles!
Sample local craft beer and tasty food in a cozy atmosphere while browsing through the market featuring local artisans of all kinds!
My favourites are Cherry Grove, Folklore on Cherries, and Apricot Wildwood.
Visit a Sugar Bush
Another fun family activity that should be experience in Niagara is visiting a sugar bush farm!

On top of finding some cool maple syrup products to take home, you can learn how maple syrup was made, enjoy a campfire lunch, go on a wagon ride through a forest of Maple trees, and experience family fun outdoors!
The best time to visit a sugar bush is during March at peak maple syrup season! Plus, it's one of the best times to try some maple taffy in the snow!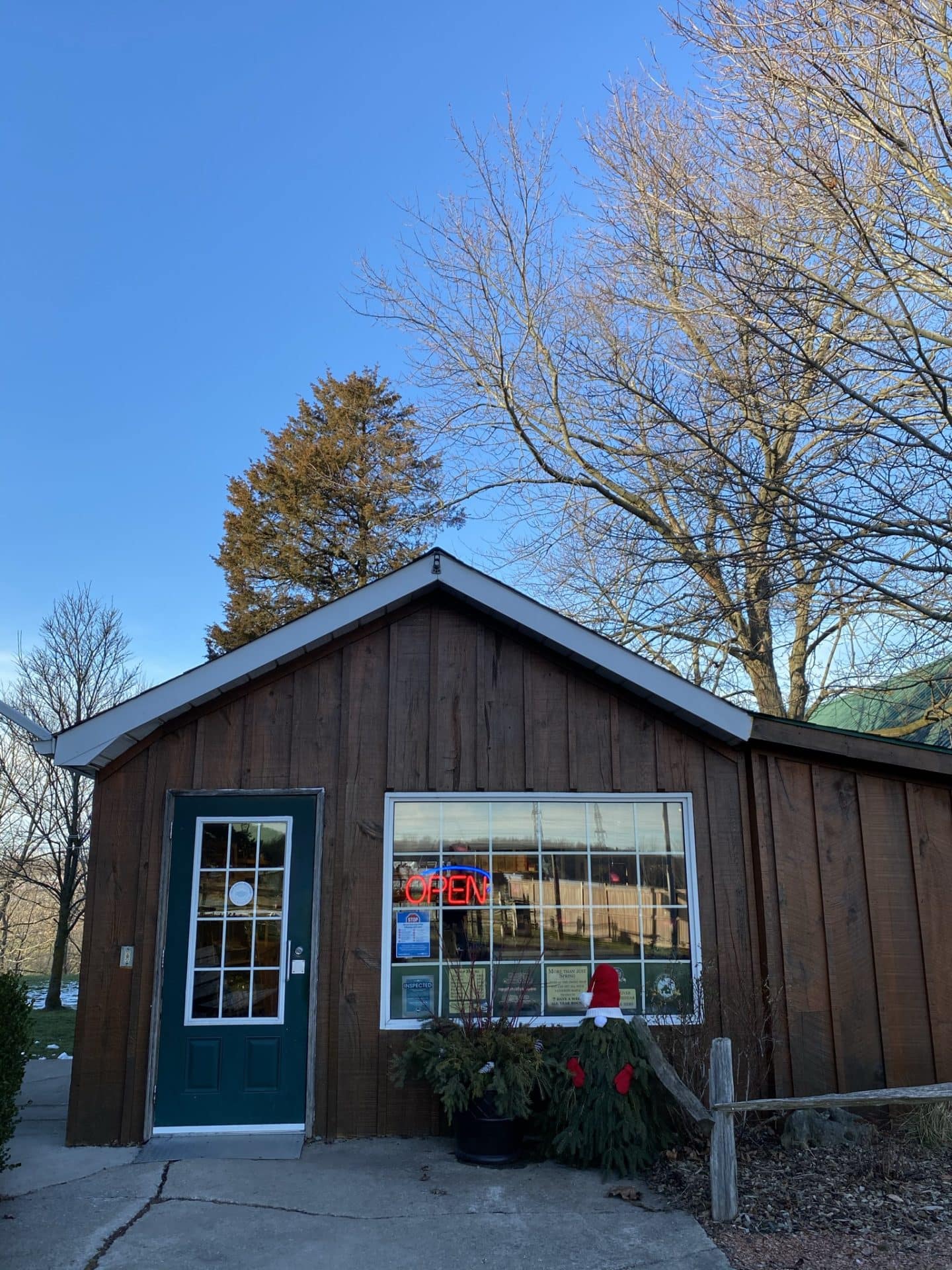 Go Snowshoeing in a Vineyard
It doesn't get much more Canadian than this, eh? You can snowshoe through a Riesling vineyard at Thirty Bench Winemakers in Lincoln this winter, starting in January. You'll be shown the best trekking methods while guiding you through wine samples amongst the snowy vines.
Your experience includes a guided trek, snowshoes, wine tastings (including a souvenir glass to take home), and a cup of soup to warm you up.
Cost: $65 per person ($55 for Wine Club members). Book online here.
See the Frozen Falls
Over the years (and during exceptionally cold months!), Niagara Falls has experienced some freezing.
While it's nearly impossible for Niagara Falls to completely freeze over, you may be able to witness partially frozen falls during the winter months.
The force of the water tumbling over the edge keeps the falls flowing, but during cold spells you may be able to see icicles and miniature glaciers form around the falls and they are spectacular.
Standing near the edge of the falls near the Table Rock Centre and listening to the roar and power of the water as the ice cracks doesn't compare. It's awe-inspiring to stand there listening to it.
Fun fact: I say nearly impossible because there has only been one recorded freezing of Niagara Falls, back in 1848, when an ice jam on the river produced the right conditions for a complete freezing.
See what else you can do in Niagara Falls for free!
Be sure to stop by Queenston Heights too, just 10 minutes from Niagara Falls, with plenty of things to see outdoors, and makes for a great winter day outside for sightseeing.
p.s. have you seen the shipwreck sitting on top of Niagara Falls? Find out what it is!
Find more frozen waterfalls in Niagara!
Niagara Falls Winter Festival of Lights
Extended this year! The 2023 Niagara Falls Winter Festival of Lights runs from November 18th – January 7th, 2024! This is the 41st anniversary of the Winter Festival of Lights!
This is something I love doing every year until Christmas. If you're looking for something to do one evening, I highly recommend going to Niagara Falls for a visit!
With over 3 million lights on display along the Niagara Parkway and the Dufferin Islands, there are endless photo opportunities and unique things to see, like giant moose, 3D Inukshuks, light tunnels, fairy houses and more!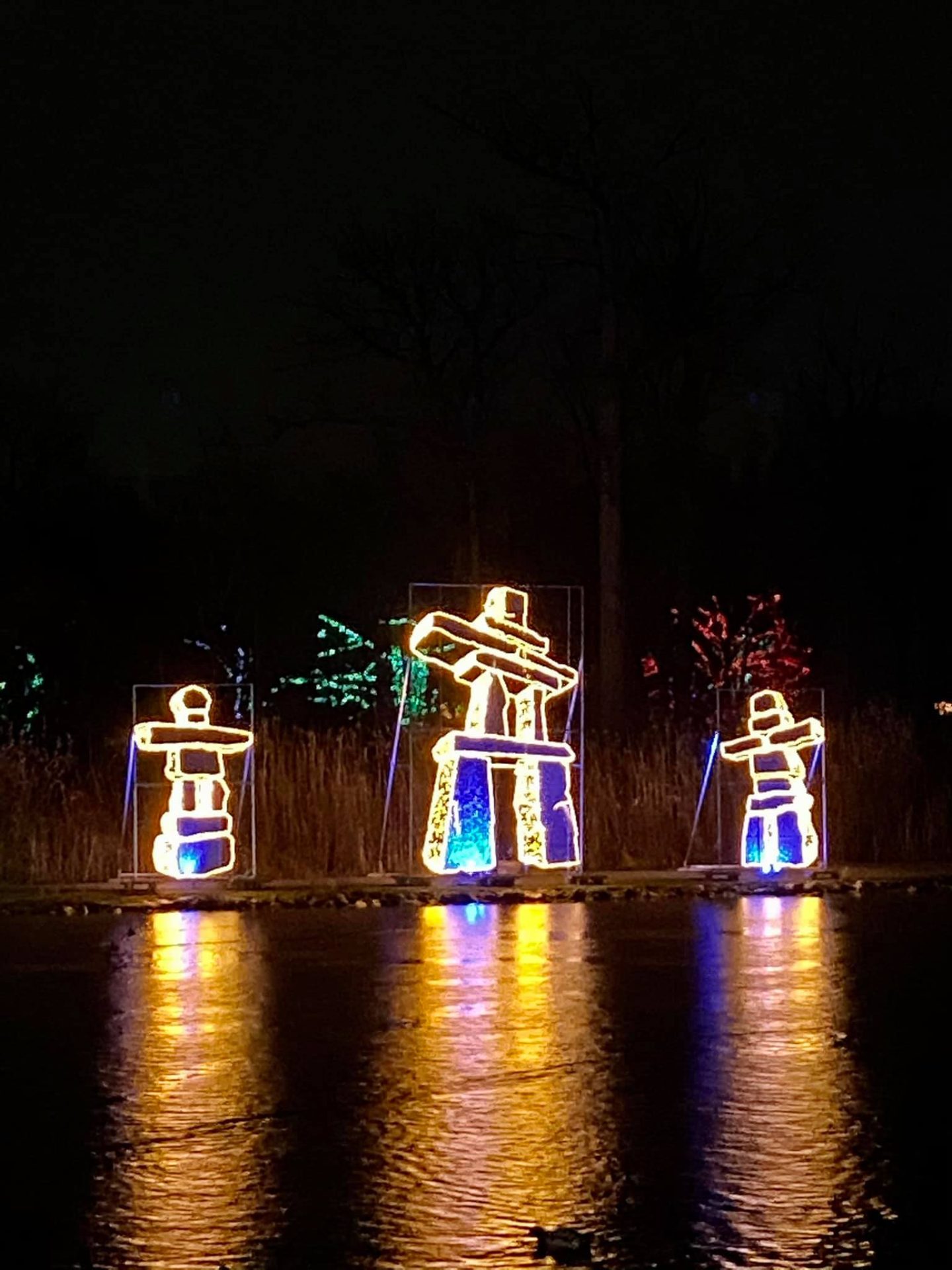 The best part is, it's free! If you go through the Dufferin Islands, there are attendants at the exit to collect donations if you wish (recommended: $5 per person), and well worth donating to, for all of the hard work that's done to create this winter wonderland!
Tip: If you can manage it, go during the week. It will be significantly less busier than weekends and will allow you more flexibility to pull over for photos without worrying about who is behind you!
Sip Wine in a Heated Dome
Drinking wine in your own heated wine dome? Genius. These unique winter snow globes are the perfect touch to a Canadian winter.
Fielding Estates Winery in Beamsville offers the best way to taste wine this winter. With 12 igloos to book ahead and reserve for 1.5 hours for $20, you're able to sit with up to four of your family members and drink wine by the glass, order a tasting flight, and snack on cheese and crackers.
Each dome is lit up and makes for a romantic evening under the snow and stars. Book online here.
Looking for some more dome dining experiences throughout Ontario? Here are some stunning spots for dome dining to enjoy this season!
Visit the Painted Ladies at Historic Grimsby Beach
What's better than colourful cottages in a storybook setting? Visiting these gingerbread cottages in a storybook setting in a winter wonderland!
Like a true fairy tale, these charming Victorian-style cottages at Historic Grimsby Beach will leave you imagining yourself in a storybook.
There are tons of little hidden gems tucked around the tiny neighbourhood, including a "Little Library" and ornate artwork dotted throughout the laneways.
Just a note to please be respectful of homeowners properties – and admire these beautiful "Painted Ladies of Grimsby" from a distance.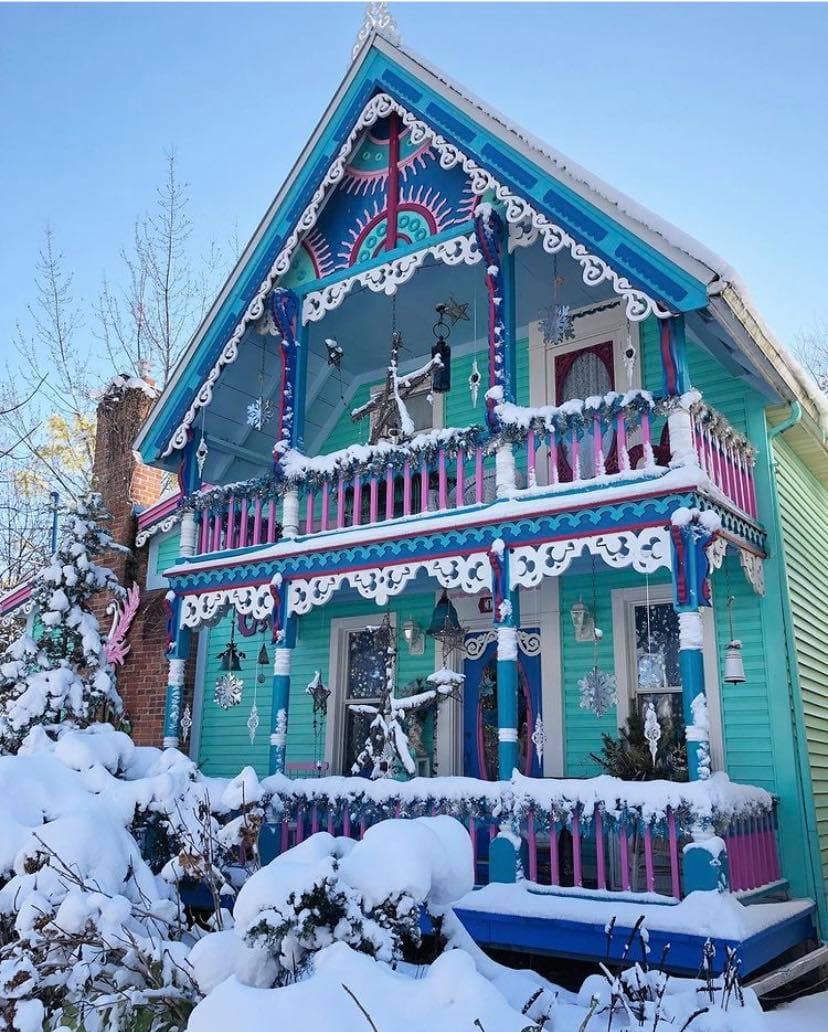 Ready to Head Outdoors?
We're so lucky to have such a vast change of seasons and a multitude of outdoor things to do in the Niagara Region. Whether you're with your family or by yourself, there's no shortage of ways to spend winter outside.
I look forward to updating this post as I uncover more hidden gems in Niagara!
Pin it for later!
Related Posts