One thing I've been really grateful for, not only this summer, is how close I am to all of the amazing wineries in Twenty Valley.
We're so lucky to live in Niagara's wine region – only 60 minutes from Toronto, and home to countless wineries for you to try. I've been living in Lincoln for 5 years (and grew up in the area) and I have yet to get to all of them, so you definitely won't have a shortage of choice for where to go!
This is a sponsored post. Opinions expressed are my own.
This post contains affiliate links.
One thing I love the most is uncovering all of the hidden gems in Ontario. That's why I was so excited to come across Alvento Winery in Vineland – just 10 minutes down the road from our house, right in the heart of Niagara's wine country.
Alvento is a boutique, family-owned winery tucked away down a quiet street near Lake Ontario, surrounded by vineyards. Prior to grape growing, the property was a peach orchard, and the tasting room actually sits in the peach harvest barn from 1876 – complete with original beams and stained glass windows!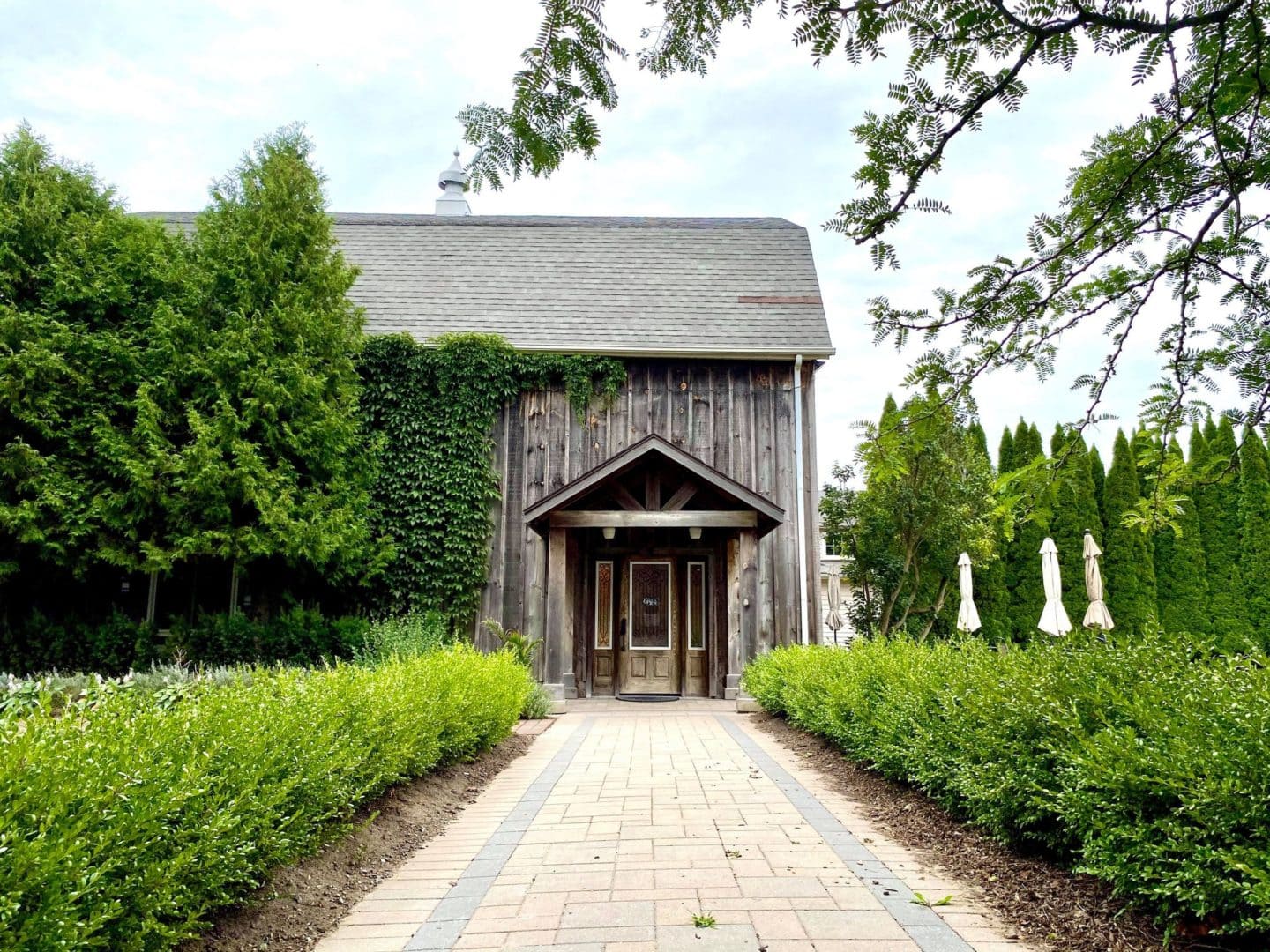 Established in 2001 and purchased and rebranded by the Zhang family 2 years ago, Alvento Winery sits on 14 acres of vine-loving soil, allowing this charming winery to focus on small-batch production with big flavour at an affordable price.
Producing just 3000 cases of wine each year, there was surprisingly a wide-range of offerings – everything from sparkling wines, clean whites, classy rich reds, and fruit-forward, delicate icewine.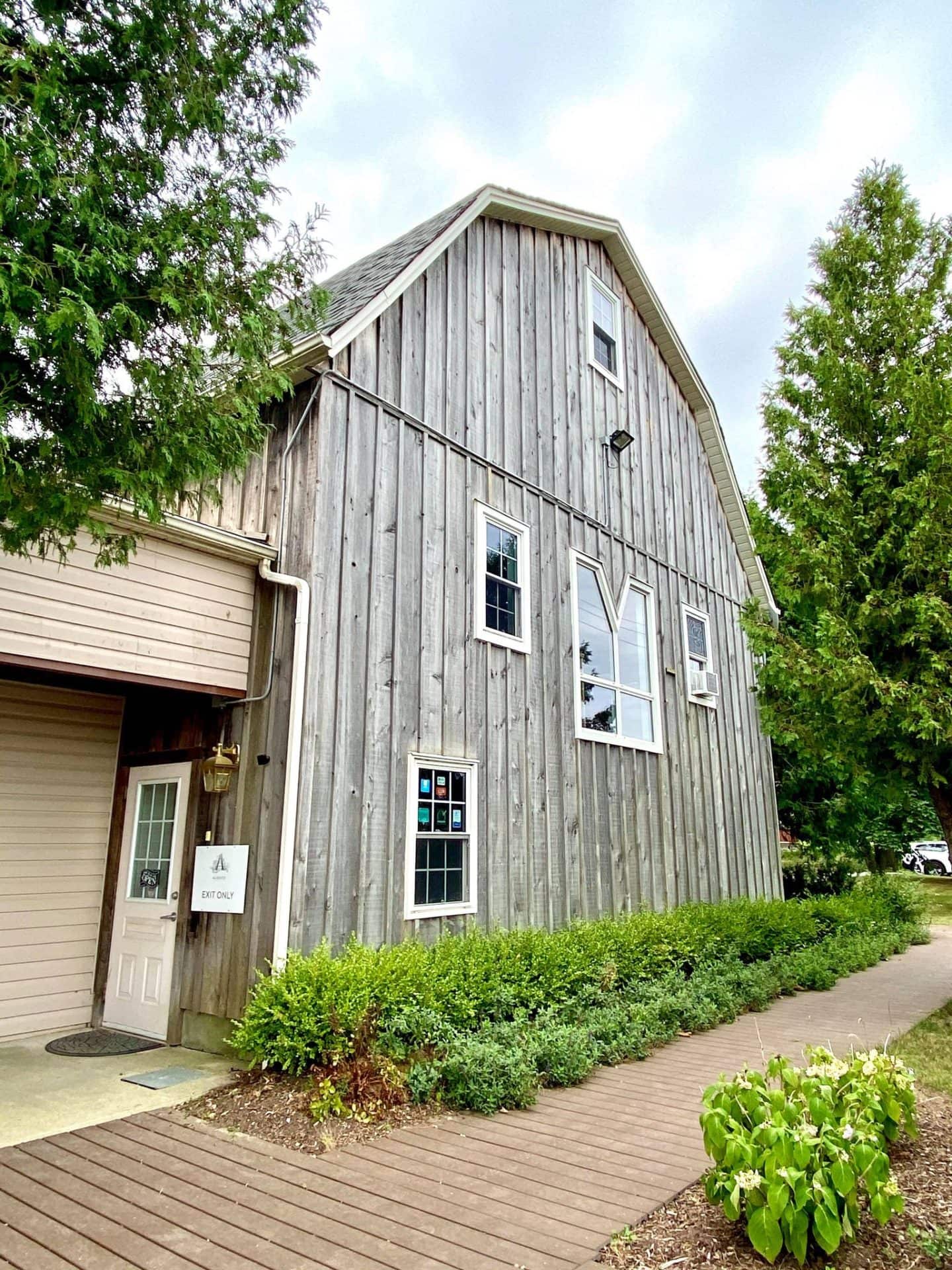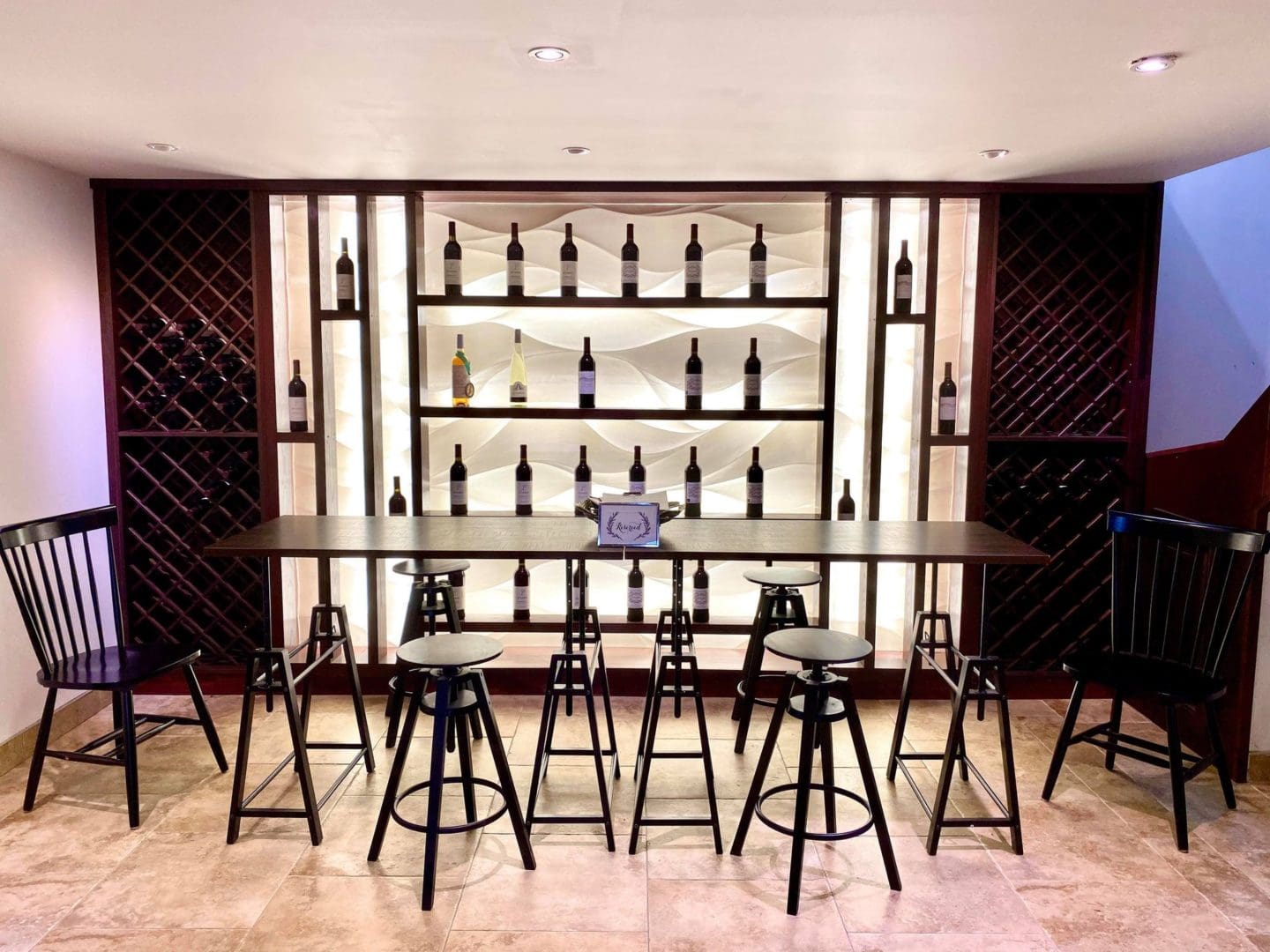 What's in a name?
Alvento is an Italian phrase that translates to, "At the Wind." Danny Zhang (owner) explained this in such a poetic way.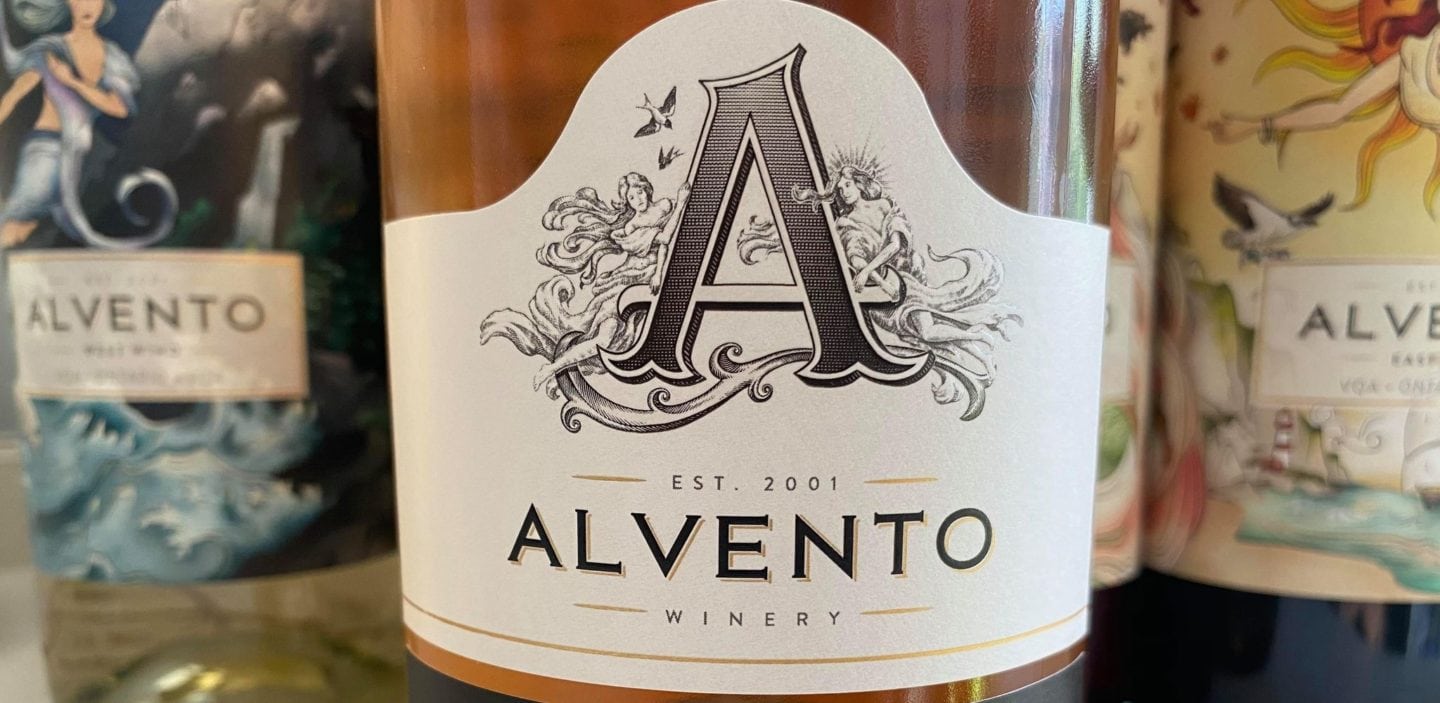 If you take a look at the logo, you'll notice two goddesses on either side. The left being the Keeper of the Wind, and the right being the Bringer of the Dawn. The Niagara wine region is located in such a place that provides a unique climate creating ample growing conditions for vines, with its warm days and cool nights, and receiving the wind from Lake Ontario and creating fertile micro climates.
Now, I am no wine connoisseur (😂), but I DO know a good wine when I taste one (check my resume as a professional wine drinker since 2008 haha!), and I can tell you that Dana and I truly enjoyed each wine we sampled. Each one was refreshing and aromatic.
There is a wine for every palette. I loved how Danny spoke about pairing food that is relatable to us – like pizza and Thai food – which is something we are way more inclined to pair with wine with than the typical "pairs well with fish." Nothing beats Friday wine and pizza night at our house!
Note: these are our impressions of the tasting notes!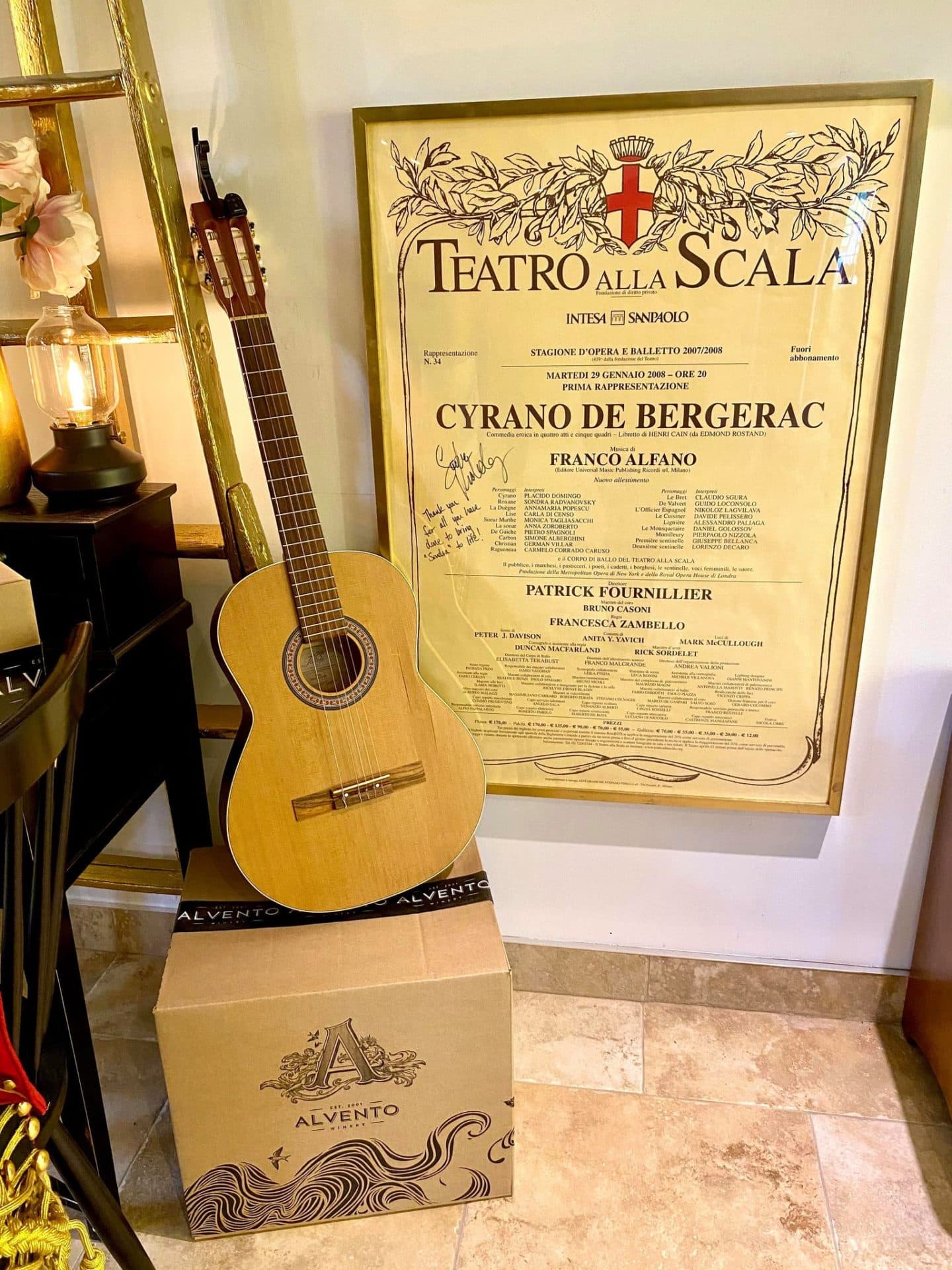 Odyssey Series
2018 Celeste Traditional Sparkling – fresh and floral with notes of peach and lime.
2018 Sparkling Rose – an easy drinking bubbly, which I would use for any occasion! Delicate, balanced sweetness with strawberry notes.
2018 Neutral Chardonnay – clean with a soft finish with notes of apple.
2018 Barrel-Aged Chardonnay – nectarine and vanilla aromas with a delicate oakiness.
2019 Riesling – a floral aroma with refreshing notes of peach.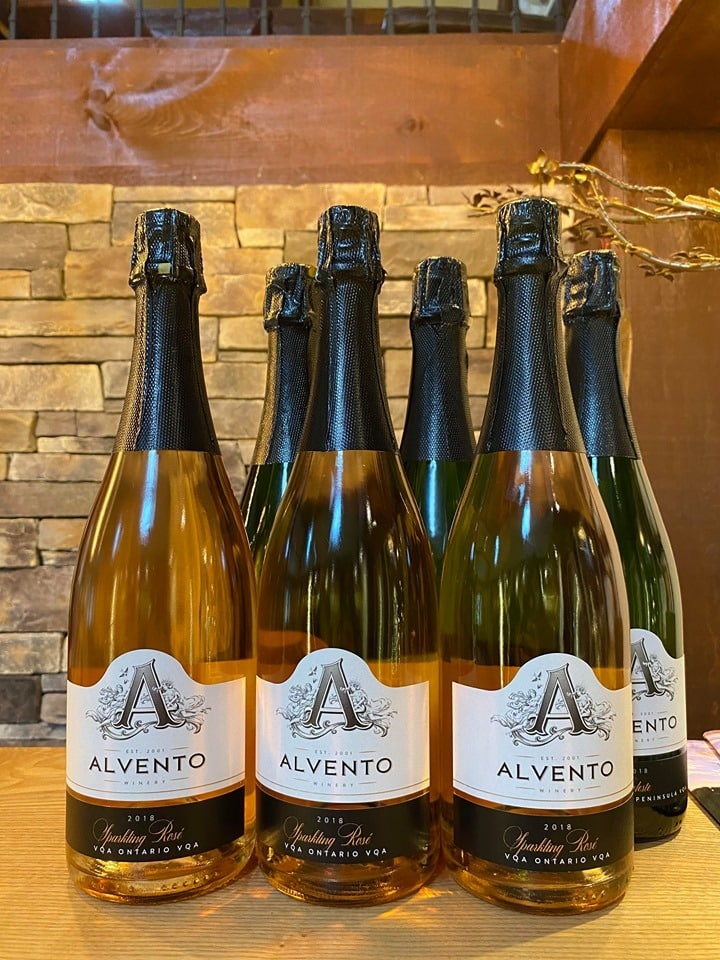 Solar Series
2018 Zephyr – loved this one! It smelled exactly like icewine but wasn't sweet and had a dry finish. High in alcohol at 15%!
2017 Astral – a Merlot and Cabernet Sauvignon blend, with notes of plum and a cooling finish.
2017 Boreas – We really picked up on mocha and cherry notes with this one. It would be perfect with a nice steak!
2018 Austero – a beautiful rich red with notes of leather and spice.
2018 Riesling Ice Wine – We absolutely adored this icewine and the acidity and sweetness is perfectly balanced.
2018 Cabernet Franc Ice Wine – You'll pick up on the strawberry and rhubarb right away and it's heavenly.
It was hard to narrow down some favourites, but if we had to pick, the top contenders were the sparkling wines, the Riesling and the icewine – which utterly shocked me. Their icewine smells very sweet (and typically it is!) but instead, you get strong fruit flavours and a delicate sweetness. Dana and I both looked at each other and thought, what is this?? We're used to sampling icewine and having it coat your tongue from the sweetness – but this was such an enjoyable wine that would be perfect for curling up next to a fireplace sipping after dinner.
We were even able to taste one of their legacy wines, a 2007 Aria – a Nebbiolo (a Northern Italian variety we haven't had before!) – a rich red with distinct flavour that reminds me of my time in England, with notes of leather and left me craving a cigar.
A note on Chardonnay
I like drinking everything, and what I drink changes with the seasons (I like my whites in the spring and summer and reds in fall and winter), with the exception of Chardonnay, because of how oaky it can taste. For my friends and family reading this, you know my feelings on this!
After I mentioned this to Danny, he offered me two of their Chardonnay to try – one that is aged in a stainless steel barrel and neutral oak barrels known as their 2018 Neutral Chardonnay. Danny likened the neutral oak barrels to a stick of chewing gum: the more you chew it, the less flavour you get, so these oak barrels have been used over the years and don't offer that distinct oak flavour you get in a lot of Chardonnays.
I was really surprised how clean-tasting this one was, and it didn't taste like your typical Chardonnay! Even their 2018 Barrel-Aged Chardonnay (aged for 18 months) was soft and fruit-forward, unlike some other Chardonnays that hit you like a brick wall. I daresay I may have become a convert that day! I encourage you to try it!
It's all in the technique…
We don't often consider how much heart and soul goes into winemaking when we pick up a bottle to enjoy at home. Some of Alvento's wines, like their 2018 Zephyr and a part of their 2017 Boreas are made via the traditional Italian Appassimento process – where the grapes are hand-picked (!!!) and dried like raisins for a period of time to pack a concentrated sugar, flavour (and alcohol!) level.
These are the types of things you don't pick by just drinking a glass of wine.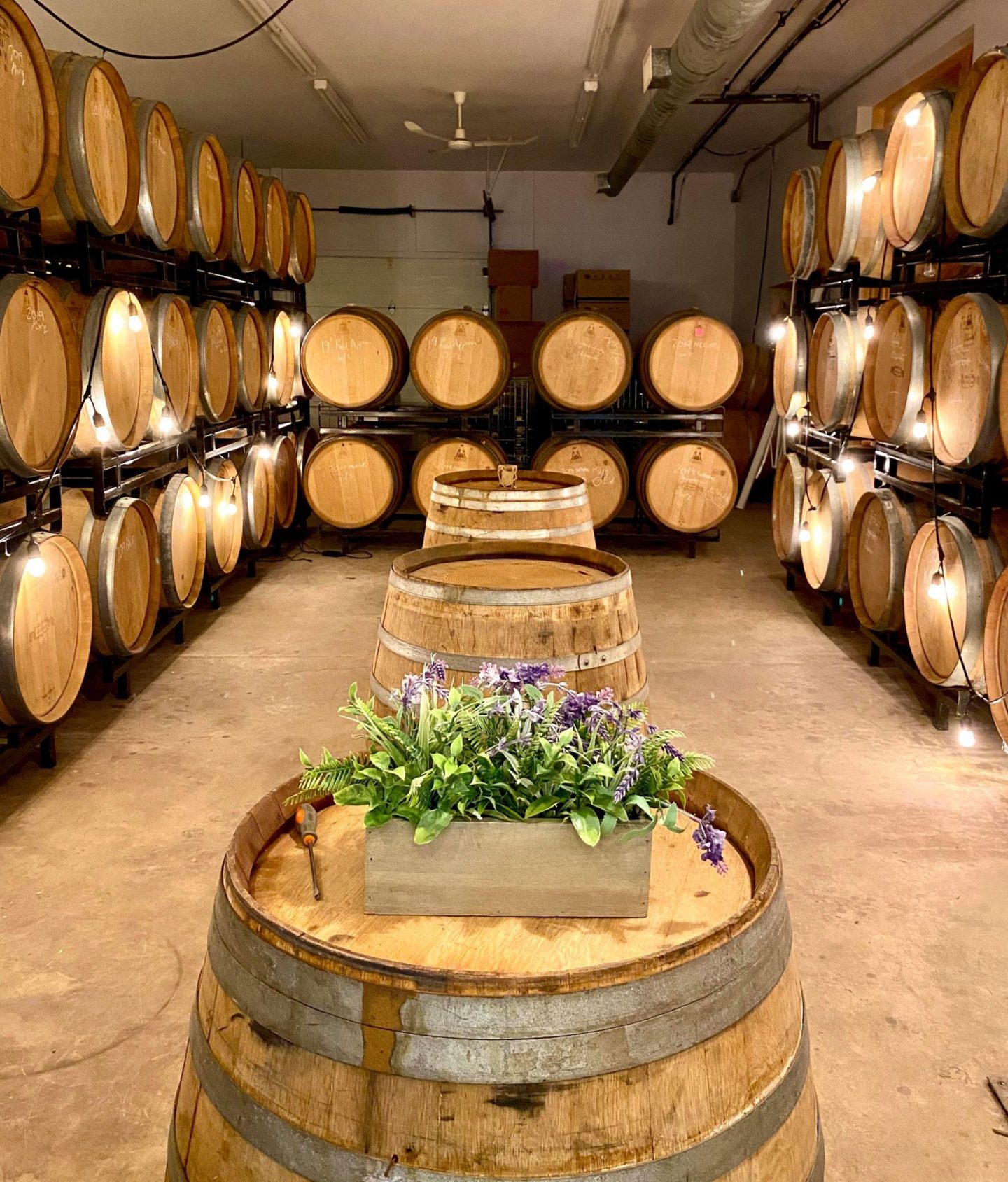 We were given a tour of their barrel cellar, used for events like the Niagara Icewine Festival, and their production room. The process of winemaking is fascinating but it's surprising how little equipment you actually need to produce wine!
The Wind Series
Alvento Winery has created a beautiful series named "Wind" – featuring four Wind Goddesses representing each cardinal direction. The labels themselves are stunning and will grab your attention.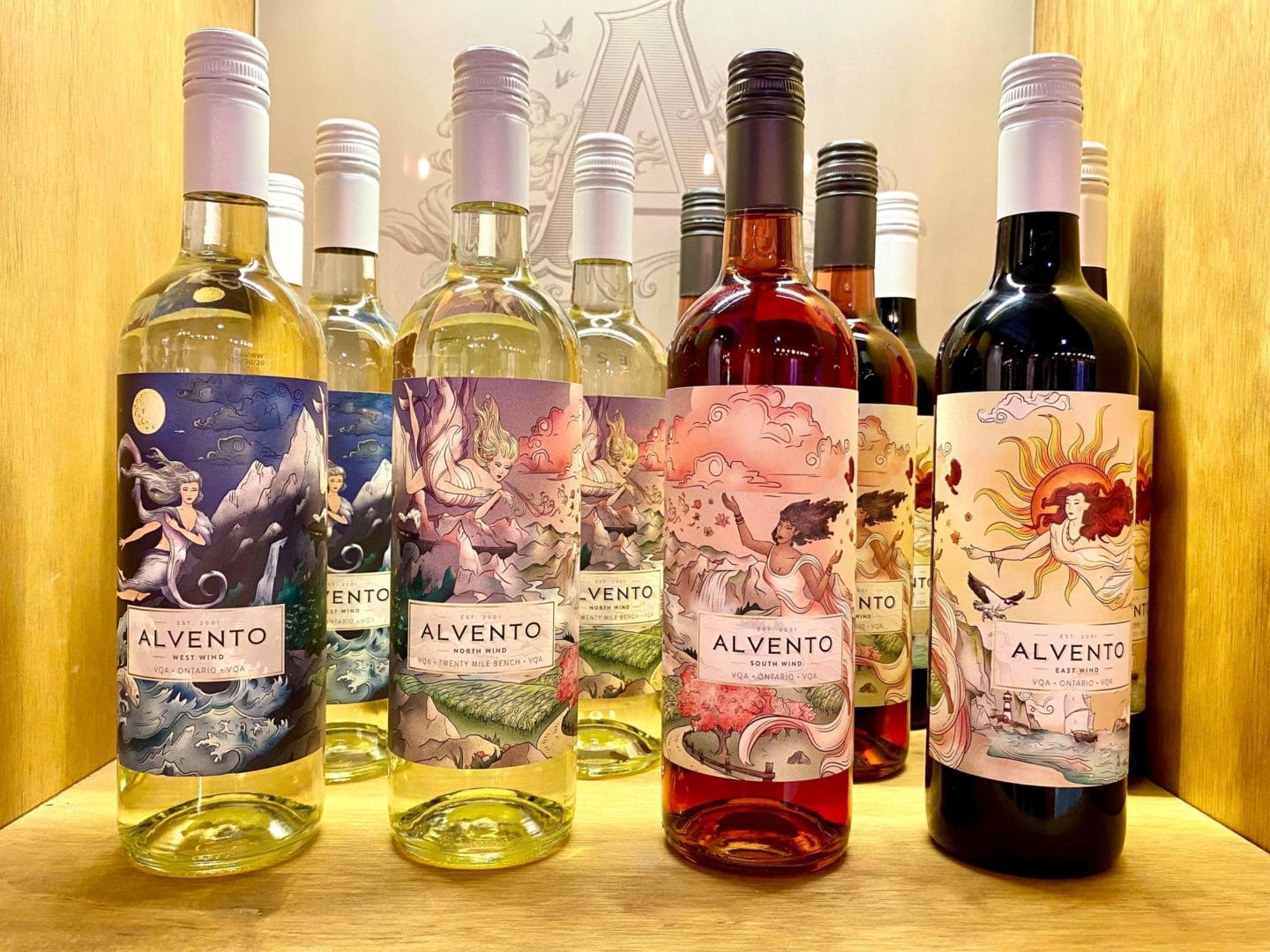 Danny's concept for the Wind series is completely genius, as each of the four light and airy designs represent a part of Canada and together, forms a complete illustration of our beautiful and diverse country.
The Wind series is inspired by nature and the elements that connect us all – and the ancient bond between these elements bring promise and opportunity to these lands.
As you move from West to East, you'll notice the intricate designs all connected as one – from our west coast fishing industry to the Rocky Mountains (and the creative idea to incorporate the Rocky Mountaineer train!), Niagara Falls and vineyards with ties to Danny's family's peach trees, and ending up on the East Coast with the iconic lighthouse and ships. Have you ever seen something like this?
You can find their South Wind Rosé in the LCBO now! But better yet, if you're in Ontario you can get FREE shipping on orders $150 or more with the code LOCAL at checkout directly from Alvento Winery's online store, until the end of the year! *Must be 19 years or older.
Which Wind Goddess are you?
Alvento has even put together this creative quiz to find out which Wind Goddess you are – try it and comment below to let me know which one you got! I got Goddess of the West Wind!
Awards
Alvento's hard work has paid off, winning a total of nine awards at The Finger Lakes International Wine & Spirits Competition this year!
2018 Riesling Ice Wine: Bronze
2012 Tempest: Silver
2019 East Wine: Silver
2017 Astral: Silver
2018 Sparkling Rosé: Silver
2018 Cabernet Franc Ice Wine: DOUBLE GOLD
2017 Boreas: Silver
2018 Riesling: Silver
2019 South Wind: Silver
Looking for a weekend getaway in Niagara's wine region?
Stay in your very own wine villa!
A unique offering at Alvento is their beautifully renovated 100 year old luxury wine villa on the property, perfect for bachelorette parties (there was one the day we went!) and girls getaway weeks. This villa sleeps 10 in 4 bedrooms and includes wine tasting at the winery. It makes a great base to other locations in the Niagara Region and is close to numerous award-winning restaurants and stunning scenery. Grab a group of friends and enjoy the best of Twenty Valley!
New to Airbnb? Use my referral link to save $50 on your first booking and $20 towards an experience!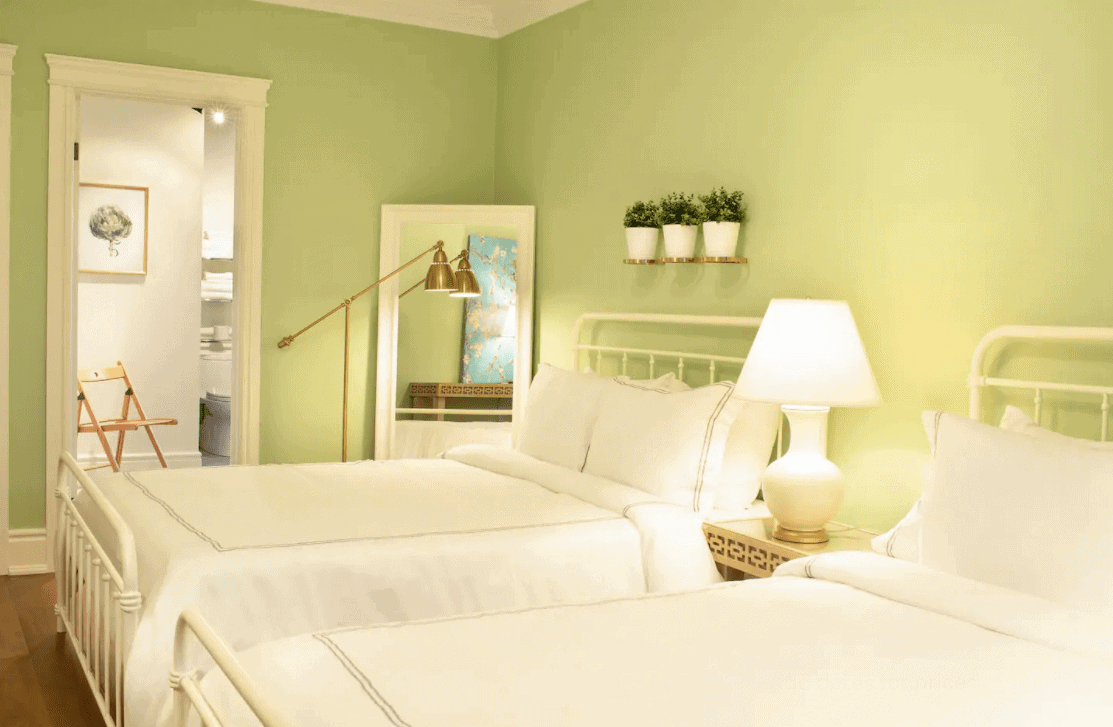 How to get to Alvento Winery
Alvento Winery is a short drive from the Victoria Ave exit off the QEW, right in the heart of Niagara wine region. Head away from the lake and up Victoria Ave. Turn left onto Second Ave and follow it until you reach the winery!
Final Thoughts
Alvento Winery is a must visit and is truly a hidden gem in the Ontario wine region.
I really loved the personal one-on-one experience during our tastings, which is something you don't always get at a lot of the other larger wineries here in Niagara. You can tell the love and passion that this small team puts into each and every bottle.
So, if you're planning your next wine tour in Niagara, be sure to visit this charming winery for some incredible wines and warm and inviting hospitality.
2020 is an upside-down year for many of us, but it's allowed Alvento to focus on some new projects and innovating ideas with their wines – stay tuned!
Thank you Danny and Natalie for such a wonderful experience and for hosting our visit!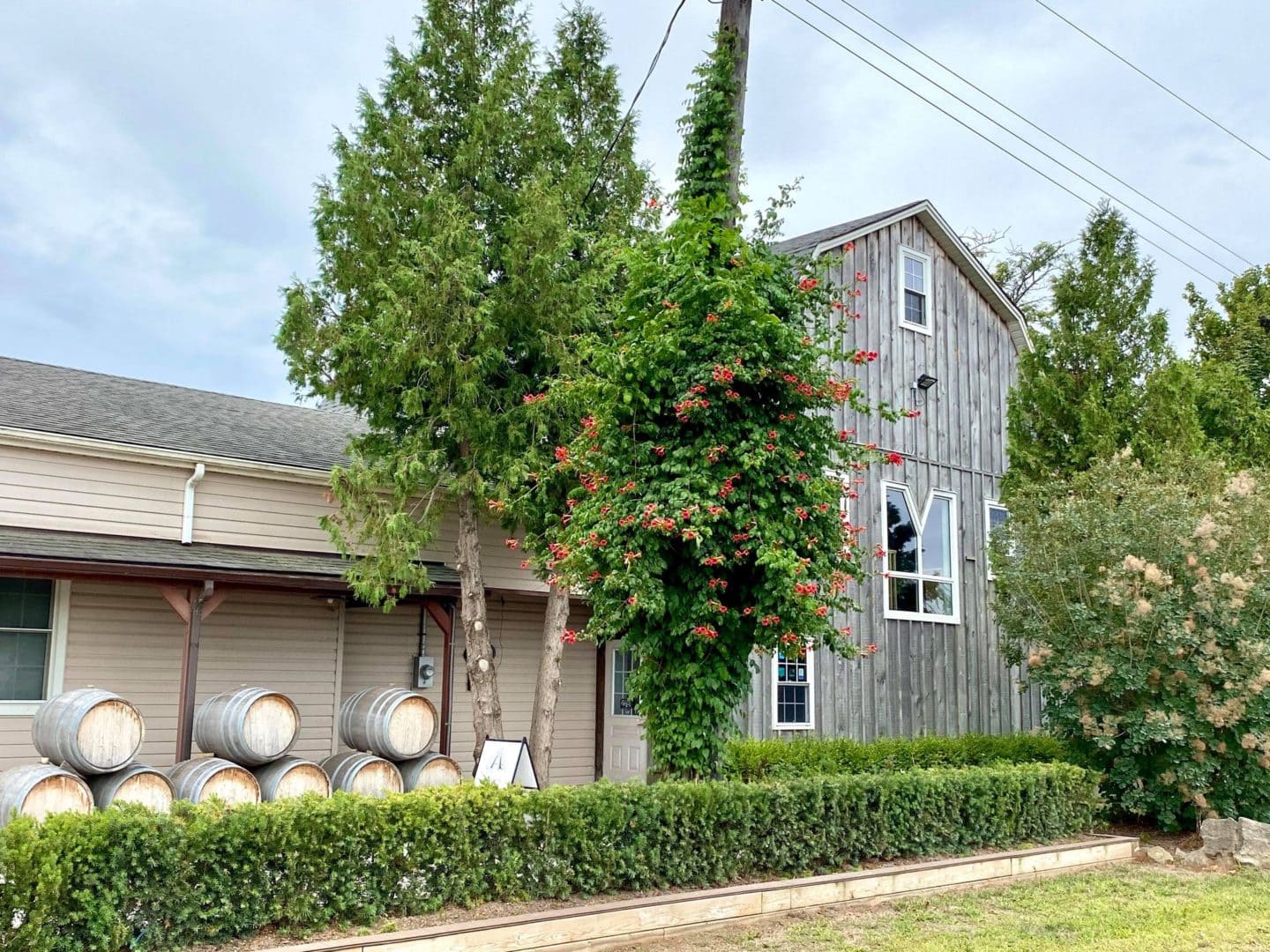 Pin it for later!