One thing that I've learned to appreciate during the whole pandemic is our amazing province. I've previously been so preoccupied with our travels abroad that I've neglected our own backyard and the abundance of amazing outdoor activities that surround us.
Hiking in Ontario is just awesome and it's been an eye-opening experience. It's grounding, peaceful, and challenging at times, but I've said "wow" more times than I can count. It's one of those activities that keeps me focused mentally, while allowing the opportunity for exercise at the same time.
One of the things that has surprised me most is the amount of Ontario hiking trails with waterfalls – and there are way more than I thought!
Looking to add some beautiful hikes to your plans this fall? Here's your list – and I will continue to update throughout the season.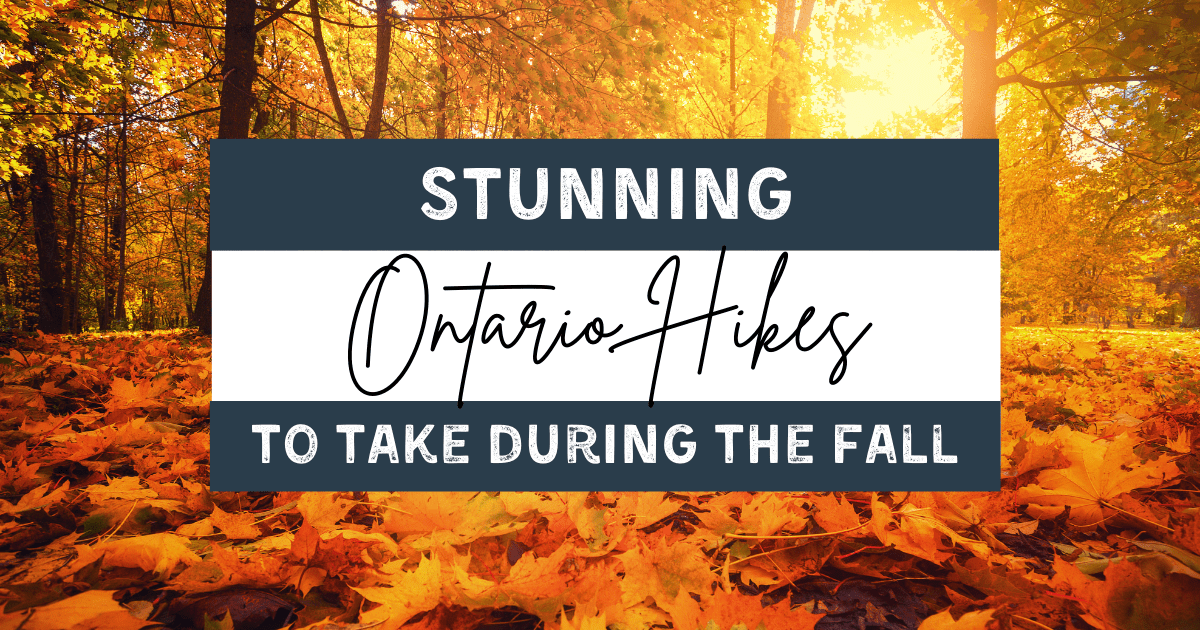 This post contains affiliate links which means I earn compensation when you click on the links at absolutely no extra cost to you! Feel free to read my disclosure policy. Thank you for supporting my blog!
Plan your next vacation using these tools!

✈️ Book flights: SkyScanner
🏨 Book hotels: Booking.com
🚘Book car rentals: RentalCars.com
🎫Book tours: GetYourGuide
🌍Favourite travel item: Packing cubes
🧳Favourite travel bag: Osprey 40L Fairview
🩹 DIY Travel Medical Kit
💸 20 Cheap Travel Items Under $20
Ball's Falls Conservation Area, Jordan
Ball's Falls Conservation Area makes for a gorgeous hike at any point during the year, but it's most stunning in the fall.
A visit to Ball's Falls is like a step back in time. The area has been lovingly restored to resemble one of the first communities in the area. It occupies over 200 acres of the original 1200 acres originally purchased by the Ball brothers, back in the early 1800s.
It's home to numerous lovingly restored historic buildings, including an operating flour mill, lime kiln, church, blacksmith building, carriage shed, and the original Ball family home.
If you want a different perspective (and to save the $8 per person entrance/parking), you can hike in the back way from Glen Road. There is limited parking (but easily enough for around 10 cars, depending how people park!). From here you can follow the Bruce Trail and if you're feeling adventurous, and depending on the weather, you can hike right up Twenty Mile Creek to the base of the lower falls, which is absolutely gorgeous! It's a more technical part of the Bruce Trail but it's worth it!
From this access point you can follow a set of 125 stairs up to the top of the escarpment and follow it along to Ball's Falls Conservation Area, occupying 200 acres of the original 1200 purchased by the Ball brothers, back in the early 1800s. Visiting here is like stepping back in time.
Follow Cataract Trail to the upper falls from the main parking area for some more impressive views and interesting sights.
This conservation is one of the most popular in the area, and it's not hard to understand why. The geological and historical factors make Ball's Falls Conservation Area a fabulous place to visit for a fall hike and is also great for families with young children!
You can also take historical village tours from Victoria Day through to Labour Day, and during their Thanksgiving Festival (virtual this year, but you can still visit for tours!).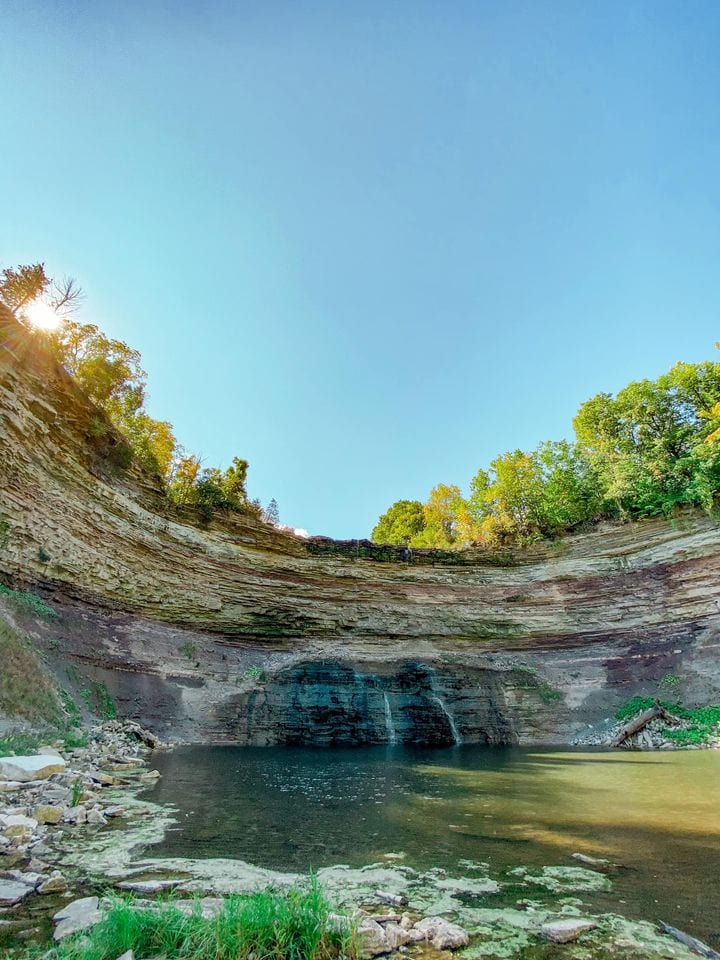 Short Hills Provincial Park, St. Catharines
You'll never get tired of the views or the trails at the Short Hills. With nine trails spanning over 1600 acres, Short Hills Provincial Park is the largest park in the Niagara Region.
Getting its name for the "short hills" that appeared as a result of glacial erosion over 12,000 years ago, there is an abundance of beautiful scenery, fun trails, and interesting sights to see, including an impressive view of Swayze Falls on the Paleozoic trail.
There is a wide variety of animal and plant life, and if you're lucky you'll catch sight of wild turkeys, deer, and different species of birds.
Three of the nine trails are open for multi-use (Swayze Falls, Very Berry and Black Walnut), and you'll likely see mountain bikers, horseback riders, and numerous hikers out taking in the changing colours of the trees during the fall.
There are three main access parking lots, depending on which trail you choose, but there are no bathroom facilities, so plan accordingly!
The most popular access point is from Pelham Road (Parking Lot A), so if you decide to go for a weekend hike, be sure to arrive early!
Finish off your visit to the Short Hills by visiting nearby wineries like Henry of Pelham or Hernder Estates!
Louth Conservation Area, St. Catharines
Without a doubt, this is the Niagara Region's best hidden gem that is something like right out of a fairy tale.
Tucked away right down the street from Sue Ann Staff Winery on top of the escarpment in St. Catharines, this little oasis has a serene and quiet setting, perfect for exploring.
Its well-marked trails will lead you along a loop that takes about 30 minutes to walk, but there are a few side trails you can take (which you definitely should check out!) which will lead you to paths with giant stepping stones like out of a child's storybook and amazing views. You'll even get to see a waterfall and meander up 15 Mile Creek to see some awesome striations in the creek bed from years gone by.
It's one of the quietest places in the region, making it a top contender for one of the best, just because it isn't as frequented as more popular places like Balls Falls! Of all the hikes I've done this summer, this is still one of my top favourite ones.
There is limited parking – perhaps 6-8 cars, and is popular amongst locals, especially on the weekend. Weekdays are quiet, and what better way to end your hike with a visit to Sue Ann Staff!
St. Johns Conservation Area, Fonthill
Tucked away in the Niagara Escarpment is St. John's Conservation Area – a tranquil setting for visitors for to hike, fish, and view wildlife.
There are four trails of varying lengths to take, winding through the old growth forest with boardwalks across marshes and a scenic trout pond. There is also a paved path around the pond, making it stroller and wheelchair accessible!
The trails are interesting with mostly wide sections, with the exception of the St Johns Ridge Trail, where it is a bit narrower. There are also two steep climbs that we came across, but aside from those spots, the trails are generally relaxing and scenic.
Some of the trees here are part of an old-growth forest and are over 150 years old. They tower above you and are magnificent to see!
There is tons of parking and offers a tranquil place to come for a hike. We saw lots of families enjoying the pond and trails.
St. Johns is open year round, but only available for weekend use from October 1 – December 31st.
Niagara Gorge Hiking Trail, Niagara Falls
If you're looking for utterly impressive views, you need to visit the Niagara Gorge, accessed via Niagara Glen.
Just 5 km north of the main hubbub of the tourist part of Niagara Falls, the Niagara Gorge hiking trail offers eight hiking trails, one bouldering trail, and jaw-dropping views of the Niagara River Whirlpool with its turquoise blue waters. It's easily one of the most beautiful trails in Ontario during the fall.
Trails are easily marked but there are some challenging parts with an elevation change of 200 meters, but the views are worth it. A set of stairs takes you down to winding paths through Carolinian forest and past boulders left behind when the Falls eroded the area thousands of years ago!
Understandably, it's a busy spot to visit, so if your schedule allows, try to visit during the week for less congestion.
Parking is $1.25 an hour to a maximum of $10 a day (for 8 hours) which for Niagara Falls is affordable and great value!
Kinsmen Park, Beamsville
Conveniently located 10 minutes from the QEW at the top of Mountain Road in Beamsville, is Kinsmen Park.
The Bruce Trail leads through here and there are numerous side trails and other conservation areas you can join up to from Kinsmen.
This is a favourite fall Ontario hiking trail for many people and for good reason! There is ample parking and you can visit numerous times and never do the same trail twice!
The dense forest offers stunning colours in the fall and a peaceful setting. You can catch a glimpse of the treeline, vineyards, and unique geological formations.
It's a popular spot amongst locals and a great spot for families to visit. There is also a dog park here to enjoy the peaceful setting and gorgeous fall colours. Kinsmen Park in Beamsville is a definite must-visit at any time of the year, but fall is especially beautiful!
Kinsmen Park also has trails leading west through some wineries – be sure to stop by Fielding Estate Winery to experience their Wine Dome Lounge!
Beamer Memorial Conservation Area, Grimsby
Offering stunning views of Toronto and panoramic views of the Niagara Escarpment, Beamer Memorial Conservation Area is a hidden gem in Grimsby, Ontario and is part of the Bruce Trail.
Surrounded by beautiful Carolinian forest, there is a smooth gravelled path great for families or those looking for an easy stroll. For those seeking more adventure, there are tons of trails off the beaten path to explore, including a (steep and uneven!) set of stairs down to the base of the escarpment, right along 40 Mile Creek.
Well known for its Spring Hawk Watch, Beamer is a prime hiking spot to visit during the fall, when the trees are changing to vibrant shades of orange, yellow and red.
The Lookout Trail is about 25 minutes to complete and safe for children. Other trails are right along the escarpment and would be cautioned to be left to those who are more active, as there are no safety rails. If you decide to take the path less travelled, it's about 90 minutes to complete with lots to look at.
There are new lookout platforms to climb for sweeping views of Niagara, and numerous hidden trails to access 40 mile creek and endless spots to stop and take a photo.
There is ample parking down Quarry Rd. The parking lot is small but there is plenty of street parking and is free to access.
PS if you are looking for the waterfall itself, be sure to drive over to the Falls Lookout parking lot off of Ridge Rd. There you'll find a trail that will lead you straight down to the base of the falls, and allow you to get right up close to it (water dependent!). It isn't a difficult hike down, nor is it terribly steep.
East Mountain Trail, Hamilton
Contributed by Erin of Three is Us
Straddling the edge of the Niagara Escarpment, Hamilton is a fantastic place for a hike year round, but it's especially gorgeous in the fall. As the leaves begin to change to their vibrant fall colours, a hike along the escarpment provides some stunning views.
Hamilton is also known as the Waterfall Capital of the World, with over 150 waterfalls. Why not take a hike this fall and explore a few, while enjoying the display of fall colours?
The East Mountain Trail Loop is an easy 4km trail (one way) that passes by four waterfalls.
Starting at the Felker's Falls parking lot, take the trail and enjoy views of the falls and ravine. There is a short loop that passes along the edge of the escarpment and loops back for a glimpse of the 22 metre high Felker's Falls.
Continue the hike by heading west from the parking lot and follow the Bruce Trail along the escarpment edge. The trail leads to Glendale Falls, where you can cross under the Red Hill Valley Parkway and then continue along the Bruce Trail to Albion Falls. There is no longer access to the bottom of the falls but the views from the lookouts are fantastic.
Continue a little further along the Bruce Trail to reach Buttermilk Falls, before turning back and returning to Felker's Falls. The majority of this hike is along the Bruce Trail, but there is a small portion on the shoulder of the road (to reach Albion Falls).
Total distance is around 9km, although you can turn back after reaching Glendale Falls which is approximately halfway.
To reach the parking lot at Felker's Falls, take the Red Hill Valley Parkway exit from the QEW to the Mud Street exit. Turn left on Paramount Drive, then right on Ackland Street which leads to the parking lot. Felker's Falls is hidden in a subdivision, so don't worry that you're not in the right place!
Courtcliffe Park, Carlisle
Just a short 20 minutes from downtown Hamilton, Courtcliffe Park is a hidden gem that many people are unaware of. It's a free park with wide trails of varing lengths.
The total loop is about 3 km, with some paths paved and others grass. It's very well maintained and flat, making it suitable for strollers, bikers, or leisure walkers. It's also a popular spot for dog owners to come.
Situated just off of Hwy 6, Courtcliffe Park offers a large parking lot, a playground for children, informative plaques about wildlife and the park's restoration initiatives, and numerous spots for picnicking.
It's a scenic walk, especially in the fall, with numerous side trails with bridges, creeks, and ponds. The park provides ample opportunities for wildlife viewing with more than 50 nesting boxes for birds and bats are dotted throughout the park.
It makes for a perfect fall outing with family or pets, and isn't as busy as come other conservation areas. The best part is – it's completely free!
Looking for another fall outing in the area? Don't miss visiting Westfield Heritage Village, just 20 minutes down the road!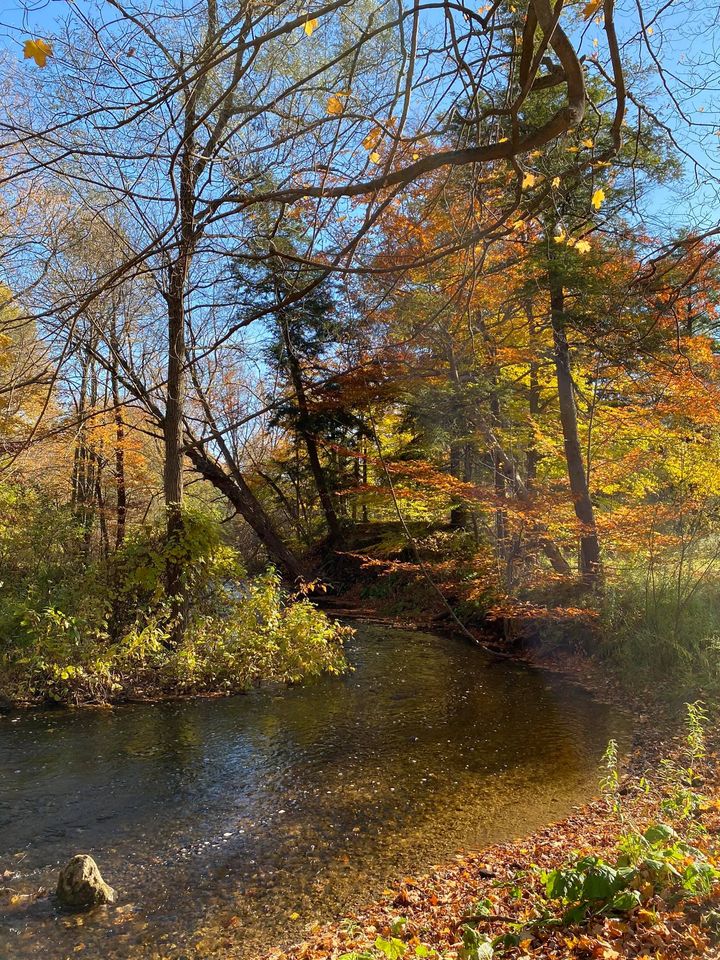 Scenic Caves, The Blue Mountains
Scenic Caves Nature Adventures makes for an epic fall hiking location in Ontario. Between the 450-million-year-old caves and geological formations, to 15 km of winding trails through beautiful forest, to Southern Ontario's longest Suspension Bridge, Scenic Caves has it all!
It caters to all skill and age levels – with varying trail lengths.
The caves and caverns themselves put Scenic Caves on the map. Once home to the Petun First Nations and used as their protection, there is loads of history here.
You can even try your luck fitting through "Fat Man's Misery" – just 36 inches wide!
The viewing points in the fall are stunning. You can catch sweeping views of Georgian Bay from numerous lookouts and a 360 degree view from their Suspension Bridge, which bounces gently above the treetops (it's the height of the Eiffel Tower!).
Just two hours from Toronto or two and a half hours from the Niagara Region, Scenic Caves makes for a great fall hiking destination, either as day-trip or a weekend getaway.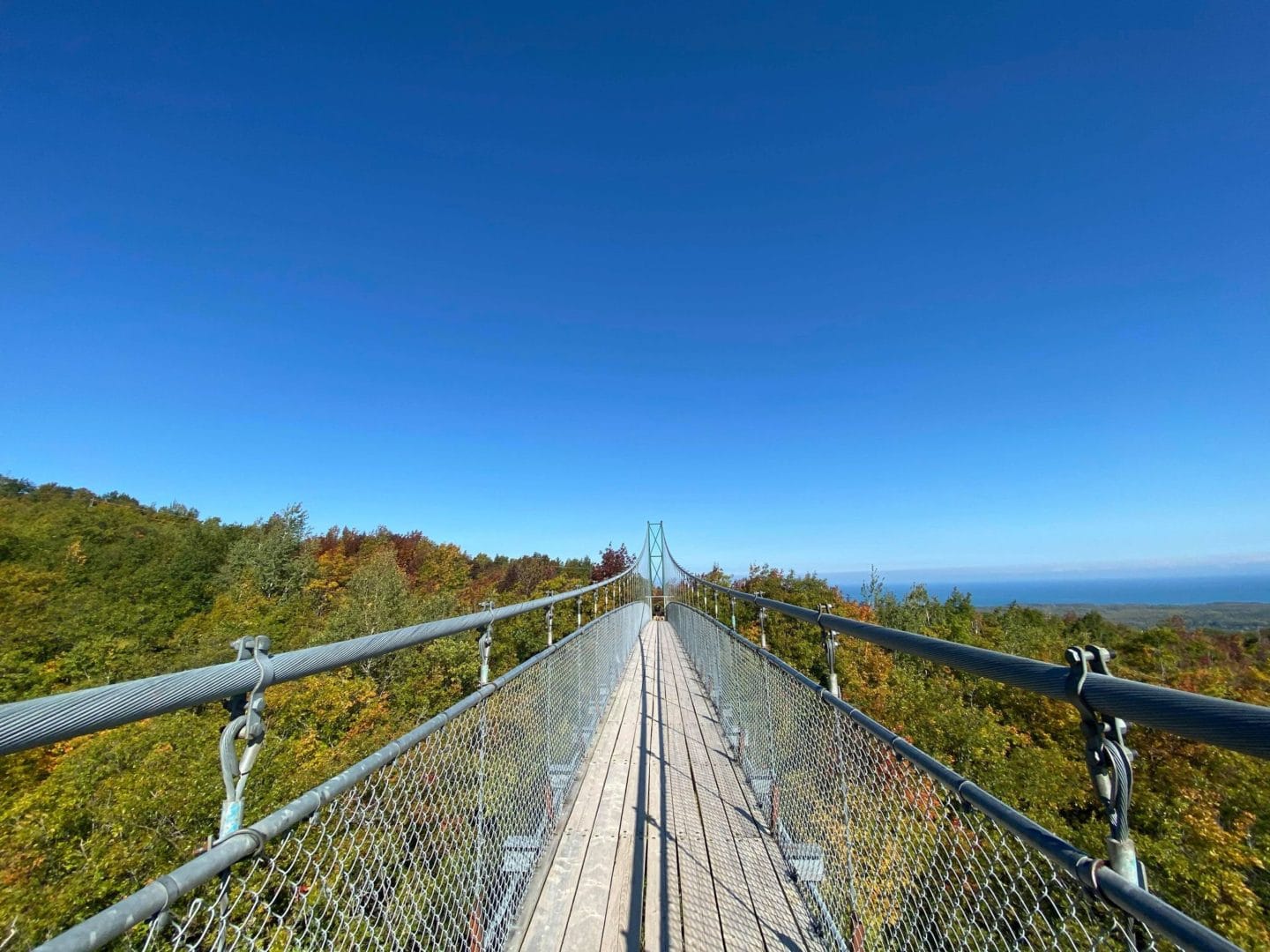 Inglis Falls, Owen Sound
Contributed by Devin of Deventuretime
Inglis Falls is a great fall hiking destination in Ontario due to the sheer beauty of the area and the impressive 18m high cascading waterfall. Located in Inglis Falls Conservation Area in Owen Sound, this waterfall is one of the most popular hiking destinations and certainly one of the most stunning waterfalls to visit in Ontario. It is especially popular to visit during fall when the trees in the conservation area turn to beautiful reds and oranges.
The viewpoints for the waterfall are very easy to get to as they are conveniently located right off of the parking lot. Here, you can capture amazing photos of the powerful waterfall, or opt to hike down to the base for a different perspective.
After admiring the beauty of Inglis Falls, you can continue hiking through the conservation area on over 7km of hiking trails. These trails are quite low intensity, making it a great spot to bring the family for an outdoor adventure. From here, there is also access to the scenic Bruce Trail if you wish to hike to a further destination.
The conservation area is also a great spot for those who enjoy bird watching, picnics, and admiring the many different species of plants throughout the park. It certainly makes for a great fall nature escape for the whole family!
The Cup and Saucer Trail, Manitoulin Island
Hiking The Cup and Saucer Trail is an absolute must when visiting Manitoulin Island.
The trail system is made up of three major loops, all connected, with varying levels of difficulty and provide some of the best panoramic views of the island. The varied terrain combined with the gorgeous scenery, made this by far, our absolute favourite hike!
3 Trails to Choose From
The easiest trail, and also the longest at 10km, is the South Loop. It will take you approximately 4 hours to complete, but is considered more of a walk than a hike. The Main Trail at 5km is more difficult. Labelled as moderate, it consists of uneven terrain, with steeper inclines in a few areas, as well as stairs and rocks to climb. However, anyone who is reasonably fit and able-bodied should not have a problem completing this loop. The shortest hike is the Adventure Trail at 500m, but it is also the toughest! Don't let the short distance fool you; it will take some time to complete. This trail requires much more physical fitness and a good set of hiking shoes! Not only do you climb down the cliff on a wooden ladder, but you are walking on narro rocky trails, and squeezing through rock crevices!
East Lookout
But the absolute best part of the Cup and Saucer Trail is the East Lookout. The 180- degree panoramic views from this lookout are spectacular! Nowhere else on the island are you going to find the perfect view of the blue waters of Georgian Bay, spectacular dolomite cliffs, and rich green forests. However, with no barriers, the view down is pretty dizzying!
All in all, the trails are well traversed and easy to follow, even though some of the markers are faded or missing. Large signs mark trail junctions and lookout points, so navigation really shouldn't be an issue. The trailhead was easy to find, with large street signage on Highway 540. There was also plenty of lot parking and port-o-lets available.
Forks of the Credit Provincial Park, Caledon
Forks of the Credit Provincial Park is situated at the end of the famous Niagara Escarpment and just a short drive from the red Cheltenham Badlands.
The park is approximately 70km from Toronto and will take just over an hour to arrive from the city centre by car. The area approaching the park is very residential so parking is no issue to worry about.
Local residents visit the park during Fall for hikes and during the summer for picnics. During the winter some parts of the park turn into ski slopes!
Forks of the Credit is home to a number of different trails, so you will be kept busy no matter how many times you head over. Trails include Meadow, Bruce, Kettle, Dominion and the most famous Trans Canada trail.
When you enter the park, you will see a guide map which explains the length and difficulty of each trail. For first timers, we would suggest Bruce or Kettle as you will come across the beautiful Cataract Falls on route. There is a safe solid viewing deck for you to stand in front of the falls and see the water go off in the distance.
It is a great spot to take a little break and grab some Instagram pics! Once you get over Kettle Lake, you have the chance to merge into the Bruce trail to loop back to the start.
Fall is a great time of year to walk through these fields as lots of flowers come out in their amazing array of colours and the fresh natural scent will have you wanting to come back!
Final Thoughts
Fall is undoubtedly one of the best times to go hiking in Ontario and we're so fortunate to have so many awesome trails nearby to explore. There's enough to keep you busy so you don't have to do the same trail twice, which is what I've been loving these past few months!
Have you been on an epic hike in Ontario? Let me know in the comments below!
Pin it for later!
Related Posts