Autumn in the Niagara Region is spectacular. The burst of colour along the Niagara Escarpment makes for a special time for hiking, and here in Niagara we have some incredible spots to see the fall foliage during September and October!
As another beautiful season is upon us, you'll need to know the best places to see the changing of the leaves here in Niagara. Hiking in Niagara during the fall is one of the best ways to experience what this region has to offer!
Here's a list of the top spots to witness the stunning change of colours from lush green to a yellow, orange and red landscape.
Some of these top viewing spots are relaxing strolls to lookout points, and some are longer hikes that offer numerous opportunities to view this breathtaking scenery.
Which one is your favourite?
What's the best time to see the fall colours in Niagara?
Peak leaf peeping time ranges anywhere from late September through to late October, weather depending. If you want a precise window of prime leaf changing time, head over to Ontario Parks' Fall Colour Report.
This interactive map is continually updated throughout the fall and ensures you'll make it to these amazing spots during the prime colour show!
Beamer Memorial Conservation Area, Grimsby
Without a doubt, Beamer Memorial Conservation Area in Grimsby is one of the best places to view the changing colours of the leaves.
With panoramic views of the Escarpment and Lake Ontario, Beamer offers a prime spot to visit, whether for a gentle stroll to the lookout points, or for prime hiking along the Bruce Trail and along 40 Mile Creek.
Climb the lookout platform for the best views. There are a few clearings along the escarpment which make for awesome photo opportunities.
Address: 28 Quarry Rd, Grimsby, ON L3M 4E7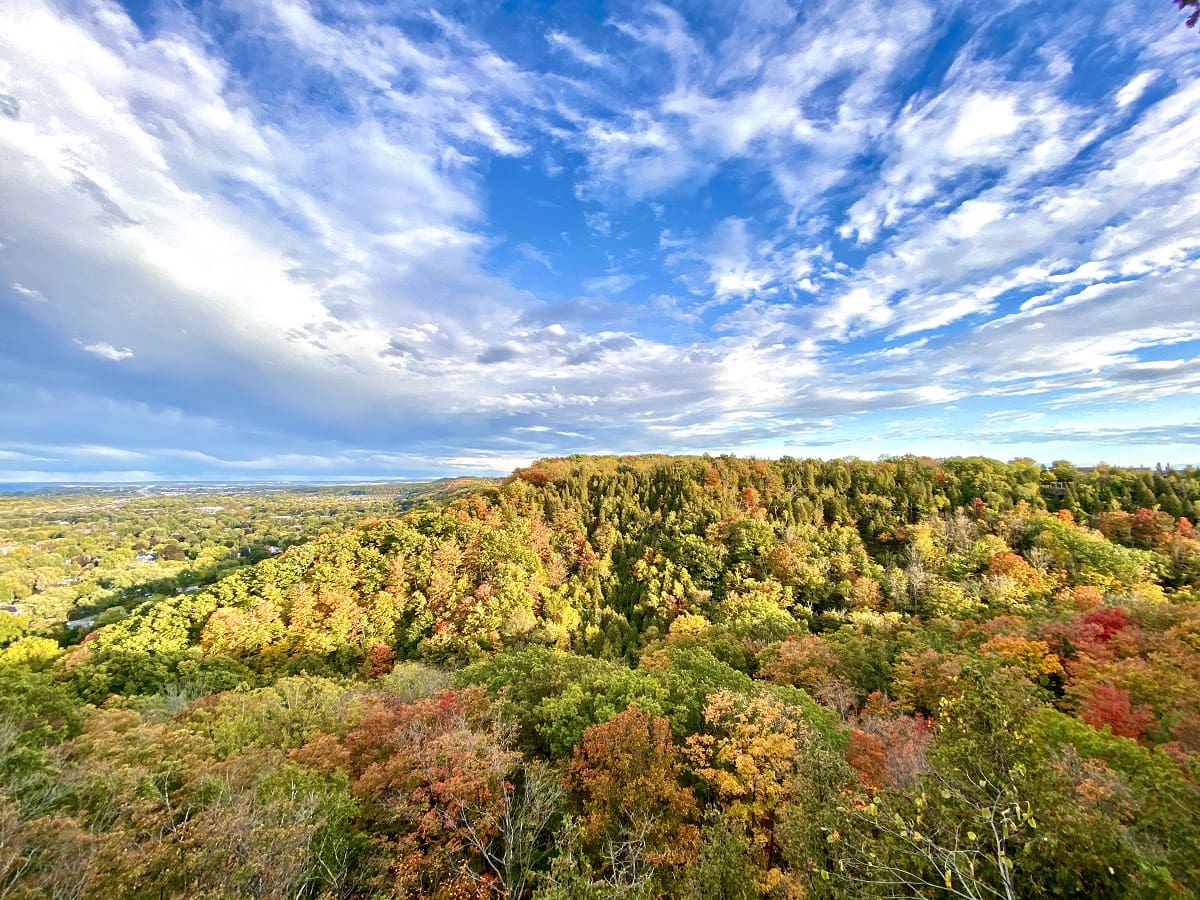 Be prepared for your hikes with this list of essential hiking gear!
Kinsmen Park, Beamsville
Nestled in the heart of Beamsville right on the escarpment, Kinsmen Park offers a ton of trails which lead in either direction along the Bruce Trail to other conservation areas.
There's a network of paths through dense forest that offer chances to see brilliant bursts of red, orange and yellow during peak leaf change! You could visit multiple times and never take the same trail twice, which is why this is one of my favourite places to visit locally!
You'll see unique geological formations, vineyards, and views of Lake Ontario all from this one park!
There's also a leash-free dog park here and a great spot to enjoy a quiet picnic on a sunny fall day.
Address: Access intersects at Frost Rd and Kinsmen Rd, Beamsville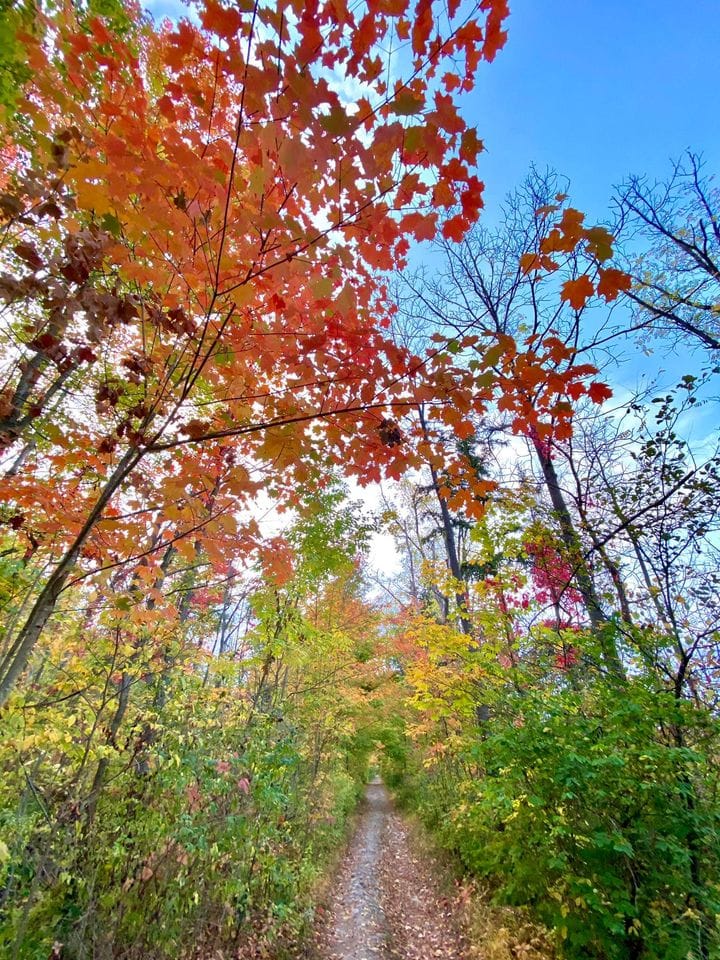 Ball's Falls Conservation Area, Lincoln
Ball's Falls Conservation Area is one of the most well-known places to visit during the fall! It's gorgeous at any point during the year, but with the fall foliage it's something else entirely. With heritage buildings, two pretty waterfalls, ruins, and hiking trails to take, you'll be in awe by what you see here!
The area has been lovingly restored and has history here dating back to the early 1800s. You'll be able to see an operating flour mill, lime kiln, church, blacksmith shed, carriage shed and the original Ball family home.
You can park at the Ball's Falls Centre for Conservation for $8 per person, or park off of Glen Rd and hike in the back way through Twenty Valley (my favourite!).
If you visit over Thanksgiving weekend, you'll be able to take part in the Thanksgiving Festival! Back in 2022, tickets must be purchased in advance this year. You can even take heritage tours for $10 per person which I highly recommend doing; you'll get an inside look at the history and heritage here and it is well worth doing.
Parking: $8 per adult (max $24 per car load). Free access via Glen Rd through the Twenty Valley Trail.
Address: 3292 Sixth Ave, Lincoln, ON L0R 1S0
Louth Conservation Area, St Catharines
This little gem of a conservation area is a quiet place to come and enjoy the fall colours in Niagara.
Louth Conservation Area, right by Sue Ann Staff Winery, is a little oasis with a pretty waterfall cascading down 15 Mile Creek, and stepping-stone-like trails that appear as though they're out of a fairy tale.
The trails are well marked (follow the white blazes for the main Bruce Trail, or the blue blazes for the side trail loop, which takes about 30-45 minutes to complete).
It's one of the quietest places I've been to in the region, making it a top contender for one of the best places to soak in the fall colours.
Address: 3193 Staff Ave, Jordan Station, ON L0R 1S0
Are you a solo hiker? Check out these best solo hiking tips!
Decew Falls, St. Catharines
By far one of my favourite places to hike in Niagara is at Decew Falls.
It's always been quiet when I hike through here, plus there are some unbeatable views of Morningstar Mill right next to a towering waterfall.
It's one of the more challenging hikes, since it's quite a trek to get to the waterfall under Morningstar Mill, so this is not for the faint of heart. There is also a steep rock face with a rope if you opt to go that route, but be warned it's hike at your own risk!
Morningstar Mill was rebuilt in the 1870s and this historic little area has some incredible views of the changing colours of the season.
There are also three waterfalls to enjoy! You will also pass through here while hiking the Bruce Trail.
Wear sturdy footwear and be prepared to get your feet wet if the creek is flowing strong! Plan to spend at least 90 minutes if you want to make it to the main waterfall.
Address: 2714 Decew Rd, St. Catharines, ON L2R 6P7
Rockway Conservation Area, St. Catharines
Rockway Conservation Area is one of the top places to visit during the fall! With magnificent views of Rockway Falls itself plunging 60 feet over the escarpment, flanked by the changing foliage, it makes for an incredible spot to see the fall colours in Niagara!
You'll also discover numerous other waterfalls that follow a series of creeks here! The trail loop here is about 4 km in length along the Fiften Mile Creek valley.
Rockway is a historically significant area; a salt spring located here dates back to the late 1700s and has some of the best quality and quantity of salt here in Ontario!
If you want to visit more than one amazing place to view the fall colours, Louth Conservation Area is just 5 minutes down the street by car, or follow the Bruce Trail to reach it that way!
Address: 1742 St Paul St W, St. Catharines, ON L2R 6P7
Short Hills Provincial Park, Pelham
With over nine trails to enjoy at Short Hills Provincial Park, you'll have no shortage of chances to see beautiful fall scenery, including two waterfalls!
You'll see unique floral and fauna here (especially lots of interesting-looking mushrooms during the fall!), and if you're lucky you'll catch a glimpse of deer, wild turkeys, and different species of birds.
Getting the name "short hills" that appeared as a result of glacial erosion over 12,000 years ago, you can spend hours wandering through the park's 1600 acres of trails. Three of these trails are multi-use and you may see some bikers and horseback riders along the way!
There are three parking lots surrounding the park. Roland Road, where Short Hills Parking Lot C is located, is an incredible scenic drive during the fall. It's one of my favourite drives in all of Niagara! This is also the closest parking lot to see Swayze Falls.
Short Hills Parking Lot B, off of Wiley Rd, is the closest parking lot to Terrace Creek Falls, and Short Hills Parking Lot A, off of Pelham Rd, is the busiest of them all and is the main trail that leads into the park and branches off into other side trails.
St Johns Conservation Area, Fonthill
Tucked away in an old-growth forest in Fonthill is quiet St. Johns Conservation Area.
This tranquil area offers four trails of varying lengths which wind through 150 year old trees that tower over top of you and meander around a trout pond.
I managed to do all four trails in less than an hour, so this is a great place to come for a hike if you're short on time and still want to view the changing of the season!
There is a paved path around the pond with two viewing platforms which makes this conservation area stroller and wheelchair accessible! There is a ton of parking available and a great place for families to visit.
Address: 3101 Barron Rd, Fonthill, ON L0S 1E6
Also be sure to check out the mysterious Cave Springs Conservation Area, too!
Niagara Glen, Niagara Falls
The jewel of Niagara for viewing the fall colours is the Niagara Glen (also known as the Niagara Gorge). The gorge offers 8 well-marking hiking trails with jaw-dropping views of the Niagara River.
The contrast of the fall colours with the brilliant blue water is something to be witnessed.
The views are worth the climb, and winding paths through Carolinian forest take you past boulders left behind when the Falls eroded the area thousands of years ago!
Be sure to head over to Queenston Heights – too! There is a ton of fascinating history to be discovered, along with ample opportunities for photo opportunities during the fall.
Parking: $2.50/hour. If you're a frequent visitor to Niagara Falls you can snag the annual parking pass for $40 including tax for two vehicles in the same household (2021 rates), or $20 including tax for Niagara Glen parking only.
Address: 3050 Niagara Pkwy, Niagara Falls, ON
Pin it for later!
Related Posts