As I prepare for my Bruce Trail journey here in Ontario, some people have asked what I carry on me for hiking gear.
As someone who was once a beginner hiker, I've come to realize it's important to have some critical gear on hand to ensure your safety and well-being. This isn't something I ever gave much thought to until I started running into scenarios where I wish I had a certain item. I now have a whole bag full of gear, to the point where it makes me feel like Mary Poppins sometimes! But I'd much rather have too much gear than not enough.
Whether you're a beginner hiker, a long-haul hiker, a solo hiker, a hiker who goes out with friends or family, or someone who just enjoys the outdoors occasionally, this list of gear has you covered for hiking in Ontario!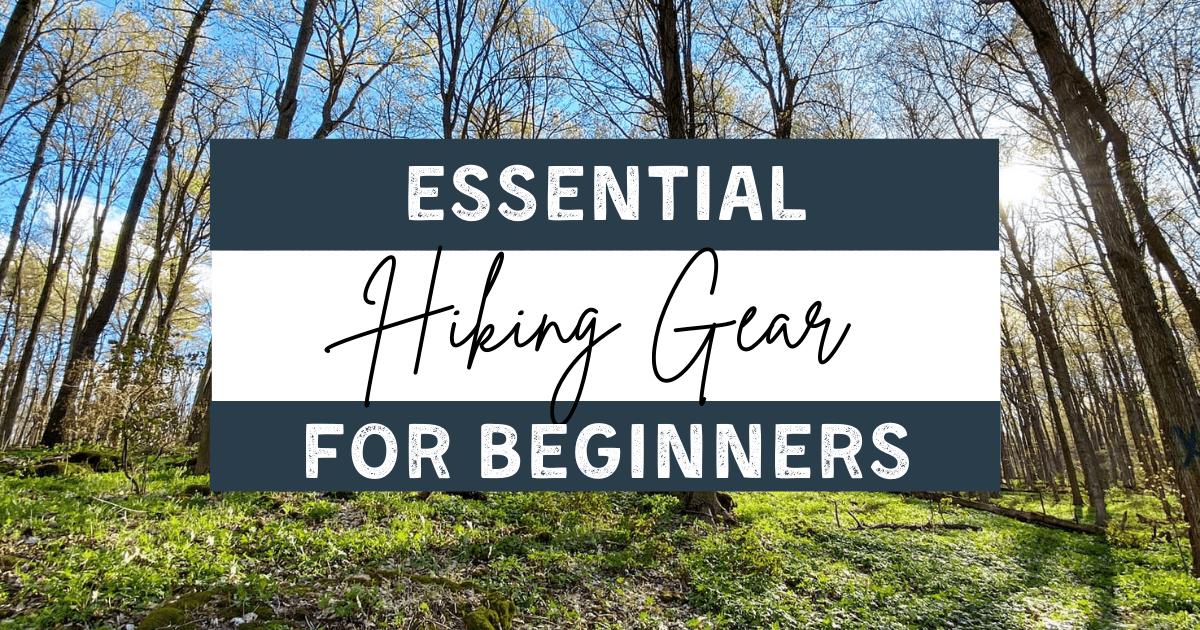 This post contains affiliate links which means I earn a small commission if you purchase through one of my links at absolutely no additional cost to you. Feel free to read my disclosure policy. Thank you for supporting my blog!
First Things First
Invest in quality footwear – you'll thank me for that later! I hiked an entire summer in running shoes and I'll never do that again. I'm in love with my hiking boots from Mountain Warehouse, which can be used in all seasons! They're waterproof and provides good ankle support, and makes me feel more confident when navigating through all the tricky Niagara Region terrain!
Secondly, I would recommend getting a backpack to carry all of your gear, and something that is comfortable. I love my Osprey Tempest 20 pack and all of its pockets and zippers. It's super comfortable with a vented back panel, and I also like the front buckles to keep it in place. This was a bit of a splurge for me, but I know I'll have it for a long time!
Personal Safety
Dog deterrent
If you've seen my post on solo hiking tips, you'll know why this is one of the first items I remember to have in my bag.
Dog deterrents are much easier to carry than any other type of device, and better to use for a multitude of reasons, mainly, this will not hurt the dog. I have mine clipped to one of my bag straps and there's a button to emit the noise. Think of the most annoying noise you've heard – yeah – you'd want to run the opposite direction of it! This is exactly what this device does – deters the dog!
If you've ever had a dog charge at you, you understand how scary that can be. This is an added peace of mind!
Dog spray
I have dog spray tucked in one of my bag's belt pockets to use as back up, if I need to. It's not quite as strong as mace (which is illegal here in Ontario), but it will be enough to ward off an attacking dog.
I really, really never want to use this. I never want to harm an animal, and I know this isn't pleasant.
That being said, this is also a great form of protection against people as well.
Rip cord alarm
I originally purchased one of these rip cord alarms after the dog incident, but have since come across more effective tools to ward off dogs. However, I use one of these rip cord alarms in the event of an accident or otherwise.
Just…don't set it off unintentionally. These things come with a warning that they could damage your hearing if used incorrectly! Most alarms can be heard up to 300 feet away. It's tiny and lightweight, making it the perfect addition to your hiking gear.
If you aren't comfortably carrying a high decibel alarm, consider bringing a whistle. If you have an Osprey bag, there is a whistle built into the chest clasp already!
Swiss Army Knife
Swiss army knives are so versatile. From cutting rope, opening cans and bottles, to first aid uses, this compact multi-use tool is a great addition to your hiking bag!
Portable charger
I love bringing these as back up for my phone battery. I usually stop to take hundreds of photos (actually, haha), and videos, so I find the battery can get drained quickly. If I'm out for a few hours, I want to make sure I'll have enough power on my phone in the event I'll actually have to use it for an emergency.
Portable chargers come in all sizes and strengths, and don't have to take up too much room or weight. They aren't expensive and it's comforting to know there's extra power if you need it.
First Aid Kit
Whether you buy one or DIY your own, it's always smart to have a small first aid kit on you with a few essentials.
If you're making your own (I did!) I made sure to include things like:
Bug Bite Prevention and Removal
Bug spray or bug lotion
I prefer lotion in the event the spray leaked to keep the bug bites at bay, but this is all personal preference!
I'm paranoid about ticks especially, and though I generally wear long pants, on really hot days when I wear cutoffs I am sure to put lotion on and spray my shoes.
Tick keys
I get so paranoid over ticks – and even more paranoid if they aren't removed correctly. Tick keys ensure safe removal of the tick so their heads don't remain attached to your body (gross, I know).
It's also helpful to identify which ticks carry disease. Tick submissions in Niagara are currently postponed due to Covid, but you can download an app called eTick to help you identify which type it is.
You can also pick up a tick remover tool kit which comes with a few sizes of tick removal tweezers, an identification guide, and bandages.
Afterbite
If you've ever been stung by an insect, you know how much it can hurt! Adding a little tube of afterbite to your list of hiking gear can help ease the discomfort.
Polysporin
I mentioned I like to be overprepared, right? An antibacterial ointment like Polysporin can help with any cuts of scrapes while you're out to prevent infection. I like the spray kind because it takes up less room, but I do carry it in a bag in case it leaks.
Hydration & Nutrition
Water bladder
I have an Osprey bag (the Tempest 20, which I LOVE!), which has a space for a water bladder. I recently picked this up (and much cheaper than Osprey's brand – you really cannot beat this price!) because the few times I've leaned down to tie my shoe, my water bottle has fallen out and cracked the top of my bottle, haha!
These water bladders hold more water and balance your pack out a bit better, and it's easier to stay hydrated rather than having to stop to take your backpack off to get your bottle. Just familiarize yourself with how to prep and clean it, and you're good to go!
LifeStraw Bottle
While I generally don't think short distance hiking would warrant one of these, if you're hiking for longer distances, especially in northern Ontario, this LifeStraw bottle could be a life saver!
They filter out 99.99% of waterborne bacteria and waterborne protozoan parasites, along with chlorine, dirt and sand (while improving the taste, too!) so as long as there's a source of water nearby, you'll be able to take comfort in knowing you can stay hydrated without having to carry litres of water on you.
Snack bars
It's always good to throw some emergency food into your bag. Obviously you can choose whatever you like, but I would recommend not bringing anything that can melt!
If you're hiking for extended periods of time, be sure to add in food items with some carbs and protein to keep your energy up. You can also invest in electrolyte packs or tablets to add to your water, which is especially important during the warmer seasons.
Sun Safety & Elements
Hat
I am obsessed with this style of hat, especially for us girls with ponytails! It's been the perfect hiking hat and I now own this in a couple of colours!
A hat may seem obvious, but I've forgotten to bring one a few times. I always have one in the back of my car and in my bag now!
On that note – remember to bring sunglasses too! I've recently switched to polarized ones and I love them – they reduce glare, and also increase visual clarity.
Sport Sunscreen
I apply it before I head out for the day, and if I've been sweating a lot, I'll be sure to stop to reapply it. I prefer the lotion instead of spray, but it's all in what you prefer! I almost always wear 50+ SPF.
Waterproof rain jacket
I'm obsessed with All-Things Mountain Warehouse. It's a great company that always has some type of sale on and the quality is superb. I find it much, much less expensive than some of the other outdoor apparel stores.
The Torrent Women's Waterproof Jacket or the Torrent Men's Waterproof Jacket is a great buy and is lightweight and easy to pack, making it a great addition to your backpack.
Hiking poles
Hiking poles are for people of all ages! There are so many benefits to using them – such as an improved posture (which will help with breathing), aiding in balance, puts less pressure on your knees, improves your endurance while walking uphill, and helps you navigate through tricky terrain.
Hiking poles with cork grips seem to be the biggest crowd pleaser because they provide more comfort and absorb moisture and sweat. They also conform to your hand over time, providing ideal comfort.
Sweater
I always, always wear a sweater on the start of a hike. I get out during the early mornings when it can be quite chilly. This is why I love bringing a backpack (would you believe I hiked all last year with just a small sling bag?!).
Unless if it's the middle of the summer, you never know how the weather will be until you're out there. It can get cool in the trees, or it can get windy. I love having an extra layer handy!
Extra pair of socks
Did you know they make hiking socks!? I didn't either until recently and I'm so glad I've bought some – they are so much more comfortable than regular socks! These ones provide some cushioning and support, while being breathable and fast drying!
You may be glad one day to pack a backup pair of socks in your bag, in the event your feet get wet!
Extras
Baton*
I wanted to include this since is what I carry myself when I'm out alone, but with a word of caution.
A baton may seem excessive, especially if you're a beginner hiker going out in a group, but as a solo hiker with a concerned family (hi, dad!), it's a relatively easy item to carry on you as protection.
I would recommend familiarizing yourself with it before you bring it out with you. Do not wear this if this makes you uncomfortable. You can just as easily carry dog spray.
There are numerous videos you can watch on how to use this safely, and to make sure you know how to get it out when you might need it.
Things to keep in mind
The Bruce Trail Conservancy's mantra is to Leave No Trace – leave the trail better than you found it!
Bring a waste bag to collect any of your garbage to carry out with you and bring home with you to dispose of. Many garbage cans are overtaxed at the trail access points as it is.
Pin it for later!
Related Posts