Fall is the perfect time of year to get outside in Ontario and explore what's around us.
Ready to get outdoors this season? Scenic Caves Nature Adventures in The Blue Mountains makes for an awesome outing for people and families of all ages!
Once home to the Petun First Nations and located within one of Canada's 18 UNESCO sites, Scenic Caves is the spot to visit if you're looking for a safe, socially-distanced activity to do to immerse yourself in nature and learn a bit of history at the same time.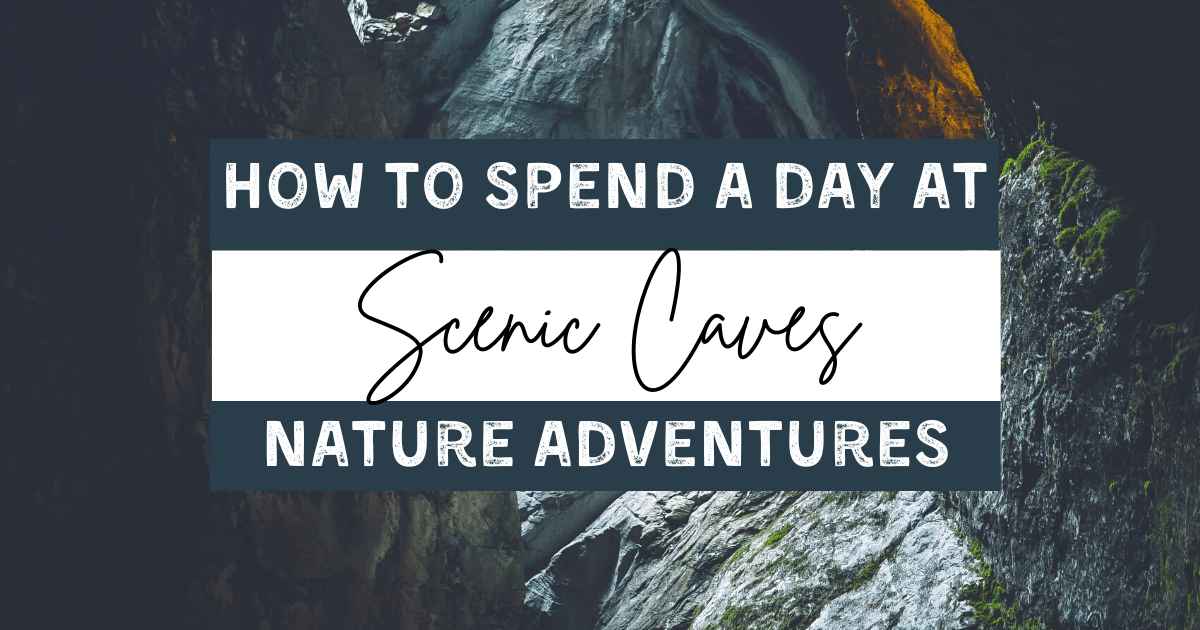 No matter what time of year you visit, you'll be surrounded by nature and learn what makes Scenic Caves so special. You'll want to allocate at least half a day, if not a whole day, to exploring what the area has to offer.
It makes for a great addition to a weekend getaway in The Blue Mountains and Collingwood!
This is a sponsored post but opinions are my own. This post contains affiliate links and I may earn compensation when you click on the links at no additional cost to you.
Plan your next vacation using these tools!

✈️ Book flights: SkyScanner
🏨 Book hotels: Booking.com
🚘Book car rentals: RentalCars.com
🎫Book tours: GetYourGuide
🌍Favourite travel item: Packing cubes
🧳Favourite travel bag: Osprey 40L Fairview
🩹 DIY Travel Medical Kit
💸 20 Cheap Travel Items Under $20
About Scenic Caves
Locally owned and open since 1932, the goal of Scenic Caves is to preserve the natural beauty and share the historical (and geological!) significance of the area.
Located at the highest part of the Niagara Escarpment, the first written records of this location were by Samuel de Champlain (remember learning about him in school?) in the first half of the 17th century, when over 30,000 Huron and Petun lived here.
The caves and caverns you'll explore were once home to the Petun and was also their protection from enemies.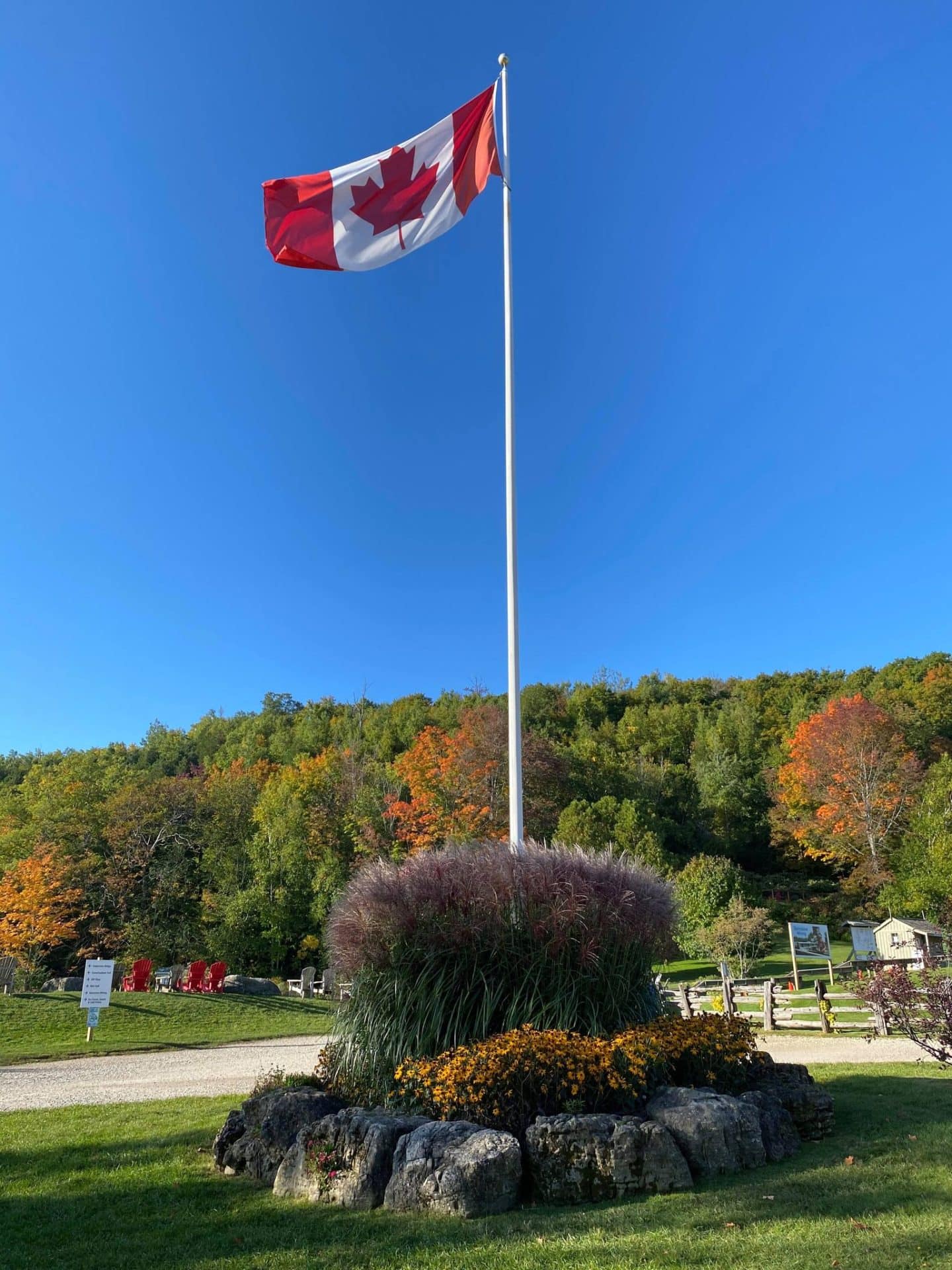 How to get there
Tucked away in The Blue Mountains, only 10 minutes from Collingwood is Scenic Caves. It's about a 2.5 hour drive from the Niagara Region or 2 hours from Toronto – making it a great weekend getaway or day trip.
Dana and I left at 6:15 am to get there right before opening, and we made it at 8:55! I knew I wanted to get there early, since it can be quite a popular spot and the parking lot fills up quickly.
If you're coming from Niagara, we took the QEW to the 403, then onto the 410 and up Hwy 10. It's an easy, beautiful drive!
The gates open at 9 am, and once you arrive there is a small building to purchase your entrance wristband from. You'll receive a map of the area and some history about some of the features you'll see, but there is also lots of signage and posted trail maps around, too!
There are also washrooms located right on the other side of the entrance.
Each trail is colour coded and one-way, so you'll never get lost here!
Things to do at Scenic Caves
Explore Caves and Caverns
We followed the Caves/Lookout Trail and it took us right to the entrance of the caves.
The caves are just awesome! I was a Geography major years ago and I still get fascinated by geological formations.
As you make your way 70 feet down into the caves, you'll be surprised how little has changed over the 450 million years – other than some stairs and hand railings to guide you down!
Formed by melting glacial water, you'll be able to weave your way through a labyrinth of caves and crevasses on a self-guided tour. There are numerous plaques along the way letting you know what you're looking at – just in case they just look like a bunch of rocks. 😉
There is no direct "path" through here; rather you make your own by finding your way over the moss-covered rocks.
It's amazing how much cooler it was down there – and can see why they require running or hiking shoes! In the early morning hours there was still condensation on the rocks, making them a bit slippery.
PS. Be sure to wear these – you won't be allowed in without them! But if you forget yours, they do sell them here too!
It's a whole other world down here, and the light of the early morning peeking through was just stunning. It was surprising to think this area once belonged to and was used by Petun First Nations People (before 1616!). It acted as natural protection and a place of great importance.
We spent about 40 minutes wandering through here exploring the different nooks and crannies.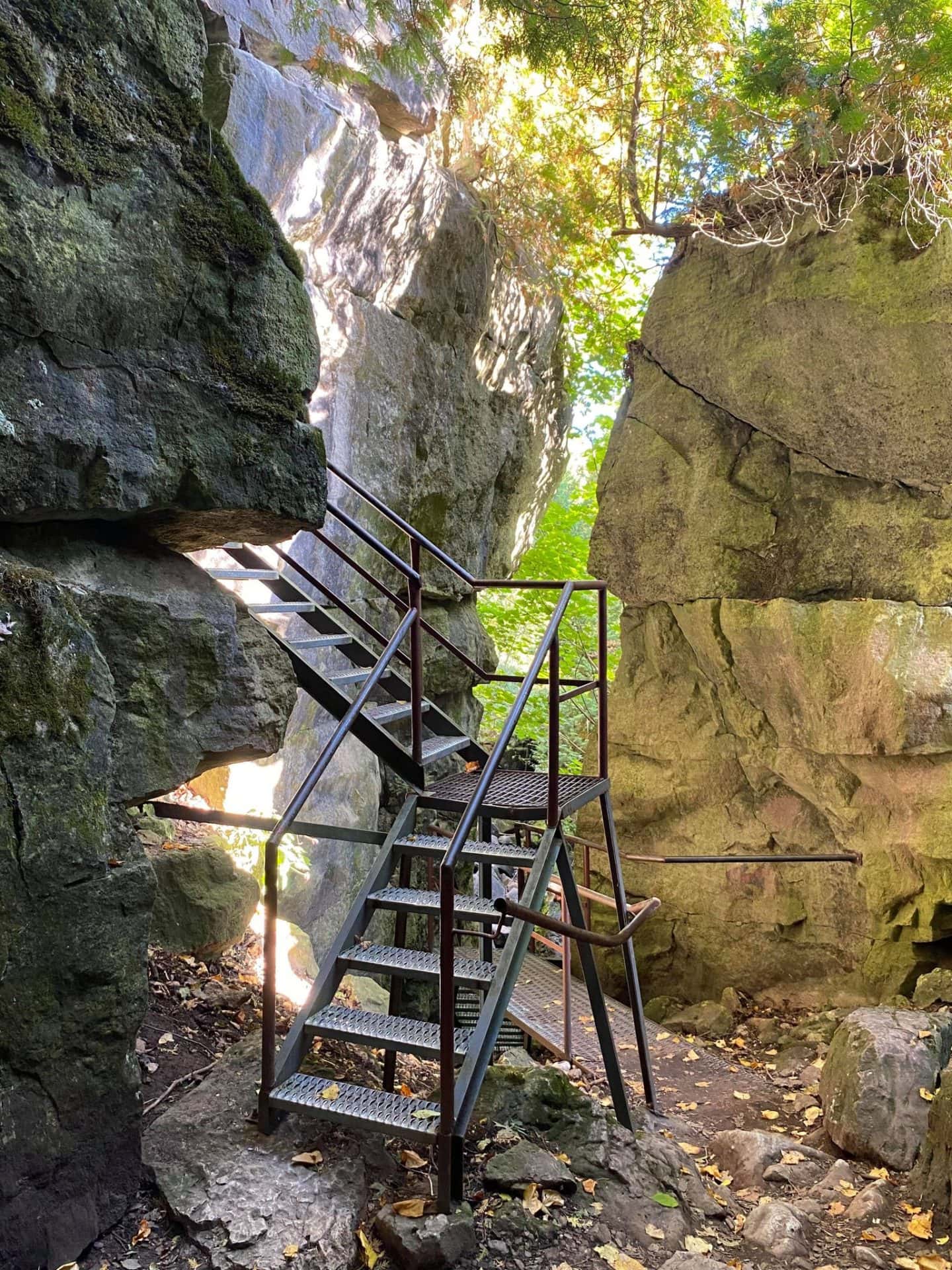 Preacher's Pulpit
You'll marvel at the different formations down here, which are labelled to let you know what you're looking at.
Preacher's Pulpit is believed to have been separated in the Glacial Age. The walls of the cavern are limestone and the back portion of the wall is iron ore. Pretty cool!
It's said this area only receives one hour of sunlight a day.
Petun Arch
Be sure to duck! This area was easily guarded by the Petun, as one of the parts that could be sealed off to trap an enemy.
Native Chief
You won't catch this until you walk near the Bear Cave, but if you look back, you'll see a formation of a rock that really does resemble the head of a Native Chief. That was awesome to see!
Fat Man's Misery
Ok – this is where things got interesting. I don't do well with tight spaces, but I had to see what this looked like. I was here in 1991 as a kid and obviously had no issues doing it as a kid, but to wedge myself into an opening only 36 cm wide?
Yeah, ok!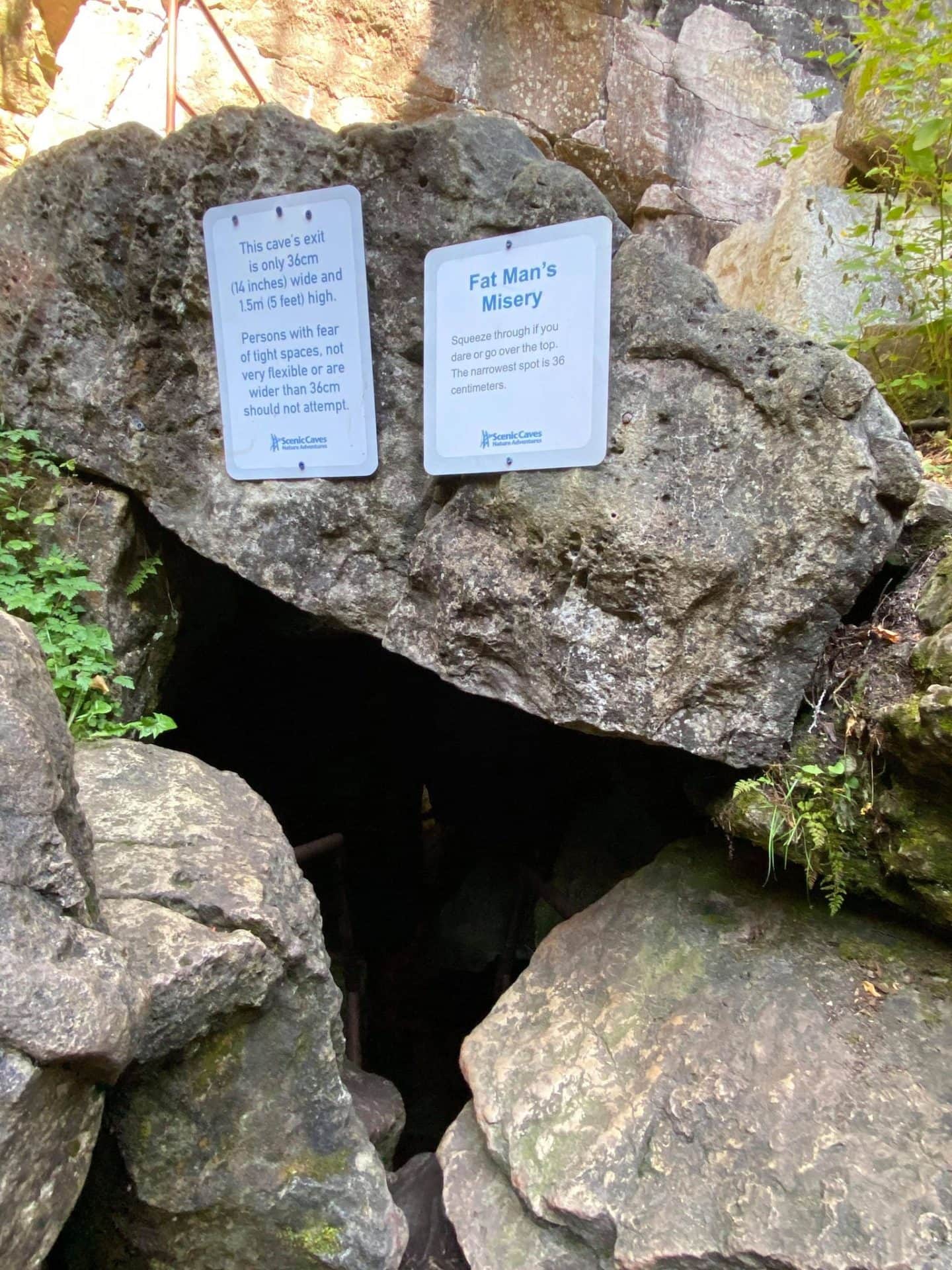 I made it to the narrow opening and couldn't believe how small it was. I quickly turned around. I wasn't even going to attempt that. 😂
There's a sign telling you to lead with your right shoulder. I wonder if anyone has actually gotten stuck?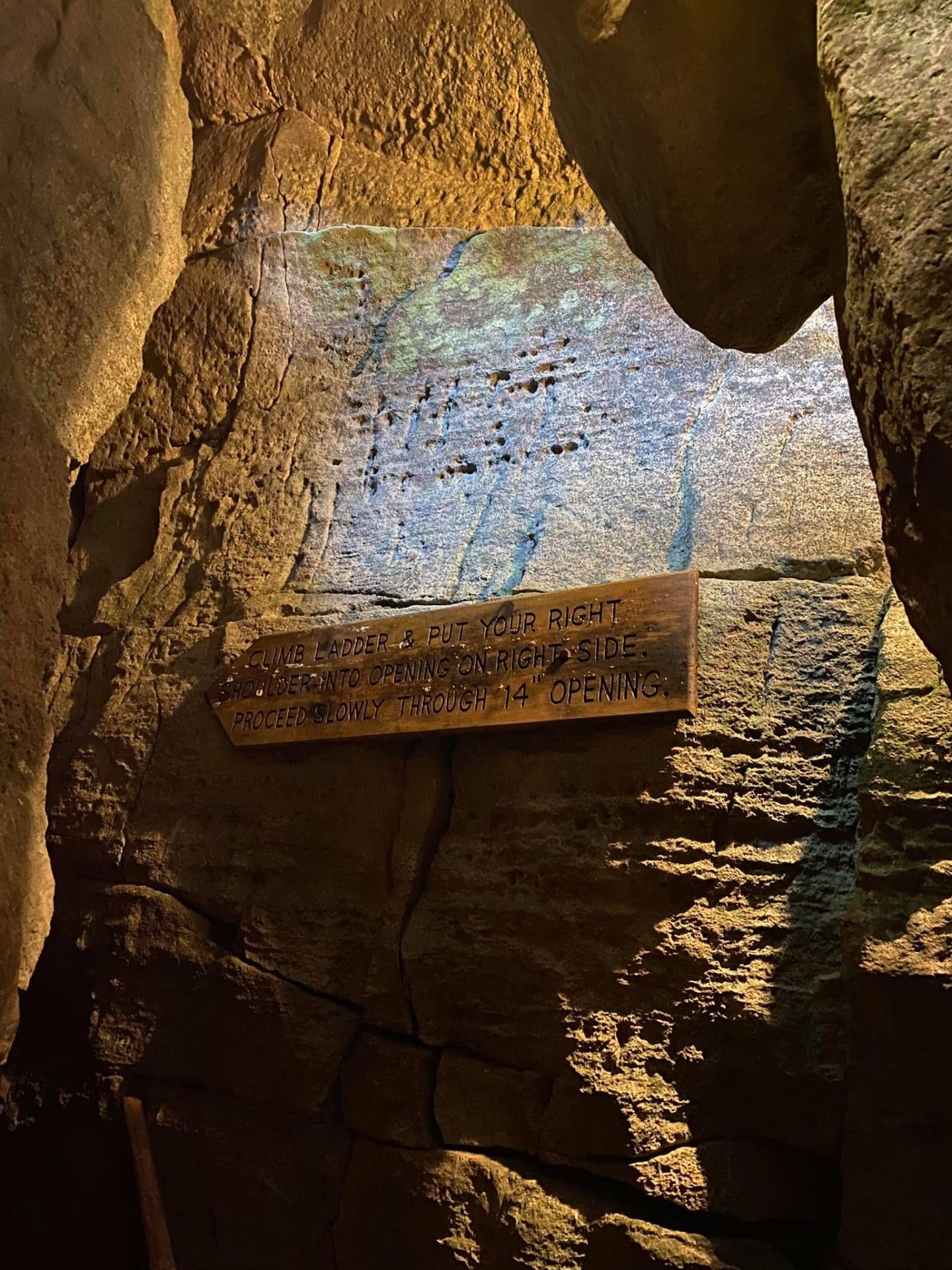 I pretended I did it anyway 😉
Council Chamber
I've mentioned I have a fear of heights, right?!
We saw a walkway to a lookout of Georgian Bay prior to going down into the caves. Once we were over, I read the sign stating this unsupported rock formation was once used by Petun chiefs for council meetings, and would use a log to cross over and then take it with them to ensure safety.
Are you kidding? I could never walk across a log like that and then heave it over!
Ekarenniondi
From the Council Chamber you'll be able to see the Ekardenniondi ("the rock that stands out").
This was believed to be one of the gateways to the afterlife. Here, the Oscotarach (Head Piercer) would remove the brains of the dead.
The theory behind this was that the afterlife would then be happier because there would be no memory of their existence on earth and of those left behind.
I can appreciate that sentiment.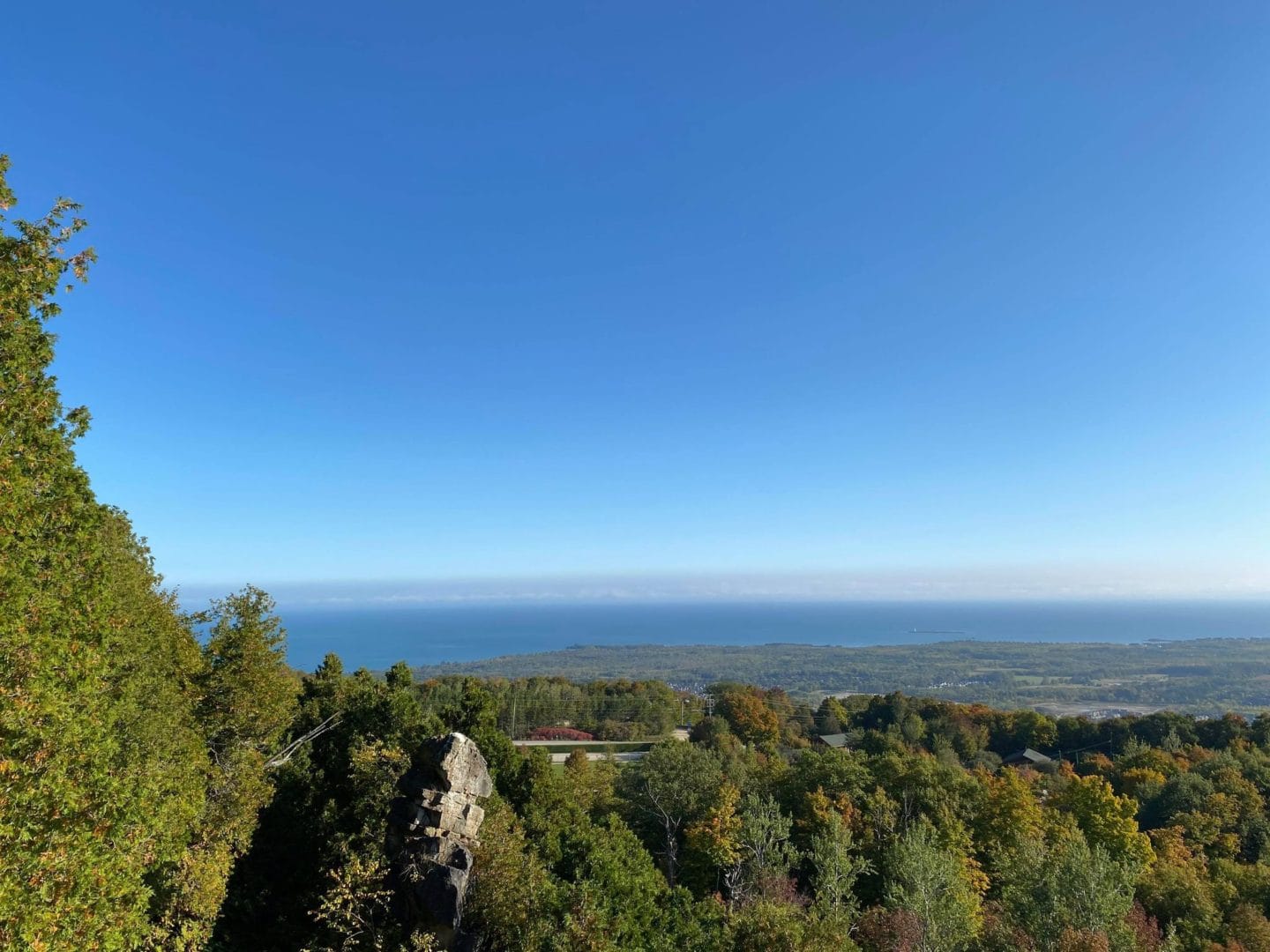 Maiden's Love
Once exiting the caves and following the Ridge Top Lookout Trail, you'll come across a few other notable sites bordering the caves.
Maiden's Love is the site of Native folklore, where a Petun maiden fell in love with a man from another tribe.
Her tribe ambushed him and threw him over the cliff. In her despair, she followed her lover.
There are loads of other notable features to explore, too!
Trail Network
There are 11 trails at Scenic Caves to take!
We wanted to walk the outermost trails so we ended up hiking the Caves/Lookout Trail, Ridge Top Lookout Trail, Escarpment Run Trail, and the Ridge Top Lookout Trek.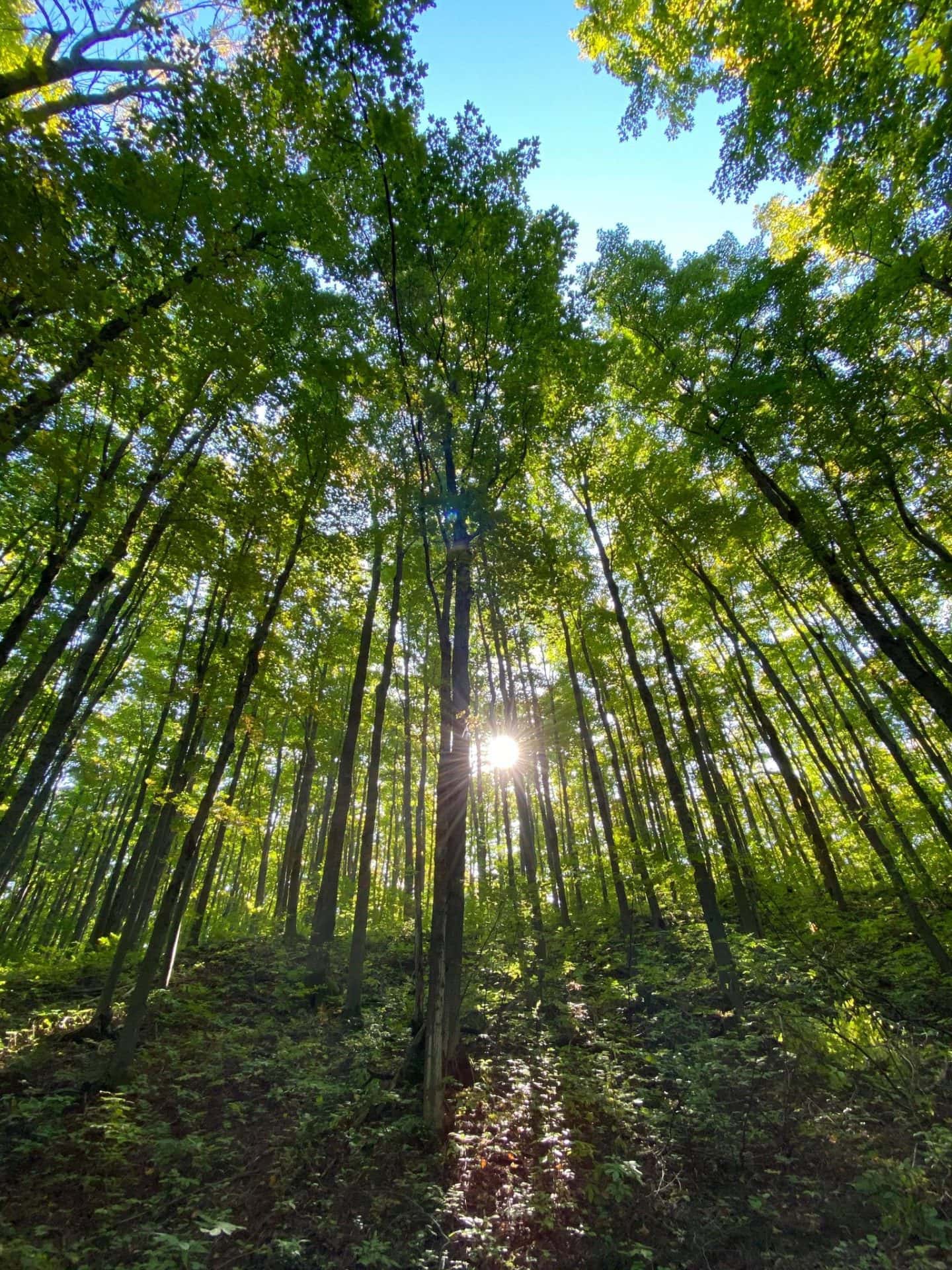 These four trails took about an hour and twenty minutes at a quick pace, and included stops for me to take photos.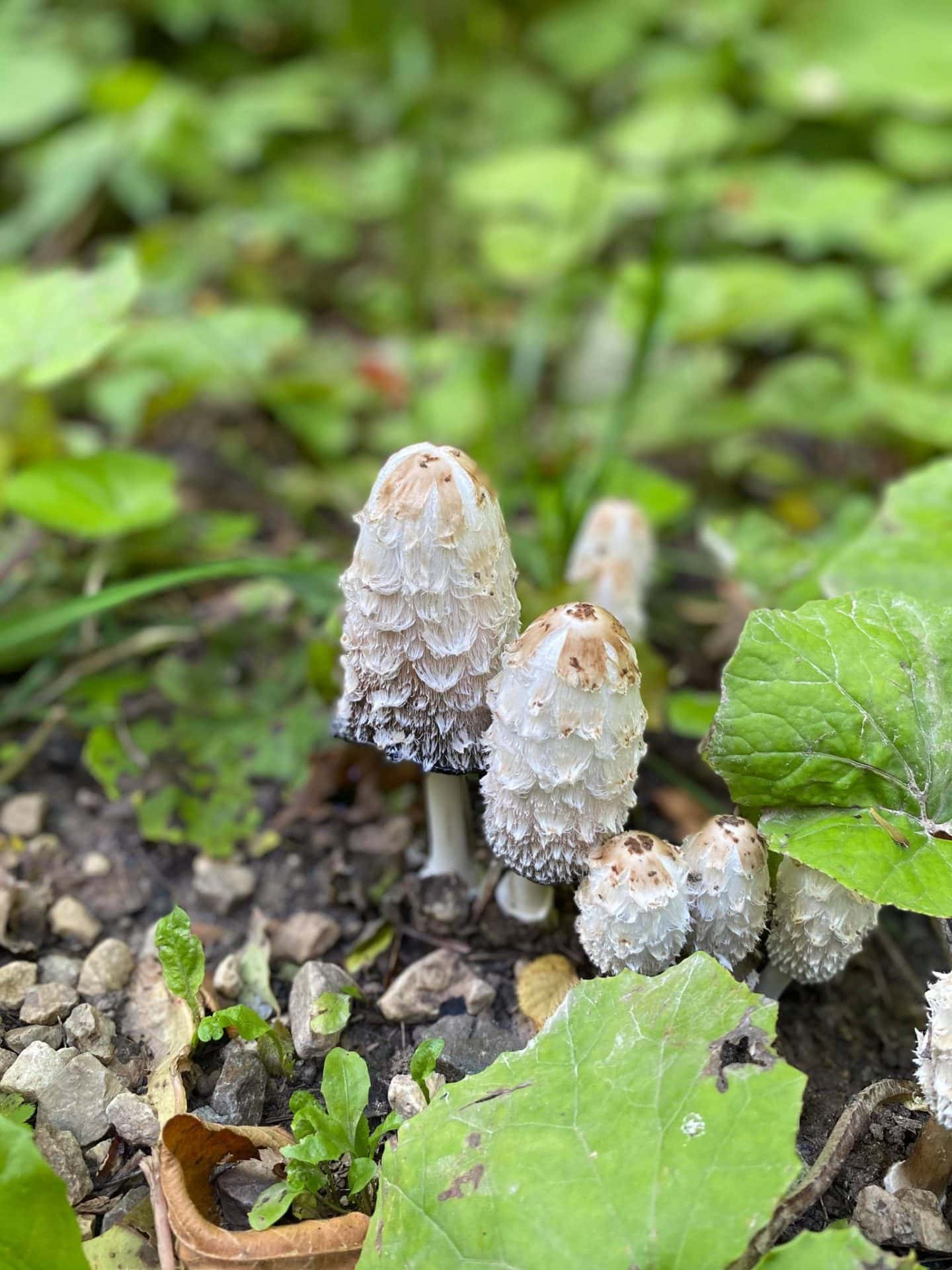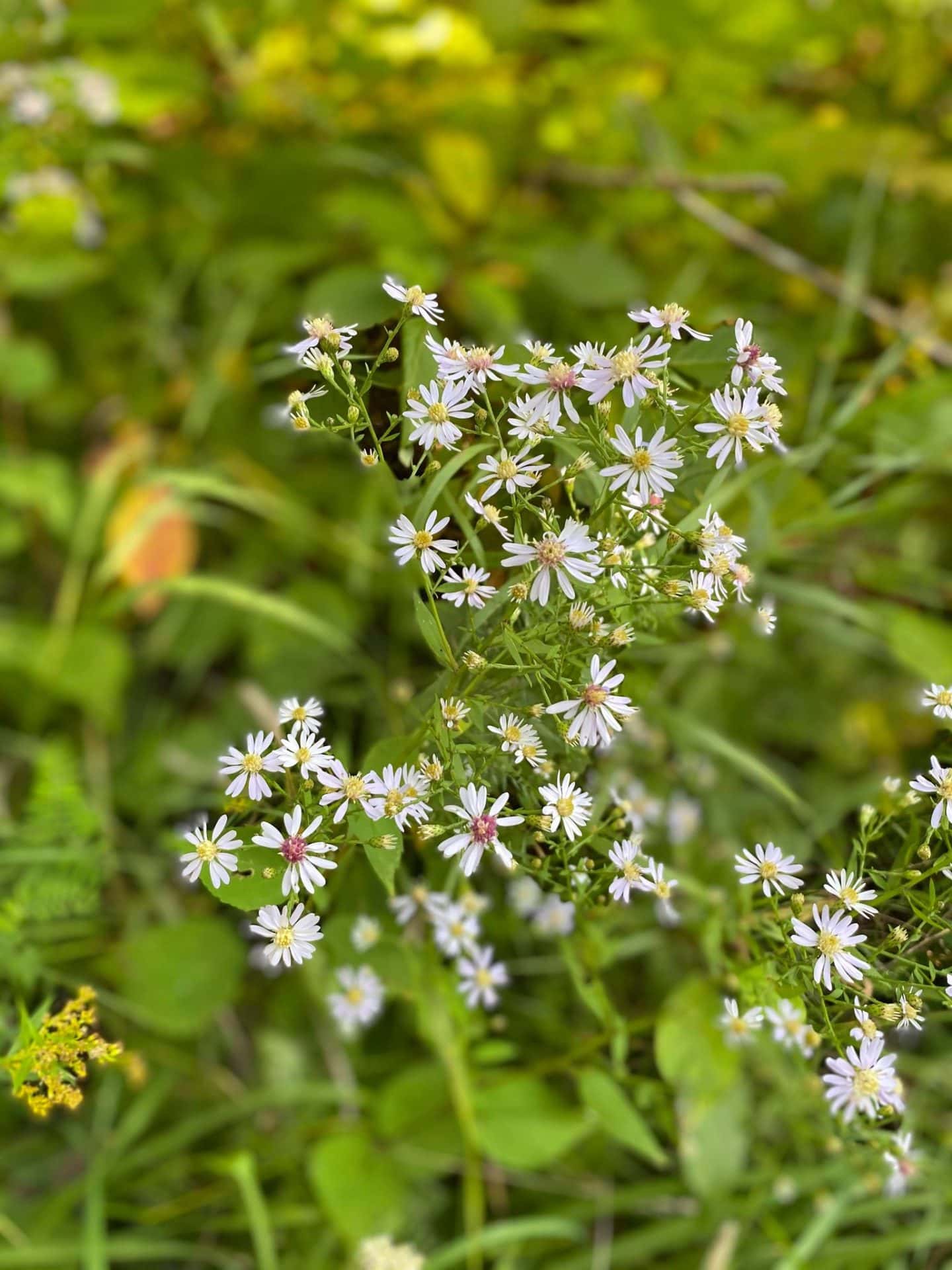 There are lots of interesting things to see and photo opportunities along the way – and we appreciated the warning signs!😂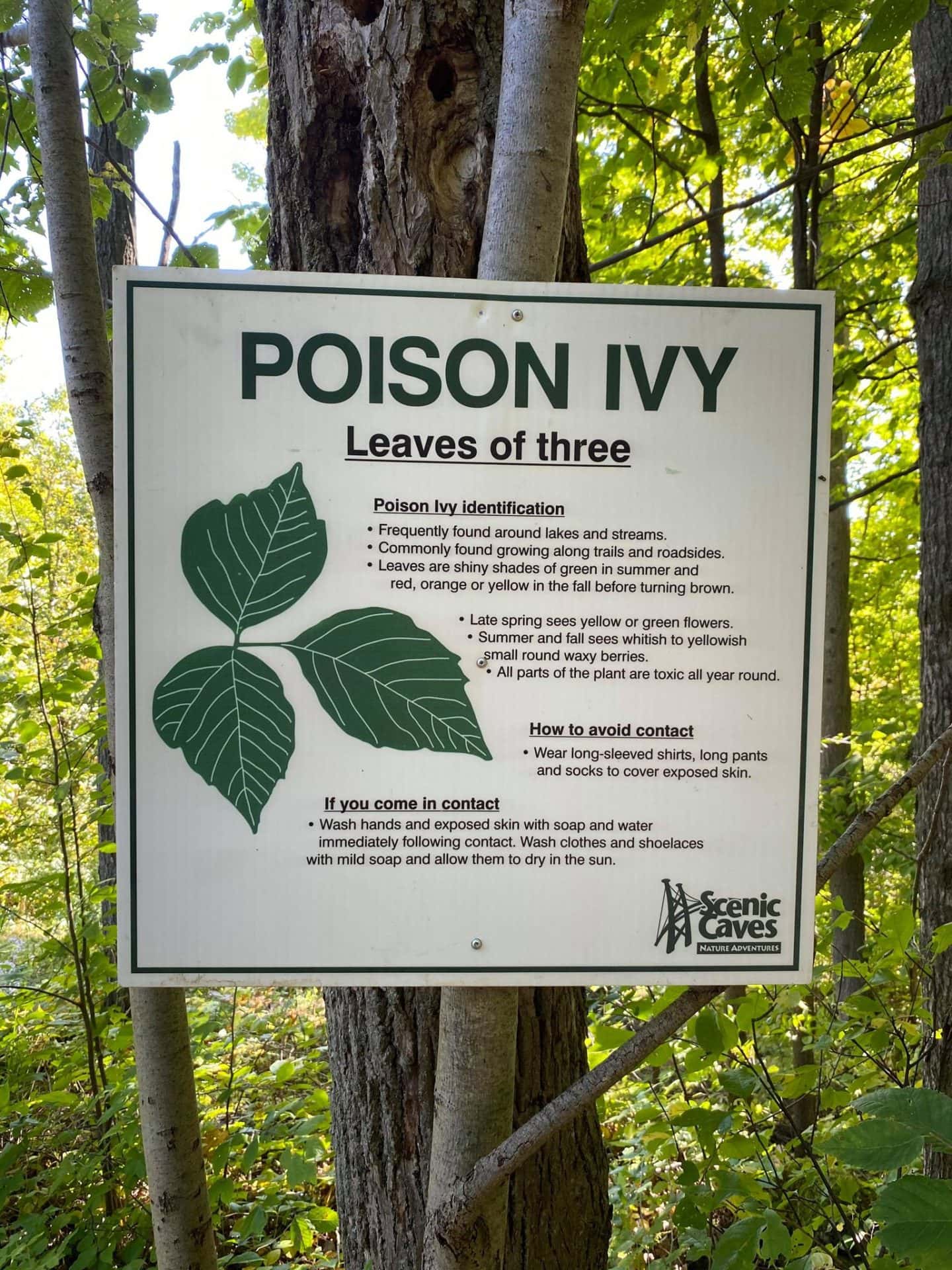 I loved seeing the various tree species, only identifiable for me by the signs on their trunks.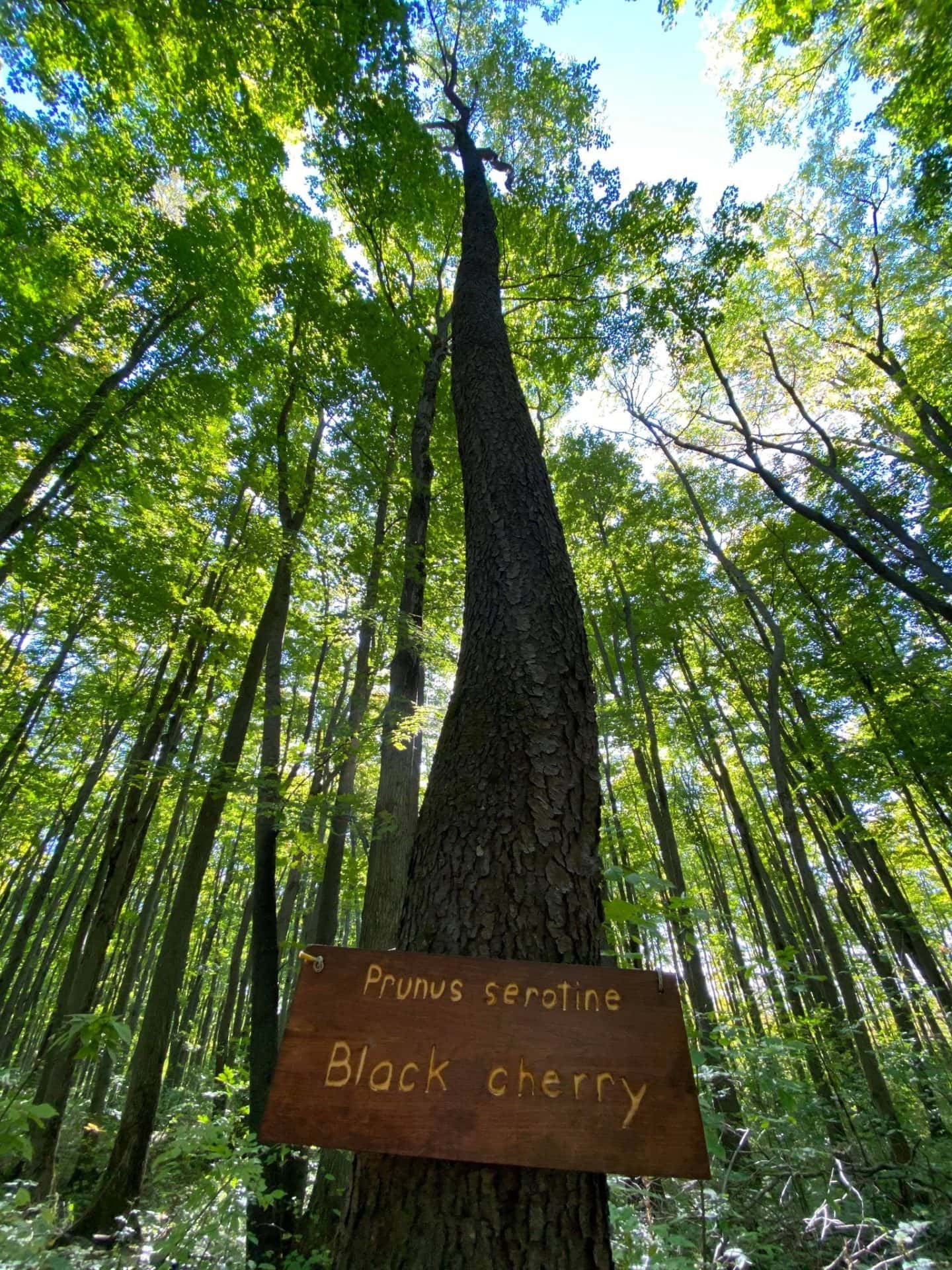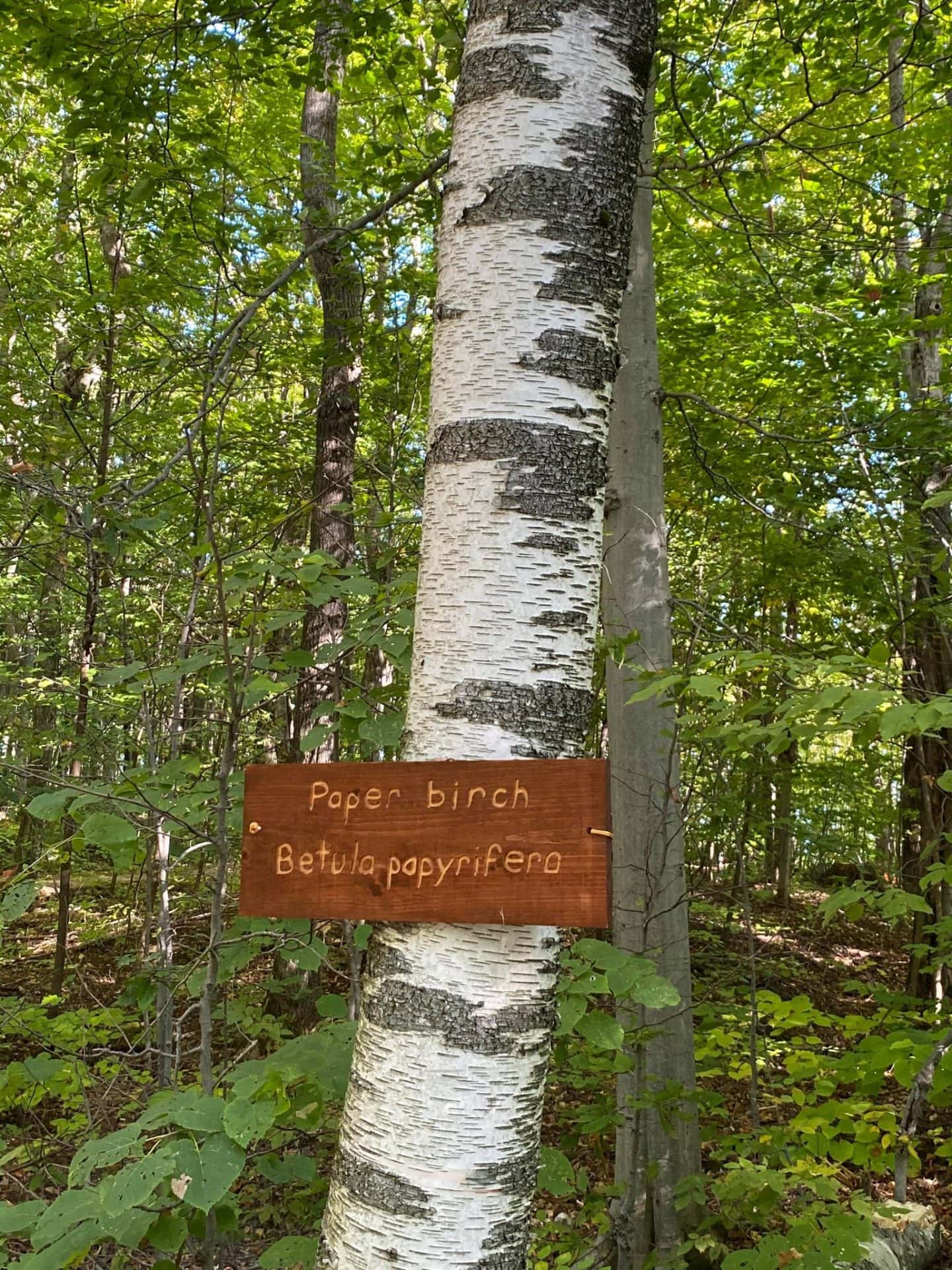 The trails are immaculately groomed and are laid with gravel (aside from the trek paths), and since they're one way and colour-coded, they are easy to follow.
No trail was exceptionally taxing, but there are a few spots with elevation changes. Your trail map will indicate which trails are easy, moderate, or advanced.
Suspension Bridge
Take a walk along Southern Ontario's longest suspension bridge!
All the trails end up here, but if you prefer not to take it (or in the event of weather) you can bypass the bridge and take a path underneath it.
To be honest I didn't even give it a thought that the bridge would move, silly me!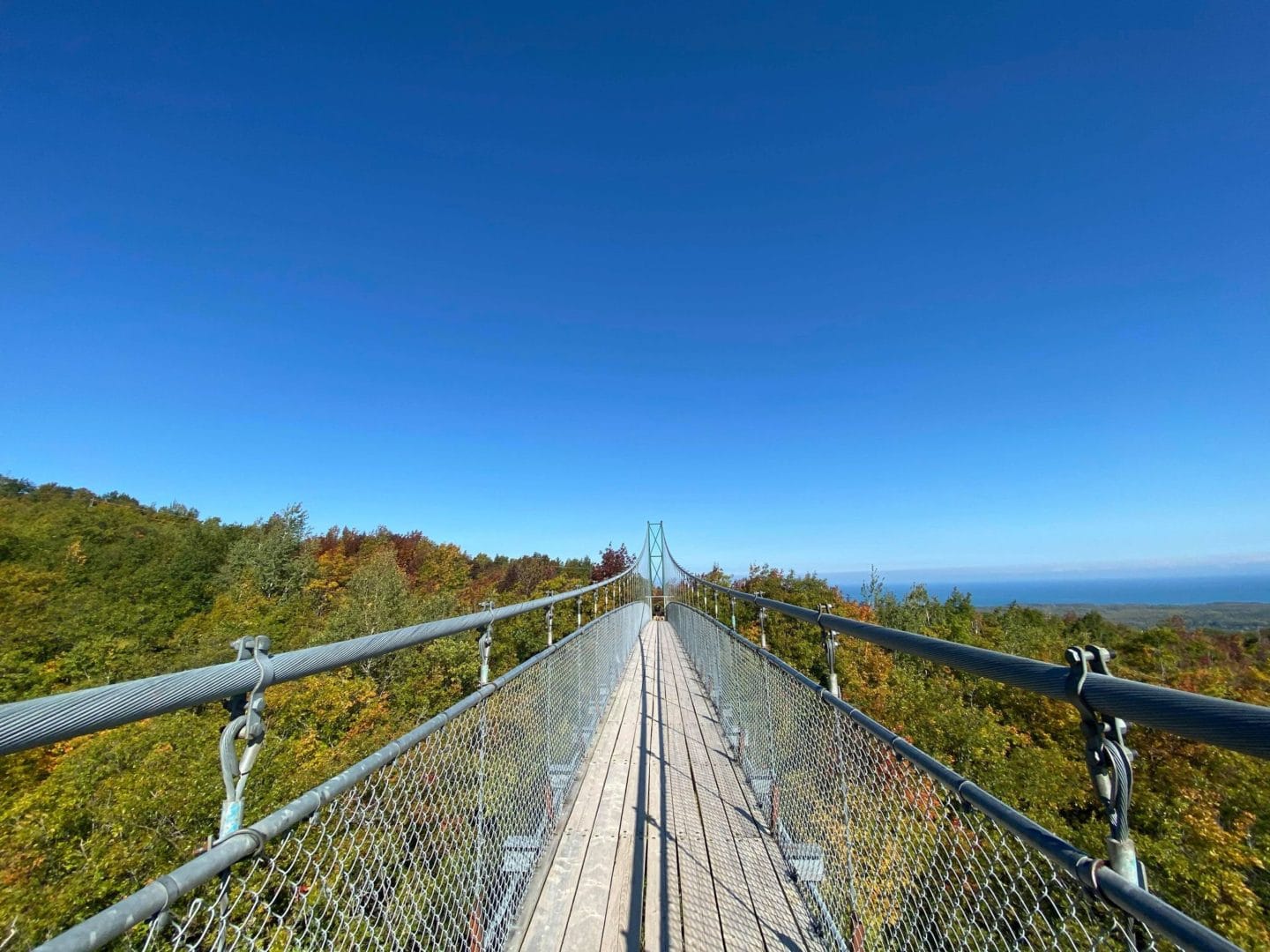 It reminded me of the floating bridge at Xel-Ha in Tulum, Mexico if you've ever been, but WAY more stable. The 420 foot long bridge bounces gently above the trees with each step and offers beautiful 360 degree views of the escarpment and sweeping views of Georgian Bay.
Since we were there mid/late September, the trees were just starting to change and I can imagine how a few more weeks would change the trees into glorious fall colours even more!
I clung to my phone, since I had a vision of it flying off the side. 😂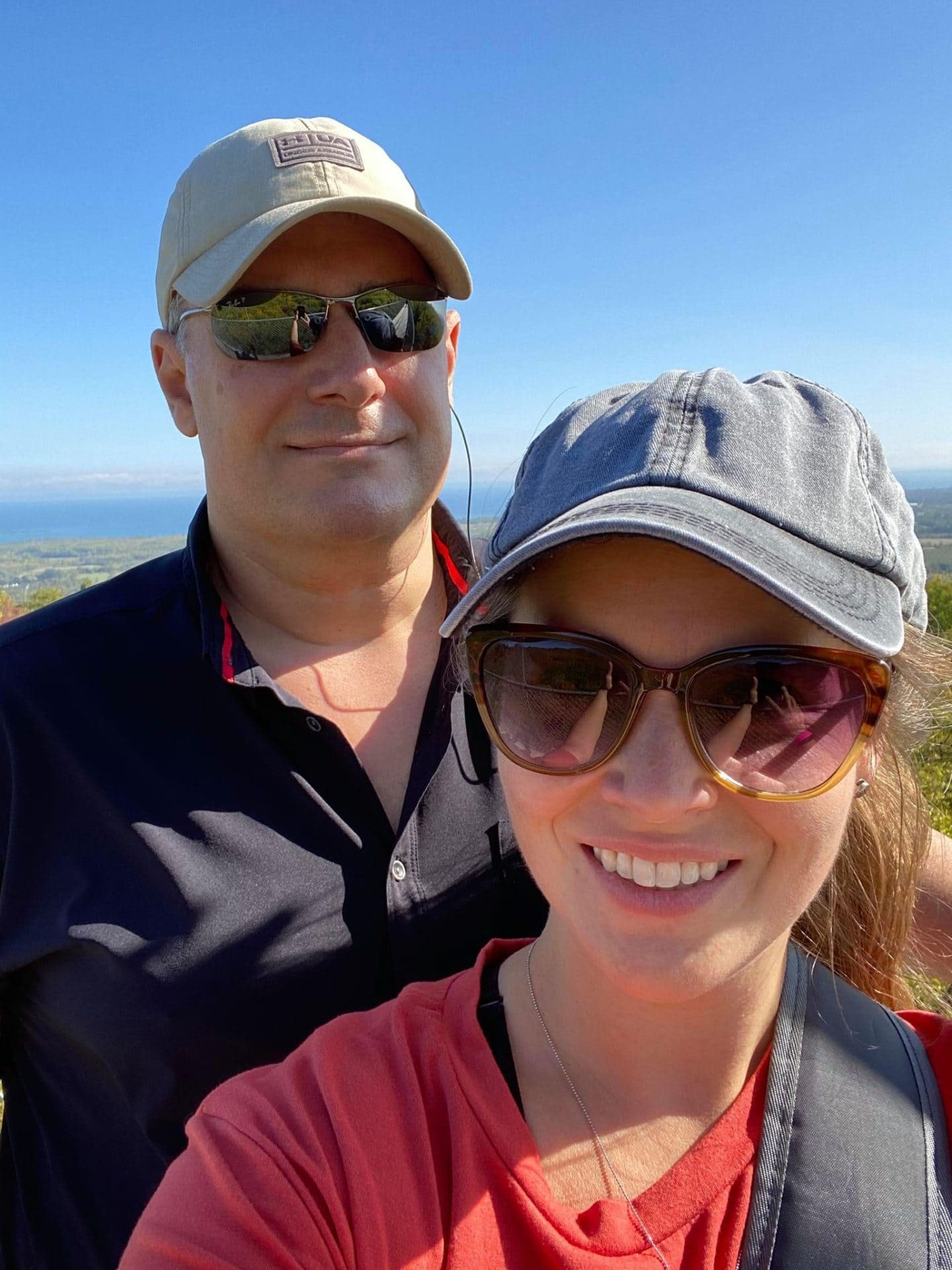 I was doing pretty good until someone behind us started jumping up and down. 😑
But don't worry!
Apparently, there can never be too many people on the bridge. It can hold the weight of a crowd of people packed shoulder to shoulder, and stacked 4 high.
The foundation holding the anchors of the bridge weighs the equivalent of 15 elephants!
Standing in the middle of the bridge is 300 meters (almost 1000 feet!) above Georgian Bay. That's as high as the Eiffel Tower!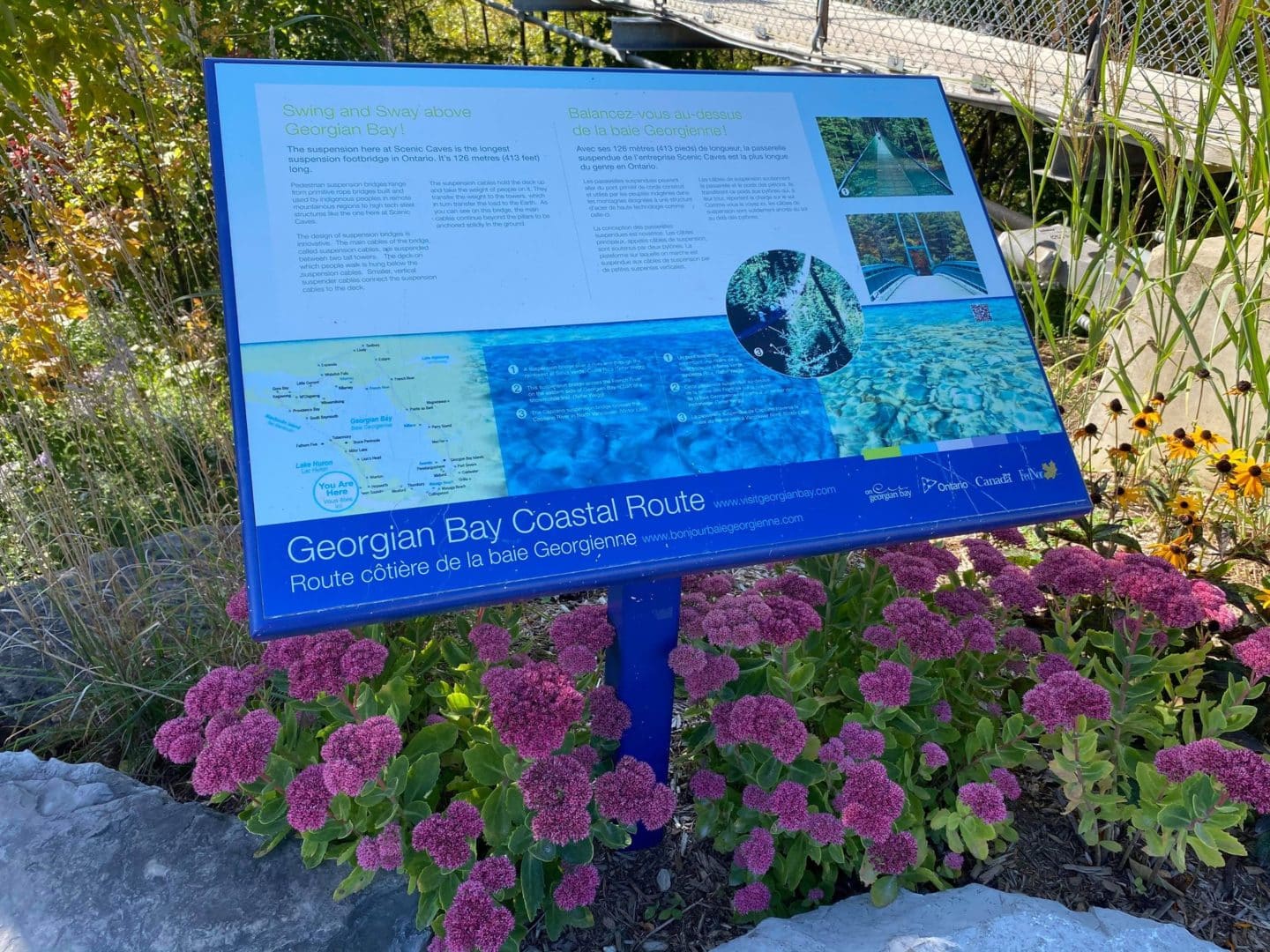 It almost took a decade to get the permits to build this masterpiece, so enjoy your time crossing it and take in the stunning views.
Fish Pond
I could've sat here all day! The fountains were so peaceful to listen to and there's an abundance of adirondack chairs to relax in while you recoup from your hike or while your kids are playing on the playground.
This pond is fed by natural springs and is home to rainbow and speckled brook trout. You can even purchase some fish food to feed them!
This is the perfect setting to enjoy a picnic and soak in the sunshine.
Depending on what time of year you come to Scenic Caves, there is a snack bar conveniently located by the entrance to grab a drink or a meal.
Trail's End Grill operates Wednesday-Sunday from 11:00 am – 4:00 pm, and according to their website the last operational day this season is October 12th.
There is also mini-golf and gemstone mining to take part in, if you're looking to extend your stay!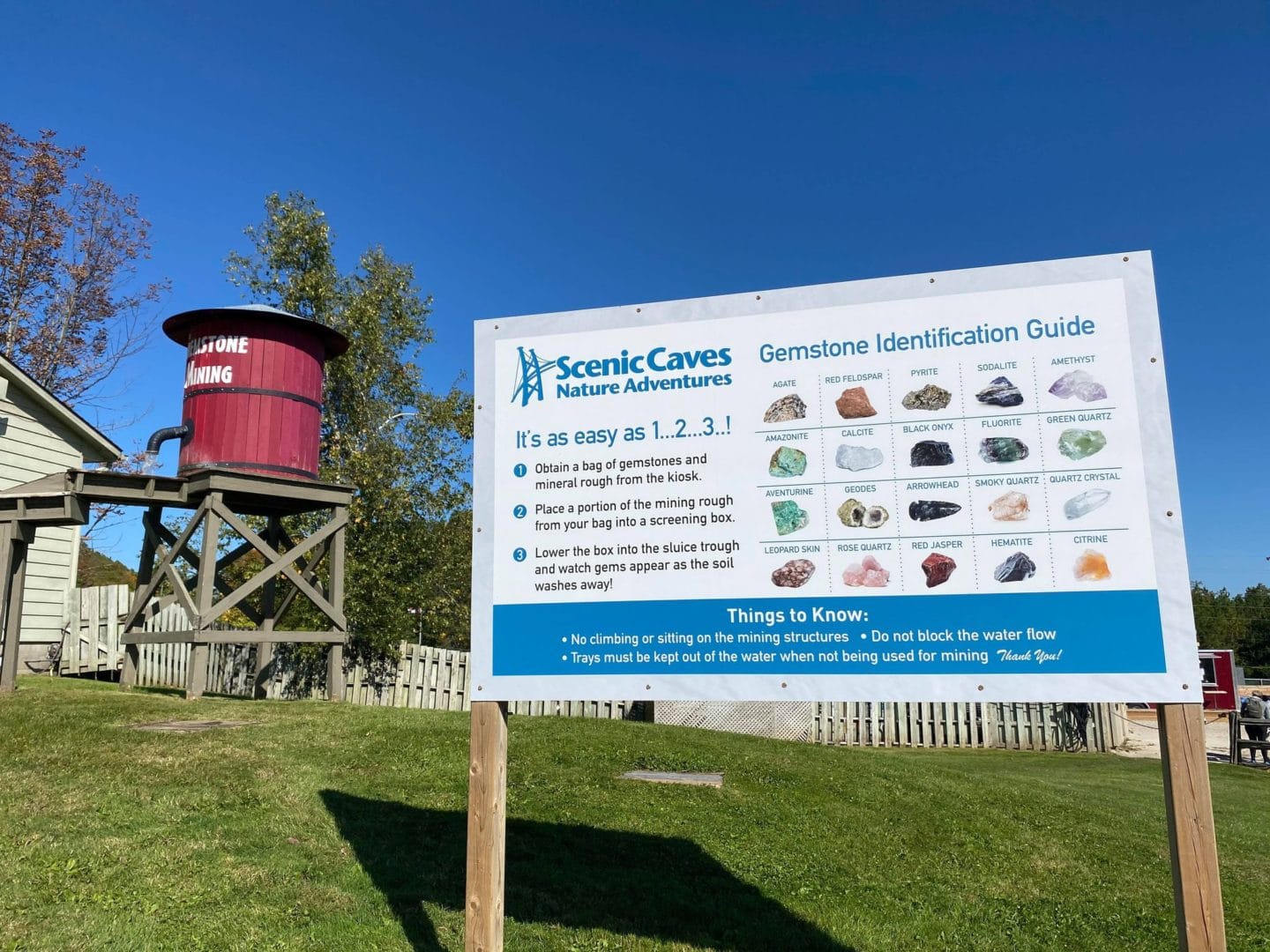 Activities closed for 2020 – but add these to your 2021 list!
Ziplining
Closed for 2020, but another fun idea to keep in mind is their Thunderbird Twin Zipline! Dana and I saw these ziplines as we walked on the trail underneath the lines, and wow – what a thrill! A half-mile zip line with a 287 vertical drop awaits you at the top and can reach speeds of 70 km!
I took one look from the top and felt sick. 😂
Eco Adventure Tour
Want to experience a bit of everything? The Eco Adventure Tour at Scenic Caves is the way to go. This activity is also closed for 2020, but hopefully you can add this to your 2021 bucket list!
This 2.5 hour tour starts with a tractor wagon-ride through the forest, followed by an elevated Treetop Canopy Walk followed by a 300 foot zipline back down, and a guided tour through the caves. You'll end with a 1000 ft zipline back down the escarpment!
Final Thoughts
If you're looking for a fun family outing that is socially distanced, this is your place to come! It makes for a great day trip or weekend getaway in The Blue Mountains.
We were so fortunate to have absolutely gorgeous weather on the first full day of fall here!
What better combination of nature and fresh air, history, and memories for you and your family is there?
Come experience one of Ontario's natural playgrounds!
When to Visit Scenic Caves
Luckily for outdoorsy people, Scenic Caves Nature Adventures is open year round, with different activities available during their Warm and Winter season.
Expect to spend at least 2 hours exploring the trails and caves, but you could easily make this into a half or full day trip, making your way down the various trails, taking in the stunning views of Georgian Bay, or stopping for a picnic along the way!
Be sure to wear proper running or hiking shoes, since you'll be required to wear them upon entering. If you forgot yours, they do sell them!
How much does Scenic Caves cost?
The admission fee is $26.50 for adults and $24.50 for youth (3-17) plus HST during their Warm Season (generally beginning of May to late fall ~mid November).
Park admission includes access to 15 km of well-marked, groomed trails, the Suspension Bridge, the Caves/Crevasse trail, and the Trout pond. Parking is included.
What are the hours?
9:00 am – 5:00 pm Monday – Friday
9:00 am – 6:00 pm Weekends
The last ticket is sold 2 hours prior to closing.
Is Scenic Caves suitable for small children?
Yes! We saw plenty of families here enjoying the outdoors. Keep in mind that strollers aren't allowed since some trails are steep with gravel and boulders. Bring a baby backpack!
Can I visit Scenic Caves in the winter?
Yes! It's open year round! However, the cave trail will be closed (since it won't be too safe with snow and ice!), but you can still explore their 15 km of groomed trails.
If you're into skiing and snowshoeing, you can do that too! They also offer Nordic lessons.
Thank you to Scenic Caves Nature Adventures for hosting our visit!
Pin it for later!