When it comes to adults-only luxury, Excellence El Carmen in the Dominican Republic has it down to a science. I've been looking forward to staying here, and now that I've fully absorbed all that this stunning resort has to offer after a relaxing getaway, I'm excited to share this review with you!
Excellence resorts are just that: Excellent! You want for nothing and you're pampered as soon as you're handed a glass of champagne and walk through those big wooden doors that open to the main lobby, where the spa-like zen instantly soothes you.
I LOVE Excellence properties, and Excellence El Carmen is nothing short of an amazing resort in Punta Cana, Dominican Republic. It makes a great all-inclusive resort option for those wanting luxury and comfort.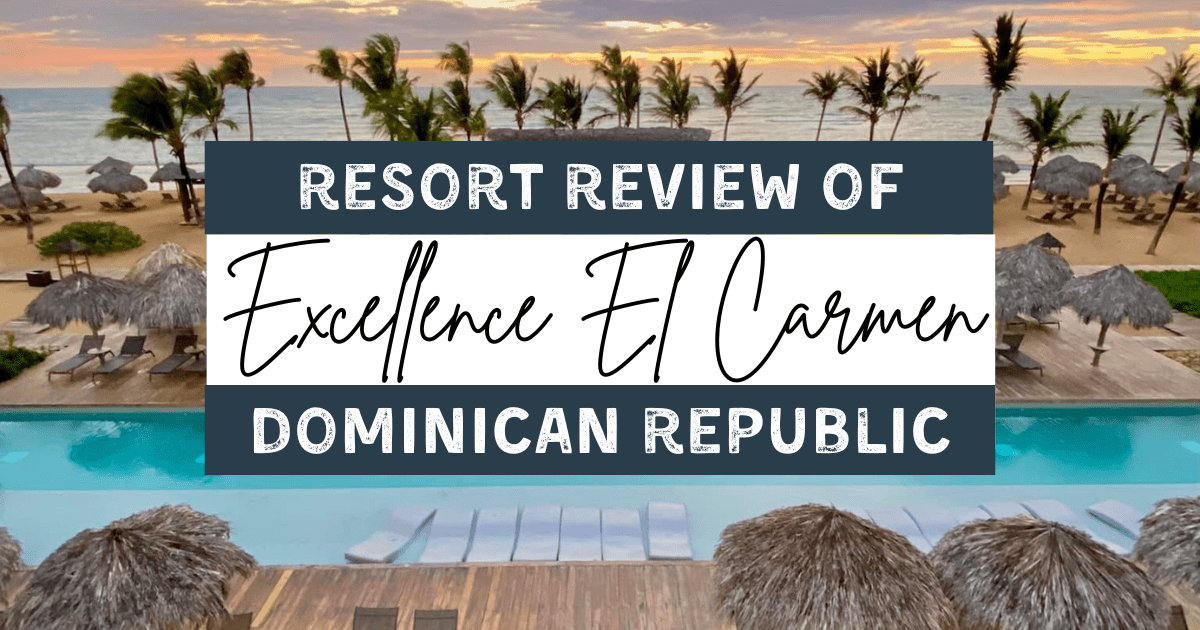 When my lovely friends invited me to their destination wedding at Excellence El Carmen, how could I say no? An Excellence resort AND a wedding? These are two of my favourite things!
I hope this Excellence El Carmen review is helpful and answers some of your questions – with this now being my fourth stay at an Excellence property – and after scouring reviews all over the internet I'm excited to share my own with you.
I am big on details – from big to small – so this review will cover a lot. If you find there are any other questions you have that I don't cover, feel free to get in touch with me!
Excellence El Carmen is a quick 25 minute car ride or 40 minute bus ride from Punta Cana International Airport or 70 minutes from La Romana International Airport. You can purchase drinks at the airport to make the ride a little more fun, and perhaps a bit quicker? 😉
Don't have time to read this review of Excellence El Carmen right now? Save it for later! Or jump to your topic.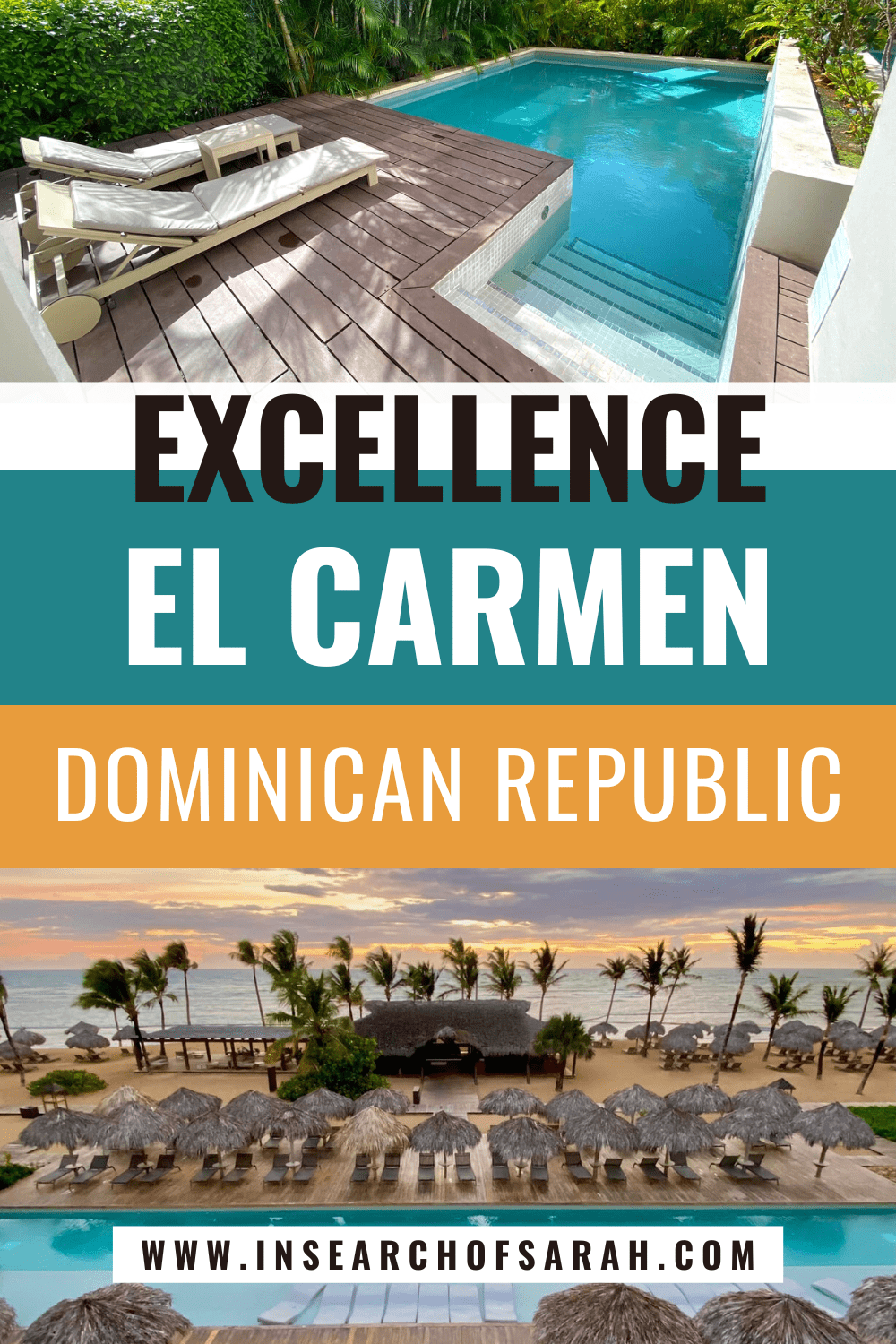 This post contains affiliate links which means I earn compensation when you click on the links at absolutely no extra cost to you! Feel free to read my disclosure policy. Thank you for supporting my blog!
Plan your next vacation using these tools!

✈️ Book flights: SkyScanner
🏨 Book hotels: Booking.com
🚘Book car rentals: RentalCars.com
🎫Book tours: GetYourGuide
🍽️Local food experiences: EatWith
🌍Favourite travel item: Packing cubes
🧳Favourite travel bag: Osprey 40L Fairview
📱 ESims: Airalo
🩹 DIY Travel Medical Kit
💸 20 Cheap Travel Items Under $20
Excellence El Carmen review: the Property
Excellence El Carmen is a large, and fairly new (2016) all-inclusive resort with a modern and tropical vibe. Its luxurious rooms and suites make for the ideal romantic getaway and this property caters to honeymooners and those celebrating their anniversary.
We passed so many doors with celebratory banners on them, and it's not hard to understand why: Excellence El Carmen offers a great price point and value for money, and is known to provide a top-tier stay in a tropical paradise.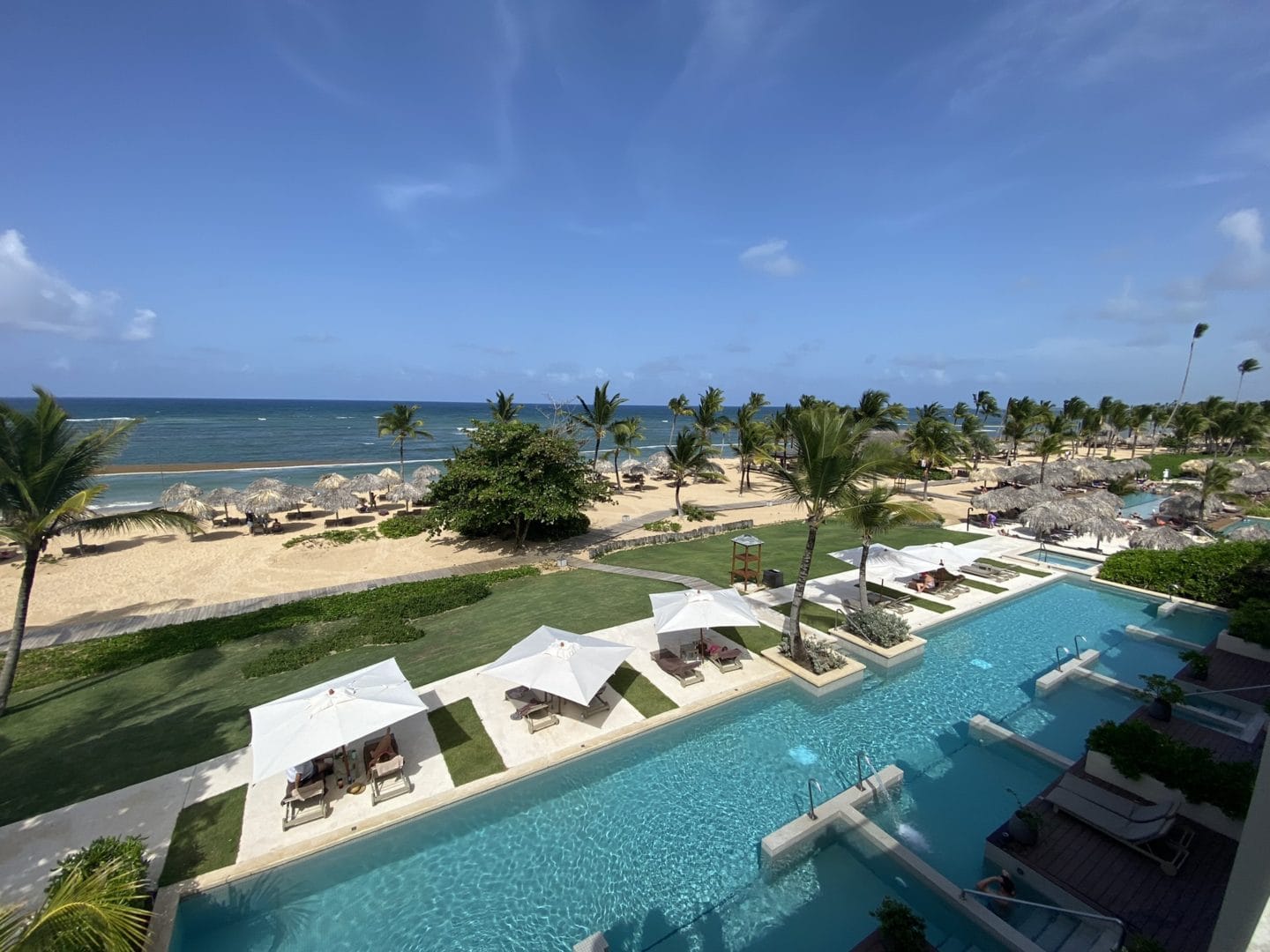 The expansive property seems large but it's very walkable and manageable (as well as accessible). It never took longer than 5-10 minutes to walk to anywhere we wanted to go.
We loved the modern vibe to the resort; the clean architectual look, the immaculate gardening and landscaping, and the freshness of it all. It felt like a newer resort.
All restaurants, with the exception of Oregano and the Lobster House were located off the main lobby, making everything centrally located in one spot. This made it great for evenings if you wanted to grab a drink at the bar first, then walk to a restaurant closeby, then back to the theatre for a show.
Insider tip: Don't miss the hidden gem by building 10! You can easily miss it if you aren't located at that side of the resort, but there is a gorgeous pond with all kinds of waterfowl and flamingos!
Good to know: In our previous trips to Excellence Playa Mujeres and Excellence Riviera Cancun, we looked forward to the copy of "Excellence Times" on our bed at turndown. It showed which restaurants were open the following day, which activities were scheduled throughout the day, and what the evening entertainment was.
Excellence now has their own app you can download to research everything either ahead of time, or to keep up with it during your stay! You will also use the Excellence app for ordering at the restaurants – they have shifted away from the hard-copy menus to digital (although I'm sure you could request one if you preferred it).
Find it on the Apple Store or Google Play!
P.s. If you're looking for a family-friendly version of Excellence El Carmen, Finest Punta Cana is right next door to this property and offers fantastic amenities for children as well as an adults-only section!
Excellence El Carmen review: Rooms
Since my mom and I were on a girls' trip (which we hardly ever get to do!) we decided to splurge and upgrade to Excellence Club Junior Suite with Private Pool. You can also get this type of room without Excellence Club.
I am SO happy we decided to book this room, and quite honestly I don't think I can book any other room type now. It was a toss up between a room with a private pool or a two-storey rooftop with plunge pool, but by the time I finally booked the private pool room was the only one left.
It is unbelievably private – we were in 9001 – and because we were on the end of the building block, we only had neighbours on one side. The entire week we didn't have anyone above us either, which was awesome!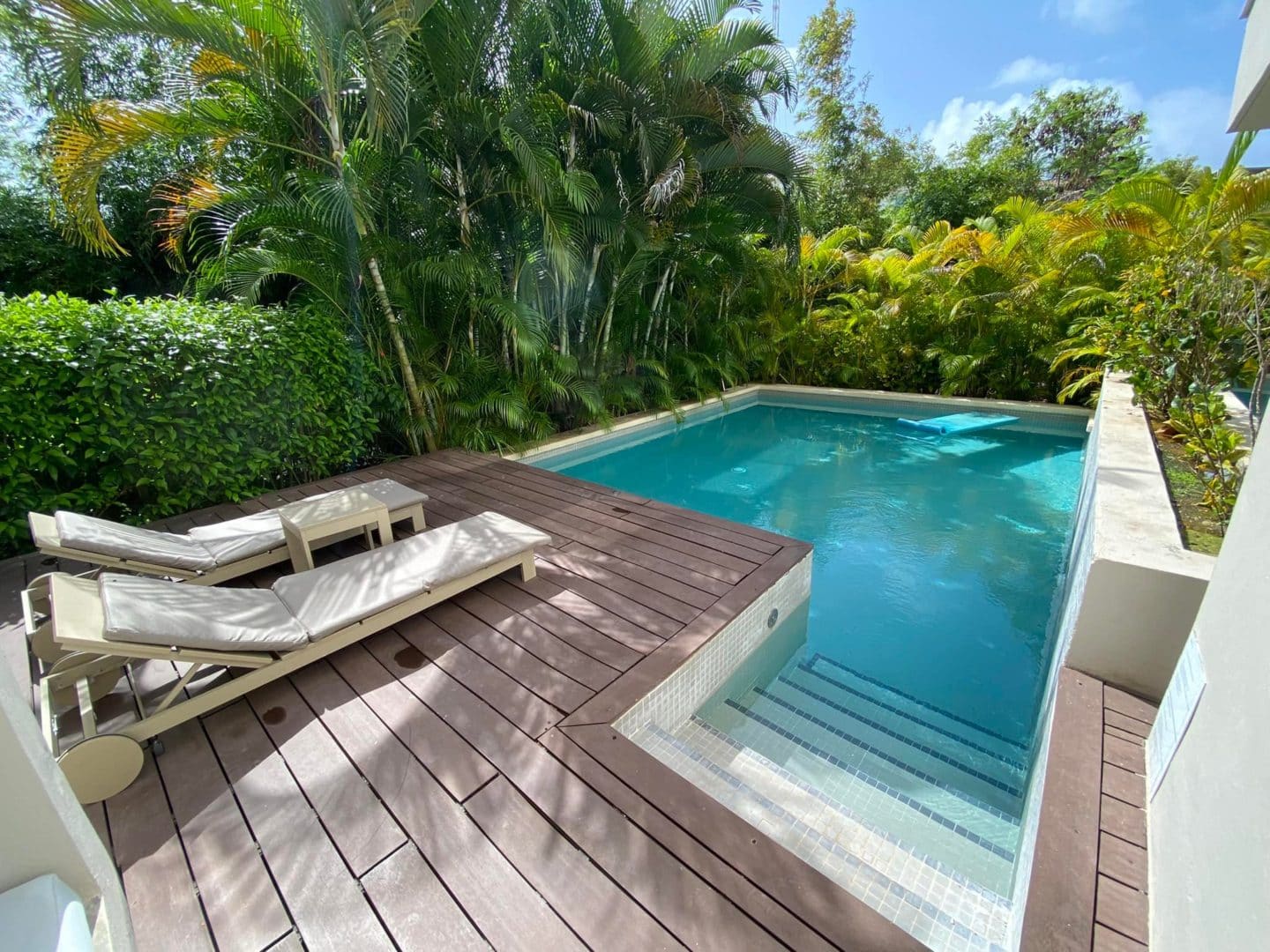 The pool is HUGE. I'm not kidding – people were shocked when they saw the photos. It's easily 20 x 15 feet (my mom and I tried measuring with our bodies😂), warm, and gets the late morning and afternoon sun.
The patio is HOT, so I think not having the pool would've made it nearly unbearable to sit out there (at least during the first week of August!).
There is also one daybed in the shade and another one closer to the steps of the private pool, tucked away in its little alcove.
There is a beautiful swan-neck fountain in the corner of the pool which adds to the ambience. I first thought it was broken since I couldn't turn the dial under it, but then I realized there was a button right at the staircase into the pool which doesn't quite look like a button that turns it on for about 5 minutes at a time. It was pure heaven.
Tip: bring your own floaties with you! They're easy to pack and inexpensive and so worth having! We brought these ones which were the perfect size, and were easy to inflate, and easy to pack up to bring home!
Many of you have asked: there is no waiter service at these rooms but you have an entire minibar in your room and a minifridge which you can request to have stocked with what you like, or you can order room service for some sparkling wine if that's your thing, or even toddle over one of the many bars for some cocktails to bring back. The options are endless.
But enough about the pool!
The room is spacious and modern with a HUGE hidden walk-in closet with plenty of hangers, shelving, robes, a steamer, and a safe. The bed is comfortable but if you choose to switch out your pillows, there is a pillow menu (on the Excellence app) if you want to try another one by calling the concierge.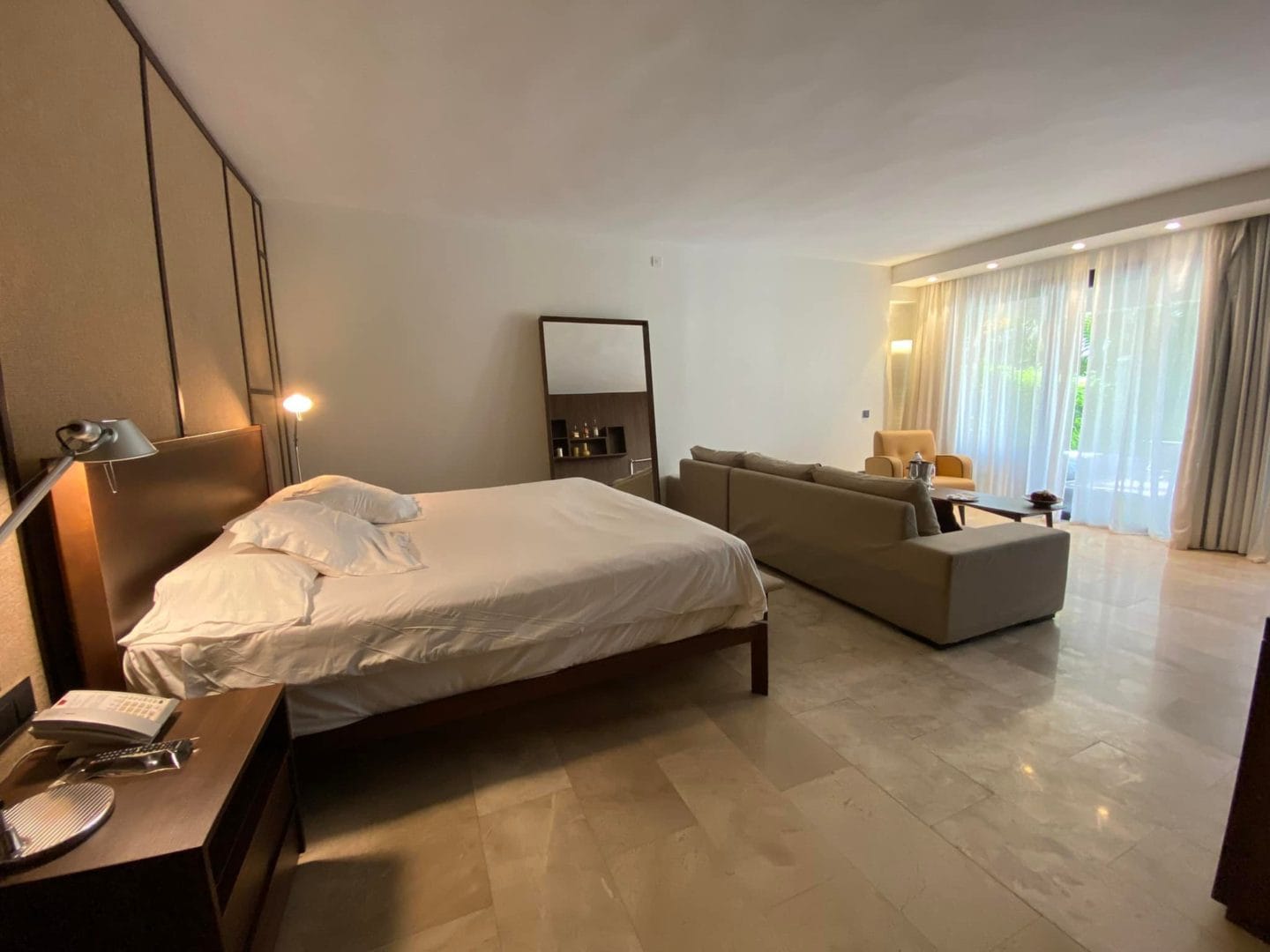 If you are travelling from North America, you do not need to bring an adapter with you. There are plenty of plugs throughout the room, including two USB ports for charging on either side of your bed. There is also a plug inside your safe should you choose to charge your devices while they're kept away (which I thought was neat!).
You have three bottles of alcohol in your room as a standard: Stolichnaya Vodka, rum, and whiskey. If you do not like those, or want to swap them out for something else, you can do that too!
At our other Excellence Resorts trips, I've emailed ahead of time to request a certain bottle in our rooms, which you can certainly do, but I left it until we got here this time.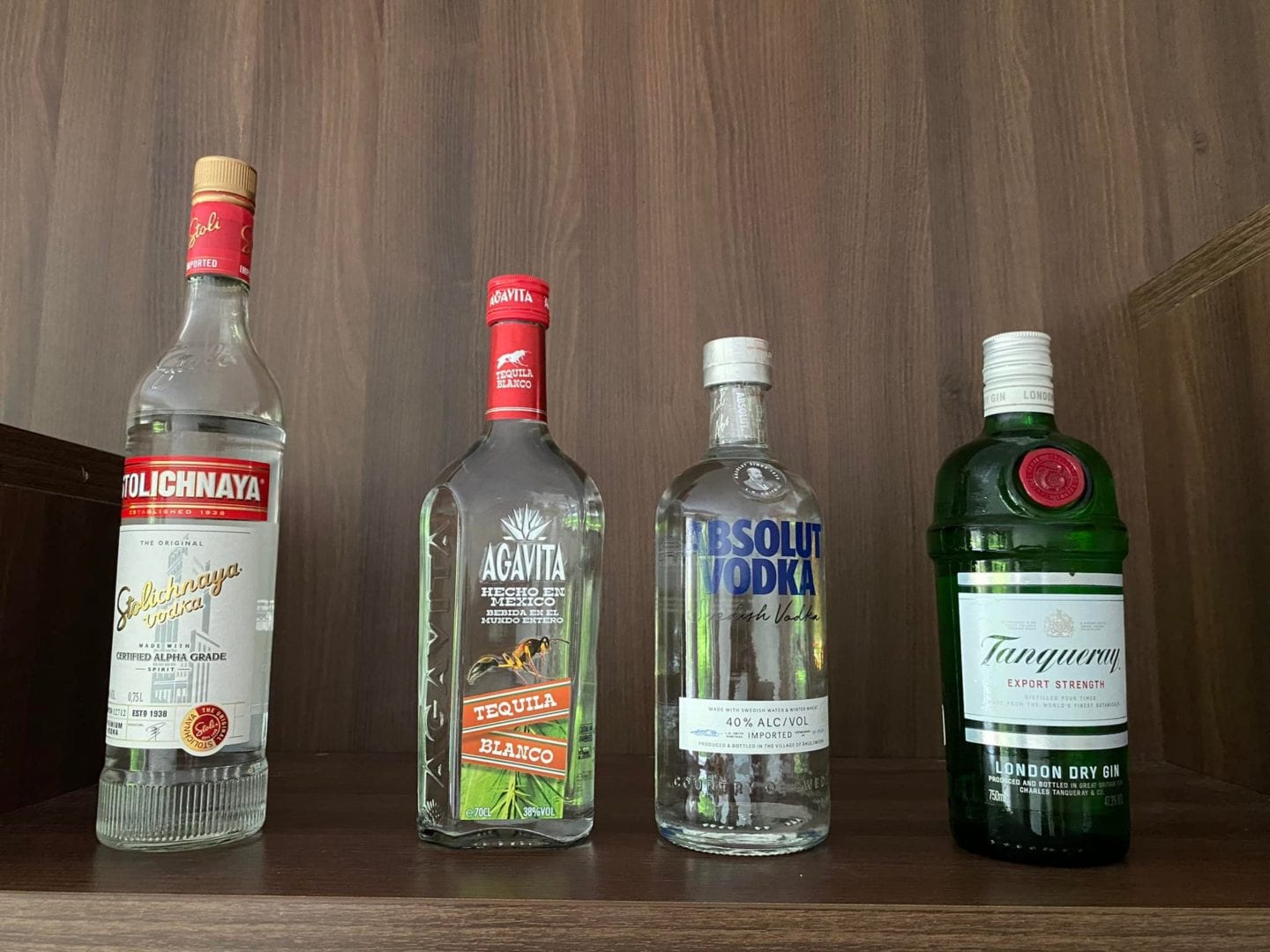 We're not whiskey drinkers, but we do love tequila. I called twice and went to the Excellence Club lounge (as they requested), and by the second day in the afternoon they sent someone. I was under the impression that EC guests had an upgraded minibar, but there was a bit of confusion with our room, since they said only Excellence Club can swap out bottles (this is not true, by the way), and we said we were Excellence Club.
I was confused because we're in an EC building, and it's the room we booked, but apparently not all of building 9 is EC. Hmm.
Regardless! We had an additional bottle of vodka (Absolut), tequila (Agavita) and gin (Tanquerey).
If you are not in Excellence Club, you can swap out one bottle of alcohol per day. I have seen others tip generously to get their preferred alcohol, or have had them all swapped out at once…I'm not sure what the real case is here, but nonetheless you'll have alcohol in your room. 😂
Your minifridge will be stocked with four bottles of water, club soda, tonic water, fanta, orange juice, coke, and Presidente beer (regular and light). You will also have some snacks: crackers, oreos, and peanuts. We accosted the minibar guy one day to give us kitkats, so just so you know, there is also chocolate! You can ask for more of certain drinks or snacks if you wish (plus a nice tip wouldn't hurt with that request!).
The lounge is comfortable with the L-shaped couch, perfect for morning room-service breakfast, or cocktails before heading out for the evening. You also have an ice bucket, and the ice machines are located on every floor of every room block for easy filling.
There is a gorgeous jacuzzi which is deep and big enough for two people which looks out to the patio (and pool if you have one). There are blinds to draw down for privacy if you wish.
Now – the bathroom is one of which many people question. Is the bathroom private? Quite frankly, aside from the private, frosted-glass door for the toilet, it's all open air.
But, if you're sitting on the bed, the bathroom is behind you so you can't see anything. If you're sharing with a friend or a family member (like my mom and I did), we just called out to each other that we were indecent and to avert your eyes. 😂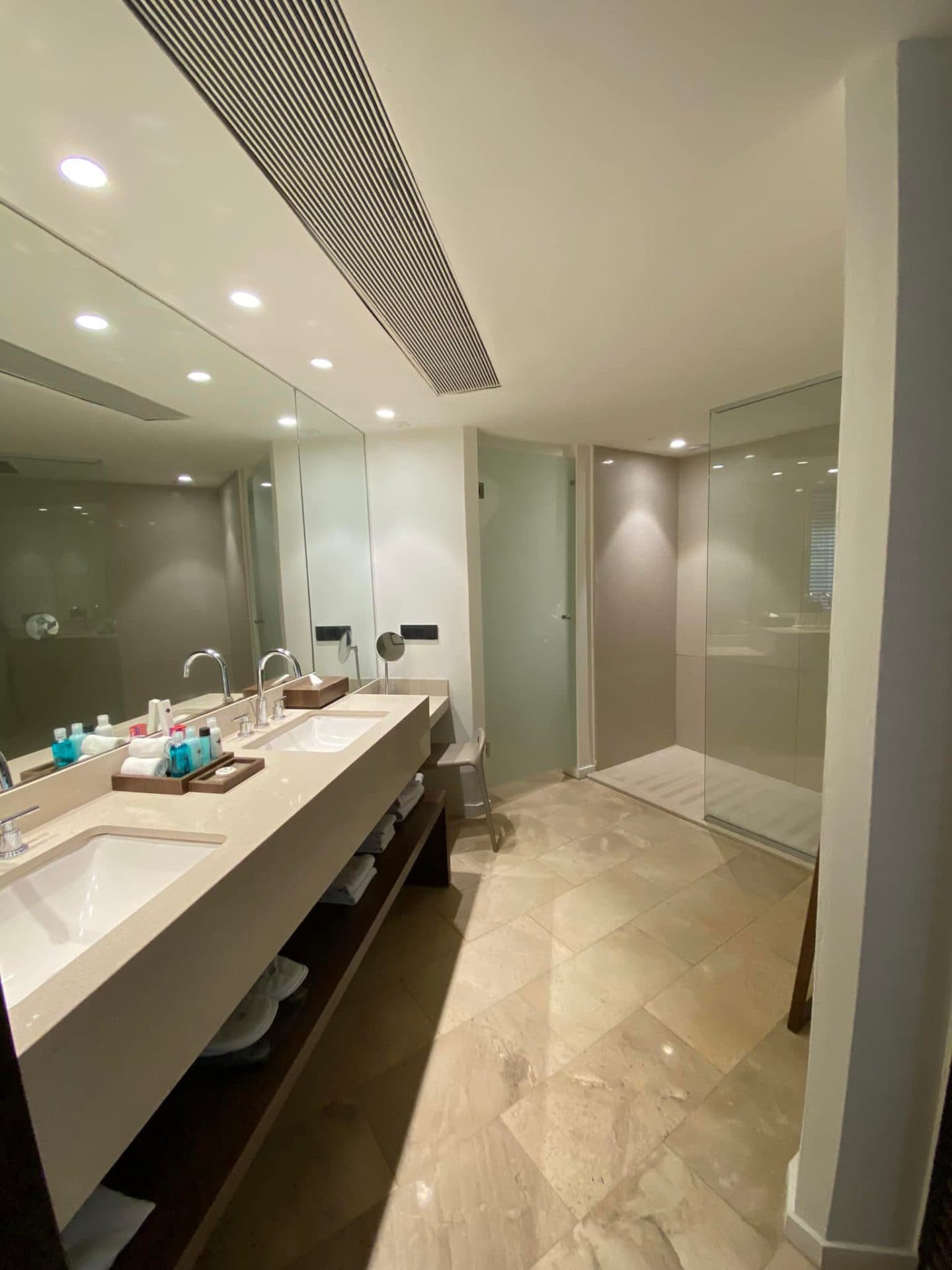 The vanity has a double sink and there are numerous towels, hand towels, and facecloths, along with a hairdryer. And there is no need to bring toiletries – there is body wash, shampoo, conditioner, body lotion, and even toothpaste!
Note: we had someone come by our room every morning around 8:00-8:30 am to clean the pool from the outside. He just appeared. Just as an FYI if you're walking around 'indecently' with the blinds open. 😂
There is a daily room keeping as well as turndown service which is always nice to come back to: slippers by the bed, sheets drawn back, beside lights on, bottles of water on the nightstands, and flower petals or towels done up in some cute display.
Related: What to Pack for an All-Inclusive Vacation (Plus Free Printable!)
Is Excellence Club at Excellence El Carmen worth it?
In my opinion, Excellence Club is not worth it at Excellence El Carmen. You can read more about my impressions of Excellence Club at this resort on my other blog post, which I felt deserved one of its own, if you're really into details!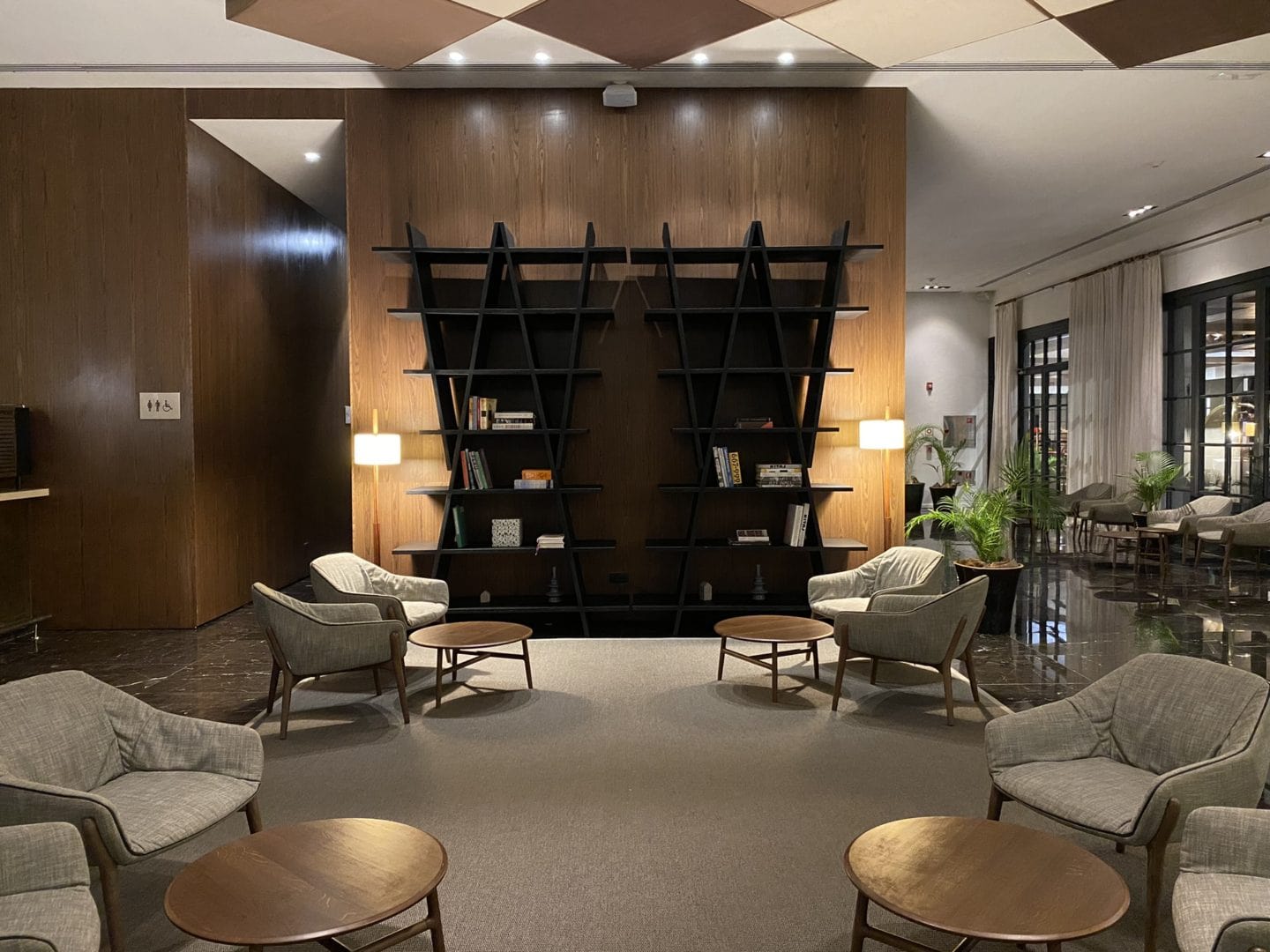 Excellence El Carmen: Pools
There are 23 pools and 9 jacuzzis at Excellence El Carmen – seriously! You can check it out on the resort map!
We spent our mornings at the main pool with their (only) swim up bar, Blue. There were tons of loungers and palapas available, with great poolside service. The water is refreshingly warm and there are loungers in the water too!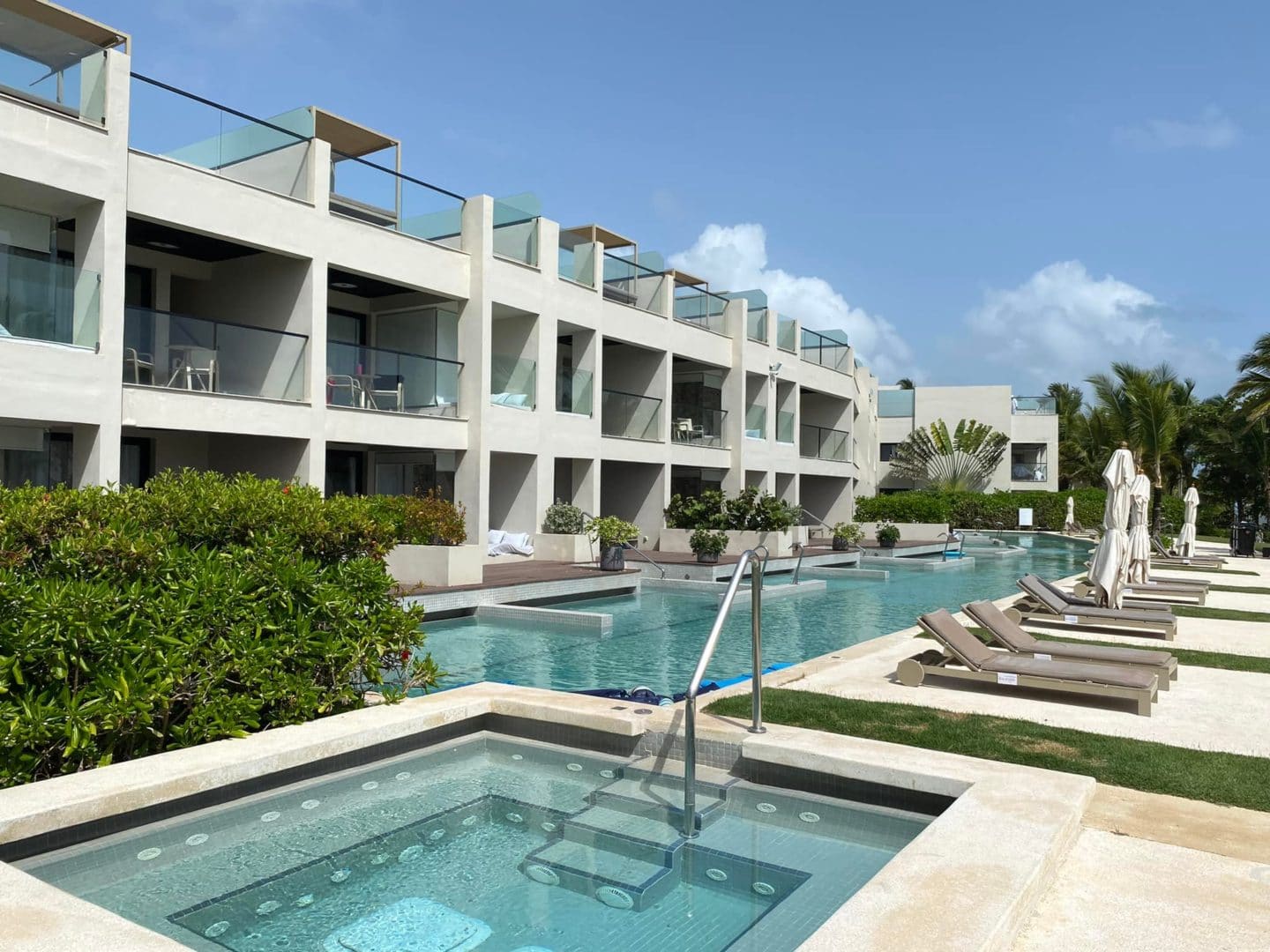 Right behind the main pool is a smaller lap pool which they use for the water activities and games which is always fun to participate in (or watch!).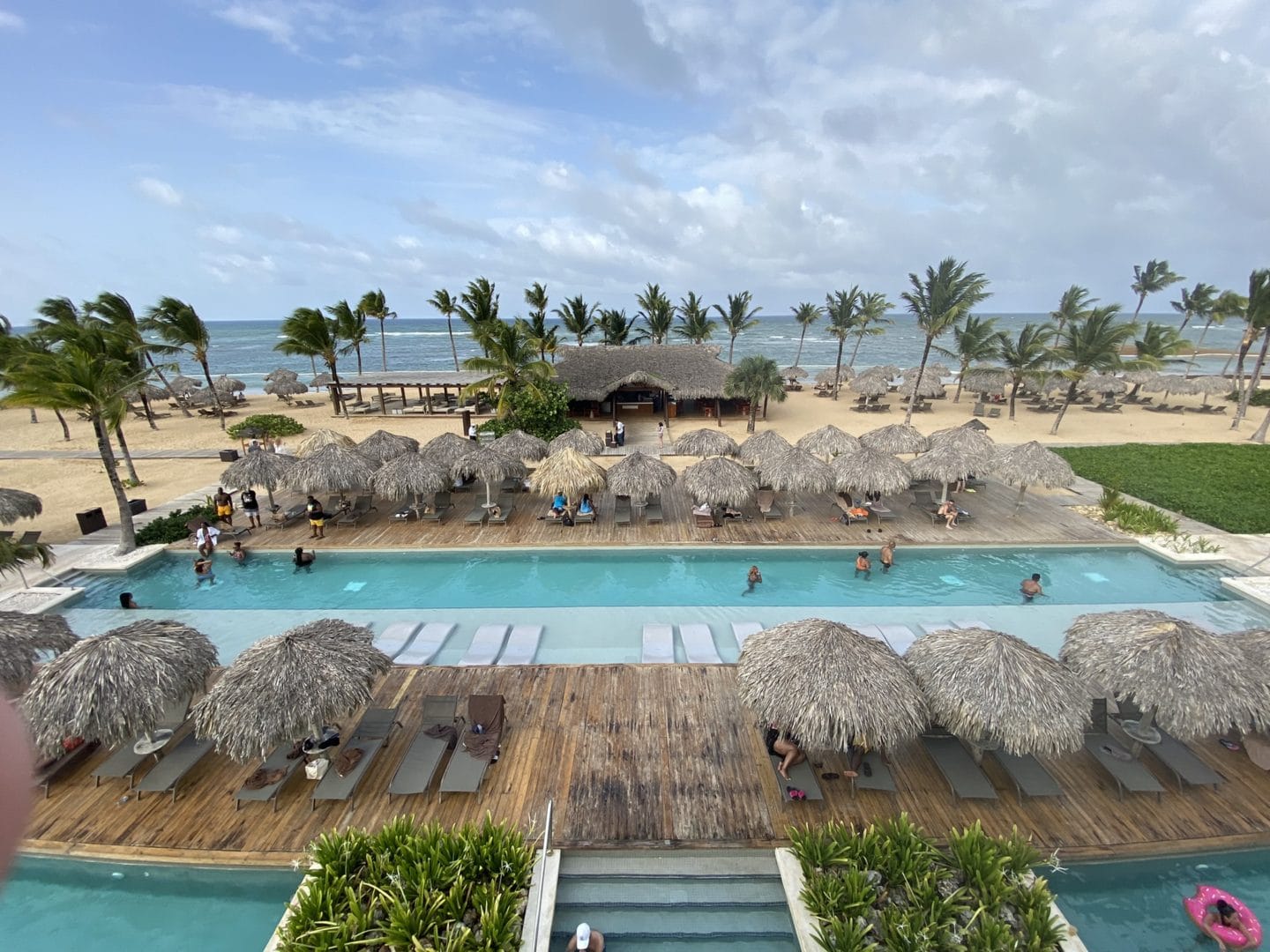 The main pool is close to Las Olas for a bite to eat or you could head over to Oregano or Lobster House for lunch! It was never rowdy, and is quite peaceful here and we enjoyed the central location to everything we wanted.
For a more serene atmosphere, don't miss the pools by buildings 11-16. They're very quiet and also have their own bars.
There is no dedicated Excellence Club pool at Excellence El Carmen, but there are plenty of suites with their own private pools, swim ups, or plunge pools to pick from!
Excellence El Carmen review: the Beach
I love the beach, but I'm not much of a beach swimmer since I was young. Maybe I'm just getting older, but I don't like the rough feeling of wet, sandy feet against flip flops or sand in my bits after a day on the beach. 😂
The beach at Excellence El Carmen is long – it's a beautiful, soft, and golden stretch of beach – when there is no seaweed.
That, of course, is no fault of the hotel. Seaweed blooms are seasonal and also change daily. There is a newly-placed birm out in the ocean to prevent the seaweed from coming ashore, but there was still a ton of it on the beach. It didn't bother me, but if you're expecting a pristine, white sandy beach, you won't find it here.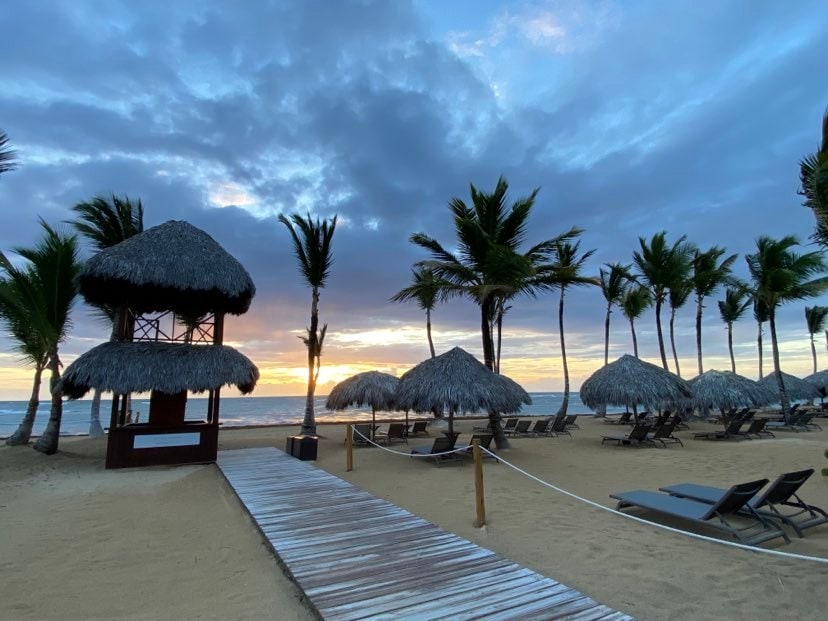 I did notice, though, while we were walking the beach, there were quite a few pieces of coral along the shore and in the water. If you want to swim, I would recommend bringing water shoes to protect your feet!
One comment I will make that really deterred me from being on the beach, is the vendors.
The beach is public which means vendors can have full access to guests, wherever they're sitting on the beach, to ask them to buy what they're selling. I understand it's how they make money, but they can be quite pushy, so be prepared. There is no need to be rude to the vendors, but learn to say no, and then to avoid eye contact if they keep not taking no for an answer.
This is probably the most important part about the vendors: there are some men who walk around with parrots, monkeys, and iguanas. They will come up to you and place them on you without even asking. They will want to take a photo of you with them (or you phone, too!), and then charge you a ridiculous amount for it. Yes, even though you didn't consent to it.
I've talked to quite a few people during our time here about that experience. Some people have said they have asked upwards of $80 USD for these photos. Are you kidding me!?
Unfortunately, there are some guests who haven't been to all-inclusives before that don't know that isn't the norm, and pay it. Others have said "all I have is $5" and they take it. It's a scam. If you want those photos, just be prepared to haggle hard.
Related: What to Pack in a DIY Travel Medical Kit
The service at Excellence El Carmen
The service is amazing as it always is at Excellence Resorts. We had some insightful conversations with some of the employees there and they really love their jobs and are grateful for them. Excellence is known for their corporate responsibility and they look after their staff, and it shows through the service you receive.
Everyone greeted us with an "Hola" and a smile and you felt welcomed.
The poolside service was always quick, the entertainment staff were a blast, the waiters were so courteous and attentive…the list goes on.
We have zero complaints – and hence the shortest section on this review! 😂
Excellence El Carmen Review: Restaurants
When it comes to the food at Excellence El Carmen, there is something for everyone. Keep in mind that you are in the Dominican Republic – but the food here is far better than other resorts I've been to while travelling here.
You will find options everywhere you go – and the nice thing is, if you choose to eat a certain way, you are in total control!
Are you a vegetarian? There are entirely separate menus for that. Eating low carb? You can do that here no problem. Avoiding grains? The menus denote which dishes are grain free. Opting to eat healthier during your stay? Each restaurant has numerous options for lighter fare. That's what I love about the food here.
Breakfast
Whether you're an early riser or someone who likes to lounge in the morning and head for a later breakfast, there are loads of choices for you.
My favourite spots included Aroma, the Revive Bar, Magna (for Excellence Club), and the Lobster House. Those spots, along with the Kitchen Table for the buffet, and room-service, are your breakfast options.
Since Aroma opens at 7:00 am, it's a great spot to enjoy a morning coffee. There are tons of different hot (and cold!) drinks to try – everything from Americanos to flavoured coffees with everything you could imagine – maybe a little something extra in it if that's how you like to start your day. Aroma is open until 10:00 and also offers sandwiches, fruit cups, pastries, macarons, cookies, and gelato. I loved having this option for an afternoon pick-me-up (since you know, doing nothing all day is so exhausting 😂).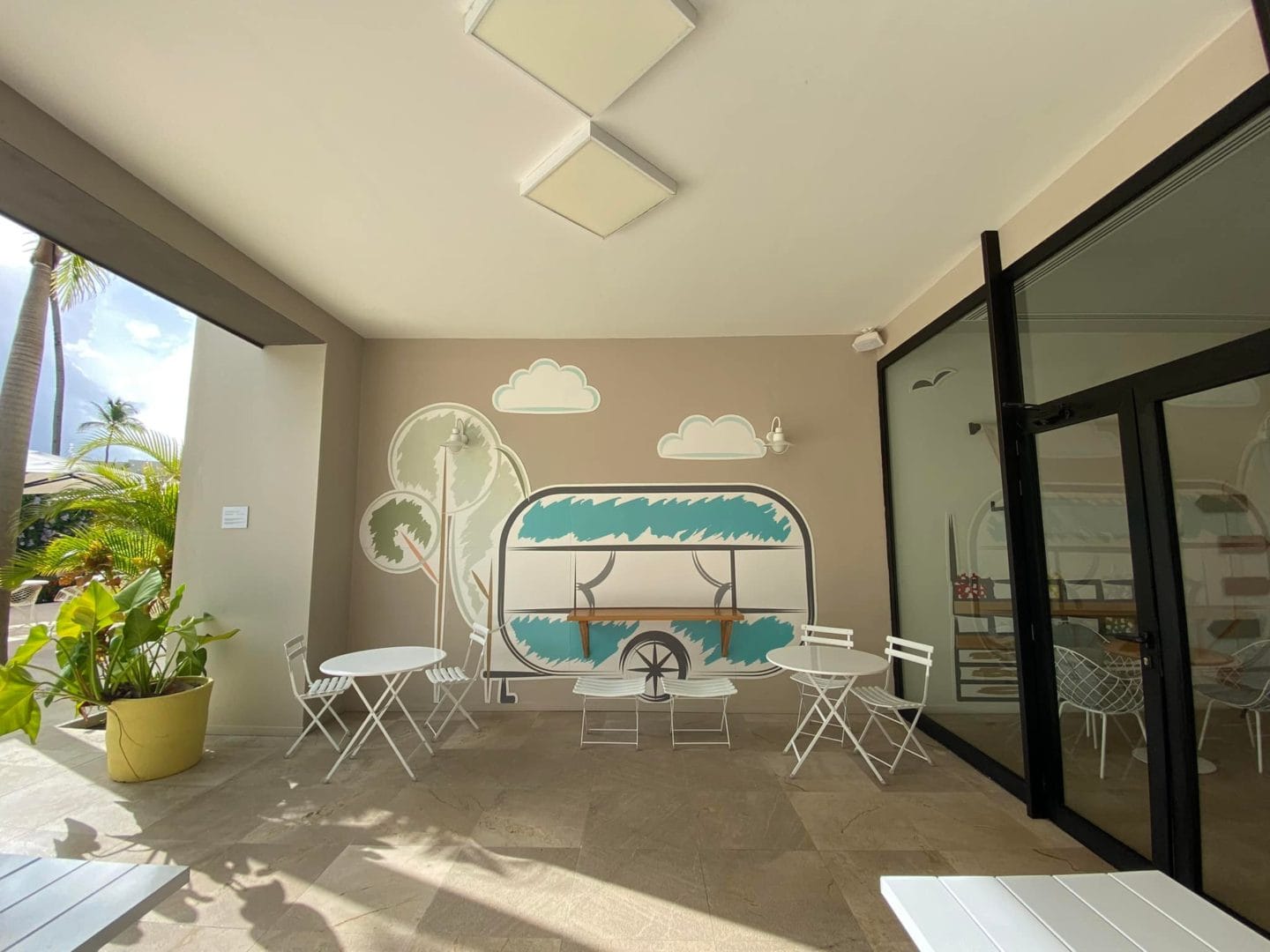 The Revive Bar is a delicious choice for those who love liquid breakfasts. It's open from 9:00 am – 4:00 pm and has all kinds of fruit smoothies and juices to try. Feel free to custom make your own! I piggybacked on another guests' recommendation of the Power Smoothie + strawberries and it tasted like a peanut butter and jelly sandwich!
The Lobster House is what I imagine to be the best spot for a breakfast choice. It's open at 8:00 am and the view of the azul-blue pools and swaying palm trees along the beach can't be beat. The service is excellent and the food is diverse. We loved the Caribbean Eggs with plantain and fried cheese. I don't know what it was about that cheese but I fell in love with it and can't stop eating it.
The buffet, Kitchen Table, has options for everyone – I'd be shocked to learn if someone couldn't find something they liked. There is a huge pastry/bread section, a selection of cold cuts and cheeses, gorgeous fruit and colourful juices, an omelette station, and some traditional Dominican foods, too! If you're on a tight schedule or just want to get on with your day, the buffet is your friend. It's open at 7:00 am and you have the choice to eat inside or out.
There is also room service! It takes roughly 45 minutes for it to show up at your room but I loved the freedom it gave us with getting ready and not having to get "froofrooed up", as my mom says. We ate in our bathrobes and drank mimosas and it was glorious.
Our food was delivered hot, and was set up right in our room. After you're finished eating, you can place your dishes in the "X-Box" located right at your door. It's a little cubby that can be accessed by room service staff from the outside to retrieve your dishes. I also appreciated that while we asked for two mimosas, he brought us a whole bottle of sparkling wine, "in case we wanted two each." It's like he knew us. 😂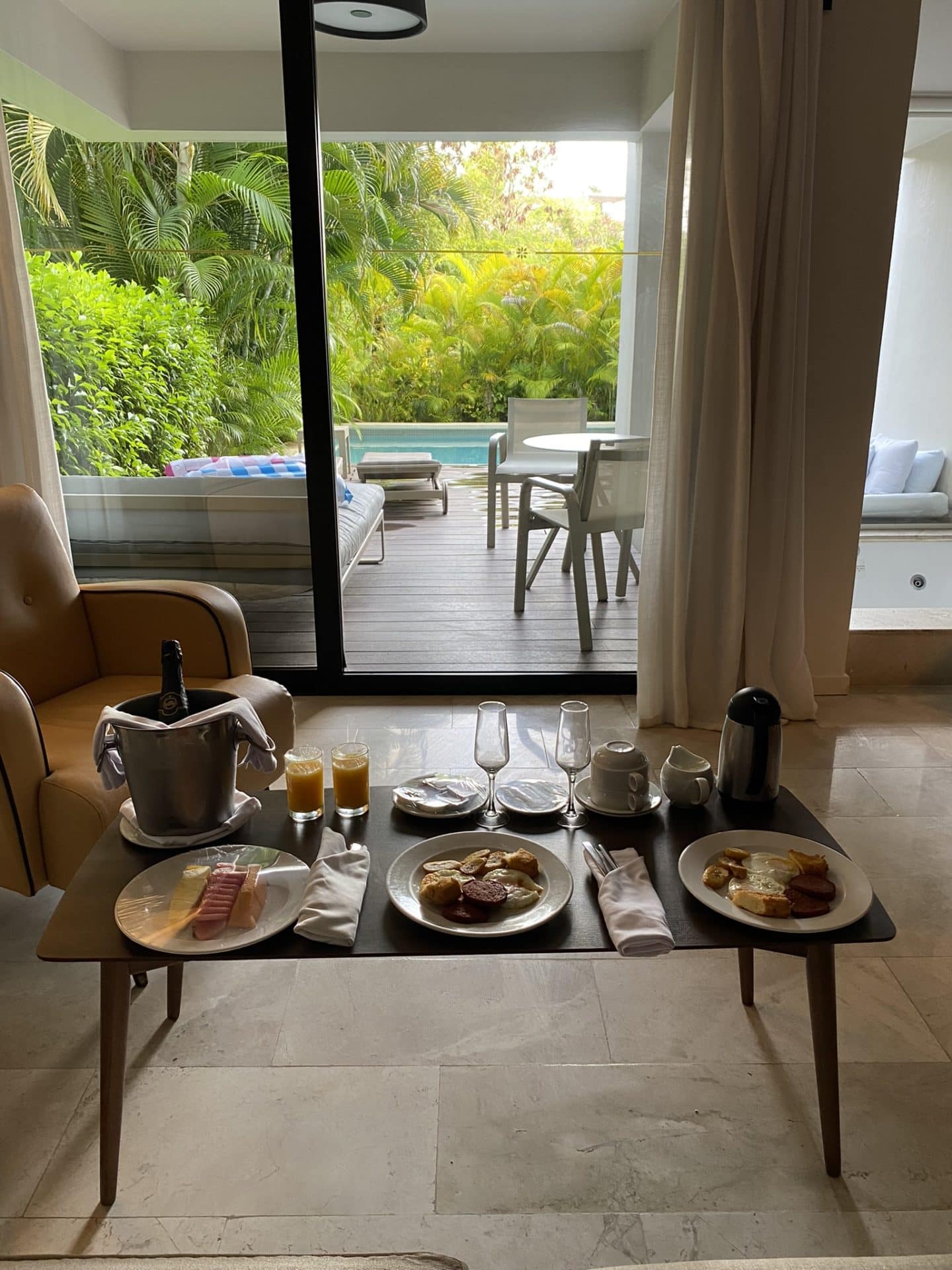 Just an FYI – the room service coffee was a bit strong and potent. No amount of milk or sugar was going to save that, so we just waddled over to Aroma later on for a caffeine drink. 😂
For Excellence Club guests, you have the option to dine at Magna. It was one of my favourite spots to go to and they open at 8:00 am. We dined outside on the patio with a beautiful view of the palm trees (not of the ocean, since Magna is located within the Excellence Club lounge right off the lobby).
Magna has the best coffee at the resort – French press – and we loved that our server wheeled out a bread card and cut it for us. There are items on the menu at Magna that feel more premium than the other menus (but believe me, all of the food is scrummy). If you're in Excellence Club, try Magna for breakfast at least once!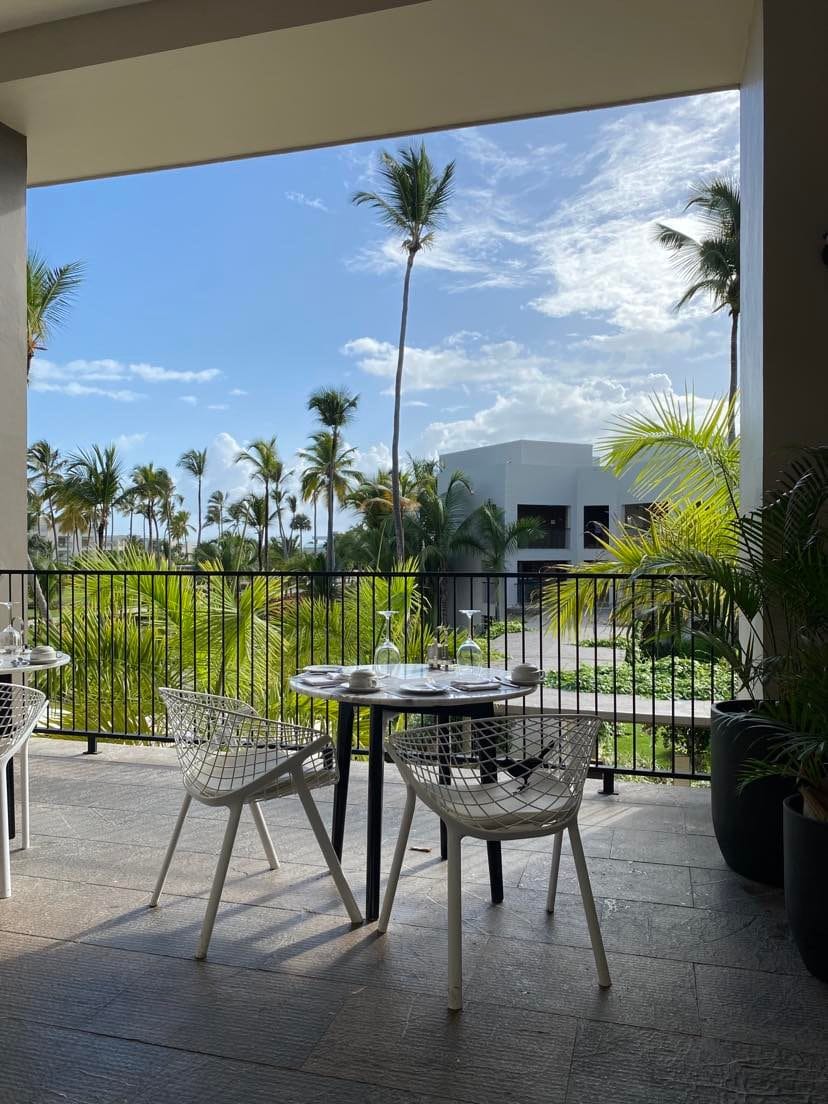 Related: 20 Best Cheap Travel Items Under $20 (that are actually useful!)
Lunch
There are plenty of lunch options for you to try during your stay, and you won't go hungry!
For beachside dining, head to Las Olas. Their feature menu changes daily and it's a great place to visit if you want a quick, self-service bite to eat. We went on the day they had tacos and it was SO good. Their guacamole was delicious!
Lunch at the Lobster House and Oregano have the most amazing views. Nothing beats having a warm ocean breeze while dining and there are loads of choices to satisfy everyone's taste buds, from pizza and pasta to healthier options like salads.
Do not miss the Grill for lunch! We nearly missed it and it was our favourite lunch! I tried the braised beef wrap and it was delicious. My mom had the pork ribs with sweet potato mash and the meat was so tender. They do have a dress code for the Grill but we saw many people in cover ups and flip flops. Just don't go with a wet bathing suit!
If you want a lighter bite, head over to the La Placita food truck at the X-Lounge terrace! There are a few tasty options here, like the Dominican patty (filled with beef, raisins and egg, and sooo good!), Cuban sandwich (also really good!), burgers, fish and chips, quesadillas, fries and more! You can bring this right back to your palapa by the pool or beach to enjoy or eat on the terrace.
Room service is another great option for lunch, just keep in mind it takes about 45 minutes to arrive. We ended up trying the cheese sticks, croque monsieur, and Asian chicken salad to share and it was all tasty.
Don't forget Aroma! If you want a little pick-me-up, there are fruit cups, snacks, and gelato here, too!
You can always go to the Revive Bar for a smoothie if you don't want to spoil your dinner. We only managed two meals a day most days because we were so full from breakfast, so having a smoothie to tide us over was perfect.
Dinner
If you're like me, I love knowing what dinner options are available before I go to a resort. And, if you're even more like me, food is very important to you! 😂
There are so many restaurants at Excellence El Carmen. If you stayed for a week you wouldn't be able to visit them all, unless you visited more than one a night!
This is why I love the Excellence app so much – you can go on there and check out the menus ahead of time to decide on which places to eat at each night (you know, if you're into that sort of thing).
During our first night, we visited Agave, which is always my go-to! I love the outdoor seating and the decor here. I have to avoid raw onions, but I didn't have to sacrifice taste! I gravitate towards dishes with flank steak (we ordered the Puebla and Tamaulipas) – it's easily one of the best beef options and the most flavourful!
By far, our favourite dinner was at the Grill. It was packed when we arrived and we actually walked away the first time because we thought we wouldn't get in. The wait isn't long, so stick around (or maybe have a drink first or head to the Flavour Market next door for some tapas!). You can view your cuts of meat if you're unsure of what you want to order. We (once again!) ordered the flank steak and charcoal grilled chicken. It was the best thing we ate all week!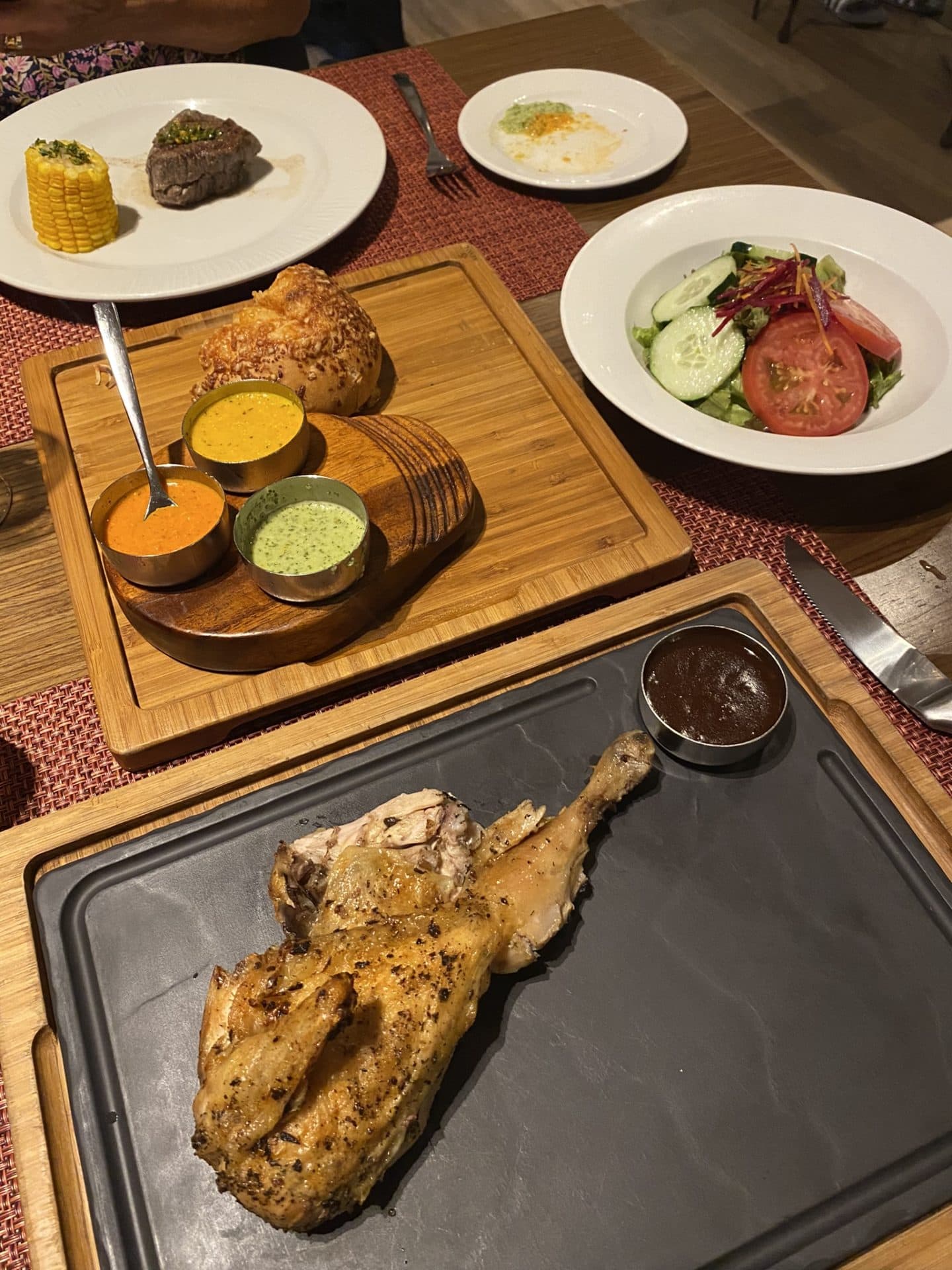 Chez Isabelle is a quiet restaurant to visit for a romantic meal and the decor is beautiful. We sat outside on the terrace and the resort was so pretty lit up at night. By this point we were both needing a break from the steak, so we ordered the salmon and the scallops, which were tasty – and surprisingly filling.
If you've been to Excellence Playa Mujeres or Riviera Cancun, there is an additional Wine Cellar you can dine in privately. There is no option for that here, but you can purchase wine off a separate menu if you wish to splurge!
If you love seafood, be sure to hit up the Lobster House! You'll have a great view of the pool and ocean and a nice breeze to enjoy your dinner with. We ordered all the seafood here – crab cakes, lobster bisque, lobster risotto (we shared this, and it's AMAZING – get it!), and lobster tails. We actually skipped lunch this day just so we could fill up. 😂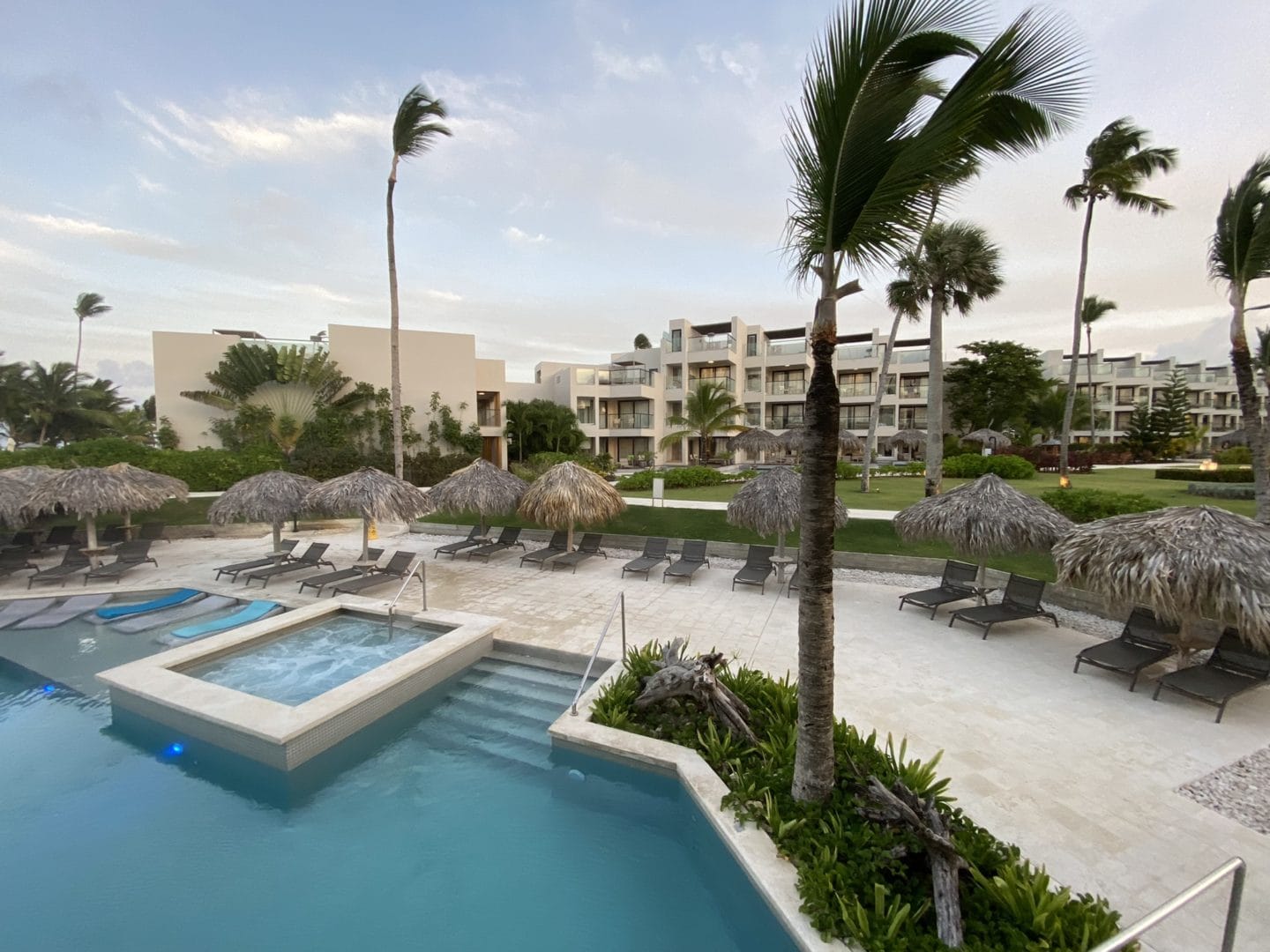 For Excellence Club guests, don't miss Magna! It was one of my favourite dinner places and had multiple dishes I wanted to try and had excellent service. Plus, the addition of the Excellence Club lounge and bar makes it a great hangout spot before or after dinner.
We did not try Oregano, Spice, Flavour Market, or Basmati during this trip because we ran out of time. We visited these during our other Excellence trips and loved them.
There are lots of antipasto dishes at Oregano, along with risottos, custom pasta dishes, and pizzas to satisfy your carb craving. I'm not a huge pizza or pasta fan when there's tons of other things to try that I can't get at home (or want to make at home, more like!). The views at Oregano are lovely (as it's located on the other side of the Lobster House) and it makes a great setting with the ocean breeze at night.
If you like sushi, maki, and noodle dishes, head to Spice! This is always a favourite for me but I had to sacrifice my desire for sushi to try some other restaurants! Spice also has a fun option for groups and for a live cooking show: the Hibachi! This is the only restaurant at Excellence El Carmen where you need a reservation. It seats up to 8 and there is a set menu. It's fun to watch the cook prepare your food right in front of you!
Flavour Market is a great spot for tapas, sharing, and light bites. This would be great for later in the evening, or even an early snack prior to a later dinner (if you're wanting to try it all!). Flavour Market is ideal for those who want to try a bit of everything without filling up too much on one thing!
Basmati is one restaurant I'm sad to have missed on this trip! If you love Indian food, Basmati is a fun option to try. I love the different dishes and flavour combinations. If you've never tried Indian cuisine, I recommend branching out and trying some new dishes! There are tons of delicious vegetarian dishes (along with non-veg options) you can order – you won't miss the meat!
Feeling hungry late at night? Stop by the Food Shark food truck, right at the theatre for tacos, burgers, hot dogs, fries and more! It's open from 6:00 pm – 11:30 pm, giving you the fuel you need to keep on going!
You can also pop into the Sports Bar for some infamous cheese sticks and a place to grab a tasty bite during the day or late in the evening.
You always have the option for room service if you want to just veg out at night, too!
Related: How to Travel with a Carry-On Only
Theme nights
Once a week, Excellence El Carmen holds a Dominican Night, where you can enjoy dishes unique to the Dominican Republic and enjoy live music and dancing. It's normally located on the X-Lounge terrace outside, but ours was held at the Kitchen Table.
The setup outside is really beautiful and should be experienced if you're there – even if you don't have a full meal – just so you can see some of the entertainment! We were handed a Coco Loco when we walked in and had a great view of the live music.
Excellence El Carmen dress code
It's important to remember the Excellence dress code! Men are to wear long pants and closed-toed shoes for dinner and collared shirts, and women in dresses/capris/skirts with elegant shoes (no flip flops permitted). Excellence calls it "casual elegance."
Now, that is what their website states, but we saw many people in flip flops and tank tops, so I'm not sure how much the dress code is enforced.
However, the dress code is one of the reasons why we love Excellence. Everyone dresses up and it gives a classy feel to the resort.
Excellence El Carmen bars
You certainly will never go thirsty here! There are bars dotted all throughout the resort. We often started our days with a couple glasses of mimosas and you will never be far from your next drink.
We spent our mornings by the pool, where you have access to their swim up bar, Blue. You can either wade over to it and grab a seat there (we did this, but wear sunscreen because chances are you'll start talking to someone and be there for a while!), or you can be served over by your palapa.
You can grab a coconut at the swim up bar most days where you can have any drink you want inside of it. You can also grab these at Las Olas when they have their Coco Loco drink station going!
Note: They do not serve their drinks with straws, so bring your own if you wish! It was awkward drinking Coco Locos without them! There are many options: silicone straws, metal straws (which keep your drinks cold) or paper straws. My mom had a good point – if you need to rinse your straws out, it can become inconvenient with having to run to a sink to rinse out, or could possibly make you sick if you're not using bottled water. Paper straws are biodegradable and inexpensive.
There is also Las Olas – a beautiful setting on the beach to grab a drink and enjoy the ocean breeze and views.
There is a bar by every pool and by both Excellence Club beaches on either end of the resort, which made it quite handy wherever we were walking.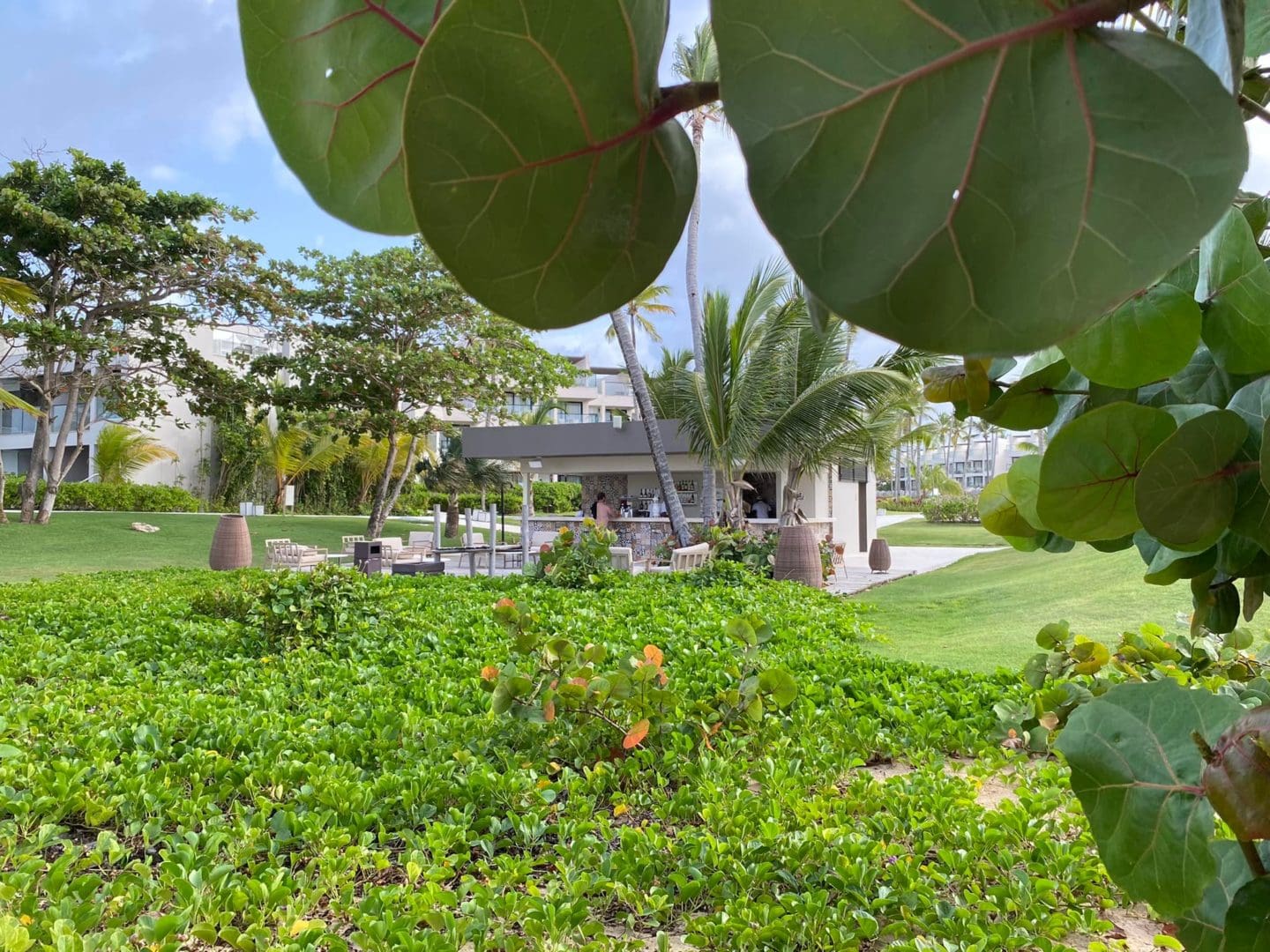 We LOVED the look of the Martini Bar. Excellence always nails it with their Martini Bars and how it's the focal point from when you first arrive and look down the stairs. It's always a favourite spot to gather before and after dinner to enjoy a cocktail.
Of course there is the Excellence Club lounge bar; an intimate and quiet setting to relax at.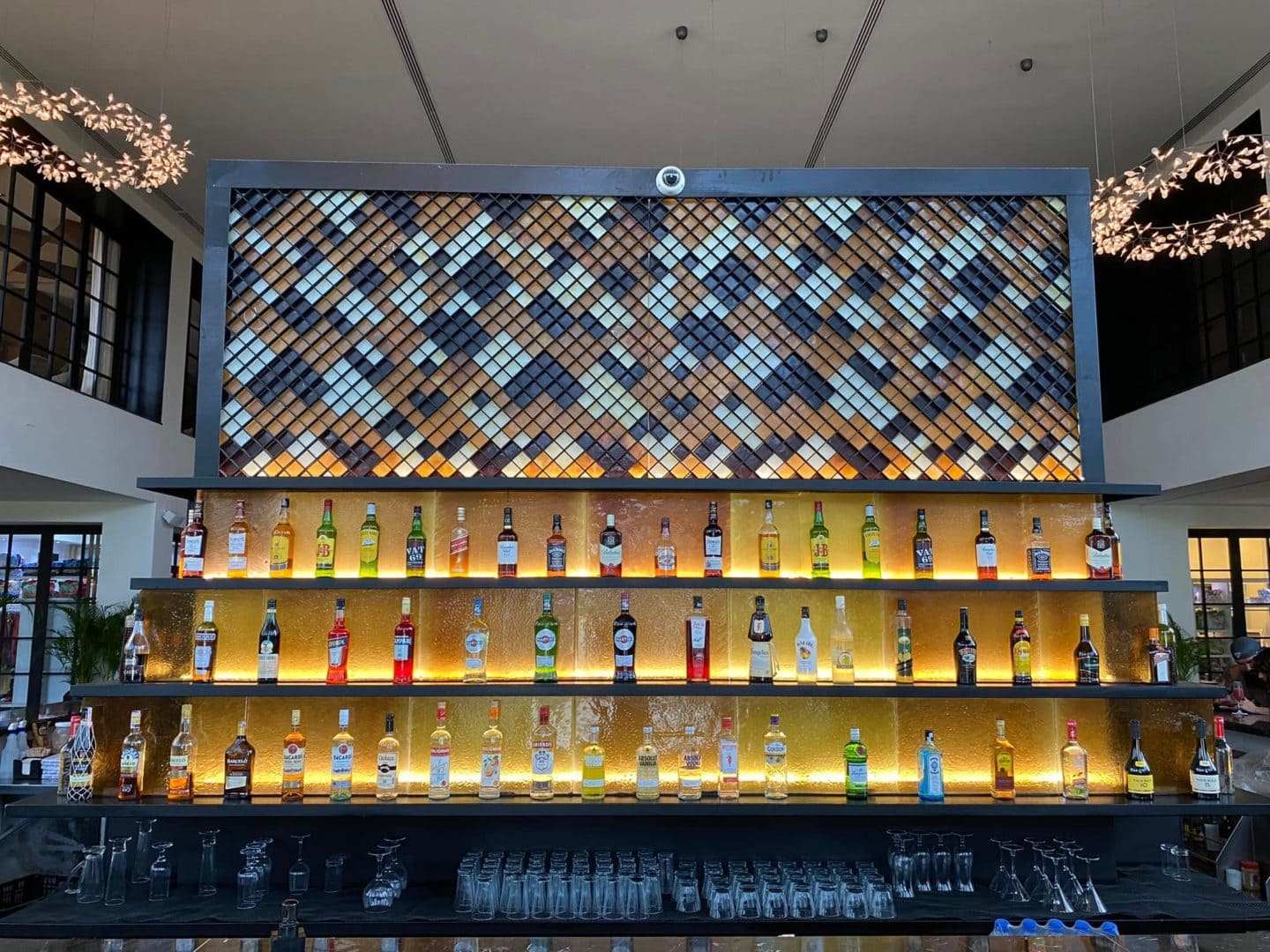 Entertainment
You'll find all kinds of entertainment throughout the day, from water activities and games (you may even be roped into it, but don't feel like you have to attend!), classes by the beach, live music at lunch, live music behind the theatre in the evening, live music at the Martini Bar, plus the evening shows and more!
My mom and I had big ambitions to participate in some of the physical activities, like aerial yoga on the beach (how fun right?!) but then drinks happened and we ended up just lazing by the pool.
However! We did take a Spanish class which was a lot of fun, and we also painted one afternoon – and you get to take your painting home!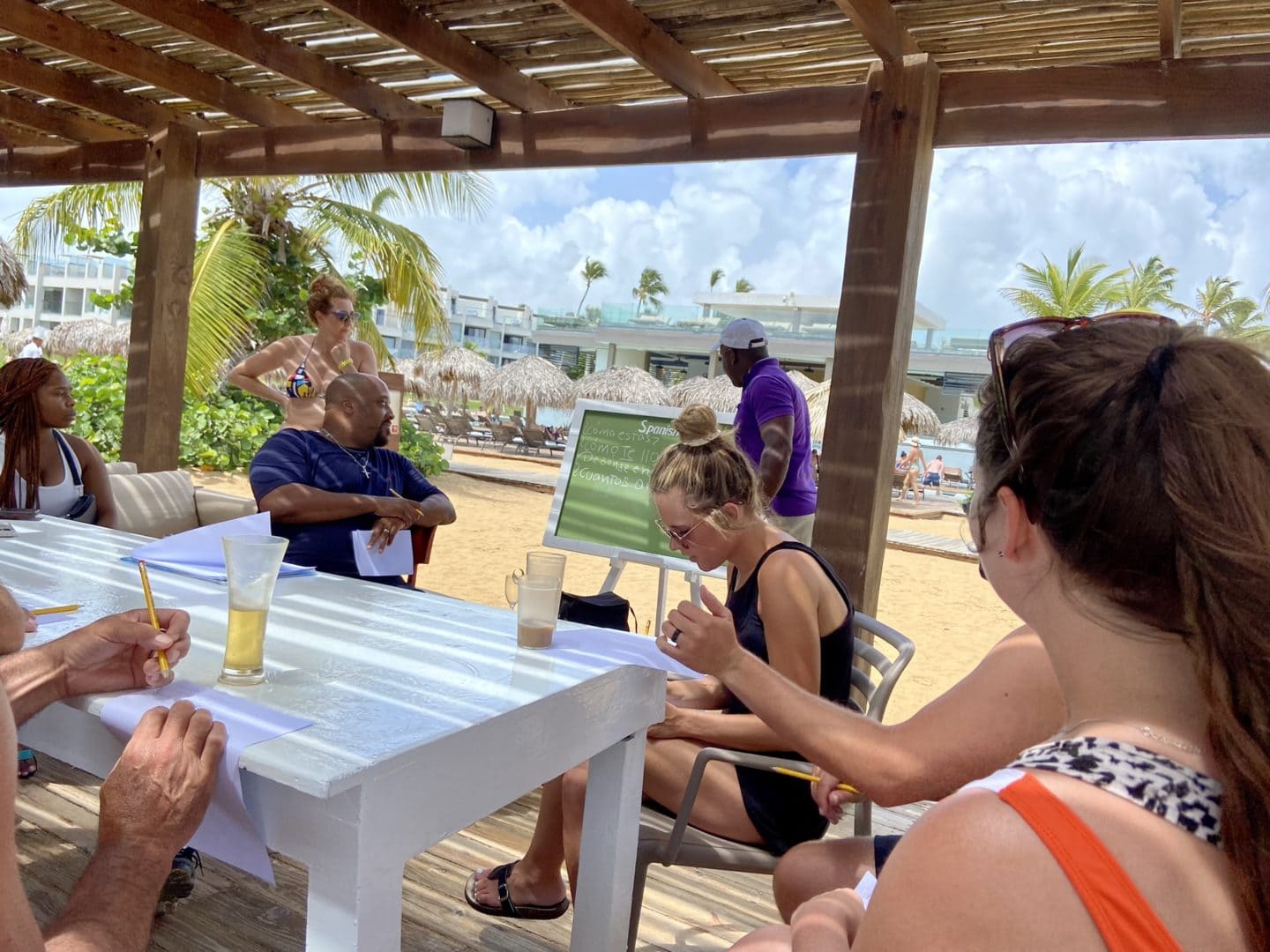 Just a note on classes: if you have your heart set on doing one, get there early! We arrived 30 minutes early for our painting session for which they had 8 easels. 20 people arrived and the rest had to be turned away. So, to avoid disappointment, arrive early, and maybe grab a drink and enjoy the views while you're waiting!
You'll never be bored. You could jump from activity to activity all day long and you still wouldn't be able to participate in all of them. A few of our friends went on a bike tour (free!) and loved it. They take you off the resort to see some interesting things nearby.
The live music is so relaxing in the evening, and is a great way to pass the before and after dinner before the shows.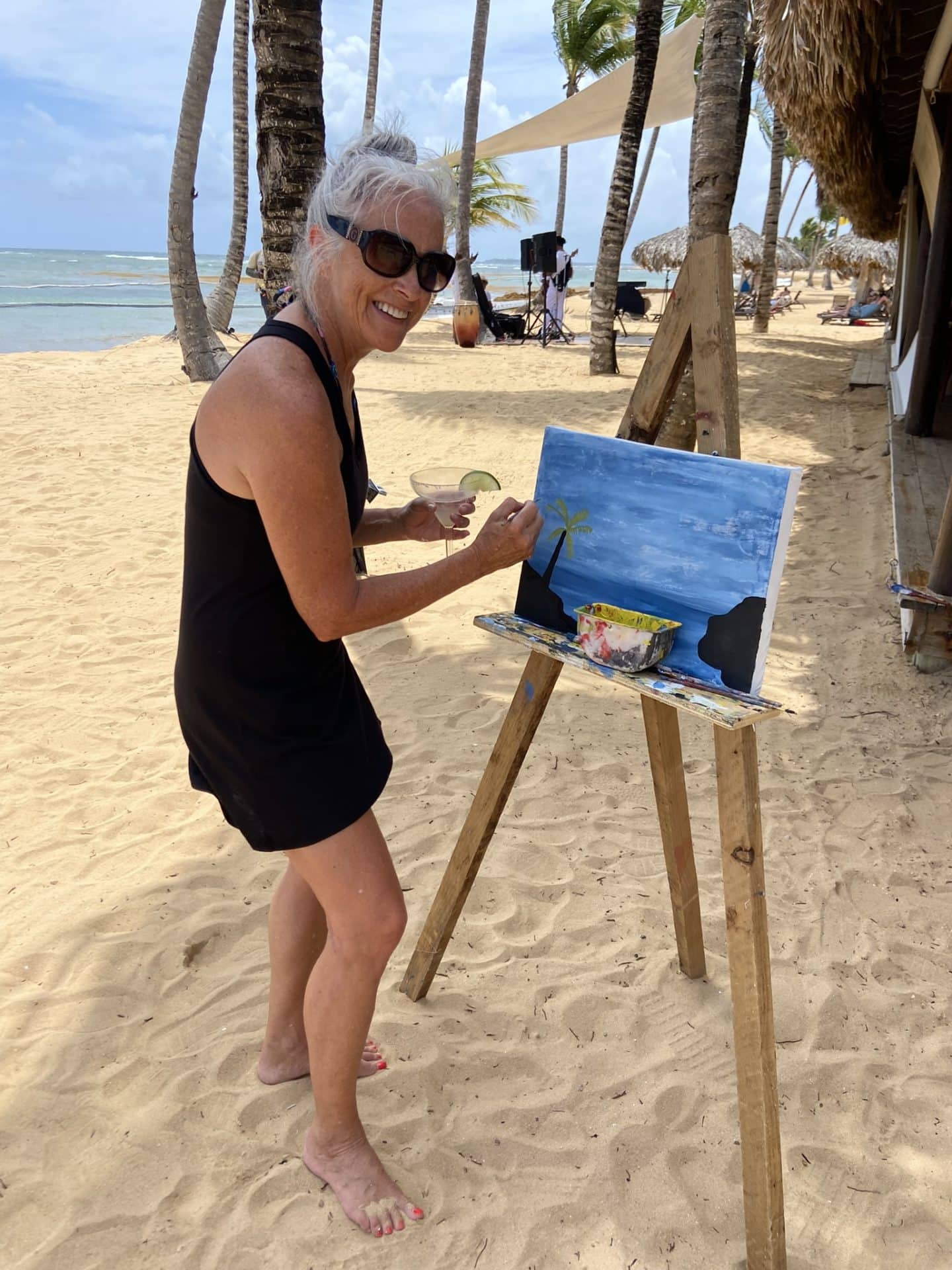 The shows start later – 9:30 pm (most nights at home I'm in bed by then!!!), but some of my favourites were the Circus Show, Michael Jackson, Queen, and the fire show (do not miss that!).
There is also the Silent Disco. If you've never experienced it before, it's a must-do! We had just as much fun watching everyone as those who participated in it. You have a set of headphones with a few choices of music to dance to, and then you're off in your own little world.
Miilé Spa
The spa is always one place I love to check out at Excellence Resorts. The spa at Excellence El Carmen was a bit different (for me) since it was located off the main lobby and not in a separate building, like at Excellence Playa Mujeres or Riviera Maya. This obviously doesn't matter, but it's just an observation.
You're greeted at the front desk, then taken by elevator upstairs, where you're shown your locker room and given a pair of flip flops. The locker key pad is very easy to use.
As Excellence Club guests, we were given a free hydrotherapy session to use during our stay, which is always a must for me to experience! They are so much fun to do.
You alternate between hot and cold pools, steam rooms and saunas, jet-oriented water experiences and more! This is topped off with the most decadent 10 minute head, neck and shoulder massage, all while laying cozied up on a heated stone lounge. They even put your flip flops in a warmer for your feet afterwards!
I'm glad there were other couples there laughing, because some of you can't help but laugh! I would recommend the hydrotherapy, plus you may even be given an additional spa discount for another service after.
The hydrotherapy circuit takes about an hour to complete and is well worth doing. It is so relaxing. We did ours at 9:00 am and we had to nap after because it made us tired haha!
Note: Bring your swimsuit with you for hydrotherapy! We went in ours so we just had to take our coverups off. I recommend a one-piece for this, ladies! Some of the jets really move your swimsuit around and I remember one year I had to hang on to my top and bottoms during some of the water treatments! 😂
We only experienced the massage included in the hydrotherapy this time, so I can't speak to the couple's massage or any other treatments, but I have heard amazing things about the services offered and if the full body massage is anything like the 10 minute one we got, I would be in heaven!
There is also a beachfront massage option if you wish to listen to the crashing waves against the shore.
Anniversary and Honeymoon perks
If you're celebrating your anniversary or honeymoon, be sure to take advantage of that at Excellence El Carmen! Request this at your time of booking and bring proof it's your honeymoon or anniversary (like a copy of your marriage certificate).
For honeymoons, you can get this package for free for up to 3 months following your wedding. For anniversaries, you can receive this package up to 7 days before and 7 days after your anniversary, giving you lots of flexibility!
In addition to receiving a welcome letter, fruit, and a bottle of sparkling wine upon arrival, you will also receive a special turndown service, champagne breakfast in bed and a romantic dinner at one of the restaurants. You'll also get a 15% discount on photo and spa packages! It's totally free, so why not take advantage of it?
You can, of course, enhance your stay by option to upgrade to their paid honeymoon and anniversary package which includes everything in the complimentary package, plus dinner on the beach, and a 40 minute spa package. This is $699 USD, or complimentary with 6 nights or more in any Excellence Club room category!
Tipping at Excellence El Carmen
I understand and appreciate that tipping is subjective. I also realize there is a lot of confusion with tipping at all-inclusive resorts, since technically, your package includes gratuities.
We love to tip, and I feel like everyone should tip, even a little bit! I'm with the mindset that if we can afford to travel, we can afford to tip. The staff work so hard, and provide excellent service with a smile.
It doesn't have to be much, and the tips are also very appreciated.
Every time we travel I always bring an extra couple hundred dollars in tips and it's well worth it! The staff work so hard to give us a relaxing and memorable holiday – the least we can do is show our appreciation!
The Dominican Republic's minimum wage is the equivalent to $154 USD a month! Even an extra dollar or two goes a long way in improving their quality of life.
I'm the type of person that pretty much tips every time. I never not tip at a meal, and I will leave tip money throughout the week for housekeeping, turndown service, and the minibar.
This is what I normally tip – but remember, this is completely discretionary!
Drinks: $1-$2/drink
Breakfast: $2-$5/couple
Lunch: $5/couple
Dinner: $5-$15/couple
Housekeeping: $3-$5/day
Turndown service: $3-$5/day
Mini fridge attendant: $2-$3/day
Spa services: 20% of services
Tips for Excellence El Carmen
Above all else, pack Imodium (or a similar medication, Loperamide). While you may not get sick (we did not), you might, plus the combination of new food and an abundance of drinks can throw anyone's system off. I gave three guests Imodium during the same night. Bring it. We checked at the on-site store to see how much it would cost to buy it, and it's $2 USD per pill.
They do not serve their drinks with straws, so bring your own if you wish! There are many options: silicone, metal (which keep your drinks cold) or paper.
We never had an issue with the water, from bottled, ice, restaurant water, or brushing our teeth.
You can break large bills at the front desk for ones if you're running low. I like a mix of $1s, $5s and $10s when we travel to all-inclusive resorts.
The steamer in the walk-in closet works great, but it's advisable to use bottled water for it. I heard a few people talking about that and then we forgot when we went to steam our dresses. We used tap water and some of the water shot out and left some white rings on our clothes, which did end up coming out after we splashed more water on it. Just food for thought.
If your bathing suit is white, or lightly coloured, it may get stained in the pool. A few of us had white/creamsicle/light blue coloured swimsuits and they turned yellow. Whether it's a combination of the chemicals used, sunscreen, etc…who knows. But just so you know! I've soaked mine three times in Oxyclean and hydrogen peroxide since coming home and it's helped a bit, but it's not entirely gone.
Ladies – if your monthly cycle is even slightly irregular, pack some supplies! We chatted to someone who was caught short and paid $30 – yes, $30 – for a box of tampons at the store. 😩
Bring aloe vera! Just bring it. Nothing can ruin your vacation quicker than a sunburn. I speak from experience! You just may need to place it in smaller containers no more than 100 ml. I'd also suggest putting your sunscreen on before your bathing suit so you don't miss anything!
If you're in a private pool or swim-up suite, bringing your own floaties is a great idea. I'm so glad I did. You can always bring them home, or gift to another guest when you leave – we saw this quite a bit!
You do not need to bring an adapter with you if you are travelling from North America.
Remember to fill our your Dominican eTicket prior to entry and prior to departure (up to 72 hours before for both).
I recommend getting up for at least one sunrise. They're worth it – I promise!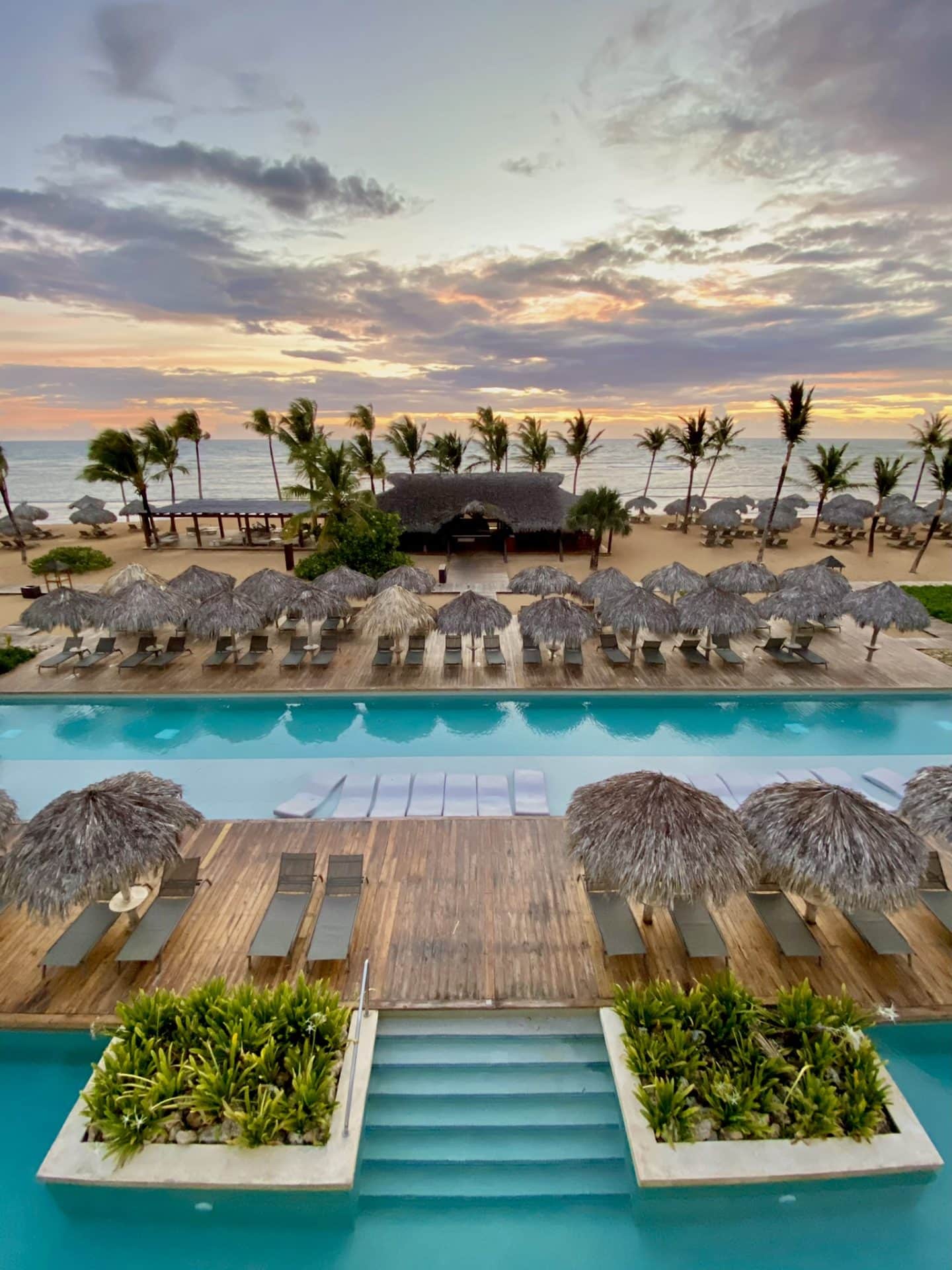 Related Posts
Pin it for later!