If you're planning a trip to Excellence El Carmen and are wondering if you should upgrade to Excellence Club – here's your review!
This stunning property in the Dominican Republic is the perfect adults-only getaway in paradise for those looking to be pampered. It truly is excellent, and is a great choice for those who want good value for money at an all-inclusive resort.
Excellence Club is one of those options you can select while booking your room, and I've seen this question asked numerous times: is Excellence Club worth it at Excellence El Carmen?
If you haven't already read my review of Excellence El Carmen, I provide a very detailed guide to this beautiful property in Punta Cana!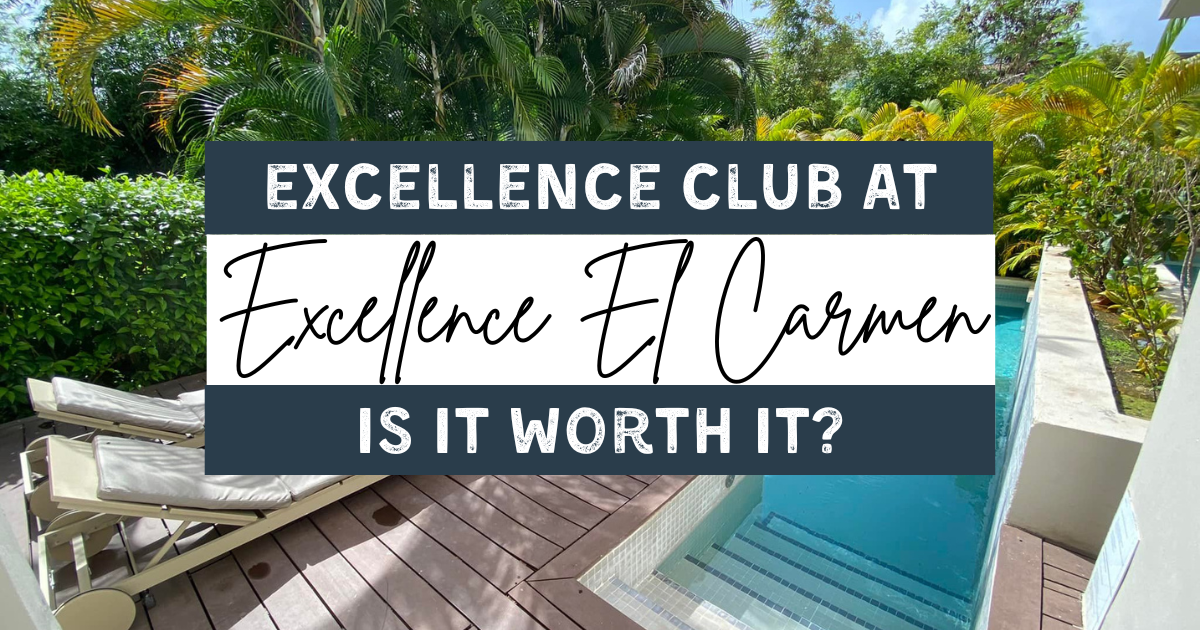 For those considering upgrading to Excellence Club (also known as Club, or EC), I wanted to share my own experience.
I also wanted to preface this blog by saying we absolutely loved Excellence El Carmen. It's a stunning resort with fantastic service, food, and amenities. This is not a negative piece about Excellence El Carmen, but I know YOU work hard for your money and vacations are special, and you want to make sure you get your money's worth! So – if you like details, here's my review!
Note: Excellence Club is already included in some of the room types, so you would automatically have these additional benefits!
What is Excellence Club?
Excellence Club is described as the best adults-only all-inclusive resort experience in the Dominican Republic, with upscale service and elevated offerings. It includes upgraded amenities, exclusive areas, and added perks.
As a previous Excellence Resorts guest, I couldn't imagine how the service could get any better! So – we decided to splurge a little and upgrade to Excellence Club!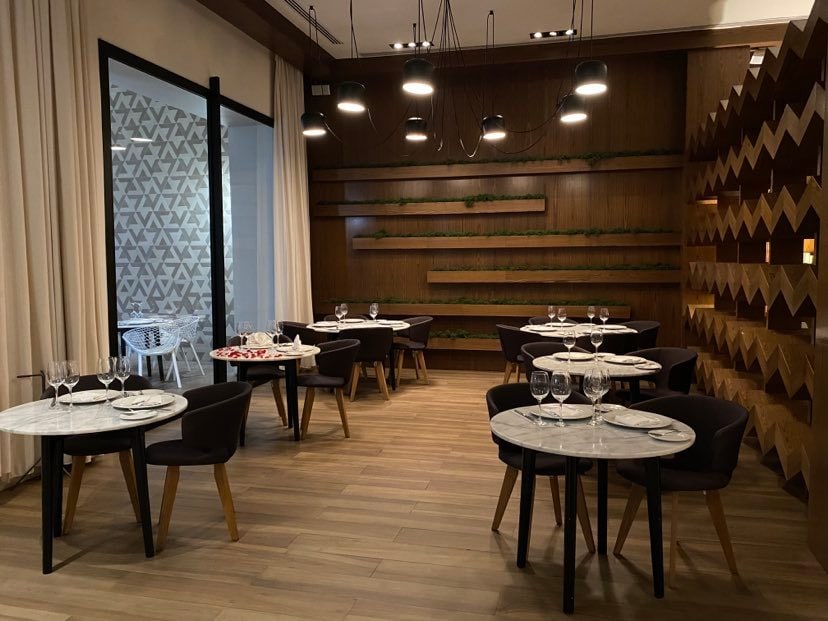 What perks do you get with Excellence Club at Excellence El Carmen?
The added perks for Excellence Club at Excellence El Carmen include:
Private check-in and check-out
Access to the Excellence Club lounge and bar
Access to the private Excellence Club restaurant, Magna
Access to twelve private pools and seven jacuzzis
Access to private beach area
Free hydrotherapy circuit per stay
Upgraded minibar
Upgraded room service menu
Upgraded toiletries
Nespresso machine
Complimentary beach bag for use during your stay
Sparkling wine and flowers upon arrival
Daily petit fours and fresh fruit
Shoe shine service
Excellence Club Perks
If you love nitty-gritty details, I'm going to break these Excellence Club perks down by category with some more details about each.
Private Check-In and Check-Out
Private check-in and check-out was a nice touch. You're led to a separate area accessible by room key, where you're invited to sit down to check in. It took us about 10 minutes, after they took photocopies of our passports and put a hold on our credit card. You can opt to not have a credit card hold. It was $600 USD for us, and if you spent anything at the resort or spa it would be deducted. Our hold was released upon checking out.
Worth it? It's nice to have, but we would've spent the same amount of time as a non-club guest checking in and out.
Access to Excellence Club lounge and bar
The Excellence Club lounge is quite spacious, with couches, plenty of chairs, and some coffee tables. There is also a patio outside. It was a beautiful space but felt quite underutilized.
The Excellence Club bar is very intimate and we had a few very interesting conversations with our bartender and got to know what his life was like working there. You get to know them on a more personal level which I really loved. It's a quiet space to meet other guests, with only about 8 chairs or so for seating.
There's also a rotating snack bar, ranging from sweets to sushi, throughout the day.
I've read guest comments about how the Club bar is redundant since the Martini Bar is located just down the stairs, but I liked having it as an option. We had a couple drinks there but it wasn't our go-to.
Worth it? If you like privacy and somewhere quiet to enjoy a cocktail, you may find this worth having as an Excellence Club benefit.
Access to Excellence Club Restaurant, Magna
The definite positives of having Excellence Club is having the private restaurant, Magna. That was a nice addition to the vast array of restaurants, as well as the Magna lounge and bar. The menu feels more upscale and the service is fantastic, but we found the service to be great everywhere we went.
With all of the dining options at Excellence El Carmen, we only visited Magna twice for breakfast and once for dinner, just because there were so many other places we wanted to try!
Worth it? Magna is an awesome option with an elevated dining experience that I am glad we had, but you wouldn't miss it if you didn't have it.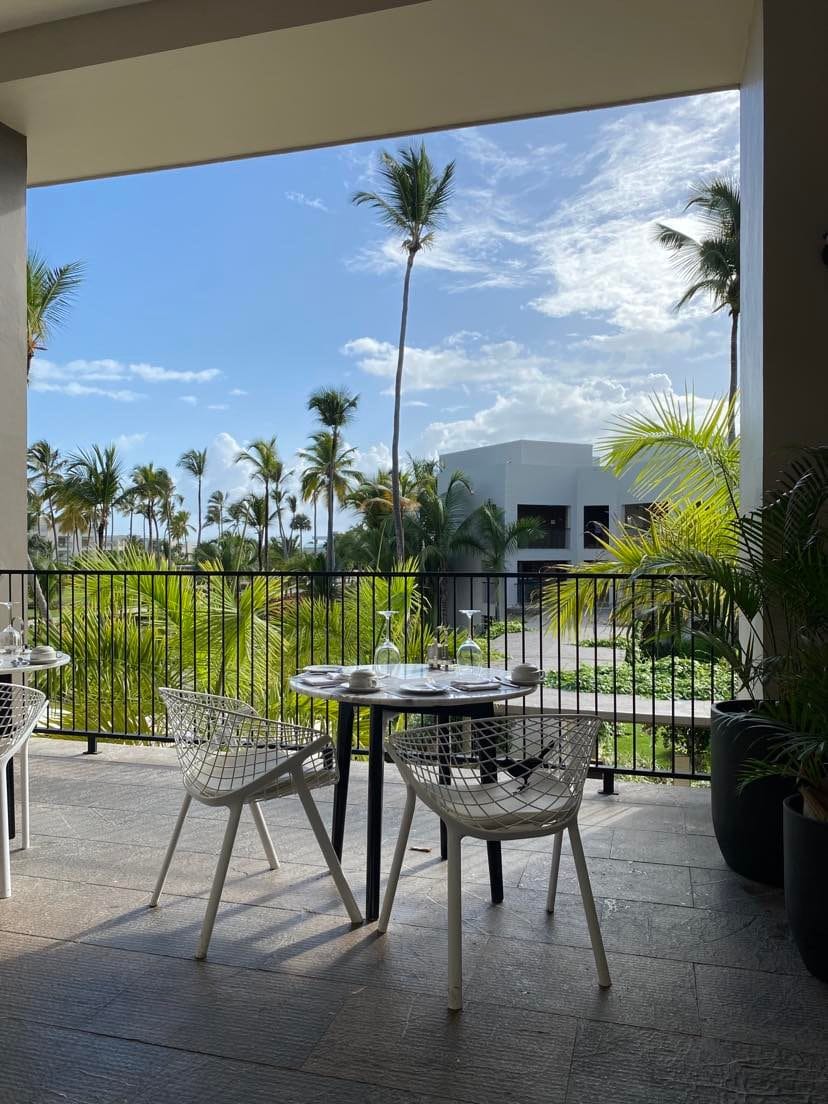 Access to twelve private pool and seven jacuzzis
This is where I was let down with the Excellence Club at Excellence El Carmen. I was so busy prior to our trip that I didn't do much research, but there is no separate Club pool or swim up bar like at other Excellence properties.
The twelve pools are attached to swim-up suites and aren't that large. I would've felt like I was invading their privacy if I used those pools, so we never did – which was fine since we had our own amazing private pool!
Having a separate Excellence Club pool would've been a nice addition, but we spent most of our days at the main pool and swim up bar and it was never busy.
Worth it? No – we couldn't distinguish which areas were private and there wasn't anyone monitoring the pools, either. Plus, if you book a room with a private pool or a swim-up suite as a non-Club guest, you won't need to worry about the added pools!
Access to private beach area
The private beach area for Excellence Club guests is nice, but isn't necessary. The beach is huge and there are so many loungers and palapas it would be hard to imagine it ever being busy.
The Excellence Club beach area has its own concierge that will lay towels out for you, and there is also access to sunscreen, bug spray, and aloe, if you wish. There is also water and sparkling wine out there if you want to have that, too (as well as beachside drink service).
The one morning we went to the beach it started raining, and the lovely concierge came over and literally tucked us in with towels so we wouldn't get wet. It was so cute! 😂
Worth it? If you like pampering and not having to lift a finger, it would be worth it. But there is more than enough space on the beach, so we didn't feel like it was necessary.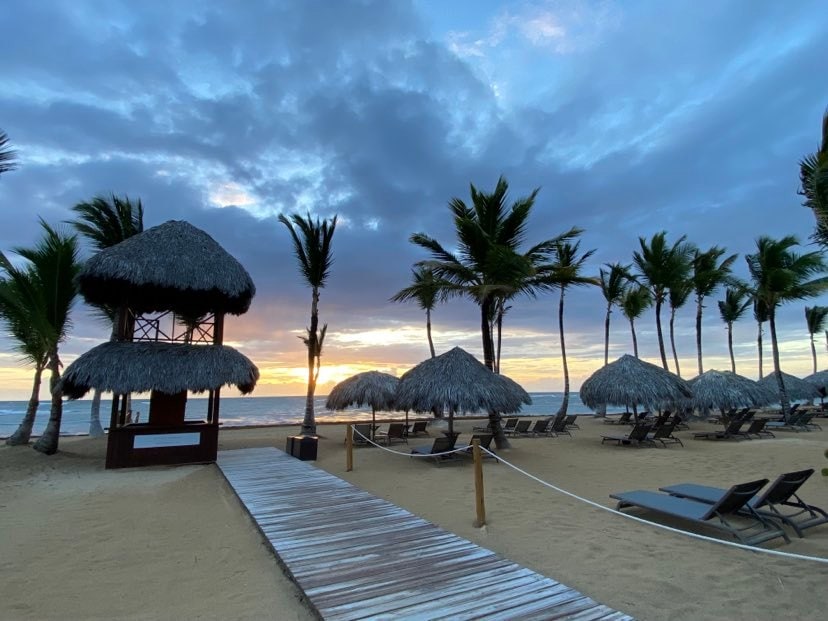 Free hydrotherapy circuit, per person, per stay
This was my favourite perk. We loved the hydrotherapy at Excellence Playa Mujeres and Excellence Riviera Cancun, and it's a must for me.
The free hydrotherapy session is just over an hour, and it takes you through a few sauna and steam rooms, hot and cold pools, bubble beds, and a few other unique water therapy experiences before laying on a heated stone lounge for the most decadent head and shoulder massage. The massage is roughly 10 minutes but I could've laid there all day.
If you wish to do the hydrotherapy but don't have Excellence Club, it is $45 US. Hydrotherapy is included with all spa treatments – and our spa attendant gave us an amazing deal for $60 USD off a 50 minute massage which would've been the perfect opportunity to experience their massages, but we were sadly running out of time to take advantage of the offer!
Insider tip: Talk to the spa workers by the pool. They can get you a better deal than what's in the Excellence app.
Worth it? For me, yes. I loved that this was included. That being said, it's not much of an added expense to experience without Club.
Upgraded minibar
I felt a great deal of confusion with this. We were Excellence Club but I had to ask three times to swap out our whiskey for tequila – and one time when I called they said I had to come to the Club lounge to request that! When someone came to our room, he said it was only for Club guests. Which we were, and we were in an EC building! I'm not sure what happened but it eventually got sorted regardless.
Nonetheless, he took our whiskey and gave us tequila, and he also took us rum and gave us an additional bottle of upgraded vodka (Absolut).
The standard liquors are Stolichnaya vodka, Johnnie Walker Red Label whiskey, and Barcelo Dorado Añejado rum.
Worth it? If you're particular about your bevvies, it would be worth it I suppose. However, at other Excellence Resorts we've been able to swap out our liquor bottles in the regular rooms, so I'm not sure how much of a "perk" this is.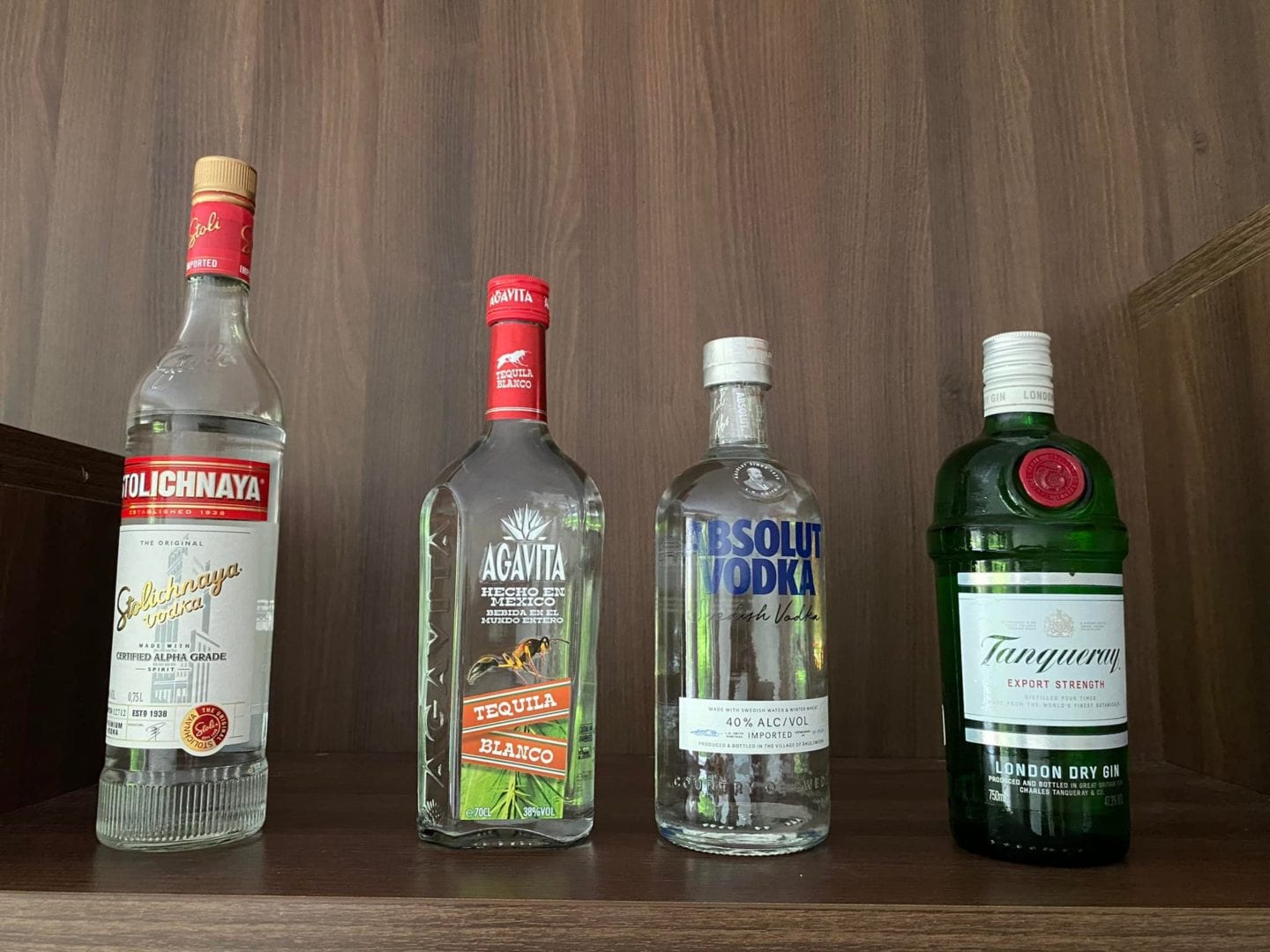 There is an Excellence Club room service menu which is a few extra pages, served from 11:30 am – 11:30 pm. It states it would be delivered within 30 minutes of request for Club guests, but we were always told 45 (which it was each time).
We actually preferred the options off the regular room service menu so we never did try the Excellence Club room service offerings.
Worth it? No. There is a limited offering that didn't seem any more appealing than the regular menu! The main food options on the room service menu are just as fabulous!
Upgraded toiletries
The upgraded toiletries weren't there upon our arrival but I never noticed until the moment our liquor was being swapped out at the same time our room was being cleaned. Housekeeping must've heard and she swapped out the toiletries.
That is not a big deal for me, but wow the Bvlgari soaps and lotions smell SO good! I can see why people raved about them! We never got them refilled, though.
Worth it? The Bvlgari scent is amazing, but toiletries are toiletries.
Nespresso machine
This is not really an Excellence Club perk, since Nespresso machines are in every room. We never used it since we wanted to save our bottled water for drinking.
Worth it? No – all the rooms have a Nespresso machine.
Complimentary beach bag for use during your stay
We relied on this for this trip since we travelled carry-on only, so that was a nice addition. The beach bags are for you to use during your stay, but not to take home. You can purchase them by contacting the concierge.
Worth it? If you're a carry-on-only kind of traveller like we are, it's worth it!
Sparkling wine and flowers upon arrival
Every time we've been to another Excellence property, there has been sparkling wine waiting for us, so we didn't see that as a Club perk. The "fresh flowers" was a sprig of ginger flower left against the lamp on the desk, haha.
Worth it? No – everyone gets sparkling wine!
Daily petit fours and fresh fruit
We had a bowl of three apples and a banana upon arrival, but it was never removed (we did when it turned mushy) and we were never given fresh ones. We also never received the daily petit fours until the last day, but then again, we had that on our last night at the other Excellence resorts we've been to.
Worth it? No – we only got it once!
Shoe shine service
We never used this service, and I'm not sure I have heard of anyone who has!
Worth it? No – we have never had this service nor have we needed it.
Excellence Club at Excellence El Carmen: Is it worth it?
After travelling to Mexico's Excellence Playa Mujeres and Excellence Riviera Cancun, I can say with confidence that you do not need to spend your money on Excellence Club at Excellence El Carmen. To me, it wasn't worth it.
Why?
This is my personal opinion, but there were a few reasons why I felt this way. You can have an equally fabulous vacation without!
The room my mom and I shared was a Junior Suite with Private Pool. I would recommend that to anyone. You can book that room type without Excellence Club here, and I don't think I could stay here again without having the private pool! It really is private and the pool is huge – seriously! You could easily fit 20 people in there!
The Excellence Club buildings are closer to the beach and main pool, but we found all of the buildings lovely and scenic with lots of amenities nearby.
That being said, if you were to book a Excellence Club Junior Suite, there is no separate Excellence Club pool or swimup bar, which I found disappointing. That at the other Excellence Resorts was a huge bonus, whereas at Excellence El Carmen your EC pool options were those attached to swim out rooms. Which to me, I would never use, since it feels like you're encroaching on those guest's rooms and privacy. That is just how I feel, and not what everyone thinks!
The hydrotherapy was a nice perk and I always love doing that. It would've been $45 USD per person otherwise, so right off the hop, if you were planning to go to the spa you would be saving $90 USD a couple. If you book a spa treatment, hydrotherapy is included (so in which case you'd have an extra hydrotherapy session to use during your stay, which is roughly an hour).
Having Magna was a nice option, but really, there are so many other restaurants to pick from.
We didn't "feel" or "see" any of the added Excellence Club benefits, hence my reasoning why I don't think it's worth the extra at Excellence El Carmen. For Excellence Playa Mujeres and Excellence Riviera Cancun, I would recommend trying it there (but going without Excellence Club is equally as fabulous and you won't be treated any differently!!!).
You're better off spending the extra few hundred dollars it would cost to upgrade to Club (the price gap varies based on whether you're booking direct, which company you're booking with, any special promotions, etc.) on a nice spa treatment or extending your stay.
If you are planning on booking a trip to Excellence El Carmen: DO IT! Don't feel like you need to upgrade to Club have a better experience. It's a fabulous resort and is an ideal place to come for a celebration, wedding, honeymoon, romantic vacation, or girls' trip!
Related Posts
Pin it for later!