Get lost in a sea of gold during sunflower month! These sunflower farms near Niagara will surely brighten your day.
You can find numerous sunflower fields within an hours' drive of Niagara which makes for the perfect day trip out for a colourful escape! Grab your camera and be prepared to be wowed by fields of yellow this summer!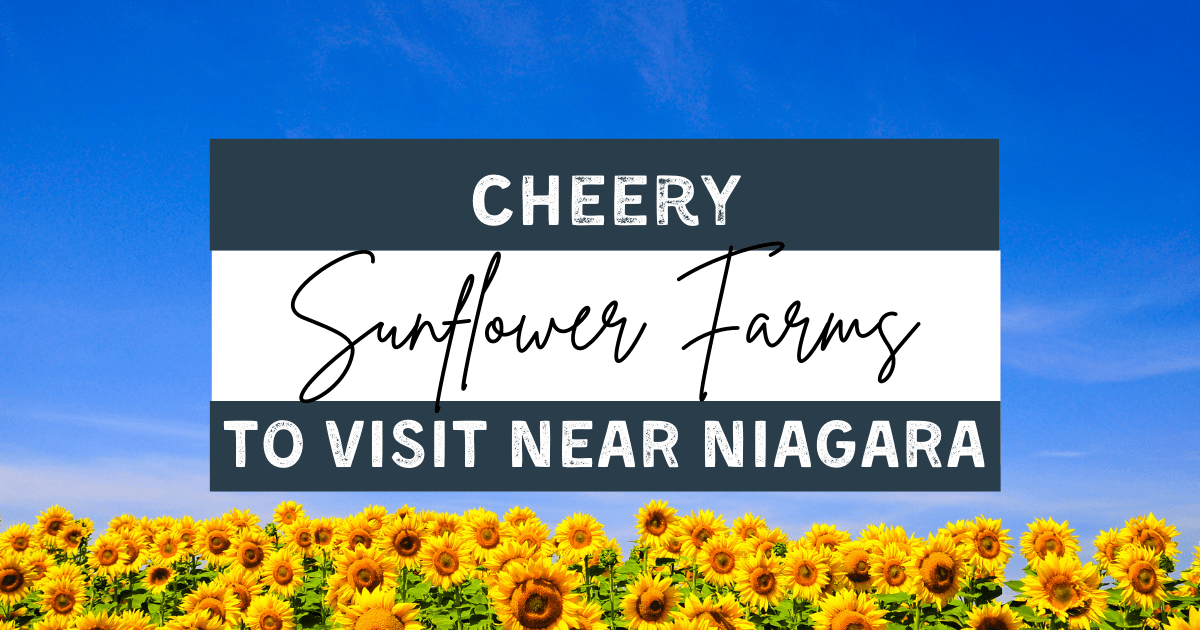 Note: Pricing was accurate at time of original publication. Be sure to verify any current pricing directly with your preferred sunflower farm!
What is the best time to visit Sunflower Farm?
Sunflowers are usually in bloom from late July through the middle of August. But always check the farm's website before you go to make sure they are open and in bloom. Generally sunflowers bloom for about 2 weeks, so be sure to check their social media platforms too for updates!
Sunflower Farms to Visit in Niagara
Howell's Farm
Known for their fall fun, you can also find over 100,000 sunflowers in bloom at Howell's! Come for your fill of photos and stay for the Beer & Wine Garden.
Address: Howell Family Pumpkin Farm, 2878 Holland Rd, Pelham
Ticket prices: $15 for general admission
Sunflower Fields in Hamilton
The Apple Orchard
Yet another farm that grows much more than apples! Come check out the thousands of sunflowers on the property, enjoy freshly made candy apples, wagon rides, and walking trails! The Apple Orchard uses different planting techniques to spread out their sunflower bloom period!
Address: 1668 ON-6, Hamilton
Ticket prices: $6.20 (18+), $5.76 (seniors), $5.53 (2-17), free for children under 2.
Sunrise Sunflower Farm
For a quieter place to visit and great value, check out the Sunrise Sunflower Farm! This family owned property has two sunflower fields planted at different times to extend bloom activity. Pick up your own sunflowers to take home for just $0.50!
Address: 1846 ON-6, Hamilton
Ticket prices: $7 (adults), $5 (seniors and children)
Sunflower Farms near Hamilton
The Hanes Sunflower Maze
While Hanes is known for their huge 20-acre corn maze, they also have an 8-acre sunflower maze to wander through, solve puzzles, and win prizes! There's also a bake shop and great ice cream to grab afterwards!
Address: 1001 Hwy 5, West Dundas
Cost: $17 (adults 13+), $16 (seniors), $15 (children 8-12) and $11 (children 3-7). Book your Hanes Sunflower Maze experience online!
Sunflower Farms near Toronto
Looking for a day trip outside of Niagara? Here's a list of sunflower fields near Toronto!
Dixie Orchards
Hop on a wagon ride on your way to the sunflowers at Dixie Orchards! Stroll through the golden blooms and take advantage of the photo props, stop by the pumpkin patch, pick your own apples, and find your way through the corn maze.
Be sure to swing by the Porch Market for seasonal treats!
Address: 14309 Dixie Rd., Inglewood
Cost: $10 (general admission). Opens in August!
Andrews Farm Market and Winery
Pick your own sunflowers at Andrews Farm! This beautiful property sits on 165 acres and offers walking trails, a miniature straw maze, animals, a playground, and numerous photo opportunities.
Enjoy the on-site BBQ for lunch and ice cream on weekends, and stop at the Farm Store for baked goodies to bring home!
Address: 9365 10 Side Rd., Milton, ON
Cost: $12 (per person), $6 (seniors 65+), families with 3+ kids are granted one free admission. Children under 5 are free. PSWs are free with clients.
Lochland Botanicals
Reconnect with nature, learn about sustainable farming, and treat yourself to some plant-based remedies while you're at Lochland Botanicals. Take a wagon ride, build your own bouquet, explore secret fairy tale villages, and just enjoy 50 acres of farmland and scenic sunflowers.
Address: 2500 25 Side Rd., Milton
Cost: $40 (general admission plus build-your-own bouquet)
The Sunflower Farm
Experience 20 acres of sunflowers – the first and largest sunflower farm in the Durham Region! Get connected with what farm life is all about, grab a photo on the tractor alongside the sunflowers, and stroll through these beautiful golden blooms.
Address: 15770 Mountainview Rd., Caledon East, ON
Cost: $10 online or $12 at the gate for adults 18+, youth $5 online or $6 at the gate, 10 and under free. Book your tickets to the Sunflower Farm online.
Tips for visiting a sunflower field
There usually aren't washroom facilities available, so plan accordingly!
Please leave your four-legged friends at home! Dogs will not be welcomed on the property.
You'll probably see more bees in your life in a sunflower field than anywhere else – but don't worry – they're more preoccupied with the flowers than you!
Leave the flowers as you see them! Please don't harm them just to snap a photo. Many of these farms don't offer pick-your-own, but if you aren't sure, just ask!
Pin it for later!
Related Posts