Is there anything more beautiful than blooming lavender fields in the summertime?
You often see these beautiful purple blooms in photos of Provence, France, but did you know there are some amazing lavender farms you can stroll through in and around Niagara?
There are some gorgeous farms near Niagara to experience these rolling acres of purple hues this summer. Spend the day outdoors immersed in the floral fragrance and enjoy the calm, whether it's a local visit or a day trip! Don't forget to browse the shops for all-things-lavender!
Last updated: June 2023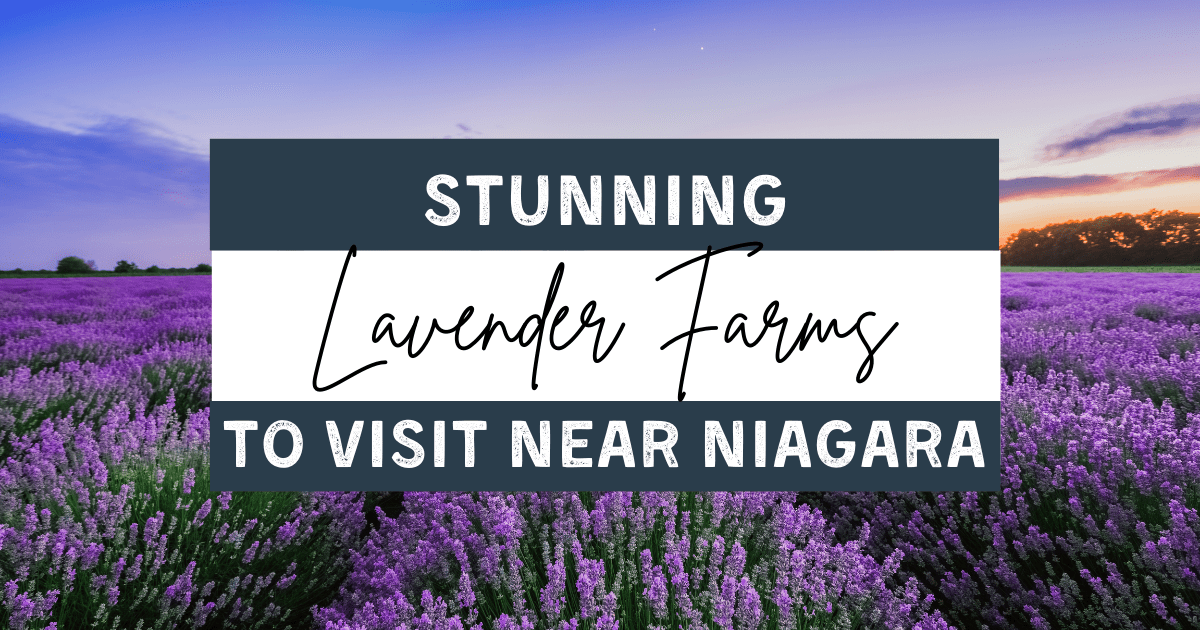 What's so great about lavender?
Lavender has been grown and used for centuries! Aside from their stunning purple blooms and sweet floral scent, lavender is known to have all kinds of health benefits, some of which include:
Improves sleep
Reduces stress
Promotes healing of burns and cuts
Eases headaches
Detoxifies skin
Clears congestion
Deodorizes
Acts as a natural bug repellent
It's also widely used to enhance the flavour of food. You can find all sorts of gourmet food products around at these farms, including teas, honey, syrups, baked goods and ice cream!
P.s. did you know that English lavender is dark purple and French lavender is lighter? You'll also notice that the scent of English lavender is much stronger!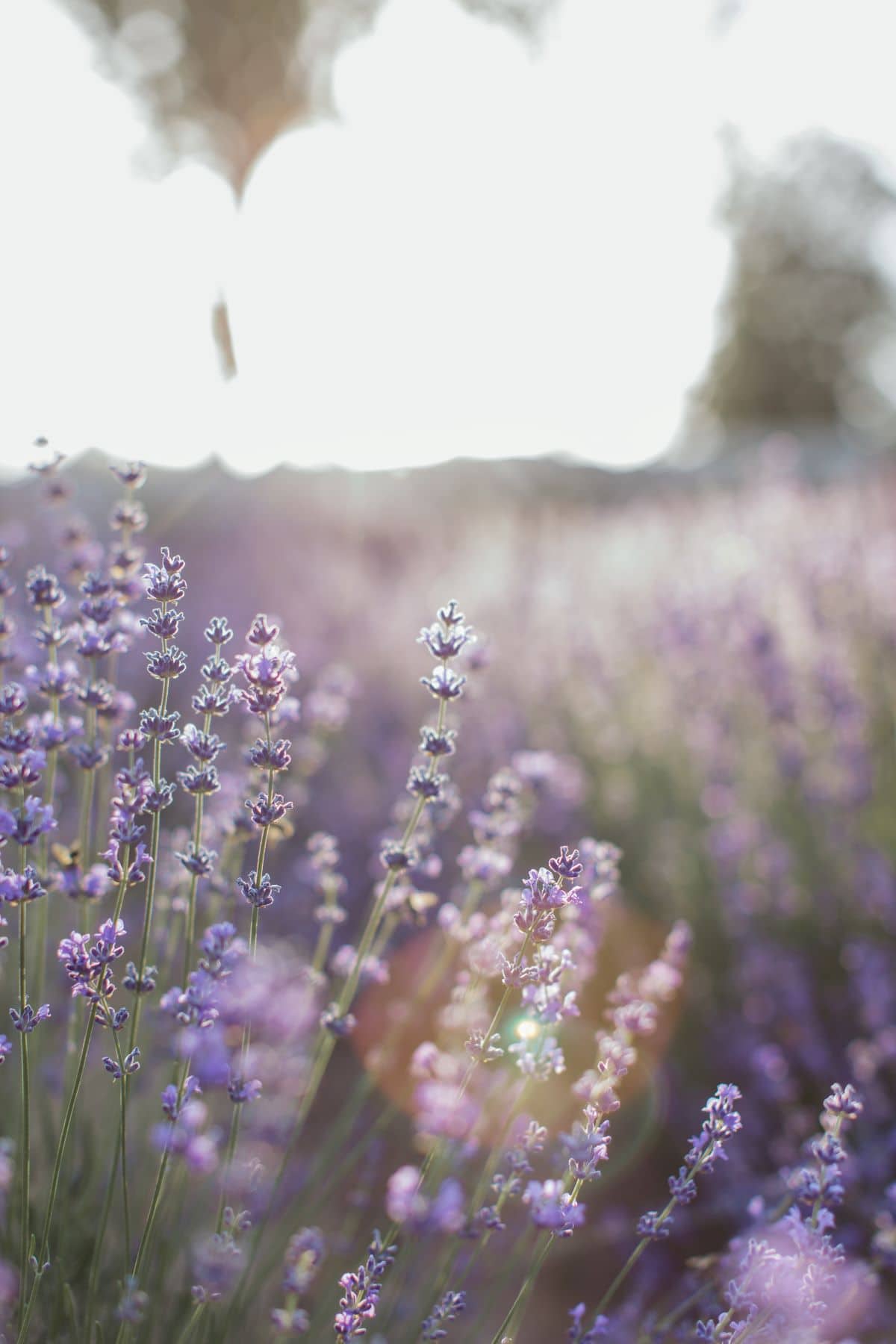 Why visit a lavender farm?
Need to destress? A stroll through these purple fields will instantly put you at ease, as will their intoxicating scent. These farms produce their own small-batch oils and products and make great gift ideas, whether it's for yourself or a friend. 😉
Visiting these lavender farms is a great way to spend a summer day with a road trip, exploring our very own backyard! Grab your girlfriends or your family and start planning!
Lavender fields make for amazing backdrops for photos, whether it's for family portraits, engagement photos, wedding photos, or that perfect Instagram shot. Most farms will require advance booking for these.
What's the best time to visit a lavender farm?
These beautiful purple blooms are in season from late June to early August, with July being peak season! It's best to call ahead to the farms to check their bloom status.
Ps. Keep in mind that many farms do not offer public washrooms, so plan accordingly!
Lavender Farms in Niagara
NEOB Lavender Flower Farm
Located just in the outskirts of stunning Niagara-on-the-Lake, Niagara Essential Oils and Blends (NEOB) is the perfect stop during the summer months. They offer numerous products including essential oils, soaps, bouquets, lotions, and much more. Come experience the farm and head into the quaint village of NOTL afterwards for some rest and relaxation.
Roam the Lavender Fields passes are available for $10 at the farm!
NEOB also has store locations in Elora, Bracebridge, and Stratford!
Address: 933 Niagara Stone Rd, Niagara-on-the-Lake
Phone: 905-682-0171
Terra Lavanda
Terra Lavanda is not open to the public in 2023.
Right in the heart of wine country and near Niagara Falls is Terra Lavanda; a family-owned farm growing organic lavender and producing lotions, essential oils, and tea! This is a small farm, but a quieter one right in Lincoln and easily accessible!
Address: 2873 Dutch Lane, Vineland
Phone: 905-464-4304
Mingle Hill Farms
Mingle Hill is offering their beautiful lavender fields to the public this summer. Just a short drive from Beamsville, this farm offers organic produce alongside products and essential oils!
Book a self-guided lavender tour in store for $5 (under 15 is free). Tours are available Wednesday – Sunday.
Address: 2625 Mountain Rd, St Anns
Phone: 905-745-4254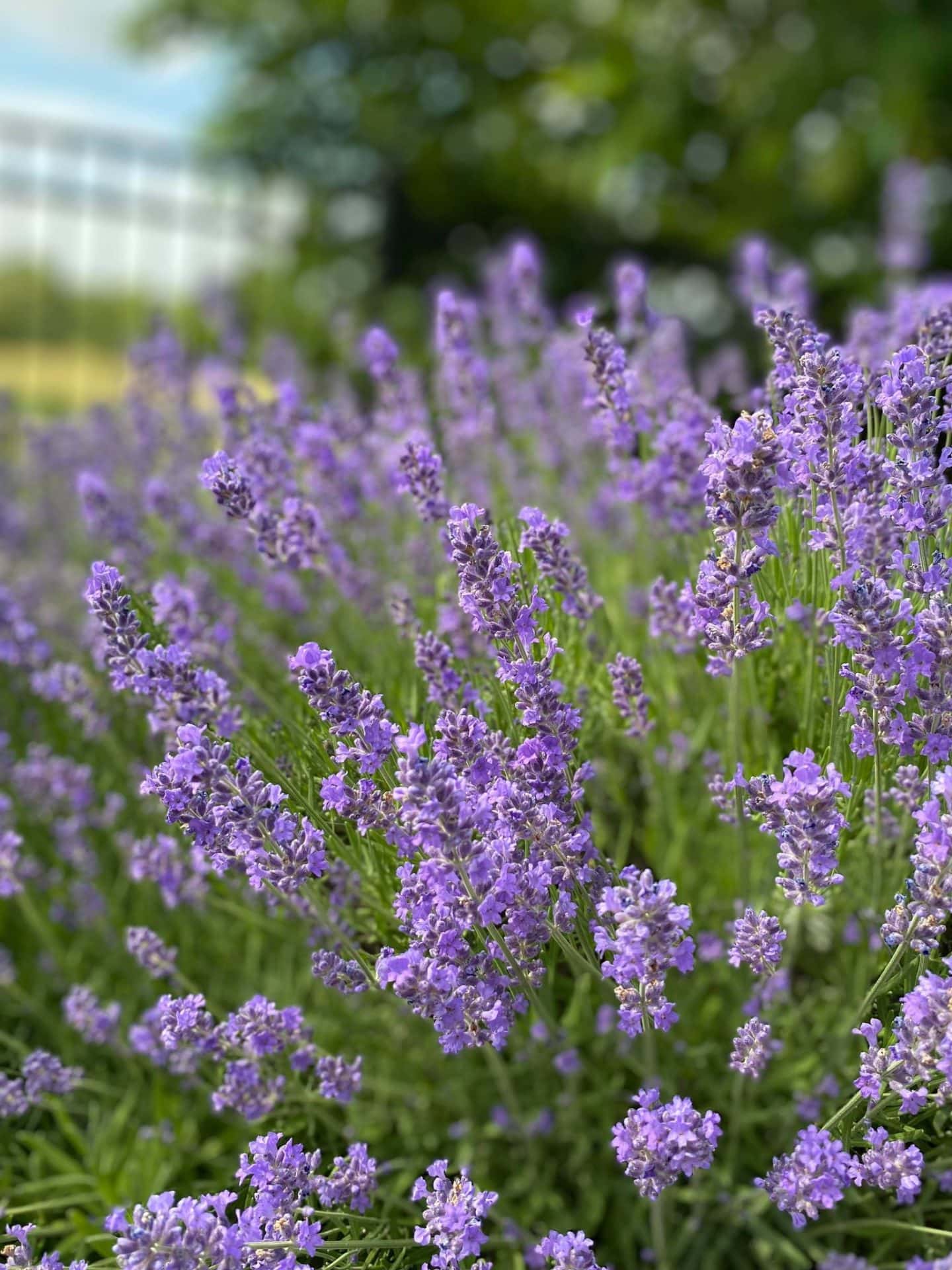 Lavender Farms in Ontario Near Niagara
Bonnieheath Estate Lavender & Winery
Located near beautiful Port Dover, Bonnieheath Estate Lavender & Winery not only offers lavender products and beautiful views, but they're also a winery! You're even able to find lavender-infused wines and cider.
Pick-your-own lavender for $10! Visit their events page to book your time.

Address: 410 Concession 12 Townsend, Waterford
Phone: 519-443-7125
Apple Hill Lavender
Apple Hill Lavender sits on a beautiful historic, century-old farm, complete with rolling lavender fields and an apple orchard! Shop in their boutique for essential oils, body care items, cleaning products, tea, preserves, and gourmet food!
Pack a picnic to enjoy amongst the purple hues! No appointment necessary and FREE admission! Tours available Wednesday – Sunday.
Be sure to try their lavender vanilla bean goats milk ice cream!
Address: 1795 Windham Road 11, Windham Centre
Phone: 519-909-9204
The Lavender Farm
Family property since 1882! Once farming cattle and hogs, to selling farm equipment, that all changed 10 years ago when the first 600 lavender plants were planted! Since then, The Lavender Farm has welcomed guests and families from all over, and is also a very popular spot for weddings!
Admission is $5 per person, Sunday to Friday. Closed Saturdays.
Address: 769 Drumbo Road, RR #3 Ayr
Phone: 519-632-7368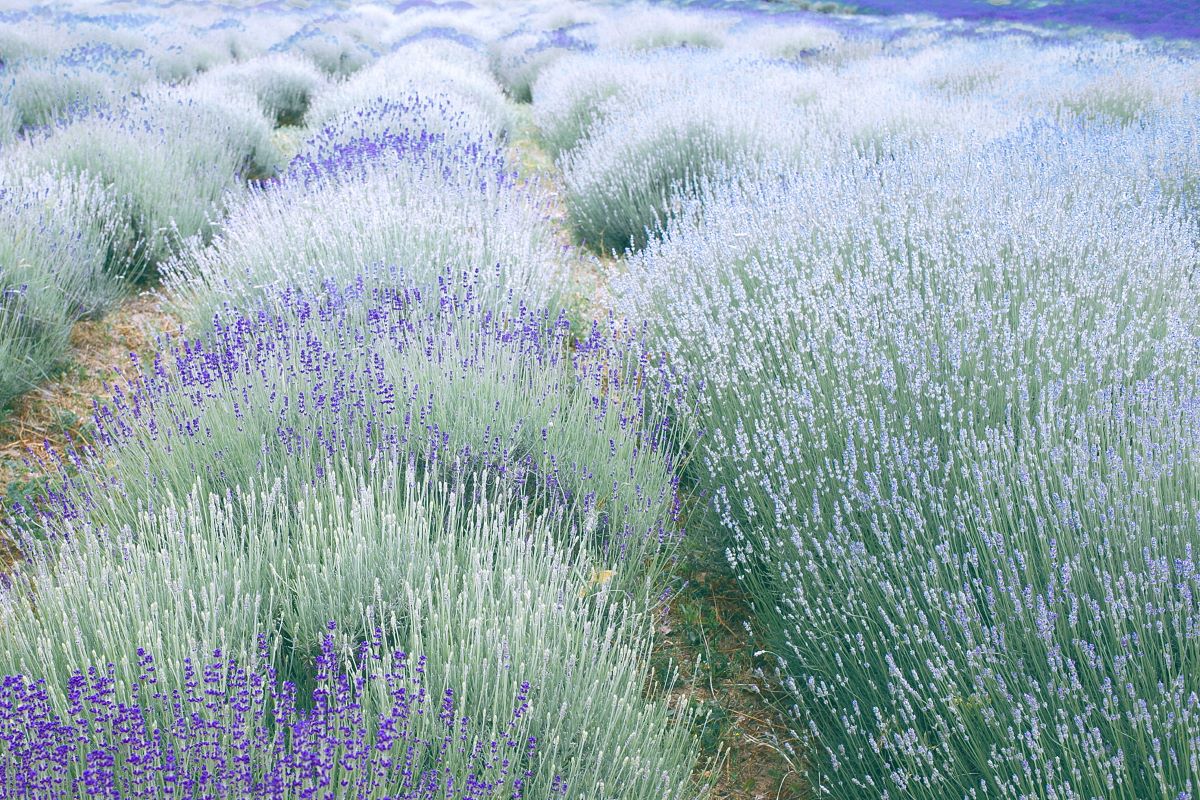 TerreBleu Lavender Farm
TerreBleu is one of the most famous lavender farms around – and it's no question why! With 9 varieties of lavender and 65,000 lavender plants sprawling over 200 acres, it's also the largest farm in Ontario. The plants at TerreBleu bloom at different times, so you'll be sure to catch these purple hues anytime from late June – middle of August!
There is tons to see here, from an apiary, stunning art displays, a scenic walking trail through a 200 year old forest, a herb bar, distillery, horses and more!
The TerreBleu Lavender Farm has been sold and is closed, but they will be opening a store in beautiful Elora this summer.
Address: 143 Metcalfe St, Elora
Phone: 519-846-5995
Lochland Botanicals
This pick-your-own herb and flower farm has over 50 acres to wander! Stroll through the flower fields at Lochland Botanicals and take part in a build-your-own bouquet workshop, take a wagon ride, or browse their shop for all-natural remedies like oils, sprays, lotions, teas and more.
Lockland Botanicals is closed to the public for 2023.
Address: 2468 25 Side Road, Campbellville
Phone: 519-856-0719
Map of lavender fields near Niagara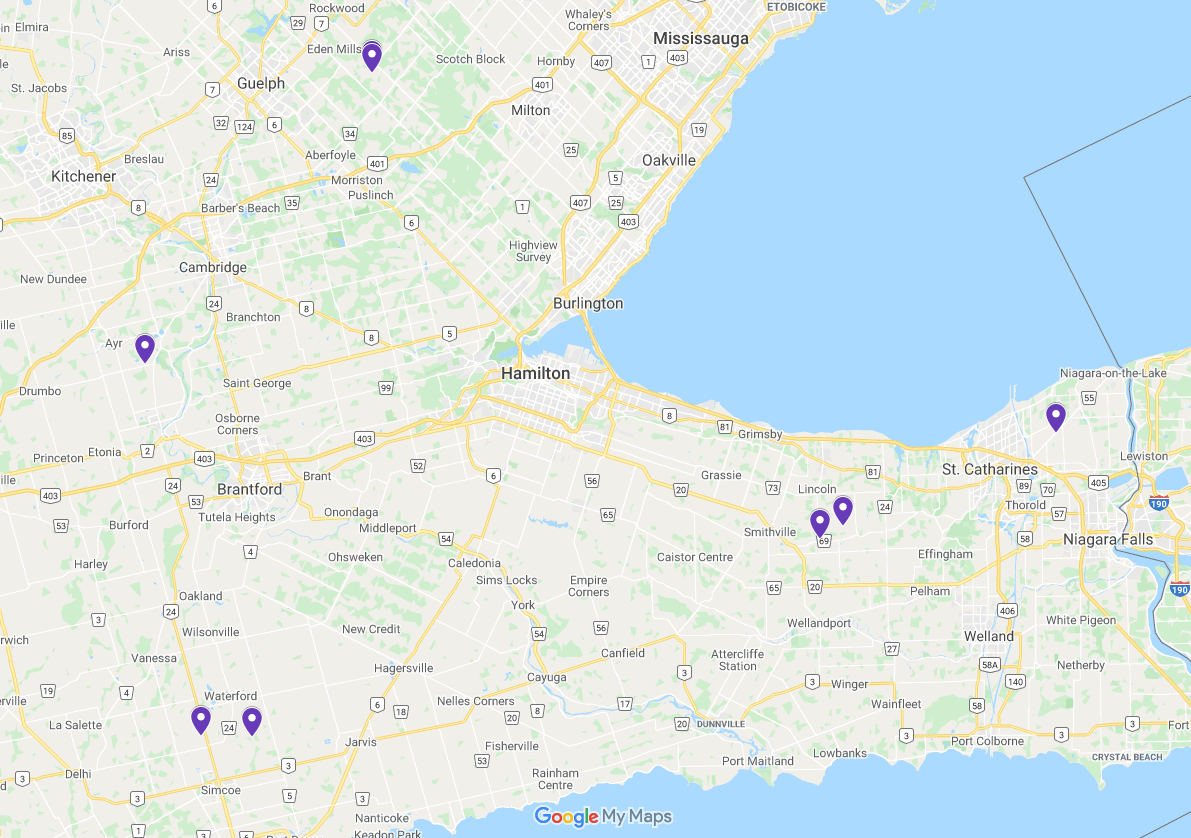 Pin it for later!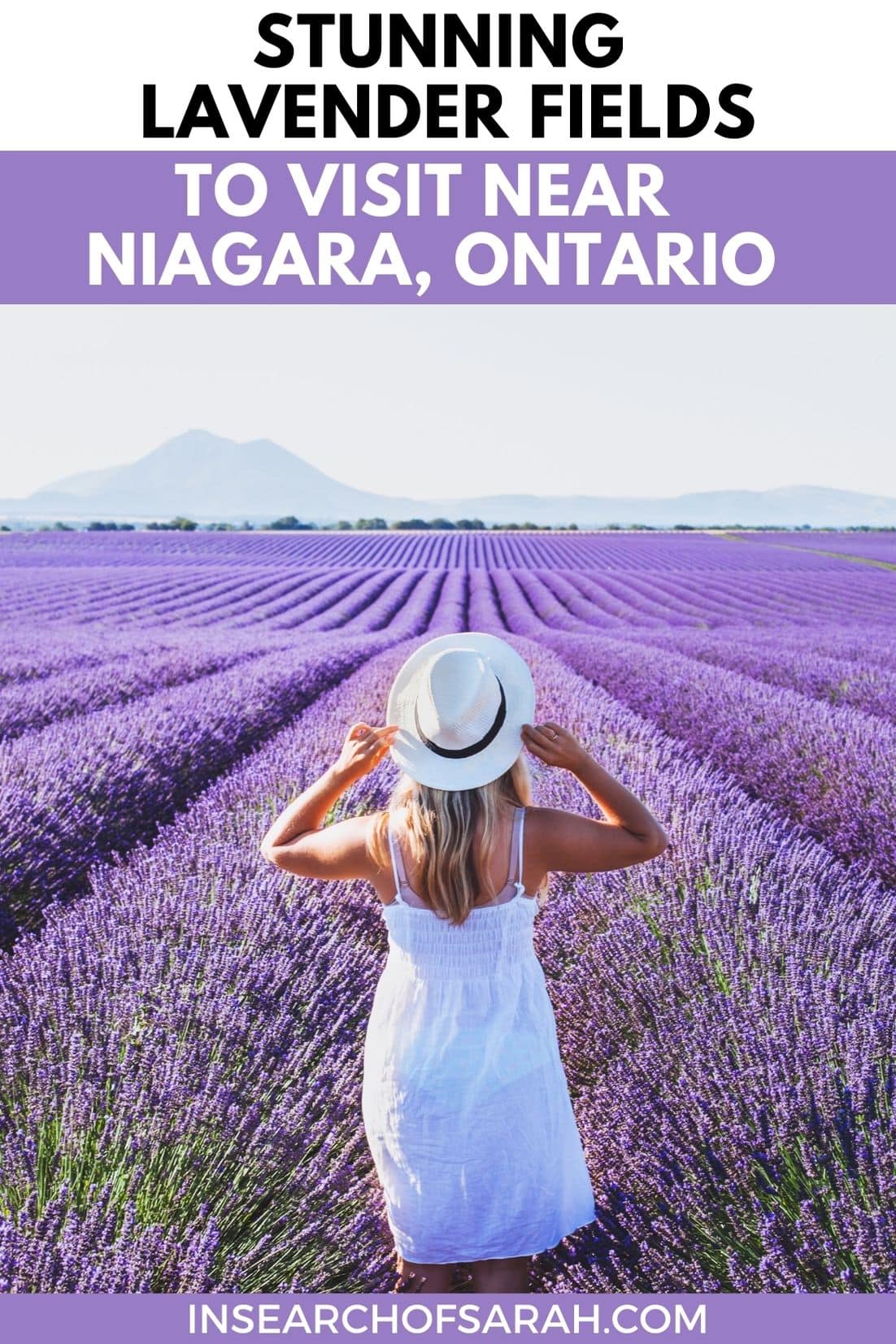 Related Posts