A town in the Niagara Region that doesn't get enough attention is Port Colborne.
Located on the shores of Lake Erie, this little town is rich in marine heritage, boutique shops, adorable cafes, and a boardwalk perfect for watching the ships go by.
Port Colborne isn't far from St. Catharines or Niagara Falls (it's only about 30 minutes!), but it feels like you are worlds away.
There are lots of parks, walking trails and cycling trails – so if you're looking for a peaceful little escape in the Niagara Region, you need to visit!
This post contains affiliate links which means I earn compensation when you click on the links at absolutely no extra cost to you! Feel free to read my disclosure policy. Thank you for supporting my blog!
Plan your next vacation using these tools!

✈️ Book flights: SkyScanner
🏨 Book hotels: Booking.com
🚘Book car rentals: RentalCars.com
🎫Book tours: GetYourGuide
🌍Favourite travel item: Packing cubes
🧳Favourite travel bag: Osprey 40L Fairview
🩹 DIY Travel Medical Kit
💸 20 Cheap Travel Items Under $20
What is Port Colborne known for?
Aside from being known as one of Canada's largest inland ports, and one that links Lake Erie to Lake Ontario, the city of Port Colborne is well known for the Canal Days Marine Heritage Festival! This popular event gathers crowds from all over, when vessels gather along the Welland Canal and you're invited aboard for a marine open house, along with numerous other festivities throughout town.
Port Colborne History
Port Colborne was actually founded back in 1833, with the construction of the Welland Canal. The longest of the canals along the Welland Canal, Lock 8, is here (and did you know it's also the second longest canal in the world??). From shipping grains and metals, the canal has shaped the local economy and the town was built around its activities.
Originally named Gravelly Bay, (after the shallow, rocky bay it sits upon) it was later renamed Port Colborne after John Colborne, a Lieutenant Governor of Upper Canada.
In the late 1800s, Port Colborne became a popular spot for American tourists to vacation during the summer. Grand summer homes on the lake were built, along with other community buildings, many of which still stand today!
Things to do in Port Colborne
Check out boutique shops on West Street
I guarantee you'll find some unique treasures along this street! There are some adorable shops selling all kinds of things from gifts, clothing, accessories, kitchen wares, treats and more! There is even an entire store dedicated to honey products!
Visit the Port Colborne Historical and Marine Museum
Wander through a heritage village! This little gem of a village has over 150 years worth of history sitting on these grounds and is a treat for the eyes. You'll find an old carriage house, blacksmith shop, log cabin, schoolhouse and lots more!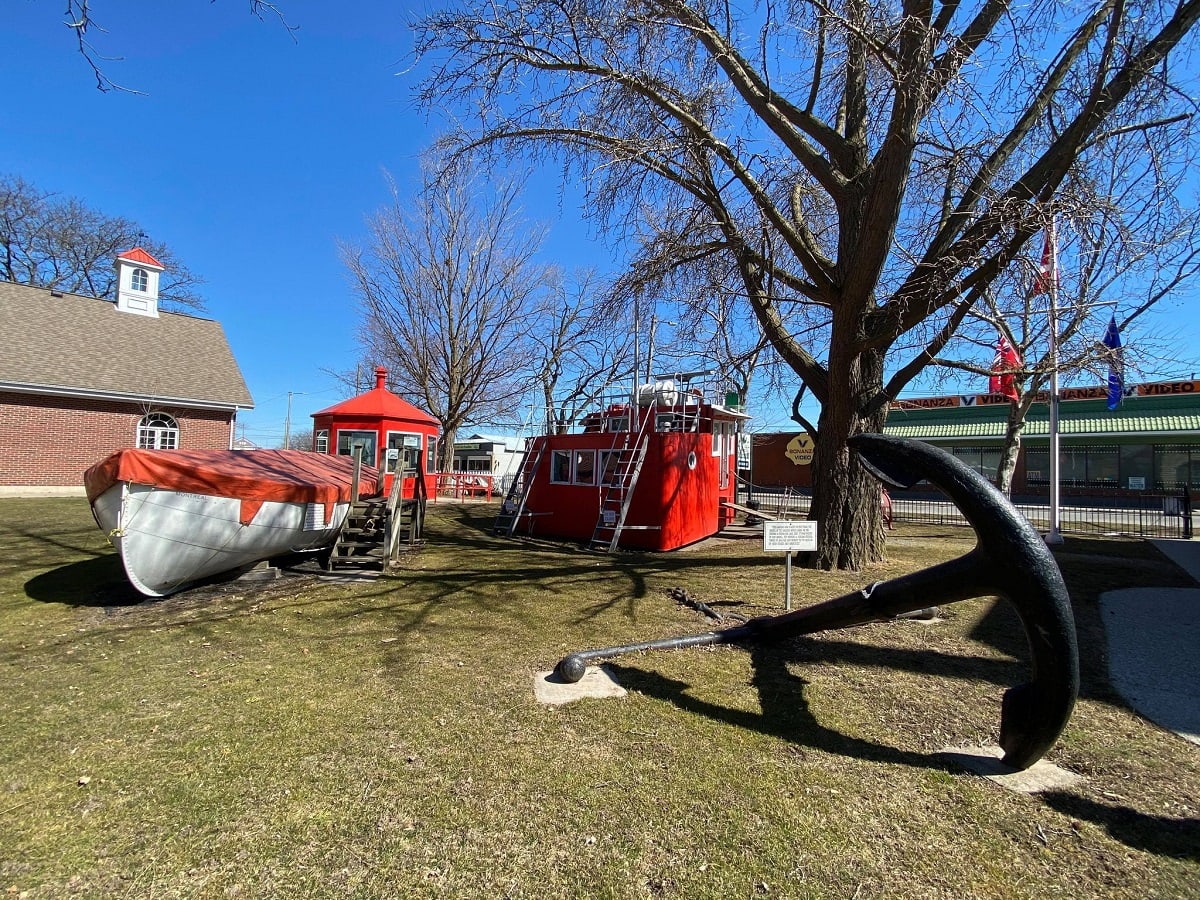 When it's available, have an afternoon tea at Arabella's Tea Room. For just $5 per person, you'll be able to enjoy tea and biscuits served by costumed volunteers. Proceeds go towards maintaining the museum and heritage village!
The museum itself is worth visiting too, when it's open. There are almost 20,000 permanent artifacts in their collection, and with changing exhibits, you'll likely see something new each time you visit. You can also take guided tours for just $5 per person!
Visit the Beach
Nothing beats a scenic beach! It's the perfect way to spend a sunny summer day.
Nickel Beach
By far the most popular beach in the area is Nickel Beach. With soft, sandy shores, it's great for swimming, relaxing, picnicking, and more! It's also one of the few remaining (and quite rare!) beaches that allow parking directly on the beach. It's a great spot for families to visit since the water is quite shallow.
The sand is soft and fine, so if you're visiting off season (like I just did!) it's a great place for a walk, too. Since the sand on the beach is soft and fine, it's a great place for a walk or to sit and watch the horizon.
There are washrooms, but pack a picnic since there are no other facilities here.
Centennial-Cedar Bay Beach is another beach located nearby, but it is now only available to Niagara residents.
There is a fee for non Port Colborne residents and also a daily maximum capacity. See the 2021 updates to parking and access and an FAQ here.
Is Lake Erie safe to swim in?
As someone who grew up swimming in Lake Erie, yes! It is safe to swim in. You can follow updates on Niagara Region Public Health, and there will also be signs posted at the beach.
Walk, jog, or bike along trails
There are endless spots to go for a scenic walk in Port Colborne!
The Friendship Trail
Once a rail line, this 24 km path is a great multi-use path that's flat and used all year round. If you love winter like I do, this is also a popular snow-shoeing and cross-country skiing trail!
Welland Canal Parkway Trail
For those looking for a great biking path, the Welland Canal Parkway Trail extends almost 40 km from Port Colborne all the way through to St. Catharines!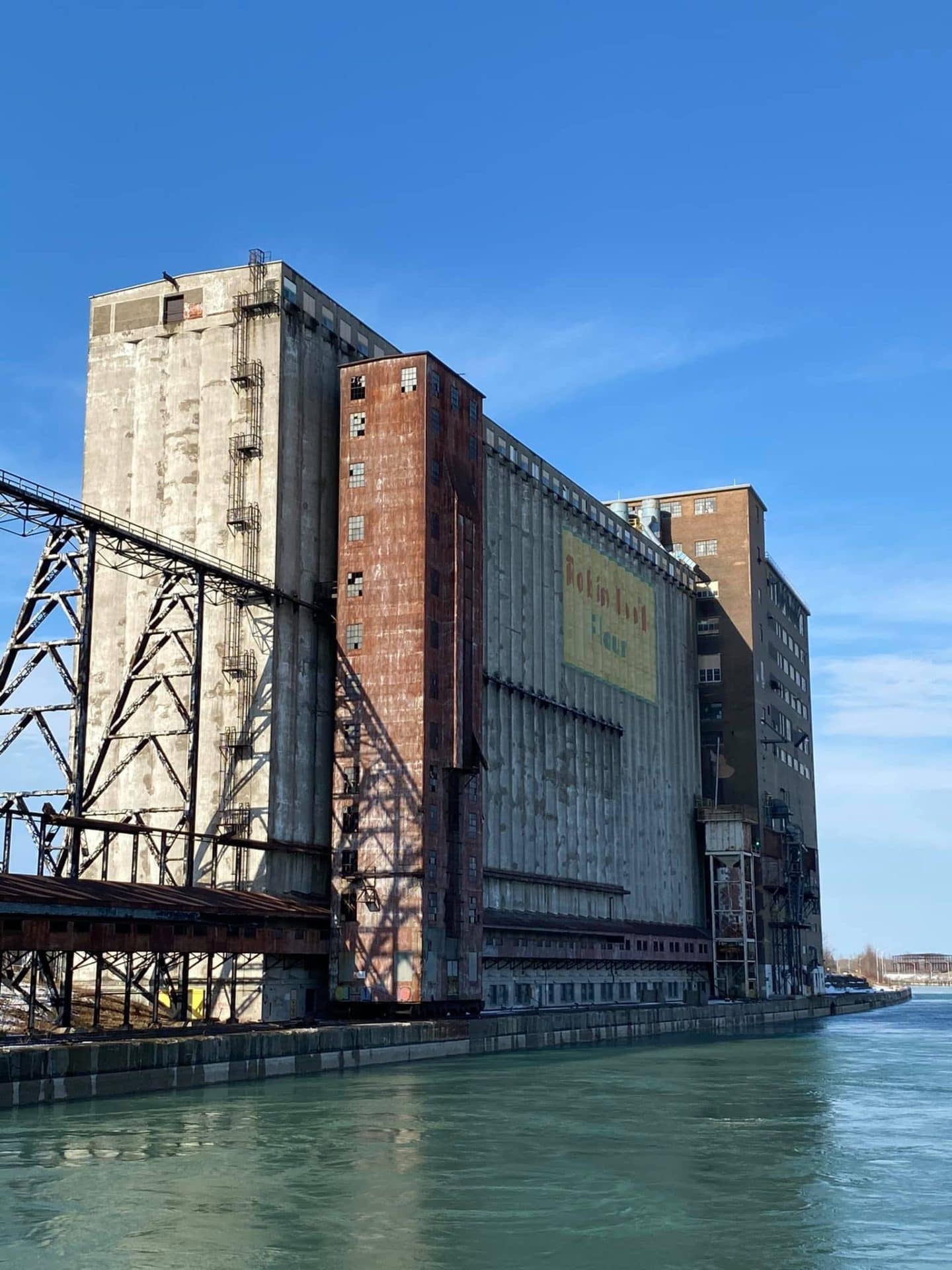 Gord Harry Conservation Trail
This unpaved 13 km trail extends from downtown Port Colborne out to the town of Wainfleet. It's an ideal spot for wildlife viewing as you pass through wetlands, open fields, quarry lines and wooded areas.
Visit a Park
Did you know Port Colborne has an astounding 21 parks and open spaces?! There is no shortage of green space to enjoy some fresh air or a picnic!
Enjoy water views at HH Knoll Lakeview Park, relax amongst trees at Humberstone Centennial Park, or get canal views at Lock 8 Gateway Park or Derek Point Memorial Garden – just to name a few!
Watch the Ships go by during the warmer seasons
You couldn't ask for a better location to watch the ships pass! At Lock 8 Gateway Park, there is an elevated viewing platform with flower gardens and fountains and offers some of the best views. It's also a great spot for a picnic (and there are washrooms, too!). There's even a tourist information center where you can grab a copy of the ship schedule!
There are also benches along the Port Promenade. Grab a coffee from one of many bake shops along West Street and relax while taking in the views.
See the Incredible Shrinking Mill
This is so odd and random, but it's a really neat optical illusion.
Thanks to the positioning of the shoreline, water, and trees, mixed in with light, the closer you get to the mill, the smaller it gets!
How to see the Incredible Shrinking Mill: Take Cement Plant Rd and then turn left on Lakeshore Rd. You'll see it in the distance, but as you approach the mill, it appears further away!
Find some Heritage Homes
The growth of Port Colborne as a marine and industrial hub in the 1800s brought an expansion of residential buildings – many of which still stand today!
You can take a self-guided tour around town to see some of these historic buildings!
Roselawn
Built in 1860, Roselawn has been used for a variety of residential, social, and cultural purposes. It's history has ties with some of Port Colborne's most prominent families. It's currently known as the Roselawn Center for the Living Arts – a theatre with seating capacity for up to 265!
Address: 296 Fielden St Built in 1860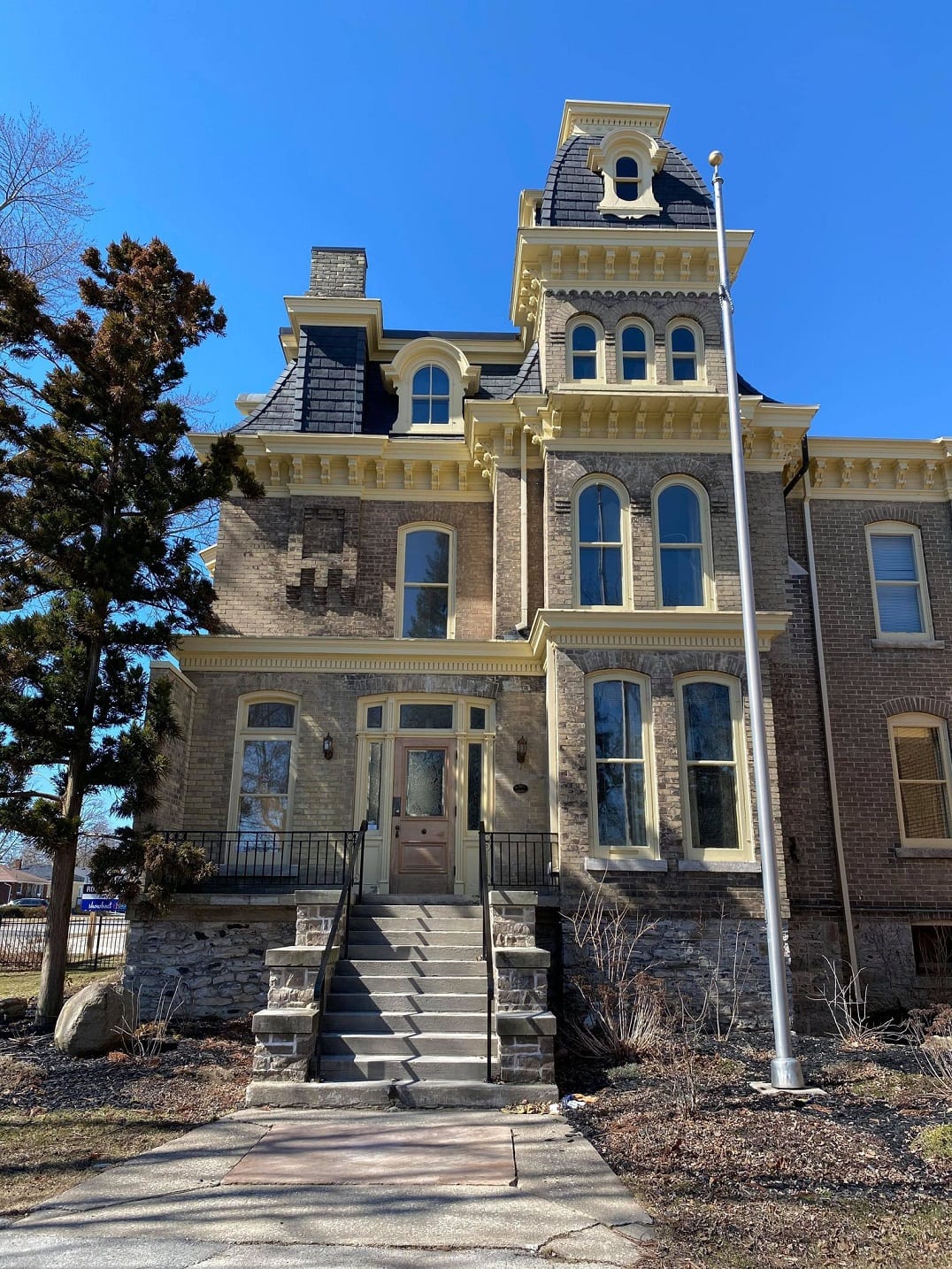 Augustine House
I absolutely adore this house! It's now known as the Alphabet Book Shop, the Augustine House was once known as a blacksmith shop as well as carriage manufacturing. Built in 1860 by Elias Augustine, he was known to have produced carriages of the best quality which couldn't be surpassed by any other establishment in Canada!
Address: 145 Main St W
Ingleside
How beautiful is this property? Built in 1867, Ingleside was built for Charles H. Carter, a well-known harbour master. The home was in the Carter family for almost 120 years, and they made significant contributions to the social and political development of the city.
Here's an interesting piece of history for you: Before steam power, horses, mules and donkeys were used to tow vessels along the canal with long ropes and harnesses. The Carter family began towing with horses before switching to tug boats and had 5-6 operations.
Fun fact: There are photographs at the Port Colborne Museum showing this house after being hit by rocks from an explosion that happened when digging the channel for the Third Canal.
Address: 322 King St
Ott House
Built in 1885, the Ott House is one of the first brick houses built in Port Colborne. It was owned by Herman H. Ott, a member of Council for the Village of Humberstone (once a historical township surrounding Welland).
Address: 518 King St
Visit a Conservation Area
Mud Lake Conservation Area
Located right beside the Old Welland Canal, this conservation area is an amazing spot for bird watching. It's a popular spot amongst dog owners with trails winding through wetland, field and forest.
Wainfleet Wetlands
I love a spot with good geological history! The area of the Wainfleet Wetlands was once a shallow sea around 300-450 million years ago. It became a limestone quarry in the late 1800s up until the 1960s, which means that you'll be able to see fossils of plants and animals that lived during this period in the quarry walls!
This is now a site home to fish, birds, waterfowl, snakes, turtles, frogs, and a variety of plants in a multitude of different settings: wetland, forest, and streams!
It's also a popular spot to see Bald Eagles, so keep your eyes peeled!
Wainfleet Bog Conservation Area
What do you think of when you think of the word "bog"? A wet, spongy, marshy area? That's about it! Bogs are composed of peat and dead plant material, which makes for a unique habitat for a variety of plants and animals.
The Wainfleet Bog is the only bog in the Niagara Region and the largest one in southern Ontario. It formed around 12,000 years ago (!!!) as glaciers from the last Ice Age melted and retreated (hello, Niagara Falls!).
Water became trapped in the low-lying sections, and over time, debris from plants accumulated into what we see today. There aren't a lot of nutrients in the ground here, but it's become home to some unique plant species that are able to withstand these conditions!
There are trails and boardwalks that wind through here, and you'll be able to see unique plants, along with butterflies and songbirds.
Go Fishing or Boating from Sugarloaf Marina
There are over 700 slips at Sugarloaf Marina, 200 of which are available for guest use! The public boat ramp is $15/day pass, including tax and parking.
Lake Erie is a well-known spot being Ontario's best place for catching perch – a local favourite!
Go Diving
Are you a diver? I actually got my PADI certification near here, and have regularly gone diving in the Welland Canal!
This area along Lake Erie is awesome for diving. There are 20 shipwrecks within a 20 mile radius, and that includes wood schooners, barges, tug boats, and freighters. There are also two great dive spots near here – Sherkston Quarry and Windmill Point Park, where you'll be able to see train tracks, a locomotive, mining equipment and more.
Dan's Dive Shop offers Dive Charters on a regular basis.
Visit during the Canal Days Festival
Canal Days is an annual celebration of Port Colborne's marine history that has been going on for over 4 decades! The four-day celebration over the Civic Holiday weekend brings in over 300,000 visitors.
There are multiple activities happening throughout town including live music, boat tours, heritage displays, craft shows, a kite festival, vintage car show, numerous food kiosks, fireworks displays and more!
Where to Eat in Port Colborne
Ok, now for some really fun stuff! Port Colborne has a ton of great restaurants and coffee shops to choose from. What I love about this city is that if you don't feel like eating indoors (especially nowadays!) there are enough places to have a quiet break and enjoy a bite to eat!
For coffee and treats
The Pie Guys Bakery and Cafe
Amazing baked goods! Grab their $22 soup/meat pie/tart combo to go. You won't be disappointed! They also sell unique kitchen accessories you won't find anywhere else!
Ps. they only have their pecan sticky buns available on Saturdays, and you don't want to miss them! You can pre-order online!
Address: 148 West St.
Green Apple Coffee House
Hand-crafted drinks and house-made pastries? I'm sold! The Green Apple Coffee House will always have a different special on each day, like blueberry and honey muffins, orange and white chocolate scones, and chai spice scones.
Address: 162 West St.
Bremfield's Cafe and Bake Shop
How adorable is this place?! I could easily spend an afternoon here with their cozy lounge. They have tons of awesome baked goods, and I bet you'll be hard-pressed to pick just one (we couldn't)!😂
Address: 91 Main St W.
Locals rave about these restaurants!
Minor Fisheries Limited
This is the epitome of what it means to be in a coastal town. Minor Fisheries is the perfect place to grab freshly-caught fish and chips and enjoy it along the promenade with some sunshine. These are generous portion sizes and the fish is so delicate – you can't go wrong!
It's also a popular spot to grab soft serve in the summertime, too!
Address: 176 Main St W.
The Lock Wood Fired Pizza
Wood fired pizza is the best pizza! Lock Wood Pizza's menu is incredible. Offering Neapolitan style pizza with a variety of choices, (as well as dessert pizzas), you'll have a hard time choosing which one to order.
Address: 118 Clarence St
Canalside
This is a great place to come for a meal during the warmer months with their open-air patio and view of the canal. There's an ever-changing menu with gluten-free and vegetarian options.
P.s. if you're looking for a place to stay, Canalside also offers a suite that happens to be the only place in Port Colborne with a view of the canal!
Address: 230-232 West St.
Breakwall Brewing Company
Local beer and local food. What's not to love? Breakwall Brewing Company pays homage to the history in Port Colborne by adopting local iconic and historically significant images that are hung throughout their establishment.
Did you know: back in 1852, the first brewing operation began in Port Colborne. During the prohibition in 1919, the brewery closed. Now, 100 years later, Port Colborne has found itself with great new brewery, paired with a restaurant.
Their food offerings are incredible and include gourmet burgers and pizzas (check their Facebook page!!!)
Address: 46 Clarence St.
The Smokin' Buddha
Located at the old train station, the Smokin' Buddha has a unique interior with vintage maps, exposed brick and an open kitchen. They describe themselves as part industrial grit and part Asian zen with a laid-back atmosphere offering global cuisine and local Niagara food culture.
Address: 265 King St.
Archie's Subs
Looking to grab something to go? Archie's Subs is known as Port Colborne's best sub shop for their generous portions that are jam-packed with fillings! Prices are very reasonable for what you get and it's a great item to split with someone at a park or the beach!
Address: 95 Clarence St.
The Flying Squirrel
Casual, upscale dining in Port Colborne! The Flying Squirrel is family owned with an innovative menu that's very reasonably priced! From weekly specials to date night offerings, there is surely something for everyone (even if you're gluten-free or vegetarian)!
Sit outside in the summer with a view of the canal and watch the ships pass by.
Address: 27 Main St W.
Related Posts
Pin it for later!