Tipping at destination weddings is a hot topic amongst destination wedding brides. Many feel like they're already paying so much for their wedding and it's at an all-inclusive resort, so tips are all included, right?
Well, technically yes, but hear me out.
Oftentimes you'll find your wedding coordinator, staff, and vendors have gone above and beyond their call of duty to give you the destination wedding of your dreams.
They are providing an incredibly personalized experience for very little wages – they are so deserving of a tip (in my opinion!). PLUS if they help you manage your way through one of your happiest and most memorable days of your life (and possibly stressful, too!), I believe they deserve a tip, even if everything states that tips are included.
psst. this post is geared towards weddings in Mexico and the Caribbean. Tipping etiquette will be different in European countries!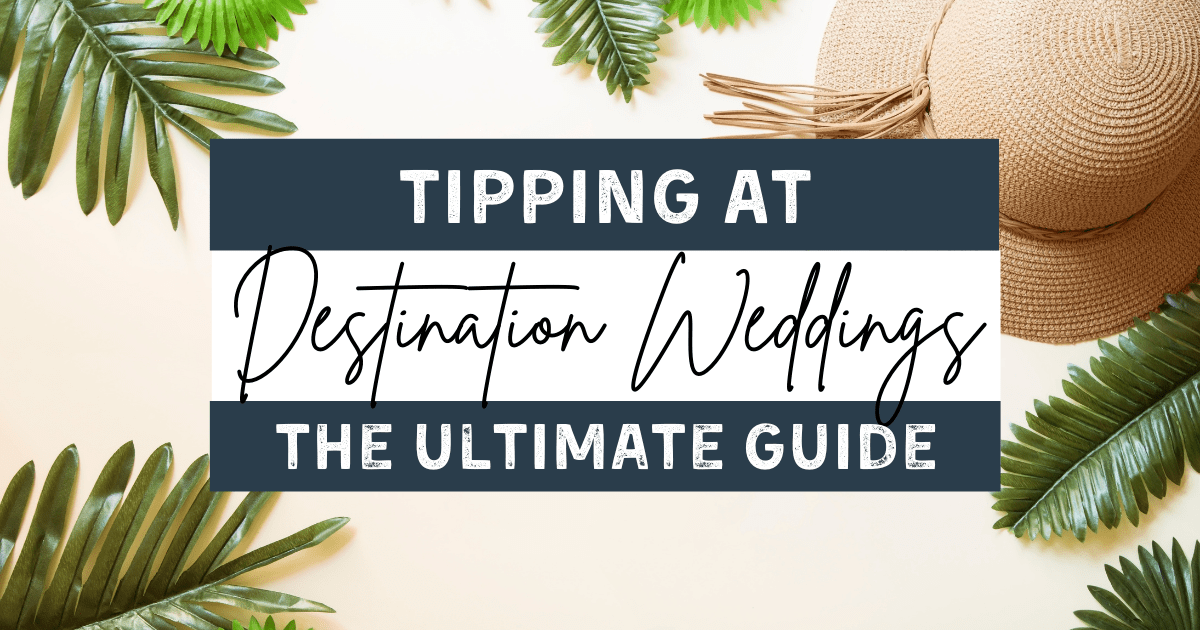 If you consider Mexico's daily average wage of just $5 USD for instance, tips will go a long way to improve their day-to-day and lifestyle. In my experience travelling to Mexico, Dominican Republic, Cuba, Jamaica, etc., the staff work incredibly hard and are so good at their job, they deserve every tip they get!
So let's break this down!
In this post
Tipping at Destination Weddings – who, when, and how much to tip
Tipping at an All-Inclusive Resort – don't forget about the rest of your stay!
Tipping tips!
Printable checklist – to keep handy while you're planning and budgeting
Tipping is one of my favourite things to do when we travel, and I always bring more than I think we should. It makes me feel good.
That being said, I know destination weddings can be expensive. Even the basic wedding packages add up with taxes and added fees.
But isn't tipping included in your Destination Wedding package?
Wedding contracts often state their pricing and add in the sneaky taxes and gratuities to that, which in some cases can be upwards of an additional 30%.
Yeah, that's a lot of money.
BUT – it's still often cheaper than having a wedding at home!
For Canadians, I understand the pain of having to convert the wedding cost to USD and paying almost 35% extra. I get it. But I guarantee that the staff rarely see much of that gratuity you're charged in your wedding package.
I chose to tip. Our team worked so hard and efficiently, it was the least we could do to say thank you!
Important! Every resort is different in regards to taxes. Some resorts include it in their wedding package prices. Check your wedding contract for any fine print, because it should say somewhere if there are additional fees, OR they may include it in the pricing. If it doesn't state it anywhere, ask your Wedding Coordinator.
Who to tip and how much at a Destination Wedding
Note that these tip amounts are not set in stone. Over the past 6 years I've been a part of numerous Destination Wedding Facebook groups and this is the general consensus from brides. Do NOT feel bad if you can't budget these amounts. Do what you feel is right. This token of appreciation will go a long way!
Tipping at destination weddings isn't a cookie-cutter type of thing, it all varies so much depending on how many guests you have, how elaborate your wedding is, etc.
How much do you tip a destination wedding coordinator?
Wedding coordinator: $100
Of course this is entirely subjective. Give what you can based on the level of service and what you can afford! For some brides, they don't even see or hear from their wedding coordinator until they arrive (I was one of them!), while others have months and months of communication. Many also have multiple wedding coordinators – so again, take this with a grain of salt.
Wait until after your wedding. If you are beyond thrilled of how your big day turned out, I think that is more than deserving of a nice tip!
Some brides also leave a thank you card – I think that is a sweet gesture!
Is it customary to tip vendors at a destination wedding?
It's important to remember that your photographer or videographer isn't necessarily the owner of the business, so while it may feel like you're already paying a lot, they may not see much of your total bill paid!
Makeup Artist: it's recommended to tip the captain if there is a team, then they can disperse tips amongst themselves. This varies between $100 to 20% of the services. It really does depend on how many hair and makeup services are being done, the quality of the work, and how many people are in the bridal party.
Photographer: $100. If you hire the resort photographer, they will likely not see any of the money you paid for that package!
Videographer: $100
DJ: $100
Florist: (you may not even see them!): $25-$100, but of course this can depend on how extravagant your designs are.
What if my vendor is the owner of the business?
This is a hot topic. Many state that the owner of the business generally isn't expecting to be tipped, but really, I say you should still tip based on the level of service you receive.
You can ask if gratuities are included in the pricing.
Who else to consider tipping
Waitstaff (to captain to divide): $100-$200 (depending on the size of your group)
Officiant: $25-$50
My package charges gratuity and service fees. Am I still expected to tip?
I chose to tip, as do many brides. It does feel like a lot of added fees (and it is!), but I can almost guarantee you that those who are working to pull off your wedding aren't seeing a dime of those fees (which yes, does feel misleading!).
I'll be the first to admit that the taxes are ridiculous. But unfortunately this is just the nature of the beast. Think of it this way, it's still (likely) cheaper to have a Destination Wedding than it is to get married at home! You just have to budget for the additional fees, and for tips to your vendors and servers.
Again, this is a personal decision, but based on what 5000+ brides have done, they generally do tip. Even if it's a few dollars directly to your servers and waitstaff, it will go a long way!
When do I tip my vendors?
Tip near the end of the night. For wedding coordinators, it is likely you will see them a day or two after to retrieve any decor you brought down with you.
For this reason, I highly suggest splitting your tips into envelopes to help keep them organized! You can also dedicate a responsible member of your bridal party (or perhaps a parent) to manage distributing the tips that evening to your vendors/servers.
Tipping at an All-inclusive Resort
Don't forget about the rest of your stay! We budgeted for this as a part of our wedding planning.
How much to tip at an all-inclusive resort
This is also a general guideline to tipping at a resort (based on two people).
Drinks: $1-$2 each (many prefer to tip at the beginning or end of the day if they're staying in the same spot).
Breakfast: $2-$5
Lunch: $5
Dinner: $5-$15
Spa: 20% of the bill
Housekeeping: $2-$5/day
Bellman: $5-$10
Mini fridge/mini bar attendant: $2-$5/day
Turndown service: $2-$5/day
Transfers: Shared transfers – $5 per person. Private transfers – I've gone a little crazy with these and have tipped between $20-$60 each way (depending on length of ride). Ps. looking for an awesome private transfer from Cancun Airport? Start your wedding off in style!
Excursions: dependent on which activity you do, but we always tip a few dollars for the transfer and $5 each for the guide, normally.
It's really not a lot of money for us, and it goes a long way. The way I see it, if we can afford to travel, we can afford to tip. Even a small amount can make a difference!
P.s. as a Canadian, I save a little bit on the exchange (depending on which country we go to – usually we head to Mexico) by getting pesos instead of USD, since it's cheaper for us to buy. This is a widely debated topic on which is the better currency to tip with, but pesos won't need to be converted into local currency, which will save a bit for them, too!
Tipping tips!
Bring smaller bills with you
Divide your tips into separate envelopes
Consider sending your guests a pre-flight letter with some tidbits of information and mention bringing some cash for tipping.
Also – if you want to really help a vendor out, don't forget to leave reviews online! Word of mouth goes a long way, especially in this day and age!
I tell this to all of the brides – tip what you are comfortable with, and base it on the level of service you were provided. Remember that the numbers listed here are a general guideline but it's just that: only a guideline.
When you're budgeting for your destination wedding, add a safety net and allocate an additional 30% to everything (and if you're Canadian like I am, you can tack on another 35% on top of that thanks to the exchange!). That way you won't have any surprises.
FYI – this is entirely resort-dependent, but once we arrived at our resort and had to pay our final invoice, we actually paid in Pesos on our credit card. We were quoted in USD in all the emails, but we paid the US equivalent in Pesos. It did save us a little bit. So it doesn't hurt to ask when you're back and forth with your wedding coordinator!
Free Printable Tipping Guide
Is your head spinning yet?
Here's a printable checklist to help you with your budgeting and planning!
Remember….tipping is based on the level of service you receive. Do not feel obligated to tip the amounts listed. These are just an average of what past brides have done!
Related posts
Looking for Packing Lists?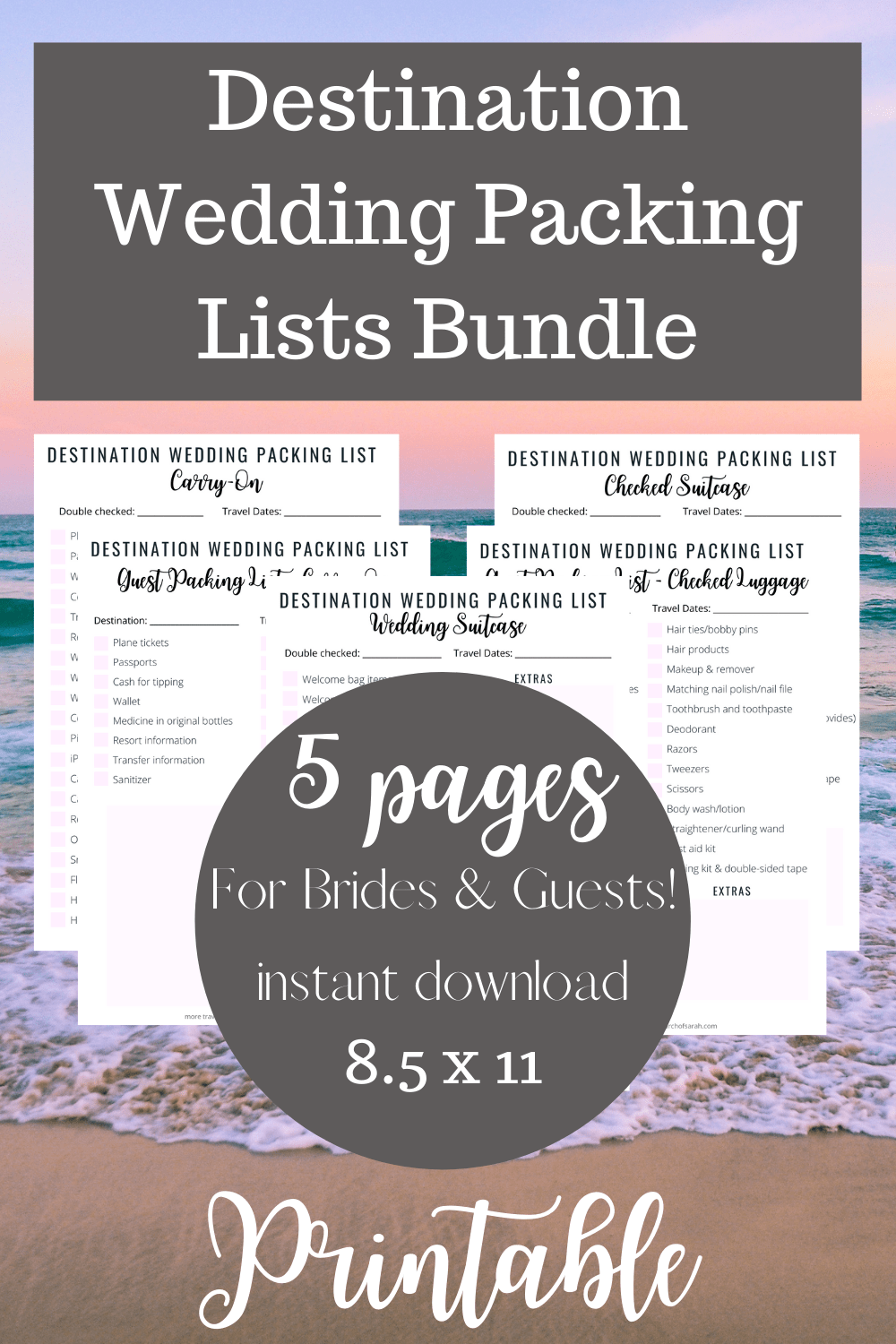 Pin it for later!