Looking for a guest book for your destination wedding?
It can be hard to decide on what kind of guest book to bring to your destination wedding, since you have to travel with whatever you're bringing! You don't want to bring anything that's too large or bulky – space is precious!
Over the years, I've come across a ton of great guest book ideas for destination weddings in my various Facebook groups (with over 5000+ brides!). I'm not a fan of the traditional guestbook, since I know it would just sit on a shelf untouched. That's why I'm excited to put together this list of destination wedding guest book alternative ideas.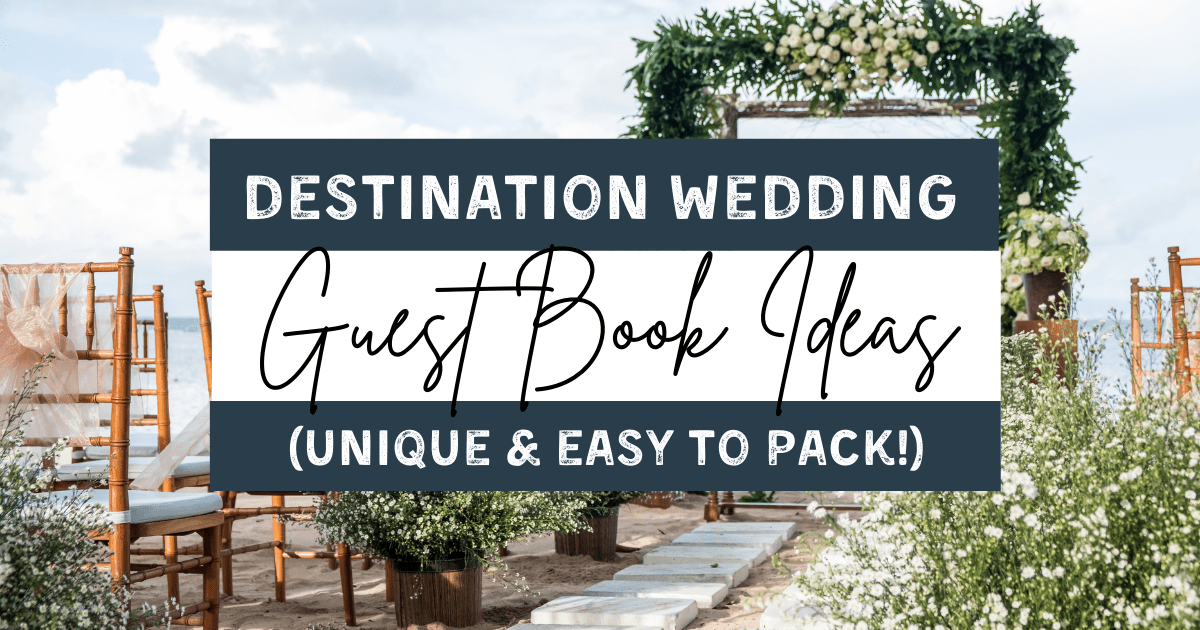 This post contains affiliate links which means I earn compensation if you make a purchase through one of the links at no additional cost to you. Feel free to read my disclosure policy. Thank you for supporting my blog!
Destination Wedding Guestbook Alternatives
These interactive, travel-themed guest book ideas will hopefully inspire you to pick something for your destination wedding that is unique, but not difficult to travel with. I have one of these myself, and now it's proudly displayed on our fireplace mantle!
Many of these are also instant digital downloads, saving on time!
Destination weddings aren't traditional – so why settle for a traditional guestbook?
All of these are found on Etsy – the go-to place for All Things Different and custom. Have a question about one of these items? Message the seller, because changes are you can put your own twist on it!
Globe
This is probably one of my favourite ideas and I wish I did this myself! Oftentimes, guests travel from all over to meet you at your destination wedding.
What more of an appropriate destination wedding guest book idea than a globe?
Vendor: TheLetteringStudio
Guest Map
This is what we did, and I love it! It now sits framed on our mantle. I printed it on cardstock and brought an inexpensive frame without the glass.
Choose your country and personalize it with your own choice of colour and text.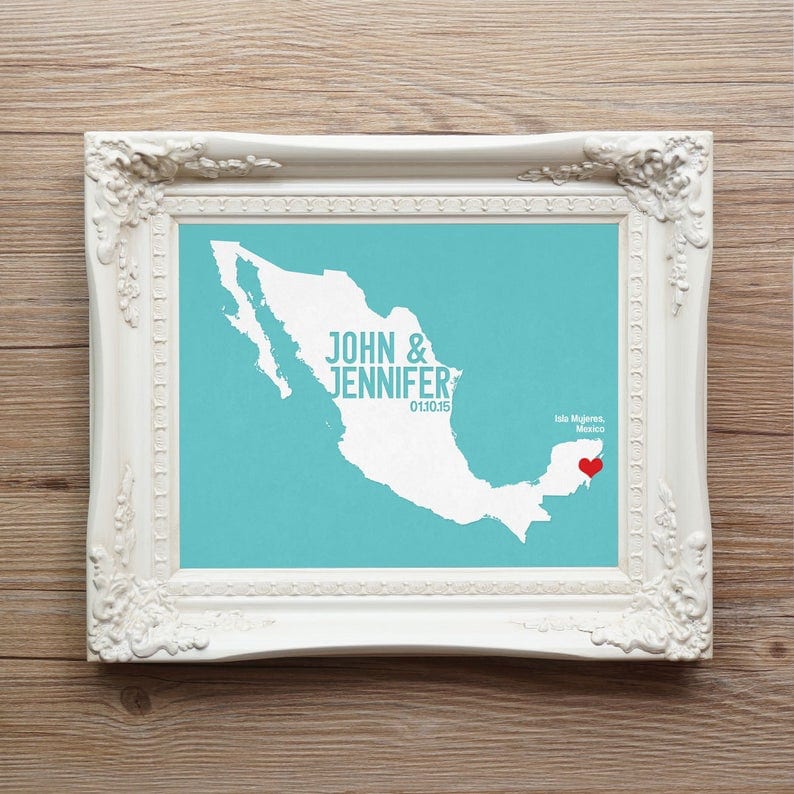 See other maps from EmbieDesign
World Map Wedding Guest Book
I love this idea! This is a great way to have an art piece displayed in your home (who doesn't love a world map?) plus signatures from your guests.
Vendor: Woodlack
Pssst! I know planning a destination wedding from home can be challenging. Be sure to ask your wedding coordinator these questions!
Puzzle Guestbook
Isn't this cute? This has a dual meaning – think finding your other half and being complete. Display this in a frame when you get home!
Vendor: ACustomCut
White Anchor Guest Book
The anchor is another one of my favourite ideas. This guest book idea will lay flat in a suitcase and it's such a unique art piece to remember your wedding by. Just bring a marker!
Vendor: CelebrateWithUs
Sea Turtle With Hearts
I absolutely ADORE this idea. The smallest dimensions are 22″ x 15″, which fit within a large suitcase (30″ x 19″), and the size of the hearts depend on how many guests you have. The smallest size can accommodate up to 75 guests (keep in mind one couple can sign one heart).
This would make a beautiful display on your wall at home! Pick from any colour and a variety of font styles.
Vendor: YourWeddingTheme
Two States Map
Another cute alternative destination wedding guest book idea! These custom maps will display any state you two are from. Pick your font style and colour for a complete custom map!
Vendor: RedlineCS
Hot Air Balloon
One of the most adorable guest book ideas, and probably one of the most unique I've come across! I've seen quite a few brides pick this as their guest book.
Your guests will sign a heart to display in this hot air balloon. I'd love this cheery design on my wall at home.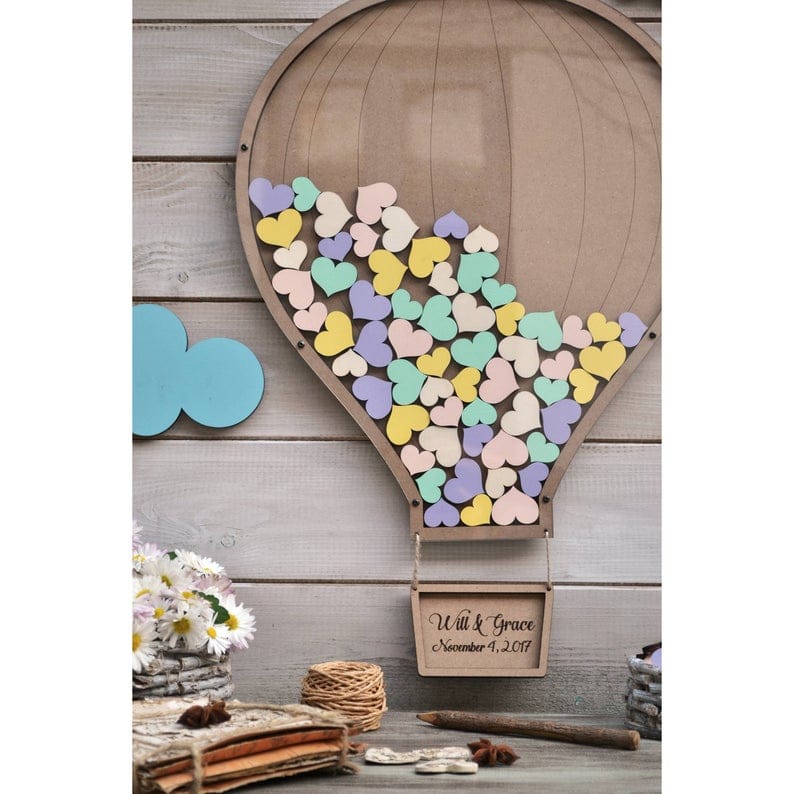 Vendor: HAPPYProjectShop
Looking for destination wedding advice? Check out these top tips from over 30+ past destination wedding brides!
Wedding Date Canvas
This is one of the most popular guest book ideas I've seen in my 6+ years helping brides plan their destination weddings. It travels easily, looks great on the wall, and is completely custom, with a variety of date designs and font options to choose from.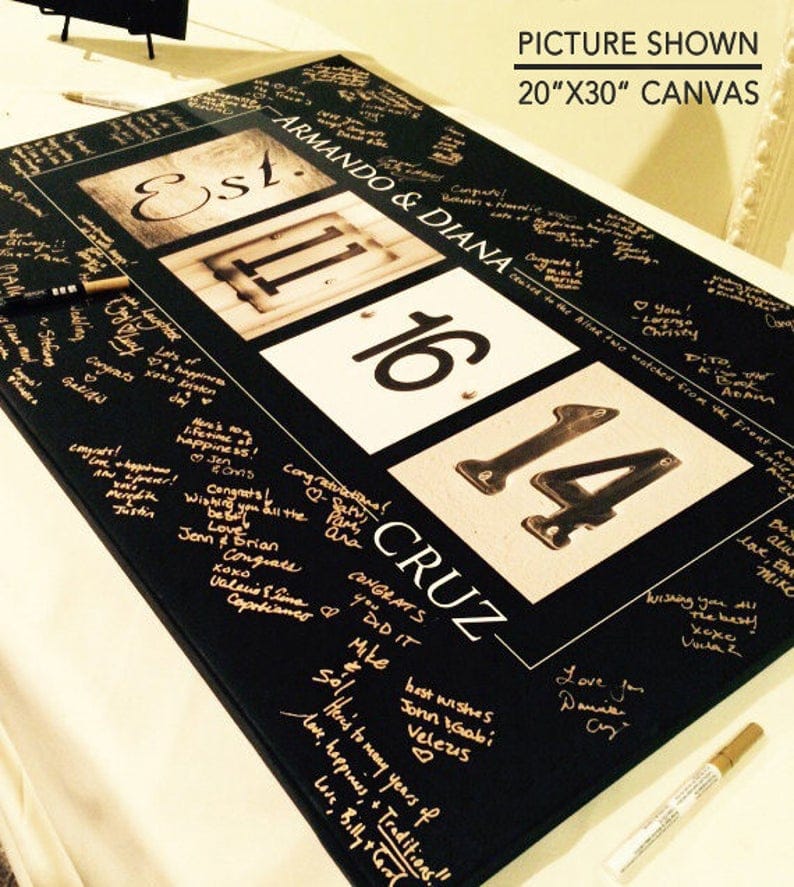 Vendor: AlphabetCanva
World Map Guest Book
A spin on the classic guest book that looks great on a shelf.
Vendor: Kompostela
Customized Wooden Map Guest Book
Isn't this cute? If you're from two different countries, this is a beautiful idea. This laser-cut wooden guest book has multiple font and colour options and also comes in 30 pages or 50 pages.
Vendor: Cartalia
Wooden Map
I love love love this idea! Get a custom map made for where you're getting married and have your guests sign! This is another idea I wish I had thought of!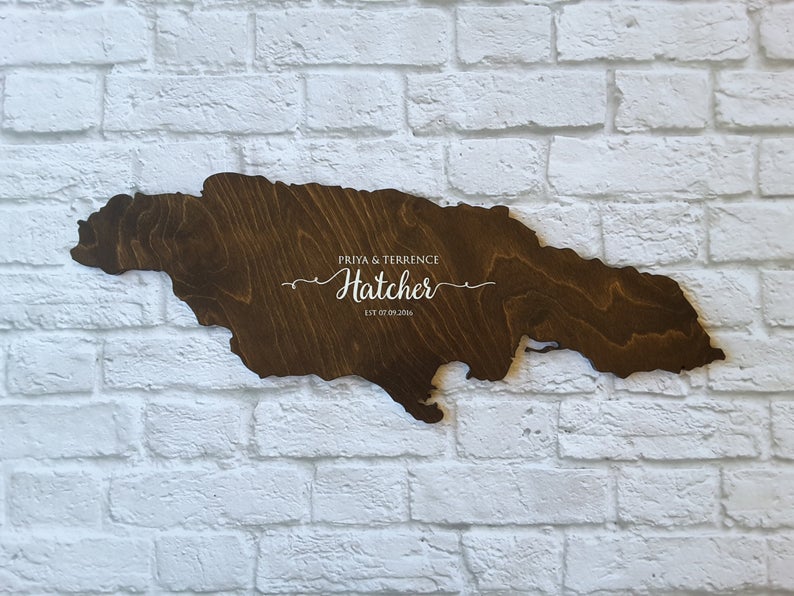 Vendor: PrintOnAnything
Message in a Bottle
This is an easy DIY wedding guestbook. Bring an empty jar or wine bottle and have your guests fill out a piece of advice for you to read on your first anniversary. All you need is a bottle, paper, pens, and a sign, like the one pictured!
Vendor: DynamiteLaserBeams
Signs
A Beachy Guest Map
This is a stunning piece of watercolour art that would make a perfect backdrop for an alternative destination wedding guest book.
Tip: If you wish, you can skip bringing a frame with you to display at your reception. Transport this print in a mailing tube and weigh it down on the corner with some shells or stones.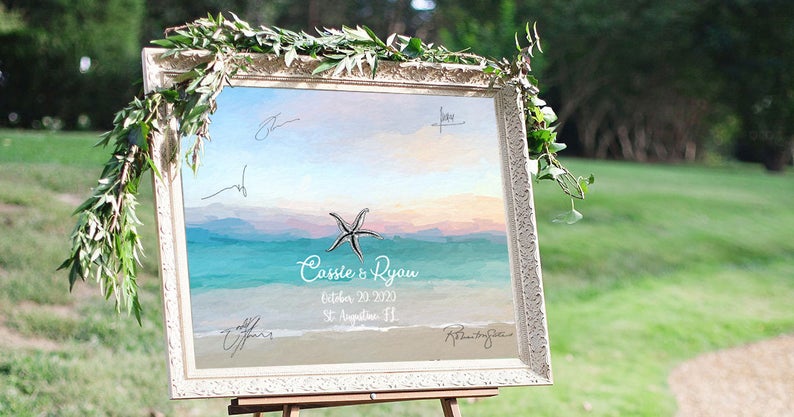 Vendor: BeyondWordsBridal
Photo Guest Book
A widely popular idea amongst destination wedding brides, and so interactive! A photo guest book is fun for everyone and you'll get some great guest shots to remember forever.
All you need is a camera, book, pens, and a sign like this one!
Vendor: BlushandBliss
Ps. The FujiFilm Instax are the most widely-used cameras that brides bring to their destination weddings. Just be sure to stock up on lots of film!
Jenga Guest Book
How much fun is this? Great for those who love to play games and are looking for a fun way to commemorate their special day. Easy to travel with and interactive. Either buy the Jenga game or get yours personalized!
Vendor: RammellJoinery
Add a sign to place beside it and you're done!
Looking for packing lists?
Related Posts
Save it for later!