As I sit here reflecting on my past 5 years of marriage, I am nostalgic for it all: the excitement leading up to it, finalizing fun details, packing, and spending an entire week with our closest friends.
It really was one of the best times of our lives! The number one thing I tell anyone who asks is that having a destination wedding was the best decision we made.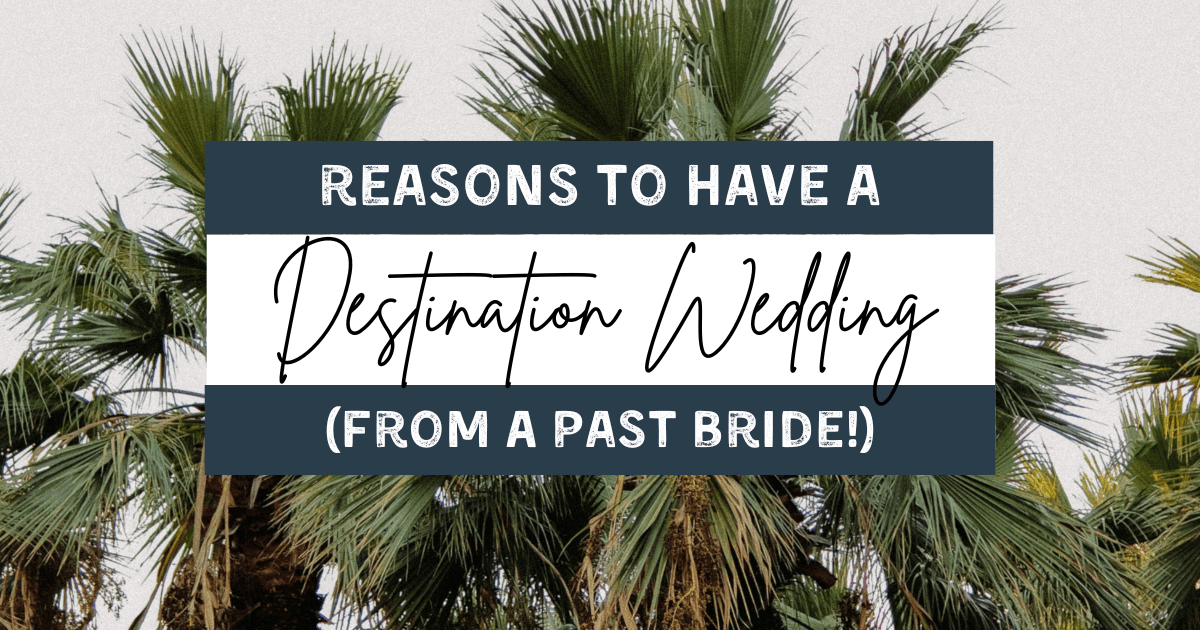 If you enjoy traveling, a destination wedding could mean having the wedding of your dreams and benefit you in many ways.
I always knew I wanted to get married away – and after a couple months of research we decided the best bang for our buck was in Mexico, and I wish we could do it all over again!
There is no better way to say "I Do" than at a unique location with your loved ones.
Ever since we got married, I have been involved in various wedding planning groups on Facebook aimed to give advice and ideas to upcoming destination brides. I've made a ton of new friends from all over the world and have even met some! It's crazy to think that we all met because we were planning our weddings in Mexico!
So, what are the benefits of having a destination wedding?
8 reasons why you should consider having a destination wedding:
1 .You (and your guests) get a vacation
Who doesn't want to take a trip and explore a new place? A wedding is a great excuse! Even some of our guests who we didn't think would RSVP were some of the first to do so, because they really needed to get away!
Think of your last vacation. Now think of it with your closest friends and family. Doesn't that sound appealing?
2. It can be less expensive than a wedding at home
Have you ever wondering how much a destination wedding costs? The average wedding in Canada is roughly $30,000 – enough for a down payment on a house!
From saving on your wedding shoes (hello, barefoot!) to receiving travel incentives and perks at the resort, having a destination wedding can certainly bring that cost to a fraction of what getting married at home may look like, and sometimes even for free.
Many resorts offer tiered packages best suited to your guest count, and depending on which resort, it can include things like your flowers, reception, music, room upgrade and more.
3. It can be less stressful
No in-person meetings with vendors, trying to source flowers or décor, or running around last minute for those final venue checks! Everything can be done from your computer and with tons of reputable vendors and reviews, you can plan your wedding from your chair.
Wedding Coordinators at the resort have a simple planner for you to fill out, and they take care of the rest, all included with your wedding package!
p.s. already booked? See these important questions you should be asking your wedding coordinator!
4. You can have your honeymoon right away (or take 2!)
Many brides extend their wedding stay to include a honeymoon after their guests go home. We took two weeks – and would recommend doing an extension to decompress!
You may find you spend a lot of time with your guests and need some time to yourselves. Opt to change resorts for a completely different experience.
Booked your wedding at a family resort? Switch to an Adult-Only. You'll be glad you did! Many will also extend their stay by a few days and plan a more elaborate honeymoon later in the year. Nothing wrong with celebrating twice!
5. Longer celebration
Instead of just one night of fun with your guests, imagine a few days, or a week? The photos and memories made will last a lifetime!
6. It's unique
Destination weddings have been increasingly more popular in the past few years – but how many of your friends have had one? Getting married away is exciting and a big deal for a lot of people – especially for guests who don't often travel. We still have our guests talk about our wedding, 5 years later!
7. You'll have a more intimate group of guests
Having trouble narrowing down a guest list? This will take the guess work away from you. From what I have seen, approximately 50-60% of your invites will RSVP as a no.
It comes with the territory of having a destination wedding, but as long as you are ok with that, you will have a smaller group of guests which will also make it easier to connect at the resort or spend time with them.
I know many couples who regret spending so little time with their guests locally – but I can imagine it would be difficult to visit with 200+ guests at a home wedding! We had 18 guests and wouldn't have changed a thing.
8. Think of the photos!
From lush greenery and the beach to sunrise to sunset shots and everything in between, there is no shortage of Instagram-worthy wedding shots. One of the most fun things we did was a Trash the Dress photoshoot!
We did ours in a Cenote and they are some of our favourite photos. You only get to wear the dress once, right? Take advantage of it! I guarantee you'll have trouble deciding what photos you want to frame at home.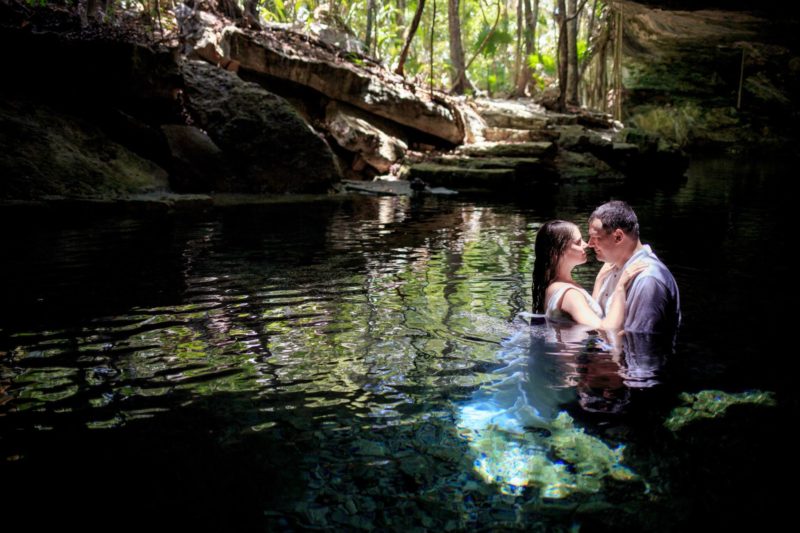 Looking for Destination Wedding Packing Lists?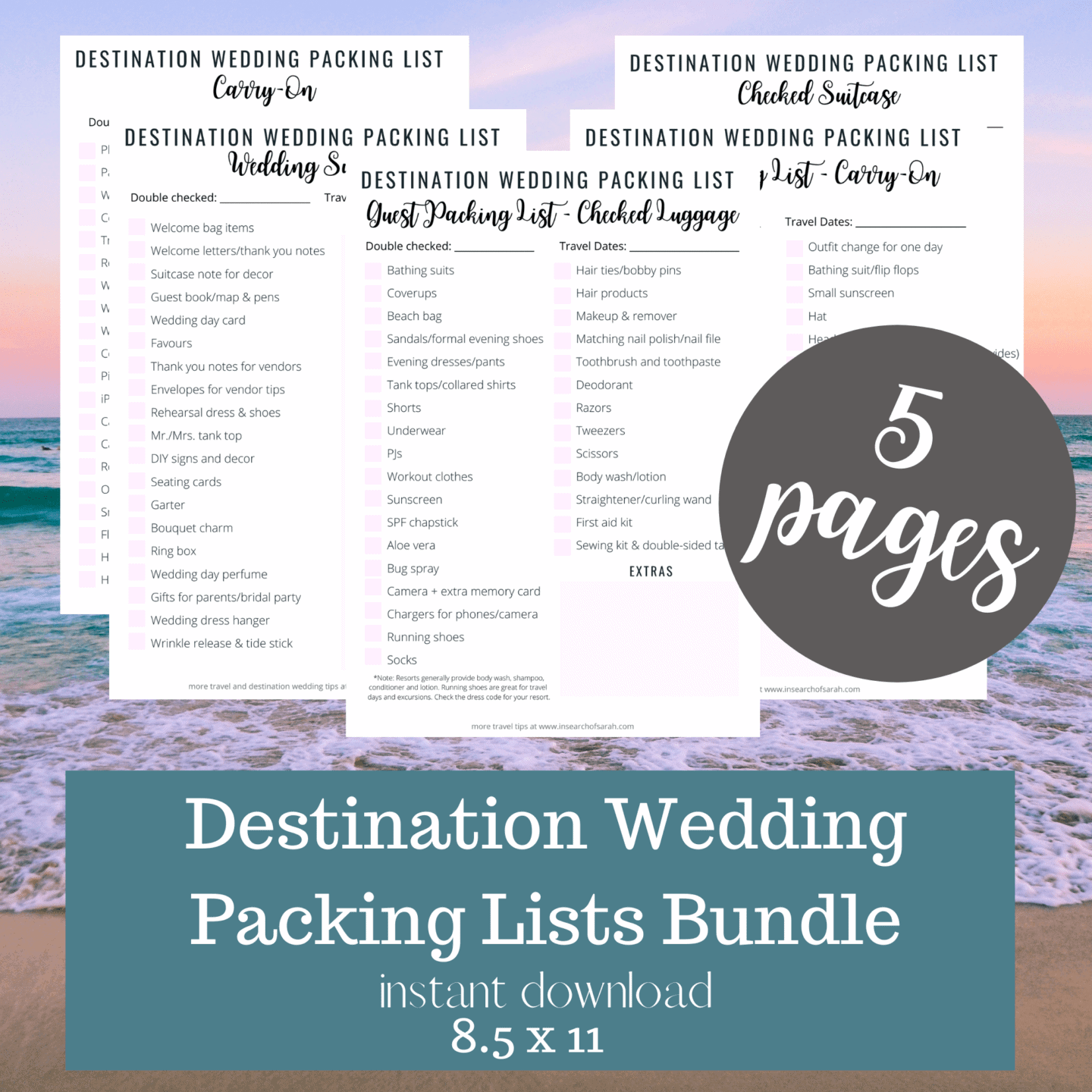 Where to start?
Find a travel agent who specializes in destination weddings and give them a list of your wants and budget. You don't have to visit them in person – they can be across the country!
Will you have children attending or just adults? Do you expect a large attendance or keeping it more intimate? Or maybe a specific country you'd like to get married? Do you want a legal ceremony or symbolic, since legal ceremonies can incur more work and cost? They'll be able to narrow down a shortlist of resorts based on your criteria. There are endless reviews from past brides online to help you get started!
Get active on Facebook – there is no better advice than that of thousands of past brides who have gone through exactly what you're going through right now! Try searching your resort name and "weddings" and see what comes up.
Looking for the best advice and tips from brides who have been there, done that? Check out the best Destination Wedding advice from 33 past brides!
So, is a destination wedding worth it? Without a doubt, yes.
In all my years of seeing thousands of destination weddings (on Facebook!), I have never heard of anyone saying they regret their decision. I promise you won't either! It has led to more vacation planning for anniversary trips and more reasons to explore other countries or resorts.
ps I make a great bridesmaid if you need one 😉
Related Posts
Pin it for later!