Picturesque, charming, and a photographer's dream, Positano is one of the most well-known places along the Amalfi Coast.
The scenery is a feast for the eyes – unique buildings in a dazzling array of colours, there is no shortage of exploring to be done here, whether you're searching for linens or ceramics in the shops or taking in the surroundings on the beach.
Alleyways lined with artists and wisteria lead up to some of the most stunning views in the world, friendly restaurateurs, and enchanting hotels.
Our 7 nights in Positano was an absolute dream and I'm counting down the days until we can return!
Visiting Italy for the first time? Check out these Italy travel tips and things to know before going to Italy!
This post contains affiliate links which means I earn compensation when you click on the links at absolutely no extra cost to you! Feel free to read my disclosure policy. Thank you for supporting my blog!
The towns along the Amalfi Coast are some of the most amazing places in all of Italy, and it's not hard to see why!
The week we spent here was without a doubt our favourite trip (yet!). We ended up renting a villa, which I would highly recommend since you get way more value for money (hotels are expensive here!!!).
Renting your own space, especially if you are traveling with others, will allow you to also shop the markets and experience the local flavours.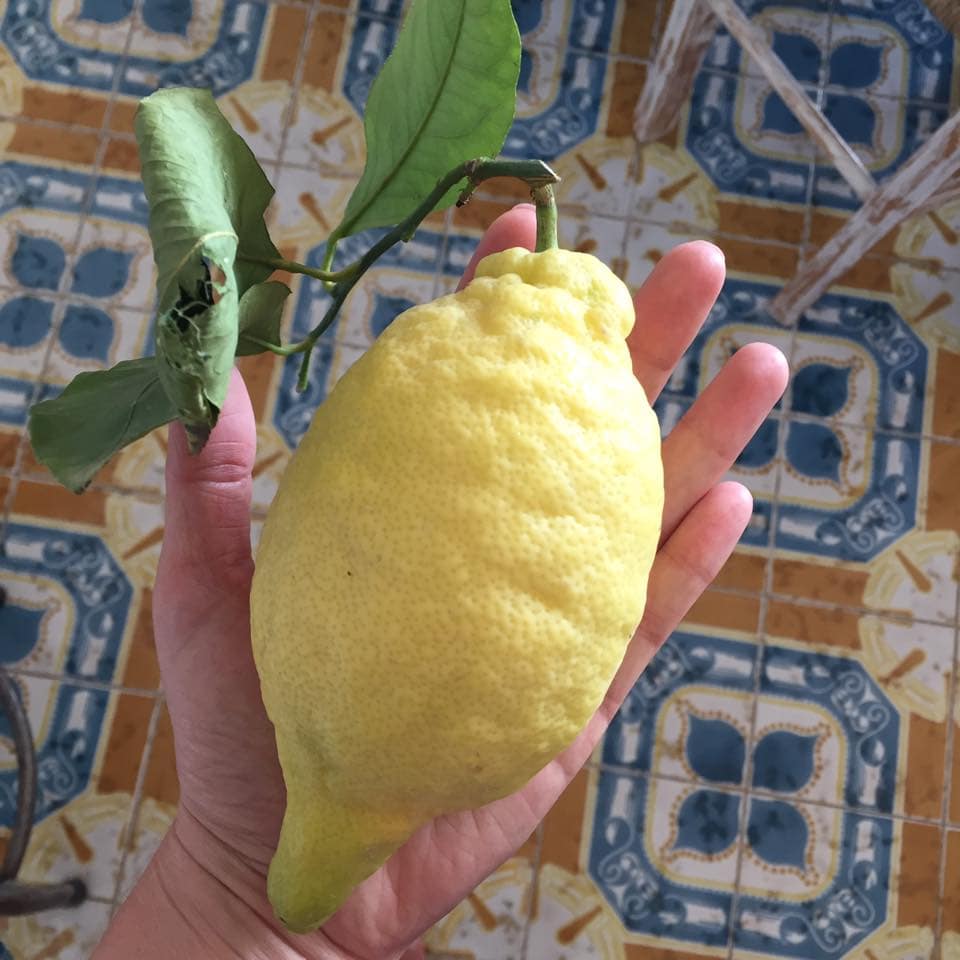 We spent our 7 days meandering the streets, enjoying amazing meals and drinks, relaxing, and doing some day trips.
Positano is really good base location to get to other smaller towns – and not a place you can get bored easily. There is plenty to do even if you don't do any day trips, including fishing, hiking the Path of the Gods, visiting the Church of Santa Maria Assunta, hanging out at a beach club, or partaking in a cooking class!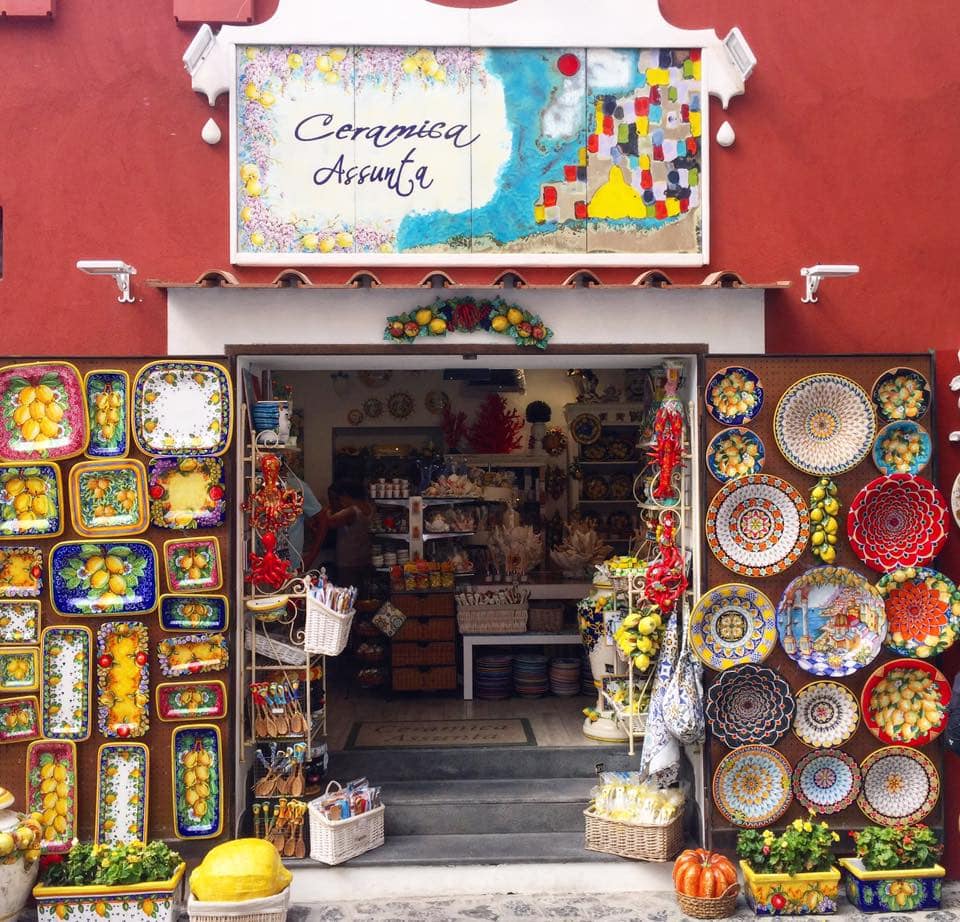 Places to Eat
Some of the best meals of our life were here, and all four of us who went agree. The service was so genial and every restaurant made you feel like you were part of the family. It doesn't hurt to learn a few Italian phrases, but you'll find mostly everyone speaks English.
Brunos – our first meal in Positano! We were SO excited to be here and relax for the week. We all chose pastas dishes (naturally) and enjoy the scenic views. Service was great and it was entertaining to watch the servers run back and forth across the road with our dishes!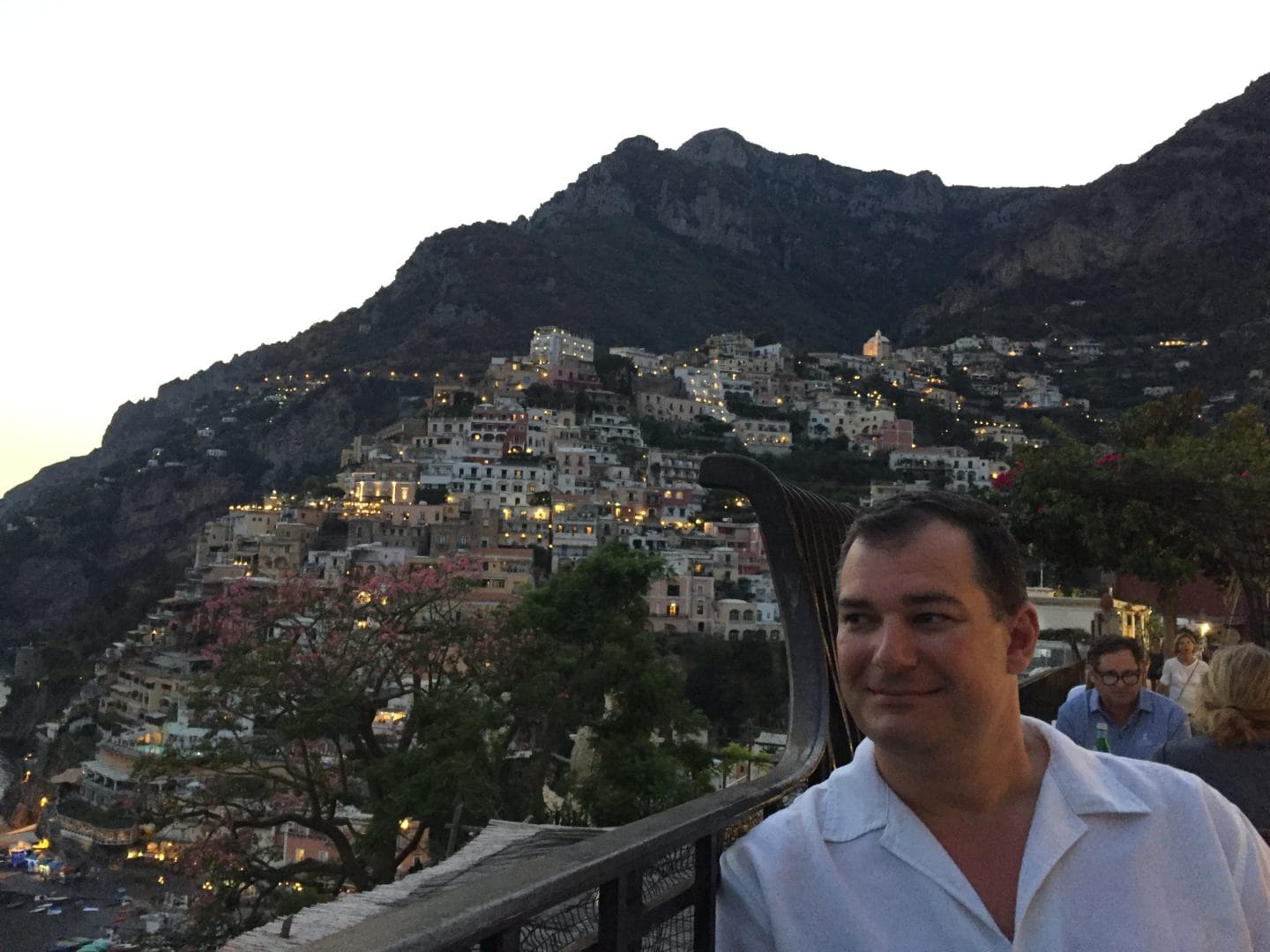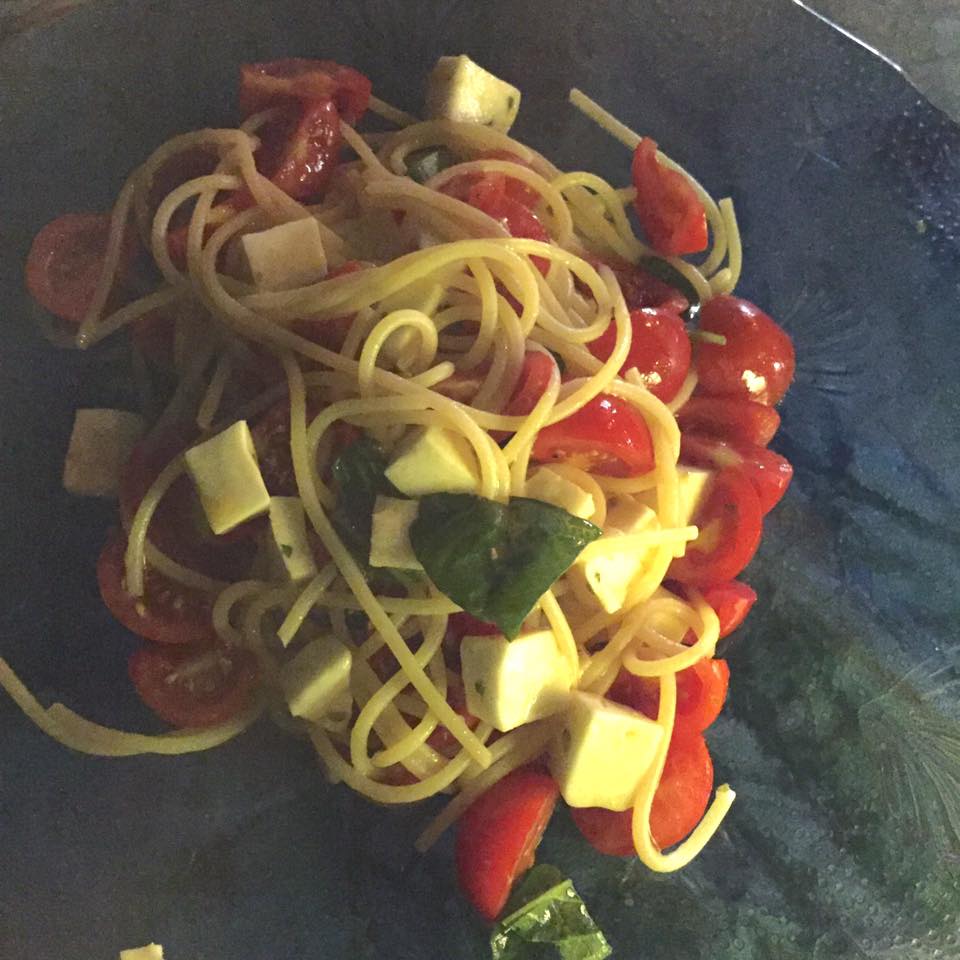 Caffe Positano – GET THE SEAFOOD! This is some of the freshest in the world!!! We had sardines which were the best I've ever had. The view was also out of this world, but I think you'd be hard-pressed to find a place without a bad view.
Il Ritrovo (suggested by our landlord) – we loved this place so much we came here twice.
They provide a free shuttle (request when you call to make reservations) and because it's off the beaten tourist path, you'll find mostly locals up there.
Perched at the top of Positano in Montepertuso, Il Ritrovo was easily one of the best meals we had. Even though the ingredients are simple, there is something about the food here that makes it better than anywhere else.
The cookies were hands down the best we have ever had, anywhere! Sweet Nonna was baking them in the kitchen while we were there!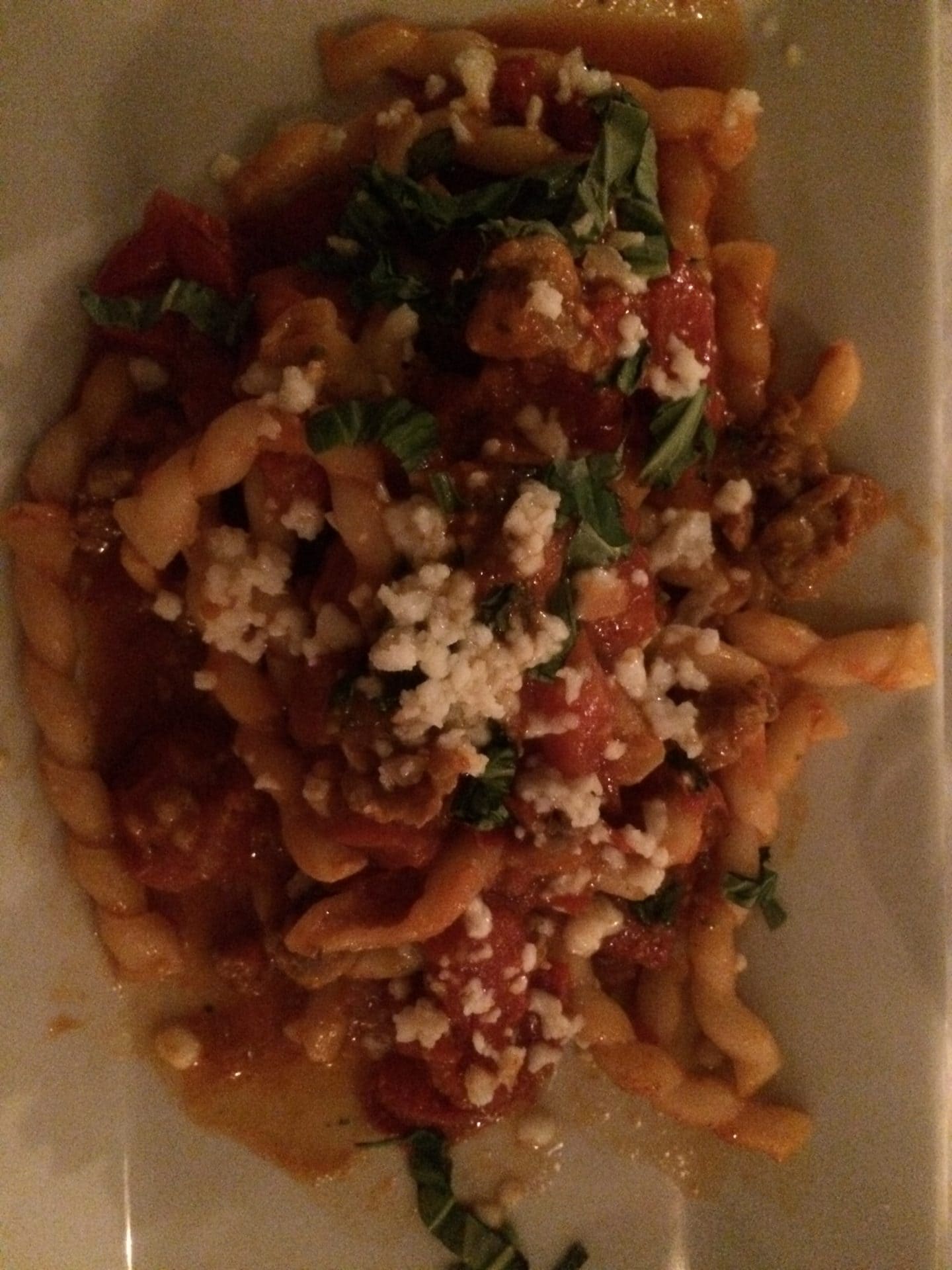 Trattoria La Tagliata (suggested by our landlord) – 40 euros a person (!!!!) for 7 courses and endless house wine of your choosing. All of the food is raised or grown on their property, from fresh salads to rabbit, beef, pork, and chicken dishes.
A literal farm to table experience with the kindest family who came out to serenade us with pots and pans! This restaurant really deserves its own post.
This restaurant also provided a free shuttle which made this one a no-brainer! You could taste the love that went into these dishes. If there is one place you have to eat in Positano, it is this one.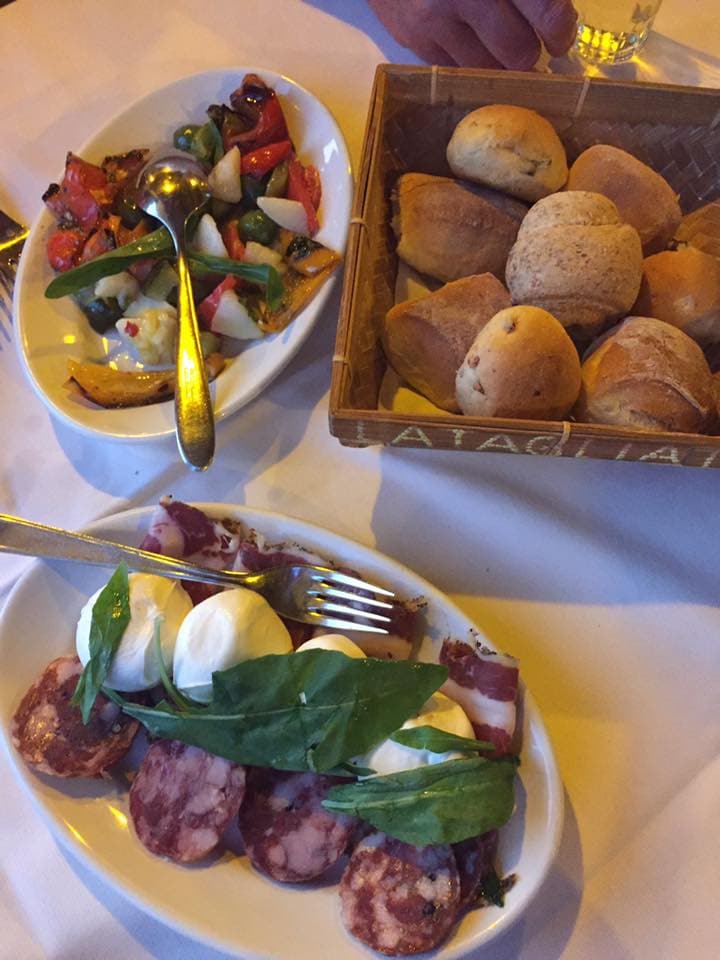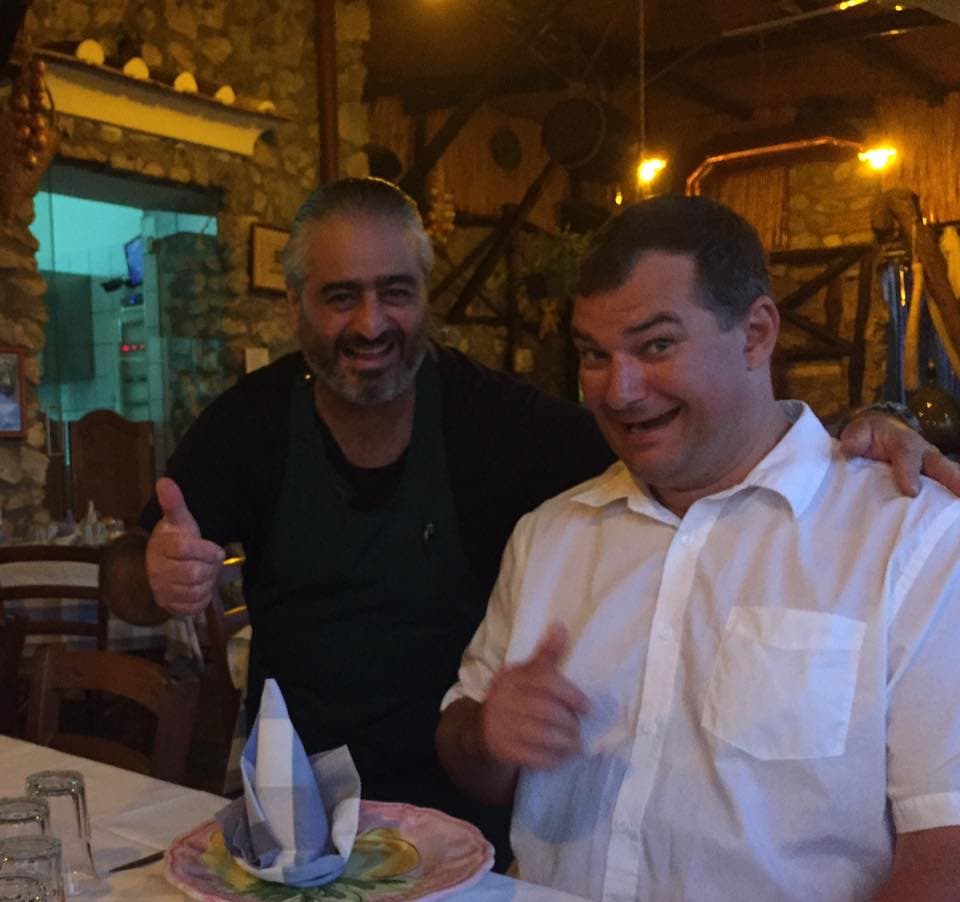 Palazzo Murat – our last meal in Positano – so sad! We splurged a bit here but enjoyed every moment of luxuriousness we felt. Our service and food was superb. If you're looking for a special meal in Positano, you should come here.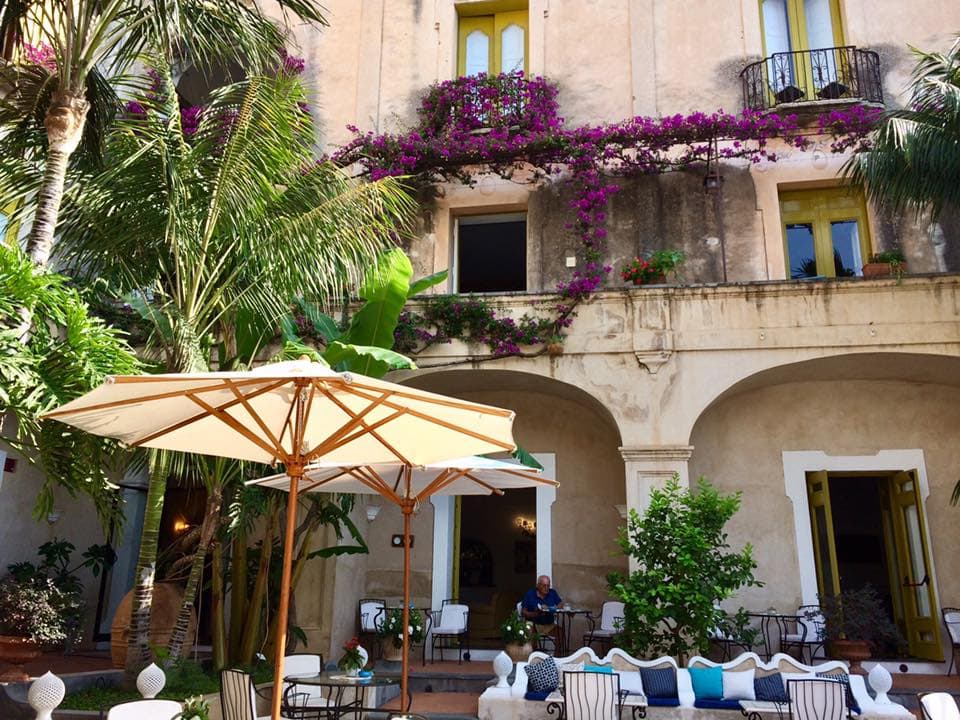 Takeout – one at least one occasion we got takeout to enjoy at home, which was filled with laughs, good cheap food and prosecco and wine from the corner store a few paces down from our villa.
This is another reason why I'm such a huge proponent of renting your own place. If gives you a lot more flexibility and allows you to experience some of the local flavours. And if you're afraid of missing out on a great meal by ordering takeout, fear not, because there is no such thing as a bad meal in Italy.
Coffee & Snacks
Li Galli – situated right on the road, Li Galli has an amazing view of the coastline with some delicious food. Dana and I came here for lunch one day and had incredible caprese pizza and caprese panini. How can they make such simple food so delicious???
By this time we knew what Aperol was, so that was pretty much a staple drink with every meal!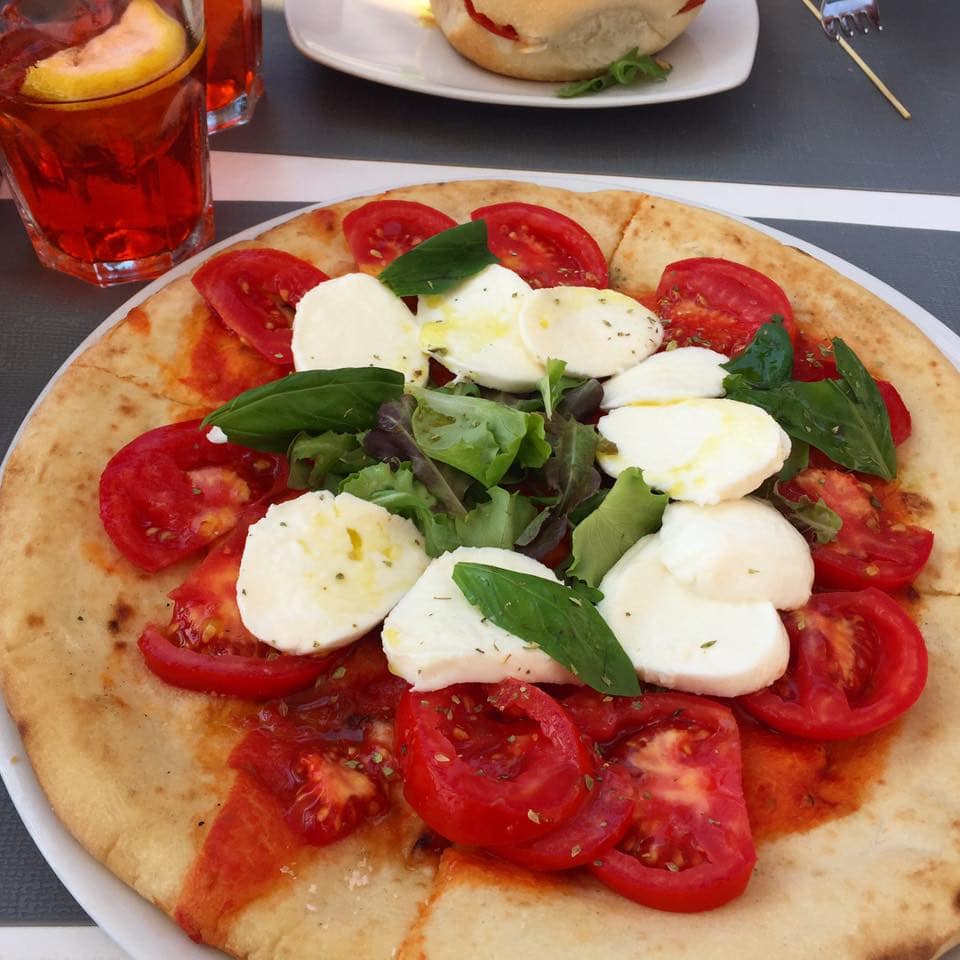 Gelato – don't question it, just get it. My favourite was the chocolate orange with fat strips of rich chocolate and the freshest orange flavour! We also grabbed some for takeout and kept it on our freezer to have at our villa.
Drinks at Francos – if there is one memory we always talk about, it's of Francos. A stylish, upbeat and insanely gorgeous bar overlooking the multi-coloured buildings offers a unique menu of drinks with snacks. I would consider this a splurge but worth every penny (plus I think the drinks are at LEAST doubles!).
Café Zagara – one of the best cafes we went to! We had such a hard time choosing which pastry to try. We settled for a pistachio or hazelnut croissant most times!
The lattes and cappuccinos were delicious. The back room in the café is covered, but allows natural light in and offers a relaxing place to enjoy your treat.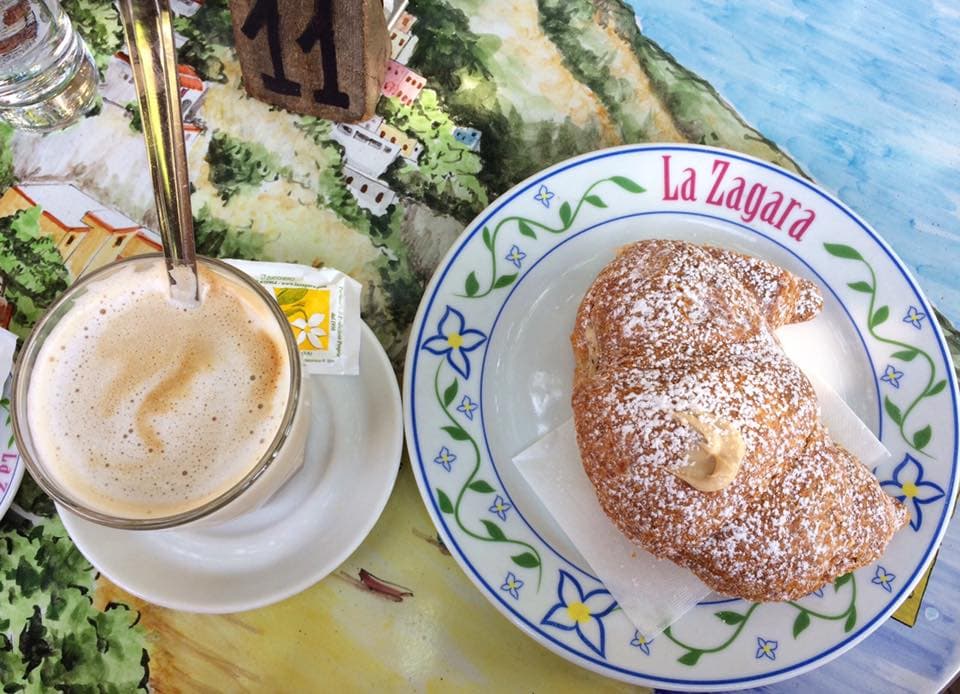 Day Trips
Beach day at Il Fornillo: a 10 minute walk from Positano is a secluded beach where you can rental loungers (and towels) and enjoy a day at the beach.
For €8/lounger and €2/towel (as of 2017), you can enjoy a quieter beach with no shortage of sun loungers. The water was cool and refreshing, and much appreciated after a day in the hot Italian sun!
Day trips to Capri
I highly recommend both – Capri is stunning to see and offers incredible views and high-end luxury shopping. We also enjoyed the small town of Amalfi which can easily be seen in a day, and we had one of our best meals here (Carbonara – surprise!). There are also many day trips to Pompeii and Vesuvius from Positano.
Capri – an easy 30 minute ferry ride from Positano and you're transported to a stunning island with unforgettable views. Upon landing at the dock we bought tickets for the funicular which took us up to the main shopping and restaurant center.
There are TONS of high end shops here (I'm talking Louis Vuitton, Burberry, Hermes, etc.). None of which of course we could afford, so instead of walking around the shops for a few hours we decided to take a walk around the island to take in the views.
Initially I was glad we did. The Faranglioni rocks are stunning from high above, and there are some incredible villas to see. Photos really don't do it justice!
Soon after we came across harrowing sets of stairs that seemed to never end and continued to climb to dizzying heights.
Only until we reached near the end did we find out we walked it backwards!!! Never the less, we all had a good leg workout that day and fortunately the trees provided us with ample shade.
We came across the Grotta di Matermania on our hike – a cave once used by the Romans as a nymphaeum which collected water that filtered through the rocks and served as a place of rest.
We also stopped at the highest part of the path at a charming café with sweeping views. Me being me, I ordered a piece of cake and a hot latte in 40 degree heat. Worth it!!!
Of course there are many other things to do while visiting Capri, including the Blue Grotto (sea cave) boat tour, walking through the ancient Villas of Tiberius (Villa Jovis), where he went after fearing his assassination, and sailing around the island, just to name a few.
Amalfi
A quick 15 minutes from Positano and you're transported to a charming town jam-packed with shops and restaurants. Our highlights here were lemon everything (!!!) including fresh-pressed lemonade, delicious lemon candies, limoncello, lemons the size of your head, and lemon spritz.
I finally found the best Carbonara in Italy, at a small restaurant with plastic chairs and blue and white checkered plastic tablecloths – for just 6 euros and no cover charge (expect to pay 2 euros per person, on average, to sit at a restaurant).
This little eatery was tucked away past the main hubbub of the town, called "La Dolce Vita", where we had two drinks and a plate of Carbonara each and walked out paying 30 euros.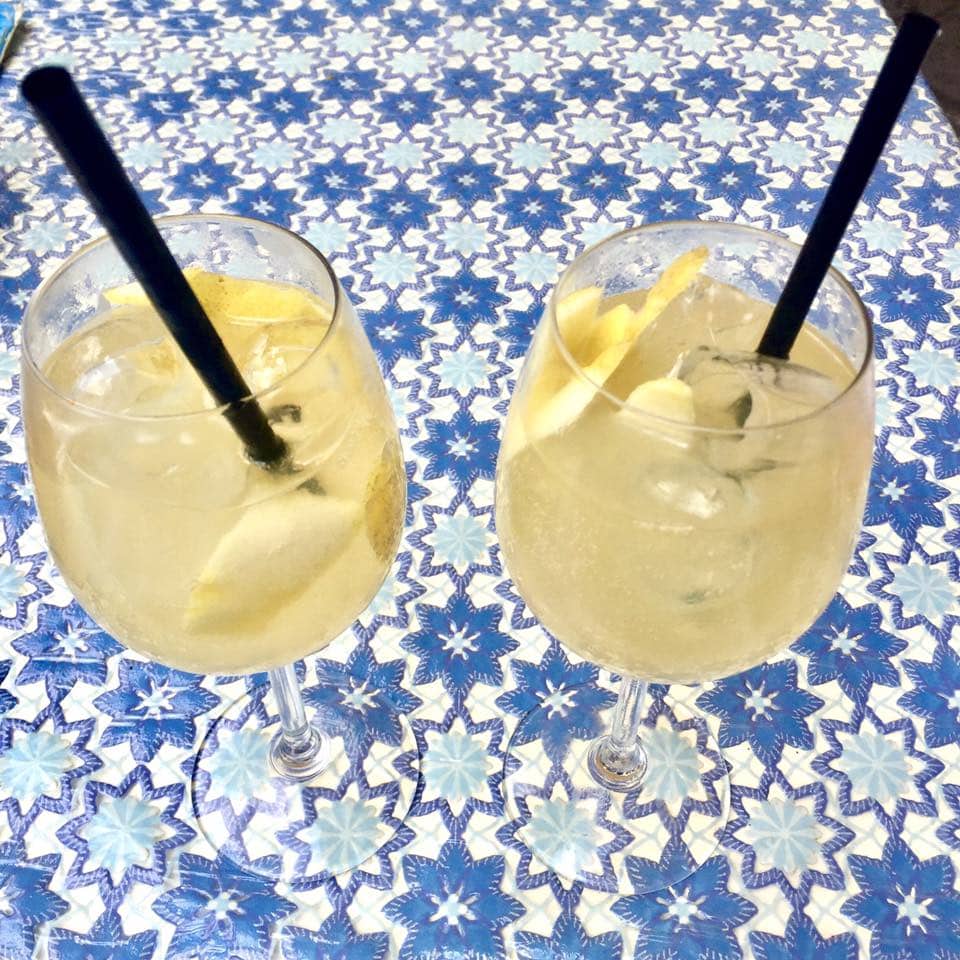 Final Thoughts
Many tours and cruises will stop here for the day – but it doesn't allow you to fully experience this charming little town. 7 days in Positano was the perfect amount of time to see it all and unwind.
If you looking for a base to stay at during your trip to the Amalfi Coast, there are tons of tiny towns dotting the coast, but Positano will offer you more to do than the others. The ferry is inexpensive and efficient to travel between the ports, and while Positano is a hot tourist spot during the day, it is less crowded during the evenings, allowing you to fully enjoy what this village has to offer.
Be prepared for stairs – and bring extra changes of clothes, especially in the warmer months! It's quite humid there, so bring some extra outfits to change during the day. This is another reason why we loved having our own villa to do laundry!
If you are coming to stay here by ferry, be cautious that everything from the port is UP – we saw numerous people lugging their large suitcases up the stairs, and in the heat this can be a monumental chore (which is why I love traveling with a carry-on so much – see my blog post on how to do this here!).
Until next time!
Pin it for later!
Related Posts