If you are making your way from Rome to the Amalfi Coast, a definite must-stop is Naples.
Even if you only have a short amount of time, it's completely feasible to visit the city and tour around Pompeii and if you're feeling adventurous, Mount Vesuvius too!
Naples should be a stop on your Italian itinerary to experience the history. There are plenty of things to do in Naples, but if you only have a day or two to spare, these historic sites are a must-see!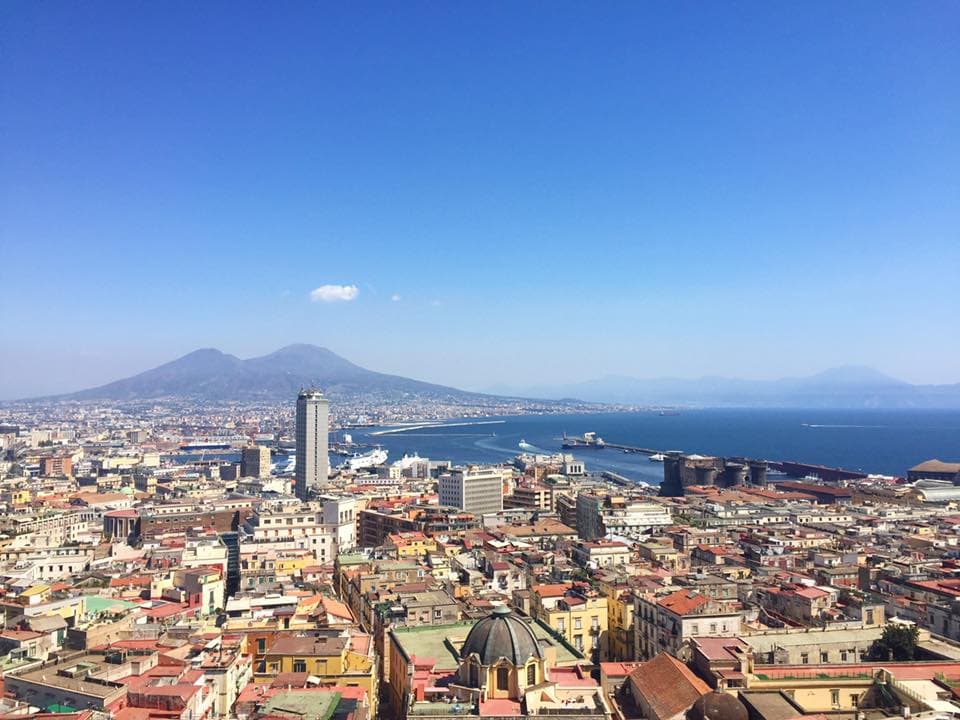 Visiting Italy for the first time? Check out these Italy travel tips and things to know before going to Italy!
This post contains affiliate links which means I earn compensation when you click on the links at absolutely no extra cost to you! Feel free to read my disclosure policy. Thank you for supporting my blog!
Where to Stay in Naples
Naples is an absolutely gorgeous city from above: multi-coloured buildings with sweeping views of the bay over to Capri and Mount Vesuvius. Our hotel, which I recommend to anyone, is Hotel San Francesco Al Monte. It was an absolute dream!
We spent two nights here so we could have a full day tour of Pompeii and Mount Vesuvius. The hotel was once a monastery and now has converted the monks' cells into luxuriously appointed rooms with a rooftop pool and stunning views overlooking the Bay of Naples.
Coincidentally, we arrived midday in Naples on August 24th – the same day Vesuvius erupted in 79 AD. We were hoping for a different fate than that day. 😂
Often the clouds would make it look like Vesuvius was smoking which really grabbed our attention and made for great topics of conversations with friends and family at home!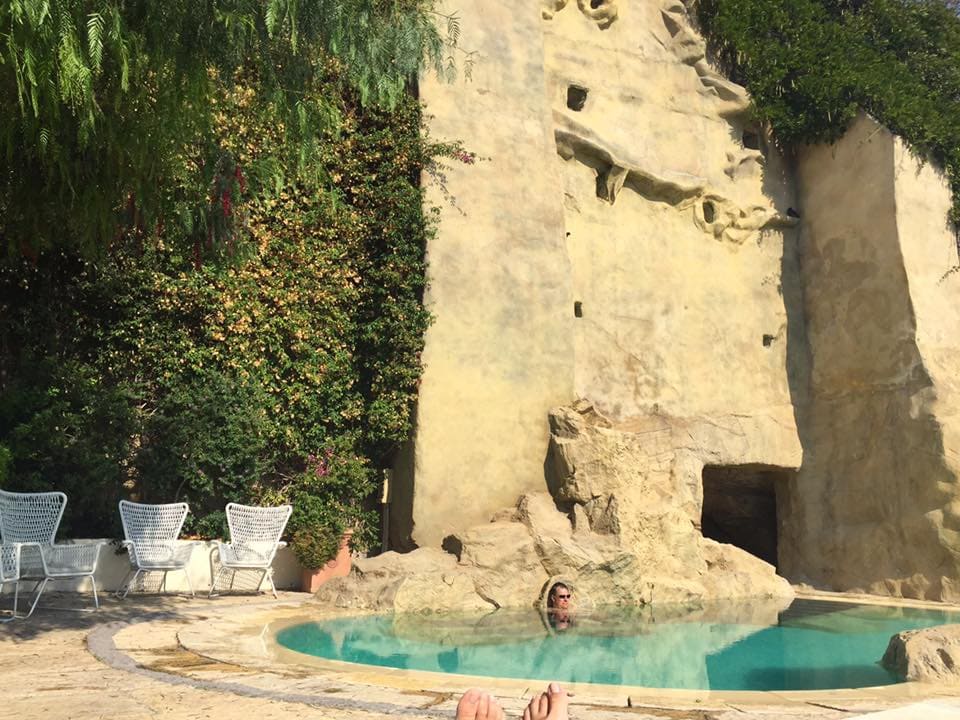 We arrived from Rome early afternoon and enjoyed the amenities of this gorgeous hotel, indulging in Aperol Spritz (naturally!) and prosciutto and melon while lounging in the sun on the large rooftop patio, set up with tons of loungers and seating areas, and a refreshing pool.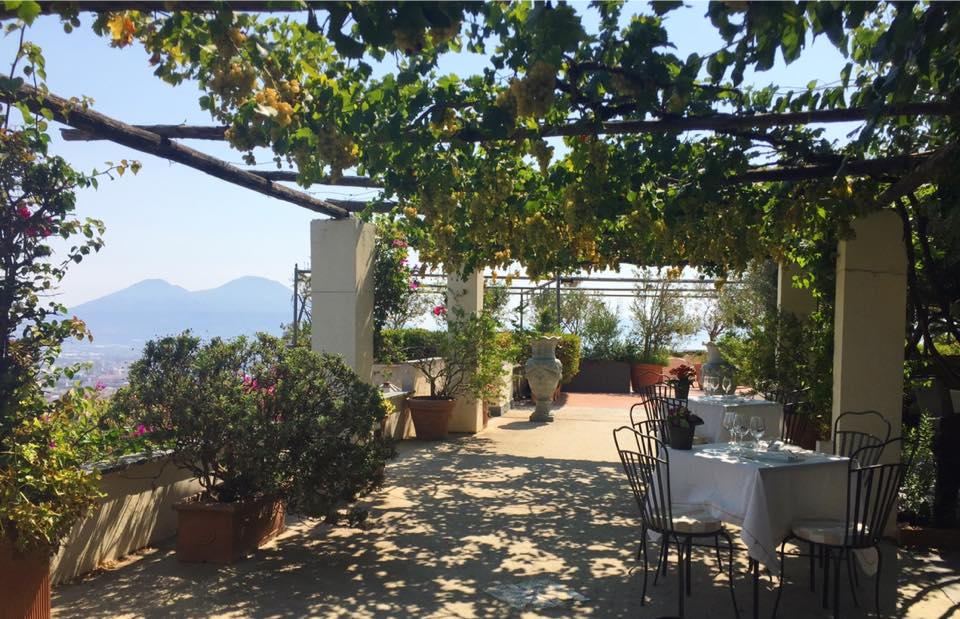 If you stay at this hotel, you really don't even need to leave, making it a great choice for those wanting some rest and relaxation.
The terrace restaurant is a definite must-do, and provides shade from the sweltering August sun from the ancient monks' vegetable garden and old vines with ripening grape clusters.
Alas, being in a new city, we wanted to explore some local restaurants. Our original plan was to dine just down the street that night for dinner, but once we arrived the restaurant was close (😭). If you're anything like me, it was devastating, since I spend a lot of time researching restaurants (read: obsessed 😆).
We discovered that most restaurants will close during August as it's typically when Italians take their holidays. We ventured back to our hotel and had an amazing meal on our rooftop terrace restaurant with an incredible view, and it turned out to be one of the best memories of staying here.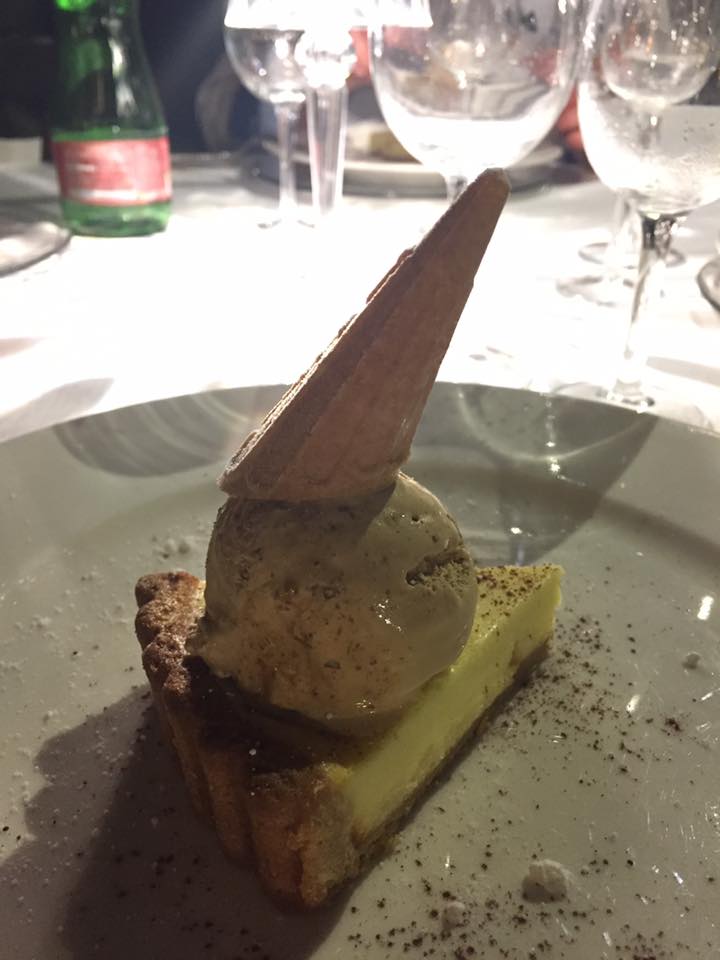 Touring Pompeii
Our full day in Naples was dedicated to Pompeii and hiking Mount Vesuvius – a definite bucket list item for me.
We pre-booked a day trip tour which included transportation which I would recommend doing. The ride through Naples was an adventure of its own, down winding, narrow streets with steep inclines and sharp corners! We also got a great view of the main city and all of the shops and vendors along the way.
Just a word of advice if you aren't doing a complete day package: get the guided tour.
You can access Pompeii on your own, but without a guide you won't have a clue what you are looking at. We learned a lot about what each building was and caught details we would've otherwise overlooked, like the street fountains all having different faces and acting like street signs!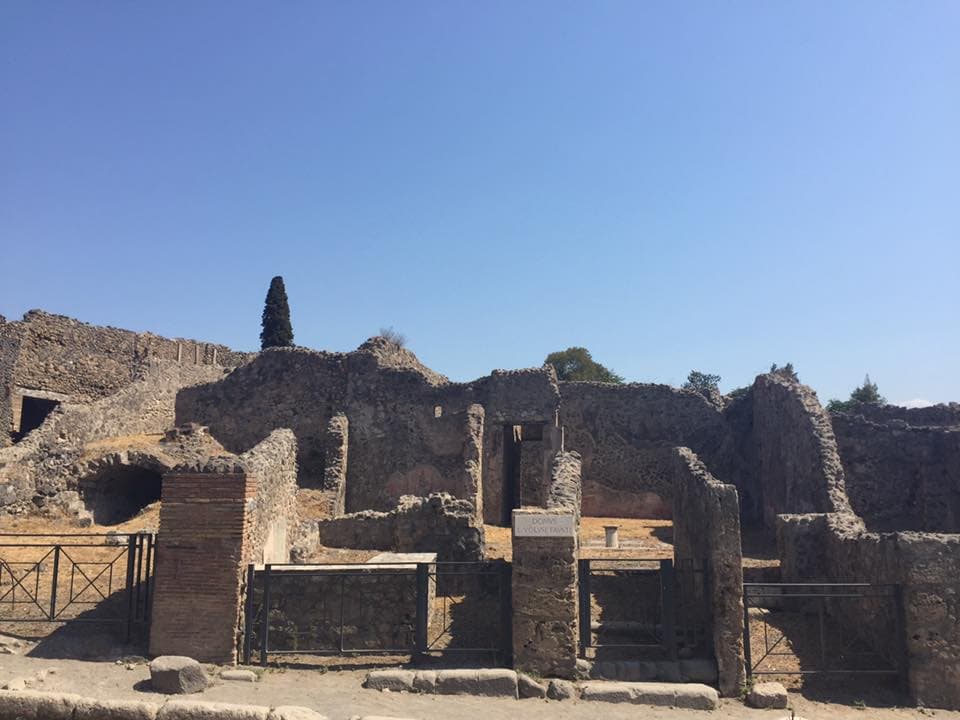 Our guide led us around the ruins and explained the different structures and what they once were – thermal baths, brothel, amphitheater, housing, etc. We were grateful for the guide because otherwise we would've been wandering around aimlessly, and truthfully without a guide, it really won't mean much to you.
Case in point: what do you think this would've meant?🤣

This symbol is one of power and luck , and very much acted like street signs. This one pointed to the brothel. These symbols were found all over Pompeii – on buildings and roadways.
Have an expert show you around. You'll be glad you did!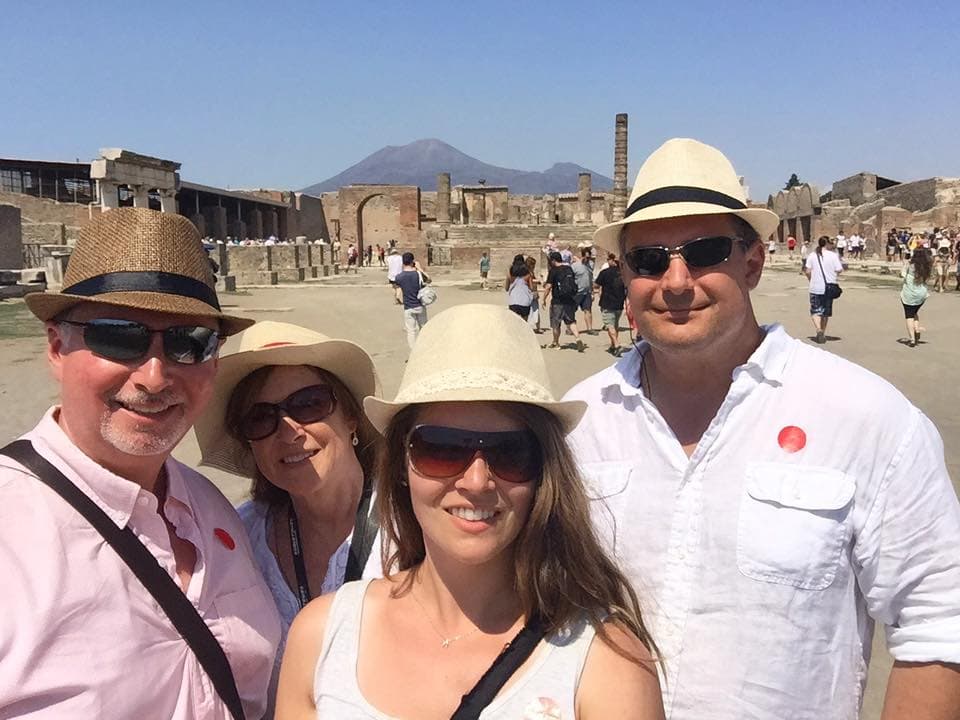 We had about 30 minutes of free time to explore after our tour – which we easily could've spent all day there.
New artifacts are constantly being uncovered which adds to the collection of items, from earthenware, wagon carts, kitchen utensils and sadly, the perfectly posed bodies of men, women, children and dogs.
Hiking Mount Vesuvius
Seeing Mount Vesuvius is an incredible experience!
With so much history (and looming threat!) it was awesome to be able to see Vesuvius in person, after all the stories we've read about it. It surprised us 3 million people live in the "Red Zone" directly on the volcano, and even though Naples has evacuation plans in place in the event of an eruption, the people of Naples have accepted their fate.
Visiting Vesuvius was part of our Pompeii tour, so it included bus transportation to and from the Pompeii ruins.
We saw people of all ages, shapes and sizes hike up – so don't let this turn you off. It's a long walk to the peak but there are many level areas to rest.
There was a time limit for when we had to be back, and my husband and I booted it as fast as we could to the very end of the path – with just enough time to spare. I wish we had more time to really soak in the stunning views of Sorrento from the peak.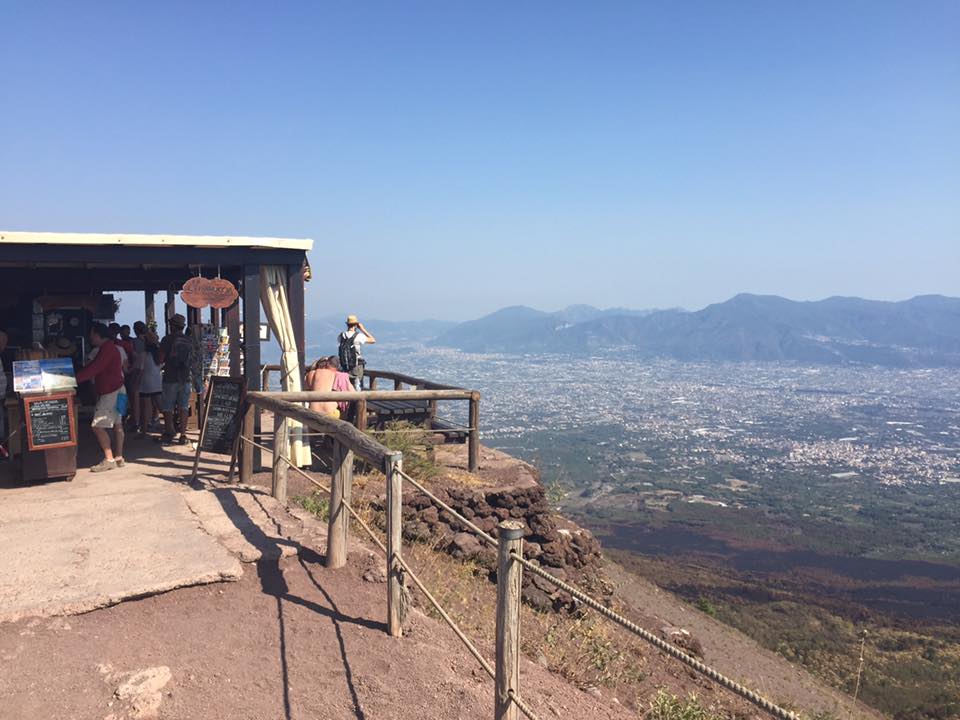 Tips
Wear good running shoes. Walking in flip flops or sandals won't be a very good idea. Trust me, we saw it and it didn't look comfortably. It's a relatively steep incline with a rocky path. You'll want something with grip.
Bring some cash for water. You'll be thirsty and hot and will likely need a drink.
Wear a hat. There is no shade! This is one of my favourites (and great for ponytails!).
Wear sunscreen. Again, with no shade you are fully exposed to the sun. Don't forget about the backs of your knees like I usually do! I like using this one and it's the perfect travel size!
Bring a selfie stick! Ones that fold down are easy to pack, and you'll at least be able to get some photos from the top to prove you were there!
Final Thoughts
We enjoyed our final evening once again at San Francesco Al Monte, soaking in the evening views. We left the next morning, after rooftop lunch under the ancient vines, via driver for a scenic drive to Positano.
There is an option to take a ferry, but there is no direct ferry from Naples to Positano (why, right???) and it would've meant we would have to hike up the winding streets of Positano – not ideal, especially for an older crowd, so just something to keep in mind!
If you're looking for a relaxing, luxurious place to stay in Naples, I would recommend Hotel San Francesco Al Monte without hesitation. The service, rooms and food were amazing and provided exactly what we needed after all of our walking in Rome!
Of course, no visit to Naples would be complete without going to Pompeii. This tour wasn't very busy when we went in August, but there are tours to the less crowded Herculaneum. This would be a place we visit on our return.
I feel as though you can't go to Pompeii without visiting Vesuvius. It's the root of all the history and there's something about staring directly into the crater than gives you goosebumps. It's hard to imagine it going off and it's an experience I would recommend to everyone.
Heading to Positano after? See the best places to eat and what to do during your stay. Or maybe you're heading towards Rome? Only have a short amount of time? See my four day Rome itinerary which will get you to all of the major sites!
Pin it for later!