Planning a trip to Italy? You picked the right place to travel to. Plan your trip with confidence with these travel tips and things to know before going to Italy!
Aside from Italy being a top culinary destination, it's hands down one of the most beautiful countries in the world. With its iconic historic tourist attractions, incredible coastal and countryside scenery, and 58 UNESCO World Heritage Sites, this European country is a feast for the eyes and soul.
Italy is one of those countries you can continue visiting and never get bored. There is so much to see!
While planning a trip to Italy, there are a few quick tips you should know about prior to travelling. Most of these tips I picked up on my first visit to Italy that helped me on my most recent Italian journey.
Have a fun and enjoyable getaway with these quick Italy travel tips!
This post contains affiliate links which means I earn compensation when you click on the links at absolutely no extra cost to you! Feel free to read my disclosure policy. Thank you for supporting my blog!
Plan your next vacation using these tools!

✈️ Book flights: SkyScanner
🏨 Book hotels: Booking.com
🚘Book car rentals: RentalCars.com
🎫Book tours: GetYourGuide
🌍Favourite travel item: Packing cubes
🧳Favourite travel bag: Osprey 40L Fairview
🩹 DIY Travel Medical Kit
💸 20 Cheap Travel Items Under $20
Determine what kind of trip you want to have
I speak from experience when I say you can't do it all– not in one trip anyway, unless if you spend months there!
The itineraries I plan are really aggressive, so our Italy trips are never relaxing BUT we see a lot and I feel like we have to take advantage of the time while we're there and do as much as possible. However, just remember to not wear yourselves out.
Spend time in a city and do it justice.
Hopping from city to city every day or so can be exhausting, expensive, and not really worth it since you're not getting enough of a feel for where you are.
We usually do 10 days in Italy and split our time between Rome (that's always be our base) plus another town or two. This allows us enough time to see and do the things we want to do without getting bored (which is honestly impossible!).
If you want to view art galleries, make that your focus and source out a city known for its amazing art, like Florence.
If you want to go hiking, that's a completely different trip (Northern Italy is fantastic for hiking, by the way!).
If it's a culinary adventure you're after, you'll be spending a lot of your time touring through markets, restaurants, and maybe taking a food and wine tour or two. Bologna is a food-lover's paradise!
But – cramming everything and anything into your itinerary because you're there won't leave you feeling fulfilled. Make it worthwhile and select a few things you really want to see and do and work around that.
Remember, you'll likely be walking everywhere and that itself can be quite exhausting!
Pick the right season
It's hard to know when the right time is to visit Italy.
This really does all come down to what you're able to do, but I will tell you that Italy in the summer is ridiculously hot. Like, so hot you walk outside and you're immediately sweating and your shoes feel like they're melting onto the pavement.
It's also busy since kids are out of school for the summer which gives families more flexibility to travel. That being said, summertime in Italy is expensive (because it's so popular).
While summer clothes make it easy for packing, we found that October is the perfect month to travel throughout Italy – we were even told that by a local! The weather is still warm but not cool, it's less busy, and the prices of accommodations and flights are less.
For these reasons, I suggest travelling in what people call the "shoulder season", which is before or after peak tourist season where it's easier to find a place to stay, eat and visit.
Buy tickets for trains and attractions in advance
Buying tickets for trains and attractions you have planned to see in advance will save you time and money.
Most attractions require advanced booking nowadays anyways (with a selected entry time) so this is a great option to avoid standing in line to purchase tickets.
Just remember to save the tickets to your phone as a screenshot or to your files if you don't have a data plan.
For trains, the more in advance you buy your tickets, the cheaper you will be. I purchased our tickets back to Rome 2 days in advance and saved 80 euros off the gate price the day of.
You'll also be taking a chance by buying train tickets at the last minute since basic ticket seating will likely sell out, especially to popular areas.
P.s. You'll often read about how you have to validate your train tickets. This isn't the case. I didn't validate one ticket! Most ticketing is done digitally now (since the majority of the time, tickets are bought ahead of time) so there's no need to validate tickets. Plus, you'll likely see an attendant who comes through the train to scan your QR code on your digital train ticket. If you purchase your ticket at the self-serve kiosk, keep hold of it for the attendant to check.
Learn some basic Italian
Any major city in Italy is going to be used to dealing with visitors from all over the world, and 99% of them we encountered spoke English or knew enough to communicate.
That being said, it doesn't hurt to try and learn some basic Italian phrases prior to travelling. If they're making the effort to learn our language, it's only right for us to make the effort to try to speak theirs!
They'll appreciate the effort!
Some basic Italian phrases include:
Buongiorno (Good morning)
Buona sera (Good evening)
Buona notte (Good night)
Ciao (Hello / Bye)
Come stai? (How are you?)
Sto bene. (I am fine)
Scusi (Excuse me)
Mi dispiace (I am sorry)
Per favore (Please)
Si, No (Yes, No)
Grazie (Thank you)
Prego (You're welcome)
Arrivederci (Goodbye)
Parla Inglese? (Do you speak English?)
Quanto costa? (How much is it?)
Non capisco (I don't understand)
Cover up at religious sites
If you're planning to visit sites like the Vatican, you'll want to keep in mind that there is a dress code.
A really convenient and lightweight option is to carry a scarf that opens up to a shawl to cover your shoulders if you're wearing a tank top.
You'll also want to make sure your knees are covered. I got around this by wearing a maxi dress.
Be respectful of these sites.
Get an eSIM for your phone
Thanks to my husband, I was informed about an eSIM instead of a physical sim card for my phone.
Normally I wouldn't care about having data since I usually use WiFi wherever we stay, but I knew I was going to need data to navigate.
Through Airalo, I got 10 GB of data valid for a 30 day period for only $16 US!
If you want to give this a shot, use my referral code to save $3! I can't believe how much money I saved, since through my usual carrier I'm charged $15/day for data outside of Canada.
Keep in mind this doesn't have a voice option, so this may not work for you if you require making phone calls. We ran into this issue while trying to arrange a taxi, but we asked a cafe owner if he would call one for us which he did no problem!
I also ran into an issue buying train tickets and having my bank validate my purchase by texting/calling my number to verify it was really me making the purchase.
For some reason the text from my bank never came and I couldn't get a call for verification, either. I got around this by using my PayPal account to pay for the tickets. Just an FYI!
I used about 1 GB of data a day, so the 10 GB package was perfect for our 10 days. You can also purchase daily top-up packages in case you run low. I wish I knew about Airalo years ago!
The installation guide is easy to follow and use, and the instructions are straight forward. Your data package for your chosen country won't be activated until you arrive there. I enabled mine as we were getting on the plane to leave Canada and turned off my own cellular package.
Save $3 off your first Airalo eSIM!
Use code SARAH6496 when you sign up or apply it at checkout.
Pack light!
I cannot stress this enough when travelling throughout Italy: pack light!
If you're planning on visiting a few cities, you'll want a piece of luggage that's easy to maneuver/carry/lift, etc. Lugging around a huge 50 lb suitcase through the city isn't very much fun, plus you may come to realize you've overpacked!
If you're staying at a hotel, you can enquire about laundry service, but if you book through booking.com, you can check ahead of time if your unit has laundry.
We've been lucky on our trips where we've either had laundry or a balcony to dry clothes. Even with this, we still find we overpack with our carry-on backpacks!
We bring a small container of liquid laundry detergent and have washed the basics like socks, underwear and t-shirts in the bathroom sink. It may sound rustic but it's gotten us through and has saved us a lot of luggage space!
Just remember that you can get more than one use out of a pair of pants, t-shirt, and sweater. Pick clothes you can mix and match to create different outfits, and wear your heaviest articles of clothing on the plane to avoid bulk in your backpack.
P.s. I LOVE my Osprey Fairview 40 pack. I will never go back to a rolly suitcase again after having my backpack. It's surprising how much you can fit in there, and with the compression straps it makes them carry-on friendly.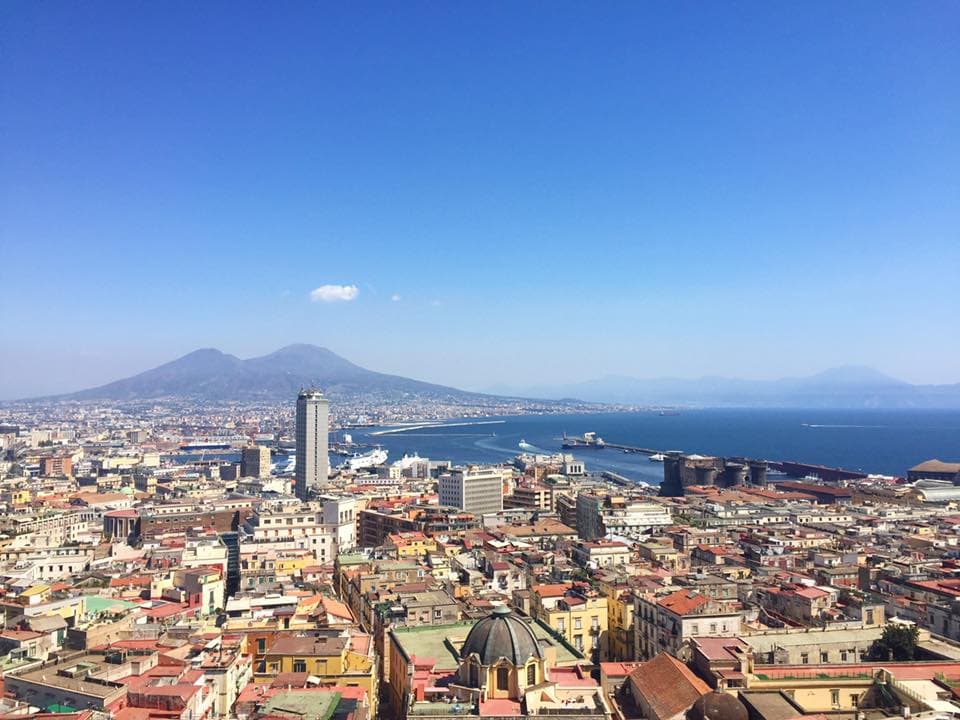 Plan your outfits, but don't stress about them
You may come across blogs or articles stating to dress a certain way, wear a certain type of footwear, don't wear this, don't wear that, because you don't want to look like a tourist.
Well, newsflash, over 9 million people visit Rome alone annually, and I guarantee you that you absolutely do not have to worry about what you're wearing. You don't have to worry about looking like a tourist, well, because, everyone is!
Prioritize comfort over fashion.
Pick clothes and shoes that are practical, and will keep you cool and functional, rather than just based on looks alone.
There's nothing wrong with wanting to be fashionable (Italians are quite stylish, after all!) but keep in mind you'll be walking around a lot, no matter where you're travelling to in Italy, and you want to ensure your clothing and footwear will keep you comfortable enough to enjoy all the amazing sites!
Don't dine near tourist sites
Avoiding dining nearing tourist sites is kind of a given.
This isn't to say the food is bad, but you'll be paying a premium for location. That isn't necessarily a bad thing, since it's sometimes worth having a meal with an amazing view, but just be warned you'll be paying a lot more for where you're sitting.
It's nice to splurge every now and then for a special meal – I've done it too! One of my favourite things is grabbing an Aperol Spritz in front of the Pantheon at night and taking in the views.
We've found that some of our favourite meals have been off the beaten track and down back alleys. The food has been incredible as well as the hospitality.
Money-saving tip! I've recently found a very cheap alternative in Rome if you're looking to enjoy a drink at an iconic location. There are a few places near the Pantheon that offer 5 euro Aperol Spritz to go! Our favourite was Bar 99 – Gelateria Artigianale, which is just 5 minutes away. Grab one and go sit on the steps at the fountain at the Pantheon. You'll get the same experience at a fraction of the cost!
Taxis will charge for luggage
Taxis in Rome (and elsewhere in Italy) are an efficient way of travelling around.
Something you may not be used to where you're from is that the cab drivers in Italy will charge you for luggage. You're not being scammed, this is just how they do things there.
This charge is normally a euro for each piece of luggage, so the total you see on the meter is pre-baggage handling!
Tips on finding a Taxi at Rome's Fumicino Airport
If you're landing in Rome, finding a taxi is very simple.
Just follow the signs leading out of the airport and look for the taxi stand.
The flat fee to Rome city centre is 50 euros one way. You may be approached by others offering to drive you to town, but be wary you will likely be paying significantly more than what a taxi would charge you.
Go with the reputable Rome white taxis. We had a private driver once (prior to all of this knowledge!) who got us to town in record time, I'm sure, as he sped to town. I had visions of my trip to Italy being over before it even started, and we paid 80 euros!
Bring (or reuse) a water bottle
What I love most about travelling throughout Rome is the abundance of free-flowing water fountains found throughout the city. Grab a bottle of water for 1 euro at a store (or any vendor by main attractions) and keep the bottle!
The water in Rome is safe to drink and it's delicious. Some fountains are even automated and dispense sparkling water. It's the best I've ever had, too, which sounds funny since it's just water!
Reusing a water bottle will save you tons of money and keep you hydrated.
It can be really hot in Rome during the summer (and even on our most recent trip in October – holy cow I wasn't expecting that kind of heat!) and having water fountains every block or two was a nice surprise.
Stick with regional specialties at restaurants
I highly recommend eating the regional dishes wherever you travel throughout Italy.
In Rome, a popular dish is Carbonara. For Florence, you have to try the Florentine Steak. For Bologna, you'll want tagliatelle al ragu (Bolognese sauce!).
By sticking to what the area is known for, you'll almost guarantee you'll be getting the best version of it. Although – while pizza may have originated from Naples, it's definitely delicious everywhere we've gone!
Carry cash and card
Some establishments only take card while some only take cash – pretty usual.
I like carrying a variety of bills and paying for things by cash to avoid 1) my credit card number being stolen (I use RFID sleeves while they're in my purse but you never know!) and 2) to steer clear of the foreign credit card transaction fees.
It's definitely easier using a card, but cash helps you budget if you're sticking to one!
Have a photo of your passport on you
When we were stopped by police in Florence, I wasn't sure why we were being asked for our passports.
I obviously didn't have it on me since we always leave them in the safe wherever we're staying, so I was asked for a photo of it.
Fortunately for me, I had a photo of both of our passports from a year prior (here I was standing in front of the church in Florence scrolling through thousands of photos for my passport haha). I asked why they needed it and was told it's a normal police check.
I wonder what would've happened if I didn't have a copy of my passport? I will also always carry a form of ID on me, like my health card or driver's license for this reason. I'm sure without a photo of a passport, a form of ID would've sufficed.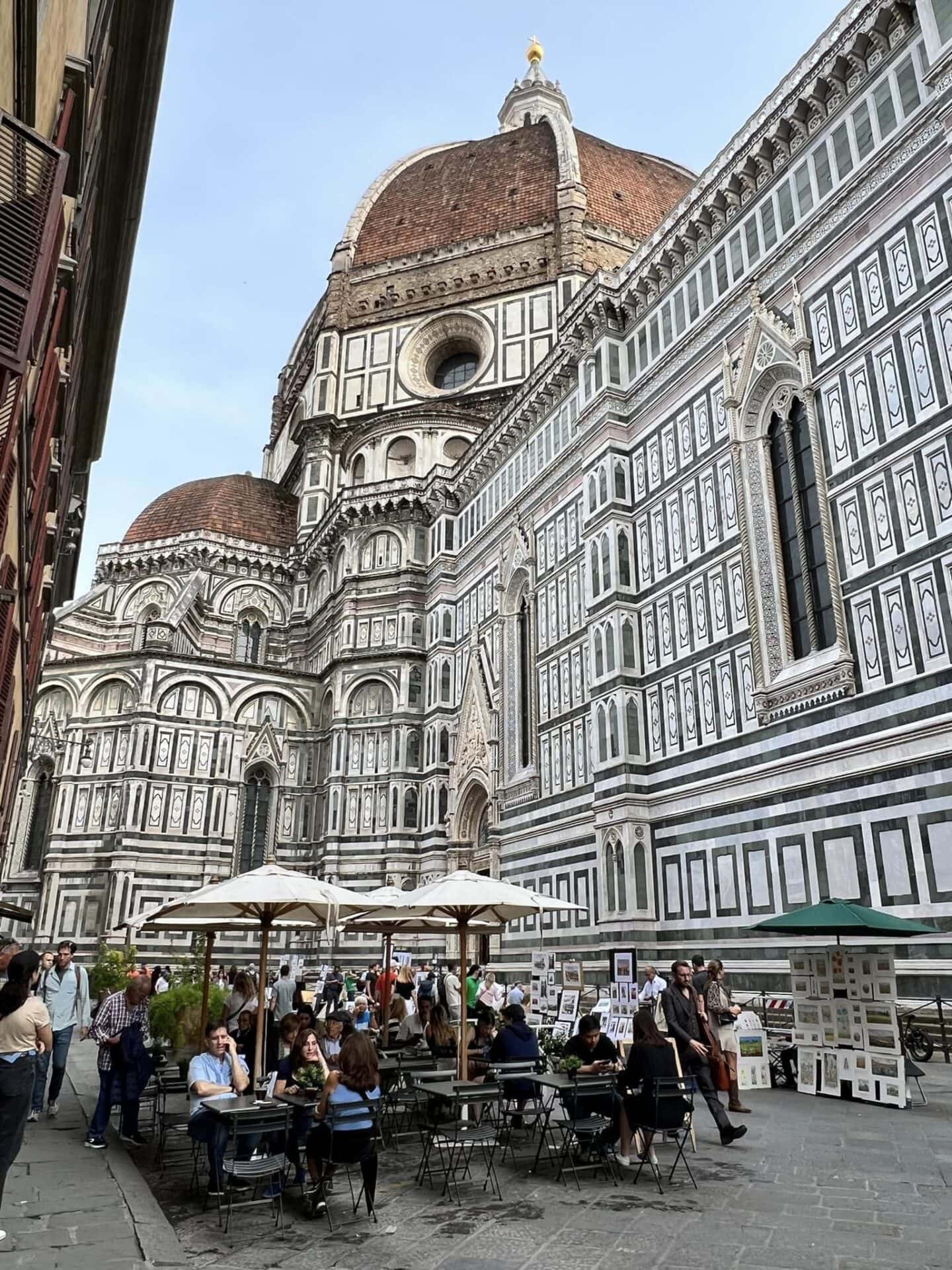 Be aware of travel scams
We saw these scams most prominently in Rome, but it's good to be aware of your surroundings at all times.
You'll be told about pickpockets at the busiest spots, like Trevi Fountain, the Colosseum, Spanish Steps, or Pantheon, but be wary of those who throw gadgets or jewellery at you.
Once you touch it, they'll tell you it's a gift and to keep it.
If you walk away, they're start telling you how they have family and to help them out. Those trinkets are not gifts.
Don't fall for it! We saw so many people sucked into the game – it happened to me on my first visit to Rome when one of them actually put a bracelet on my wrist before I realized what was happening. Steer clear of them and avoid eye contact.
You'll also find photographers near these tourist sites trying to take your photo – don't fall for it either. I never caught how much you'll be charged but by the time they take your photo it'll be too late.
Don't be afraid to say no!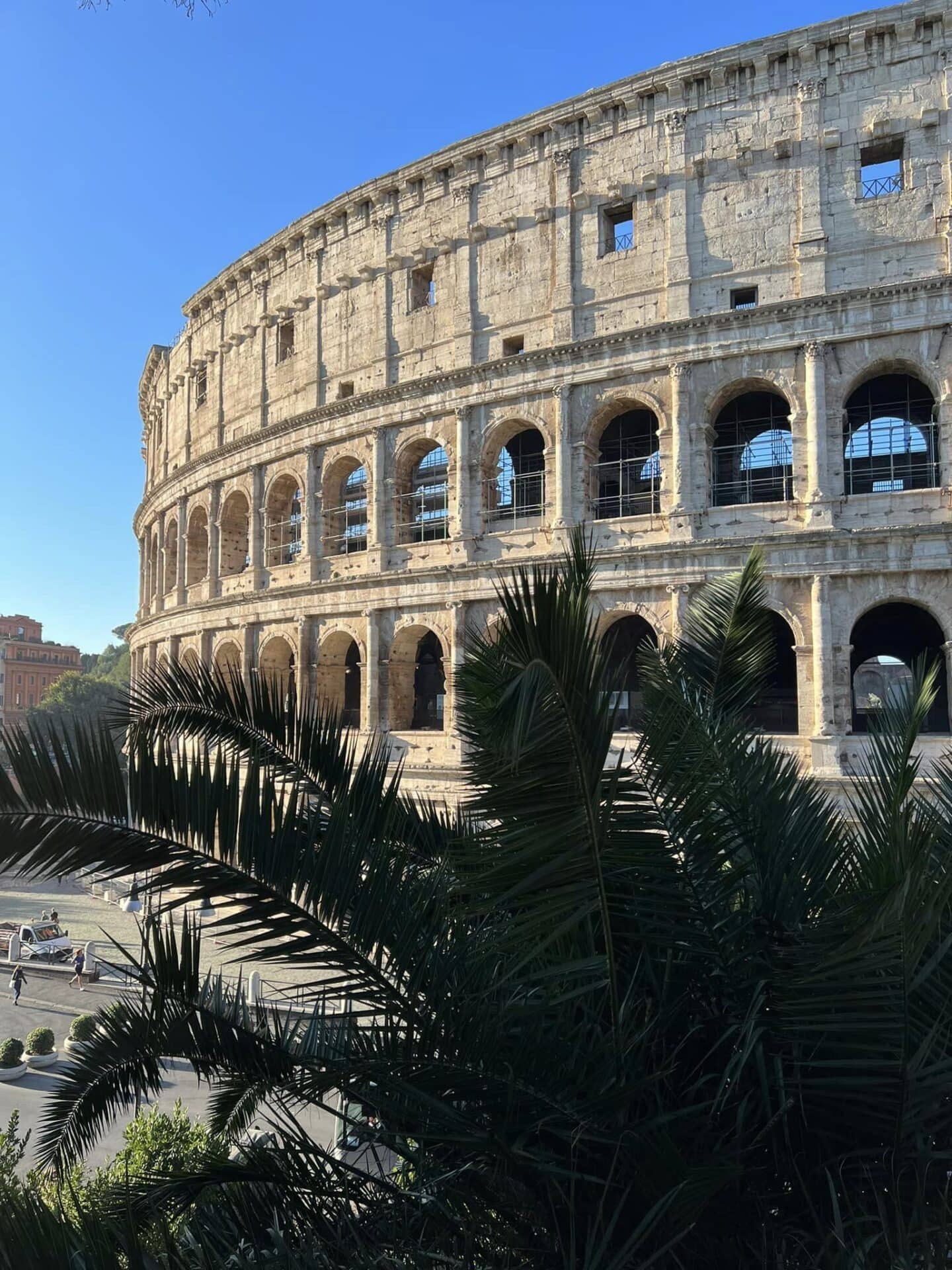 Related Posts
Pin it for later!