Italy is one of the most diverse countries we've ever been to. From gorgeous natural sites, amazing food, stunning architecture and rich history, you can visit Italy ten times over and still discover hidden gems!
Northern Italy is one of my favourite regions in the country. While places like Rome and the Amalfi Coast attract millions of visitors each year, Northern Italy has some of the best places to visit that shouldn't be ruled out.
Find out why you should plan a trip to the north during your trip to Italy!
Is this your first trip to Italy?
Here's what to know before going!
This post contains affiliate links which means I earn compensation when you click on the links at absolutely no extra cost to you! Feel free to read my disclosure policy. Thank you for supporting my blog!
Plan your next vacation using these tools!

✈️ Book flights: SkyScanner
🏨 Book hotels: Booking.com
🚘Book car rentals: RentalCars.com
🎫Book tours: GetYourGuide
🌍Favourite travel item: Packing cubes
🧳Favourite travel bag: Osprey 40L Fairview
🩹 DIY Travel Medical Kit
💸 20 Cheap Travel Items Under $20
Best Places to Visit in Northern Italy
From charming villages nestled in the Alps, historic cities bustling with life, and spectacular water views, northern Italy has endless options for your next trip.
Let's check out some of the best places to visit!
psst. Don't have enough time to read this right now? Pin it and save it for later!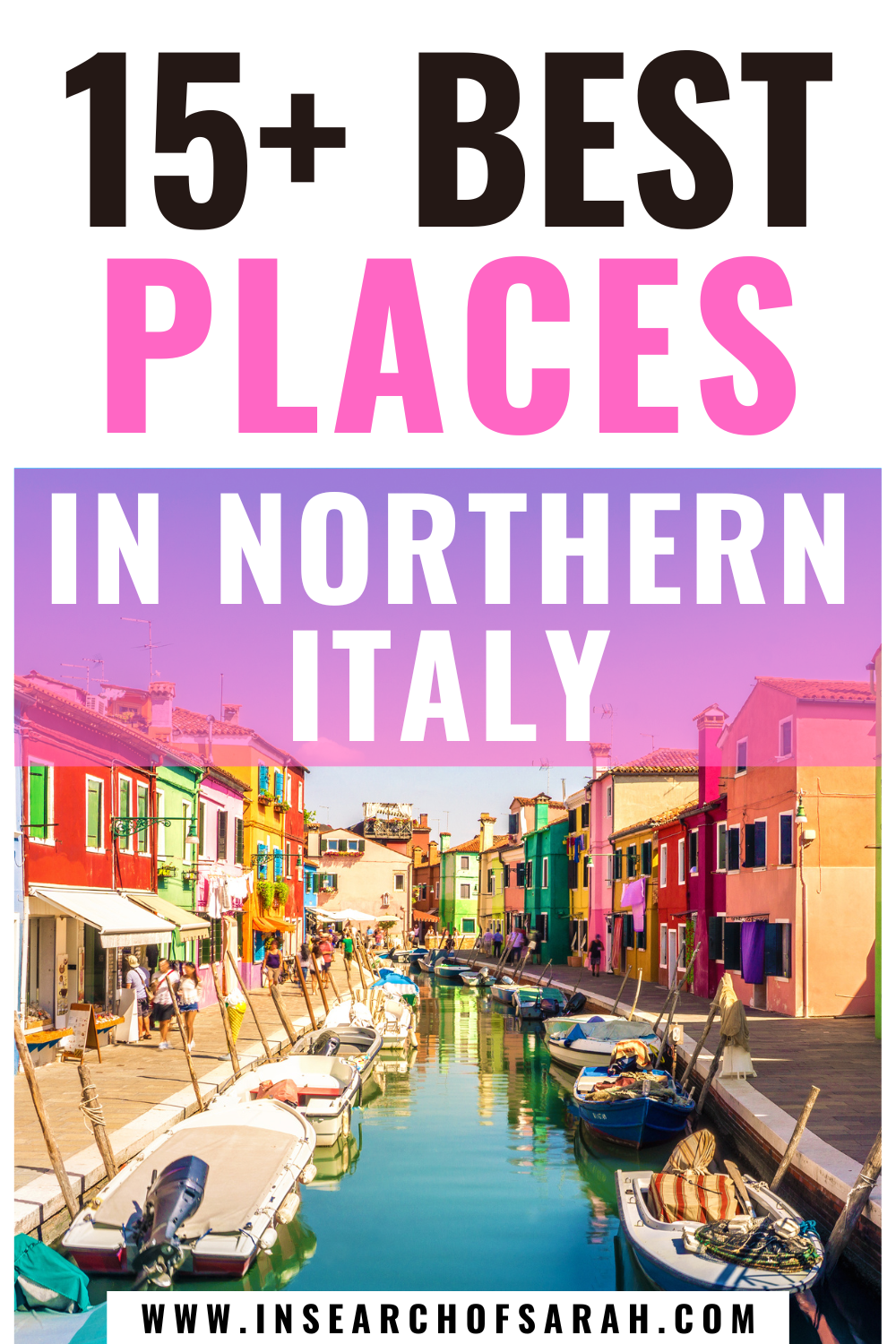 Bologna
Bologna is a food-lover's paradise! You know this historic city is the place to be when Italians flock here for their weekend getaways and shopping!
There is a relaxed vibe in Bologna that makes you feel like you're immersed in the local life rather than just a tourist passing through. You'll find most activity around Le Due Torri – the iconic two towers – in the heart of the historic city centre that date back to the middle ages!
During the day you'll find crowds gathering in Piazza Maggiore to view the stunning San Petronio Basilica, the famous unfinished church that houses the largest sundial in the world.
Bologna is the birthplace of bolognese sauce. You can enjoy this in many forms of pasta here, including tagliatelle and lasagne. Tortellini is also a must-try, either in a soup or on its own.
Parma ham, Parmigiano Reggiano, and balsamic vinegar from Modena are also local favourites that won't compare to anywhere else during your travels throughout Italy!
Known as a university town, there are a number of free things to do in Bologna, including museums, views of the city, touring the old Jewish Ghetto, visiting the city's oldest food market, searching for hidden canals, and so much more.
Stroll through the historic city of Bologna and soak in the history. Visit the oldest anatomical theatre in Europe, wander through the streets' many porticos, visit ancient churches, and indulge in some of the best food you'll have in Italy.
While staying in Bologna, there are a number of self-catering places to stay or hotels. For a quiet and luxurious stay just a 10 minute walk from Piazza Maggiore, Attico di Via d'Azeglio offers quiet and plush accommodations. Your stay includes breakfast at a local cafe downstairs.
Lake Como
Como is a beautiful town located in the Lombardy region of Italy, on the shores of Lake Como. It is known for its stunning lake views, historic architecture, and cultural attractions.
If you're planning a trip to Como, there are plenty of things to see and do in the town itself as well as some great day trips to take from Como.
One of the top attractions in Como is the Basilica di San Fedele, a beautiful medieval church located in the town centre. The church is known for its Romanesque and Baroque architecture and stunning frescoes and is a must-visit for anyone interested in art and history.
Another popular attraction is the Cathedral of Como, also known as the Duomo di Como. This beautiful cathedral, located in the town centre, dates back to the 14th century and features Gothic architecture.
If you're interested in shopping and dining, Como has plenty to offer. The town is known for its high-end fashion and design, and you can find a wide range of designer boutiques and stores throughout the town. Como is also home to a number of excellent restaurants and cafes, serving a variety of Italian and international cuisine.
For those interested in nature, Como is a great destination. The town is located on the shores of Lake Como and surrounded by mountains, and there are plenty of opportunities for outdoor activities such as hiking, biking, and boating.
You must take Como-Brunate funicular to the charming town above Como for sweeping panorama views of the Como town below and the beautiful mountains of the region.
Recommended by Wandernity
Venice
Venice, famed as the Italian capital of romance, is a cultural and historical powerhouse that must be on everyone's Italy itinerary.
A quintessential tourist spot, Venice offers a city built on water, with a charming network of tight alleyways framed by ornate Italian Gothic architecture, picturesque canals, a rich culture leading back centuries, and a unique atmosphere.
Honeymooners, families and solo travellers alike, will find plenty to do in Venice. Start your day at the grand St. Mark's Square, topped by the basilica of the same name. Take a walk through its elaborate interiors before exploring the rooms of the Ducale Palace.
The absolute best way to experience Venice is by simply getting lost. Head toward the Guggenheim museum, or the adorned markets of the Rialto Bridge. Then, work your way around the historic centre and back to the main square. Make sure to stop for some cicchetti (small bites on bread) in a local osteria.
If you have more than 2 days in Venice, take a boat trip out to the islands of Murano and Burano – Murano, famed for its beautiful glassware and Burano for its colourful streets – a great day spent away from the shores of romantic Venice.
If you land at Venice Marco Polo Airport (VCE), book yourself a water taxi for a scenic journey into the historic city centre. A quintessential Venetian experience to travel the waters and canals by boat, plus you will get a great introduction to the landscape of Venice before reaching your hotel.
Recommended by Haley Blackall
Burano
Burano is a small island located in the Venetian Lagoon, in Northern Italy. It is known for its colourful houses and lace-making tradition, making it a popular tourist destination.
Most people visit Burano on a day trip from Venice, combining it with a visit to the neighbouring island of Murano which is known for its tradition of glassmaking.
Upon arriving in Burano, visitors are immediately struck by the vibrant hues of the houses lining the canals. Each house is painted a different colour, creating a rainbow-like effect throughout the island.
It is said that the bright colours were originally chosen by fishermen to help them locate their homes when returning from the sea. The tradition continues until today and locals are not allowed to paint their houses without first getting permission from the government.
In addition to the colourful houses, Burano is also famous for its lace-making tradition which has been one of the most important activities in the island for centuries.
Visitors can watch the lacemakers at work in one of the island's lace museums, or purchase a piece of handmade lace as a souvenir from one of the many specialized lace shops.
Burano is a small island, so it is easy to explore on foot or by bike. You will not need more than a day to discover all the island has to offer, which is what makes Burano such a great destination to escape the hustle and bustle of Venice.
To make your day trip to Burano complete, stop for lunch at Trattoria al Gatto Nero to have their signature dish called risotto ai gò which is made with a typical fish from the Venetian Lagoon.
Recommended by Mauka Travels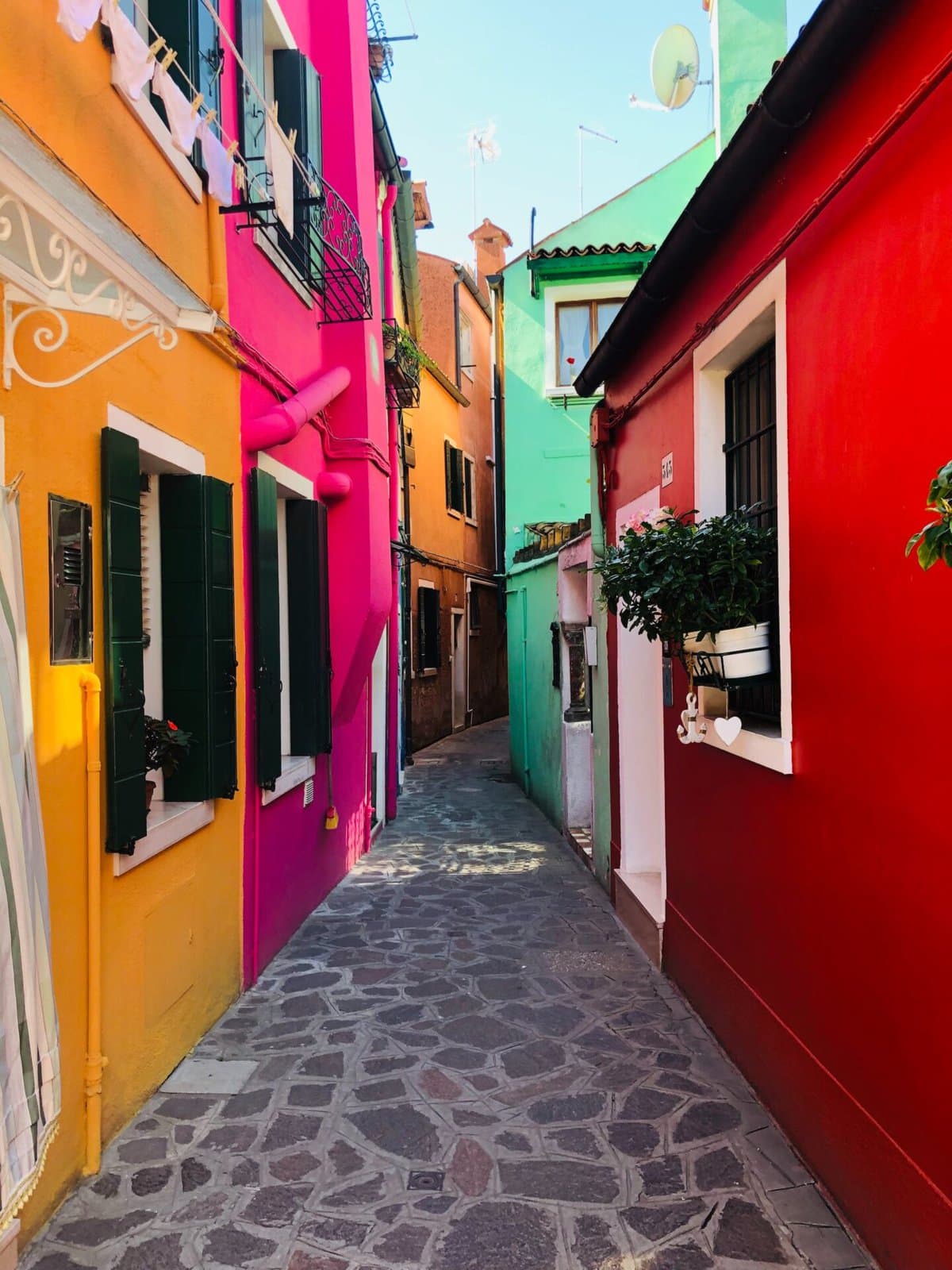 Lake Garda
One of Italy's most beautiful lakes to visit is undoubtedly Lake Garda, the largest of all the lakes in the Italian Lake District.
It is located in Northern Italy in the Veneto region and is a popular holiday destination for Italians and international travellers.
Lake Garda's crystal-clear waters and coastal towns make for a picture-perfect scene. Take to the water on an organised boat trip or hire your own for a few hours and cruise around the lake, taking in the views of decadent Italian villas, lemon groves and hillside villages.
On dry land, explore charming towns like Limone and Bardolino for a glimpse of 'La Dolce Vita' or jump aboard the Malcesine cable car and head up Monte Baldo to admire the breathtaking panoramic views on a leisurely mountain-top walk.
For the younger family members, Gardaland, Movieland, and Caneva Water Park are fun places to spend the day, or for a more relaxed experience, head to the Riva del Garda waterfall and cave for a day in nature.
Wine lovers can taste the region's specialities on a wine tour at Guerrieri-Rizzardi winery in Bardolino and afterwards stroll around the Pojega garden and see the statues, fountains and manicured borders of these historic 18th-century gardens.
Of course, lakeside walks are one of the most popular and romantic things to do around Lake Garda, whether it's a short stroll after breakfast or a magical sunset walk to watch the twinkling reflections on the water.
With so many things to do around Lake Garda, this beautiful destination is a must-visit in Italy with many luxury accommodations including the 4-star Hotel Caesius Thermae & Spa Resort, the perfect place to relax and unwind after a busy day of sightseeing.

Recommended by Where Angie Wanders
Milan
If you're looking for a big city to visit in Northern Europe that's perfect for a weekend getaway or a week-long trip, then Milan is the perfect place. It is the second most populous city in Italy and frequently viewed as the Italian equivalent of Paris!
For starters, Milan is globally recognized as the fashion capital of Europe! So if you're looking to shop around some high-end designer stores, such as Prada, Gucci, and Louis Vuitton, head over to the Galleria Vittorio Emanuele II. It's the oldest shopping gallery and the entire building is a tourist attraction in and of itself.
Right next to the Galleria Vittorio Emanuele II is the spectacular Duomo cathedral. Milan is world-renowned for its beautiful architecture, and the Duomo's stunning gothic architecture is a testament to this! Therefore, you'll want to make sure you take a few minutes to walk around the Duomo and admire the six centuries of work that went into constructing it!
And if you're looking for a fun place to hangout, head over to the Navigli district! The Navigli is a vibrant area with a couple of canals, tons of restaurants, and lots of bars. This is the go to area if you're looking to party into the night with a youthful crowd.
Overall, Milan is a vibrant city that offers something for everyone! Whether you're looking for an exciting night out, want to purchase some luxury goods, or just want to wander around some museums and enjoy the city's architecture, you can find it all and more in Milan!
Recommended by Global Travel Escapades
Fusine Lakes
The Fusine Lakes are one of the most magical destinations in Northern Italy and can be found tucked away at the foot of the Julian Alps. The two glacial lakes are called Lago di Superiore (upper lake) and Lago di Inferiore (lower lake), and are a captivating sight all year round.
Due to their favourable location on the border where three countries meet, the lakes can be easily reached from Italy, Slovenia, and Austria. They also make a fantastic day trip from Croatia, especially if you are staying in Zagreb.
When visiting the Fusine Lakes, plan to spend at least two hours exploring the area. There is an easy walking trail that circles around Lago di Superiore that, depending on your pace, takes around one hour to complete.
The path itself is mostly flat and there are a number of benches along the way where you can sit and rest to take in the spectacular views. The reflection of the mountain in the lake is truly a sight to behold.
There are paths connecting the upper and lower lakes, making it easy to navigate between the two. Just on the northern side of the lower lake is a small restaurant, Belvedere. While they do not have many food options, it is a great place to enjoy a drink after walking around the lakes.
Recommended by Inspired by Croatia
Alba
One of the best places to visit in northern Italy is the city of Alba and the surrounding wine country.
The beautiful city of Alba is in the northern Italian region of Piedmont, 50km south of its capital Turin. Alba is famous for its white truffle. It is also the main town of the Langhe, a hilly area recognized by UNESCO for wine and fruit growing. Especially in autumn, during the grape harvest and the world-famous truffle fair, the narrow streets of the historic old town fill up.
In the heart of the medieval town, in Piazza Risorgimento, is the impressive Alba Cathedral. The cathedral's bell tower is one of the tallest in Piedmont and still houses the original 12th century bell. Around the main square, lined with arcades, it is excellent to sit and taste the local specialties.
The vineyards surrounding the town produce the famous wines Barolo, Barbera, Barbaresco, Dolcetto and Nebbiolo. Barolo, produced 100% from the Nebbiolo grape, is one of the best red wines in the world. The small village of Barolo is located just a few kilometres southeast of Alba.
In the small village there are several wine shops with nice seating areas and balconies where Barolo can be tasted and bought. Barolo is overlooked by a castle, which houses a wine museum.
In the surrounding area there are many more beautiful wine castles and wineries that offer visitors wine and local product tasting in a dreamlike atmosphere.
Alba and the Langhe are not for nothing one of the most popular destinations for gourmets and wine lovers and one of the best places to visit in northern Italy.
Recommended by Insieme Piemont
Gran Paradiso National Park
The beautiful Gran Paradiso National Park is one of the best places to visit in Northern Italy.
Founded in 1922, it is the first national park in Italy, half of which is in the regions of Valle d'Aosta and Piedmont. So far it is little to not known at all to tourists and therefore a great place to enjoy unspoiled nature in the alps.
Its centre is the 4061 metre high Gran Paradiso, one of the highest mountains in Europe. For many alpinists it is one of the easiest to climb mountains above 4000m and therefore perfect for beginners to mountaineering.
60% of the 70000-hectare national park is located above 2200 metres of altitude. It is home to 51 species of mammals, 101 species of birds and over 1000 species of alpine plants. Although not in the centre of the park, the beautiful lake plateau below Colle del Nivolet is the heart of this wild natural paradise.
Easy hikes lead from the 2612m high mountain pass to and around the many deep blue mountain lakes or, for more experienced hikers, to surrounding 3000m peaks with fantastic views of the Swiss Alps and the Mont Blanc in France.
This Eldorado for hikers and nature lovers can be reached in summer by a free shuttle bus from the small, Piedmontese mountain village of Ceresole Reale.
The Gran Paradiso National Park, being considered one of the most pristine and wild natural parks in Europe and therefore definitely one of the best places to visit in northern Italy.
Recommended by Hiking the Alps
Cortina d'Ampezzo
Cortina d'Ampezzo – located in the stunning Ampezzo Valley of the Italian Dolomites is one of the best places to visit in Northern Italy. Not only this, but Cortina is also known as one of the world's most popular mountain destinations!
There are so many things to do in Cortina d'Ampezzo – whether you're here in winter for the skiing, snow and vibrant Christmas atmosphere, or in the summer for the spectacular hiking trails and views.
Cortina has some of the best skiing in the Alps, with over 120 km of slopes for all levels. The views from the slopes are mesmerising, but if you'd prefer to admire the mountains from below, visit the pedestrianised main street of Cortina – Corso Italia.
Cortina is a lively town and there are plenty of restaurants, cafes and wine bars with terraces for you to relax and enjoy the views with an Aperol spritz!
Cortina also has some of the best day hikes in the Dolomites. If you fancy an easy hike, do the hike from Cortina to Lake Pianozes. The hike to Sorapis Lake is longer, but the lake is an incredibly stunning turquoise colour.
If hiking isn't your thing but you still want to enjoy stunning views, take the cable car to the top of Tofana Mountain.
Summer and winter are peak seasons here and it gets very busy so make sure to book accommodation and restaurant reservations in advance! Hotel Cortina is a really great place to stay.
The nearest airport to Cortina is in Venice – less than a 2 hour drive away. Whilst driving is the easiest way to get to Cortina, finding a parking space can be difficult so you may want to consider taking the train or bus to get here. Cortina is very compact and easy to get around by foot.
Recommended by 24 Hours Layover
Ferrara
The beautiful UNESCO world heritage city of Ferrara, located in the Emilia-Romagna region of northern Italy, is an absolute delight to explore. It's easy to do as a day trip by train from Bologna, but it is definitely worth spending a night or two there.
With its towering castle, numerous piazzas, a stunning 12th-century cathedral, a diamond palace, museums, parks and far too many monuments to mention, there is plenty to keep you busy in this gorgeous town.
All the major sites are close to each other, so the city is easy to explore on foot. Why not join a walking tour to learn about Ferrara's long and fascinating history and Jewish ghetto?
Love shopping? Visit Ferrara at the weekend and wander around one of the farmers' markets.
Rent a bicycle and cycle around the old city walls, then reward yourself with a drink at Al Brindisi, the world's oldest wine bar, located just around the corner from the cathedral.
Or do as the locals do and simply relax and enjoy a coffee or a glass of wine in one of the many charming cafes on the main Piazza Trento e Trieste. It's a beautiful place to soak up the atmosphere and people-watch.
You must try Ferrara's signature dish, the delicious cappellacci di zucca – hat-shaped pasta filled with pumpkin.
Top tip: If you are visiting Ferrara as a day trip, especially on a Sunday, make lunch reservations in advance. The city is a very popular day trip from nearby Bologna, and the Italians love their food. For a small town, there are five Michelin star restaurants.
Fallen in love with the city and want to experience one of the many excellent restaurants and stay overnight? Consider staying at the Locanda Borgonuovo B&B or Princess Art Hotel, both of which are a very short walk from Ferrara's main sites.
Recommended by Life Part 2 & Beyond
Cinque Terre
The Cinque Terre is a group of five enchanting coastal villages on the Ligurian Coast of Italy. With their picturesque little houses, spectacular setting, and charming little main streets, they are definitely among the best places you can visit in Northern Italy!
In just two days in the Cinque Terre, you can enjoy a variety of activities, from lazing on the beach to hiking scenic trails and sampling the delicious local cuisine.
The five villages are Manarola, Vernazza, Corniglia, Monterosso, and Riomaggiore. All other than Corniglia are located right on the sea. Corniglia is located high in the hills overlooking the sea. The villages are connected by train, and you can also visit by ferry in season.
Monterosso al Mare has a beautiful beach where you can catch some rays. The region is also a national park, known for its hiking trails.
Although not all of the famous Blue Trail connecting all five villages are currently open, you can still hike some sections of it for beautiful views of the terraced vineyards, the sea, and the colourful village houses.
The Cinque Terre is known for its seafood and for pesto, which originated in the region. So be sure to try the local pasta with seafood and pesto for the ultimate local specialty!
The Cinque Terre are a hugely popular destination, so you may want to visit in the shoulder months (April or October) to avoid the worst of the crowds. You may run into some rain in these months though.
Recommended by It's Not About the Miles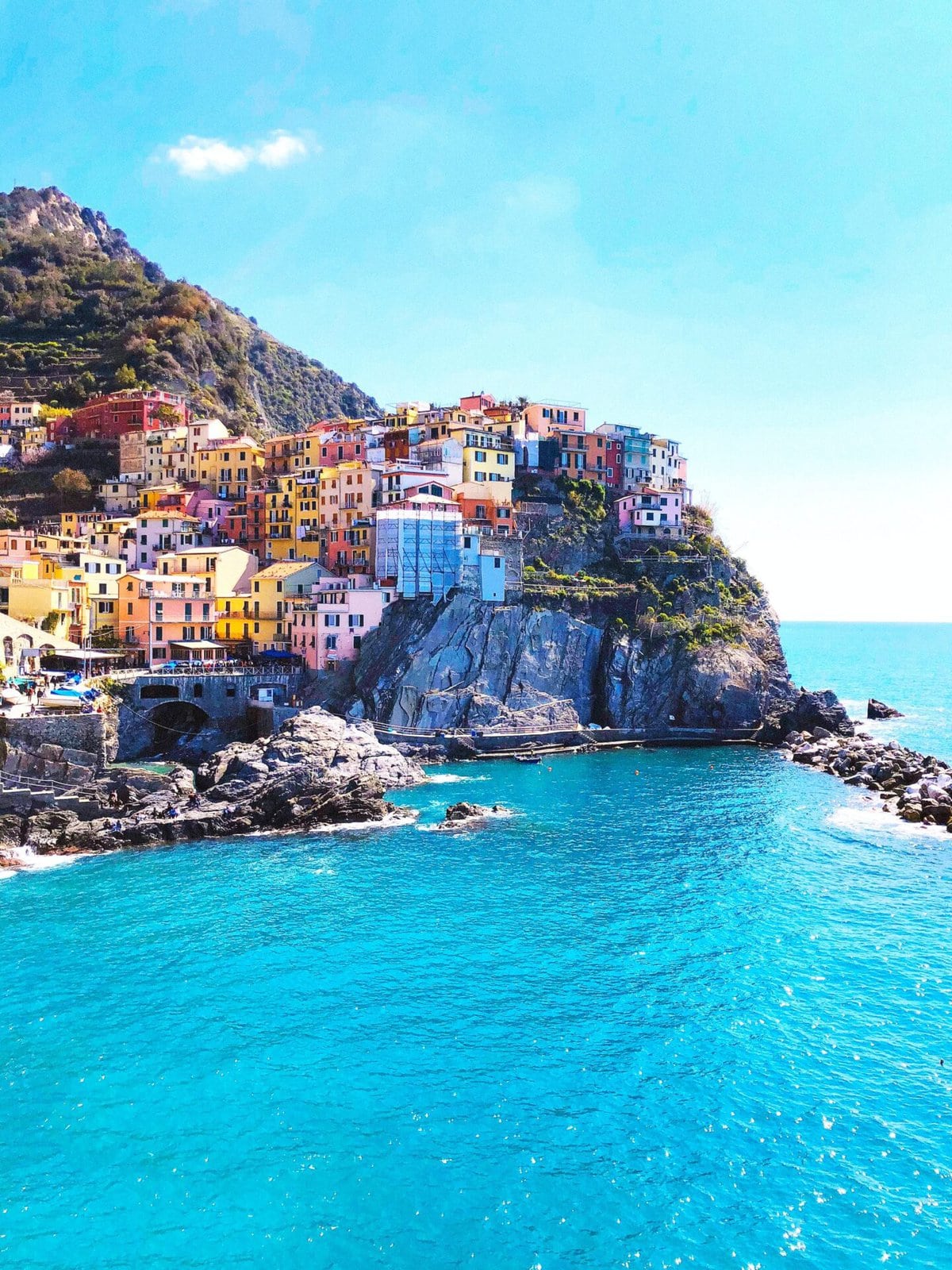 Modena
Food lovers should definitely visit the small city of Modena in Northern Italy. Here you'll find all of the specialty foods of Emilia-Romagna, but the pride of Modena is aceto balsamico, or balsamic vinegar. In fact, it is the number one food produced in the city.
You can take tours of the balsamic factories or taste them in food shops or the local market, Mercato Albinelli. Make sure to pick up a bottle or two to take home.
Dine at one of the best restaurants in the world. Massimo Bottura's restaurant Osteria Francescana has won the coveted #1 spot twice on the 50 Best Restaurants in the World list.
Or if you prefer a somewhat more casual atmosphere, try his second restaurant Franceschetta58 where the tasting menu highlights the traditional foods of the region.
Like every noteworthy city in Italy, Modena has numerous ornate churches like the Duomo di Modena, Saint Charles Church, Church of Saint Augustine, and Church of Saint Francis of Assisi.
And for resting or people watching, linger in the historic squares such as Piazza Grande, Palazzo die Musei, and Palazzo Comunale.
However, Modena may best be known as Italy's car capital. Famous sports car brands like Ferrari, Lamborghini, Maserati, De Tomato, and Pagani have all had factories in the area.
Ferrari invites car enthusiasts to visit the Enzo Ferrari Museum and the Ferrari Museum in Maranello (a shuttle bus is available to go between the two). If that just leaves you wanting more, head to the Autodromo di Modena where you can take a spin around the track.
Recommended by Chef Denise
Verona
"O Romeo, Romeo, wherefore art thou Romeo?"
That's usually the first thing that comes to people's minds when they hear of Verona. Verona was an extremely prosperous Italian city back in the 14th century, and it was also where many of Shakespeare's brilliant plays took place, that alone makes Verona worth visiting.
With that said, la casa di Giulietta (Juliet's House) is undoubtedly one of the unmissable landmarks of Verona. Here you'll find an ancient building that claims to be "Juliet's House", which dates back to the 13th century.
Attached to the house is Juliet's balcony, which was not actually a part of Shakespeare's original play, but was added onto the building much later in 1900s.
If you're single and looking for some luck in romance, then you might be interested in rubbing Juliet's breasts for some good luck! Or alternately, you could also write a love letter to Juliet and leave it on the walls that lead to her house- tourists all over the world do this to confess their secret love for a special someone.
However, if Romeo and Juliet isn't enough to grab your interest, there are still plenty of worthwhile things to do in Verona.
Ponte di Castelvecchio makes for a beautiful afternoon stroll over the Adige River. The view here is so nice that you could spend so much time here just taking a bunch of instagram worthy photos.
La Bottega della Gina XXL is a cozy, little restaurant located in an alleyway. This restaurant is perfect for a quick lunch if you're feeling a little hungry. Recommended by many locals, they serve the best fresh pasta and tortellini. You could also buy their homemade fresh pasta and cook it by yourself at home.
Verona is definitely one of the best cities to visit in Europe if you're looking for a romantic getaway alone or with a partner.
Recommended by Emixglobe
Ortisei
Ortisei, nestled in the Val Gardena, attracts visitors year-round. In the winter, you'll find the village teeming with Italians and international visitors, all enjoying its skiing, festive atmosphere, and Christmas markets.
In the summer months, in-the-know hikers and nature lovers flock to Ortisei to explore its numerous hiking trails, its cobblestone pedestrian area, and to dine on hearty mountain food.
On a trip to Ortisei, be sure to stop in to see one of the local woodworking artisans. The village has a tradition of creating gorgeous products, and the artisans are most famous for their presepi – Italian nativity scenes. Check out Comploj Andrea on the main pedestrian street or La Zipla for hand carved presepi pieces and animal figurines.
In both summer and winter, take the Mont Sëuc gondola (cable car) up to Alpe di Siusi, a high-alpine plateau with breathtaking views. Ski, snowboard, sled, or snowshoe in the winter, and hike or mountain bike in the summer.
No matter what time of year you visit, don't miss a visit to the Alpe di Siusi!
Looking for more trails and spectacular views? Take the funicular from town up to Receisa for another easy hike with panoramic vistas of the Dolomites.
After spending the day outside, relax and recover at the ADLER Spa Resort Dolomiti, one of the area's luxury spa hotels.
If you're visiting with kids, don't miss the town playground, a favourite of local families and visitors. While kids play in the sand area, on the unique climbing structures, and on the trampolines, parents can enjoy the views from the benches or permanent hammocks.
Recommended by Mom in Italy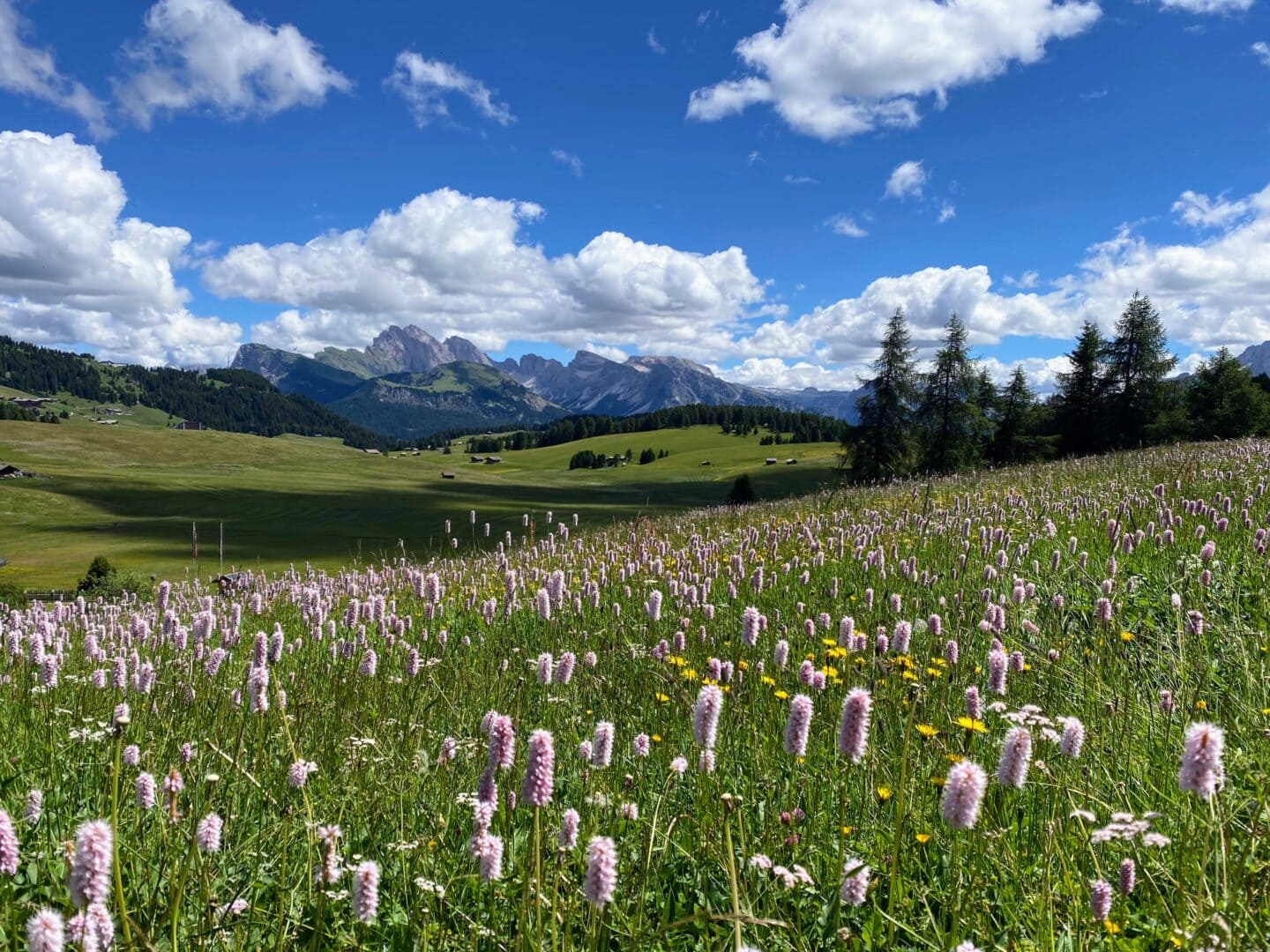 Turin
In a country where tourist locations compete with Rome, Venice and Florence, many travellers may wonder is Turin worth visiting? The short answer is yes.
The compact city is a delight to explore and you will not have the crowds or the searing heat that other locations in Italy experience.
Turin is packed with fantastic architecture, green parks such as Valentino Park, stunning piazzas like Piazza San Carlo and Piazza Castello and pedestrianised streets such as the upmarket Via Roma.
Sightseeing days can be filled with the city's numerous world class museums. Visit the incredible Museo Egizio (the Egyptian Museum) or the three storey National Car Museum (MAUTO) both of which feature in the world's top 50 museums.
Tour the elaborate Royal Palace and gardens and don't miss the National Cinema Museum housed in the iconic The Mole building which dominates the Turin skyline. Fans of 'The Italian Job' movie can visit various film sets and walk on the roof of the old Fiat Factory which is now home to The Pista 500, the largest rooftop garden in Europe.
If you like religious architecture you will be spoilt for choice between the Cathedral of St John the Baptist, the Chiesa Di San Salvario, the hilltop Basilica di Superga or the stunning Chiesa di San Lorenzo which was the original home of the infamous Shroud of Turin.
Stay as close to the city centre as you can so you can walk to all the major attractions. For a unique dining experience, treat yourself to a Bicerin and Gianduia topped cake at the irresistible Caffe Baratti i Milano.
Recommended by Map Made Memories
South Tyrol
One of the best places to visit in northern Italy is the Dolomites region. The Dolomites are a section of the Italian Alps that are famous for its unique and jagged peaks, as well as incredible skiing and hiking opportunities. There are a number of beautiful lakes in the Dolomites that will take your breath away.
The most famous viewpoint in the Dolomites is of the Tre Cime di Lavaredo which are three picturesque mountain peaks in the South Tyrol providence of Northern Italy.
If you plan on visiting the Dolomites, plan on staying in the South Tyrol region. Many of the areas of the Dolomites are remote and difficult to access, but South Tyrol is home to ski resorts, hotels, and cute shops which make it a great place to stay while also being close to the mountains.
There are very few public transportation options that will get you to South Tyrol and the Tre Cime area as there are no major train routes that go through the Dolomites.
Plan to rent a car and take a scenic drive through the mountains to get to South Tyrol. If you really want to experience all the Dolomites have to offer, the best way to do it is by hiking and camping and spending as much time in nature as possible.
There are many famous single day and multi-day hikes that you can choose from, and if you plan on camping in the Dolomites, there are so many options for lodging and activities.
No matter what you plan on doing, the South Tyrol region of the Dolomites is one of the best places to visit in Northern Italy.
Recommended by Adventuring With Shannon
Related Posts
Pin it for later!