Looking for the best views of Rome? How about the best views of Rome for free?
One of my favourite things to do while travelling is finding some of the best free activities to do. Rome is one of those cities where you could spend a solid week seeing and doing things for free!
Sometimes, the best things in life are free, and if you're looking for some incredible views of Rome from above, here are my favourite places – and they won't cost you a penny!
If you're interested in checking out what there is to do in Rome without spending any money, check out my guide of the best 25+ things to do in Rome for free!
This post contains affiliate links which means I earn compensation when you click on the links at absolutely no extra cost to you! Feel free to read my disclosure policy. Thank you for supporting my blog!
My poor husband already knew finding the best free views of Rome was on my agenda for our recent trip so we hit the ground running and he sweetly acquiesced to my plans for all the traipsing around the city. This included the steepest and longest hike on our very first hour of arrival on zero sleep!
What you should know: Rome is a very walkable city so be prepared to do a lot of walking.
You can, of course, hop in a taxi to take you to some of these sites but then you'll be missing out on all kinds of interesting things to see! Invest in a good pair of walking shoes. I will also never ever travel without Rock Tape for my feet! It prevents blisters and chafing and was honestly a life-saver on our daily walks throughout the city!
Plan your next vacation using these tools!

✈️ Book flights: SkyScanner
🏨 Book hotels: Booking.com
🚘Book car rentals: RentalCars.com
🎫Book tours: GetYourGuide
🌍Favourite travel item: Packing cubes
🧳Favourite travel bag: Osprey 40L Fairview
🩹 DIY Travel Medical Kit
💸 20 Cheap Travel Items Under $20
Best views of Rome: Gianicolo Hill
The walk up Gianicolo Hill to Belvedere Giancolo is not for the faint of heart – it is quite a ways up but that also means its quieter since it's more out of the way on the other side of the Tiber River and away from the hustle and bustle from the centre of Rome.
The gorgeous tall tree-lined street and busts of historical Roman figures line the way to Belvedere Gianicolo.
It took us about 25 minutes from the Pantheon to walk up there – through Trastevere, up a few flights of stairs and a steep climb up Gianicolo Hill – but the views from here were worth the climb.
There are a few vendors selling drinks of all sorts (including beer!) as well as a vendor selling fresh roasted chestnuts should you need some sustenance after your climb!
It would be amazing to visit during sunset with the glow over the buildings. I can see how this would be popular.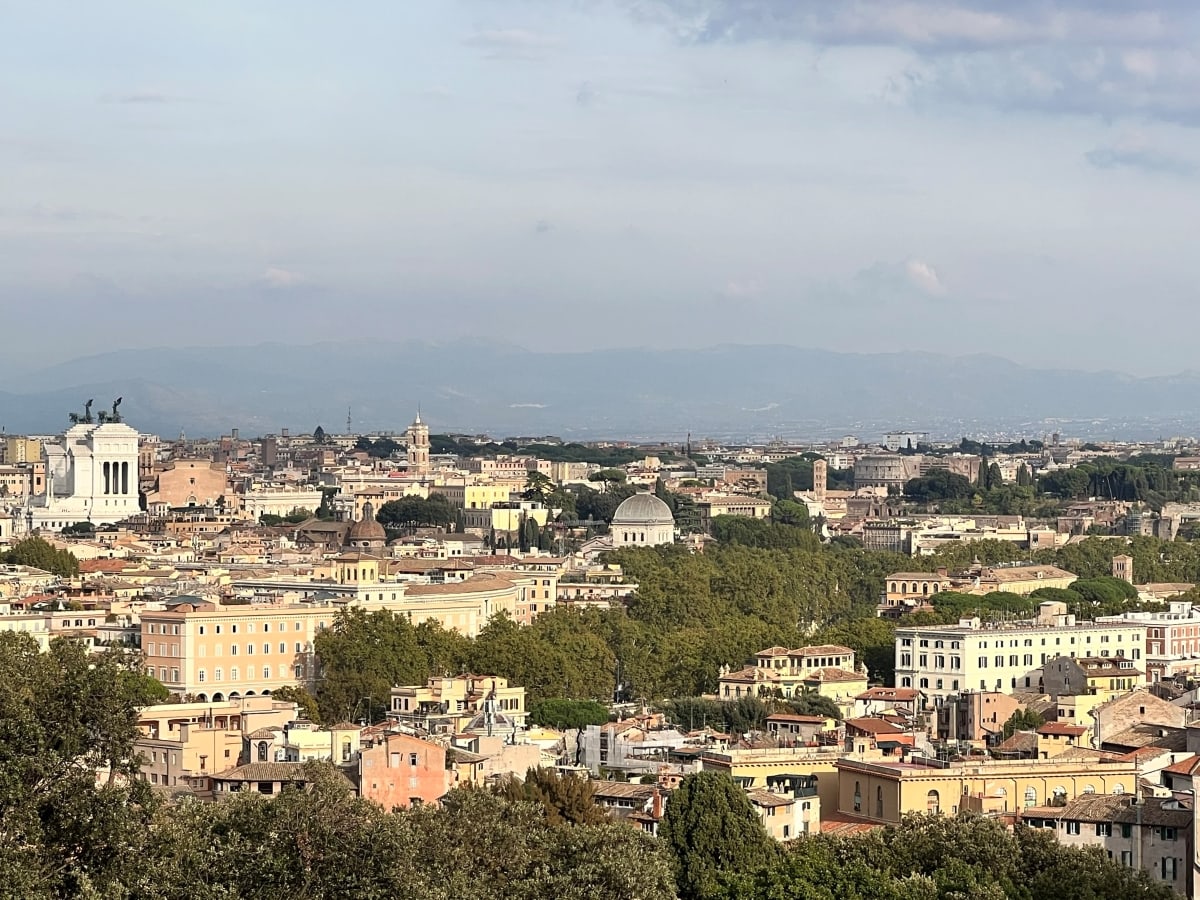 Tip: Be sure to bring a water bottle with you – you'll pass by a few free-flowing water fountains along the way. These fountains are all throughout Rome and are safe to drink from. It's cool and refreshing and you'll save euros by bringing your own bottle. Even in October the temperatures are mid-high twenties and you'll want to stay hydrated.
Underrated views of Rome: Belvedere Niccolò Scatoli
A viewing spot in Rome not often talked about is Belvedere Niccolò Scatoli. It's next to one of the most stunning and impressive fountains in Rome aside from Trevi Fountain: Fontana dell'Acqua Paola.
This terrace offering sweeping views of the city is just a few minutes walk from Belvedere Gianicolo, too!
This gorgeous marble fountain was commissioned by Pope Paul V Borghese and was built between 1610-1614, after the restoration of the Trajan Aqueduct.
It is absolutely massive and I couldn't believe I had never heard of this fountain before!
Since this viewing terrace, Belvedere Niccolò Scatoli, is quite a hike uphill and off the beaten path over the Tiber River and through Trastevere, you'll find it quieter and much more peaceful.
Be sure to visit here after visiting Gianicolo Hill for a different vantage point of Rome and beyond.
Visiting Italy for the first time?
Check out these Italy travel tips and things to know before going!
Best views of Rome for free: Giardini degli Aranci (Orange Gardens)
More unique views of Rome can be seen from the Orange Gardens (Giardini degli Aranci).
Located a short walk from the Mouth of Truth (up a somewhat steep road) is the beautiful Orange Gardens – and yes, there are orange trees here!
As soon as you enter the gardens, your eyesight will be perfectly lined up with the trees, the pathway, and the Vatican. Words can't really describe how I felt with this perfect view.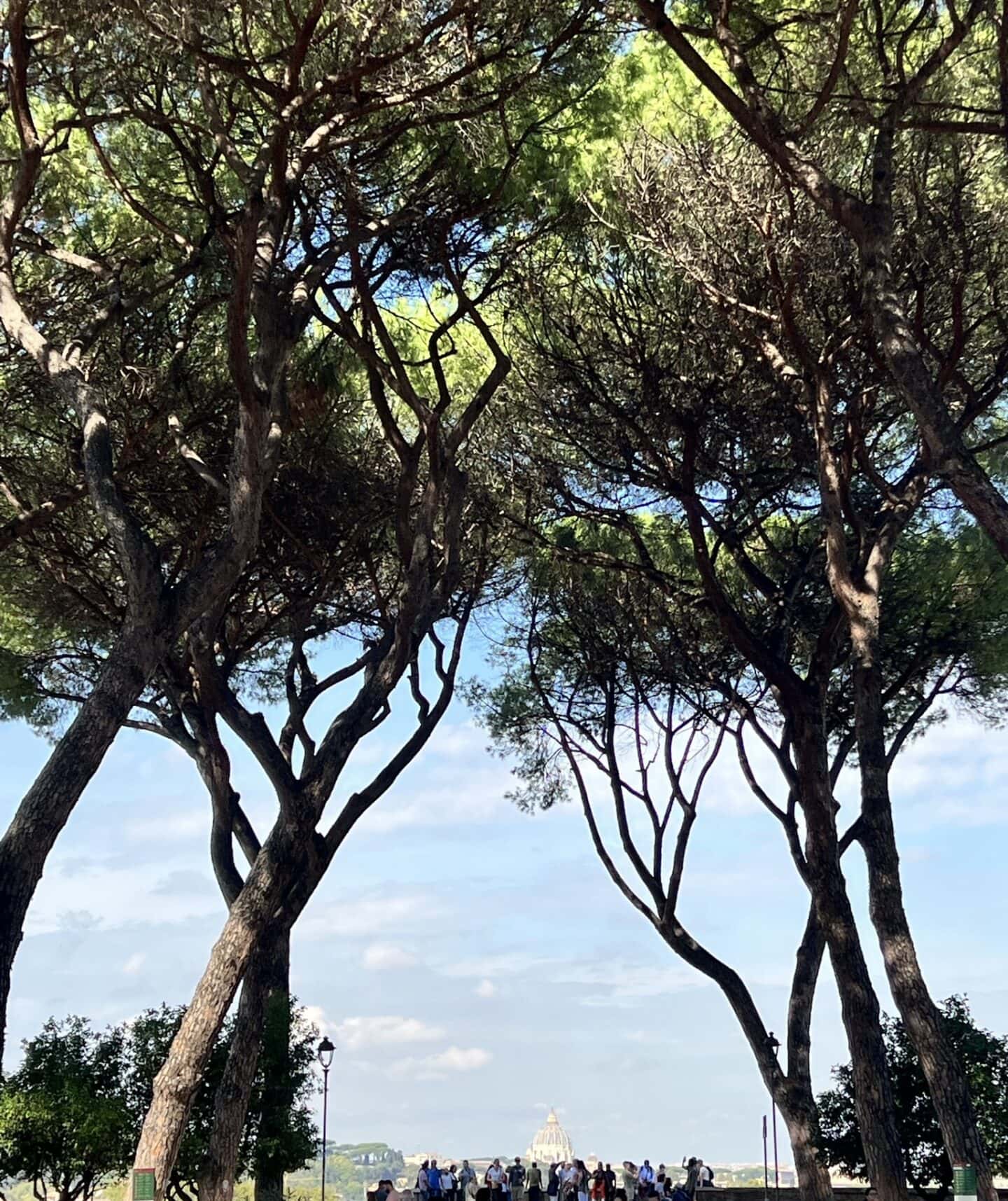 As you get closer to the wall, you'll have an incredible overview of Rome and its various landmarks.
Sit and relax under the shade of the tall trees on one of many park benches, take in the ambience with live music, or watch artists as they paint.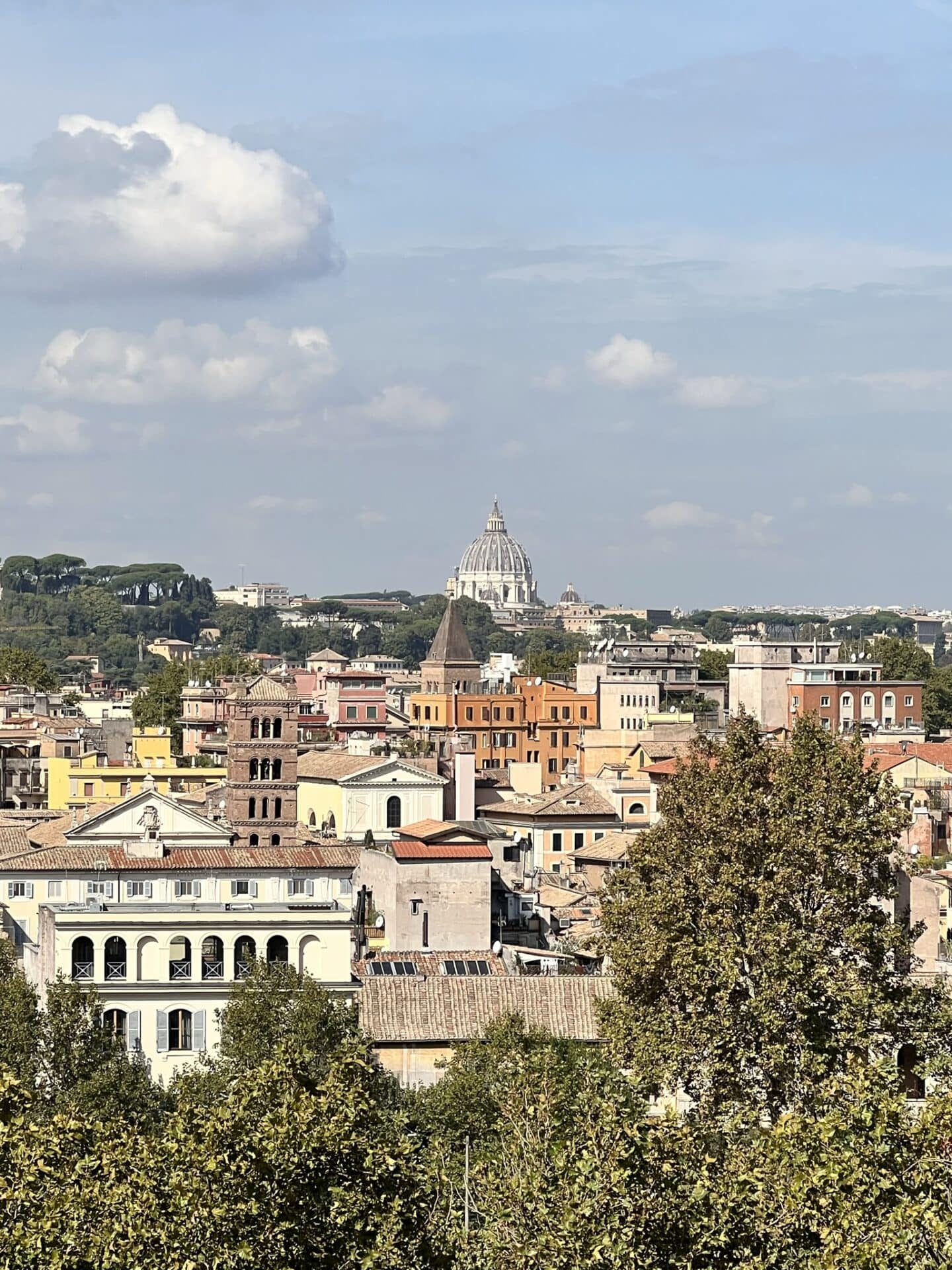 There are a few water fountains up at the Orange Gardens too, which is helpful after the walk uphill.
Be sure to visit the Knights of Malta Aventine Keyhole, just a short few minutes' walk down the street afterwards, and try your hand at getting the perfect photo!
Need a place to stay in Rome? I love using Booking.com to book all of our properties! I've found the best deals on here, plus many properties don't require advance payment and you can cancel for free up to a few days before for select properties.
Rome views: Terrazza Viale del Belvedere (Borghese Gardens)
One of the most unsuspecting places for sweeping views of Rome is Terrazza Viale del Belvedere, located between Villa Medici and Pincio Terrace, right at one of the entrances to the Borghese Gardens.
We happened upon this viewing area by chance on our way to the Borghese Gardens and were surprised by how good the views were!
By now, if you have seen Rome from above at a few places, you'll find it interesting to note the various landmarks and how close or far away they seem from where you're standing.
If you're on a mission to find all the best views of Rome (like I was!), it's impressive how far across the city you'll go for these views, while at the same time not really seeming far at all!
Don't miss out on strolling through the Borghese Gardens if you have time. It's one of the most peaceful places in Rome with tons of unique things to see, like the Temple of Asclepius.
Best free views of Rome: Pincio Terrace
Just three minutes from the Terrazza Viale del Belvedere is the Pincio Terrace, another amazing place to get the best free views of Rome!
This 19th century terrace features fountains and stunning views of Piazza del Popolo (complete with its own obelisk) and of St. Peter's Basilica.
While the Pincian Hill isn't one of the seven hills of Rome, it's an unmissable viewpoint and a favourite sunset viewing spot.
If you want to avoid climbing up stairs to get to the Pincio Terrace, your best way to get here is from the Terrazza Viale del Belvedere, along the Borghese Gardens.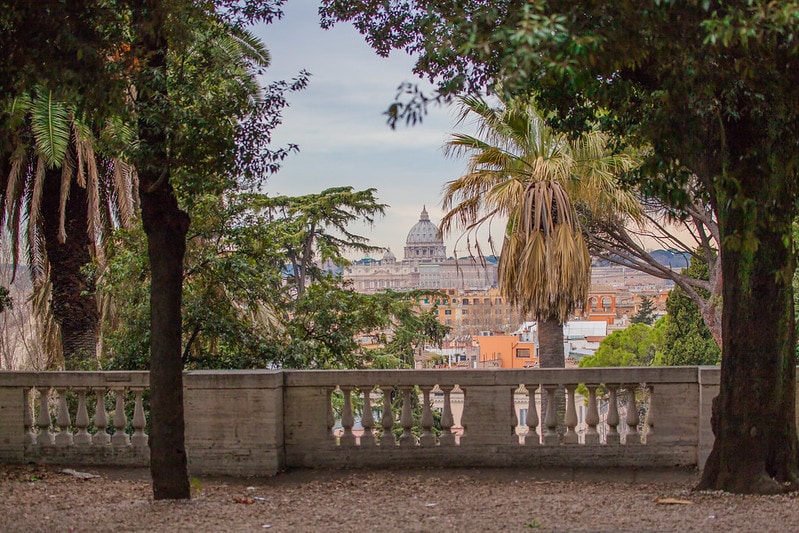 360 views of Rome: Vittoriano (Altar of the Fatherland)
Did you know you can climb the Vittoriano for free?
Also known as the Altar of the Fatherland, Wedding Cake, and Victor Emmanuel II Monument, you can climb this incredible marble monument for free and the views from the top are my favourite.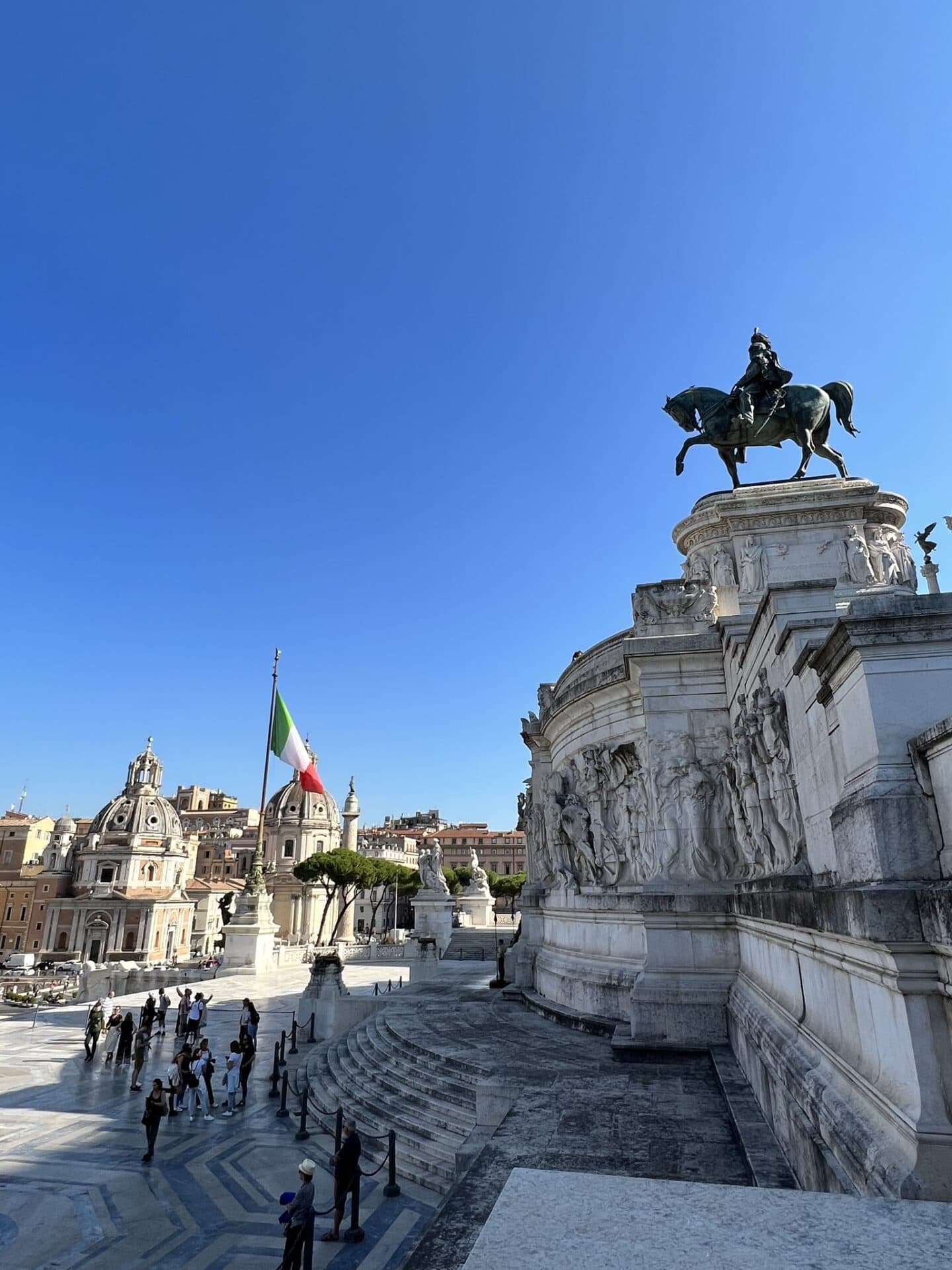 Climbing the Vittoriano was way better than I expected. The Altare della Patria (Altar of the Fatherland) is a national monument built between 1885-1935 to honour Victor Emmanuel ll, who was the first king of unified Rome.
Climbing up to the terrace is free and offers numerous different vantage points of the city spanning 360 degrees! I was impressed that this was a free thing to do in Rome and would recommend this to anyone.
While there are a lot of stairs, it's spaced out and allows you to stop at various levels.
The amount of marble here is astounding, and this one of the highlights from this trip to Rome.
P.s. Victor Emmanuel II is buried at the Pantheon and you can see his burial spot!
Want more views? You can pay 12 euros to take an elevator up to the very top, but for me, the views of all sides of Rome for free blew me away! There is also a museum here which is something I want to do on our next visit.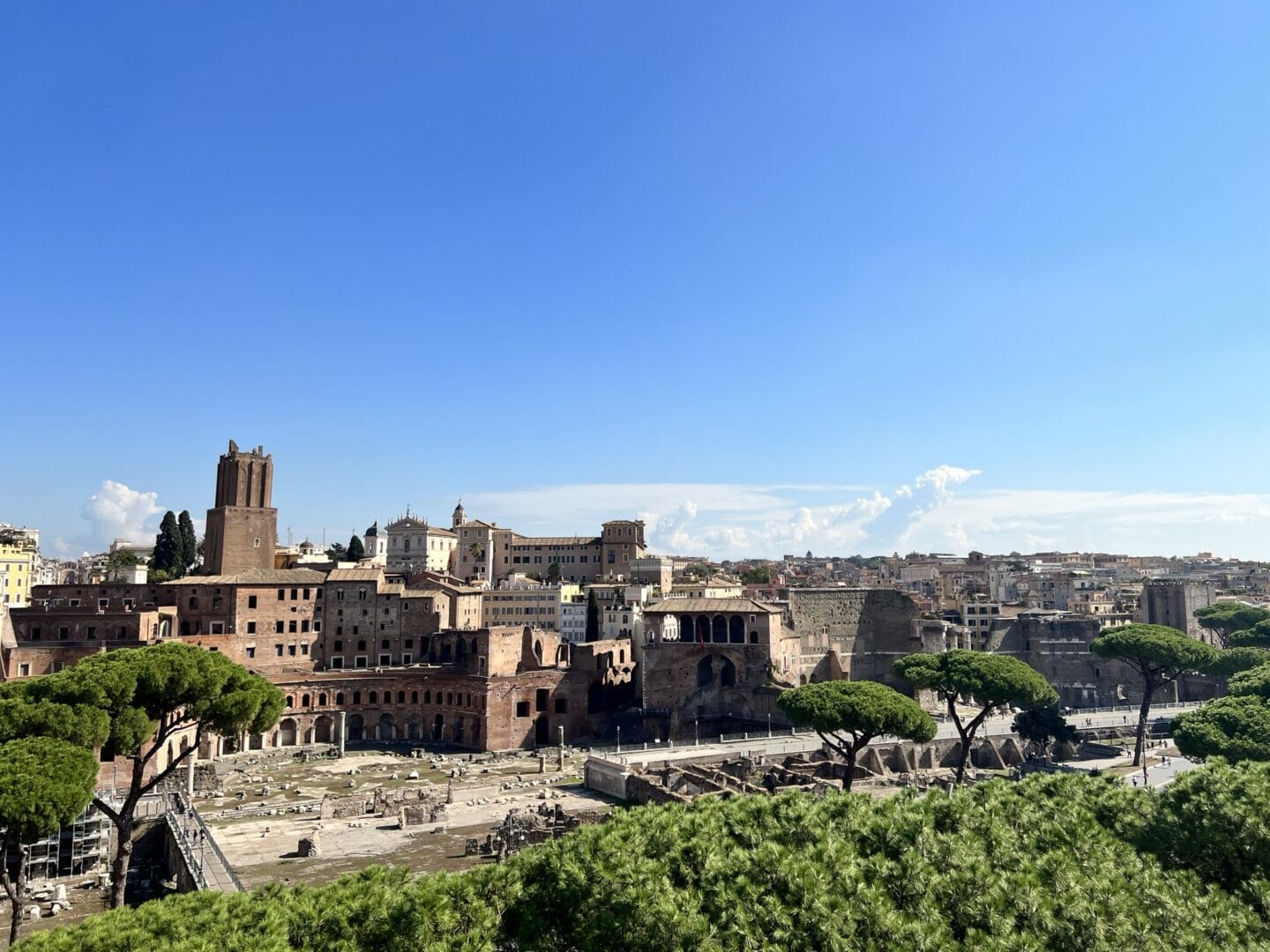 Tips for getting the best views of Rome
Pace yourself! It's a lot of walking (and uphill walking!) to get to these viewing points in Rome. It can be very tiring to get to as many of them as you can. However, it can be done. I'm proof!
Wear sturdy and supportive footwear.
Bring a water bottle to fill up at free water fountains!
Related Posts
Pin it for later!