Planning a trip to Niagara-on-the-Lake? This picturesque Victorian town is one of the most beautiful towns in the Niagara Region. Well known for its wineries, there are also tons of amazing restaurants and shops, theatre shows, and so much more – including tons of free things to do!
But you can also visit Niagara-on-the-Lake without spending a dime, which is why this historic town is one of my favourite places in Niagara.
Here's a list of things to do in Niagara-on-the-Lake for free!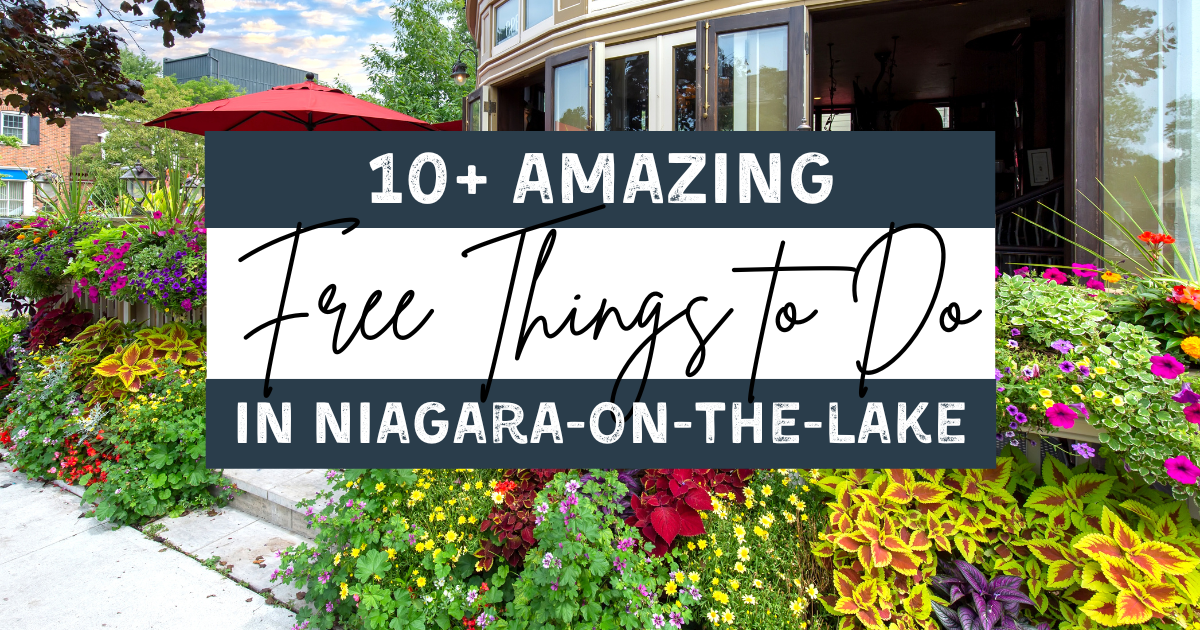 This post contains affiliate links which means I earn compensation when you click on the links at absolutely no extra cost to you! Feel free to read my disclosure policy. Thank you for supporting my blog!
Plan your next vacation using these tools!

✈️ Book flights: SkyScanner
🏨 Book hotels: Booking.com
🚘Book car rentals: RentalCars.com
🎫Book tours: GetYourGuide
🌍Favourite travel item: Packing cubes
🧳Favourite travel bag: Osprey 40L Fairview
🩹 DIY Travel Medical Kit
💸 20 Cheap Travel Items Under $20
Best free things to do in Niagara-on-the-Lake
Enjoy a day in Niagara-on-the-Lake! It's known for much more than just it's wineries, and you don't have to go far to get a feel for this charming town, and you can certainly spend the day for free.
While these activities are free, parking is paid downtown (average $4.75/hour). You can park for free outside of downtown if you're willing to walk! Parking is also free outside the hours of 10:00 am – 8:00 pm.
Take a free walking tour!
One of the best ways to get to know a new place is by taking a walking tour! You can take a free guided walking tour of Niagara-on-the-Lake to gain insight of this historic town.
You'll learn all about the War of 1812, the underground railroad, and the burning of Niagara-on-the-Lake. You'll also gain some local insider knowledge and other things to do while you're visiting!
Tours are daily starting at 10:00 am and last around 1.5 hours.
While this walking tour is free itself, tips are appreciated!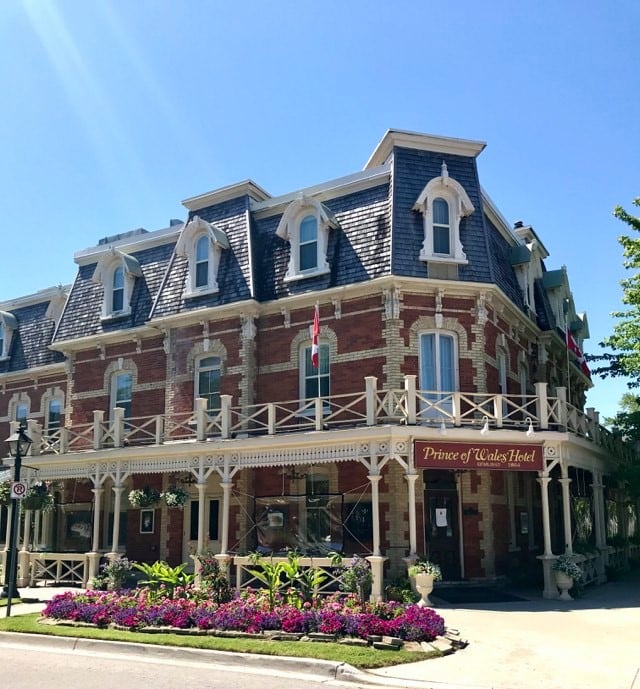 Visit an Art Gallery
If you need a break from the sun or rain, visiting during the cooler months and need a reprieve, or want to check out the amazing local art, head over to one of many of Niagara-on-the-Lake's art galleries!
Niagara-on-the-Lake has been a haven for artists for years. There's no lack of inspiration in this charming Victorian town, and it provides the perfect place for artists.
Take your pick from any number of art galleries that will be a feast for your eyes, including Gate Street Studio, Upper Canada Native Art, King St. Gallery, All in the Wild, Art Space 106, or Edward Spera Gallery.
All of these art galleries in Niagara-on-the-Lake are free to visit. You may even find some of your own inspiration.
During summer days you'll find artists in the park sketching or painting, too!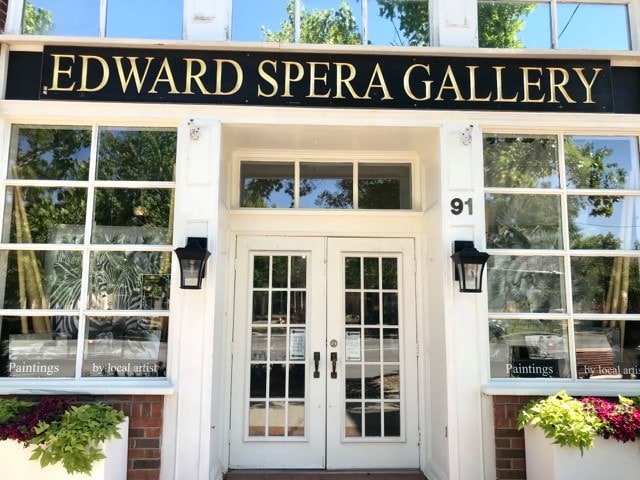 Visit the Voices of Freedom Park
I love learning something new when I visit a new town. The Voices of Freedom Park in Niagara-on-the-Lake provides important historic insight to the town's Black history.
The park was dedicated to tell the forgotten stories of people of African descent, enslaved, freed, and free, whose sacrifices, labour, skills, and talents contributed to the development of Niagara-on-the-Lake.
Did you know: Niagara-on-the-Lake is where the first anti-slavery legislation was introduced in the British Empire.
A visit to the Voices of Freedom park is free.
Address: 244 Regent St., Niagara-on-the-Lake
See a tiny chapel!
One of my favourite things in Niagara-on-the-Lake is the tiny chapel. It also happens to be the smallest chapel in the world – it even has the Guinness Book of World Records title!
Fitting just 6 people, this adorable chapel measures 13 feet by 6 feet – yeah – it really is tiny! It was built in 1864 and hosts an annual Easter service.
You can visit daily for free. There are two bibles and a guest book to sign if you wish.
The Living Water Wayside Chapel is located along the Niagara Parkway just a few minutes drive from downtown Niagara-on-the-Lake. It's located beside Walker's Country Market.
Address: 15796 Niagara Pkwy, Niagara-on-the-Lake
Get a taste for Olive Oil
You've had wine tastings before, but have you ever had an olive oil tasting?
It may sound unappealing at first, but to sample high quality olive oils, including flavoured ones, will awaken your senses!
The OLiV Tasting Room offers free samples daily of Extra Virgin Olive Oil and Balsamic Vinegar.
Uncover unique flavours like fig balsamic, bacon extra virgin oil live, blood orange olive oil (I like this one!), and chocolate raspberry balsamic vinegar.
It's not just for salads! I learned you can do all sort of things with olive oil and balsamic vinegar – anywhere from popcorn seasoning, toppings for your ice cream (don't knock it until you try it!), cakes and more.
Address: 122 Queen St., Niagara-on-the-Lake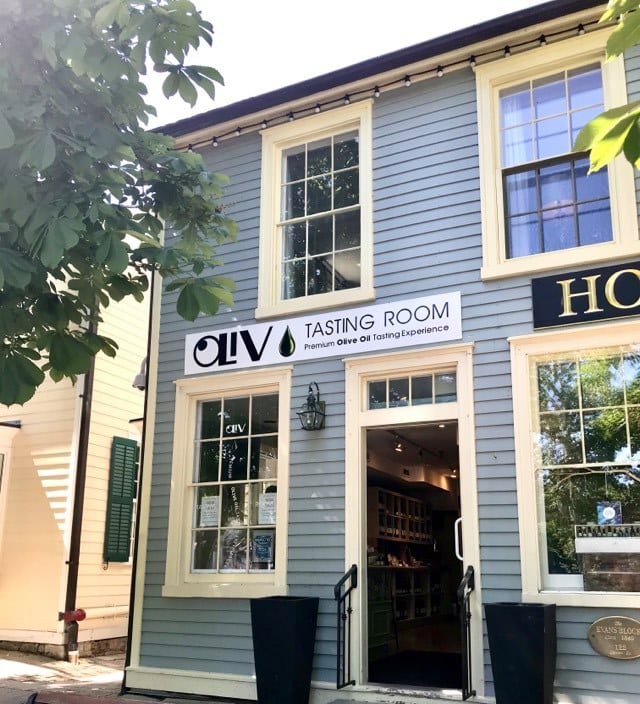 Step into the past at the Niagara Apothecary Museum
You can check out an authentic museum restoration of a pharmacy dating back to 1869!
The Niagara Apothecary was used in practice from 1820-1964 in Niagara-on-the-Lake. It's now a National Historic Site of Canada and contains all sorts of curious bottles, powders, and various equipment.
The museum is completely free to visit, and gives you a fascinating history of medicine, herbology, and wellness in the local area.
It's like a time warp into the past with typewriters and weigh scales. You'll be able to inspect the various labels of the bottles on the shelves where you'll come across ingredients no longer used in medicine, like cocaine!
The Niagara Apothecary Museum is open 12:00 pm – 6:00 pm daily from the end of May to Labour Day.
Address: 5 Queen St., Niagara-on-the-Lake
Laze by the beach and explore an old fort
Head down to Queen's Royal Park and relax by the beach with views across the Niagara River to Old Fort Niagara.
You'll find families enjoying a quiet moment just steps from Queen Street or enjoying a picnic in the shade.
Stroll along the waterfront path and catch views of the Toronto skyline on clear days.
You can also make your way down to Mississauga Beach, where the Niagara River meets Lake Ontario. This is a spectacular spot to enjoy a quiet sunset.
Don't forget to wander over to the historic Fort Mississauga – once used as a defence of Upper Canada during the War of 1812!
Address: 223 Queen St., Niagara-on-the-Lake
Relax in a Park
Looking for some downtime? There are a number of parks in Niagara-on-the-Lake that will offer just that, and they're completely free to enjoy!
Head over to Ryerson Park, nestled in a tiny community on Niagara Boulevard. There is a wide open green space, picnic tables and benches, and access down to a rocky beach.
There is limited free parking at Ryerson Park, but is popular with locals and is also one of the best spots to catch the sunset in Niagara-on-the-Lake!
For some rest and relaxation in the heart of town, Simcoe Park is just across from the famous Prince of Wales Hotel. This large green space has plenty of shade, benches, and picnic tables to put your feet up and relax.
For kids, there is a playground and splash pad to keep them entertained.
If you're looking for a great park to snap some photos in, the Gardens at the Pillar and Post is the place to be! This Monet-inspired garden has a large pond, boardwalk along a waterfall, and plenty of opportunities to take that perfect photo.
Entry to this park is free, and also offers free parking. Outside food and beverages aren't allowed, but if you get peckish there is on-site food and beverages (including alcoholic!) you can purchase from The Outpost at the Gardens.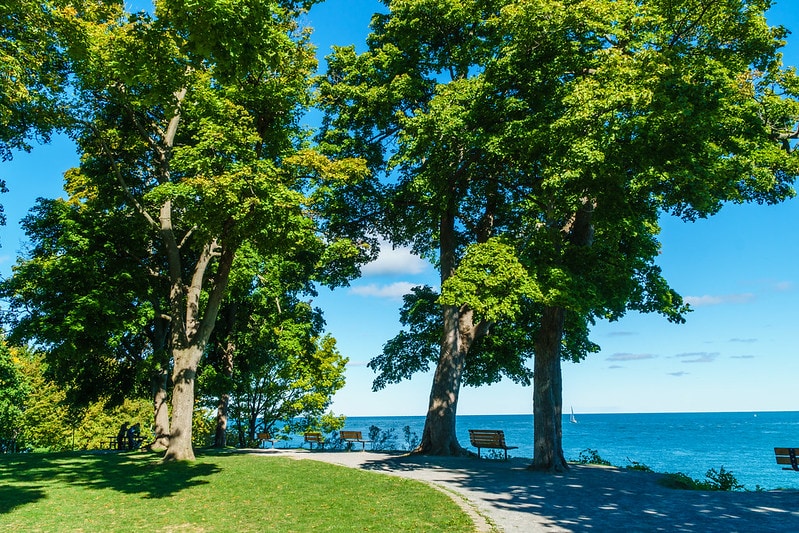 Window shop
Niagara-on-the-Lake has some of the most unique shops in the Niagara Region. You can easily spend an afternoon strolling through down and window shopping.
Greaves Jams & Marmalades, Viking Shop Collectibles, and the Scottish Loft are some of my favourites. There is even a store called Just Christmas which is entirely dedicated to – you guessed it – Christmas.
Browsing through the shops is entirely free – and you'll come across a number of interesting finds. You may be tempted to buy something or two to bring home!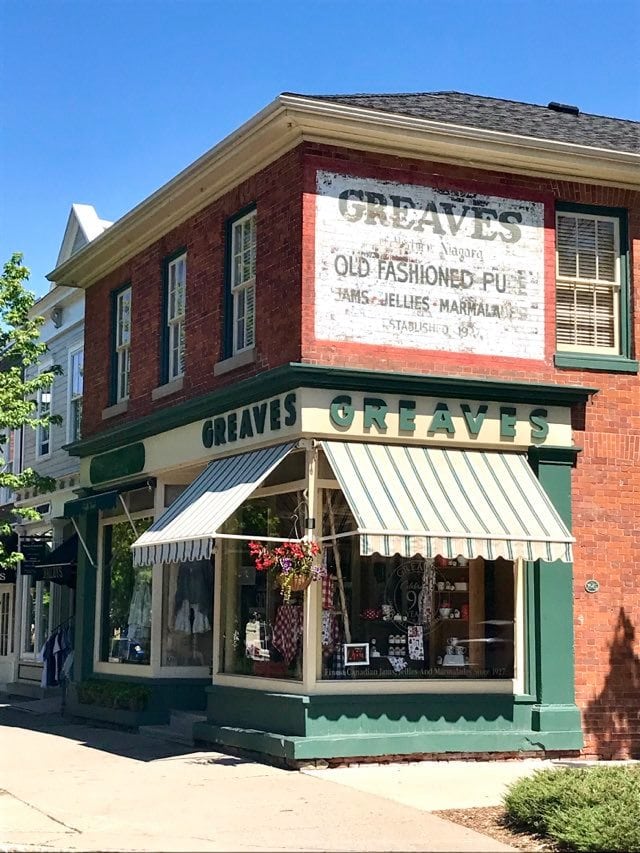 Go for a picnic
Niagara-on-the-Lake has quite a few picturesque places perfect for a picnic! Pack up your basket and blanket and take your pick from a number or spots.
Choose from parks and beaches steps from vibrant Queen Street, or go off the beaten path to private little alcoves you'll have to yourself.
You can also drive just a few minutes outside of Niagara-on-the-Lake for sprawling parks and views of the Niagara River.
You can visit all these spots for free! Pack your picnic at home and choose your ideal location for a memorable meal!
Learn some history at Queenston Heights
Just a short 15 minute drive from the heart of downtown Niagara-on-the-Lake is scenic Queenston Heights, where the Battle of Queenston Heights took place, the first major battle during the War of 1812.
This large park is perfect for those who want some peace and quiet in a tranquil setting with plenty of shade, overlooking the Niagara River.
There are plenty of things to do at Queenston Heights and you can easily spend hours here.
Go on a self-guided history tour through the park to see some important landmarks, see the birthplace of Niagara Falls, go for a hike (the Bruce Trail Southern Terminus is here!), check out Laura Secord's Homestead (the heroine, not the chocolate!😂) and much more.
Address: 14184 Niagara Pkwy, Niagara-on-the-Lake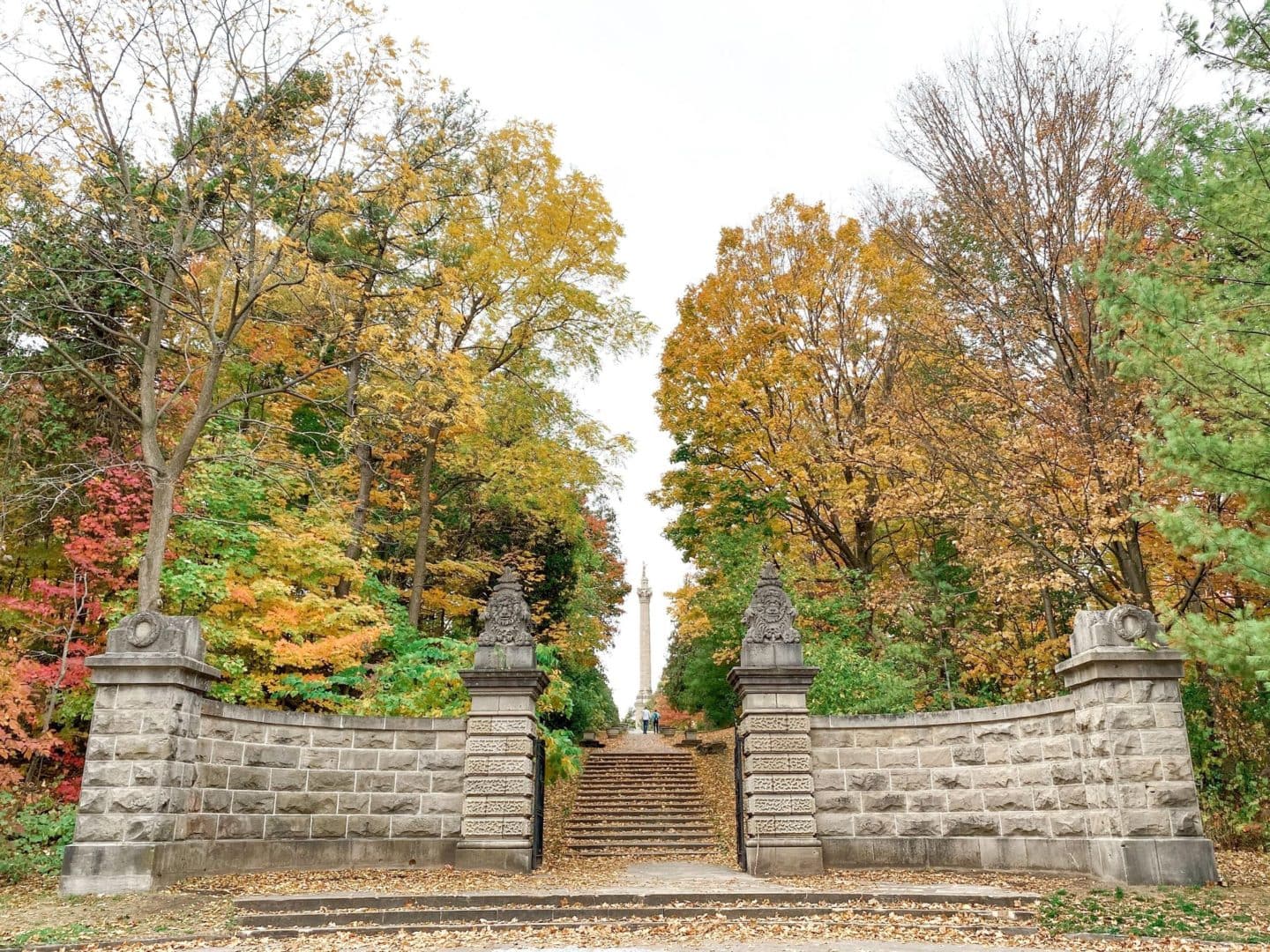 Related Posts
Pin it for later!