Looking for cheap eats in Niagara Falls, Ontario? Niagara Falls has some of the best restaurants around, and they're not expensive, either! I love finding off-the-beaten-path restaurants to dine at, and even better when they don't break the bank.
Everyone knows that the falls can be a tourist trap, but there are plenty of inexpensive places to eat in Niagara Falls without sacrificing taste or experience!
I'm a huge proponent of supporting small, family run businesses, and fortunately, there are a lot of off-the-beaten-path places to dine at in Niagara Falls that won't blow your budget!
Don't be thrown off by the prices – cheap doesn't mean it's bad. Quite the contrary, actually. You'll be surprised what you can find if you just venture off the main path a bit! You'll find all kinds of hidden gems in Niagara Falls and amazing places to eat if you're willing to give the place a shot!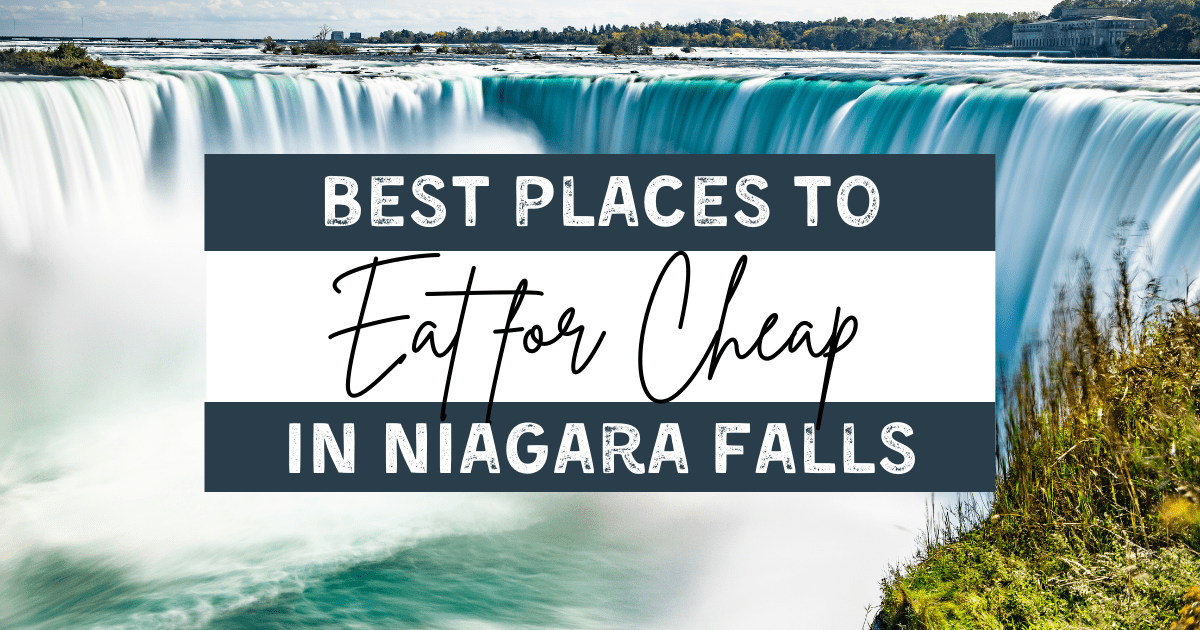 This post contains affiliate links which means I earn compensation when you click on the links at absolutely no extra cost to you! Feel free to read my disclosure policy. Thank you for supporting my blog!
Plan your next vacation using these tools!

✈️ Book flights: SkyScanner
🏨 Book hotels: Booking.com
🚘Book car rentals: RentalCars.com
🎫Book tours: GetYourGuide
🌍Favourite travel item: Packing cubes
🧳Favourite travel bag: Osprey 40L Fairview
🩹 DIY Travel Medical Kit
💸 20 Cheap Travel Items Under $20
Looking for how to get from Toronto to Niagara Falls?
Check out my guide on your best transportation options.
Best places to eat for cheap in Niagara Falls
Planning a stay in Niagara Falls, spending the day or looking for a new place to dine locally? Here are some awesome budget-friendly options for you!
Related: Top 5 Money Saving Tips for Niagara Falls
Country Fresh Donuts
Country Fresh Donuts is well-known and loved amongst Niagara locals. Don't let the name fool you – while this place has some of the best donuts in Niagara, it also serves up the best wonton soup you'll ever have!
A fresh batch is made every hour, and it's not unusual to see people enjoying a bowl of wonton soup for breakfast. The combination of the broth and tasty dumplings is so satisfying, and it comes with a side of crispy noodles.
Cost: A small bowl is just $4.20, or get a large for around $7. Donuts are less than $1.25/piece, and have some crowd favourites like cherry and walnut crunch!
Insider tip: Ask for extra meat (just trust me on this!). Country Fresh Donuts is also cash-only!
Location: 5076 Victoria Ave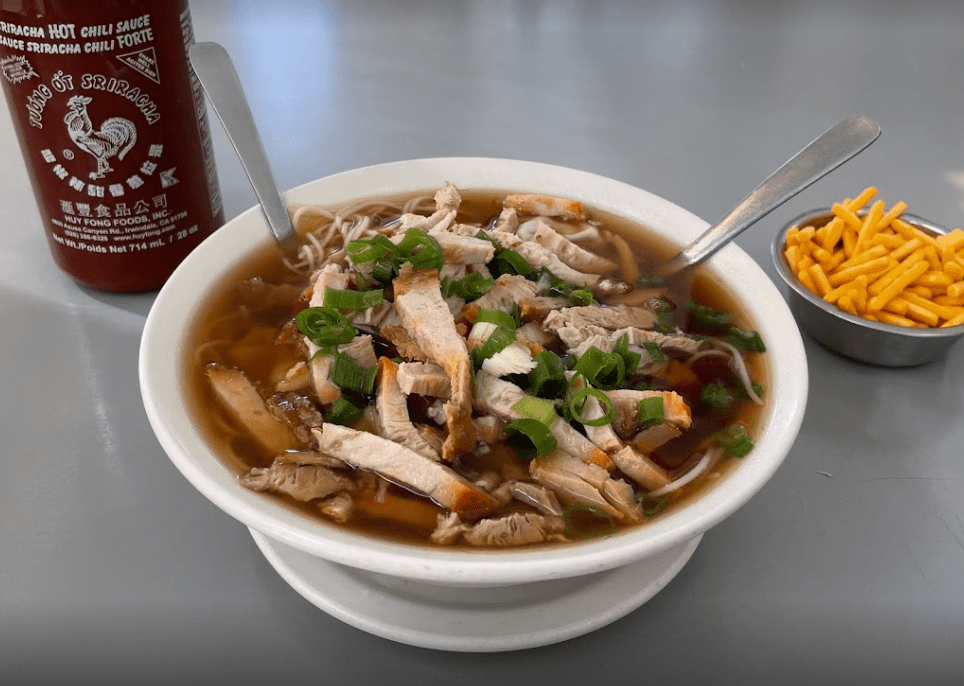 2NineFive
This family-run restaurant in the quiet area of Chippawa is super friendly, and their chicken sandwiches are out of this world! 2NineFive is definitely one of Niagara Falls' most hidden gems.
Don't let the building throw you off – it's not your typical restaurant. 2NineFive also operates as a convenience store, so when you walk through the doors you'll go up to the counter and place your order.
Their patio is spacious and welcoming and is a great option to have for those sunny days in the falls!
The family that recently purchased this restaurant is expanding their menu options, and I'll be back to try them out!
Cost: Their menu is filled with a variety of broaster chicken options, but the best bang for buck is their deal for a tasty chicken sandwich, fries, and a drink for just $12.49!
Location: 8053 Portage Rd
Insider tip: Walk across the Welland River bridge and stop for an ice cream cone from CreekSides Icecream Parlour after dinner!
Related: The Best Ice Cream Parlours in Niagara
Secret Garden Restaurant
Inexpensive meals WITH a view, tucked away from the crowded part of Niagara Falls!
The Secret Garden Restaurant patio overlooks the American Falls, PLUS you can walk around the historic Oakes Garden Theatre for beautifully manicured grounds and structures dating back to 1937.
You won't get better prices anywhere else with a view like this – it's quite literally a secret hidden gem in Niagara Falls!
Cost: Lunch items are under $20/per person, with dinner items under $30/per person.
Location: 5827 River Rd
Insider tip: There is also a gift-shop on site, which is a Niagara Falls staple. This gift shop sells However, there are more local crafts sold here in addition to the usual t-shirts and trinkets, including handmade carvings from the Six Nations Reservation!
The Flying Saucer
Everyone I know has either dined at the Flying Saucer or has definitely heard of it – this unique restaurant in Niagara Falls also has out of this world prices (haha, see what I did there?).
The portions are huge and it's easily a family-favourite for dining in Niagara Falls. Plus, where else can you say you dined in a literal spaceship?!
Cost: You can easily get a starter and main for under $25/per person. Platters and subs hover around $10. For those with big appetites, crowd favourites range from $20-$30, including chicken and ribs, steak, and seafood.
Insider tip: I used to always come here as a kid, and I have such fond memories of this place! The kids menu is $6.89 for children under 12, including a main, jello, and drink!
Location: 6768 Lundys Lane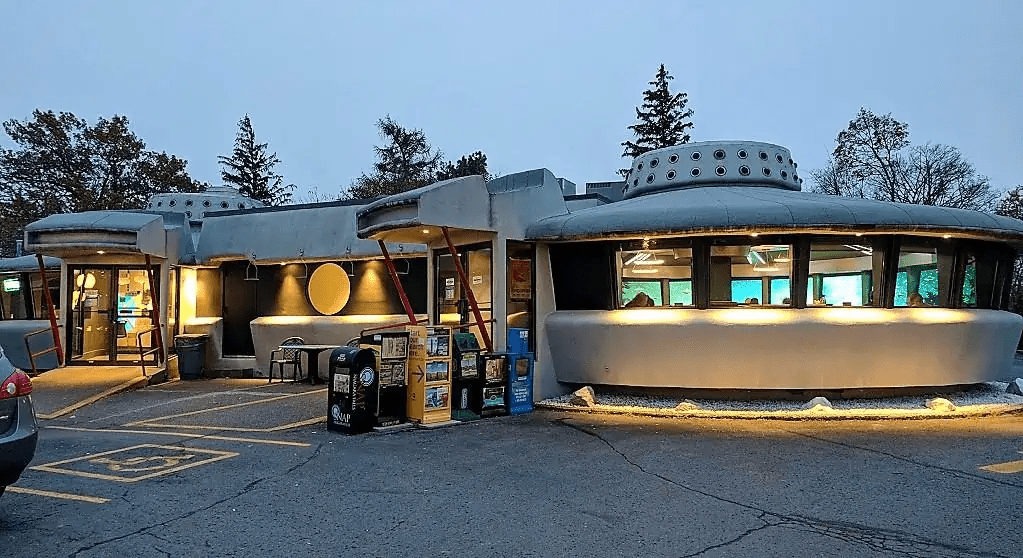 Betty's Restaurant
I LOVE Betty's Restaurant. Where else can you get a steak dinner for $21 around here? The portions are huge and delicious, there are daily specials, and the desserts are amazing.
It honestly boggles my mind how inexpensive the food is, and it's definitely a top spot for dining in Niagara where you get the most bang for your buck!
You will notice that Betty's attracts a certain crowd (they have loads of specials for 60+) and you may find yourself being the youngest diner there, but you know it's good when residents from all over Niagara have been eating here for years!
Cost: Huge main dishes are under $20/plate, with starters, sandwiches and desserts ranging from $5-$10. Bottles of wine are just $25-$30. There is also a kids menu for those 10 and under for just $9.99 including drink and ice cream.
Location: 8921 Sodom Rd
Insider tip: You can get a full turkey dinner on Saturdays for just $19.99 which includes dessert!!!! This is a great alternative to family meals for holidays and gatherings.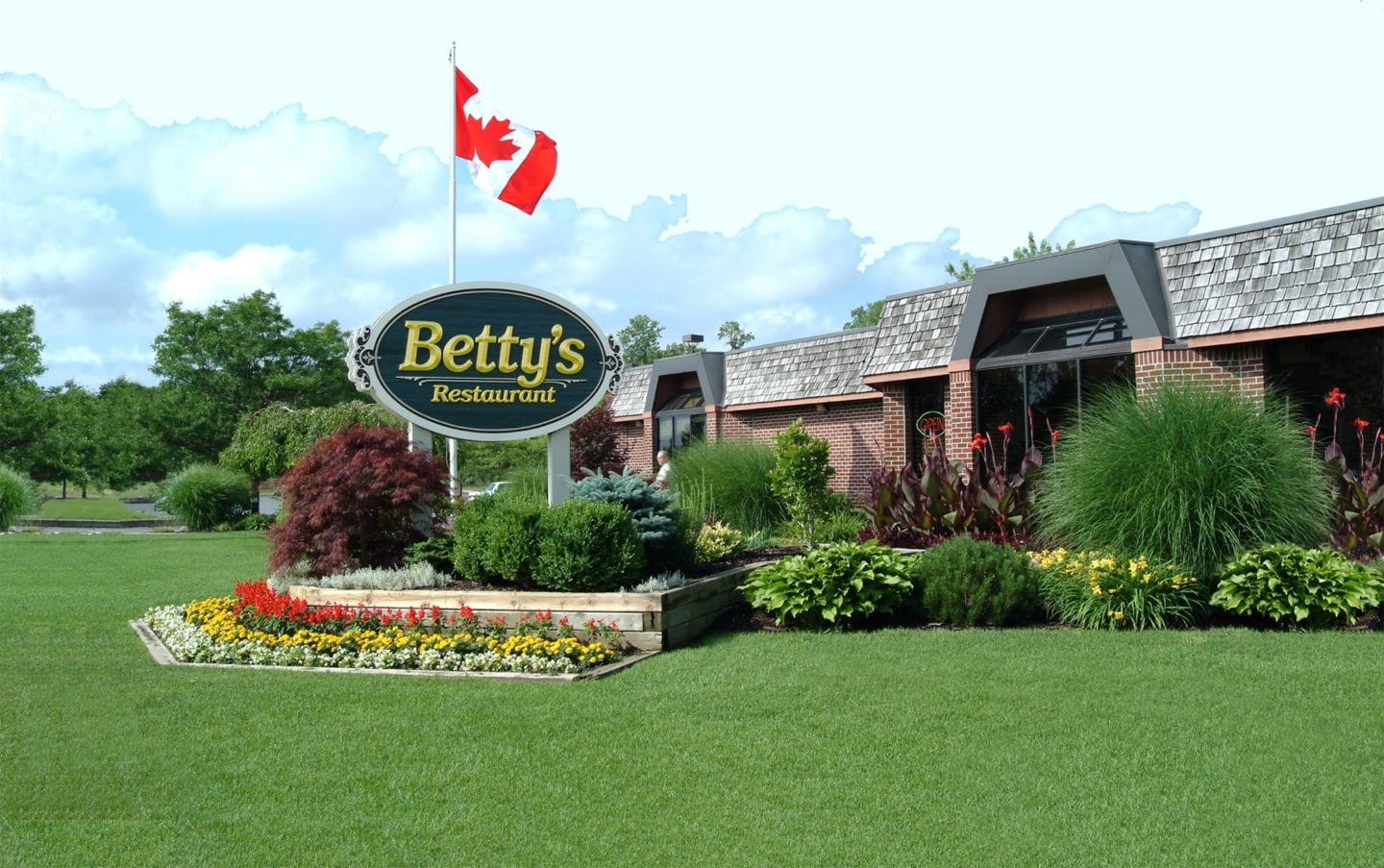 Taps Brewhouse
Taps Brewhouse might be my all-time favourite place to eat in Niagara Falls. They also brew their own custom beer in small batches. You can find all kinds of fun flavours of beer at Taps, which changes seasonally.
I've eaten pretty much everything on the menu at Taps, and the service is always friendly and quick. On evenings and weekends you'll find all kinds of fun events like trivia, comedy shows, live music, and fundraising events for the community.
Taps Brewhouse is also vegan-friendly, and there is a kids-menu for just $10 including a drink!
Cost: The most expensive main on their menu is $17, and their portions are HUGE. Add a tasting flight of 4 5oz beers for only $8.85!
Insider Tip: If you're visiting during the Fall, their Pumpkin Ale is a must-try! You'll always find Sweater Weather and Black Moon Porter on their menu, which are my two favourites.
Location: 4680 Queen St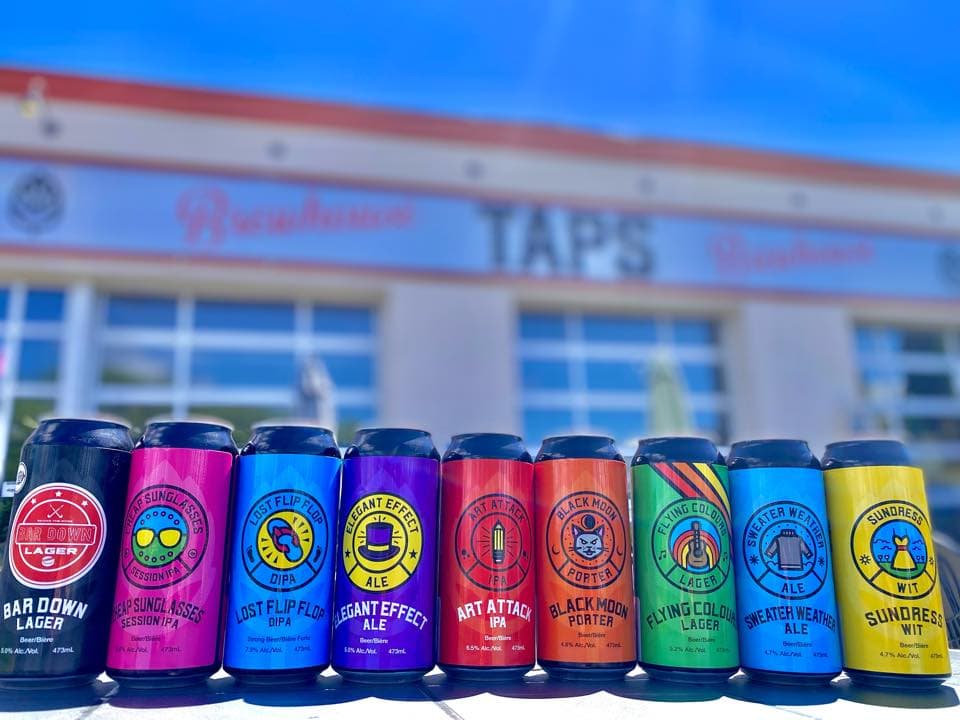 Hi-Lite Restaurant
Just down the street from Taps Brewhouse is a retro diner that will give you 60s vibes!
Hi-Lite Restaurant is a charming diner has been serving the local community for over 90 years and you can find a range of menu items like all-day breakfast, gyros, burgers, sandwiches, fish and chips and more!
.The prices on this menu are unbelievably reasonable, the portions are massive, and the service is super friendly. It's a popular spot amongst locals!
One of their most popular menu items is their turkey club sandwich, and I can attest to the fact that it is truly delicious! The best part is, it's only $11.25 for a huge plate of food. I guarantee you won't leave hungry.
Cost: Main meals start at around $5! Add gravy to your fries if you're getting them – it's SO good.
Location: 4524 Queen St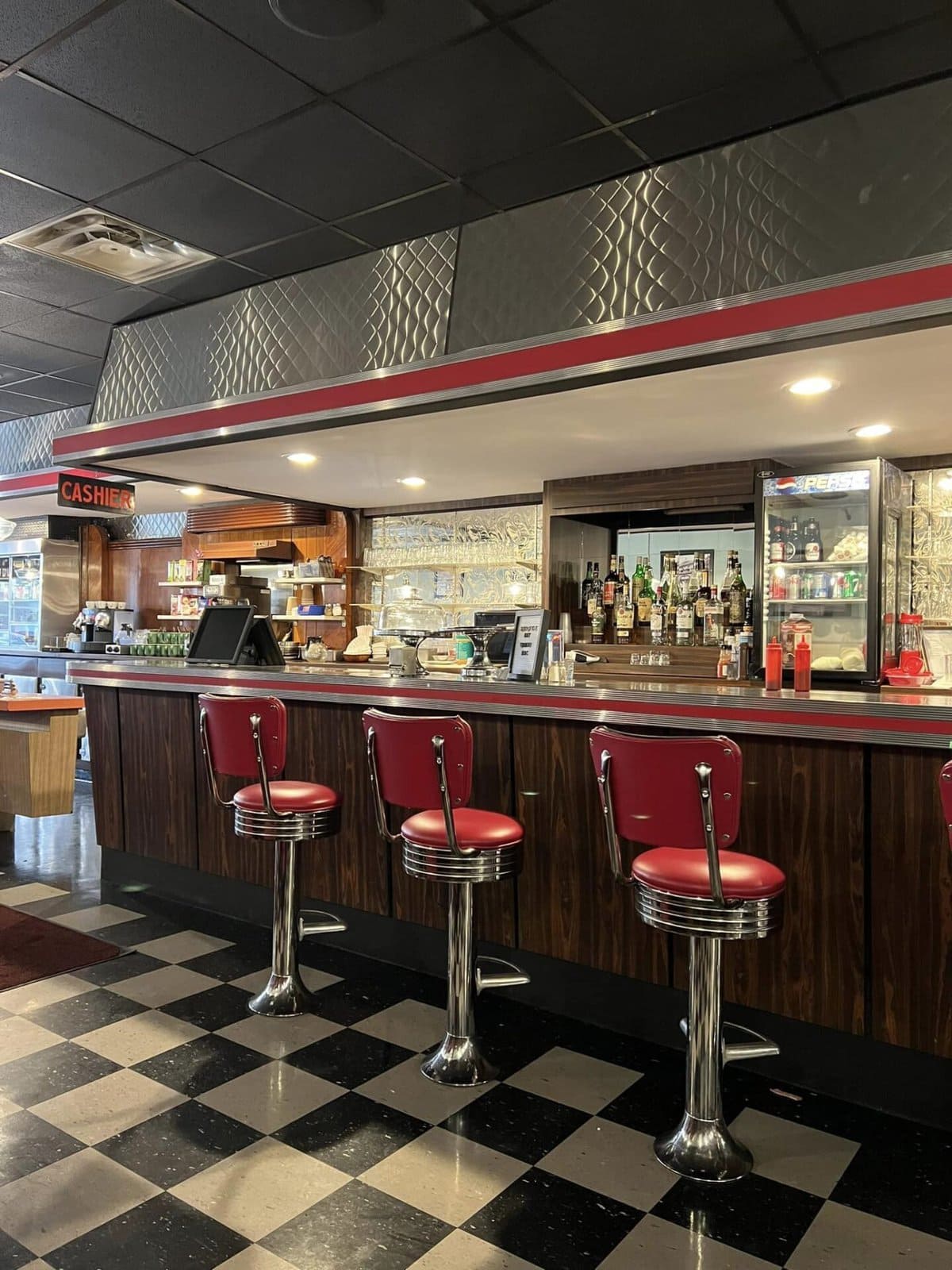 Related Posts
Pin it for later!