Did you know you can get a little dose of the Netherlands in the Niagara Region? Niagara is home to two amazing tulip farms that you can visit and pick your own tulips!
These tulip farms near Niagara Falls make for a great day out! Whether you're visiting as a couple, with a bunch of gal pals, a family, or as mother and daughter, this dreamy experience can't be missed during spring in Niagara!
A vibrant carpet of tulips line acres of land as far as the eye can see! You'll find all sorts of adorable photo props at these you-pick tulip farms, and with you being able to pick your own gorgeous bouquet to bring home, I guarantee you'll have a hard time deciding which 10 you want to pick.
These two tulip farms in Niagara are located a short 5 minute drive from one another, so you can visit both in one season to get your fill of seasonal blooms! I challenge you to find a more tranquil experience!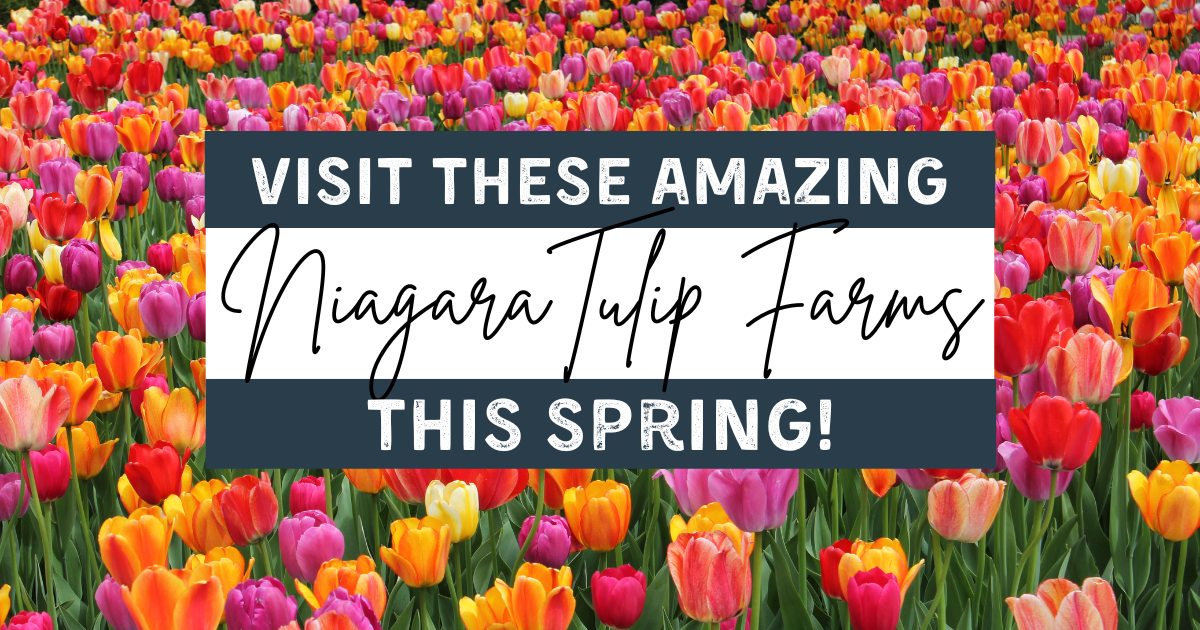 This post contains affiliate links which means I earn compensation when you click on the links at absolutely no extra cost to you! Feel free to read my disclosure policy. Thank you for supporting my blog!
Plan your next vacation using these tools!

✈️ Book flights: SkyScanner
🏨 Book hotels: Booking.com
🚘Book car rentals: RentalCars.com
🎫Book tours: GetYourGuide
🌍Favourite travel item: Packing cubes
🧳Favourite travel bag: Osprey 40L Fairview
🩹 DIY Travel Medical Kit
💸 20 Cheap Travel Items Under $20
JP Niagara Tulip Experience
This charming flower field is Niagara's newest tulip farm!
With over a million flowers and 85 varieties of tulips available, JP Niagara Tulip Experience is a wonder for the senses. Rows and rows of vibrant tulips of all shapes, sizes, and colour stretch beyond your imagination.
There are some really cute photo props at this tulip farm, and if you want to get photos without anyone else in them, be sure to arrive first thing (especially on weekends) or later in the evening after the crowds have passed.
You'll find a piano, floral arch, a large tulip sign, and some other really cute items hidden amongst the flowers!
Be sure to walk to the back of the field along the treeline – there is an incredible array of tulips specially planted for photo opportunities.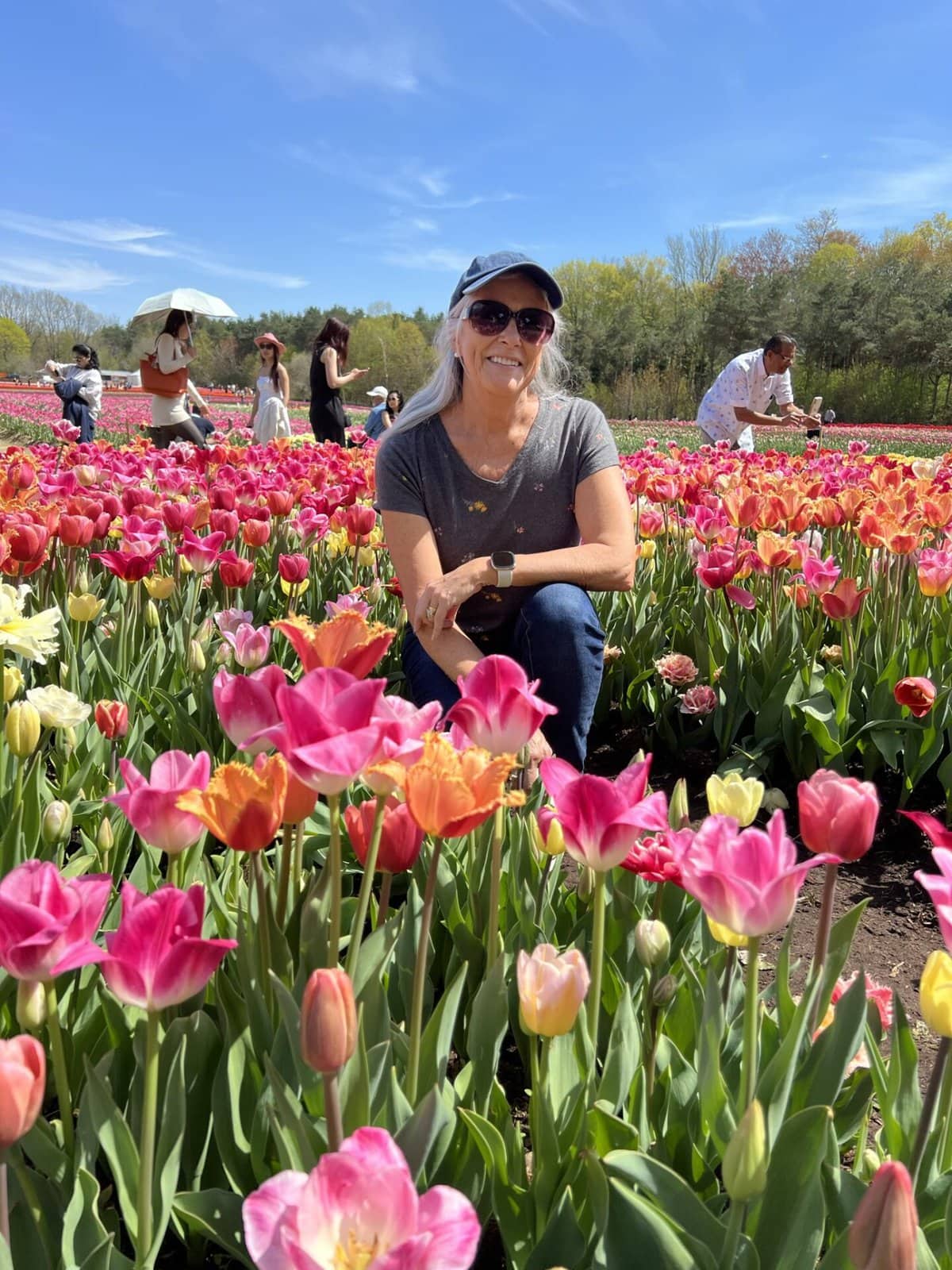 On two special nights – May 11th and May 18th (2023) at 6:30 pm – JP Niagara Tulip Experience is offering a unique date night between the tulips!
Collaborating with Rockway Vineyards, your package includes your choice of a bottle of red, rose, or white wine, a charcuterie box, and 5 professional photos done by a local photographer.
Packages cost $129.95/couple, but a $30 no-show fee will be taken off when you arrive.
This special event is by reservation only by emailing [email protected].
If you visit over Mother's Day weekend, there will be a handmade market in the picnic area! Pack a picnic, bring mom, and enjoy the shade under trees with views of the tulips!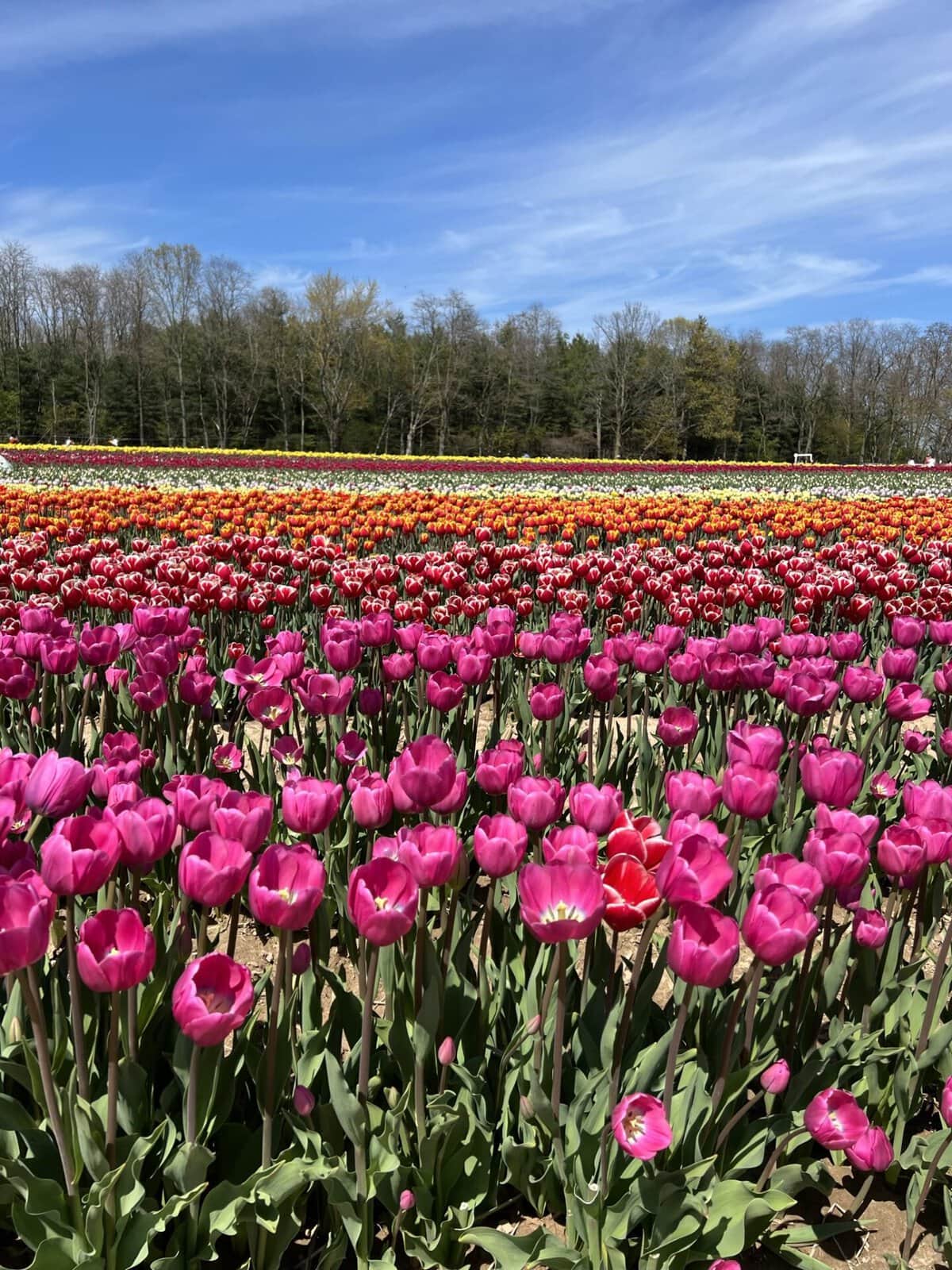 When: April 21 to May 21, 2023
Hours: Daily 8:30 am – 6:30 pm (last ticket entry is 6:30 pm)
How much:
Adults: $17.66 + hst
Children under 13: $12.90 + hst
Seniors 60+: $15.01 + hst
Where: 1934 Centre Street, North Pelham
Good to know: Each ticket includes 10 tulips. Additional tulips are $1 per tulip, paid at checkout. Tickets booked prior to April 10th can be changed at no fee. Changes after April 10th will be charged a $5 convenience fee.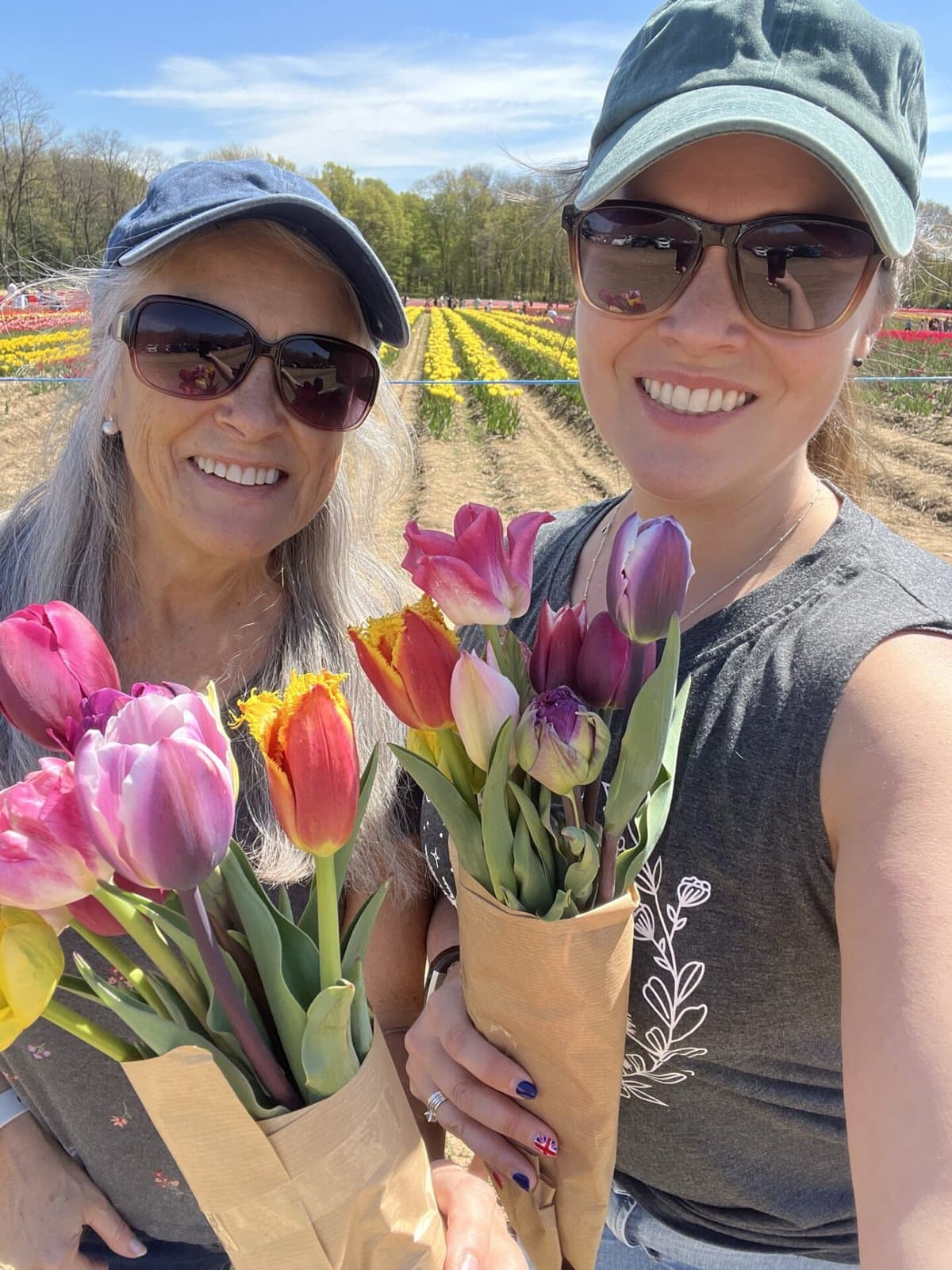 Tasc Tulip Pick Farm
Tasc Tulip Pick Farm is conveniently located just off of Highway 20 in Fenwick. This jaw-dropping tulip farm has planted 2 million (!!!) bulbs and 82 varieties over 25 acres in an eye-catching array of colours.
Their field has grown 20 acres larger from when they opened a couple years ago!
Tasc Tulip Farm hosts a variety of food trucks throughout its season, as well as water, refreshments, and snacks available. Want to spend some more time at Tasc? Bring a picnic! There are 30 tables with umbrellas to relax at.
Snap as many photos as you like during your visit to this Niagara tulip farm. You'll find numerous cute photo spots and props, like giant clogs, dutch bikes, and an antique bed!
You can also purchase merchandise like t-shirts, pots, and tulip bulbs to plant your own little bit of magic at home!
Why not try something new? On May 13th you can take part in a yoga class nestled in the tulips! Tickets are $27 and include an hour of yoga at the field, entry to the tulip field, and 10 pick your own tulips.
When: April 29 to May 21, 2023
Hours: Monday-Thursday, 9:00 am – 7:30 pm (last ticket entry is 6:30 pm)
Friday-Sunday, 8:00 am -8:00 pm (last ticket entry is 7:00 pm)
How much:
Monday to Thursday: $12.50 (children 3-12) to $17.50 (adults) + $1.35 processing fee each ticket + hst
Friday to Sunday: All ages $19.50 + fees and hst
Includes 10 tulips for adults and 5 tulips for kids. Monday-Thursday tickets are valid for any time during those four days. Ticket purchases require a date and time, but you can go whenever suits you Monday-Thursday!
Where: 1415 Balfour St, Fenwick, Ontario, L0S 1Co.
Good to know: Dogs are welcome Monday-Thursday! Your ticket allows you to pick your own bouquet of 10 tulips. Children's tickets include 5 tulips. You can purchase additional tulips: $10 for 10 extra or $20 for 20 extra. Service dogs, and dogs in strollers or carriers are welcome at any time.
FAQs about visiting Tulip Farms in Niagara
Have questions? I have answers!
Do I need to book tickets to visit a tulip farm in Niagara?
At JP Niagara Tulip Experience, pre-booking tickets is highly encouraged, especially during weekends. If the fields are at capacity, only those with pre-booked tickets may be allowed in.
My mom and I arrived at JP Niagara Tulip Experience on a Saturday afternoon and I'm so grateful we pre-booked tickets. It was so busy. During the week this isn't as necessary, so if you want to ensure you get to visit the tulip fields, book your tickets online ahead of time!
If you pre-book tickets online for Tasc Tulip Farm, you will see which time slots are sold out. Book early to avoid disappointment! Pre-booking tickets is required, as many time slots sell out. As there is no waitlist, you will be turned away on a sold-out day.
Group rates are available at Tasc. Email [email protected] for times and pricing for groups of 25 or more.
What if it rains?
The tulip fields in Niagara are open rain or shine. Tickets are not refundable or exchangeable.
Tickets can be changed at JP Niagara Tulip Experience for a $5 convenience fee.
How long can I stay at the tulip farm?
You can stay as long as you want at these tulip farms! Most people spend about an hour wandering through the fields, picking flowers, and taking photos.
Plan to spend longer if you plan to picnic or grab a drink or snack.
Can pull up the bulb along with the flower?
Please don't! Removing the bulb means the tulip is no longer alive. The bulb needs the soil, the sun, and the plant itself to remain alive. You will be told upon entry to snap off the tulip about two inches from the soil so the plant stays alive.
Is there anything I should know about visiting a tulip farm?
Be respectful! Be sure to walk only on the paths and not step over or on any tulips.
No smoking at the tulip fields are allowed.
No drones are allowed.
Bulbs are not included in your tickets and should stay on the farm.
​No tools are needed to pick tulips! The stems easily snap off at the base.
Only pick what you intend to keep.
Related Posts
Pin it for later!