As much as I love winter, there is something so refreshing about spring, when the days get longer, the birds are singing, and fruit trees are blossoming. And a sure sign of spring is cherry blossoms! If you're wondering where to find cherry blossoms in Niagara, keep reading!
Blooming cherry trees go hand in hand with the arrival of spring. These beautiful blossoms are symbolic of a time of renewal, and the fleeting nature of life.
Fortunately for us living in Niagara, we have not only cherry trees, but a variety of other fruit trees with different bloom periods, which means there are a few solid weeks of blossom time!
Cherry blossom season is undoubtedly the most beautiful time of the year in Niagara, so if you were looking for another reason to get outdoors and wondering what to do on a weekend, it's the perfect time of year to go exploring some back roads!
Important! Most of these locations here are private property. Do not wander through these orchards. You will be considered as a trespasser and will be fined. If you're looking for a beautiful drive on a sunny spring day, please be sure to enjoy the views from your vehicle!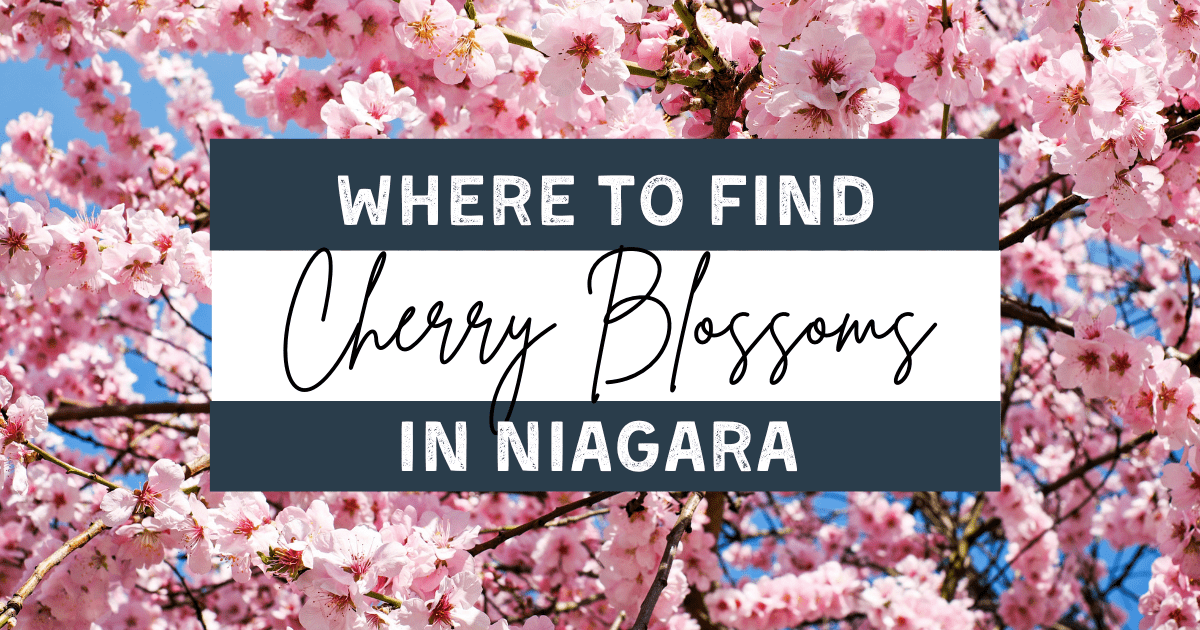 Fun fact about me: I used to be a crop scout for a pest and disease management company when I was on Co-op for my Geography degree. Each week I visited 40 fruit farms and vineyards in Niagara. I will tell you that when the trees were in bloom, it was the most magical time of the year being completely surrounded by pink and white hues and petals falling gently all around you. It felt like it was out of a dream.
You'll find much more than just cherry blossoms around here. The Niagara Region has prime growing conditions for cherries, peaches, apples, pears, plums, nectarines, apricots, grapes and more! In fact, Niagara is Ontario's largest fruit-growing area, producing over 90% of Ontario's tender fruit! Each spring over 1.5 million fruit trees are in bloom!
When do cherry blossoms bloom in Niagara?
Cherry trees usually blossom mid/late April to early May. It's a short bloom (anywhere from 6 – 14 days). Fruit trees tend to bloom earlier in Niagara Falls and Niagara-on-the-Lake compared to Lincoln and Grimsby. This of course varies greatly depending on the weather.
Quick tip: If you want to check the status of cherry blossoms and blooms in Niagara, I do a quick hashtag search or location searches on Instagram to see recent photos.
Since not all fruit trees bloom at the same time, nor does the entire Niagara Region bloom at the same time, you'll be able to catch a glimpse of thousands of pink and white petals during this time of year throughout the area!
Apple and pear trees generally bloom a week or two after cherries and other stone fruit (like peaches and apricots). You'll notice that many of the cherry trees around here are mixed in with other fruit trees, so if you don't make it down for the cherry blossoms, chances are you'll catch another type of blossom!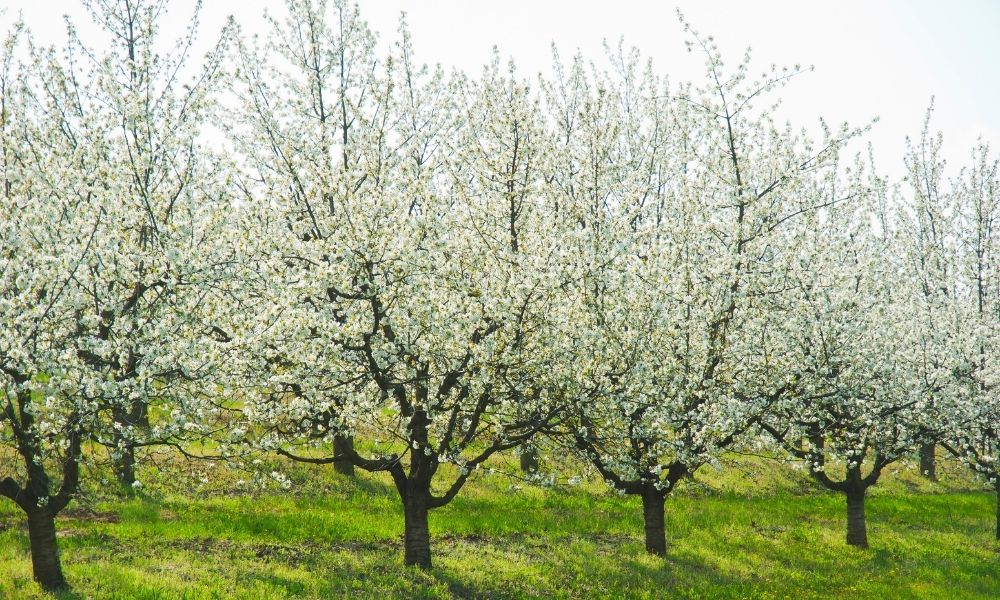 What fruit trees blooms first in Niagara?
Pink apricot blooms are generally the earliest, followed by the beautiful white and pale pink cherry blossoms. Shortly after, peaches, nectarines, pears, apples, plums and grapes follow suit.
Cherry Blossoms in Niagara
Things to keep in mind: a lot of these locations are private property, so please enjoy the scenery from your car and do not wander through their orchards!
Where to see cherry blossoms in Grimsby
Clarke St/South Service Rd (by the police station)
Cherry Blossoms, Peach Blossoms, Pear Blossoms and Apple Blossoms in Lincoln
Living in Lincoln really has its perks. I'm so lucky to live here, surrounded by wineries and fruit farms! Spring is by far the prettiest time of the year. Essentially, if you drive through the backroads between Ontario St in Beamsville to Victoria Ave in Vineland, you are bound to come across a few fruit orchards!
Durham Rd North
Durham Rd (Hildreth Farms)
Mountainview Rd
Mountainview Access Rd
Lincoln Ave
Greenlane Avenue between King St and Lincoln Ave (my commute to work every day!)
By the Tim Hortons/McDonalds Gateway
John Street (lots at John and Maple Grove Rd)
Sann Rd North and South
Cherry Avenue (lots at John and Cherry Ave)
Martin Road
Fruit Tree Blossoms in Jordan
Jordan Rd and Red Maple Avenue
Fifteenth St and Fourth Avenue
Thirteenth St and Honsberger Avenue
Where to see Cherry Blossoms in St. Catharines
Seventh St Louth and Second Avenue Louth
Seventh St Louth and Third Avenue Louth
Second Ave Louth and Third St Louth
Brock University: The Japanese government donated 100 Sakura cherry trees to Brock University as a gesture of friendship in 2003!
Where to find Cherry Blossoms in Thorold
Lakeview Cemetary: 60 Japanese cherry trees were planted here almost 10 years ago to commemorate Martha Cartmell, a Thorold female missionary who founded a Christian girls' school in Japan in 1884 at a time when Japanese girls were not allowed to be educated.
Where to find Cherry Blossoms in Niagara Falls
Kingsbridge Park: just a short drive from Niagara Falls where the Niagara River and the Welland Canal meet. It's the former site of Fort Chippawa, a well-known battleground during the War of 1812.
Niagara Parks Botanical Gardens: here you'll find Japanese cherry trees at this 99 acre park! You'll find other gorgeous blooms here as well, including their world-famous rose garden with over 2000 roses!
Related: Where to See the Best Spring Blooms in Niagara Falls
Cherry Blossoms in Niagara-on-the-Lake
No matter which road you turn off the Niagara Parkway from, you're bound to happen upon a blossoming fruit tree orchard.
Queenston Heights
McFarland Park
Along the Niagara Parkway
Concession 1 Rd
Line 8 Rd
Arnold Rd
Concession 2 Rd and Line 5 Rd
Niven Rd
Lakeshore Rd
Four Mile Creek Rd
Line 1 and Concession 6 Rd
Other places to see beautiful blooms in Niagara Falls
Be surrounded by stunning pink and white Magnolia blooms at the Floral Showhouse entrance (you can't miss it!)
Centennial Lilac Garden – my all-time favourite place! If you miss the blossoms earlier in the season, come back here in mid/late May to experience the blooming lilacs. There is no greater fragrance than these beautiful flowers!
Map of where to find cherry blossoms in Niagara
There are a ton of locations listed here, so here's a map to make it easier! This isn't an entirely exclusive list, but rather locations that are easy to find, and ones that you're able to enjoy a roadside stop for a photo or a stroll through the park. Remember to stay off private property! 😊
The lighter, coral-coloured stars represent guaranteed cherry blossom locations! All others represent locations where you'll be able to find beautiful apple blossoms, pear blossoms, peach and nectarine blossoms, and more!
Related Posts
Pin it for later!