Niagara Falls is an amazing place to come and see some flowers! From the spring blooms to cherry blossoms, Niagara Falls offers numerous sites to enjoy some seasonal blooms. One of these places to visit in Niagara Falls is the Floral Showhouse!
The Niagara Parks Floral Showhouse is a lush oasis just a short walk from the brink of Horseshoe Falls! The Floral Showhouse has welcomed visitors since the 1940s and is a great escape from the busy tourist area of Niagara Falls.
Here you'll find a unique collection of tropical plants, succulents, orchids, and other beautiful displays throughout the year. There are also floral events that tie in with the seasons, so there is always something to see in bloom!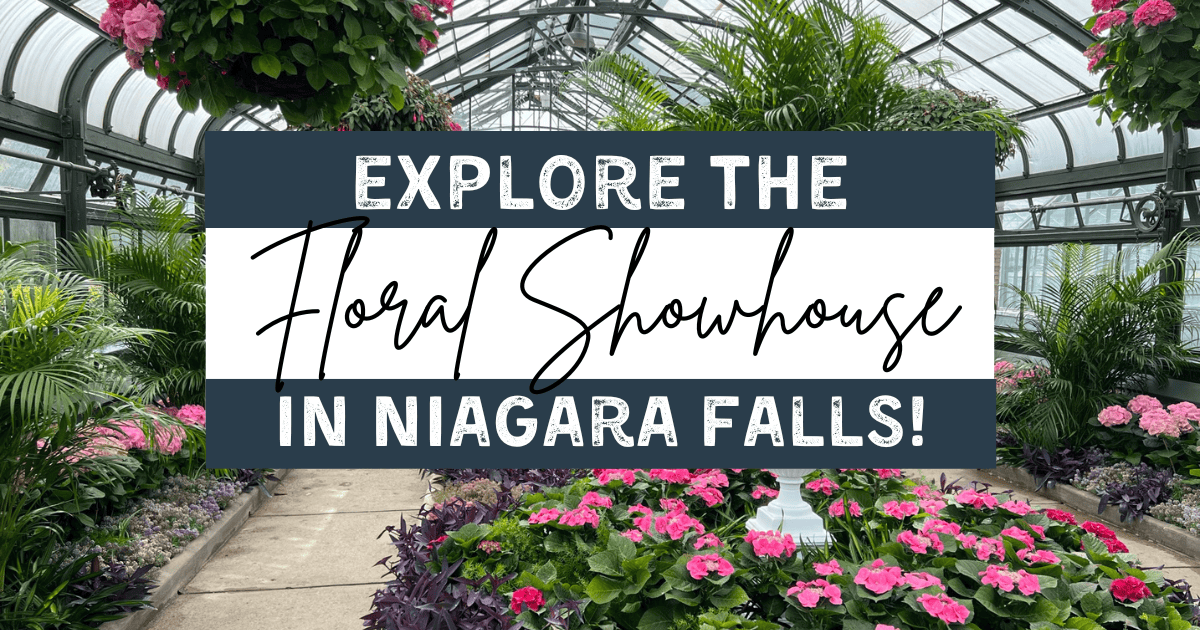 This post contains affiliate links which means I earn compensation when you click on the links at absolutely no extra cost to you! Feel free to read my disclosure policy. Thank you for supporting my blog!
Plan your next vacation using these tools!

✈️ Book flights: SkyScanner
🏨 Book hotels: Booking.com
🚘Book car rentals: RentalCars.com
🎫Book tours: GetYourGuide
🍽️Local food experiences: EatWith
🌍Favourite travel item: Packing cubes
🧳Favourite travel bag: Osprey 40L Fairview
📱 ESims: Airalo
🩹 DIY Travel Medical Kit
💸 20 Cheap Travel Items Under $20
What to see at Niagara Parks Floral Showhouse
Conveniently located just a few minutes' walk from the Horseshoe Falls, the Niagara Parks Floral Showhouse is surrounded by beautiful gardens. It's especially gorgeous during spring, when the magnolias, tulips and daffodils are in bloom!
The entrance of the Floral Showhouse is so lush, you'll want to take a photo as soon as you go inside! There is a bench to stop and rest if you've been walking around Niagara Falls, and also offers a great photo opportunity surrounded by lush greenery!
Your ticket gives you access to three show houses: the North, Centre and South. The Centre and North showhouses contain the seasonal displays that rotate frequently throughout the year. The amount of work that goes into these floral displays is amazing!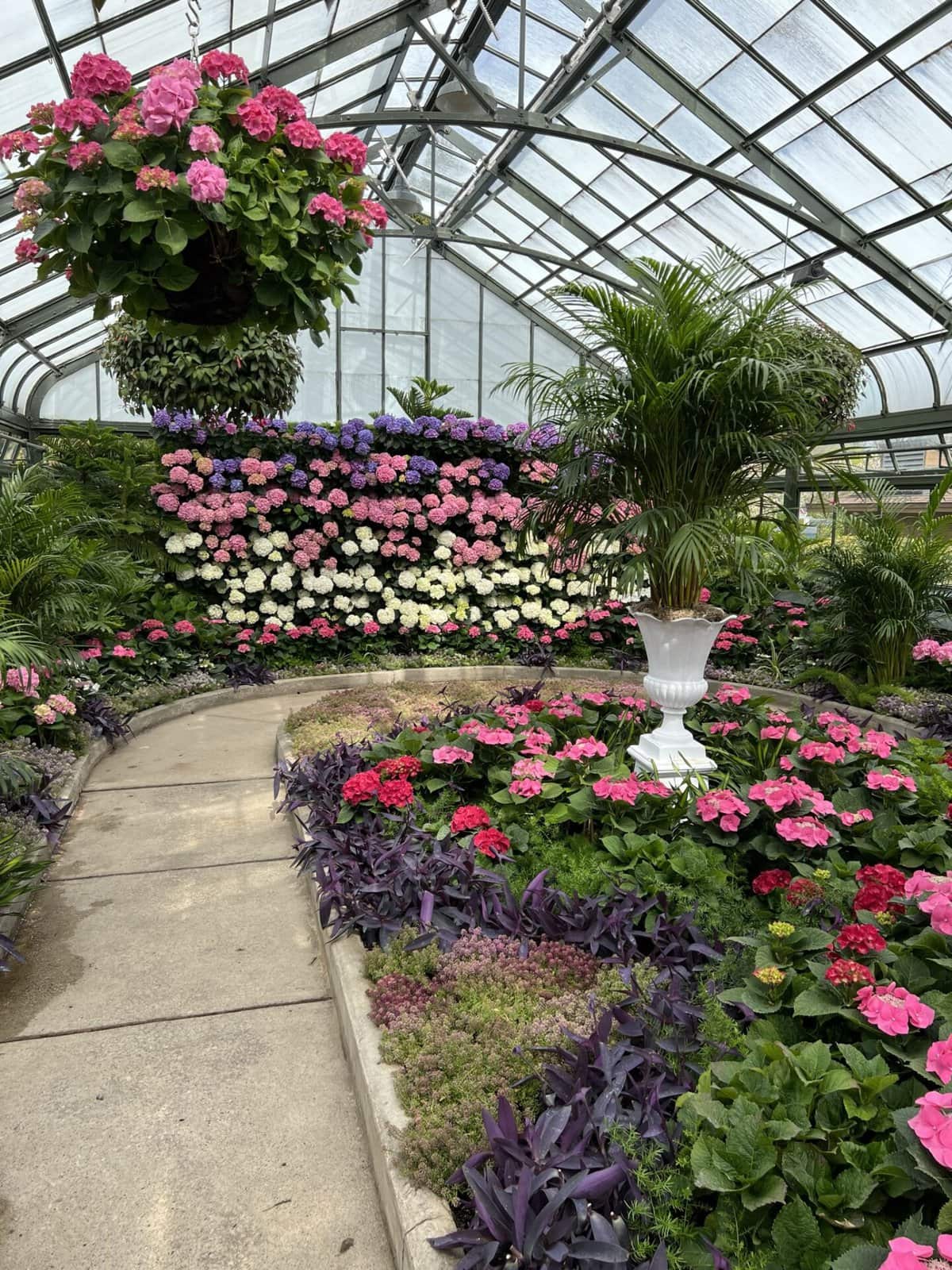 The South showhouse contains numerous tropical plants that will leave you saying, "I've never even heard of that before!"
There are strange cacti, plants that resemble shrimp, and massive palms that tower over you. Take some time to read what they're called, because we noticed that the names were spot on for what they looked like!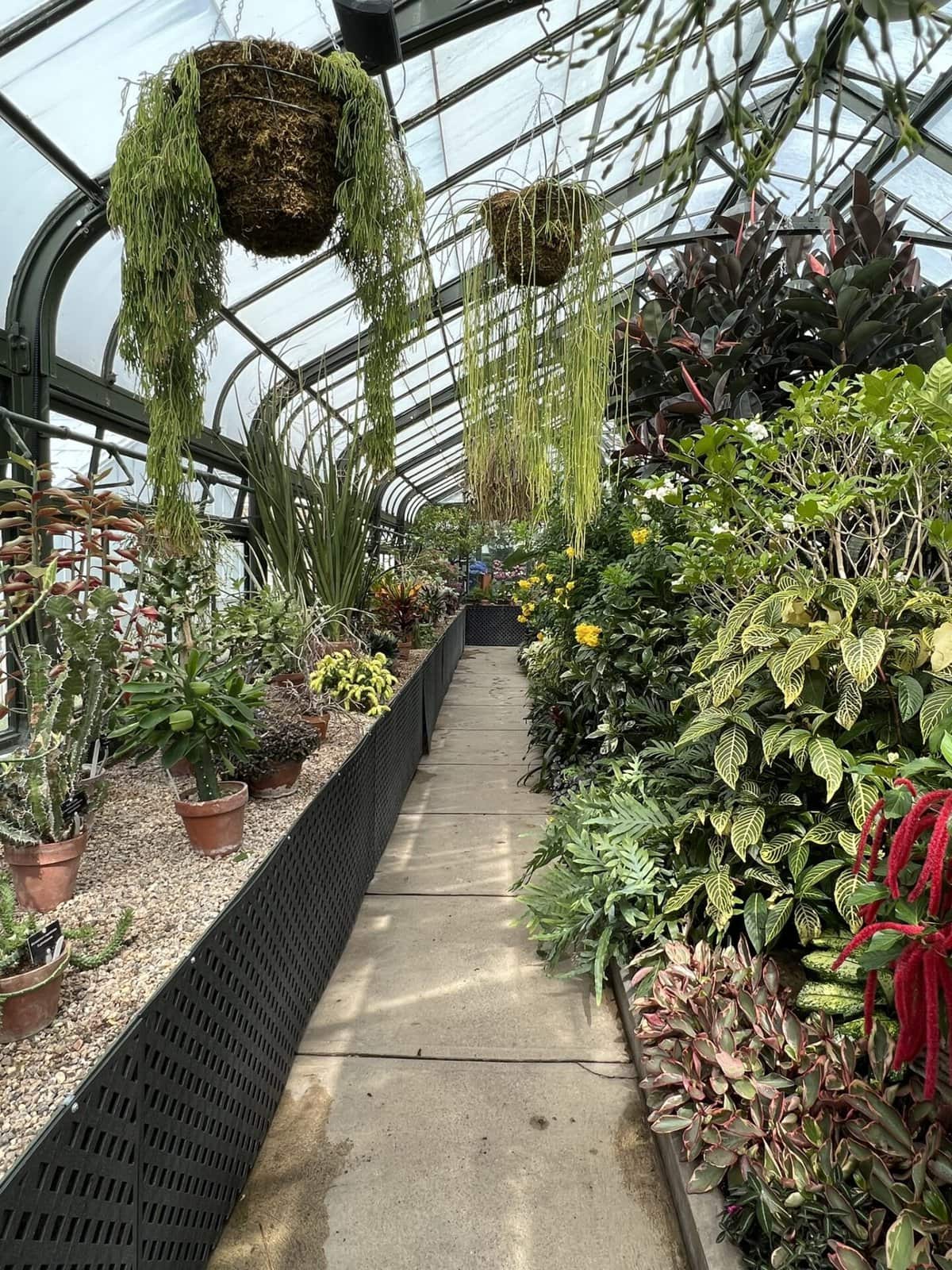 Fun fact: Over 20,000 plants are grown annually for the Floral Showhouse!
Part of your admission also grants you access to the gardens outside, which shouldn't be missed! There is an adorable miniature village with cute birdhouses, log cabins, a palatial mansion, stores, and even a train that goes around a pond!
There are fish and turtles to see as well as some benches to sit and enjoy the scenery!
The Floral Showhouse is also where Magnolia Alley is located. It's out front and is free to access. It's a popular spot for photos and it's not hard to see why – it's absolutely stunning!
Be sure to keep an eye on the Niagara Parks "What's in Bloom" schedule to make sure you don't miss out on seeing these magnificent petals.
Floral Showhouse Events
Several unique floral exhibits are on display at the Floral Showhouse every year.
While the Floral Showhouse is closed after Christmas until May, the season starts off with a bang with the Annual Hydrangea Show! This stunning display of pink, blue, white, and purple hydrangeas take up the whole Centre and North greenhouse.
There is also a fall display as well as the amazing Annual Poinsettia Show that runs for 5 weeks over the Christmas holidays. It's a great way to get into the Christmas spirit while visiting Niagara Falls!
Usually running from the last week of November to the first week of January, during the Annual Poinsettia Show you can see over 1400 poinsettias and 1000 display plants grown just for this event!
This ties in nicely with the Winter Festival of Lights (an amazing free thing to do in Niagara Falls!) so be sure to time your visit to experience more of what the falls has to offer!
In addition to these main events, there are several annual flower shows on display!
May: Hydrangea Show
June: Regal Geranium Show
July – September: Summer Show
September – October: Rieger Begonia
November: Chrysanthemum Flower Show
December: Poinsettia Show
Floral Showhouse Tickets
You can purchase tickets on-site at the Floral Showhouse.
Adults 13+: $8
Children 3-12: $5
Under 2: Free
If you are spending a weekend in Niagara Falls, I highly recommend purchasing an attraction package.
It gives you admission to the best Niagara Falls attractions (like Journey Behind the Falls!) and can save you up to 53% if you purchased them all individually! It's one of the best ways to save money while visiting Niagara Falls.
My recommendation is the Adventure Pass Plus for $99, which includes
Niagara Parks Power Station + The Tunnel
Niagara's Fury
White Water Walk
Whirlpool Aero Car
Butterfly Conservatory
2-day Falls Incline Railway
2-day WEGO
BONUS:
Floral Showhouse
4 Historic Heritage Sites
Niagara-on-the-Lake Shuttle
All of these attractions would cost you well over $200. Save your money and purchase the pass if you are planning to see and do a few things while visiting the falls.
Visiting on a budget? No worries! There are a ton of awesome free things to do in Niagara Falls.
Floral Showhouse Hours
The Floral Showhouse is open from 10:00 am – 5:00 pm 7 days a week.
Extended hours may be offered during seasonal shows. The Floral Showhouse is closed between January – May annually and is closed on Christmas day.
Where to Park for the Floral Showhouse
Parking is available on-site for the Floral Showhouse for $5/hour. If you are visiting Niagara Falls, the parking lot at the Floral Showhouse is substantially cheaper than at Table Rock, which is $35!
The Floral Showhouse is just a short walk away from Horseshoe Falls, so if you don't mind walking and want to save some money, you can easily walk to the Niagara Parks Power Station, Table Rock, and the brink of the Falls while you're in the area.
Address: 7145 Niagara Pkwy, Niagara Falls, ON L2E6T9
Related Posts
Pin it for later!