Have you ever seen the Falls Incline Railway? This handy method of transportation is one of those things that is well worth it to save time (and your legs!) when visiting Niagara Falls.
If you're wondering what on earth the Falls Incline Railway is, it's a convenient funicular that runs up and down the hill between Table Rock Welcome Centre and the Fallsview Tourist area.
This amazing yet simple piece of technology transports over 800,000 people during peak-season alone, and another 500,000 during off-season. That's 1.3 million people annually!
Is the Falls Incline Railway worth it? The answer is yes. It's a small cost to save a lot of time and energy. Otherwise, be prepared for a lot of walking!
This post contains affiliate links which means I earn compensation when you click on the links at absolutely no extra cost to you! Feel free to read my disclosure policy. Thank you for supporting my blog!
Plan your next vacation using these tools!

✈️ Book flights: SkyScanner
🏨 Book hotels: Booking.com
🚘Book car rentals: RentalCars.com
🎫Book tours: GetYourGuide
🍽️Local food experiences: EatWith
🌍Favourite travel item: Packing cubes
🧳Favourite travel bag: Osprey 40L Fairview
📱 ESims: Airalo
🩹 DIY Travel Medical Kit
💸 20 Cheap Travel Items Under $20
About the Falls Incline Railway in Niagara Falls
Originally built in 1966 by a Swiss company, it used to actually be open-air and only operated during the summer months. It operated as the Horseshoe Falls Incline Railway and was later decommissioned.
It wasn't until 2013 when the system was replaced with modern, climate-controlled, enclosed cars to enable the use of the Incline Railway year-round.
It's now designed to handle all weather conditions, from rain to snow, including the freezing misting of Niagara Falls during winter!
Without this accessible method of transportation, it would mean you would have to walk all the way down to Murray Street to access things like the Fallsview Casino, hotels, and numerous restaurants! It is located roughly 1.5 km away from Clifton Hill, right near the brink of Horseshoe Falls.
This much-needed shortcut is a welcome sight after a long day of sightseeing in Niagara Falls.
The Falls Incline Railway offers easy access to the Table Rock Welcome Centre, where attractions like Journey Behind the Falls and Niagara's Fury are, in addition to restaurants and shopping, parking, and connecting to the WEGO!
Riding the Falls Incline Railway is a great way to get to your hotel at the end of the night or after dinner or after watching the fireworks in Niagara Falls.
What's even better is the view! If you're lucky enough to get onto the funicular first, you'll have front row seating (the first three rows are bench seating!) with amazing views of the Horseshoe Falls and surrounding area.
It only takes just over a minute to go up or down, so keep your eyes peeled for great views of Niagara Falls!
Related: The Best Free Things to do in Niagara Falls
Falls Incline Railway Hours
The Falls Incline Railway is open year-round (except Christmas Day) and is climate controlled, so you don't have to worry about seasonal access!
While the hours do fluctuate throughout the year, the hours run from 9:00 am – 11:00 pm during the summer from Victoria Day weekend in May until the end of October, just after the season's end of the Niagara Falls Fireworks.
From November – Victoria Day weekend in May, the Falls Incline Railway runs from 9:00 am – 9:00 pm.
Falls Incline Railway pricing
Tickets range from $3.50 one-way to $7.00 for a return trip, taxes included. A day pass is $8.00 for unlimited rides, taxes included.
Children under two are free.
If you purchase a Niagara Falls Adventure Pass Plus or the Niagara Falls Pass, you get the Falls Incline Railway pass included for two days! The passes are a great way to save money if you plan to spend some time in Niagara Falls and enjoy some of the attractions in the area.
Related: 5 Ways to Save Money in Niagara Falls
Tickets for Niagara Falls Incline Railway
Tickets for the Falls Incline Railway can be purchased on-site at the ticket kiosk.
Falls Incline Railway Tip: If you are staying at a hotel in the Fallsview Tourist area, it's worthwhile to purchase a day ticket. Chances are you'll be heading back to your hotel during the day to rest or change for dinner. This saves you a bit of money. Better to spend a little bit more to buy the day ticket rather than two round trip tickets!
How long is the ride on the Incline Railway?
The journey time on the Falls Incline Railway is only 62 seconds! The entire length is about 60 metres (196 feet) so you travel at a fairly quick speed of 1 metre per second.
There are two railway cars travelling back and forth all day and each one can carry 40 people. Even if there's a short line up, you won't have to wait long!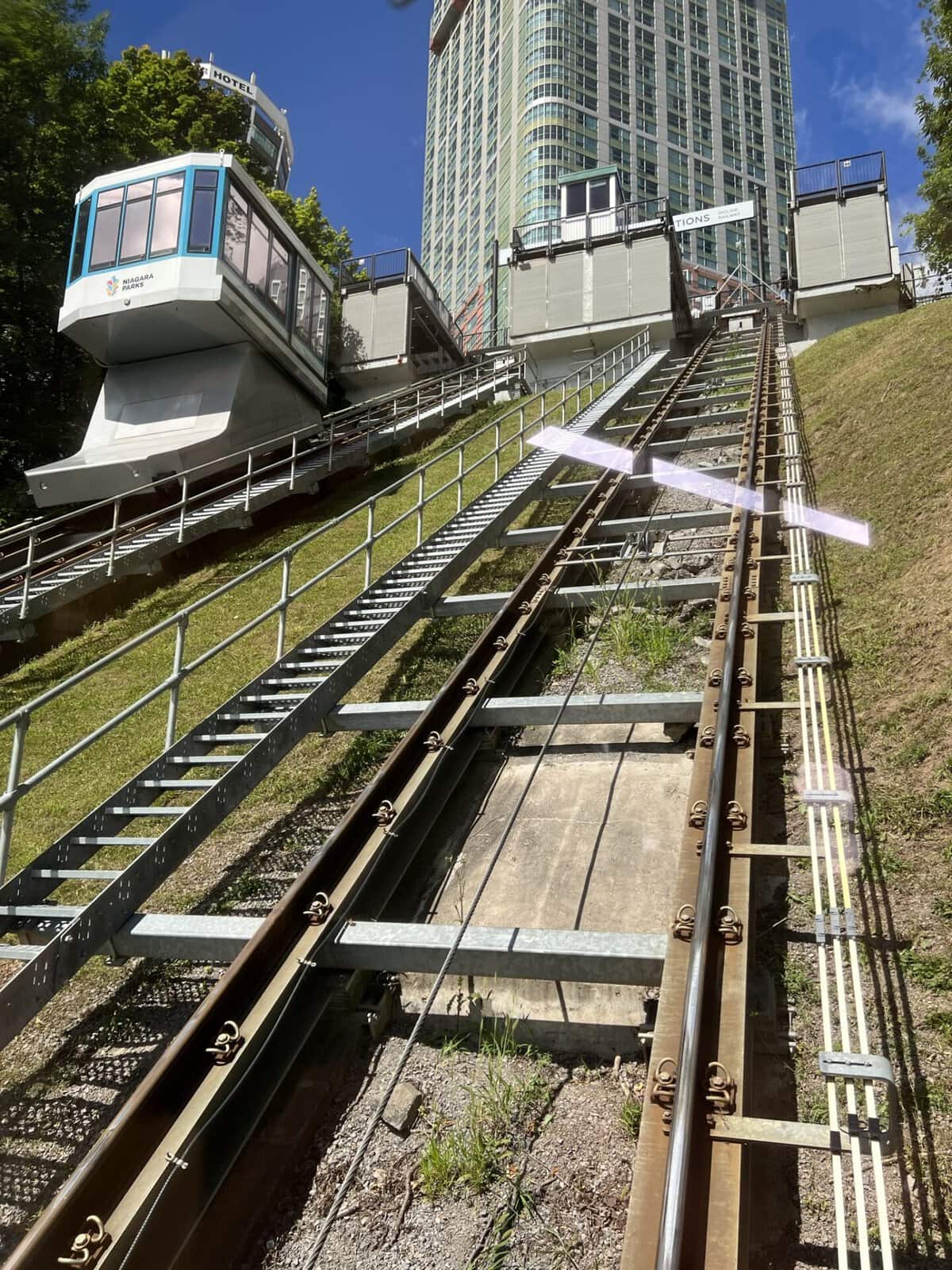 Niagara Falls Incline Railway Address
The top entrance for the Falls Incline Railway is located at 7001 Portage Avenue – behind the Embassy Suites Hotel, which is connected by the Fallsview Walkway.
This is a convenient option for making your way down to Horseshoe Falls and a variety of attractions from any hotels in Niagara Falls in the Fallsview Tourist area!
The bottom entrance is found at 6650 Niagara Parkway, right behind the Table Rock Welcome Centre.
Related Posts
Fun Niagara Falls Area Attractions
Pin it for later!