If you're planning on picnicking in Niagara Falls, there number of fantastic picnic spots in and around the Fall to choose from!
Niagara Falls has an abundance of picturesque spots to enjoy a picnic. Whether it's with the backdrop of cherry trees, magnolias, seasonal blooms, the Niagara Gorge or the stunning Niagara Falls itself, there are tons of places to go for a picnic!
Picnicking around this natural wonder is one of the best ways to enjoy what this region has to offer. Plus, it's a great way to save money when visiting Niagara Falls, considering these picnic areas are completely free to visit!
Grab your picnic basket and blanket and head to Niagara Falls!
This post contains affiliate links which means I earn compensation when you click on the links at absolutely no extra cost to you! Feel free to read my disclosure policy. Thank you for supporting my blog!
Plan your next vacation using these tools!

✈️ Book flights: SkyScanner
🏨 Book hotels: Booking.com
🚘Book car rentals: RentalCars.com
🎫Book tours: GetYourGuide
🌍Favourite travel item: Packing cubes
🧳Favourite travel bag: Osprey 40L Fairview
🩹 DIY Travel Medical Kit
💸 20 Cheap Travel Items Under $20
Picnic Spots in Niagara Falls
What's more peaceful than enjoying a quiet picnic on a sunny day in Niagara Falls? Whether you want to enjoy some shade while immersed in nature, or feel the power of the Niagara River, there is a picnic spot in Niagara Falls for everyone!
P.s. If you're a frequent visitor to Niagara Falls (or even if you're visiting just for the weekend) the Niagara Parks Parking Pass is well worth it. For $40 you will receive annual parking at Niagara Parks parking lots across the area. When you consider the parking at the popular Table Rock Centre is over $30, the Niagara Parks Parking Pass pays for itself!
Dufferin Islands
The Dufferin Islands is one of my favourite areas in Niagara Falls and it's perfect for picnicking. There are a lot of private little areas here, plus you'll be able to see all kinds of wildlife here, like geese, ducks,
A network of bridges and trails takes you throughout Dufferin Islands. It's a great spot to come for a break from the busy tourist spot of Niagara Falls.
There is plenty of parking available throughout the park, with seasonal washroom access, picnic tables, and charcoal BBQs.
The Dufferin Islands are also walkable from Table Rock Centre, should you choose to keep your vehicle at one parking lot during the day.
P.s. Be sure to return during the winter months for the Winter Festival of Lights!
Address: 6345 Dufferin Isle Rd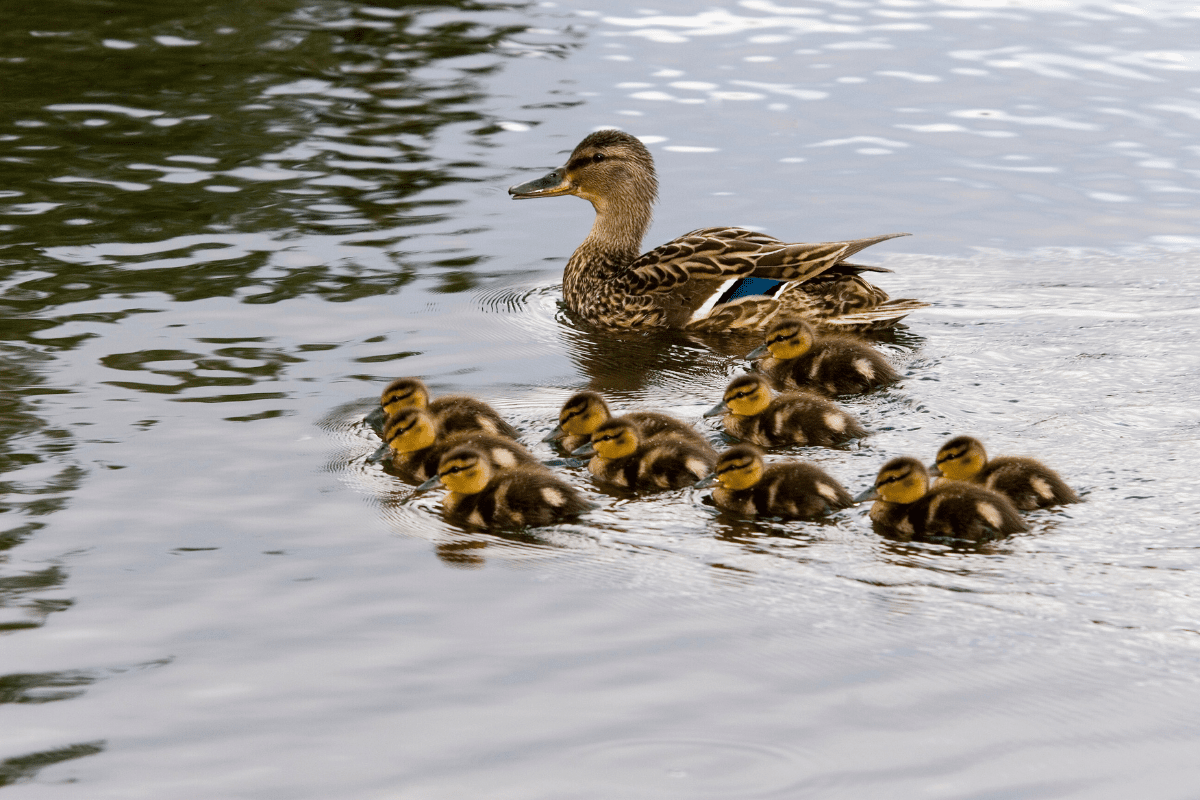 Related: 10+ Best Places to Picnic in Niagara-on-the-Lake
Kingsbridge Park
Kingsbridge Park is just beyond Niagara Falls by a couple minutes, in the charming town of Chippawa.
It's nestled along the Niagara River and the Welland River, and is one of the most beautiful spots to see the cherry blossoms in Niagara during the spring.
This expansive park is perfect for larger gatherings and family picnics. There are plenty of shaded areas from trees, picnic tables, a pavilion, and seasonal washroom access.
Address: 7870 Niagara Pkwy, Niagara Falls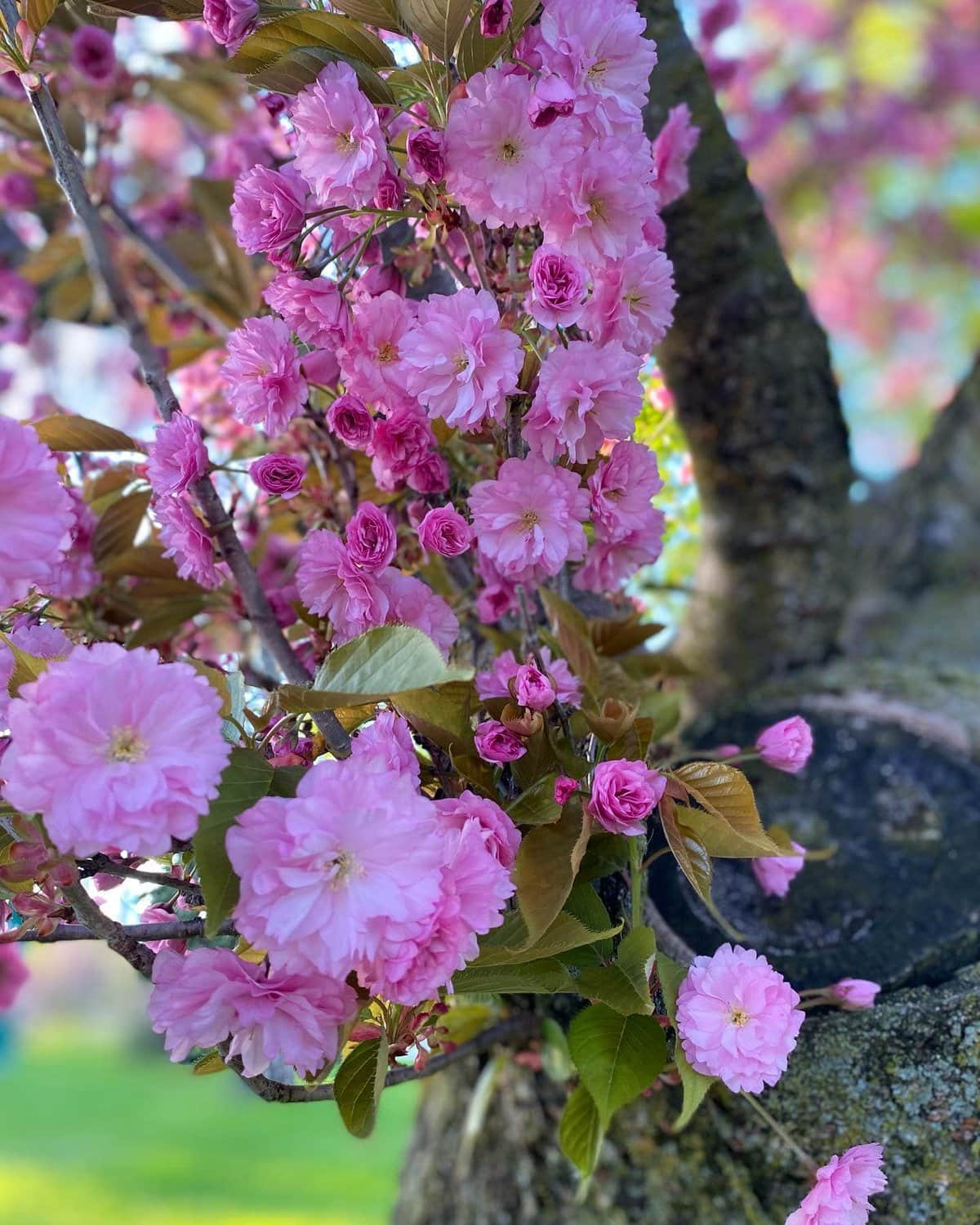 Queen Victoria Park
Queen Victoria Park is right in the middle of all the action of Niagara Falls. This expansive park has beautiful flower gardens, shaded spots, and views of Falls!
This park is a great spot to have a picnic without going too far from the attractions in Niagara Falls.
There are picnic tables, benches, and washrooms nearby. Take a stroll through the landscaped gardens for some peace and calm!
I'd recommend bringing your picnic blanket and finding that perfect shaded spot under a tree for your picnic!
Address: 6345 Niagara Parkway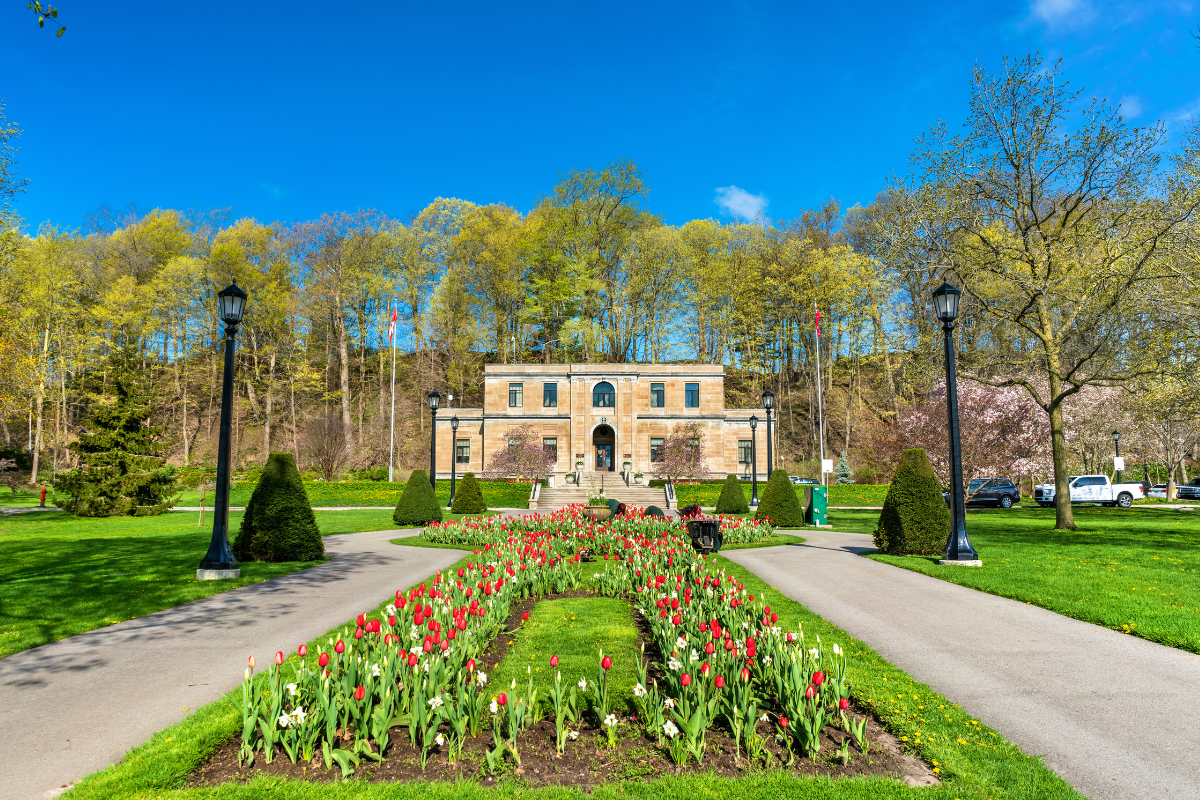 Related: 15+ Date Night Ideas in Niagara Falls for Under $50
Niagara Parks Botanical Gardens
A visit to Niagara Parks Botanical Gardens makes you feel like you've been transported to England. The gorgeous School of Horticulture was established in 1936 and makes a beautiful backdrop for photos.
The gardens are absolutely stunning and expansive (99 acres!); there is no shortage of quiet and scenic spots to picnic!
From rock gardens, vegetable gardens, rose gardens, seasonal blooms and so much more, there's a lot to soak in at Niagara Parks Botanical Gardens. It's also entirely free, too!
There is always shade around to find during a hot summer day. Enjoy a stroll through all the parks of the gardens to see all the different types of flowers and plants, and if time allows, visit the neighbouring Butterfly Conservatory.
Fun fact: The seasonal displays you see at the Botanical Gardens feature over 80,000 annual plants!
Address: 2565 Niagara Parkway
Niagara Glen Nature Centre
If you want a picnic with views, head to Niagara Glen Nature Centre! You'll have amazing opportunities to view the Niagara Gorge and Niagara River from this large park.
The Niagara Glen Nature Center is a popular picnicking spot in Niagara Falls, and during the summertime you'll find tons of families enjoying the warm weather.
If you are looking for a fun activity to do after your picnic, head down the staircase for a hike along the Niagara River! There are a number of marked trails to take and the views are incredible!
The Nature Centre is equipped with washroom facilities, educational facilities, visitor information, refreshments, and souvenirs.
Address: 3050 Niagara Parkway
Related: Niagara's Best Ice Cream Parlours
Niagara Parks Floral Showhouse
The grounds of the Niagara Parks Floral Showhouse are so inviting. Flanked by two paths of magnolia trees, this beautifully landscaped spot has plenty of picnicking spots to pick from.
There are a lot of grassy areas offering shaded, picnic benches, and quiet areas that make for a great picnic.
The Floral Showhouse is within a few minutes walking distance from Table Rock Centre, along the Niagara River. You can catch great views here, so have your camera ready!
I highly recommend visiting the Floral Showhouse too, if time allows. Be surrounded by beautiful blooms, and check outdoors for their adorable birdhouses, too!
Address: 7145 Niagara Parkway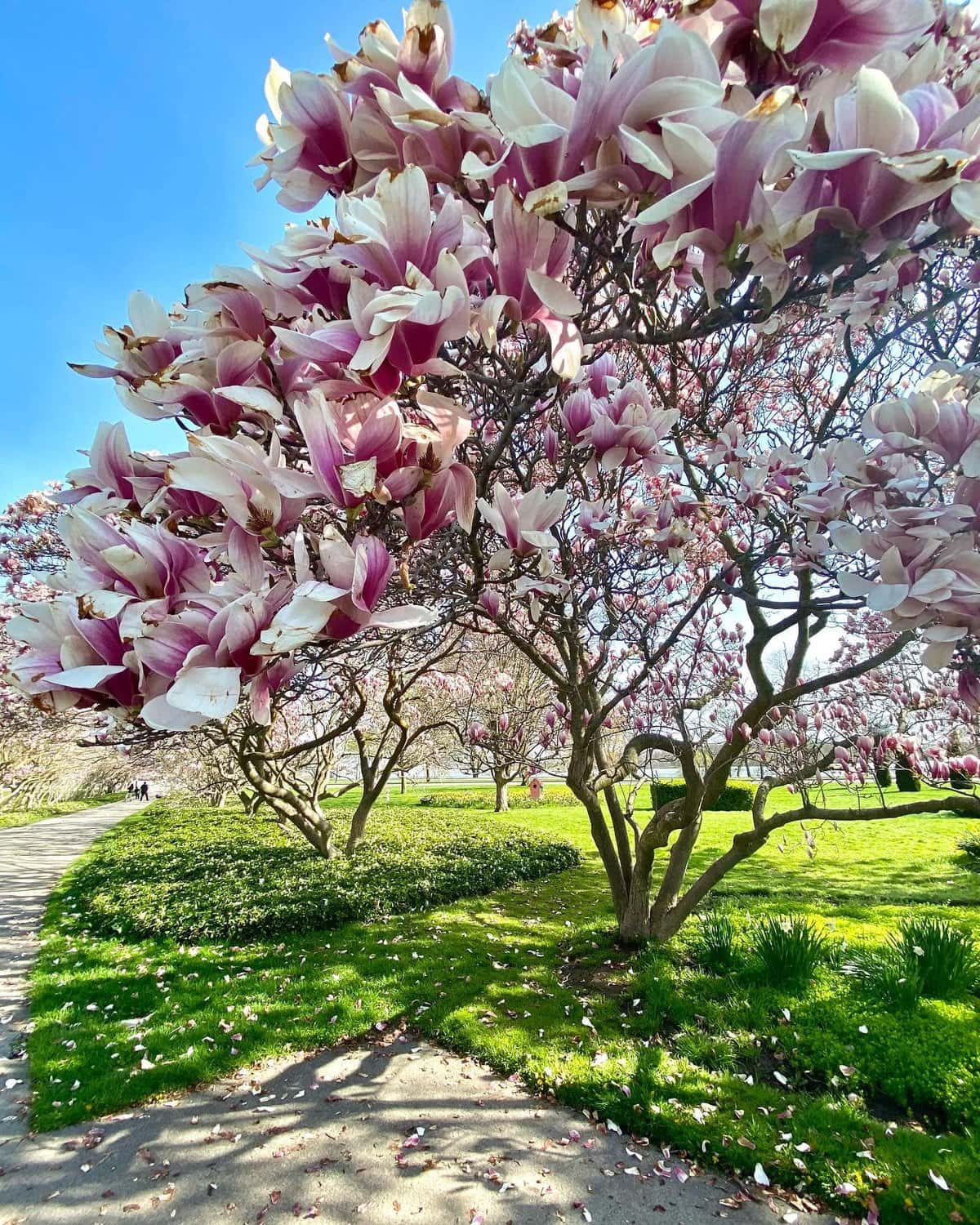 Niagara Floral Clock and Lilac Gardens
Niagara Falls is known for unique attractions and features all of the city, and many of them are free to do!
A must-see while in Niagara Falls is the Floral Clock. This massive clock is decorated with seasonal blooms and are changed twice yearly.
Westminster chimes are in the tower at the back of the clock and chime each quarter hour.
If you're looking for a quiet spot to picnic outside of the heart of Niagara Falls, the Floral Clock offers picnic benches and lots of parking.
If you're picnicking in Niagara Falls during the spring, I highly recommend the Centennial Lilac Gardens, which is located on the other side of the Floral Clock.
You'll find (or smell!) tons of blooming lilac bushes. It's my absolute favourite scent in the world and it makes for the perfect spot to have a picnic on a sunny Spring day.
Address: 14004 Niagara Parkway
Related: Top 5 Money Saving Tips for Visiting Niagara Falls
Oakes Garden Theatre
The Oakes Garden Theatre may be one of my favourite spots to picnic in Niagara Falls.
Located at the bottom of Clifton Hill, Oakes Garden Theatre has a stunning garden with panoramic views of Niagara Falls.
It was built in 1936 and has unique features like a curved pergola boarding one side of the gardens, iron gates, water features, ponds, and Queenston limestone.
There is also a large grassy area great for picnicking in the sun, or should you choose to opt for shade, there are a number of benches under well-manicured trees and pergola.
Admission to Oakes Garden Theatre is free.
Address: 5825 River Rd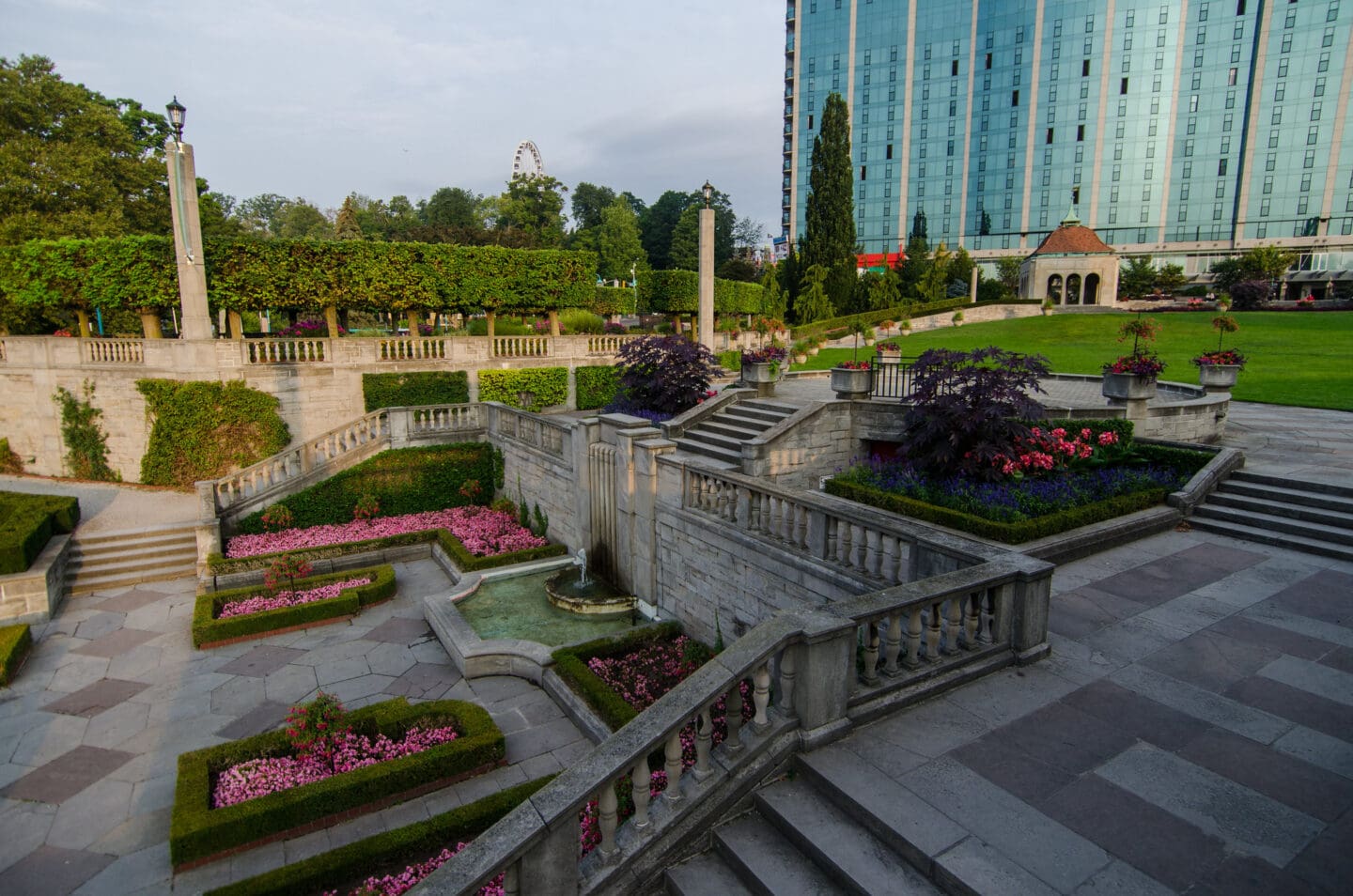 Queenston Heights Park
For diverse picnic spots and a sprawling landscape, Queenston Heights Park offers something for everyone.
Queenston Heights is another popular spot for picnicking during the warmer weather. Just 10 minutes down the Niagara Parkway from the heart of Niagara Falls, it was once a significant battleground during the War of 1812, and you'll find numerous monuments dotted around the park.
Take a self-guided tour through Queenston Heights and pick up some Canadian history while you're here!
You can also check out the birthplace of Niagara Falls, Laura Secord's Homestead, an old printery, and see the southern terminus of the Bruce Trail!
There is ample parking, washroom facilities, splash pad, barbeques, playgrounds, and sports fields, Queenston Heights is a great family spot to enjoy a lazy afternoon in the sun and a relaxing place for that much needed break from the busyness of Niagara Falls.
Address: 14184 Niagara Parkway
Pin it for later!
Related Posts