What's better than grabbing an ice cream cone on a hot summer day? Beat the heat with these best ice cream parlours in Niagara!
Whether you're heading out for a date night or looking for a place to take the kids on a hot summer's day, there is no shortage of ice cream shops to visit!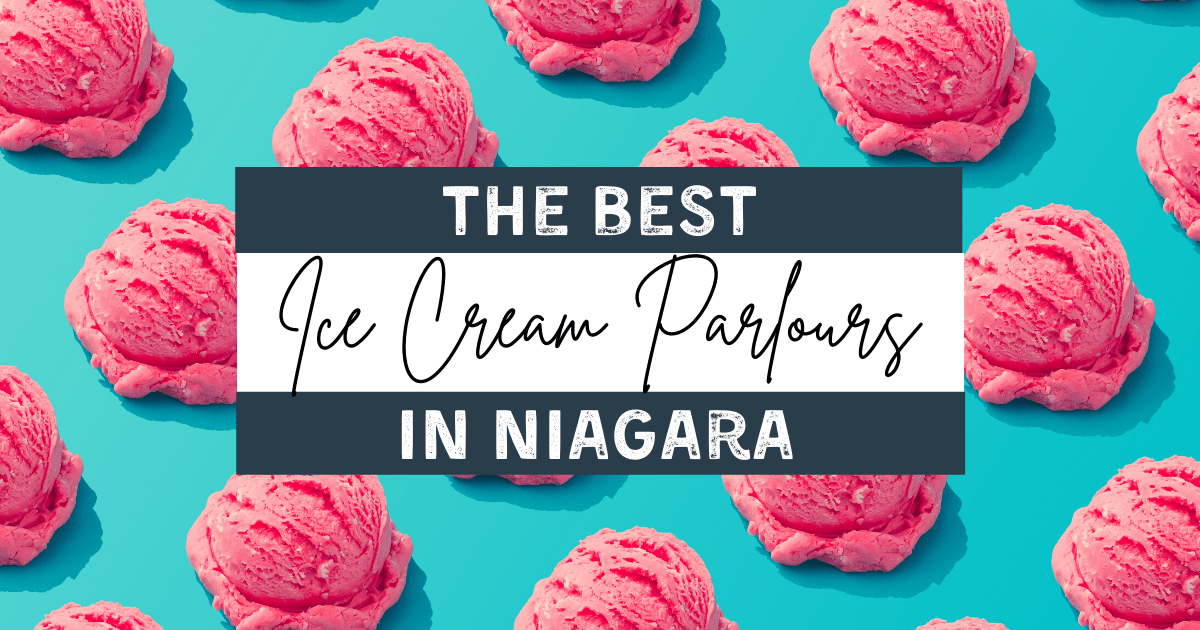 Where to get Ice Cream in Grimsby
Monks Chocolates
Monks Chocolates is well known for their ice cream and gelato. You'll immediately be greeted with the sweet smell of chocolate as soon as you enter their store.
Address: 134 Main St E., Grimsby
Phone: 905-309-6161
Related: The Magical Painted Ladies of Historic Grimsby Beach
Ice Cream Parlours in Lincoln
Conversations Café
The ice cream parlour at Conversations Café in Beamsville has been churning out homemade ice cream that locals rave about. Come grab a seat on their patio during the summer and cool down with traditional or exciting new ice cream flavours!
Address: 4995 King St., Beamsville
Phone: 289-566-9365
Related: Reasons to Visit Beautiful Beamsville
Good Manners Ice Cream
Voted Niagara's best ice cream!
This Ice Cream truck is relatively new to Lincoln and is a hidden gem in Niagara! Come by this ice cream trailer for ice cream from New Wave Ice Cream in London, frozen yogurt with fruit, waffle sandwiches, and more!
Address: 4022 Victoria Ave., Vineland
Phone: 905-981-7653
Follow their Facebook page for opening hours.
Related: 9 Wonderful Ways to Visit Vineland
Peach Country Farm Market
Stop by the Peach Country Farm Market for 16 flavours of old fashioned ice cream, including ice cream made with fresh seasonal fruit. Be sure to try the peace ice cream!
Visit their market store for freshly baked goods and other seasonal treats.
Address: 4490 Victoria Ave., Vineland
Phone: 905-562-5602
Seasonal summer hours only
Related: Where to Pick-Your-Own Peaches in Niagara
Ice Cream in St. Catharines
Hometown Ice Cream
Hometown Ice Cream serves all-natural ice cream, sorbet, and sherbert made right in-house! They use no preservatives or artificial ingredients. Stop by for an ice cream cone and baked goodies!
Address: 100 Fourth Ave Unit 13 (Ridley Heights Plaza), St Catharines
Phone: 905-988-6174
Serendippity Ice Cream
Known for their fun atmosphere, friendly service, variety of flavours, and value for money, Serendippity Ice Cream is a top spot to visit for ice cream to beat the summer heat! Whether you opt for a traditional ice cream cone, sundae, slushy or other frozen treat, you'll be looking forward to the next time you can visit.
Address: 353 Lake St., St Catharines
Phone: 289-943-0811
Rozie's Cafe
Rozie's Cafe is located in historic Port Dalhousie. Known for its exceptional breakfast, Rozie's Cafe also offers frozen treats with a wide variety of flavours, including sugar-free and keto options! Visit Lakeside Beach and take a ride on the 120+ year old carousel for just 5 cents!
Address: 25 Main St., St. Catharines
Phone: 905-938-0479
Related: Niagara's Best Beaches to Visit This Summer!
Marble Slab Creamery
Marble Slab is well-known throughout Niagara for having unique mixtures of ice cream flavours and add-ins! Customize your own cool treat or select one of their own creations.
Offering ice cream cones, ice cream cakes, milkshakes, plus gourmet ice cream, there's something for everyone at Marble Slab! Be sure to check their website often for coupons and promotions (because who doesn't love saving money?).
Address: 275 Fourth Ave, St. Catharines
Phone: 905-682-6847
Ice Cream Bars in Niagara-on-the-Lake
Avondale Dairy Bar
Avondale Dairy Bar is one of the most unique places to visit or an ice cream treat! Located in rural farm country in Niagara, right on a dairy farm, you can relax under the shade of the trees in the grass and watch the day go by.
The ice cream at Avondale Dairy Bar doesn't have to travel far – it's made right on the premises the old fashioned way – by hand and made fresh daily!
Address: 461 Stewart Road, Niagara-on-the-Lake
Open: 7 days a week from 12:00 pm – 9:00 pm
Phone: 905-687-7403
COWS Creamery
If you can't make it to Prince Edward Island for the best ice cream on the island, fortunately you can grab some in downtown Niagara-on-the-Lake!
Stroll through this historic town with an ice cream cone and enjoy the flower-lined streets and beautiful architecture!
COWS Creamery has over 32 flavours to pick from – each made with fresh cream, real eggs, and sugar!
Address: 44 Queen Street, Niagara-on-the-Lake
Phone: 289-468-2100
Hours: 10:00 am – 10:00 pm daily
Related: Unique Things to do in Niagara-on-the-Lake (That Aren't Wineries!)
Ice Cream Parlours in Niagara Falls
Sweet Jesus Niagara Falls
Sweet Jesus guarantees a "divine" ice cream experience, unlike anything you've ever experienced! Their ice cream concoctions include unique items like cotton candy, coconut, cereal, cookies, fruit and more! If you're ice cream obsessed, Sweet Jesus is a must-visit on your trip to Niagara Falls.
Sweet Jesus also offers vegan options.
Address: 5875 Falls Ave, Niagara Falls
Hours: Sun to Thu 12-10pm, Fri & Sat 12pm-12am
Phone: 905-374-4445
CrunchiCreme Waffle Cone Clifton Hill
The only thing to make walking around Niagara Falls in the summer better is enjoying an ice cream cone, and I'd argue it's impossible to walk down Clifton Hill without smelling the sweet aroma of the waffle cones.
CrunchiCreme makes fresh waffle cones right on-site and offers soft-serve ice cream in a regular cone, waffle cone, or deluxe waffle cone with a chocolate-dipped tip.
Address: 4850-4950 Clifton Hill, Niagara Falls
Related: 10+ Niagara Falls Facts (You Probably Didn't Know!)
RollzUp Ice Cream
RollzUp Ice Cream serves Thai ice cream rolls – also known as stir-fried ice cream, and originates from the streets of Thailand where street vendors would skillfully roll ice cream into beautiful shapes. RollzUp Ice Cream is the first place to bring this unique treat to Niagara Falls!
They are known for their super-friendly staff!
Address: 7572 Lundy's Lane, Niagara Falls
Phone: 905-354-8466
Price: $6.65 including three toppings and one drizzle
Related: Unique Things to See Outdoors in Niagara (All Year Round!)
Italian Ice Cream
Family owned and operated since 1978! Italian Ice Cream in Niagara Falls serves 24 flavours of traditional Italian ice cream – also known as gelato. They are a peanut-free facility and their base is gluten-free!
Italian Ice Cream also offers espresso, teas, panini, desserts and imported drinks (and they're fully licensed!). Grab a seat on their patio and enjoy the summer sunshine.
Address: 5458 Victoria Ave., Niagara Falls
Phone: 905-356-3866
Related: The Best Free Things to Do in Niagara Falls
CreekSides
Situated in picturesque Chippawa, just on the other side of Niagara Falls, CreekSides is ready to serve the perfect cool treat for that hot summer day.
From ice cream treats, cold beverages, milkshakes, smoothies, protein shakes and even vegan options, grab that frozen treat and head to the Niagara Parkway or Kingsbridge Park for cool river breezes.
Address: 8164 Cummington Square W, Niagara Falls (Chippawa)
Phone: 289-296-2287
Ice Cream near Niagara Falls
Merrittville Big Scoop
Merrittville Big Scoop is at the Merrittville Speedway and serves more than 38 different kinds of Kawartha Dairy ice cream, along with soft serve cones, sundaes, banana splits, and other cold treats.
They also serve delicious wood-fired pizza!
Address: 2371 Merrittville Hwy, Thorold
Phone: 289-438-2265
Open: 7 days a week from 12:00 pm – 9:00 pm
Gelato Village
If you're looking for a way to cool off in Fonthill, head over to Gelato Village and grab some homemade gelato with ingredients imported from Italy to enjoy on their patio!
They even offer 6 vegan flavours!
Address: 1417-19 Pelham St, Fonthill
Phone: 289-897-9747
You Deserve It Cafe & Creamery
Based in the heart of Fort Erie, You Deserve It Cafe & Creamery is a family-based ice cream parlour offering homemade ice cream cones, milkshakes, baked goods, candy, ice cream cakes, pies and tubs of ice cream!

Address: 1243 Garrison Rd, Fort Erie
Phone: 289-320-9959
Cool Licks
Cool Licks in Welland has over 100 ice cream flavours and offers soft serve, banana splits, milkshakes, sundaes, smoothies, and ice cream cakes!
Address: 642 King St, Welland
Phone: 905-734-7665
Jazzy Scoops Ice Cream
Jazzy Scoops Ice Cream is a cute family-run business in Stevensville! They make all of their own ice cream cones and sauces and have over 40 flavours of ice cream to pick from!
Select from ice cream, sherberts, and lactose free options.
Address: 3717 West Main St., Stevensville
Phone: 289-241-6453
Related Posts
Pin it for later!