The moment I stepped foot on Prince Edward Island, I knew I was in love. This charming Canadian province attracts visitors from all around the world, and its not hard to understand why. PEI may be Canada's smallest province (and only island province!), but it makes up for it with its character, hospitality, seafood, and scenery.
PEI never disappoints, and having visited throughout the seasons, there are a plethora of fun and interesting facts about Prince Edward Island to be shared!
Prince Edward Island is known for Anne of Green Gables and potatoes, but there is so much more to learn about this fascinating tiny province.
Facts about Prince Edward Island
Prince Edward Island is Canada's smallest province by land mass and population. PEI itself is only 5,660 km² with a population of 166,000 residents (2022), referred to as "Islanders". Roughly half of the Islanders live in a town or city, and the rest live in rural settings.
PEI is located off the eastern coast of Canada. It belongs to a group of three provinces collectively known as the Maritimes – Prince Edward Island, New Brunswick, and Nova Scotia.
You can drive from tip to tip on PEI in 3.5 hours.
Prince Edward Island is 225 km long and ranges from 3-65 km wide.
Jacques Cartier, the French navigator, is credited to having discovered Prince Edward Island in June 1534. It was claimed for France by Samuel de Champlain, the first governor of French Canada, in 1603.
Indigenous people, living on the land now known as Prince Edward Island, are the Mi'kmaq (also spelled Micmac) who have lived in Mi'kma'ki, traditional Mi'kmaq territory, for over 12,000 years! Mi'kmaw refer to the island as "Epekwitk", which means "lying on the water." Roughly 1,700 of them lived on PEI at the beginning of the 21st century.
Charlottetown itself was originally called Port la Joie, where French settlers colonized the area in 1720. Port la Joie is located at the southwestern part of the harbour, opposite the present-day city. The British captured the fort in 1758 and renamed it Fort Amherst.
Charlottetown was renamed in honour of Queen Charlotte, after the island passed to Britain in 1763.
During the 1800s, Prince Edward Island became a popular retreat for British nobility. Many Victorian buildings still line the streets of Charlottetown.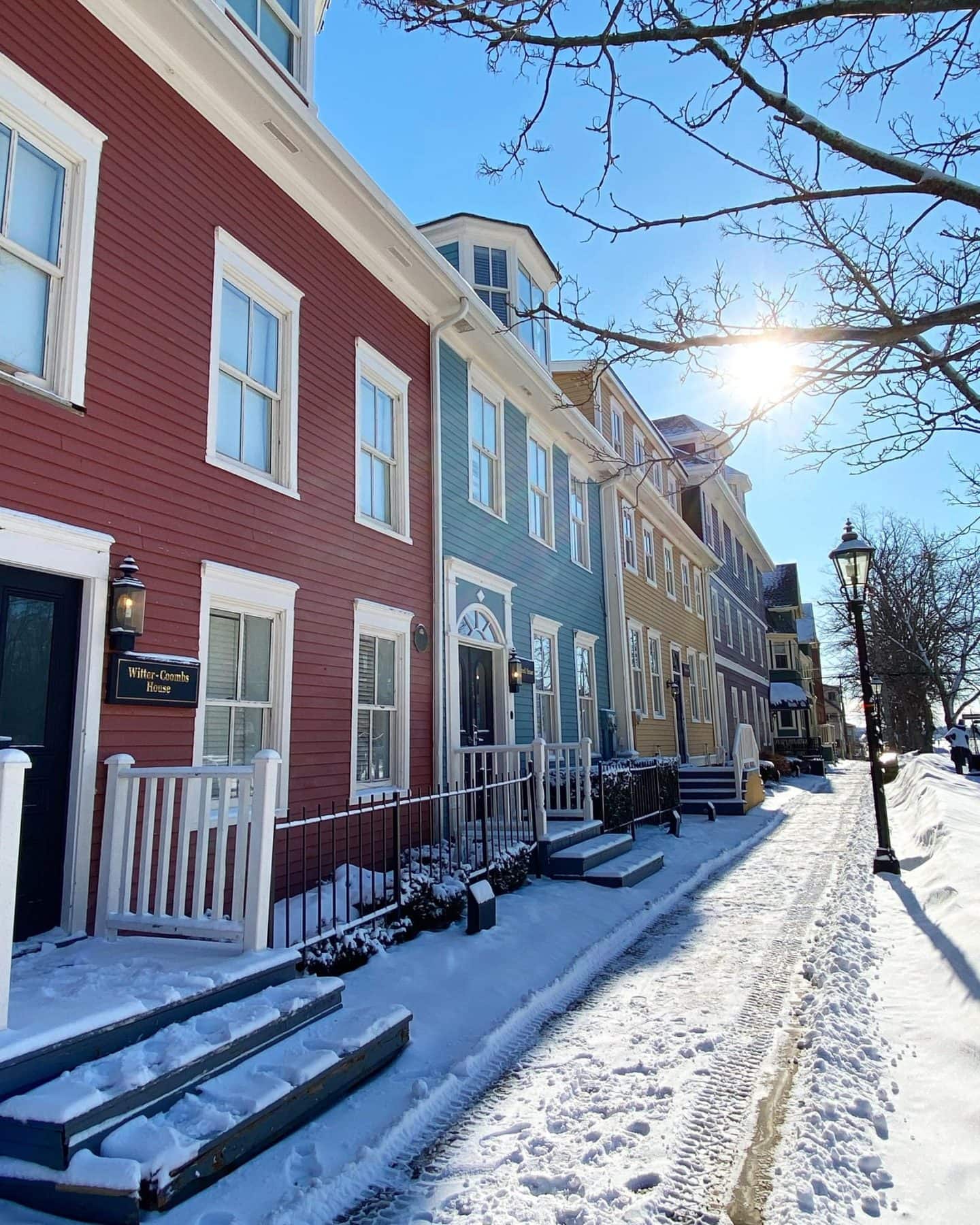 PEI is named after Prince Edward, the fourth son of King George III and father of Queen Victoria. He has visited the province 5 times.
Charlottetown, the capital city of PEI, is referred to as the "Birthplace of Confederation."
Charlottetown was the site of the famous Charlottetown Conference in 1864. It was the first gathering of elected officials to discuss the proposed Maritime Union, and the broader concept of establishing a larger union and creating a country. This historic event led to the founding of Canada.
Prince Edward Island became the seventh province of Canada in 1873.
PEI only has two cities: Charlottetown and Summerside.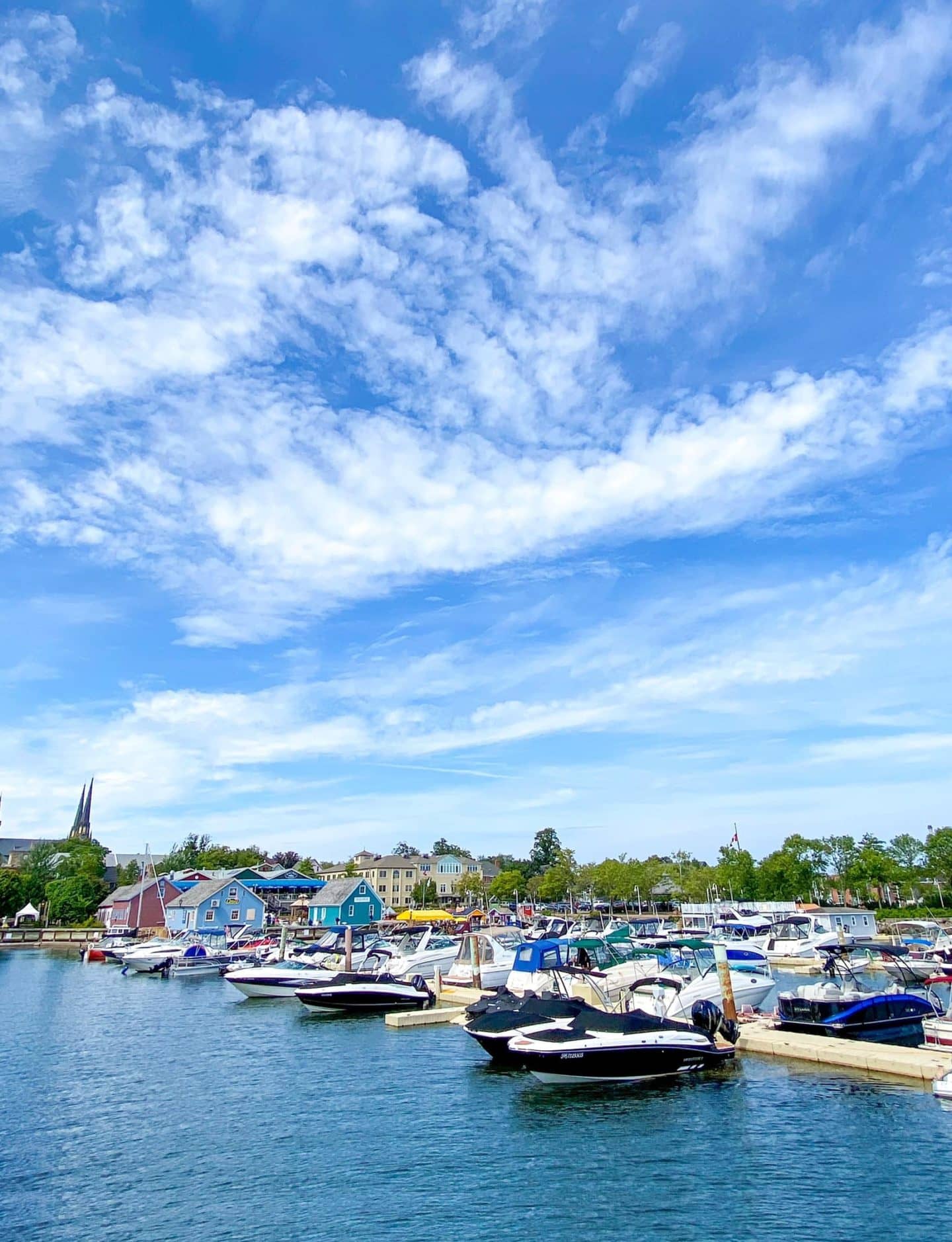 There is 1100 km of shoreline on PEI, with varying shoreline landscapes, including white-sand beach, sandstone cliffs reaching 50 feet, and red sand beaches. PEI is a beach-lovers paradise! Over 800 km of the island's shoreline is beach.
The Confederation Bridge, opened in 1997, links PEI to New Brunswick and the rest of Canada. It is the longest bridge in the world over ice-covered waters and takes 10 minutes to cross. The only way to reach PEI before was by ferry, which you can still take.
Tourism is the second largest industry on Prince Edward Island. This tiny island welcomes over 1.5 million visitors a year.
Agriculture is the top industry on PEI, followed by tourism, then fishing. Herring, tuna, mackerel, lobsters, scallops, mussels, clams, and oysters are all a part of the seafood from Prince Edward Island. A byproduct of the fishing industry is harvesting Irish Moss for its carrageenan for use in the food industry.
Lobster season happens twice a year; from May-June and again from mid-August to mid-October.
Prince Edward Island is the largest potato producer in Canada. 22% of potatoes come from fertile fields of PEI.
PEI (and the Maritimes has) the highest sales tax in Canada – 15%.
There are more women living on PEI than men, but just by 1% (as of 2021).
The median age of residents on PEI is 42.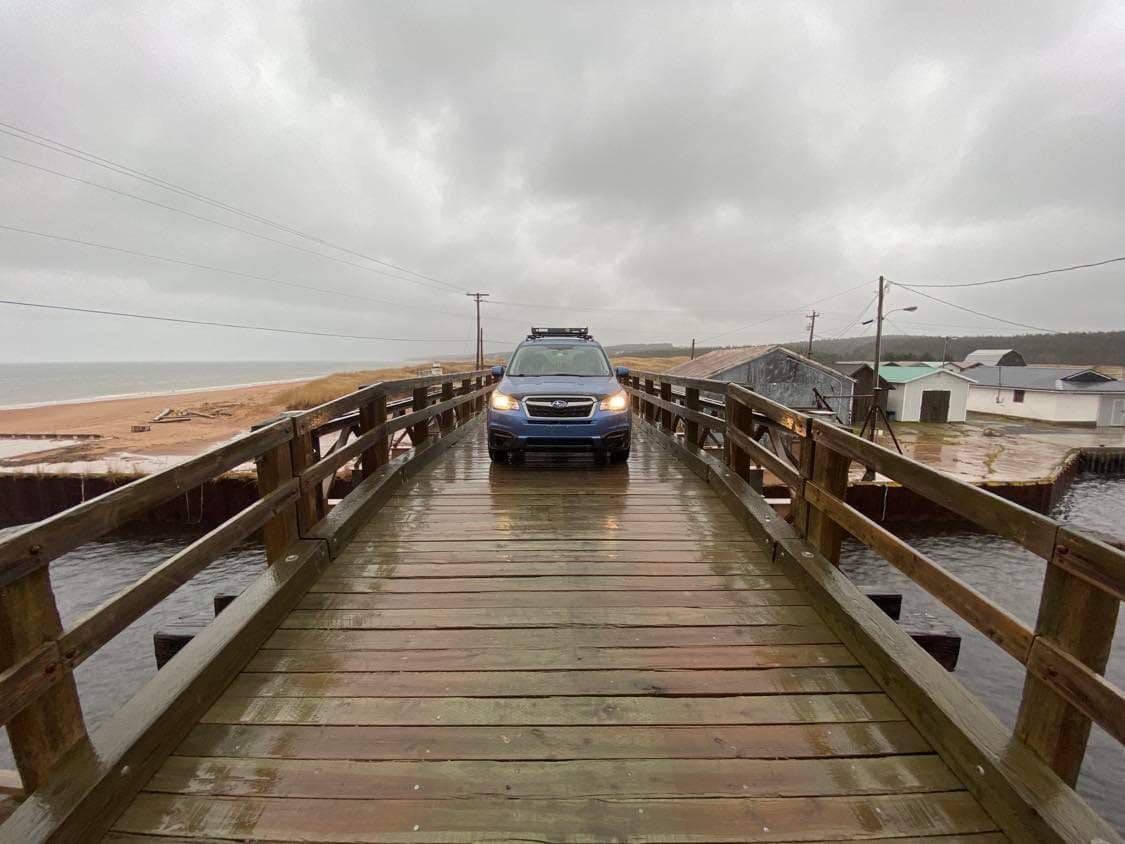 Islanders refer to places or things "on" PEI rather than "in" PEI.
Prince Edward Island has no sources of oil, natural gas, or other fuels for electricity; approximately 99% of power generation on PEI is from wind farms.
The provincial bird of PEI is the Blue Jay.
The Red Fox is one of PEI's largest wild animals. They can be found in rural and urban areas.
The Lady Slipper is the provincial flower of Prince Edward Island.
The Red Oak is the provincial tree.
Forest covers roughly half of PEI, and is filled with diverse species including maple, pine, hemlock, oak, spruce, and beech. 1/10th of forested land is owned by the province, while the rest is owned by private woodlot owners.
Moose and black bears once roamed PEI, prior to European settlers. Wildcats went extinct, but foxes and coyotes remained. Beavers were reintroduced to the island. There are plenty of mink, weasels, muskrats, skunks, and hares. Birds and waterfowl are plentiful, including the ruffed grouse – a native bird – and the imported Hungarian partridge and ring-necked pheasants. The Canada goose is a regular migrant.
PEI's famous red soil comes from the high iron content on the island which oxidizes when it's exposed to air.
PEI has the highest number of church-goers by province in Canada. More than half of the island's population attends service at least once a month.
The Confederation Trail was once the railway that ran across PEI. It's just over 400 km long and is flat, making it ideal for cyclists, walkers, joggers, snowshoeing, cross-country skiing, and snowmobiling.
The Island Walk Trail on PEI is 700 km and winds through small towns, along coastlines and beaches, and takes roughly 32 days to complete at a pace of 20-25 km/day.
Prince Edward Island is known for Anne of Green Gables, a popular novel that was published in 1908 with its setting in Cavendish. You can tour the magical setting that inspired the book, as well as author Lucy Maud Montgomery's birthplace and the Anne of Green Gables Museum.
Prince Edward Island is home to two bottle villages, where you can tour around villages made entirely of buildings. Hannah's Bottle Village is constructed of over 50,000 glass bottles!
Canada's smallest library is located in Cardigan, PEI! Standing just 12 x 12, this tiny library holds over 1800 books!
You can walk across water at Greenwich National Park. The 700 metre floating boardwalk takes you past some of the largest sand dunes in PEI.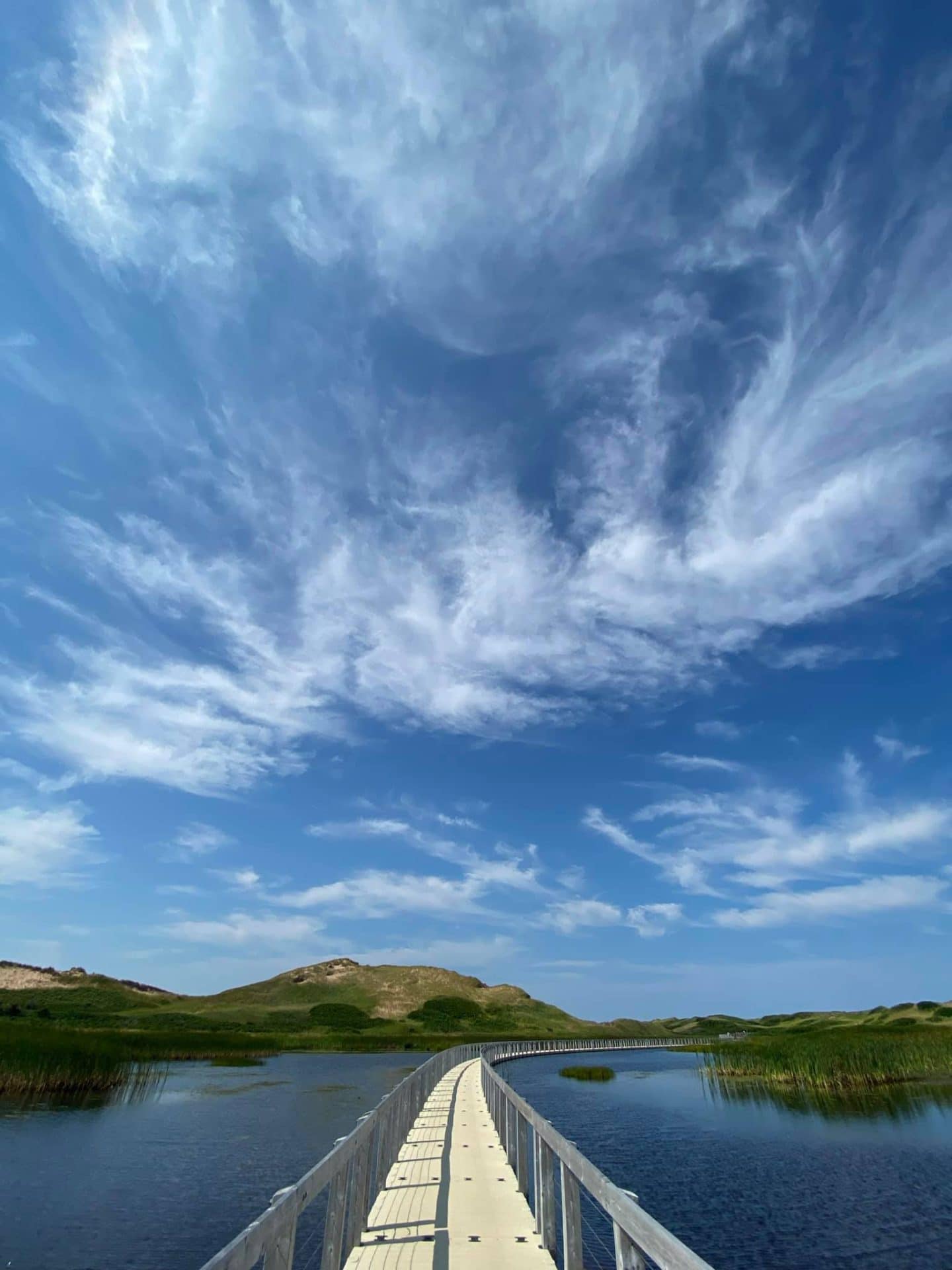 There is a beach that sings when you walk across it. Singing Sands Beach at Basin Head Provincial Park has sand with high silica content that squeaks as it's walked across on dry, hot days.
There are 63 lighthouses on PEI. 35 are still active to this day.
The last hanging in Charlottetown in 1941 was at the Queen's County Jail, built in 1911, which is now home to a cozy bistro named Bar1911.
Winters can be brutally cold, reaching subzero temperatures of -35C (-31F).
Islanders embrace and celebrate winter! The Charlottetown Ice City Festival is a month-long event filled with a variety of outdoor activities, outdoor patios with fire pits, horse and carriage tours through historic downtown, skating, ice sculpture competitions, and winter menus featuring the best seasonal offerings!
Stunning pink, white, and purple lupins line the streets, fields, and ditches on PEI from the end of June to mid-summer. Although beautiful, lupins are considered weeds and invasive species.
There are over 30 campgrounds and campsites on Prince Edward Island.
Knox's Dam in Montague has a fish ladder to allow for the migration of trout and salmon. Knox's Dam supplied electricity to the Town of Montague for the first half of the 20th century.
Prince Edward Island is home to a gigantic sandstone formation, known as Teacup Rock. This beautiful natural wonder is constantly changing and isn't expected to remain upright for much longer.
There are over 30 golf courses on PEI, a surprising amount for Canada's smallest province!
Did you enjoy these facts about PEI? Let me know which fact was your favourite!
Related Posts
Pin it for later!