After visiting Prince Edward Island during the summer, and now the winter, I can say without a doubt that winter is my favourite of the two seasons.
From tip to tip, Prince Edward Islands offers an abundance of winter activities and things to do, and winter being the off season means you'll have a lot of these sites and parks to yourself – just one of the many reasons to visit PEI during the winter!
It's a shame that PEI isn't marketed more as a tourism destination during the winter. Although many restaurants and attractions close down for the winter, there are fortunately a ton of beautiful things to see and do near Charlottetown, if you're choosing this capital city as your base!
Is PEI cold in the winter?
I'm not going to lie, PEI winters can be brutal. Between the snowstorms and the cold temperatures, it would be enough to put anyone off of visiting. However, the scenery is stunning and the food and hospitality is warm and inviting.
Average winter temperatures in PEI range from -3 to -11 degrees Celsius, but then you have the wind chill which can make it feel more like -25C!
Prince Edward Island can get some pretty big snowstorms too – the year average is 290 centimeters (114 inches!). During this time schools and businesses will shut down until the weather clears up.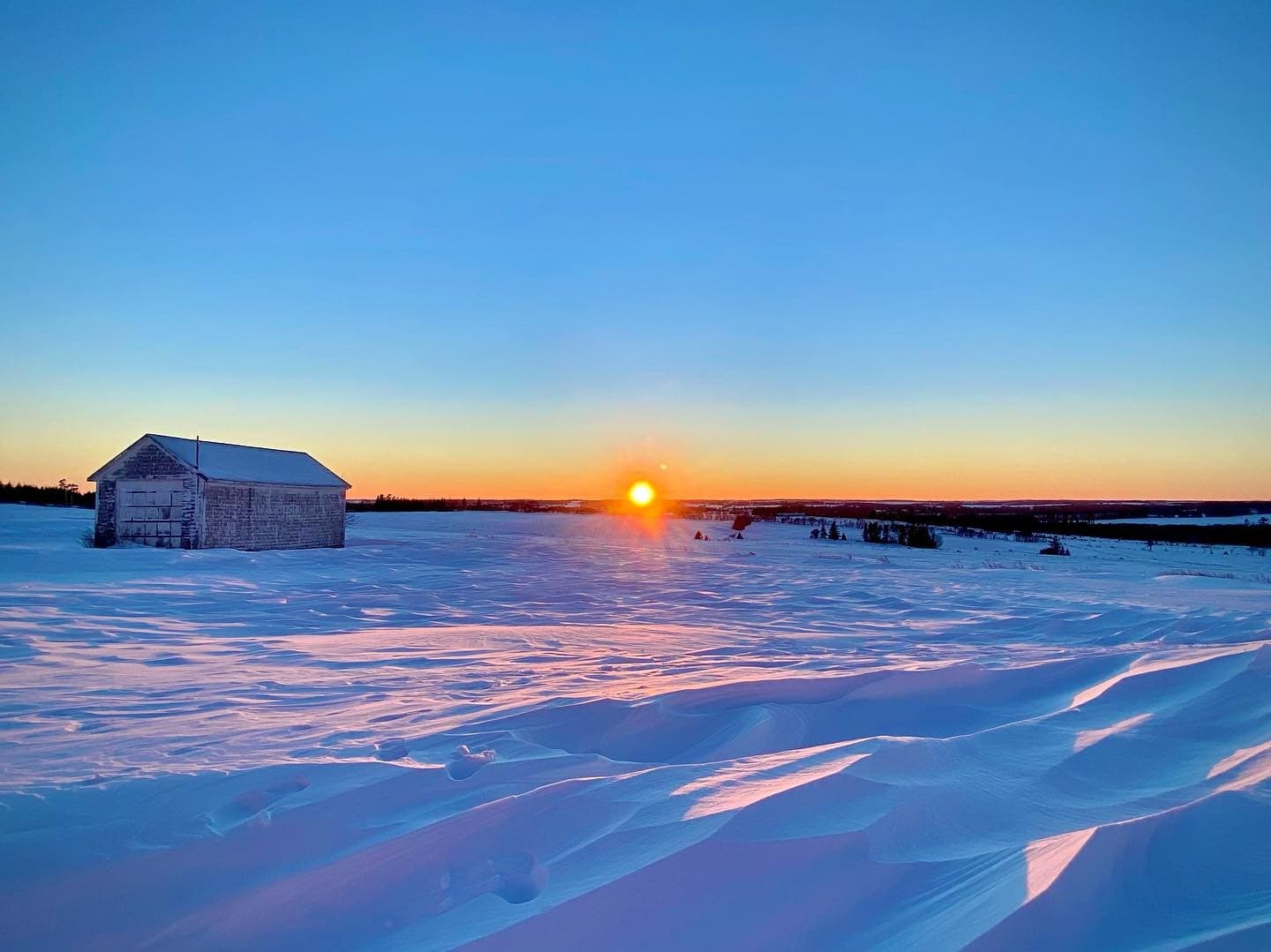 What is there to do in PEI in the winter?
Ready to explore Prince Edward Island in the wintertime? Here are some of the best winter activities on the island to take part in!
Go lighthouse hunting
Did you know there are over 60 lighthouses in PEI? There are so many beautiful lighthouses in Prince Edward Island to see combined with gorgeous scenic drives.
My last trip during the winter was spent lighthouse hunting around the island and you come across all kinds – weather beaten ones, towering lighthouses, tiny ones, hidden ones, and even haunted ones – each with their own unique story and stunning views.
Lighthouse touring in PEI will take you all around the island and through charming small towns, dramatic coastline, and scenic views. It's one of the best ways to experience what the island has to offer, all while discovering little gems along the way.
Visiting lighthouses during the winter means there's a strong chance you'll have the area to yourself, allowing for perfect photo opportunities and a peaceful time enjoying the quiet.
Have fun at a Winter Festival
Islanders don't shut themselves away from the winter – they embrace it!
One of the best ways to experience what PEI has to offer during the winter is to take part in some fun winter festivals in Charlottetown!
You'll be able to witness the magical ice sculptures at the Ice City Festival, or watch how maple syrup is made and go for carriage rides through the forest with the Winter Woodlot Tour – just to name a few activities!
Indulge at restaurants in Charlottetown
While many restaurants close during the off-season, there are so many awesome restaurants in Charlottetown to enjoy some amazing meals, including seafood!
While PEI is known for lobster and potatoes (and it's insanely delicious!)and you can get seafood on the menu all year round, the beef is some of the best I've had during my travels. It is such an underrated menu item and definitely deserving of attention!
Get dressed up and head to Sim's Corner Steakhouse & Oyster Bar, or the Brickhouse, or get cozy with live music at Hunter's Ale House or the Olde Dublin Pub. Regardless of which restaurant you choose, you'll be greeted with warm hospitality and meals you'll dream about!
Winter in PEI brings the WinterDine experience to Charlottetown, where you can enjoy meals from some of the best restaurants in Charlottetown for a fraction of what it would normally cost! Three course meals range from $35-$45.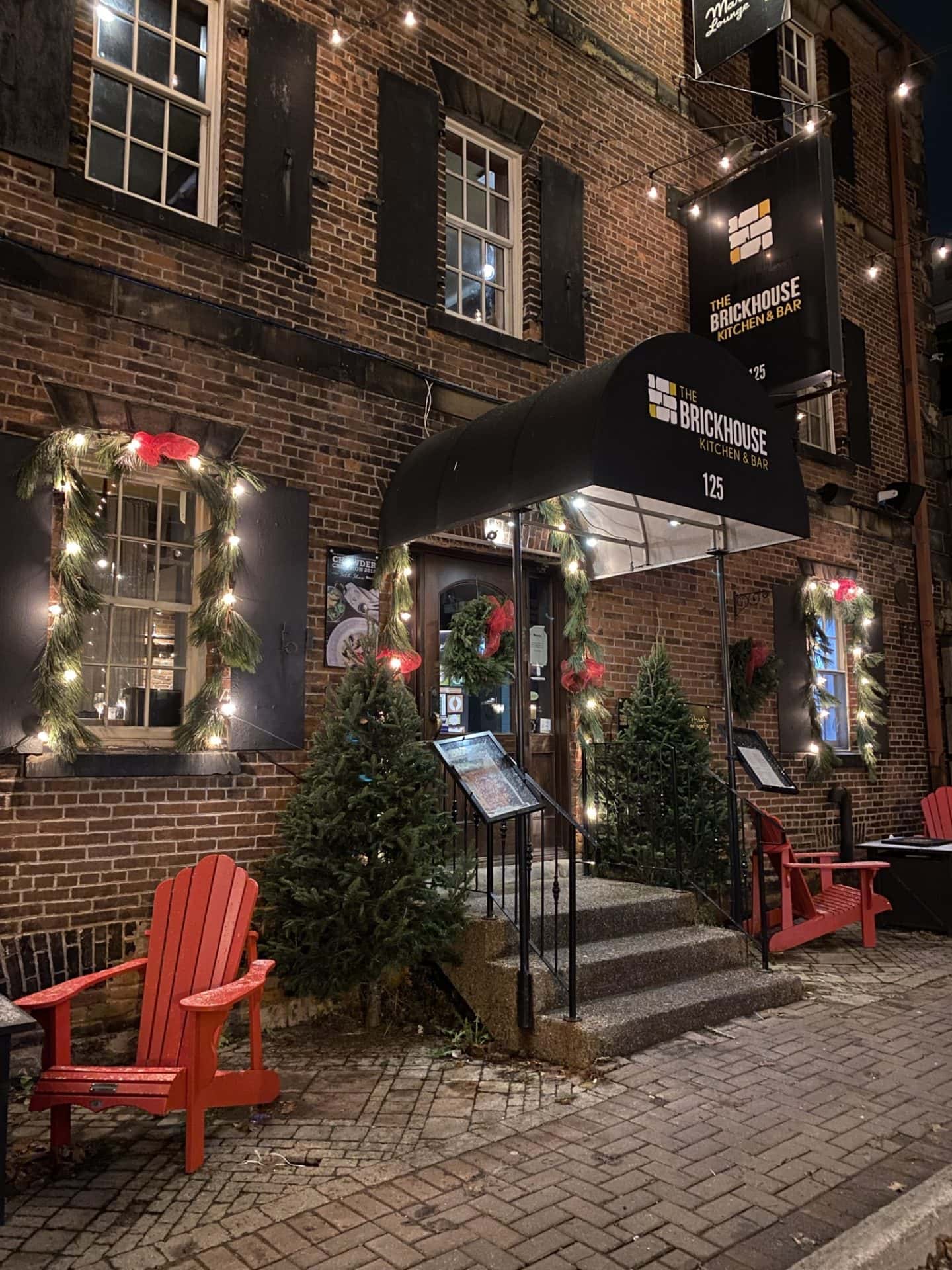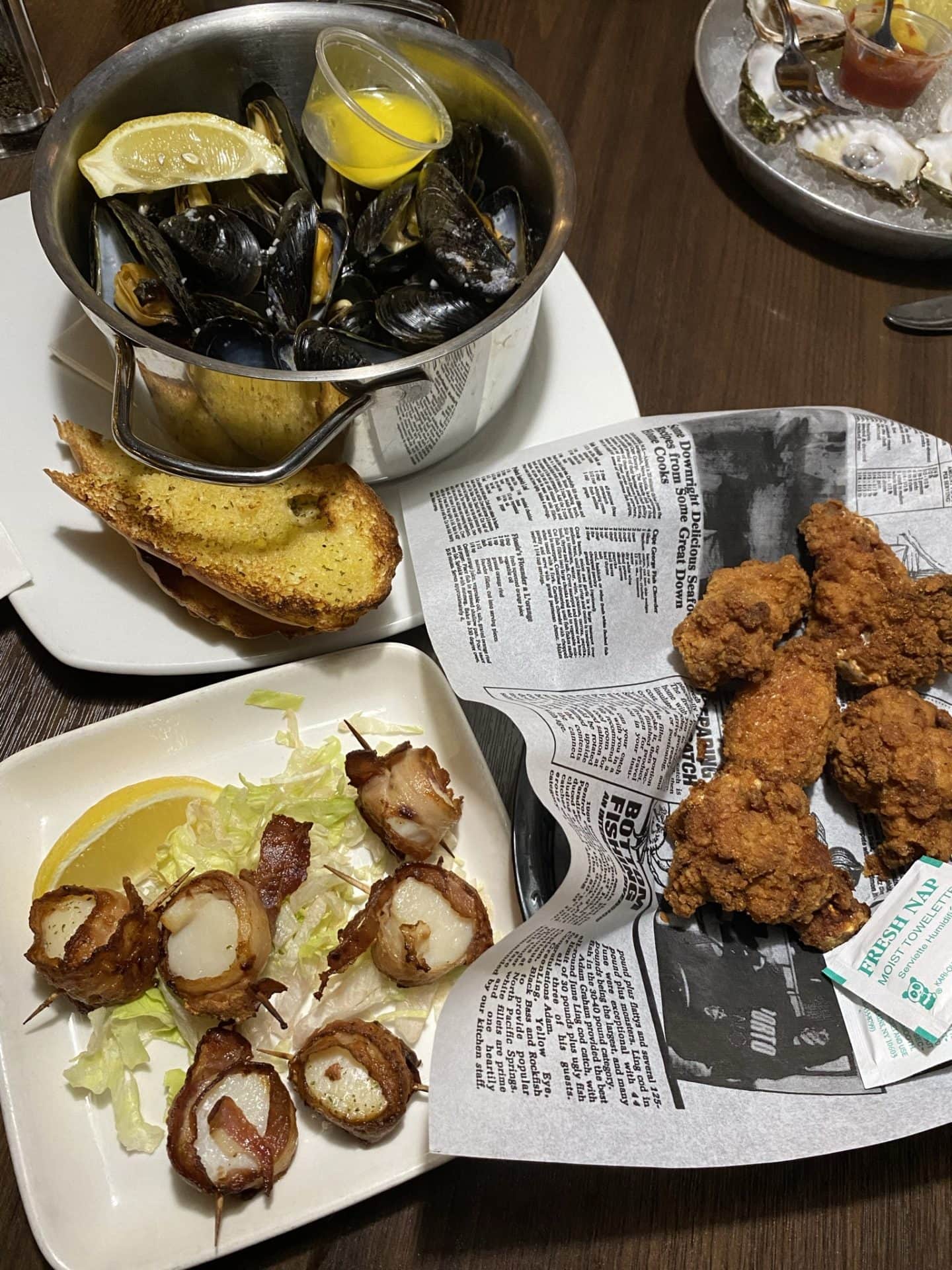 Stroll around downtown Charlottetown
With the city's many outdoor skating rinks, outdoor patios (equipped for the winter!), shops, and cozy cafes, spending a day in downtown Charlottetown in the winter is the perfect way to soak it in. Bring your camera for some photo opportunities!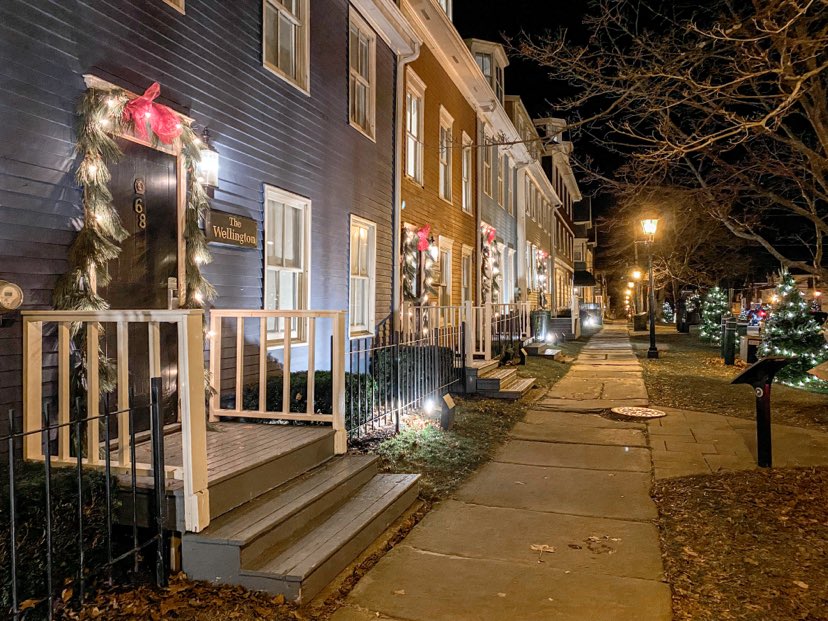 Go Hiking
There are nine major hiking trails in PEI – 8 wooded trails and 1 linear trail that runs from tip to tip on the island! I was surprised to encounter more elevation change than I expected, and these scenic trails are absolutely breathtaking during the winter. And, with the proper gear and the best winter hiking tips, you'll be all set for a winter adventure in Prince Edward Island.
If you're looking for a close hiking trail near Charlottetown, I highly recommend the Winter River Trail. It's only 5 km from town and if you do the entire loop, it takes about 2 hours through rolling forest, along a 1000 ft boardwalk, and along Winter River. It's an other-worldly experience!
The wooded trails are maintained by Island Trails, a non-profit organization in PEI that maintains these trails for islanders and visitors to enjoy!
There is also a brand new 700 km hiking trail in PEI called the Island Walk that takes you around the coastline, through small towns, and beaches, and takes roughly 32 days to complete if you aim to do 20-25 km a day. There are several accommodation partners teamed to help with transportation if needed, and plenty of delicious detours around the island as you eat your way through the coastal towns.
It's like PEI's version of Ontario's Bruce Trail, but only with a 2% grade elevation. 😂 Maybe this will be my goal on my next adventure out here.
Do Yoga in the Snow
Every Saturday at 11:30 from January 15-March 19th, you can take part in free yoga in the snow at Founder's Hall! No mat required, but be sure to dress for the weather!
Address: 6 Prince Street
Take a drive down a heritage dirt road
There's just something about a long dirt road with a dusting of snow on it and through dense forest that leaves you speechless. If you're looking for some awesome photo opportunities and to drive down a piece of history, check out one of PEI's heritage roads!
Heritage roads are a unique piece of Prince Edward Island history! These heritage roads are preserved red clay lanes protected from logging, snowplows, and asphalt. They are a unique piece of Prince Edward Island history.
Some pass through tunnels of trees, while others run along farmland, with twists and turns with scenic views. Once used by horse and carriage, you'll find remnants of past mills and shops. Each heritage road has their own unique story associated with it but the drive alone will captivate you!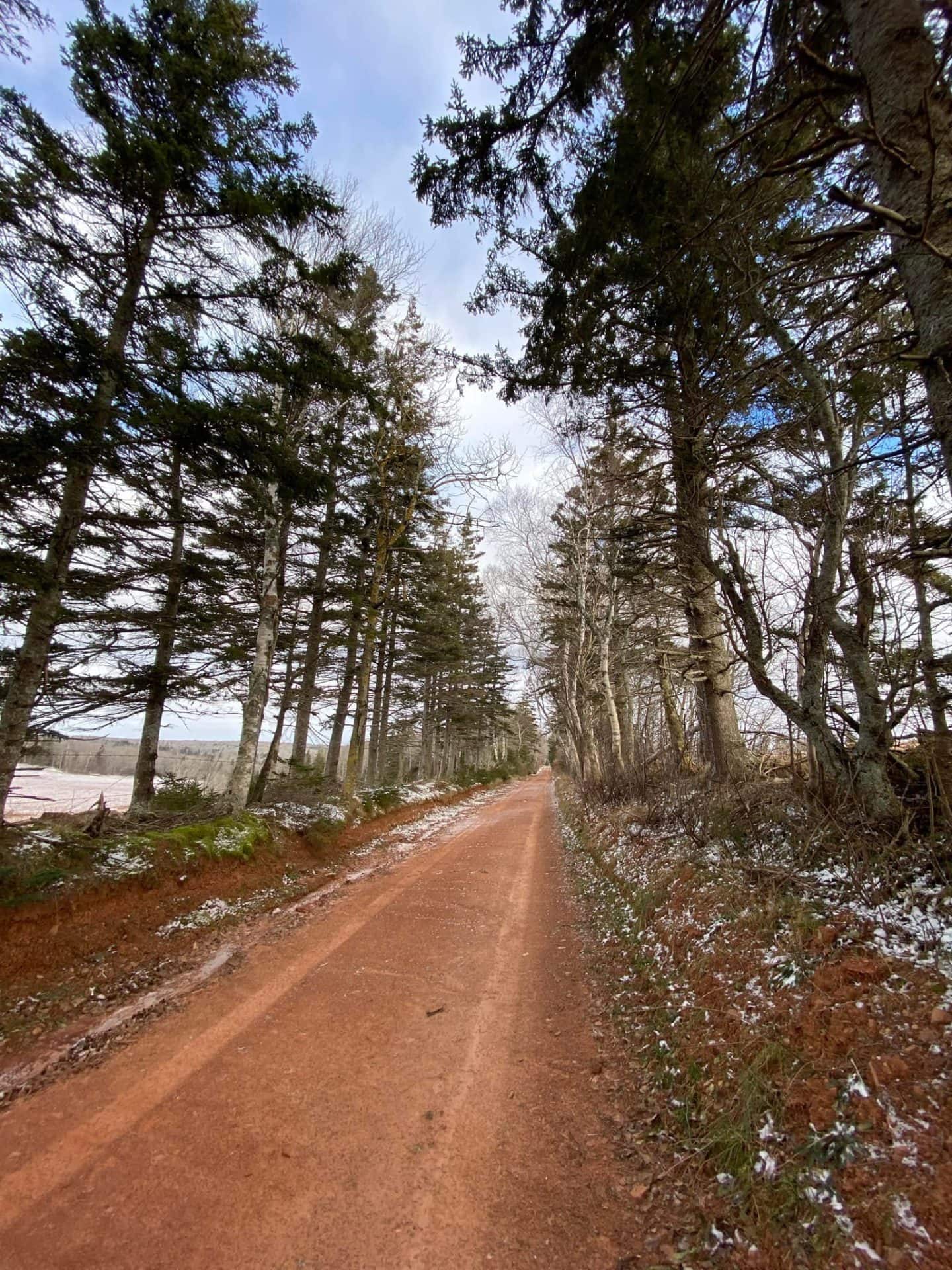 Visit the Charlottetown Farmer's Market
Stroll through the Charlottetown Farmer's Market every Saturday from 9 am – 2 pm for local goods, warm chats, and hot food from local vendors. Here you'll find freshly baked bread, vegetables grown from the red soil on the island, island-raised meats, handcrafted goods, desserts and much more! You'll be able to explore island offerings from more than 60 vendors!
Visit PEI National Park
You don't need a Parks Canada pass during the winter in PEI, making it a great time to visit if you bundle up! You'll have the parks to yourself to fully immerse yourself into nature! From woodlands to ponds, beaches and dunes, PEI National Park extends 40 km along the northern shore of the island. Cavendish, Brackley-Dalvay, and Greenwich offer peaceful strolls and a chance to see wildlife, including seals, foxes, and waterfowl.
Visit a beach
Visiting the beach during the winter wouldn't appeal to many, but it is beautiful beyond words and makes for incredible photos. Bundle up from the wind and enjoy the views!
Awesome beaches in PEI to visit:
Singing Sands Beach, Basin Head Provincial Park
Cavendish Beach
Beach Point, Murray Harbour
Brackley Beach
Greenwich
St Peter's Harbour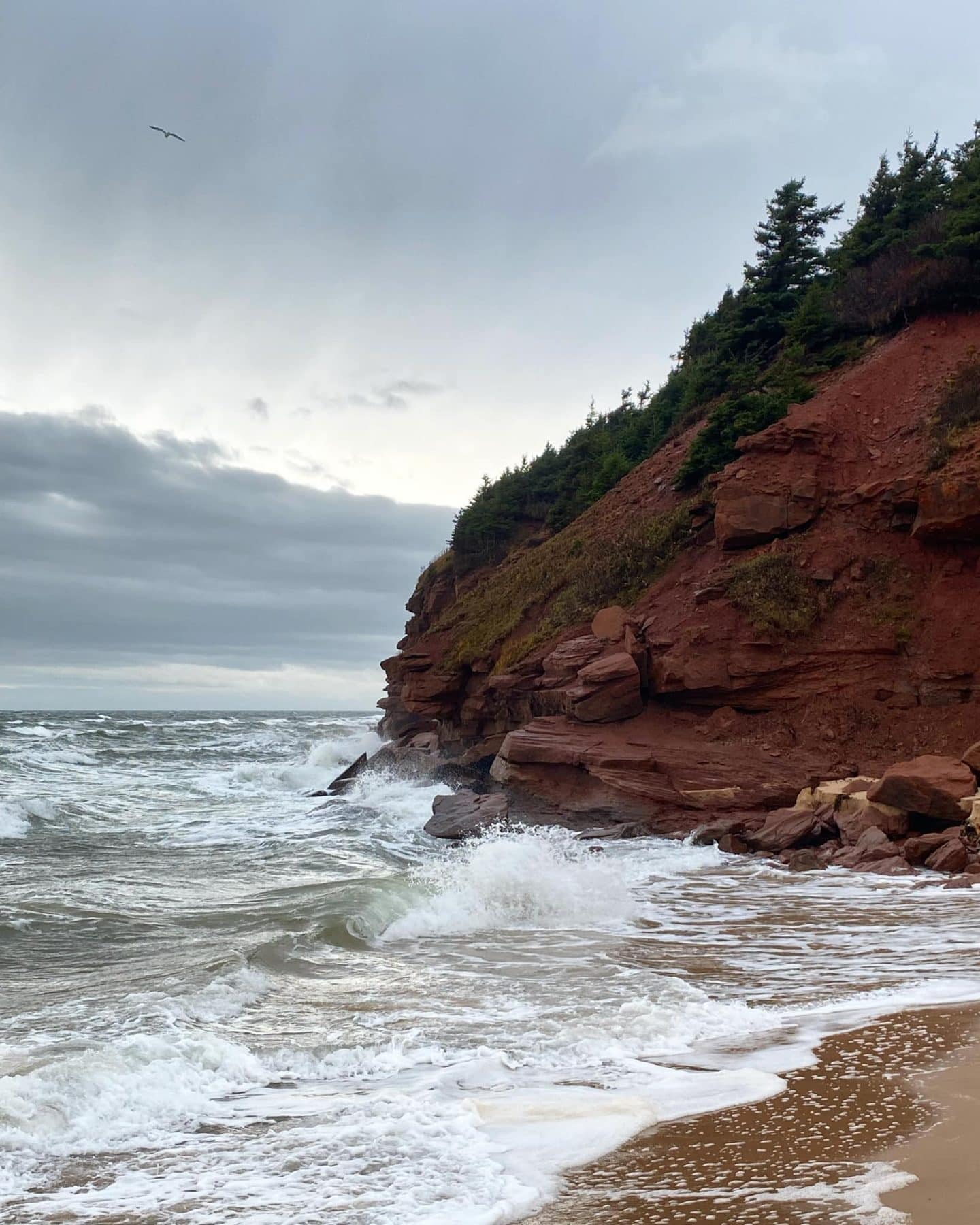 Take a drive along the coastline
The drive along PEI's coastline is breathtaking. You'll be bound to discover small fishing villages, dramatic views of the coastline, lush vegetation, and rolling farmland. You can drive the entire length of PEI in just 3-4 hours!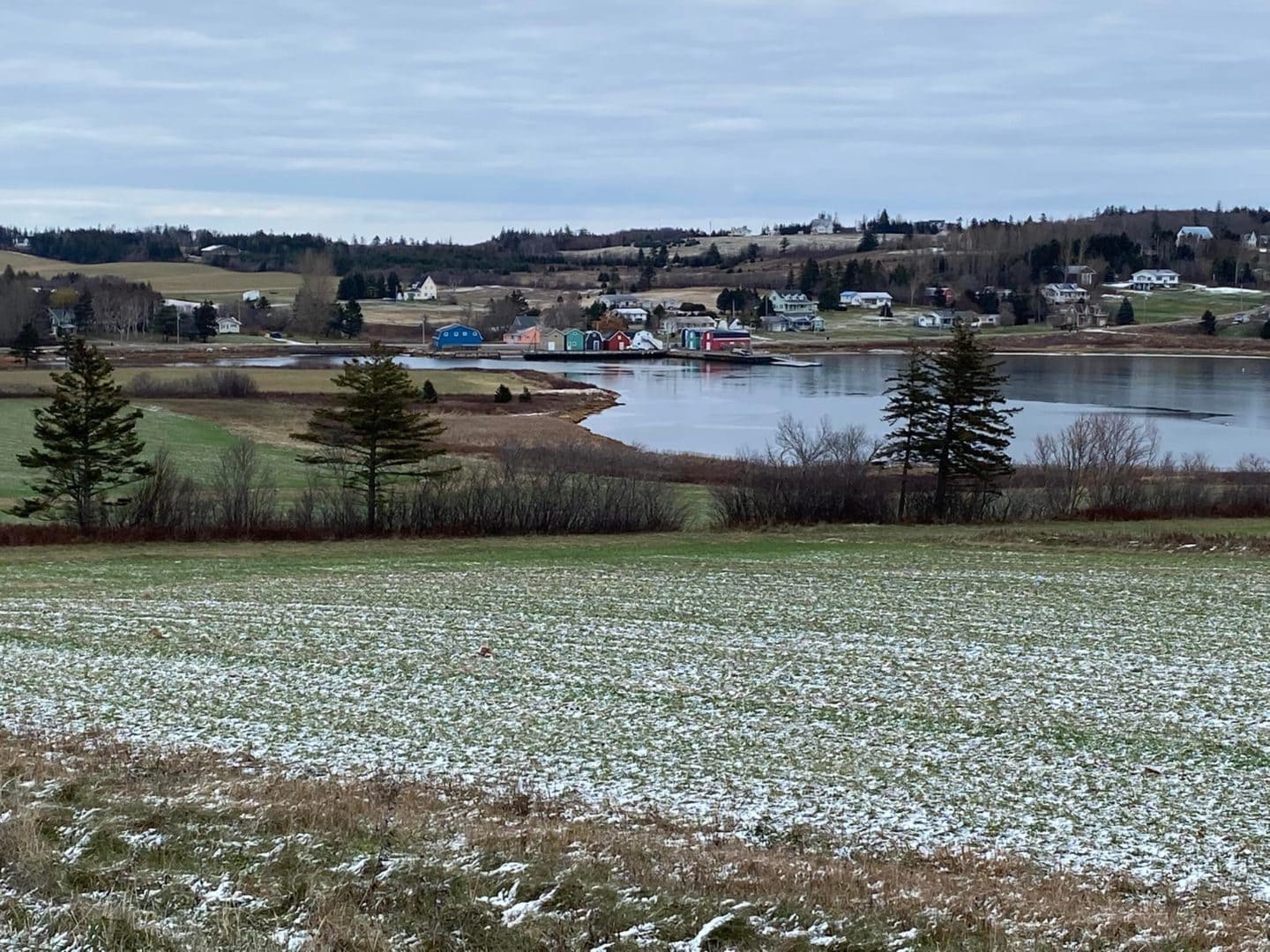 Go Skiing and Snowboarding
Did you know the Prince Edward Island has its very own ski hill just 30 minutes from Charlottetown? Mark Arendz Pronvicial Ski Park at Brookvale offers skiing, snowboarding, tubing, snowshoeing and cross-country skiing!
There's a 250 foot drop surrounded by beautiful forest – what's not to love?
Address: 2018 Route 13, Brookvale, PE C0A 1Y0
Get an other-worldly experience at Teacup Rock
If you want to feel like you're on another planet, Teacup Rock at Thunder Cove Beach is the place to come! This stunning landscape is located in Kensington, which is only about 45 minutes from Charlottetown.
Park along Thunder Cove Road and take the sand dunes down to the beach. Once you turn left and follow along the beach, make your way around the cove (be sure to check the tide times!), you'll come face to face with a breathtaking sandstone feature known as Teacup Rock.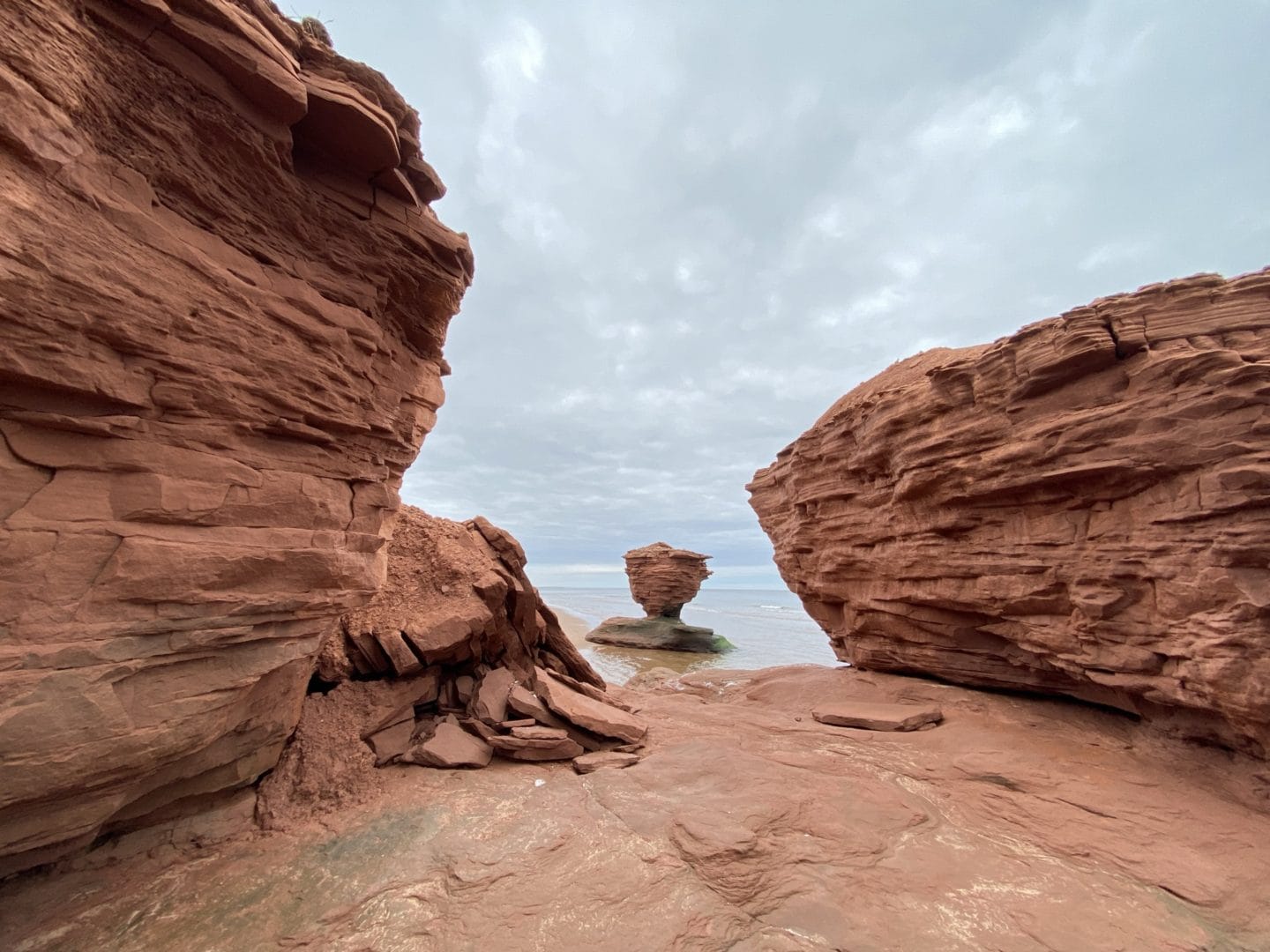 See a Show at the Confederation Centre of the Arts
From live music to theatre, comedy shows to dance, there's always something happening at the Confederation Centre of the Arts. This is a great way to spend a winter evening in downtown Charlottetown.
Check out Knox's Dam
Looking for an unexpected find? Knox's Dam in Victoria Cross is not to be missed! You'd drive right by if you didn't know it was here. This was the best hidden gem I've encountered so far.
Constructed in 1917, it was once the site of the hydroelectric power plant that supplied the Town of Montague during the first half of the 20th century. It's now renowned for its natural beauty and fishing area.
The architecture was fascinating and the dam itself was breathtaking. You'll even find one of the few waterfalls in PEI here, as well as a unique structure called a fish ladder, which was built for spawning sea trout and salmon to help regenerate the recreational fishing area.
There's a parking lot right at the corner of South Montague Rd and Sparrows Rd with a small sign saying Knox's Dam. Come enjoy the scenery, the quiet, and be immersed in nature!
Tips for Visiting PEI during the Winter
You'll need a vehicle to travel around the island. If you can rent an AWD vehicle, preferably an SUV with winter tires, that's your best bet to travel safely and down some dirt roads!
Bundle up! Don't let the temperature fool you – it's the wind that will get you!
Plan ahead – most restaurants (and sometimes accommodations) will shut down during the wintertime. There are still plenty of options, but you'll want to plan ahead to see what is available.
Related Posts
Pin it for later!