Visiting Prince Edward Island during the winter is a completely different experience than during the summer. I'll admit I actually enjoyed it more during the "off season" than during peak tourist season. Yes, the weather is colder, a lot, a LOT of places are closed, but the hospitality is warm, the scenery is inviting, there are plenty of activities, and the food is always amazing.
If you're planning a trip to PEI during the winter and need a bit of convincing of whether or not it's the right move, these reasons should persuade you!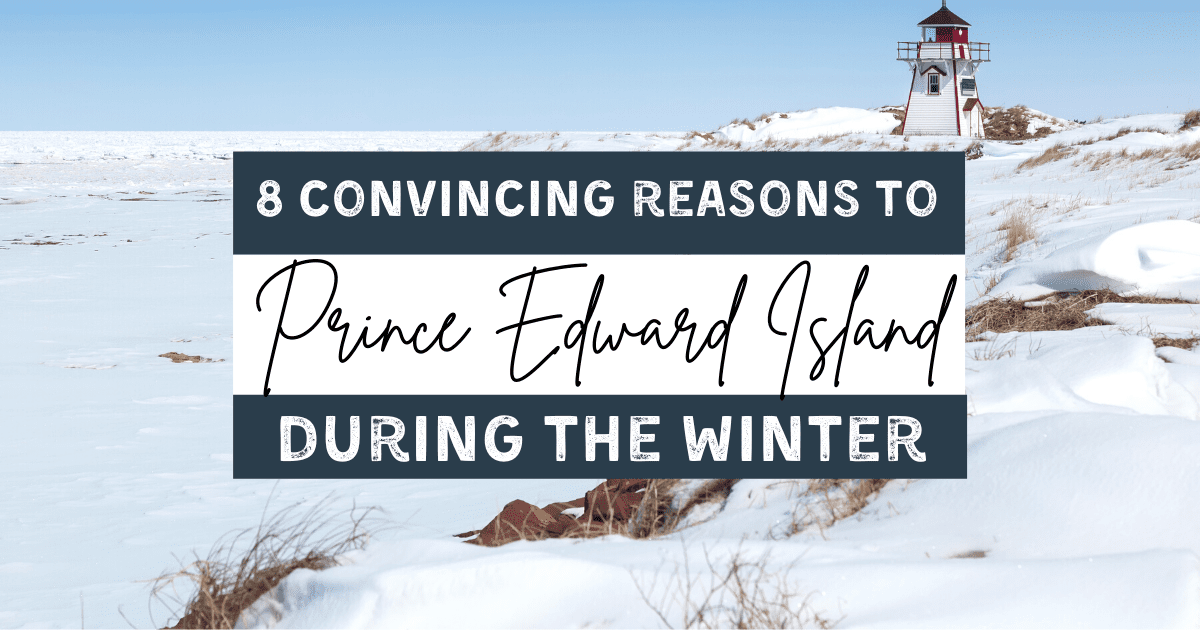 This post contains affiliate links which means I earn a small commission if you purchase through one of my links at absolutely no additional cost to you. Feel free to read my disclosure policy. Thank you for supporting my blog!
What is the temperature in PEI during the winter?
The temperature in PEI during the winter ranges, on average, between -3 to -11 degrees Celsius. However, when you factor in the windchill, it can feel more like -25 (and let me tell you, those cold Northumberland Strait winds really take your breath away!).
The coldest month in PEI is usually February, and the windiest month is December, which I can attest to! 😂
You'll want some warm layers, including a winter jacket, hat and gloves. I did all of my adventuring in my Blundstone boots – from beach walks, hikes, driving all around the island, downtown strolls, you name it! They were warm, sturdy, and provided the traction I needed to do what I wanted to do safely!
1. There's not a lot of tourists
This reason alone is why visiting PEI during the winter is so ideal. Sure – a lot of the activities, restaurants and amenities are closed, but there is so much natural beauty to be seen for the outdoorsy type. Just bring some warm clothes and you're all set!
This means flights will be less crowded, airport lines will be shorter, and getting through Covid testing is a breeze!
Tourism in PEI contributes three times more to the economy than in any other Canadian province, generating over 6% of GDP (as of 2019). Peak tourist season runs from May – October, which is also when the majority of amenities on the island are available, like camping, museums, tourist attractions, shopping, and PEI National Park.
You'll have to do some planning in advance, like knowing where to find food and restrooms, but it's well worth the journey to experience what the island has to offer with a fraction of the tourists!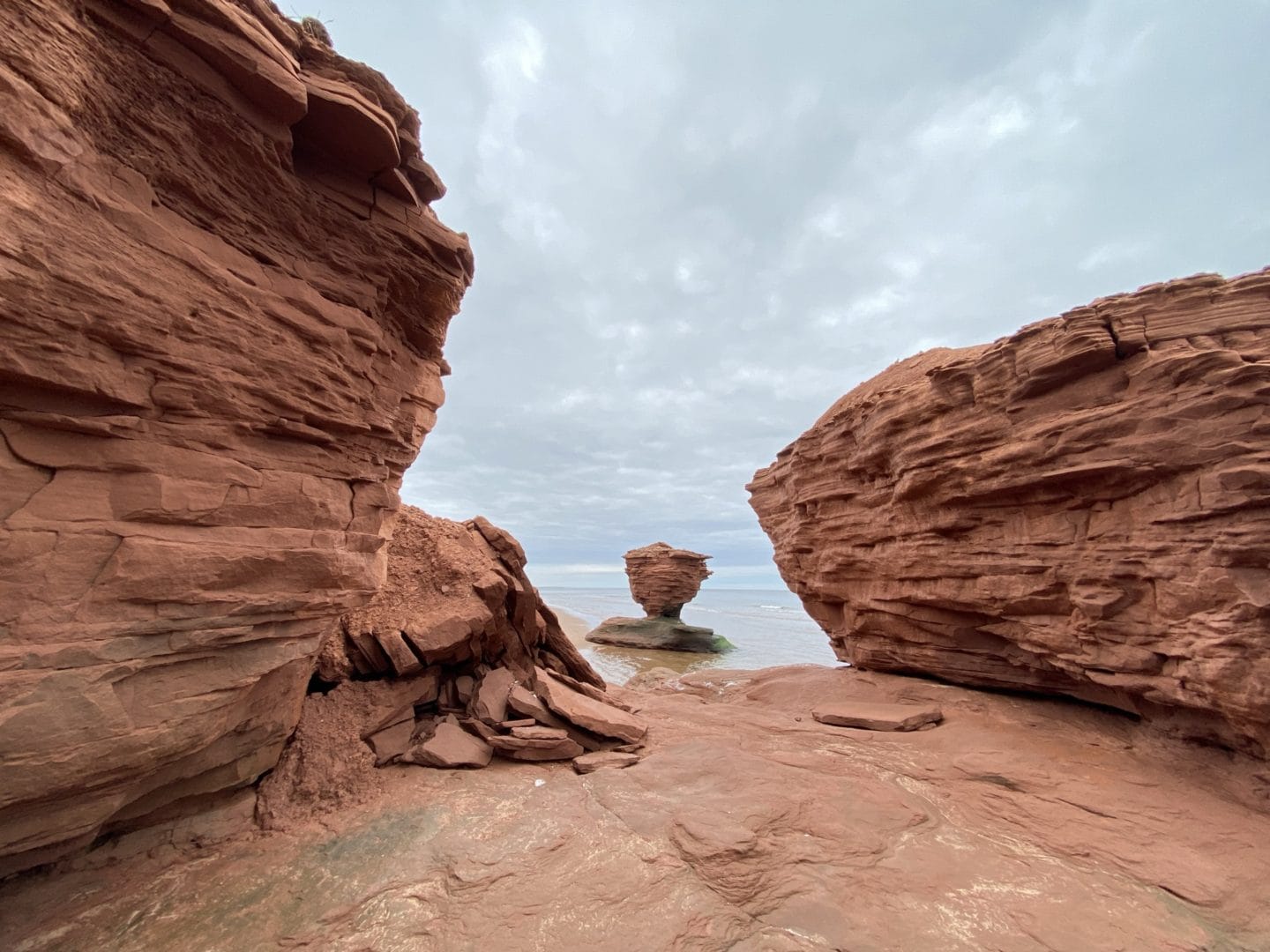 2. You won't have a problem finding parking
Driving downtown Charlottetown in December was so peaceful – no traffic congestion or hoards of people trying to cross the street – and there was no shortage of parking at all!
A great bonus to visiting PEI (and Charlottetown in particular) during the winter, Peakes Wharf Parking – the main parking lot is free. So, if you plan to wander downtown during the day, or to park downtown for dinner, you can park here for free between 8:00 am – 8:00 pm.
Charlottetown is also a big supporter of shopping locally and has implemented the Park Free Program, where you can shop with participating merchants and receive a free hour of street side metered parking (or in one of the three downtown parkades).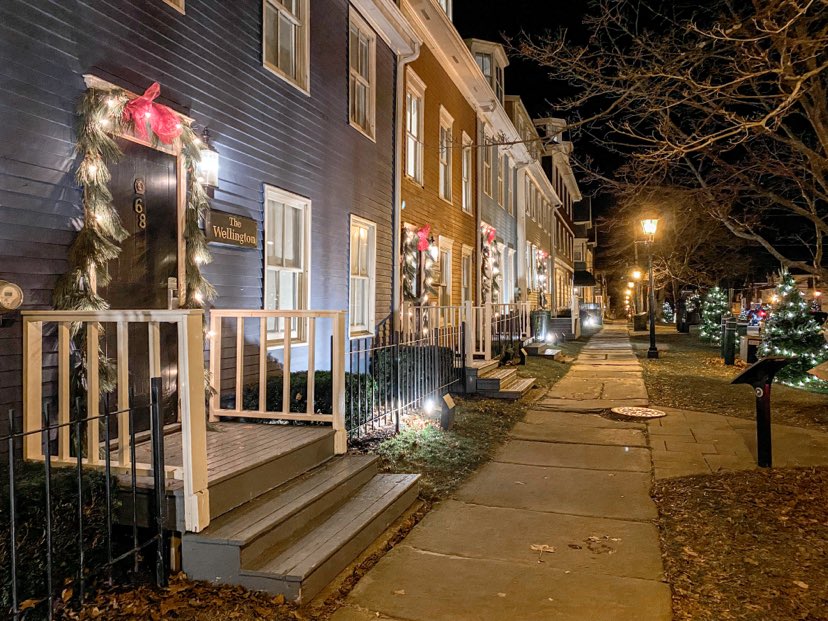 3. You'll have the entire beach, park, and trails to yourself
After visiting Prince Edward Island during the peak tourist season in August, and then in December, I can tell you my two experiences varied drastically.
Places once congested with groups of people became empty – and it was a breath of fresh air. I've always enjoyed visiting places where not a lot of people frequent, and winter in PEI was just the place for me to be!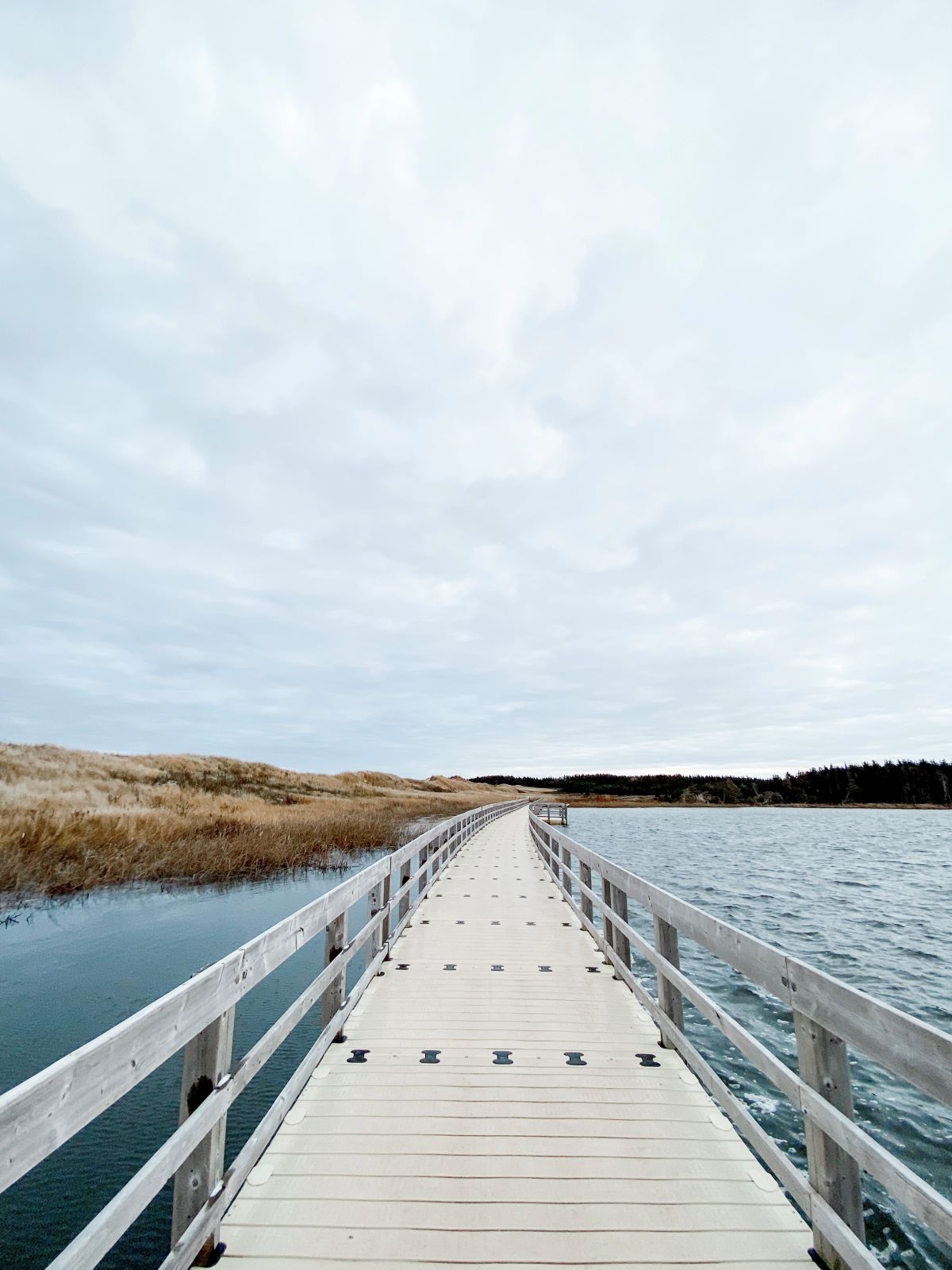 From Cavendish Beach, the Teacup Rock, lighthouses, Knox's Dam, hiking trails and more, I rarely saw another person on my adventures. It really makes you appreciate the area more, allows for great photo opportunities and gives you the chance to really soak it all in!
I just know that if I visited some of these places during the summer, I wouldn't have left with the same feeling as when I had the place to myself.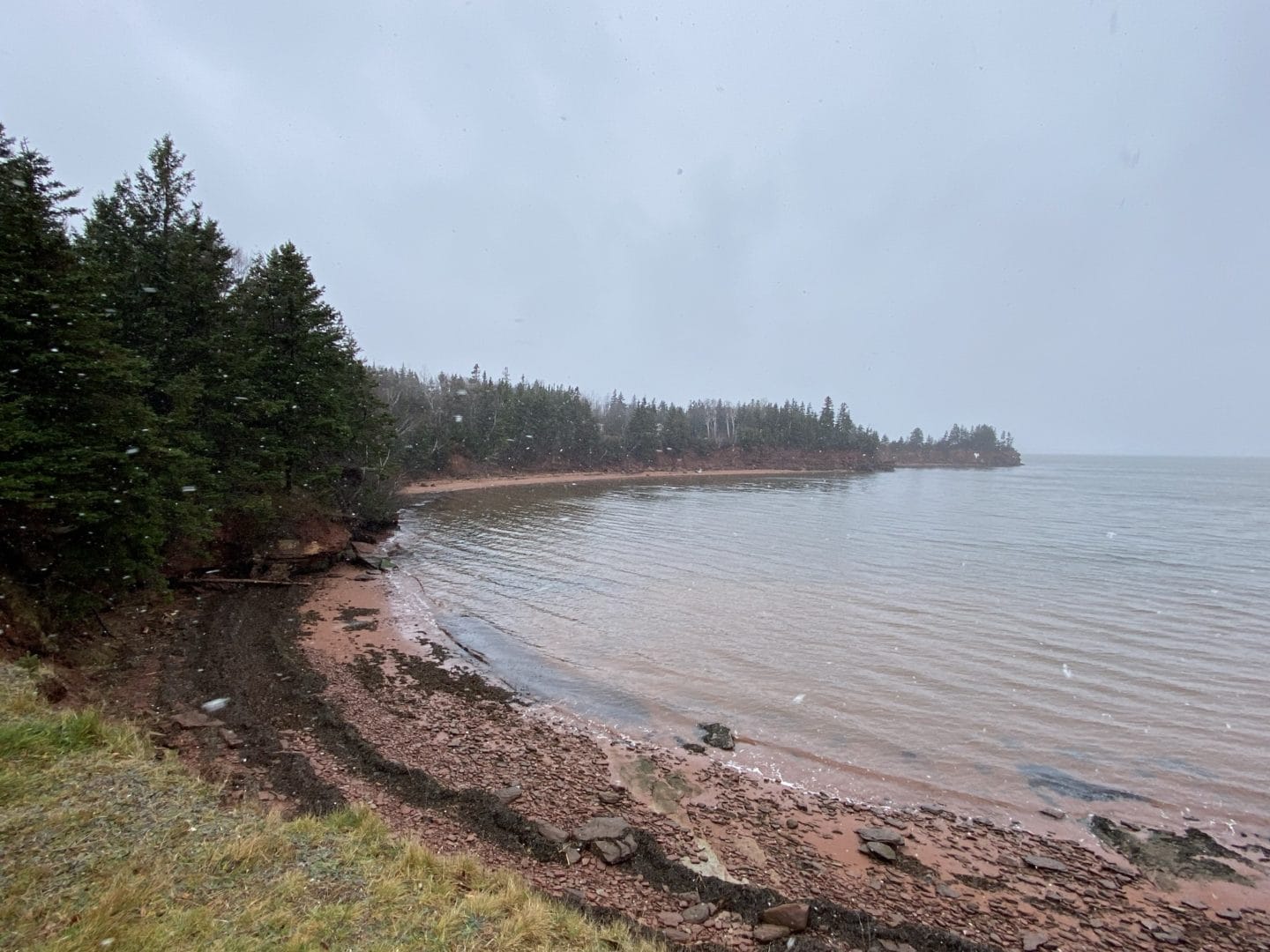 4. The scenery is stunning in the snow
In addition to having these beautiful trails, beaches and parks to yourself, the scenery alone is what has convinced me that winter is one of the best seasons to visit PEI!
The island is largely populated with coniferous trees including pines, firs, and spruces, which are stunning all year round, but the dusting of snow makes them absolutely captivating.
The beaches and parks become winter wonderlands with ice, snow, and frozen landscapes. You'll definitely want to bundle up (those winds can be merciless!) but it's so worth it to experience these outdoor spaces with no one else around.
5. Restaurants will be quieter
Peak tourist season coincides with lobster season, but fortunately you can still grab delicious seafood dishes all-year round. Charlottetown has an abundance of amazing restaurants to pick from to satisfy your seafood craving during any month! I also loved that because there are a lot less tourists, you'll find a lot of locals hanging out at these restaurants and you won't have an issue booking a reservation or walking in for a table.
This was such a contrast to when I visited during the summertime when wait times could be upwards of 2 hours!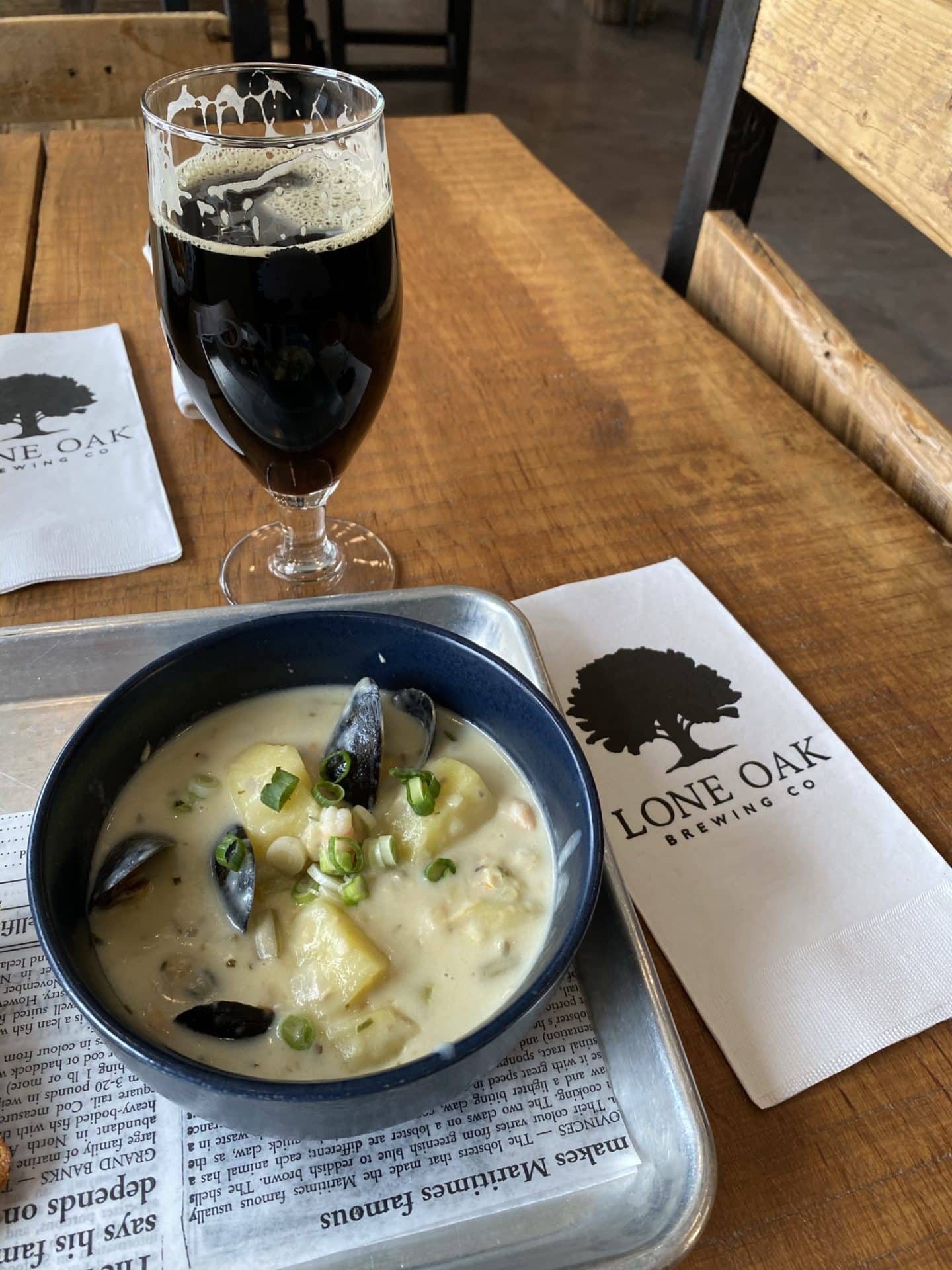 6. There are lots of great winter festivals
Charlottetown's Ice City Festival runs for a month during the winter from February 4th – March 6th (2022) where you can witness stunning ice sculptures, art installations, skating, horse and carriage rides, music festivals, sugar shacks, a fire and ice busker festival, snowshoeing, and much more! Embrace winter on the island with some Ice City Festival fun!
Of course there is always the delicious WinterDine in Charlottetown, where you can take part in a 3 course meal for a steal of a price, just $35-$45! I am definitely timing my next visit for this tasty event to eat my way around the city, which is held from January 17 – February 6 (2022). Good luck picking just one restaurant to try!
For those looking to head outdoors away from the city, there is also the Winter Woodlot Tour in February, where you can learn about PEI's Forest Enhancement Program, go snowshoeing through a wooded trail, learn about the island's birds and birds of prey, watch how maple syrup is made, see a horse logging demonstration and much more, all while warming up with a cup of hot apple cider!
7. The winter drives will leave you breathless – and there's no traffic
Something I wish photos could convey was just how beautiful the scenery really is during the winter. With very little traffic and wide open spaces, there are limitless drives to take your breath away.
Some of my favourite drives were both paved and dirt – which if you've never experienced a dirt road drive, you really should. There are plenty of heritage roads in PEI.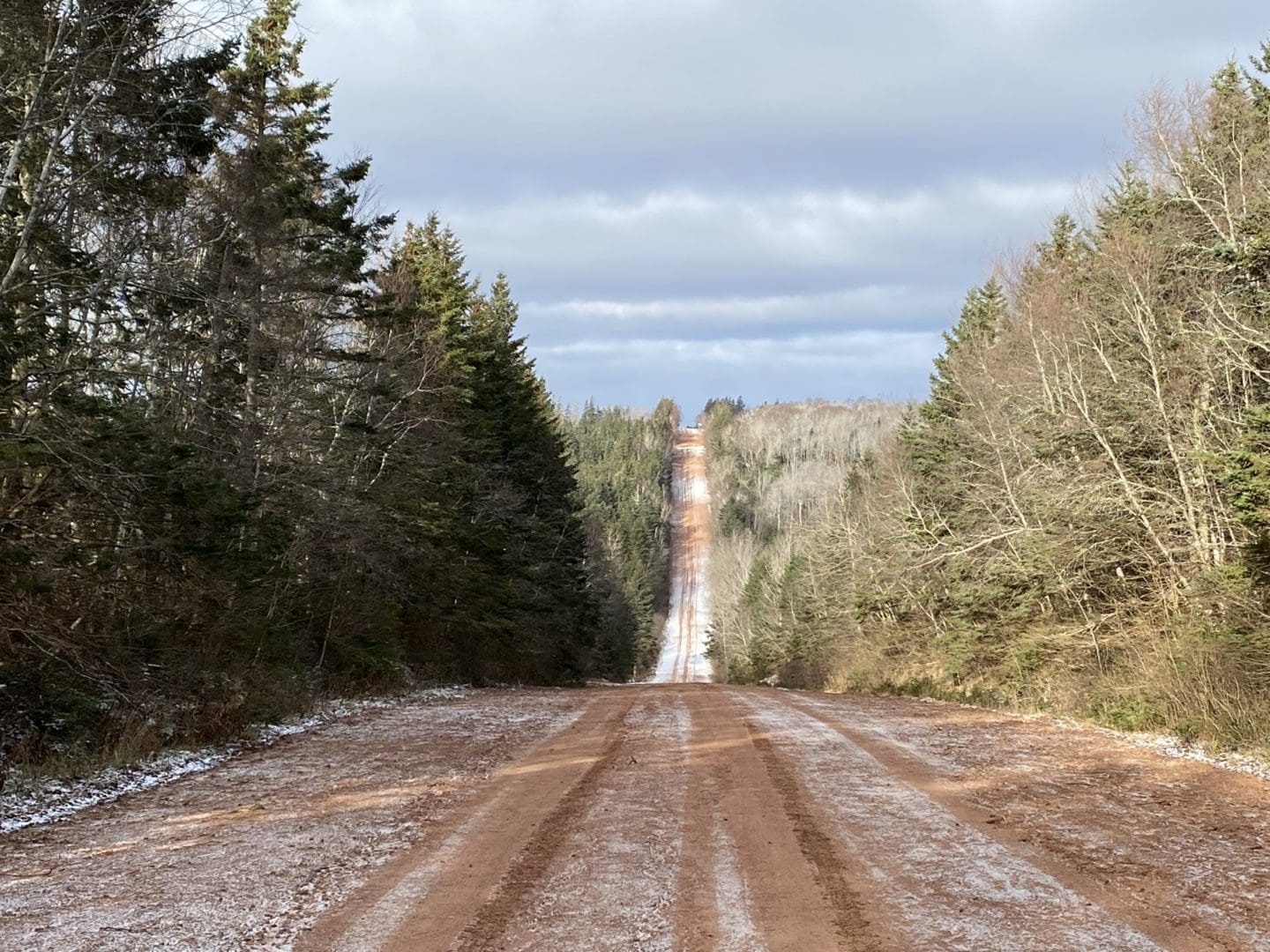 What is a heritage road?
These preserved red clay lanes are spared from asphalt. logging, and snowplows, and are a unique feature of Prince Edward Island.
These narrow roads are captivating – from passing under tunnels of trees to running along farmland, these hilly roads are full of twists, turns, and beauty, and give a glimpse into the history and landscape of the province.
Once used by horse and carriage, you can see the remnants of old mills, blacksmith sheds, and furniture shops along some of these heritage roads. Some were once used for rumrunners to hide illegal cargo, one is home to the largest American Elm on PEI, and one has its own pioneer cemetery, but all can be enjoyed during all seasons for the abundance of wildlife, plant species, and scenic views.
Scenic drives in PEI
Dock Road, North Wiltshire
St Patrick Road, New Glasgow
Northside Road drive
Panmure Island drive
French River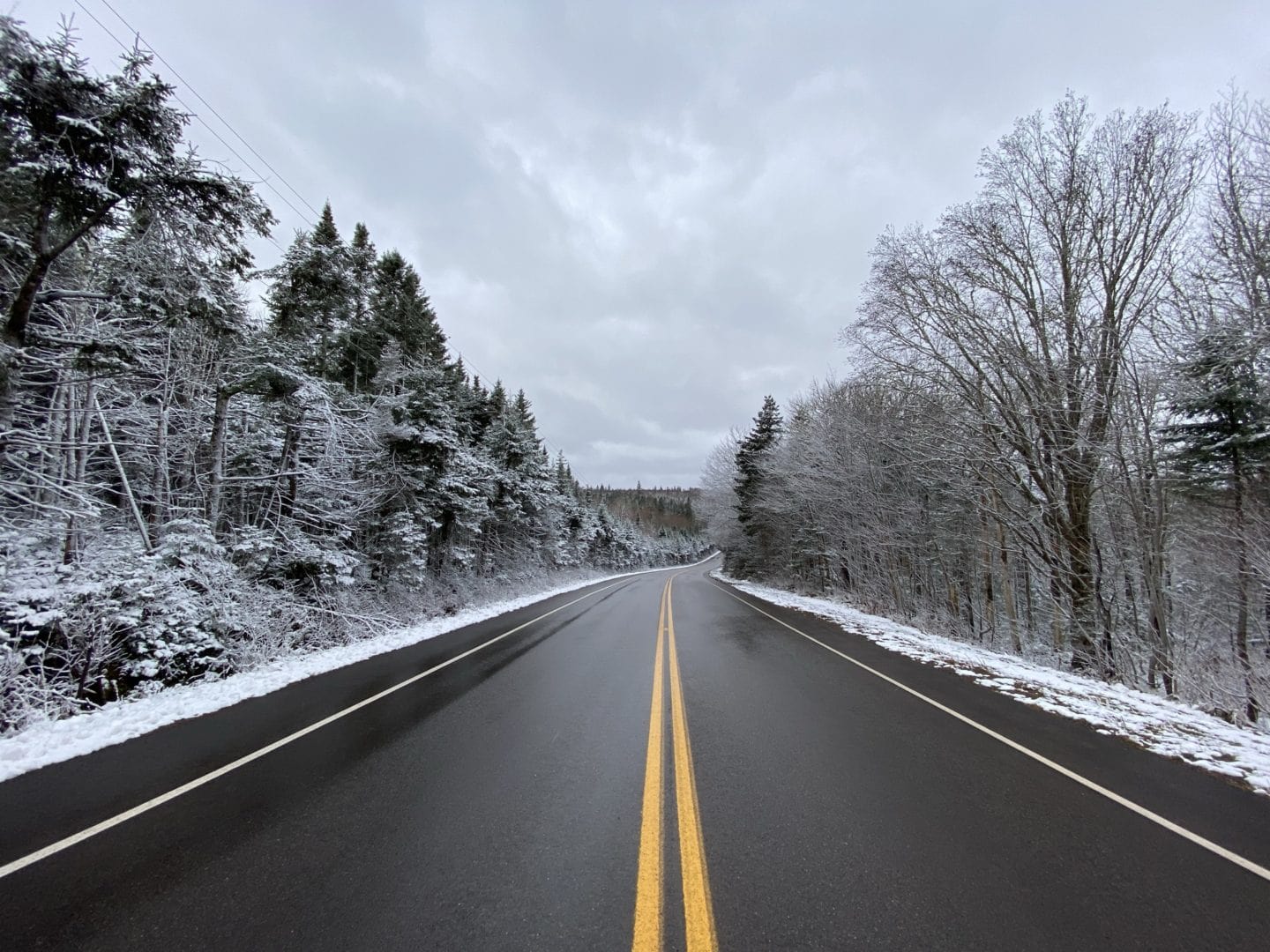 8. Accommodations and rentals are more affordable
Would you believe the prices of car rentals can fluctuate as much as 10x during the summer as opposed to the winter? You'll want to find a vehicle with winter tires and something with enough ground clearance, especially if you're planning to do some remote driving down dirt roads or lighthouse hunting. If you can secure an SUV, it's well worth it!
You'll also find more affordable room rates during the off-season, and while a lot of lodgings may not be open in remote towns during the winter, there is still the option for AirBnbs and Bed and Breakfasts that will show you true PEI hospitality.
Tips for travelling to PEI during the winter
If you're planning on doing any adventuring, you'll need to either drive here or plan to rent a vehicle. Flights to PEI (especially from Toronto) are inexpensive during the winter and I have found many flights for $200 RT.
You can easily travel with just a carry-on if you're flying, especially if you have access to laundry. Bring a sturdy pair of versatile boots and jacket and that's half the battle! I swear by packing cubes and I use them wherever I go.
Do your research when it comes to restaurants! A lot of restaurants close during the winter in PEI. Even websites or social media aren't always updated accurately, so you may want to call ahead to see if they're open. You'll generally always find a Tim Hortons or Robins nearby for a coffee, and you can bring snacks along in case of emergencies, or in my case, hanger. 😂
Don't underestimate how cold it can get. The wind can be really brutal so it's best to come prepared with warm clothing, especially gloves. I can't stress that accessory enough! My hands took over a week to recover – the wind and dry air really sapped all of the moisture out of them.
Don't be afraid to drive around the island in the winter. The roads are well maintained and you're never far from civilization. There's so much beauty to be seen wherever you travel. And when in doubt, ask a local!
Related Posts
Pin it for later!