Prince Edward Island is well known for its fresh seafood and potatoes – but don't be fooled – this charming town offers much more than those two delicious items! Charlottetown has some of the best restaurants on PEI that you can't miss out on trying!
From cozy pubs to upscale dining, restaurants with great views or great vibes, there are plenty of amazing places to eat in downtown Charlottetown for all price ranges! Many of these restaurants are very kid-friendly and offer great value for kids meals, too.
Although you can find amazing seafood dishes year round in Charlottetown, you'll find the freshest seafood offerings during peak fishing months – from May to August! If you're visiting through fall to spring, you'll find that many restaurants are only operating seasonally. That being said, there are lots of great restaurants in Charlottetown year round.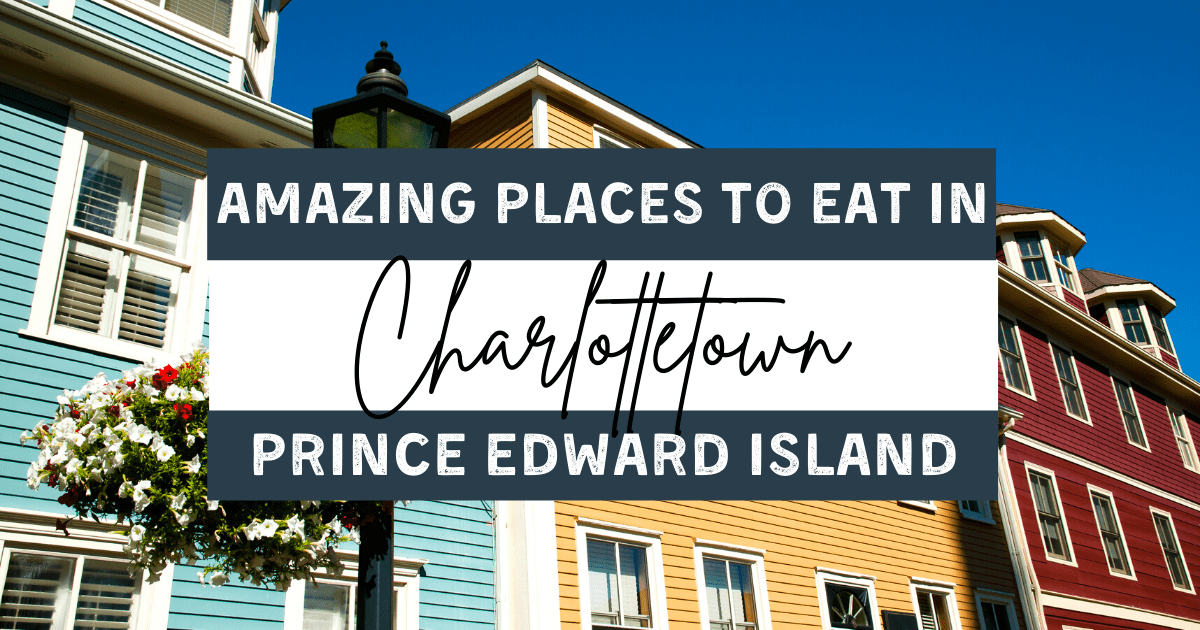 One thing to keep in mind, regardless of which season you visit during, is to check if these restaurants in Charlottetown take reservations. Many offer online bookings, or you can take your chances and walk in. Often you'll be able to leave a contact number and they'll call or text you when a table is ready. I loved this option, and it allowed us to walk around and take in some of the other sights while we waited.
Here's my list of some the best restaurants and places to eat in Charlottetown!
This post contains affiliate links which means I earn compensation when you click on the links at absolutely no extra cost to you! Feel free to read my disclosure policy. Thank you for supporting my blog!
Plan your next vacation using these tools!

✈️ Book flights: SkyScanner
🏨 Book hotels: Booking.com
🚘Book car rentals: RentalCars.com
🎫Book tours: GetYourGuide
🍽️Local food experiences: EatWith
🌍Favourite travel item: Packing cubes
🧳Favourite travel bag: Osprey 40L Fairview
📱 ESims: Airalo
🩹 DIY Travel Medical Kit
💸 20 Cheap Travel Items Under $20
The Merchantman Fresh Seafood & Oyster Bar
The comforting vibe at the Merchantman, combined with the incredible food will keep you wanting to return.
Visit during the summer months to taste the freshest oysters on their patio! I keep dreaming about the blackened fish sandwich – it's still one of my top meals I've had in Charlottetown. Their meals are served with chunky fries, and I don't know what it is about the potatoes here, but I can't get enough of them.
The Merchantman is only a few minutes' walk to the waterfront and is right at the base of Queen Street which is filled with all kinds of interesting shops to browse through after!
Address: 23 Queen Street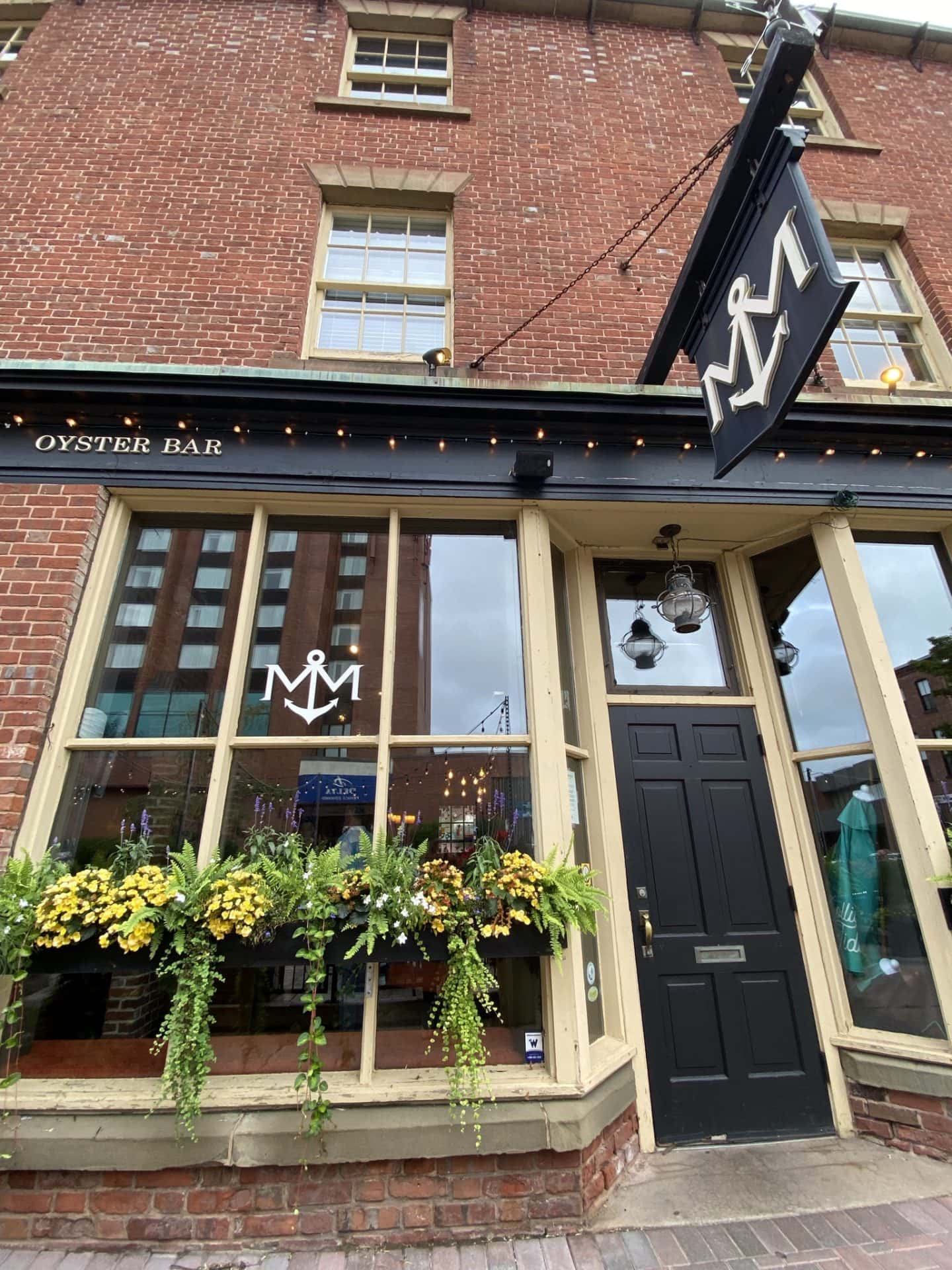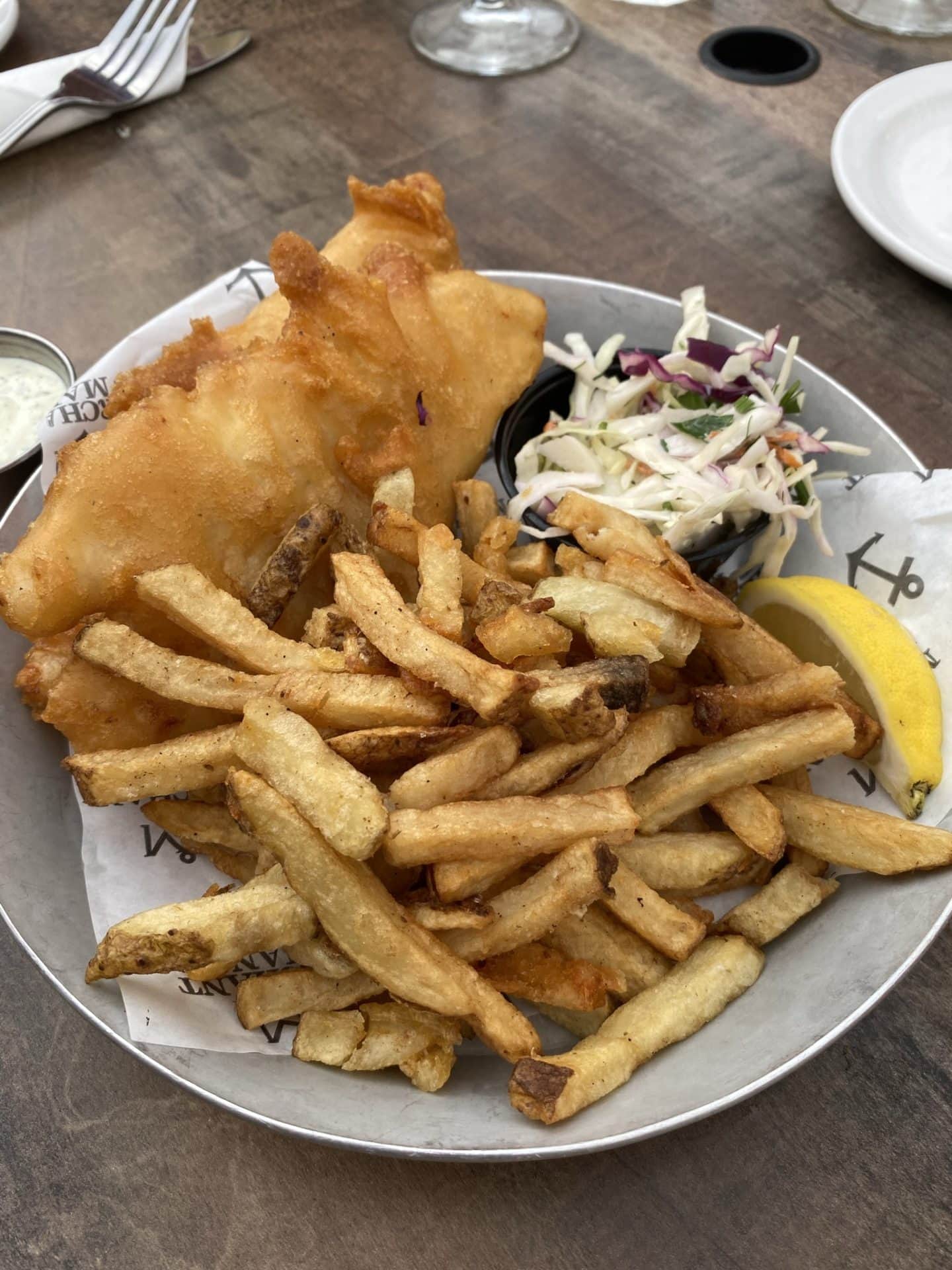 Churchill Arms
Transport yourself to Great Britain in this cozy British pub! I had the best burger here – and don't be fooled – people will tell you to visit PEI for the seafood but the beef is seriously underrated. It's now one of the first things I look for on the menu if I'm not in the mood for seafood.
The Churchill Arms isn't a large restaurant compared to some others, but the service is amazing and the menu has a good selection of traditional British pub fare and British-style curries. Even their dishes come prepared with little British flags.
Address: 75 Queen Street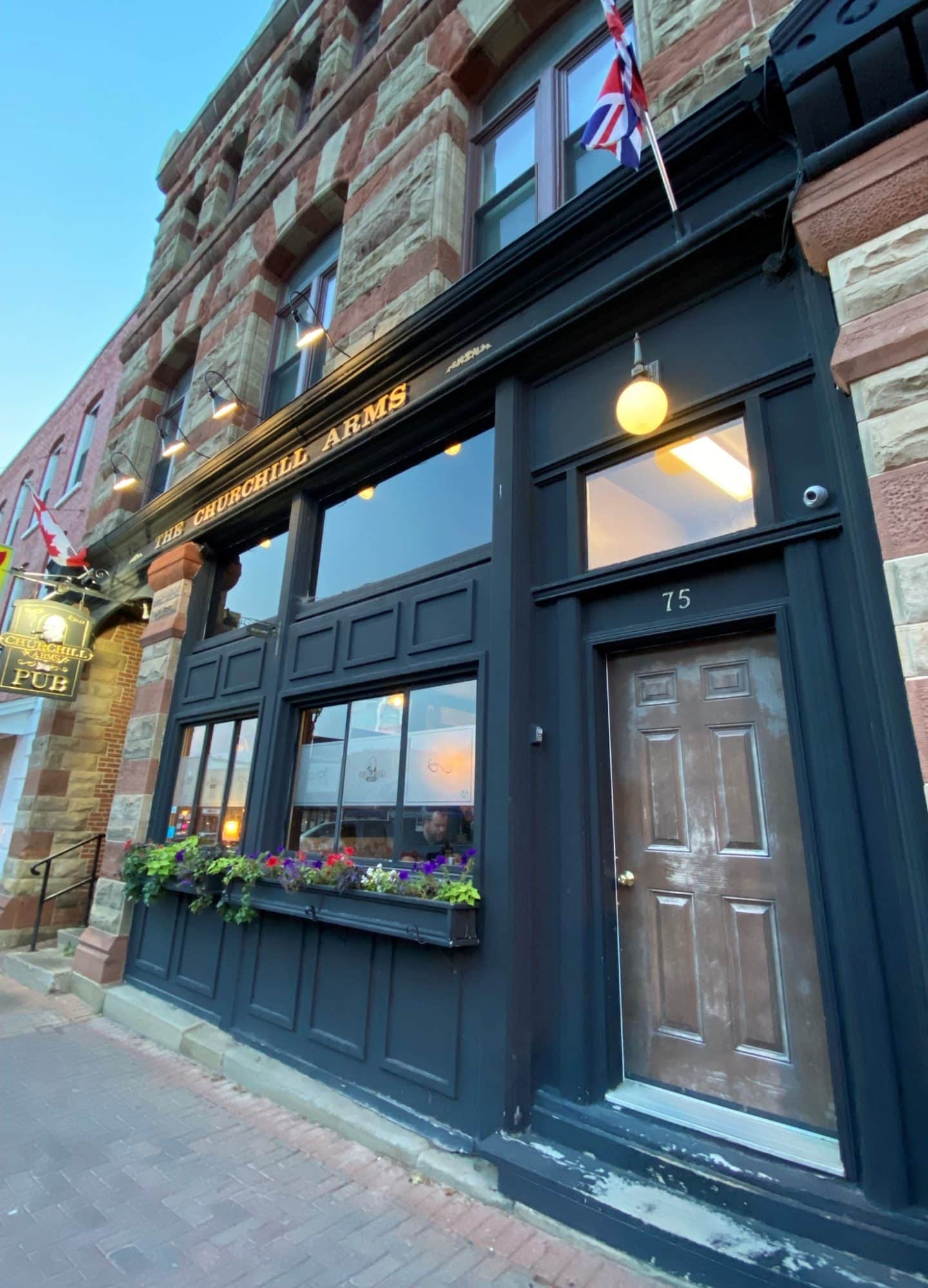 Peakes Quay Restaurant and Bar
Peakes Quay Restaurant overlooks the wharf and the floating restaurants. It's a relaxed place to eat during the summer because of the views and the bustling groups of people making their way around.
This was my first meal in Charlottetown, so naturally I had to get the lobster roll. The fish and chips are also really good here (but honestly, they're good everywhere here!).
I loved the location of Peakes Quay since it has central access to Confederation Landing park, around the marina, and downtown, and is surrounded by shops!
Address: 11 Great George Street. Open seasonally May – October.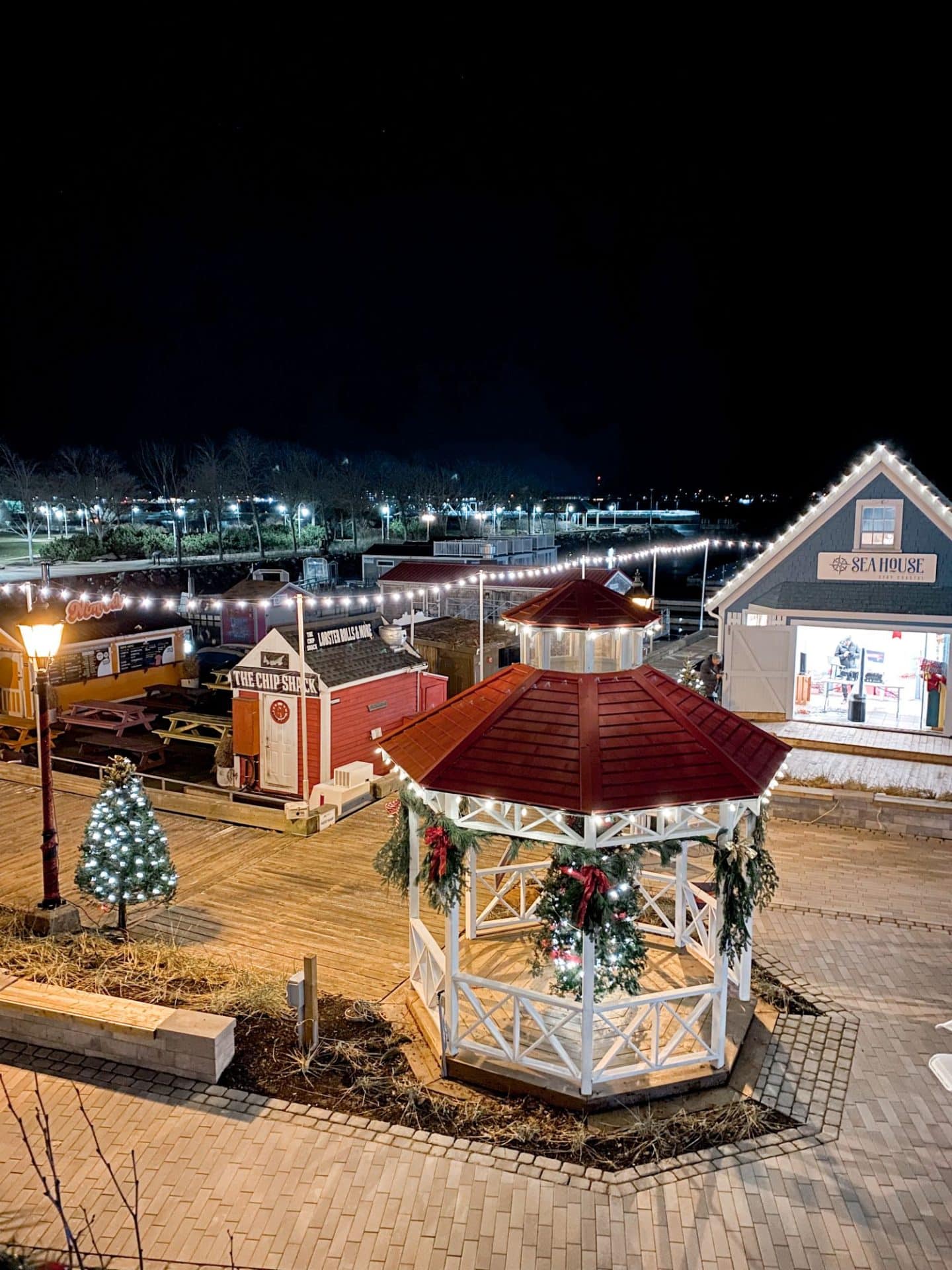 The Brickhouse Kitchen & Bar
The Brickhouse is definitely one of my top favourite restaurants in Charlottetown. Aside from the amazing service received, the warm ambience will make you feel right at home.
The Seared Scallop Orecchiette was amazing and I'm returning to try some of their other menu items!
There are three levels to the Brickhouse and reservations are strongly recommended, even during the winter months. It's also one of the fancier places to enjoy a meal.
Address: 125 Sydney Street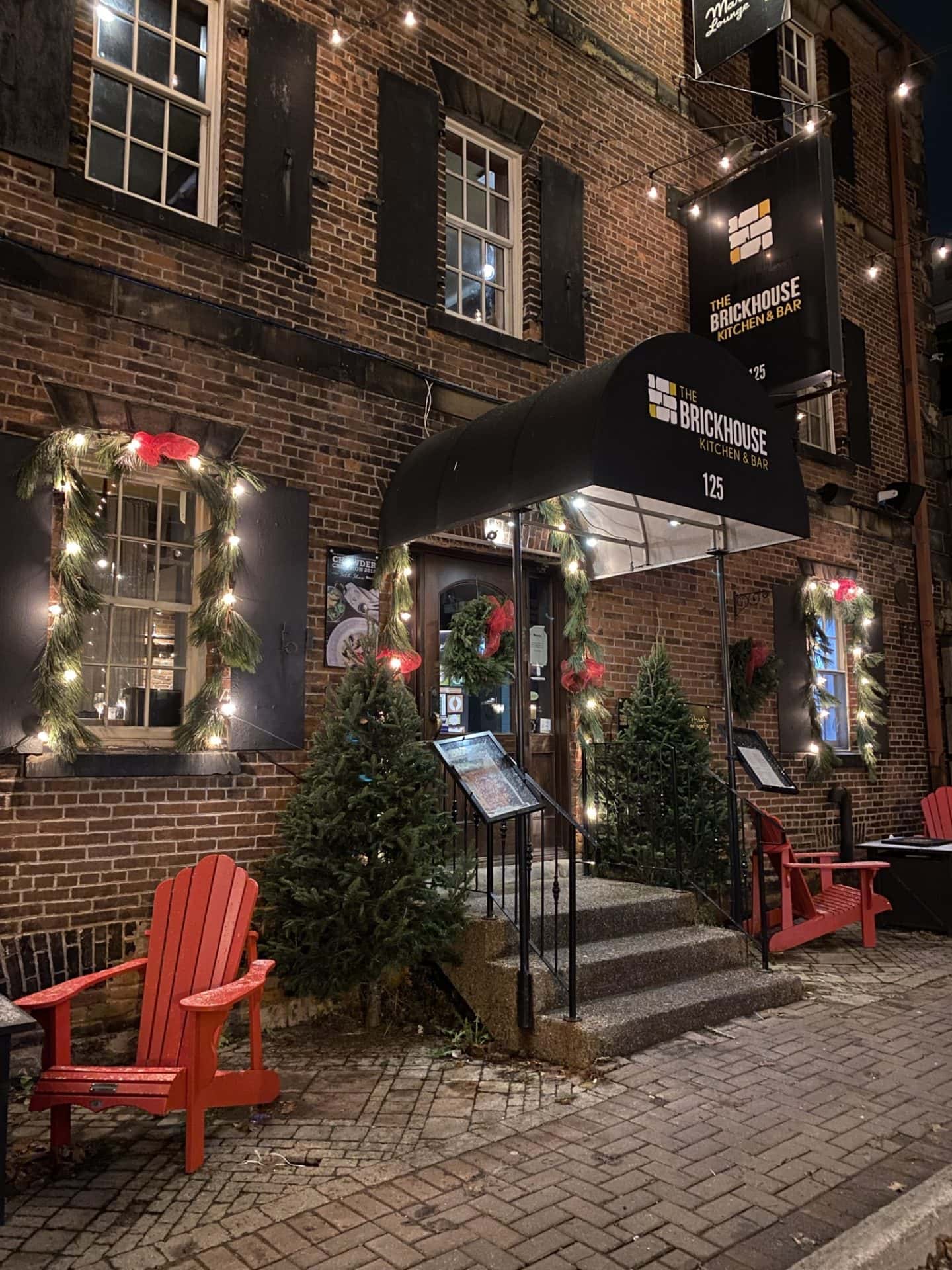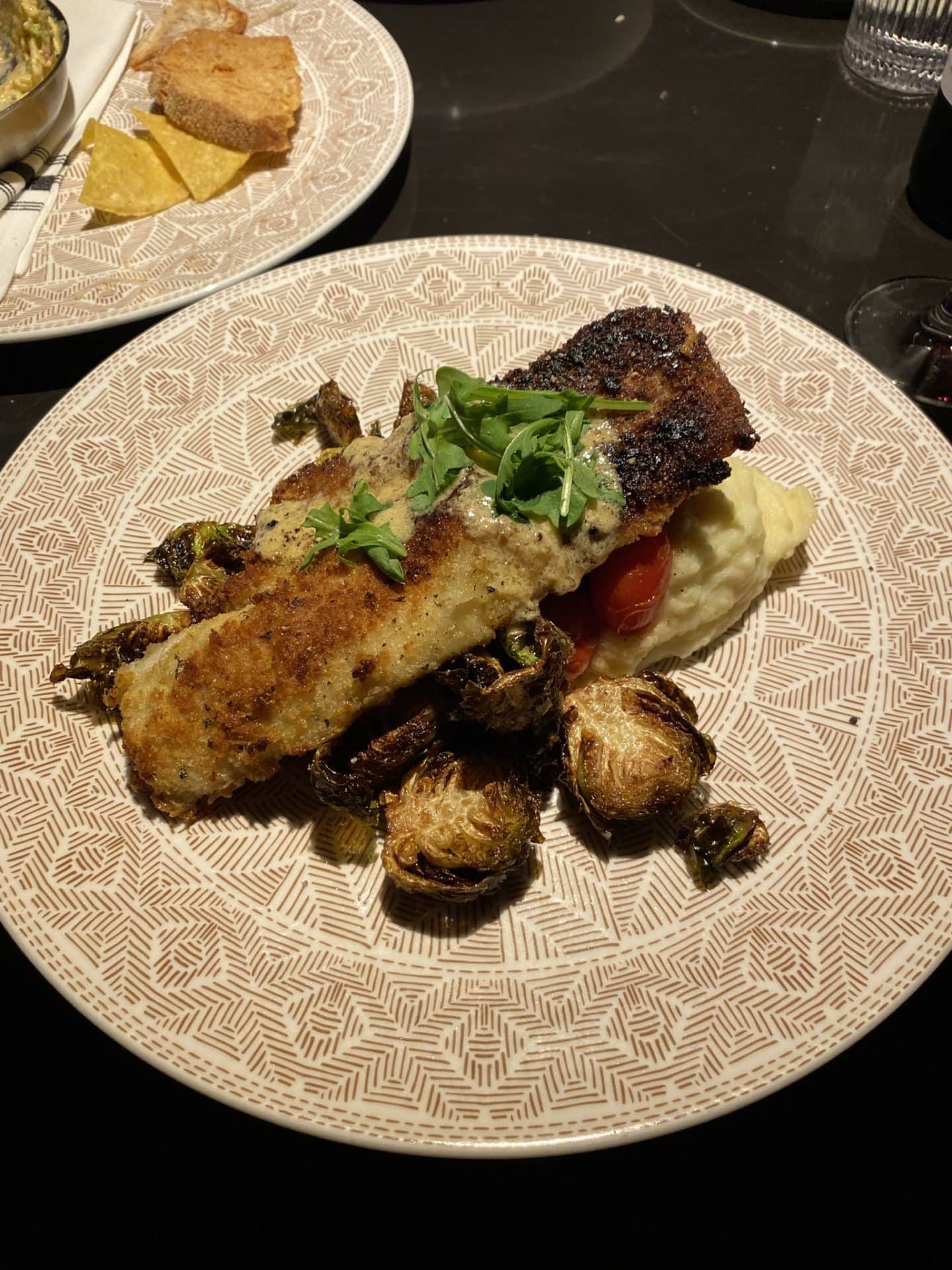 Sea Rocket Oyster House
As Charlottetown's newest dining addition, Sea Rocket Oyster House is a stunning restaurant offering various seafood dishes like fish tacos, fish and chips, oyster po' boy, scallops, along with many raw options.
Not a fan of seafood? Their salads are delicious, and you can find the typical restaurant fare like burgers, steak, and pasta.
Sit at the raw oyster bar and enjoy the ambience.
The décor is so well done here – along with the bathrooms (I know, sounds weird right?).
Address: 110 Queen St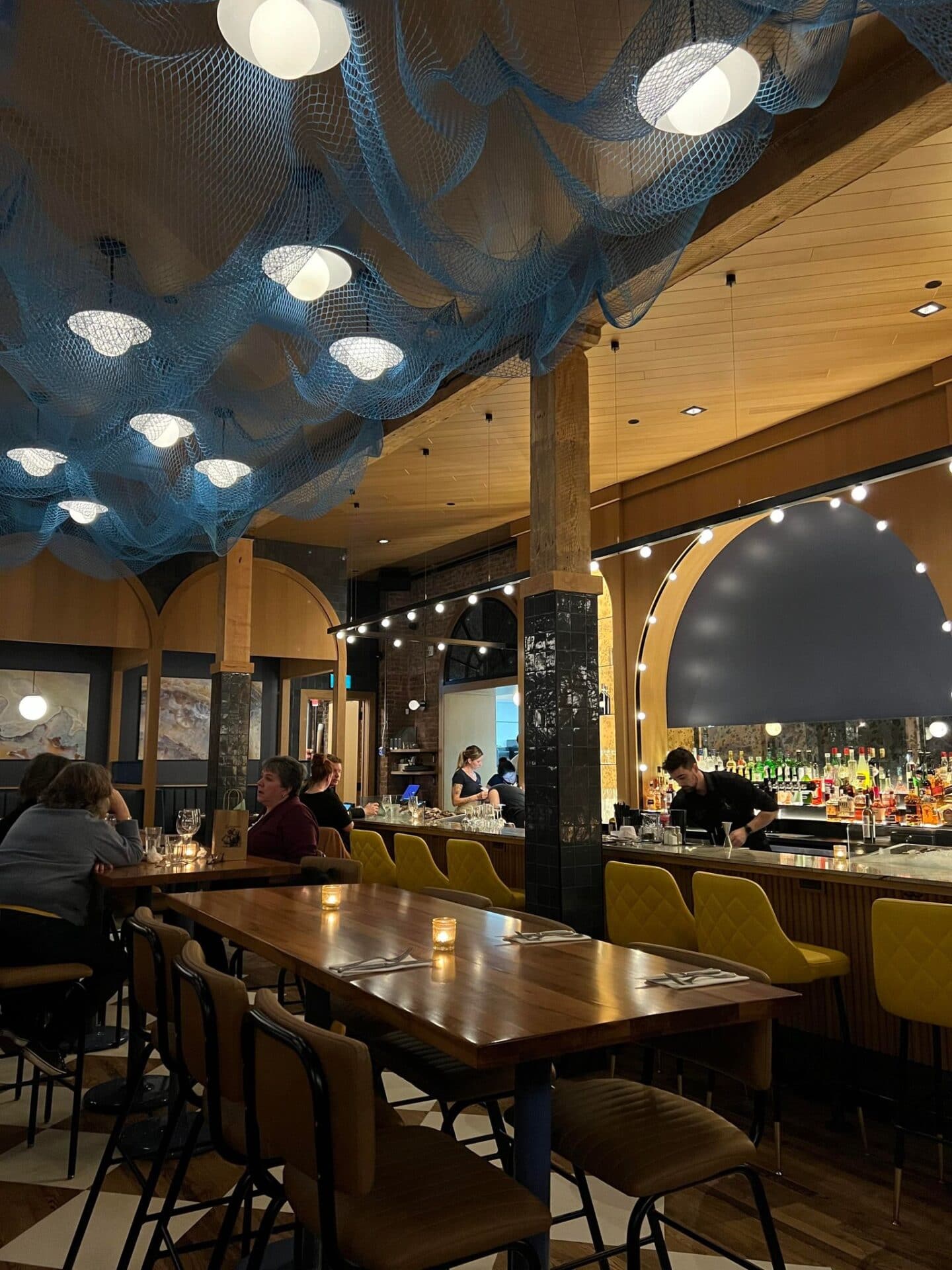 Hunter's Ale House
Hunter's Ale House was the perfect first stop on my first winter evening in Charlottetown. It felt cozy and comforting and the food portions were huge. It's one of the more frequented spots on weekends and there's always some type of event on, like trivia or live music, and daily food specials.
We shared the wings and pulled pork tacos and they upgraded us to a free poutine, but you'll have a hard time making a choice with the huge menu they have! I'm not kidding – this menu is pages long – and everything sounds amazing.
Address: 185 Kent St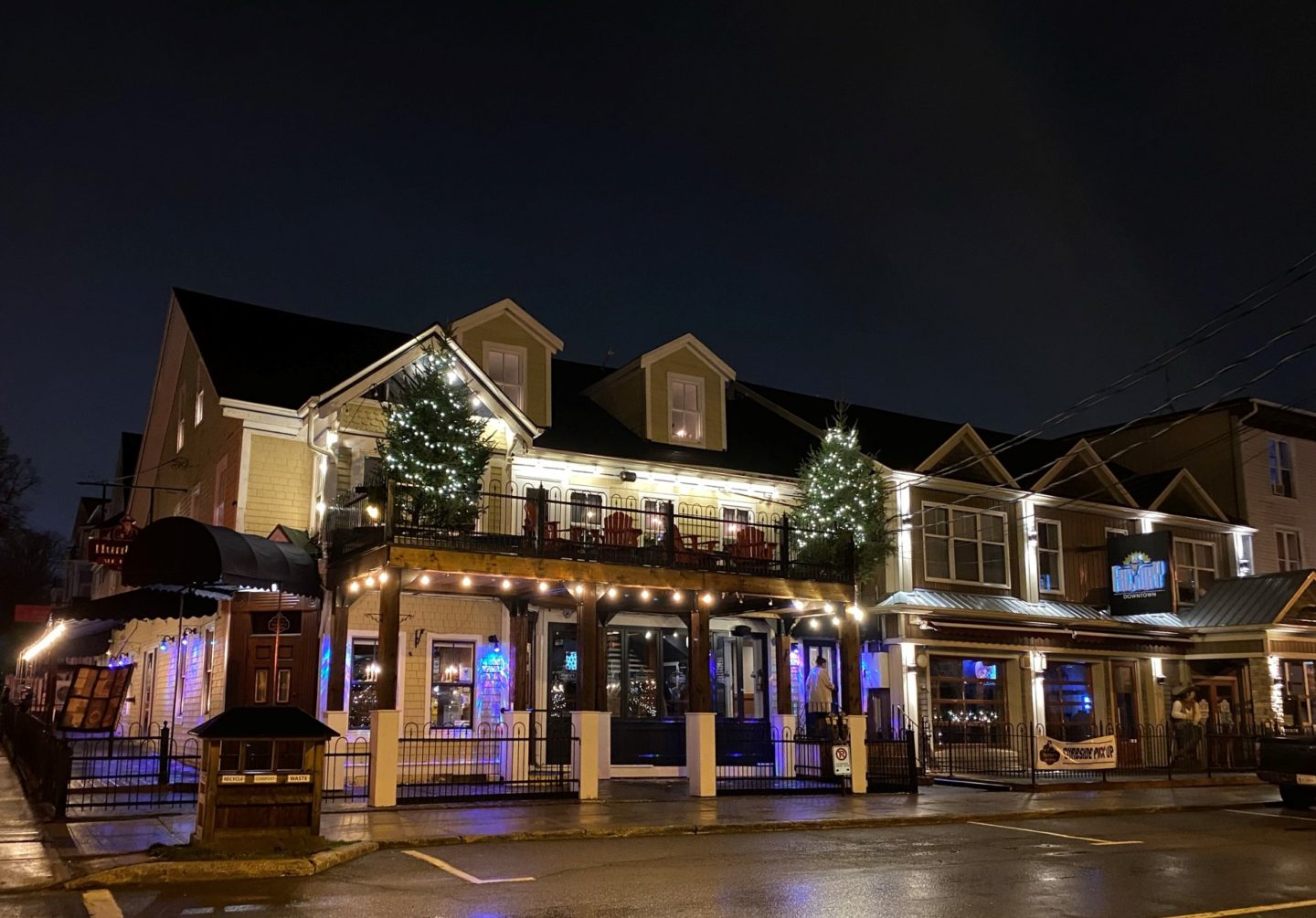 Olde Dublin Pub
I instantly fell in love with the comforting atmosphere at the Olde Dublin Pub as soon as I walked through the doors. As Charlottetown's original Irish pub, this has been the popular go-to spot for many locals since opening in 1983.
Home to trivia nights and live music, this is your typical Irish pub to come unwind with friends.
I had some of the best chicken wings here, along with bacon-wrapped scallops and mussels. There's also an oyster special daily from 4:00 pm – 6:00 pm where you can get oysters for $1 each!
Address: 131 Sydney Street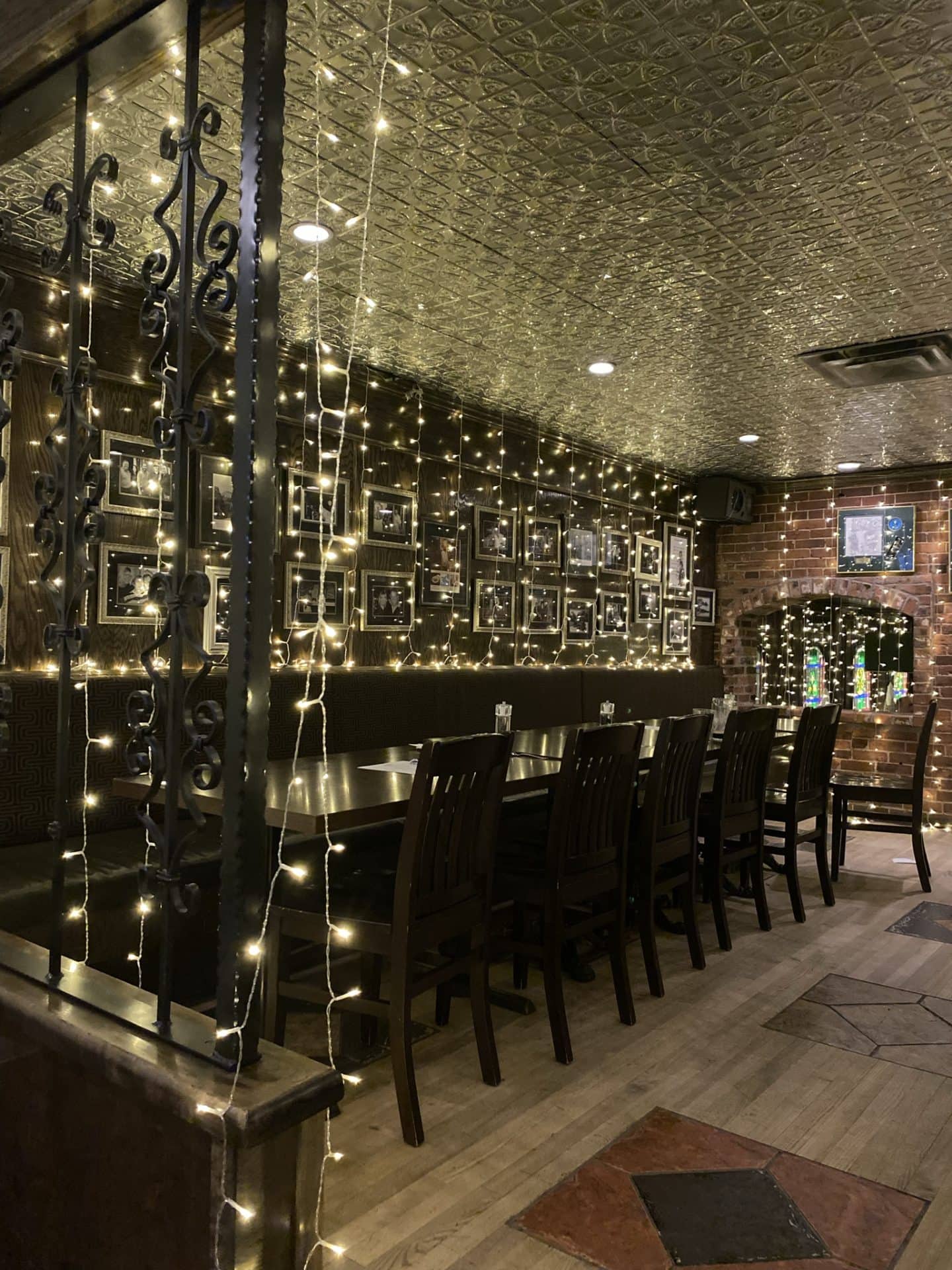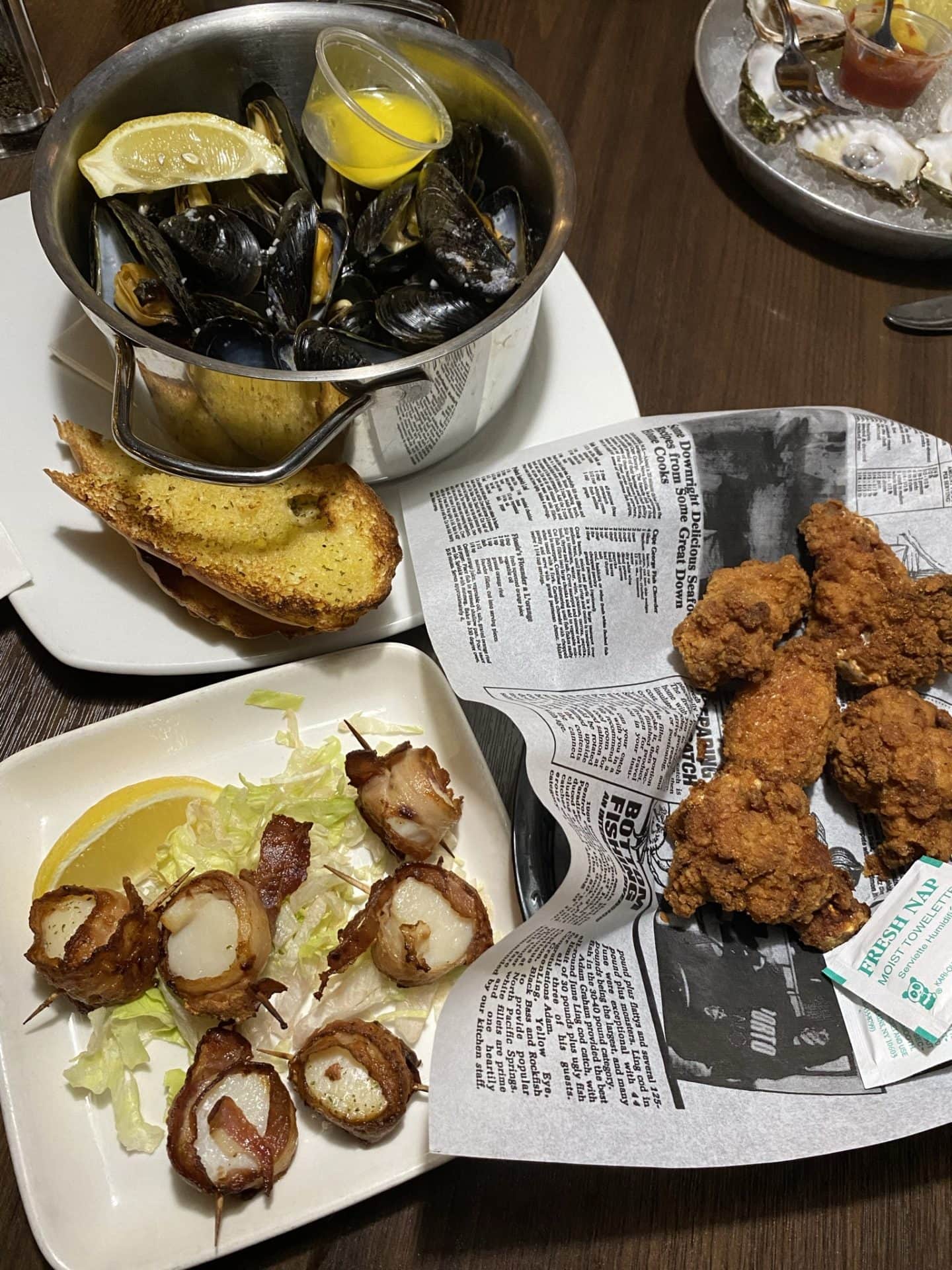 Sim's Corner Steakhouse and Oyster Bar
If you're looking for an upscale place to dine in Charlottetown, Sim's Corner Steakhouse and Oyster Bar shouldn't be missed! It's warm and inviting atmosphere, combined with great service, will instantly put you at ease.
Sim's specializes in steak and seafood (as their name may indicate) and it's hands down one of the best meals I've had so far in Charlottetown. You can try unique dishes you won't find elsewhere around town, like buffalo-fried oysters, roasted bone marrow, and cast-iron steaks for two.
You can even book a private dining room for up to 24 people for extra-special occasions!
Address: 86 Queen Street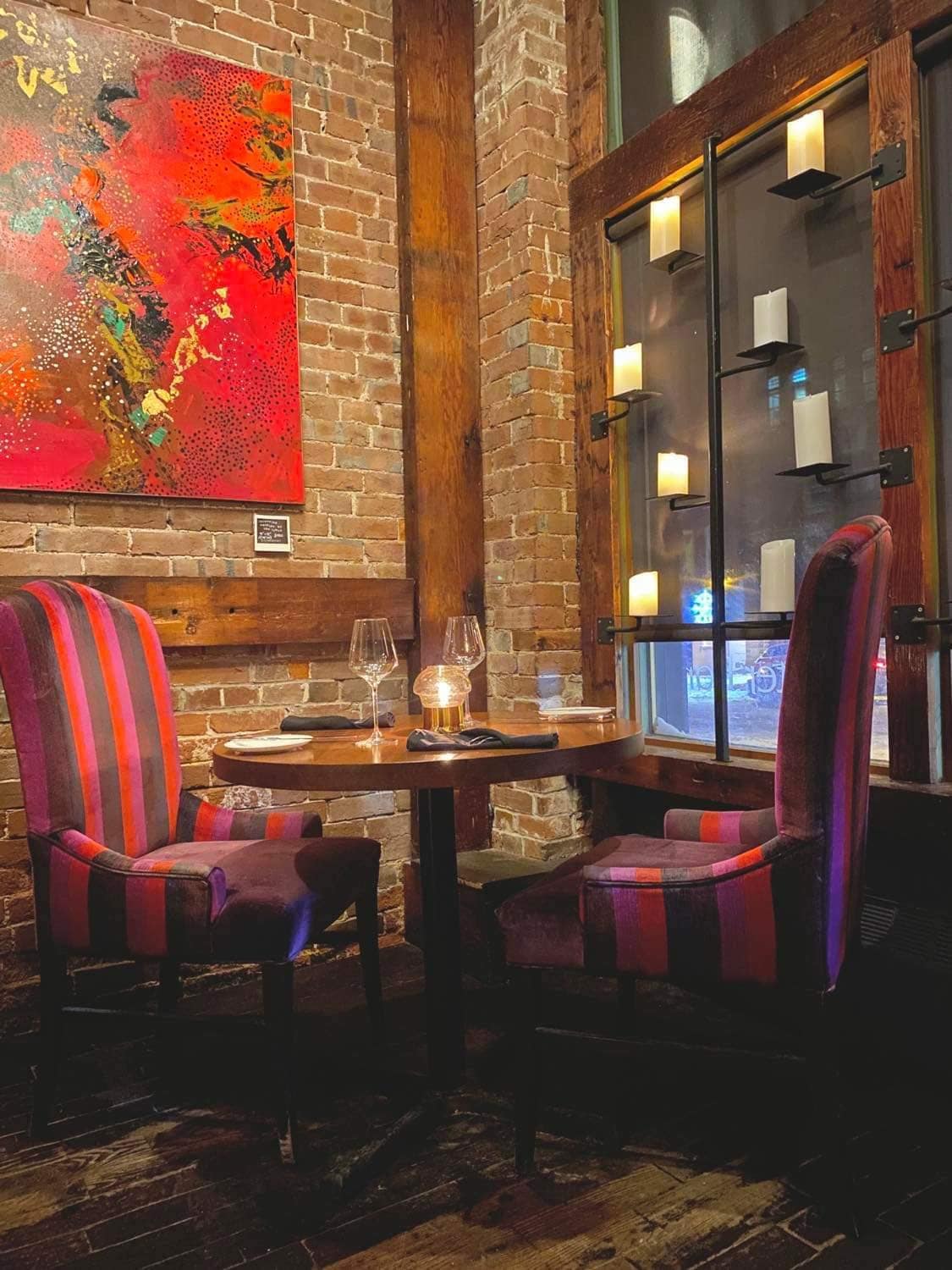 Claddagh Oyster House
Located below the Olde Dublin Pub, the Claddagh Oyster House offers an intimate setting with an delicious menu. This small but mighty restaurant has such a cozy vibe and offers a variety of oysters, seafood, and beef on an ever-changing seasonal menu sourced from local farmers and fishermen.
Their island beef is aged for 50 days in-house and I had the best prime rib I've ever had at the Claddagh Oyster House as a part of their Winterdine menu!
You can also book a private dining room for small groups for no additional cost (though there is a minimum spend required for use).
Address: 131 Sydney St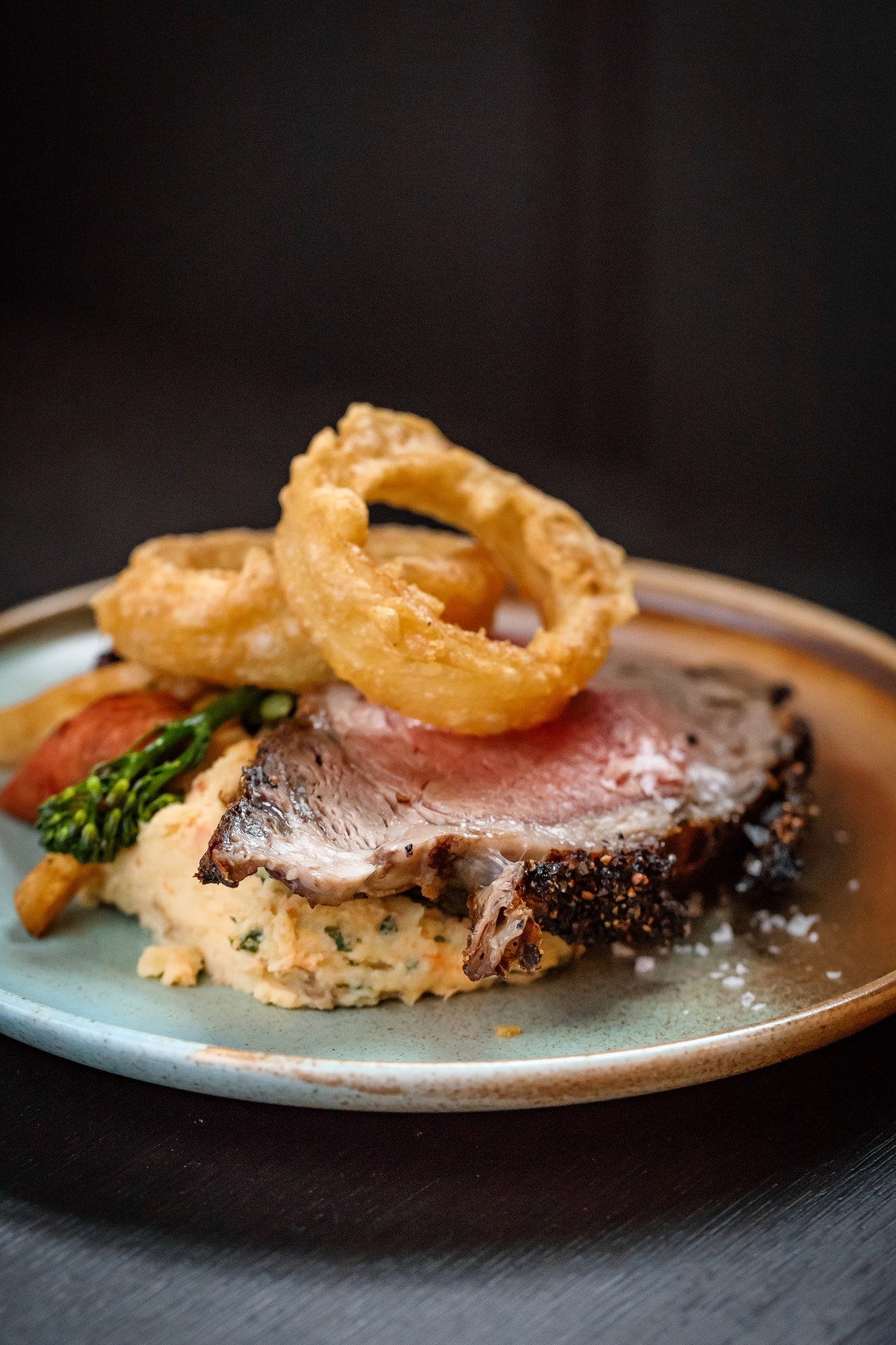 Bar1911
Bar1911 is the epitome of a cozy coffee bar – with a diverse selection of local craft ales, too! Their focus is specialty coffee from local sources and across North America as well as a 20-tap selection of locally brewed craft beer and cider from across the Maritimes!
We noticed a lot of students and remote workers enjoying the ambience, sipping coffees and beer. I had one of the best meals here – and while it was a simple turkey sandwich, it was packed full of flavour and took me by surprise. There are tons of healthy options and vegan dishes too.
Bar1911 is located at the former Queen's County Jail, which from what you may have guessed, was built in 1911!
Address: 113 Longworth Avenue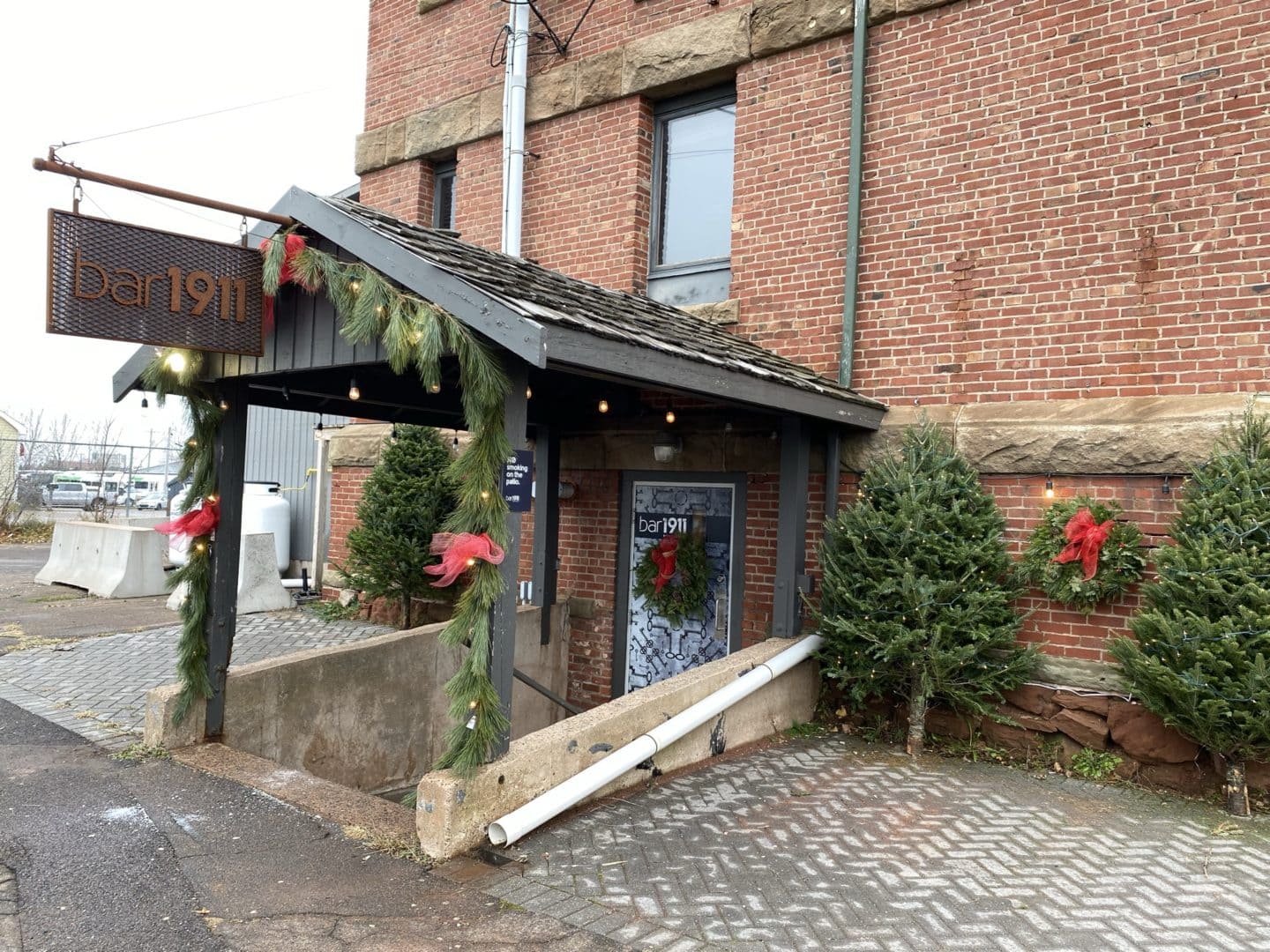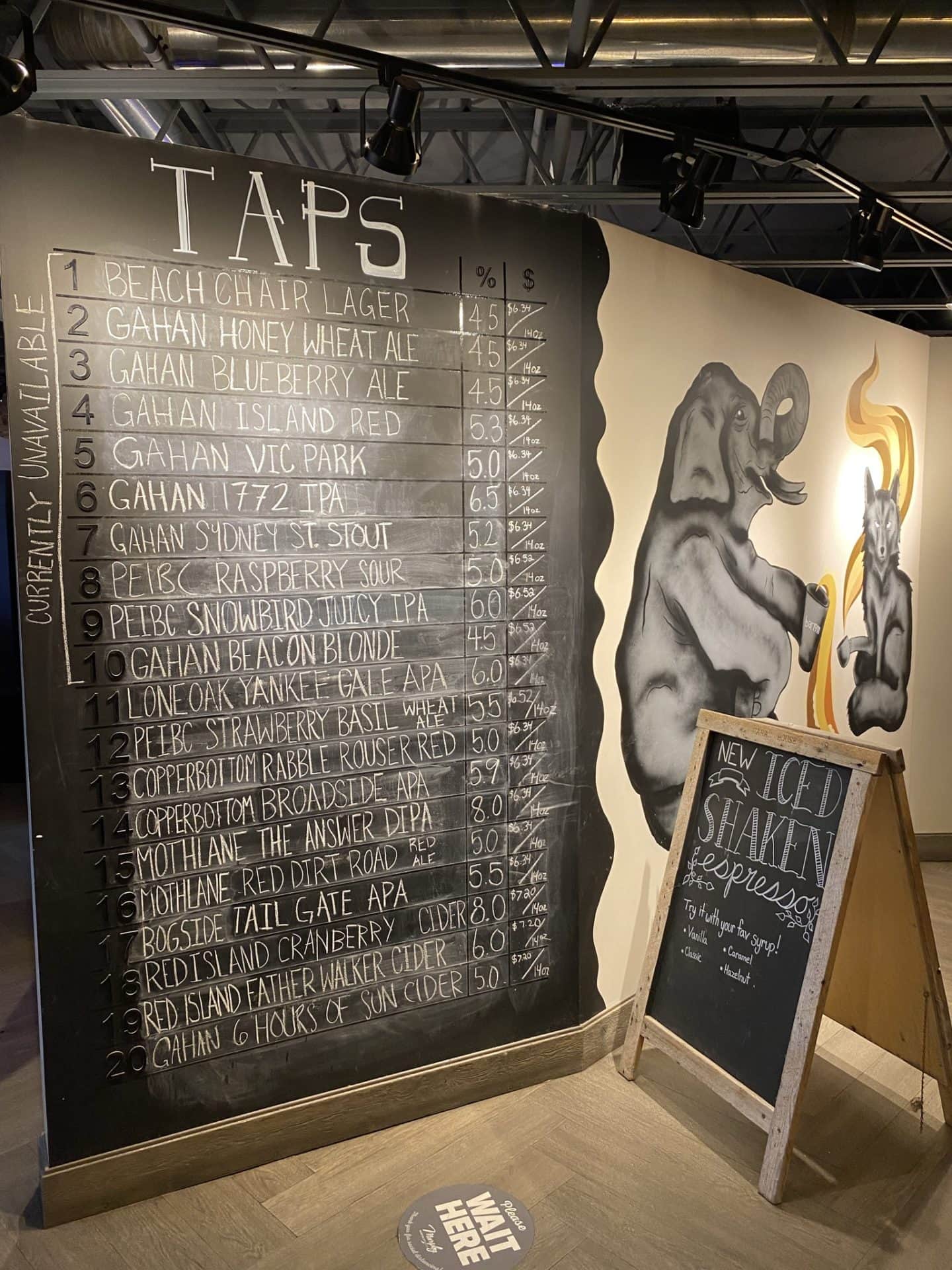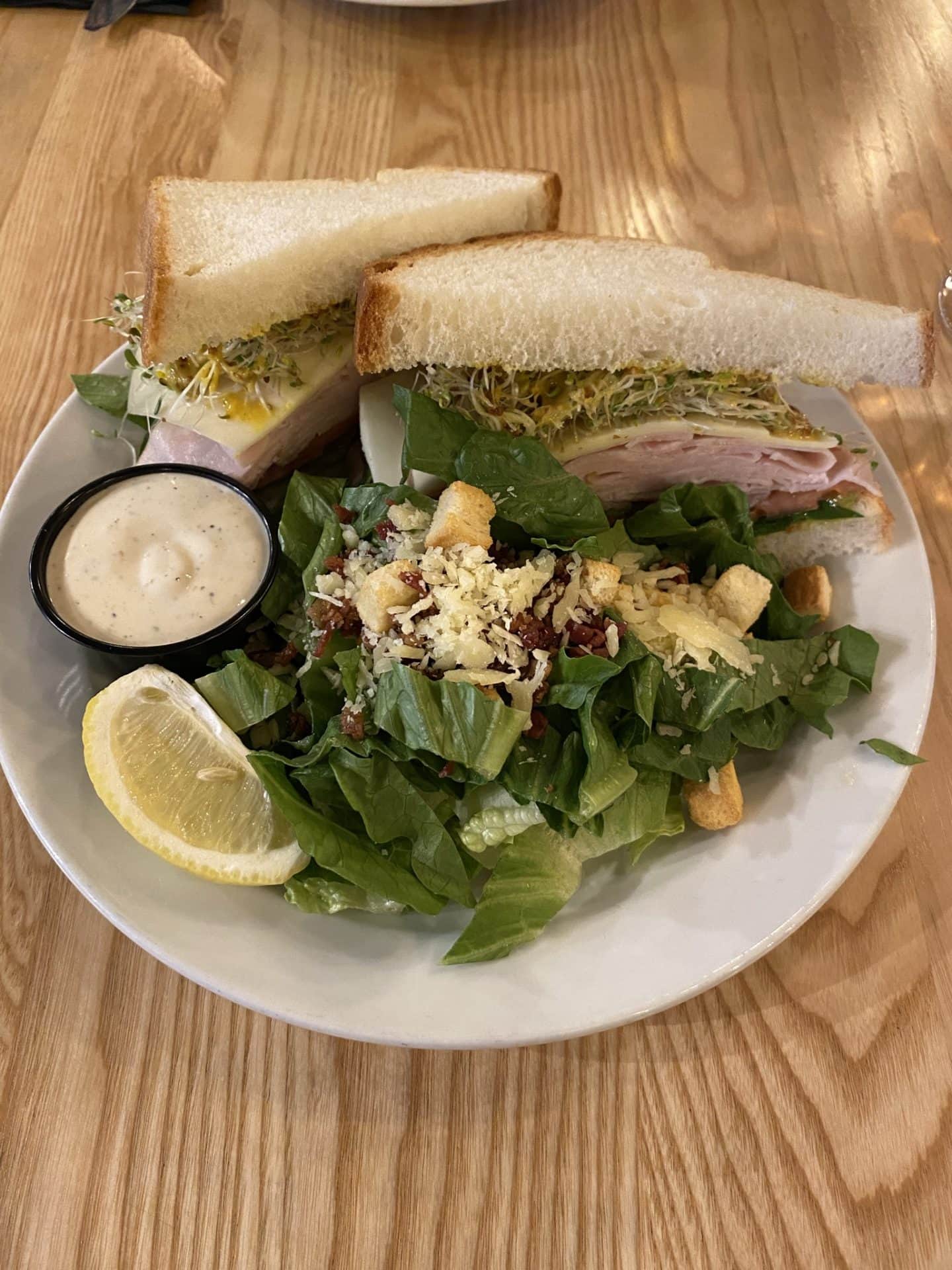 Casa Mia
Casa Mia is an amazing spot to come for a casual-gourmet breakfast. You'll be sitting there staring at the menu like we were – you won't be able to decide on what to get! All of the breakfast options sound and look amazing.
I settled on banana bread French toast stuffed with maple cream cheese. It was as amazing as it sounds. 😂
There's also a lunch and dinner menu with extensive seafood offerings, and their desserts look incredible too. I know I'll be back to try more of what's on the menu!
Address: 131 Queen Street
There is also a second location in Victoria-by-the-Sea at 19 Victoria Wharf open seasonally from May – October.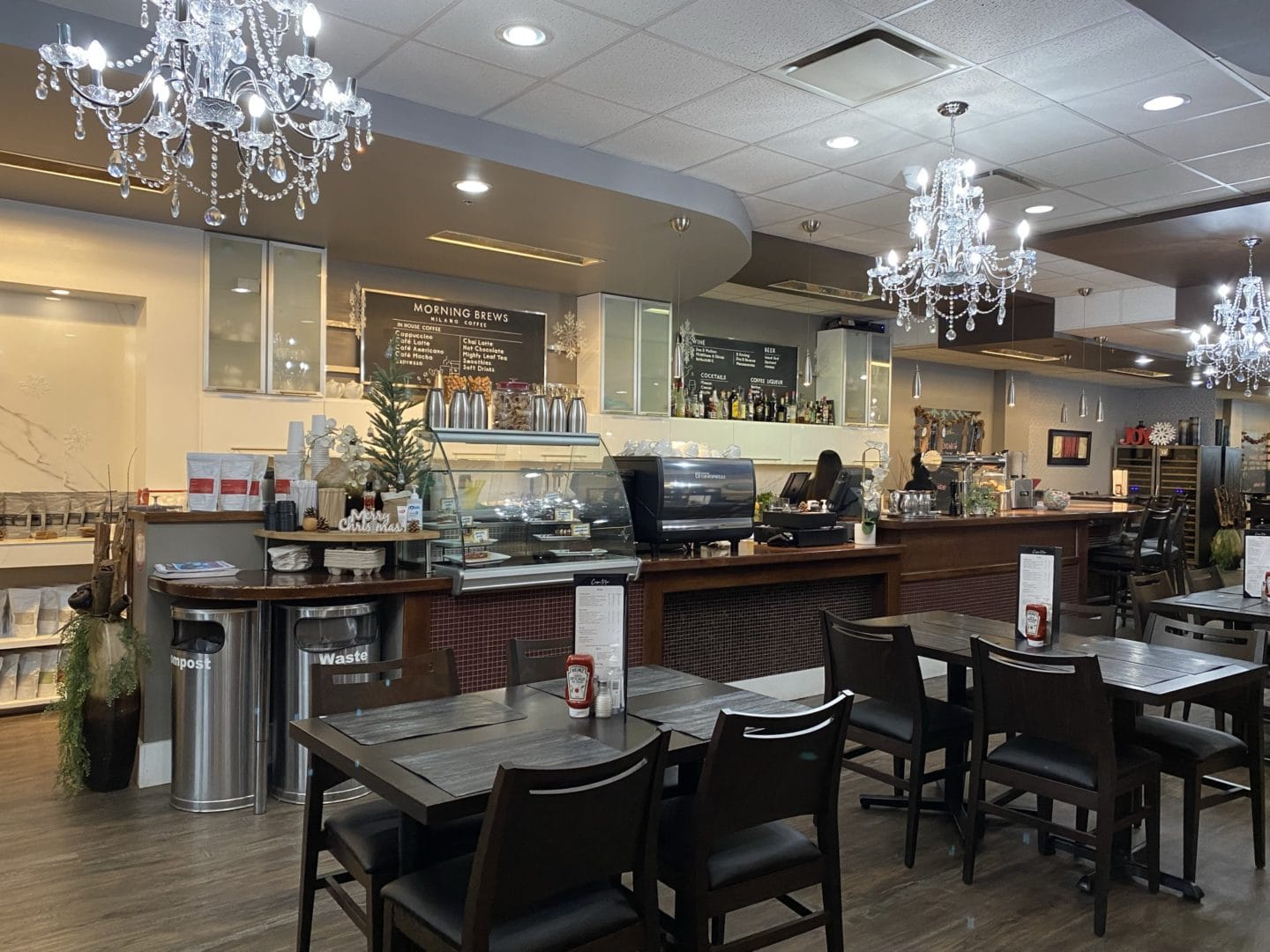 Receiver Coffee
Looking for a great place to grab a coffee, breakfast or lunch? Receiver Coffee Co has three locations in Charlottetown – but the coolest one is this location known as the Brass Shop.
This airy heritage building dates back to 1876 and is one of the oldest buildings in Charlottetown, and was once used to polish brass components on locomotives. The old train station is still standing and can be down just further down on Water Street.
You'll find a wide range of baked goods, breakfast items, wraps and sandwiches – including plenty of vegan options.
The Brass Shop is right beside Founders Hall – where you'll find a bunch of cute shops to browse through and find that special gift for someone or your home!
Address: 178 Water Street
Also located at: Victoria Row – 128 Richmond St and Milky Way – 15 Milky Way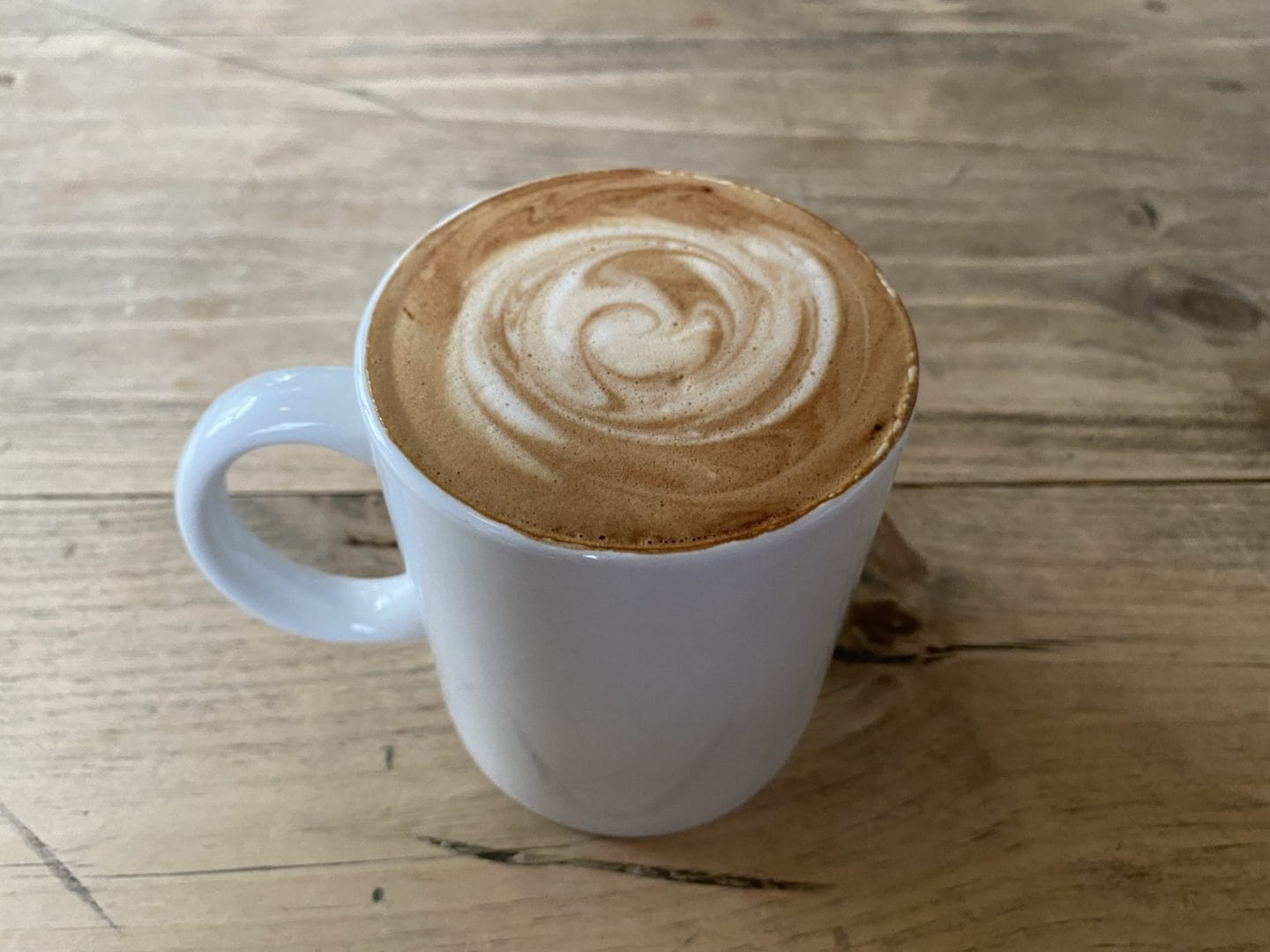 Related Posts
Pin it for later!