One of the best things about Charlottetown is how compact it is. This means everything is within walking distance: restaurants, hotels, shops, bars, pubs, and nightlife!
This makes pub crawling super fun in downtown Charlottetown. You can't walk more than a block without finding a bar to grab a drink in.
As Prince Edward Island's capital, it's not surprising that Charlottetown has a popular bar scene (year-round!) and party vibe. You'll often find live music at these bars and pubs, which adds to the ambience and fun time!
We inadvertently went on a pub crawl during our last visit to PEI and it was one of the best nights I've had in all my visits. And FYI – pub crawling in Charlottetown is perfectly acceptable year-round. I would know, because I've done it! 😂
Just be prepared for the winter in Charlottetown. Many of these bars are just around the corner from one another, so as long as you're prepared for a quick jaunt down the street, you'll be all set to experience all the fun Charlottetown's pubs and bars have to offer.
Need a taxi?
There's plenty around the city. Save this number to call if you aren't staying downtown: (902) 569-9999. Don't drink and drive!
This post contains affiliate links which means I earn compensation when you click on the links at absolutely no extra cost to you! Feel free to read my disclosure policy. Thank you for supporting my blog!
Plan your next vacation using these tools!

✈️ Book flights: SkyScanner
🏨 Book hotels: Booking.com
🚘Book car rentals: RentalCars.com
🎫Book tours: GetYourGuide
🍽️Local food experiences: EatWith
🌍Favourite travel item: Packing cubes
🧳Favourite travel bag: Osprey 40L Fairview
📱 ESims: Airalo
🩹 DIY Travel Medical Kit
💸 20 Cheap Travel Items Under $20
1. Charlottetown Beer Garden & Patio
Charlottetown Beer Garden and Patio is a beautiful place to experience year-round. It's absolutely breathtaking during the winter, especially during Charlottetown's Ice City Festival. Firepits and blankets, private domes, hot drinks, and warm service will leave you with a true Canadian experience!
As a popular place for gatherings during the summer, the Charlottetown Beer Garden and Patio has a huge outdoor patio that can accommodate up to 200 people and offers live music on summer evenings, fresh-caught seafood, microbrew and craft beer, late-night shows, dancing, and even a sangria menu
Keep on top of their jam-packed events schedule online!
Address: 166 Prince Street
2. The Old Triangle
The Old Triangle quickly became my favourite pub in Charlottetown. This Irish alehouse in the heart of town feels as though you've been transported to Ireland as soon as you walk through the door. Known as the Celtic Heart of the Maritimes, The decor is typical of an Gaelic Irish pub and there is an extensive drinks menu, an endless food menu, and tons of beer and Irish ales on draft.
My favourite part about the Old Triangle is the live music. Local musicians gather throughout the week (you can check out their gig calendar online) and provides the perfect ambience for a fun night out in Charlottetown. If you're going for a pub crawl in PEI's capital, definitely do not miss the Old Triangle!
Address: 189 Great George Street
3. The Gahan House Restaurant, Oyster Bar & Brewery
The Gahan House should be experienced by everyone on their visit to Charlottetown. Why? The Gahan House is where PEI's ale is made!
It's a popular spot amongst students and professionals alike, with a great food menu, cozy vibe, and great service. Just be prepared for it to be very busy during the summer, so if you're looking to visit for a meal, consider coming earlier in the day or during the off-season. Stop in for a pint of PEI's most-loved local ale.
Fun Fact: The Gahan House is named after John Gahan, a prominent merchant in the 19th century. He imported teas, wine, and groceries, and his business was ont he corner of Queen and Sydney Street in Charlottetown – where the Gahan House is!
Address: 126 Sydney Street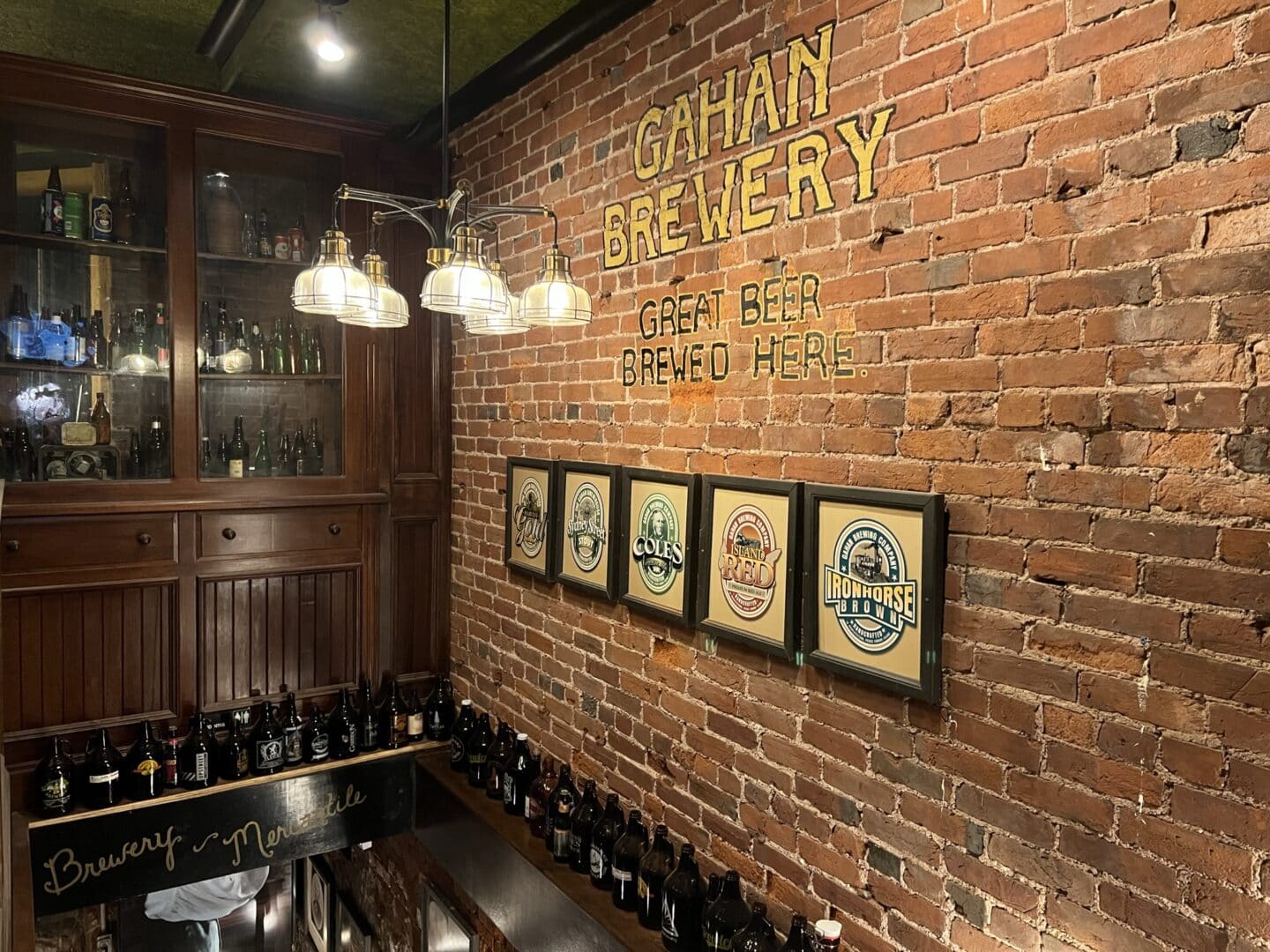 4. Olde Dublin Pub
As another great bar to catch a pint and some live music, the Olde Dublin Pub is another Irish pub in the heart of Charlottetown. And if you're wondering why there's so many Irish pubs on PEI, it's because many of PEI's early immigrants were from Ireland and much of that influence can still be found around the island!
Locally loved since 1983, Islanders and visitors have been enjoying pints of Guinness, local fare, and catching frequent live music (which you can get updates on by visiting their Facebook or Instagram!).
P.s. If you love oysters, be sure to visit the Olde Dublin Pub for dinner before heading out on your bar crawl through Charlottetown.. There's a daily oyster special from 3:00-5:00 pm where oysters are just $1!
Address: 131 Historic Sydney Street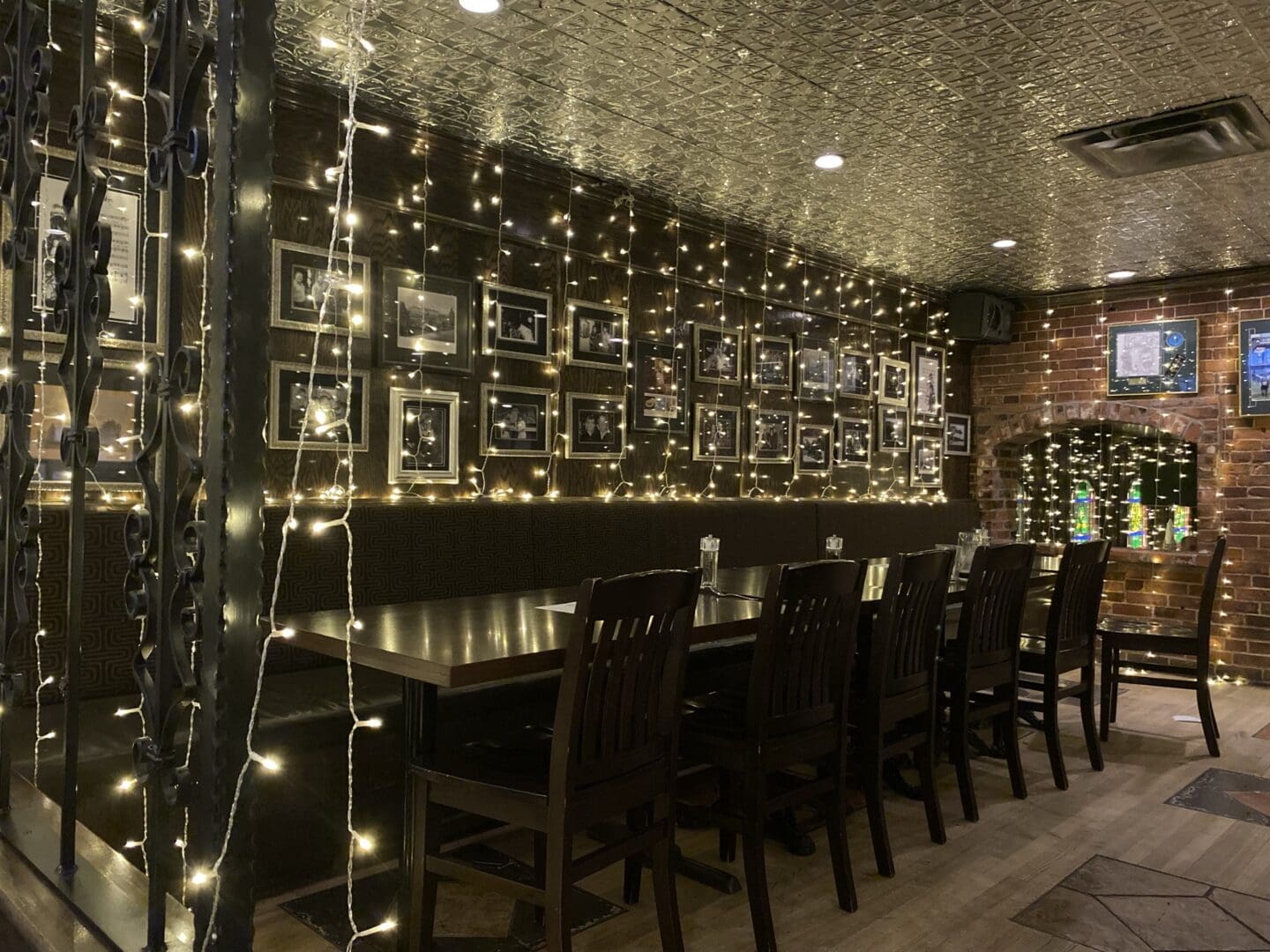 5. Hunter's Ale House
If you want a true feel of what Charlottetown is like, head to Hunter's Ale House. It's where you'll find all the locals and is the most lively bar in Charlottetown I've experienced yet! With live music, huge food portions, daily specials, trivia night, and large schooner mugs of beer, what's not to love? It's one place where you definitely get the biggest bang for your buck for food and drinks.
Hunter's Ale House is right across from the Charlottetown Beer Garden, meaning you can easily visit on your pub crawl through Charlottetown!
Address: 185 Kent St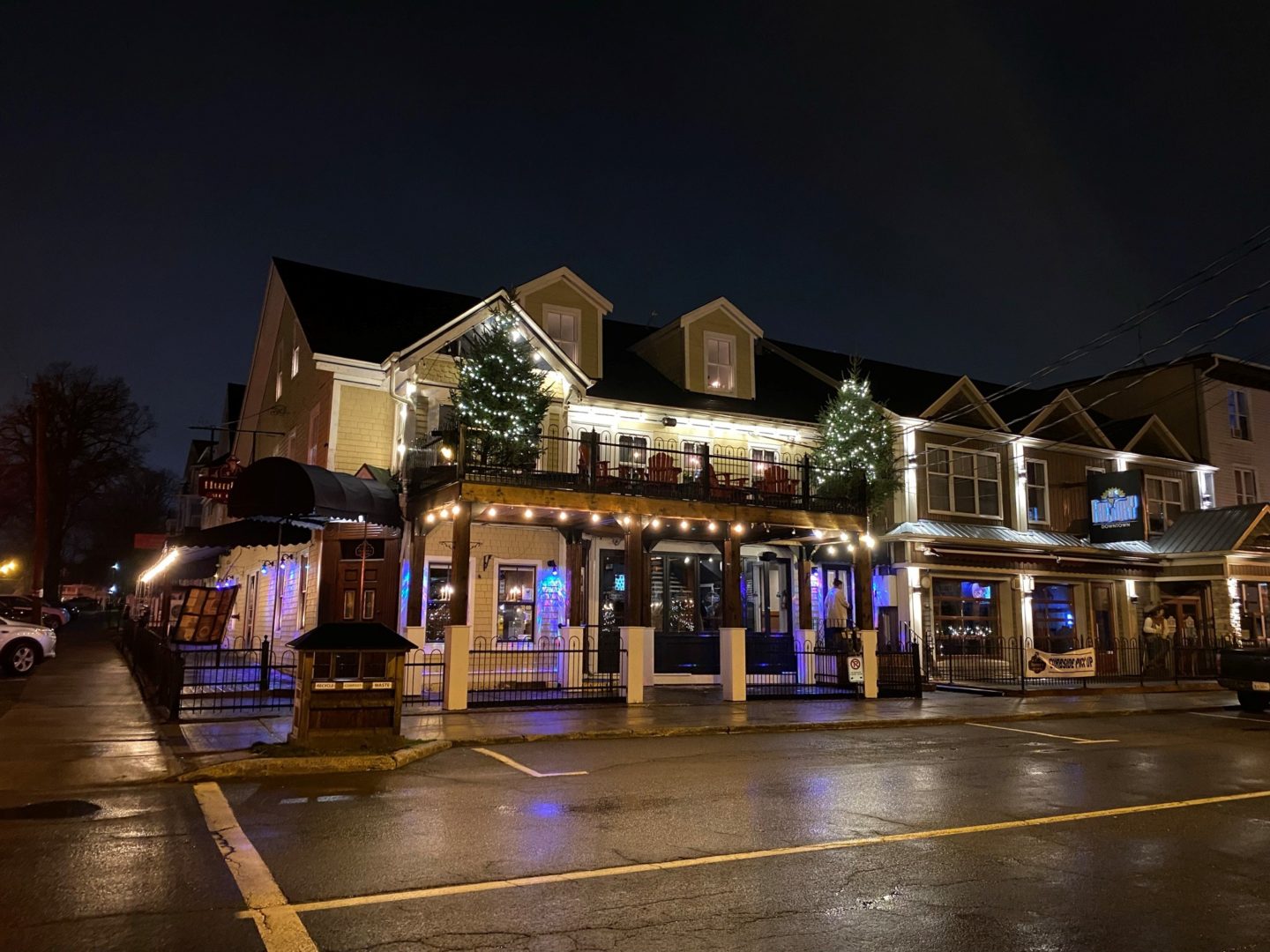 6. John Brown Richmond Street Grille
Another popular spot with locals, John Brown Richmond Street Grille (that's a mouthful, and is usually just called "John Browns") is an open space with tons of TVs to catch sports games. This gastropub is located on the pedestrianized Victoria Row offering not only tons of amazing pub fare, but also an extensive scotch menu, craft beer, cocktails, and wine menu.
There's a patio where you can soak in the laid-back PEI vibe, but in the evening it's a popular spot (sometimes standing room only!) and is a great place for a stop during a Charlottetown pub crawl!
Address: 132 Richmond Street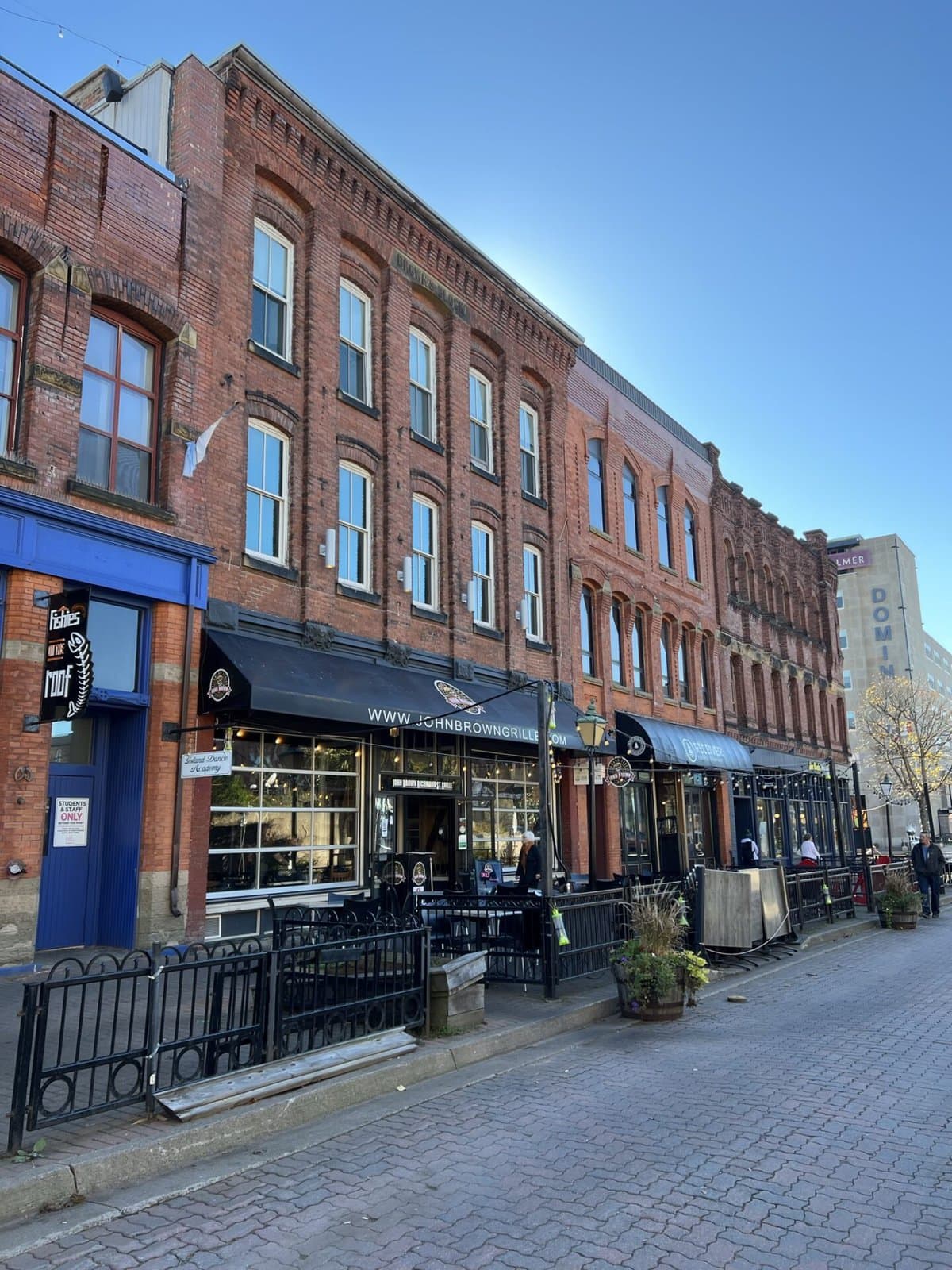 7. The Brickhouse
The Brickhouse is one of my favourite restaurants in Charlottetown. Offering dining on multiple levels in an 1800s warehouse, there is a unique bar space upstairs. Head up to the top level to Marc's Lounge to experience a cozy cocktail lounge with plush couches, wingback chairs, and high top tables.
This former loft space of the well known local artist and environmental activist, Marc Gallant, has been converted into a charming bar and lounge space with a relaxed vibe, unique cocktails, and tasty shareables. Marc's Lounge at the Brickhouse is a great place to come for a quiet drink and a laid-back evening.
Address: 125 Historic Sydney Street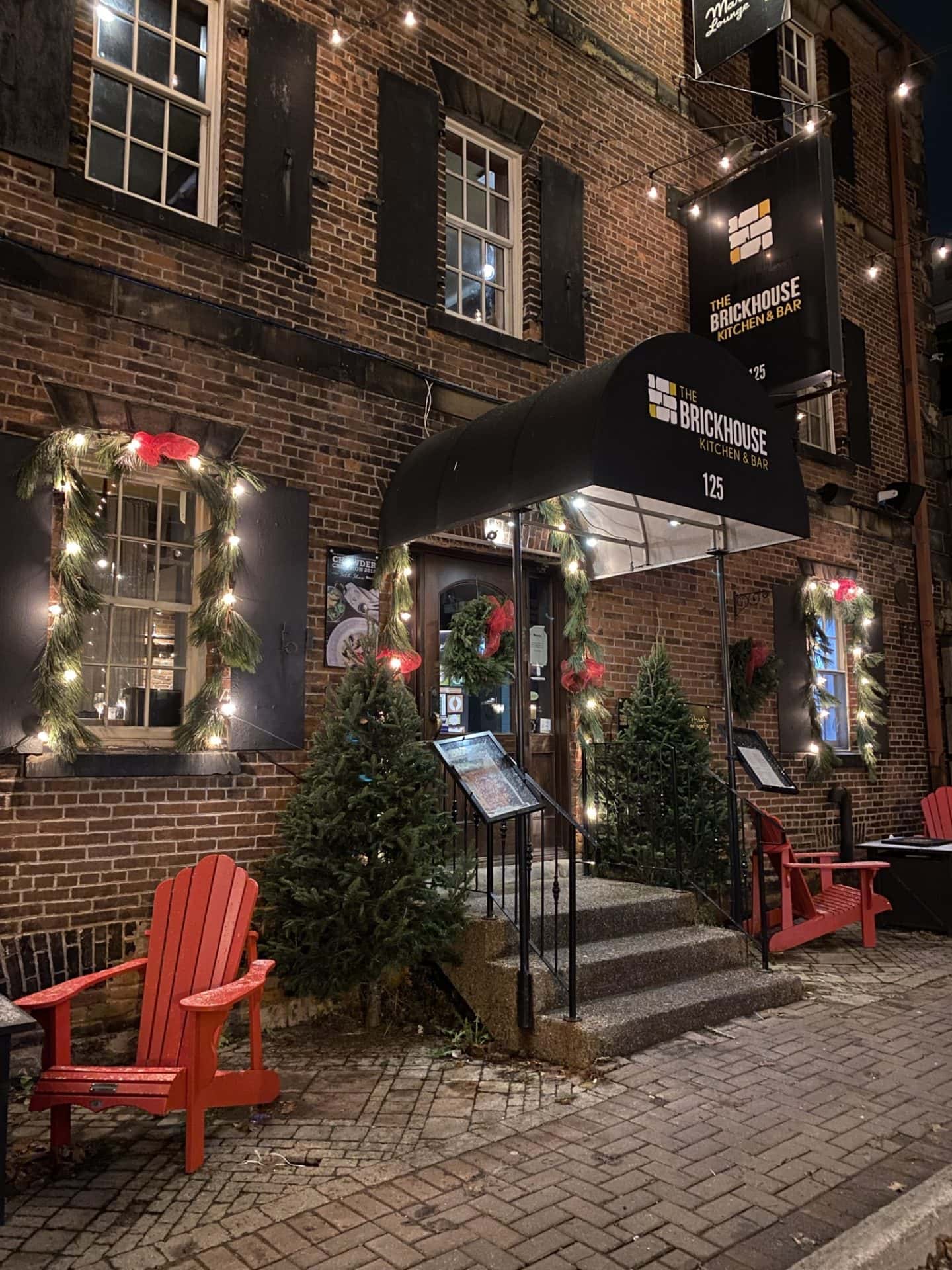 Related Posts
Pin it for later!