Wondering what there is to see and do in Las Vegas? From exploring the iconic Las Vegas Strip, enjoying world-class dining experiences, and experiencing unique entertainment, there is a variety of attractions and activities for every visitor's taste.
Planning a trip to Las Vegas can be overwhelming, with its abundance of attractions and activities. If you're looking for some of the best things to do in Las Vegas, this list of top activities will be your beacon of light, handcrafting the top must-experience aspects of fabulous Las Vegas – the city that never sleeps!
This post contains affiliate links which means I earn compensation when you click on the links at absolutely no extra cost to you! Feel free to read my disclosure policy. Thank you for supporting my blog!
Plan your next vacation using these tools!

✈️ Book flights: SkyScanner
🏨 Book hotels: Booking.com
🚘Book car rentals: RentalCars.com
🎫Book tours: GetYourGuide
🍽️Local food experiences: EatWith
🌍Favourite travel item: Packing cubes
🧳Favourite travel bag: Osprey 40L Fairview
📱 ESims: Airalo
🩹 DIY Travel Medical Kit
💸 20 Cheap Travel Items Under $20
Top Things to Do in Las Vegas
When planning your trip to Las Vegas, it's essential to plan and prioritize your itinerary. With so many exciting attractions and activities to choose from, having a well-organized schedule will help ensure you make the most of your time in this vibrant city. Here is a list of some of the top things to do in Las Vegas!
Is Las Vegas worth visiting? The answer is a resounding yes! Whether you're travelling as a couple, solo, or with family, there's enough variety of activities for everyone to enjoy a trip to Vegas!
1. Explore the Las Vegas Strip
Exploring the Las Vegas Strip is a must-do activity that needs to be high on your itinerary. This famous landmark, known for its dazzling lights and bustling energy, is home to endless fun-filled attractions ranging from captivating shows at iconic venues like Caesars to thrilling adventures at spots like High Roller or FlyOver Las Vegas.
And if you're on a budget? No problem! There are numerous free and cheap entertainment options too. A trip to this legendary street leads through the heart of Las Vegas' entertainment world filled with endless possibilities for every visitor.
2. Experience the Vibrant Ambiance of Fremont Street
When visiting Las Vegas, one must experience the vibrant ambiance of Fremont Street. Known as one of the top things to do while visiting Downtown Las Vegas, Fremont Street offers an exciting and lively atmosphere that is sure to captivate visitors.
From famous hotel casinos to nightly light shows and concerts, there is always something happening on this iconic street. One of its main features is the Viva Vision, a colossal screen that showcases stunning visual displays accompanied by music.
For thrill-seekers, the Slotzilla Zip Line offers a thrilling ride above all the action down below. Neonopolis is another prominent destination within the Fremont Street Experience, offering unique shopping and dining experiences.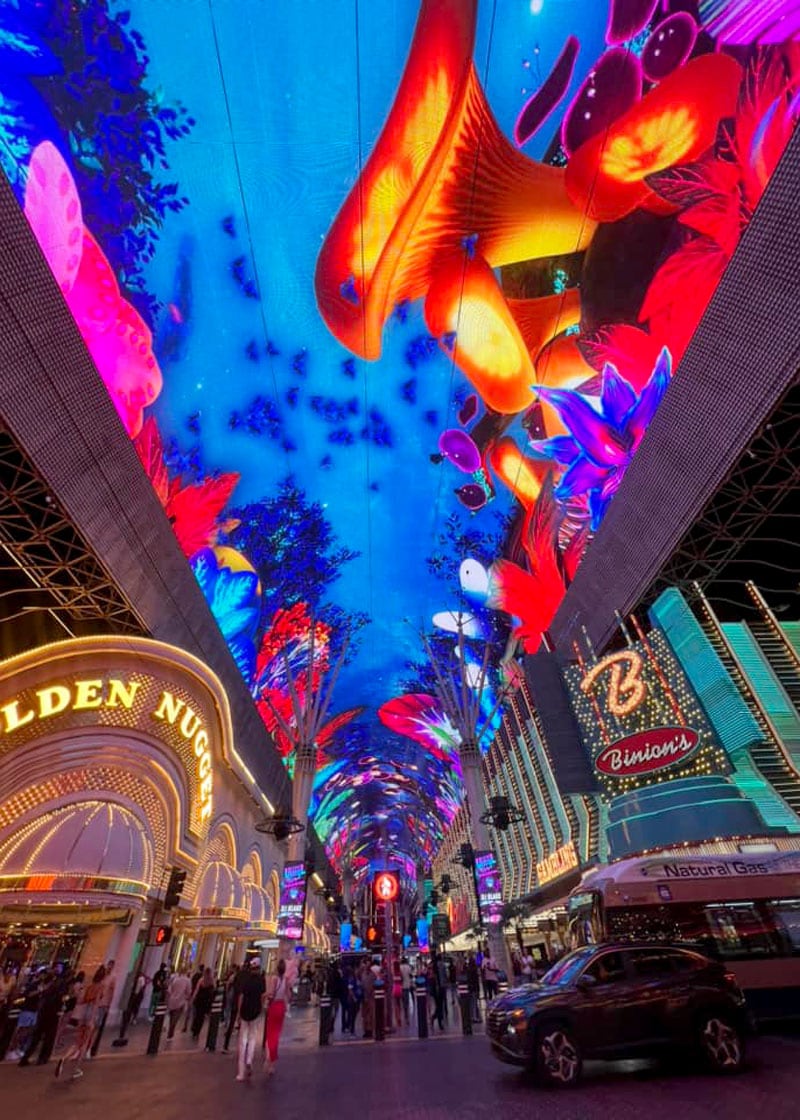 3. Explore the Stunning Landscapes of Red Rock Canyon
Visiting Red Rock Canyon is an absolute must for nature lovers and outdoor enthusiasts. Located just a short distance from Las Vegas, this national conservation area offers breathtaking landscapes that will leave you in awe.
From its unique rock formations to vibrant colors, the scenic beauty of Red Rock Canyon is unparalleled. Whether you're hiking along one of the many beautiful trails, camping under the stars, or capturing stunning photos while driving the 13 mile scenic drive, there's something for everyone to enjoy.
You'll also have the chance to see diverse plant and wildlife species that call this area home. So take a break from the glitz and glamor of Las Vegas and immerse yourself in nature's splendor at Red Rock Canyon.
4. Ride the High Roller, the World's Tallest Observation Wheel
Another popular activity in Las Vegas is riding the High Roller, which happens to be the world's tallest observation wheel. Standing at an impressive height of 550 feet above The Las Vegas Strip, this massive Ferris wheel offers breathtaking views of the city that you won't want to miss.
With 28 fully enclosed cabins providing panoramic vistas, it's a truly unforgettable experience. As you ascend and descend during the 30-minute rotation, you'll have plenty of time to take in the stunning sights.
Soaring high above the heart of Las Vegas, it dominates the skyline and has become an iconic landmark for locals and tourists alike. Don't forget to check out happy hour tickets for discounted rates and make sure to add this thrilling ride to your list of top things to do in Las Vegas – you won't be disappointed!
👉 Book your tickets for the High Roller!
5. Visit Iconic Hotels and Casinos
Las Vegas is renowned for its iconic hotels and casinos – the heart of your Sin City experience. Some of the most spectacular ones lie along the famed Las Vegas Strip, home to world famous establishments like Bellagio, Caesars Palace, Mandalay Bay, and more.
The moment you set foot in any of these casinos, you'll be greeted with a lavish spectacle of glittering lights, high-stakes gaming tables, innovative slot machines and enthusiastic crowds testing their luck.
The beauty extends beyond gambling floors. Take time to explore iconic features unique to each hotel-casino. Witness mesmerizing water shows at Bellagio Fountains or dive into an adventure at the Shark Reef Aquarium in Mandalay Bay.
Each establishment offers a world within itself that encapsulates everything Las Vegas represents – luxury, excitement and unforgettable experiences.
6. Dive into Pool Parties at Luxurious Hotels
One of the most exciting experiences you can have in Las Vegas is diving into the pool parties at luxurious hotels. Las Vegas is known for its wild and unique pool parties, offering visitors plenty of options for the hotter summer days.
Some popular choices include Ayu Dayclub, Daylight Beach Club, Drai's Beachclub, Encore Beach Club, Liquid Pool, TAO Beach, and Wet Republic.
Whether you want to lounge by the pool with a cocktail or dance to pulsating beats under the sun, these pool parties are sure to provide an unforgettable experience during your trip to Las Vegas.
7. Immerse Yourself in Captivating Shows
One of the top things to do in Las Vegas is treating yourself to some of the world's most captivating shows. Along the famous Strip, a parade of luminous marquees announces a roster full of unique entertainment options.
From mesmerizing acts by Cirque du Soleil that combine aerial acrobatics and enchanting storytelling, to electrifying concerts featuring music's biggest names. These aren't just ordinary performances; they are spectacles which transport you into worlds you've never imagined.
8. Take a Breathtaking Helicopter Tour of the Grand Canyon
One of the most exhilarating experiences you can have in Las Vegas is taking a breathtaking helicopter tour of the Grand Canyon. It's one of the top National Park Tours from Las Vegas which offers awe-inspiring views and showcases the stunning beauty of this natural wonder.
When you take a helicopter tour from Las Vegas to the Grand Canyon, you'll depart from the iconic Las Vegas Strip and embark on an unforgettable journey that lasts around four hours.
Additionally, knowledgeable guides will accompany you on your flight, offering fascinating commentary about the Grand Canyon's history and geology along with interesting facts about its desert ecology.
They'll ensure your experience is not only visually stunning but also educational and enriching.
👉 Book your Helicopter Tour over the Grand Canyon!
9. Indulge in World-Class Dining Experiences
Las Vegas is renowned for its world-class dining experiences that are sure to satisfy even the most discerning food lovers. With a diverse range of culinary options, from celebrity chef restaurants to international cuisine, there is something to suit every palate and budget.
Resorts World Las Vegas alone offers over 50 food and beverage experiences, making it a destination with more globally inspired dishes than any other. Whether you're in the mood for an extravagant fine dining experience or simply want to grab a quick bite at one of the many casual eateries, Las Vegas has it all.
So prepare your taste buds for a gastronomic adventure as you indulge in delectable meals while enjoying incredible views of the city's vibrant atmosphere.
10. Witness the Enchanting Bellagio Fountains
One free attraction that you will want to visit is the iconic Bellagio Fountains. These fountains are truly a sight to behold with their mesmerizing combination of music, light, and water.
Situated in an expansive man-made lake between the Bellagio hotel and the bustling Las Vegas Strip, over 1,200 individual fountains come alive in perfect synchronization to create a breathtaking spectacle.
It's incredible how they dance gracefully to a variety of music genres, captivating visitors from all walks of life. Surrounded by lush landscaping and elegant architecture, these fountains have become an integral part of Las Vegas' skyline and are recognized worldwide for their beauty and grandeur.
11. Discover the Neon Museum and its Vintage Neon Signs
If you are looking to escape the crowds, head over to the Neon Museum during your trip to Las Vegas. This unique attraction showcases a stunning collection of neon signs that are deeply intertwined with the history and culture of this vibrant city.
The museum's two-acre courtyard, known as the "Boneyard", is home to retired and decommissioned signs that once illuminated the streets of Las Vegas in all their glitzy glory. As you explore through guided tours, you'll learn about the evolution of these iconic signs and their impact on shaping Las Vegas' identity.
Don't forget to catch the Brilliant! show, where you can witness these neon treasures come alive in a dazzling night-time display. Whether you're a history buff or simply appreciate captivating visuals, the Neon Museum is an absolute must-visit during your time in Sin City.
12. Enjoy a Romantic Gondola Ride at The Venetian
One of the most romantic activities to do in Las Vegas is to enjoy a gondola ride at The Venetian. Whether you choose an indoor or outdoor experience, these enchanting rides will transport you to the canals of Venice.
As you glide along the Grand Canal, take in the stunning architecture of The Venetian and admire the beautiful views of the famous Las Vegas Strip. Each gondola ride lasts approximately 10 minutes, giving you plenty of time to soak up the romantic ambiance and create lasting memories.
To enhance your experience even further, talented gondoliers often serenade passengers with romantic songs. Don't miss out on this unique and unforgettable activity during your trip to Las Vegas.
13. Shop at the Fashion Show Mall
Shopping at the Fashion Show Mall is a must-do activity in Las Vegas. With its impressive size of 2 million square feet, this shopping, dining, and entertainment complex offers an incredible selection of more than 250 retailers and over 30 restaurants.
Located on the famous Las Vegas Strip, it's easily accessible for visitors looking to indulge in some retail therapy. Whether you're into high-end brands or affordable fashion finds, the mall caters to all tastes and budgets.
14. Visit the Mob Museum to Uncover the Secrets of Organized Crime
If you're looking to explore the darker history of Las Vegas, a visit to the Mob Museum is a must. Located in the heart of downtown, this captivating museum takes you on a journey through the fascinating world of organized crime.
From its birth to the present day, you'll uncover the secrets and stories behind notorious mob figures like Tony Spilotro, as well as learn about law enforcement's battle against these criminal syndicates.
With interactive exhibits and an impressive collection of artifacts and photographs, the Mob Museum offers a unique insight into Las Vegas' rich criminal history. It's an experience that will leave you both entertained and educated about the impact of organized crime on this vibrant city.
👉 Book tickets to the Mob Museum
15. Marvel at the Engineering Marvel of the Hoover Dam
One of the must-see attractions in Las Vegas is the Hoover Dam, an engineering marvel that stands tall at an impressive 736 feet. Located just 30 minutes away from the city, this massive structure on the Colorado River offers stunning views and a glimpse into its historic significance.
Completed in 1936 and named after President Herbert Hoover, it continues to awe visitors with its remarkable architecture. Take a guided tour to explore the intricacies of its construction and learn about its role as a supplier of hydroelectric power to Lake Mead.
Make a day of it and visit some of the other must see attractions around Hoover Dam! Don't miss out on visiting Lake Mead itself, as it provides not only natural beauty but also opportunities for recreational activities like kayaking. For breathtaking views, head over to the nearby Memorial Bridge where you can truly appreciate the grandeur of this iconic landmark.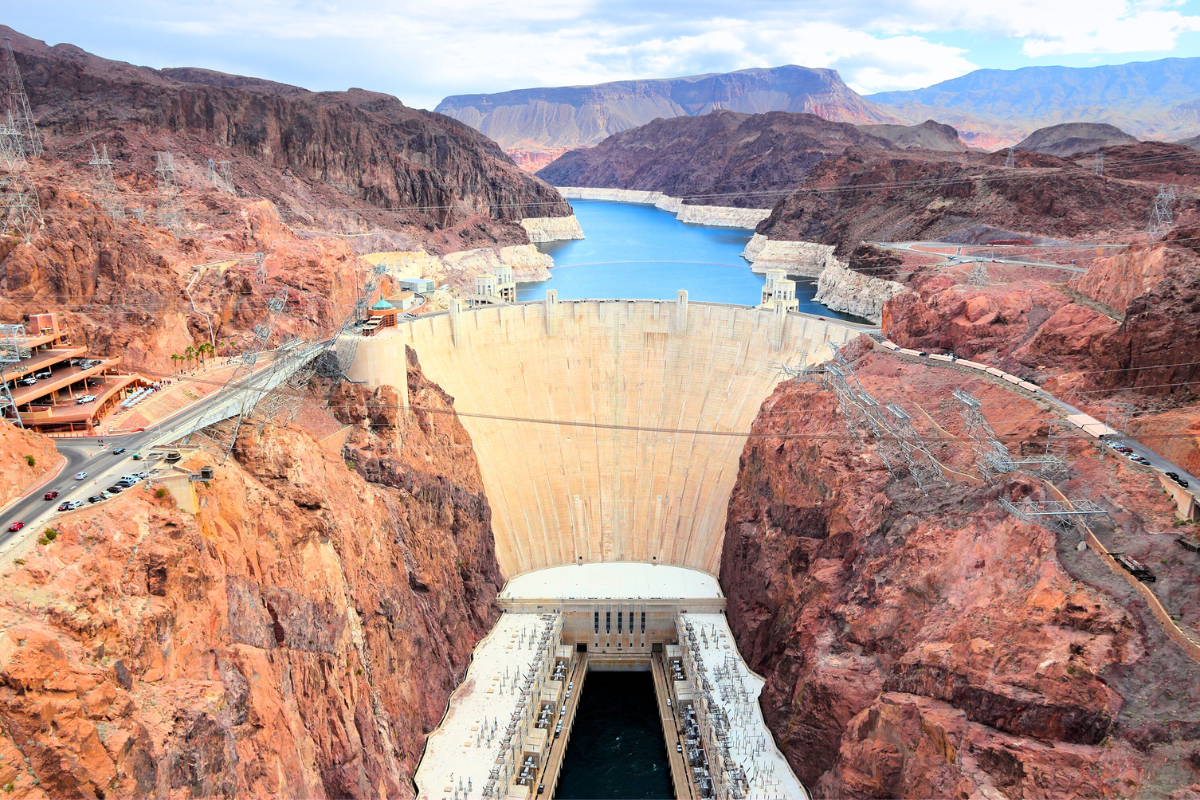 16. Experience the Exhilarating Nightlife of Las Vegas
Las Vegas is renowned for its electrifying nightlife, offering an array of entertainment options that will make your evenings unforgettable. From world-class shows and concerts to vibrant nightclubs and bars, there's something for everyone in the city that never sleeps.
You can catch awe-inspiring performances by famous artists, witness mind-blowing magic shows, or dance the night away at some of the hottest clubs in town. The T-Mobile Arena is a must-visit venue where you can watch thrilling sporting events like The Golden Knights hockey games.
And if you're looking to unwind after a long day exploring the city, there are plenty of cozy lounges and rooftop bars where you can sip on handcrafted cocktails while enjoying breathtaking views of the Las Vegas skyline.
17. Discover the Springs Preserve
One of the hidden secrets in Las Vegas is the Springs Preserve. This expansive nature preserve offers a range of experiences for all ages, making it popular among both locals and visitors.
Here, you can explore museums, galleries, and enjoy outdoor concerts and events that showcase the diverse cultural scene of Las Vegas. The Springs Preserve also boasts colorful botanical gardens and scenic walking trails where you can immerse yourself in the natural beauty of the area.
It's a great place to escape from the bustling city atmosphere and enjoy some time surrounded by nature. Whether you're a nature enthusiast or simply looking for a break from the excitement of Las Vegas, don't miss out on exploring this budget-friendly attraction that offers an unforgettable blend of nature, culture, and entertainment.
18. Experience Thrilling Rides at the Stratosphere Tower
As an adrenaline junkie, one of the highlights of any trip to Las Vegas will be experiencing the heart-pounding thrill of the rides at the Stratosphere Tower. Situated high above the city, these mechanical marvels offer a truly exhilarating experience like no other.
From stomach-churning drops to mind-boggling spins, these rides are known for their terrifying and mesmerizing nature, guaranteed to make your heart race faster than you thought possible. And let's not forget about the breathtaking views of the city that accompany each thrilling twist and turn.
So if you're looking to feel your heart race and get your adrenaline pumping, don't miss out on this unforgettable experience at the Stratosphere Tower.
19. Visit the Iconic Welcome to Fabulous Las Vegas Sign
Another popular free activity is capturing a photo at the iconic Welcome to Fabulous Las Vegas sign. This famous landmark has become a symbol of the city and is located at 5100 Las Vegas Boulevard South.
Designed by Betty Willis, this 25-foot-tall sign features a diamond-shaped design with a star at the top and bottom angles. The front proudly displays the words "Welcome to Fabulous Las Vegas Nevada," while the back holds a lesser-known message.
It's no wonder that this sign is a popular attraction for visitors, who often stop by to take photos and commemorate their trip to Sin City. So don't forget your camera when you visit Las Vegas – snapping a picture at this iconic sign is an essential part of any unforgettable trip!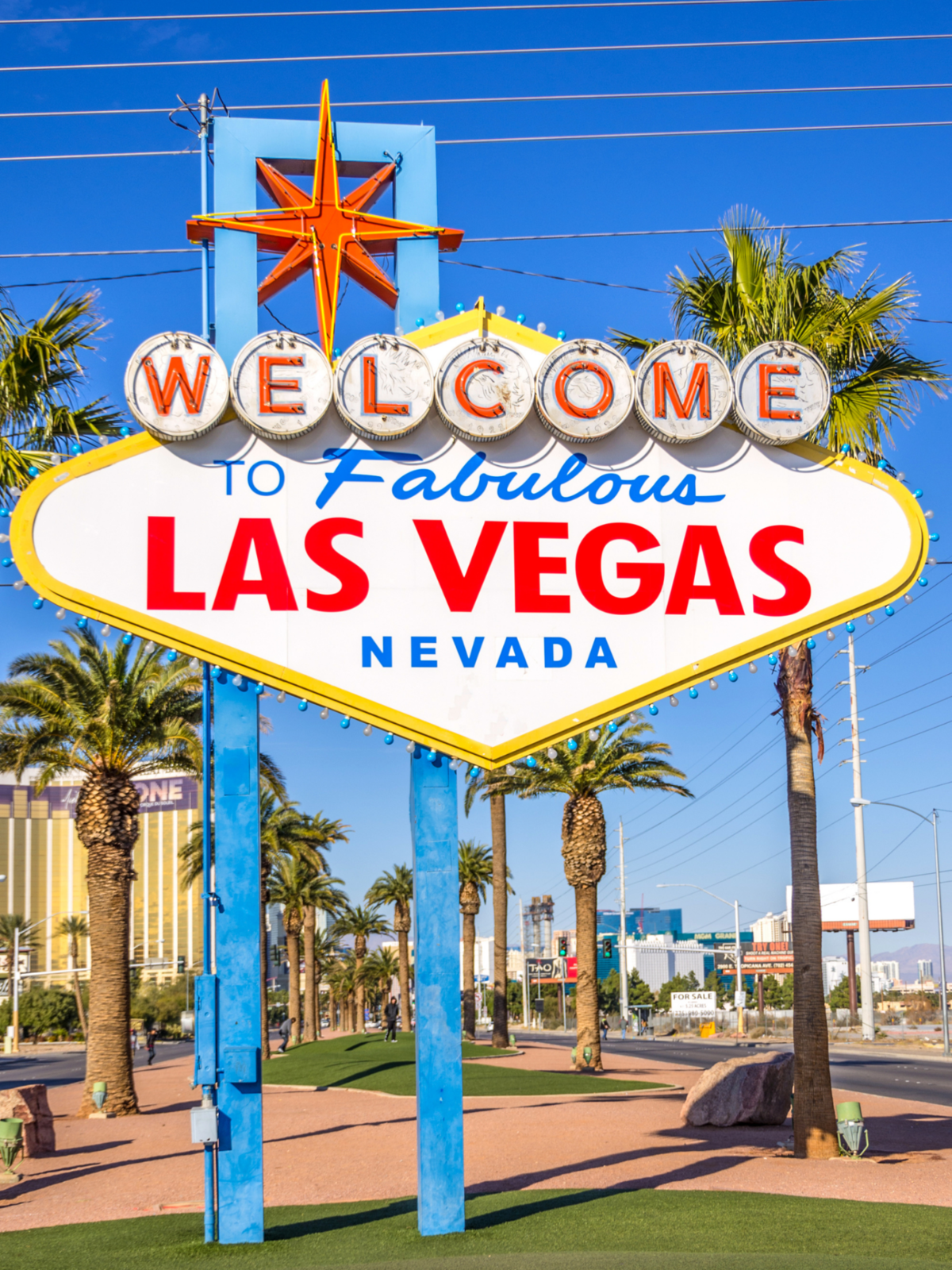 Recommended Accommodation in Las Vegas
For luxurious accommodations, consider staying at one of the many high-end hotels located along the famous Las Vegas Strip. Downtown Las Vegas also offers a unique historic experience with its charming hotels and casinos.
If you're on a budget, there are plenty of affordable options off the Strip that still provide comfortable accommodations.
Luxurious hotels along the Strip
If you're looking for a luxurious stay in Las Vegas, you won't be disappointed by the selection of hotels along the Strip. From opulent resorts to glamorous casinos, here are some top recommendations:
More affordable and budget-friendly options
If you're looking for more affordable and budget-friendly accommodations in Las Vegas, there are plenty of options available. These accommodations not only offer lower room rates but also provide a more relaxed and peaceful atmosphere compared to the bustling and crowded area of the Strip.
Here are some recommended off-Strip accommodations that strike a great balance between affordability and comfort:
Best Things to do in Las Vegas
In conclusion, Las Vegas offers an incredible array of activities and attractions that cater to every interest. From the glitz and glamour of the Las Vegas Strip to the natural beauty of Red Rock Canyon, there is something for everyone to enjoy.
Whether you're seeking world-class dining experiences, thrilling shows, or unforgettable adventures like a helicopter tour of the Grand Canyon, Las Vegas has it all. Plan your trip wisely and make sure to take advantage of all these amazing opportunities for an unforgettable experience in Sin City.
About the Author
Shannon is an adventure enthusiast, nature lover, and art dabbler who lives in Las Vegas, Nevada. She's a huge fan of discovering new places to visit and the outdoor lifestyle and is a regular contributor at threedaysinvegas.com.
Pin it for later!