The United States is a treasure trove of budget-friendly summer destinations. With ideal temperatures, longer days, and school breaks, summer is one of the most popular times to take a vacation.
While this usually means that it can be one of the most expensive times to take a trip, there are a number of cheap and inexpensive places to take a summer vacation in the US.
Whether you're travelling as a family, wanting some beach fun, yearning to explore some national parks, seeking a quiet reprieve as a couple, or looking to take part in a whole bunch of fun things to do, the United States offers many budget summer destinations (that won't break the bank)!
Let's take a look at 25 of the best cheap summer destinations in the USA!
This post contains affiliate links which means I earn compensation when you click on the links at absolutely no extra cost to you! Feel free to read my disclosure policy. Thank you for supporting my blog!
Plan your next vacation using these tools!

✈️ Book flights: SkyScanner
🏨 Book hotels: Booking.com
🚘Book car rentals: RentalCars.com
🎫Book tours: GetYourGuide
🍽️Local food experiences: EatWith
🌍Favourite travel item: Packing cubes
🧳Favourite travel bag: Osprey 40L Fairview
📱 ESims: Airalo
🩹 DIY Travel Medical Kit
💸 20 Cheap Travel Items Under $20
1. Bryce Canyon National Park, Utah
One of the best budget-friendly summer travel destinations is Bryce Canyon National Park.
See, the great thing about visiting Bryce Canyon in the summer is the Hoodoo rock formations are exceptionally stunning. Plus, you can hike in relative comfort since the heat isn't super intense.
In fact, the daily highs in Bryce Canyon are about 10 to 20 degrees (F) cooler than in nearby parks. Plus, with little humidity and rain, you don't have to worry about getting wet.
And while a standard entrance pass is between $20 and $35, you can hike for free and can camp for as little as $20 per night at either the North or Sunset Campground.
Things to do in Bryce Canyon National Park during the summer
Hike the Navajo Loop to Queen's Garden Trail and take in the views from the Bryce Amphitheater (free)
Photograph the Milky Way Galaxy since this is a Dark Sky certified park (free)
Go on a day trip to Zion National Park and hike the Narrows (budget-friendly)
Take the Navajo Loop to Wall Street and walk through the stunning canyon here (free)
Enjoy sunrise at Inspiration Point (free)
Where to stay in Bryce Canyon National Park
If you're looking for a well-reviewed, budget-friendly place to stay near Bryce Canyon National Park then you can't beat Bryce Pioneer Village.
After all, the property is set upon 13 acres of land, features rustic log cabins, and even offers complimentary Continental breakfast.
Where to eat in Bryce Canyon National Park during summer
Finally, enjoy a great meal at Valhalla Pizza. It's a well-priced, chill pizzeria that serves a variety of different Italian foods. Just be aware that this spot is seasonal.
Recommended by Jamie of Photo Jeepers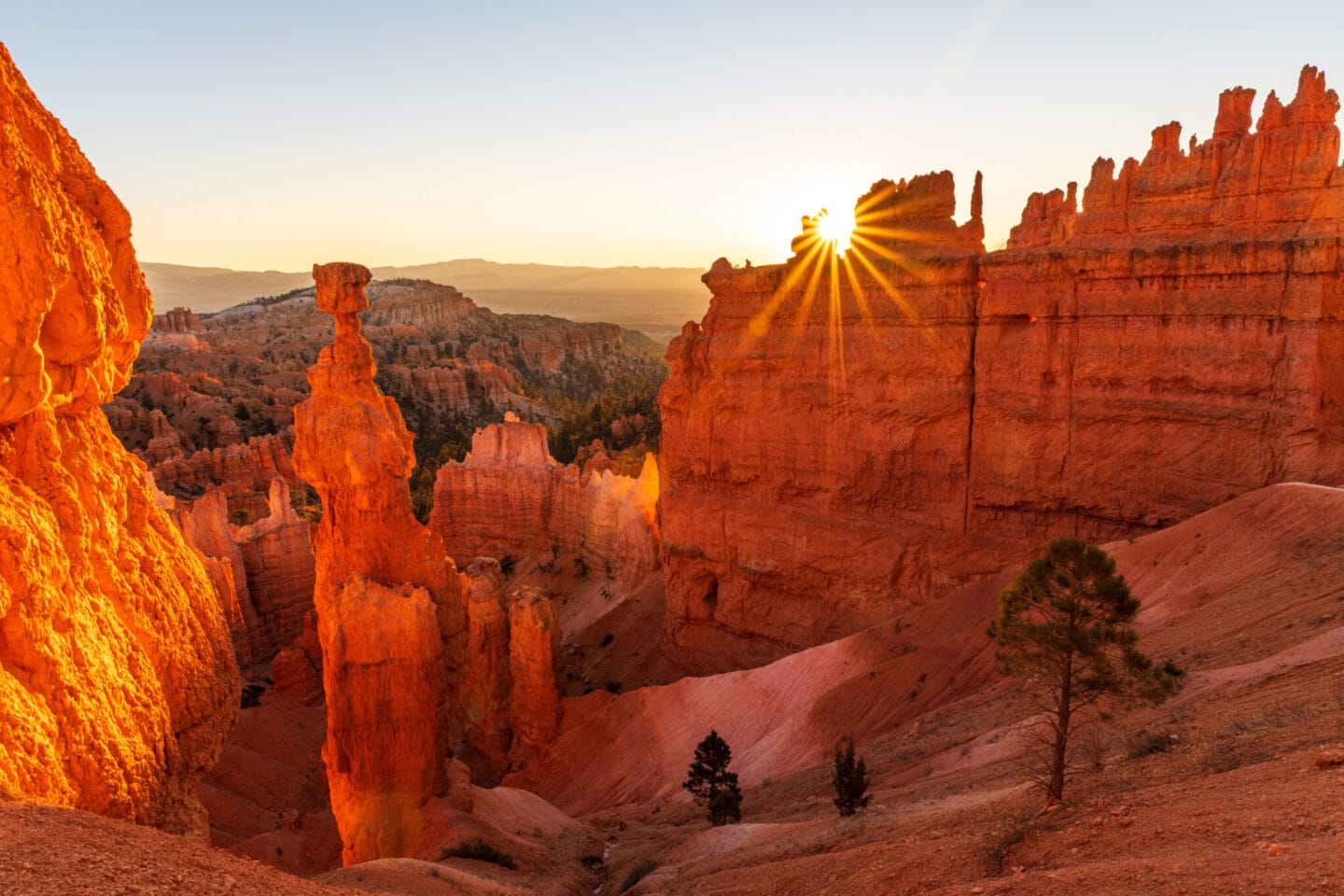 2. Tempe, Arizona
Tempe, Arizona is the perfect summer destination for families or a girls getaway! Just 10 minutes from the Phoenix airport, you can easily get to town and start enjoying everything this cute and colourful town has to offer. It is definitely a hidden gem in Arizona and so much more reasonable than the neighbouring city of Scottsdale.
Things to do in Tempe, Arizona during the summer
Tempe, Arizona is a city that is alive! You can find a ton of activities to fill up your days
Tempe Town Lake: This lake is one of the things Tempe is known for! If you are on a budget, you can walk on the path here admiring the water views or if you feel like splurging you can rent a kayak or paddle boarding
Desert Botanical Garden: This should be a must visit for your trip to Tempe or just for visiting Arizona in general. The cacti gardens spam over 140 acres and really give you some amazing insight to Arizona's botanical life.
Asu Art Museum: Located at the ASU campus, this building is a site to see…even if you don't even step inside. The majority of the ASU campus was designed by Frank Lylod Wright so if you are into design, this can't be missed.
Where to stay in Tempe
The Graduate Tempe is the place to stay. It is an electric boutique hotel that is minutes from the ASU Gammage Theatre, is very instagrammable and has a cute outdoor pool which is basically a necessity when visiting Arizona during the summer
Where to eat in Tempe
While there are endless dining options in Tempe, I would recommend adding Morning Squeeze to your itinerary. This retro breakfast spot serves up beautiful dishes in a beautiful and colourful space. 10/10 recommend!
Recommended by The Daydream Diaries
3. Eureka Springs, Arkansas
Eureka Springs Arkansas has a fun artsy eclectic vibe and is the perfect addition to a budget-friendly mini summer getaway to Arkansas. This unique little town is nestled in the lush green forested mountains of Arkansas, and there's no better time to see it in its full glory than in summer!
Things to do during summer in Eureka Springs
One thing that makes Eureka Springs budget friendly is that there are plenty of free and budget conscious things to do in the area.
Grab an ice-cream cone and window shop the eclectic downtown area for art, handcrafted jewelry, and rocks and gemstones.
Grab a map and have fun locating one of the many springs for which the town was named. There are dozens of them!
Visit one of the state parks in the area or Beaver Lake for hiking, picnicking, and swimming.
There's something for everyone in Eureka Springs!
Where to stay in Eureka Springs
There are two historic hotels in town that are under $250 per night, the 1905 Basin Park Hotel, and the haunted 1886 Crescent Hotel. If you are really on a tight budget the New Orleans Hotel Eureka Springs is a budget friendly place with a French Quarter vibe located right in downtown.
Where to eat in Eureka Springs on a Budget
The Grotto Wood Fired Grill and Wine Cave is a must when visiting Eureka Springs. When making your reservation ask for a table in the cave! The small plates for sharing are an economical option but you don't want to miss out on this unique atmosphere!
Recommended by We're Not in Kansas Anymore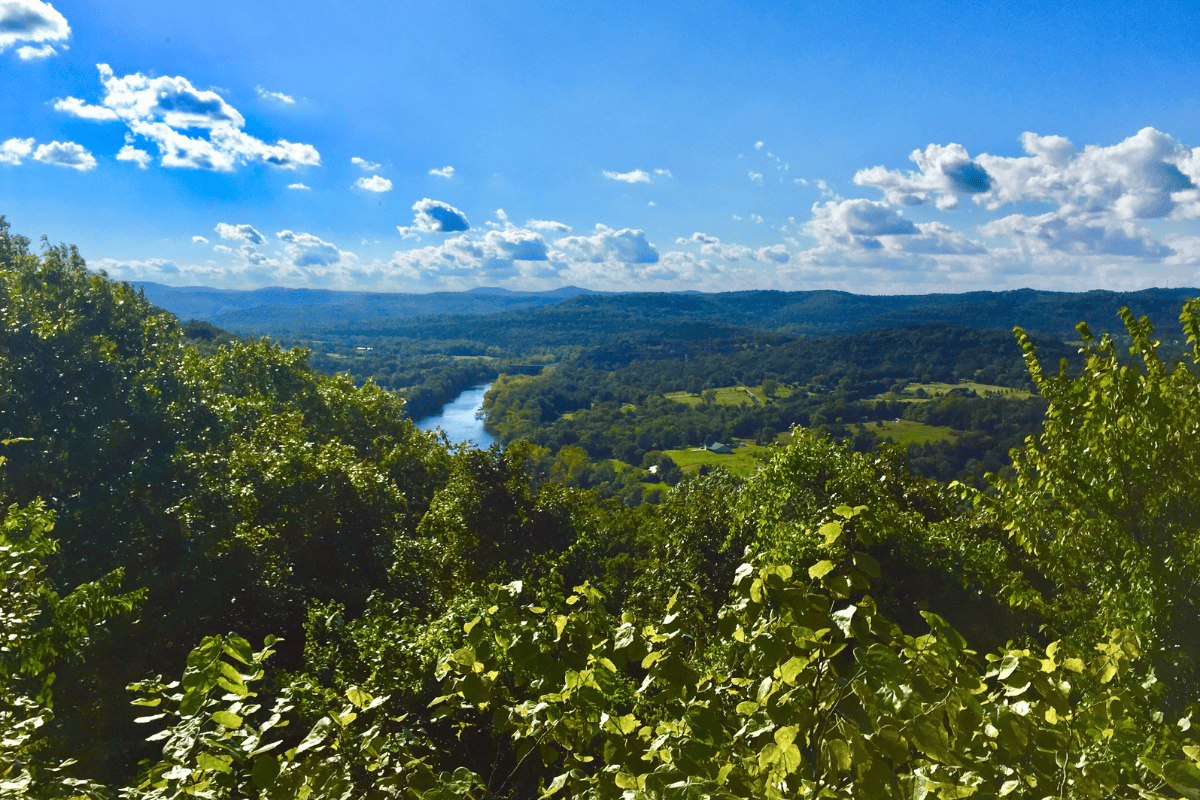 4. White Sands National Park, New Mexico
The White Sands National Park in New Mexico is a great place to travel to in summer. The park offers beautiful, endless white sand dunes to its visitors and is extremely enchanting. New Mexico is one of the cheapest places in the US, so it is a great budget-friendly destination. Summer is a great time to visit the White Sands, because it offers the chance for stargazing.
Things to do in White Sands in Summer
One of the best things to do in Summer in the White Sands National Park is stargazing. The skies are clear and the nights are warm, so you can have an amazing experience.
Participate in a full-moon hike or a ranger-led evening walk to learn more about the White Sands National Park.
Bring some sleds and ride down the big white Sand Dunes to explore the park during daytime.
Hike one of the five hiking trails in the park.
Where to stay near the White Sands
There are no hotels in the White Sands National Park. You can either go camping inside of the park or sleep in the close-by city of Alamogordo. The Hampton Inn in Alamogordo is a great choice for any budget and taste. It also has a pool, which is great to cool off after a hot day of exploring the White Sands.
Where to eat near the White Sands
The best restaurants near the White Sands National Park can be found in Alamogordo as well. Si Senor offers amazing Mexican dishes at incredible prices.
Recommended by US Adventure
5. Great Smoky Mountain National Park
One of the all-time best budget-friendly summer travel destinations in the USA is Great Smoky Mountain National Park. It's an incredible oasis of rolling mountains and vast forests that straddles the border between Tennessee and North Carolina.
Summer is the perfect time to enjoy some of the best things to do in the Smoky Mountains since the mountains come alive with beautiful blooms like red cardinals, pink turtleheads, and small purple-fringed orchids.
Summer weather is also ideal for hiking since daily highs rarely exceed 78 F. Rain then cools off the area and makes the mountains stunningly green.
This park is also budget-friendly because you only need to display a parking tag in your vehicle, which costs $5.00 per day or $15 weekly.
You can save even more money by camping at one of ten front-country campsites within the park for $30.00 per night.
Things to do in Great Smoky Mountain National Park During the Summer
Hike a segment of the Appalachian Trail (free).
Visit the observation tower atop Clingmans Dome, the park's tallest mountain, to enjoy sweeping views (free).
Go for a swim in popular swimming holes like The Wye (free).
Go tubing on the Little River (budget-friendly).
See a beautiful waterfall along the Abrams Falls Trail, the Ramsey Cascades Trail, and the Laurel Falls Trail (free).
Where to Stay in Great Smoky Mountain National Park
The Gatlinburg Mountain Inn is a simple but well-appointed hotel in Gatlinburg. Rooms include private balconies with stunning mountain views.
Where to Eat in Great Smoky Mountain National Park During Summer
For a well-priced, delicious meal near the park, head to Tennessee Jed's and try one of their amazing burgers or Frito pies.
Recommended by Southern Trippers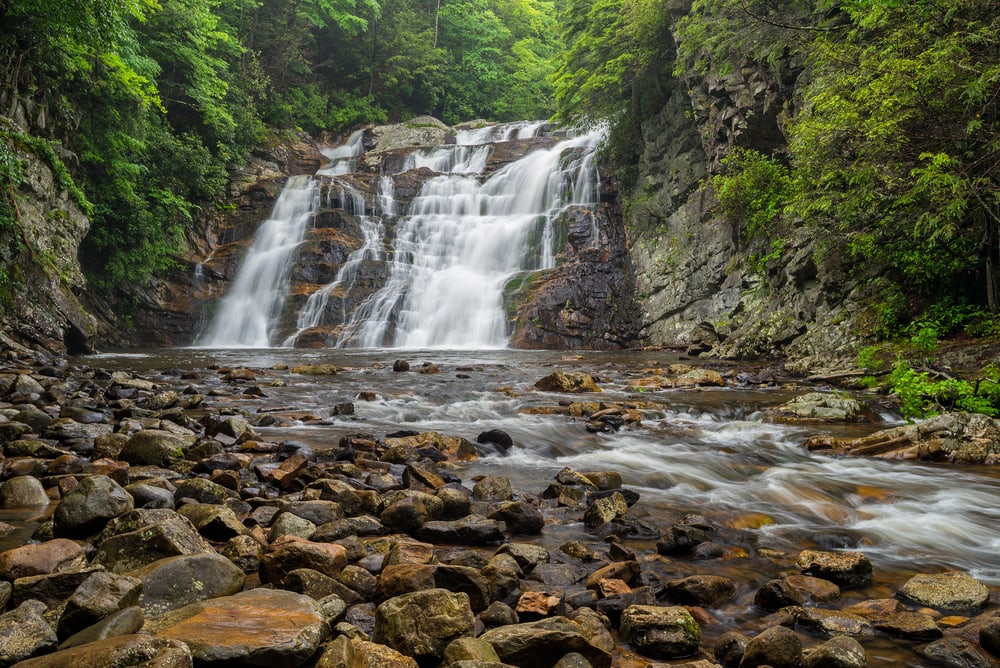 6. Ocala, Florida
Ocala, Florida is definitely one of the best budget friendly summer destinations in the USA.
Due to Ocala's location in north central Florida, it's not inundated with summer tourists who are looking to relax on the beach.
Therefore, visitors can avoid the high prices and crowds of more popular Florida destinations while walking gorgeous Spanish moss covered oak trees.
Frequent rain also reduces humidity and cools the area down since highs can get up to 91 F. Plus, you can always cool off by going for a swim in one of the many natural springs the area is known for.
Things to do in Ocala, Florida during the summer
Walk among Oak Trees and admire historic 1930s homes in the Ocala Historic District (free)
Visit the Appleton Museum of Art with 18,000 pieces spread across 6 galleries (budget)
Go for a swim in one of the natural springs at Ocala National Forest (budget) or at Alexander Springs (budget)
Ride along the Florida Trail in Withlacoochee State Forest (budget)
Where to stay in Ocala
Spend the night at the Silver Princess Motel. Rooms are simple but comfortable and guests will love using the outdoor pool on a hot day.
Where to Eat in Ocala during Summer
For a truly authentic Mexican meal at a reasonable price, you can't beat La Hacienda Restaurant and Supermarket. Try the chicken tacos and get the molcajete salsa too.
Recommended by Florida Trippers
7. New Orleans, Louisiana
New Orleans is an iconic gulf coast city to visit during the summer. The lively atmosphere and nightlife make it a fun place for couples to cut loose. While the history and landscape make it a fun, interesting, and relatively inexpensive place to explore on your own or with your family.
Things to Do in New Orleans During the Summer
Take a walk. New Orleans is a wonderful place to visit year-round, but the summer weather will make it a great time to wander The French Quarter and the Garden District. There's no better way to explore a city than by walking its streets, and there's so much beauty and history to learn throughout these neighbourhoods. The best part? It's free!
Take a tour. While this option requires visitors to dig into their pockets, a New Orleans food tour is a great way to see the city and get an insider's perspective of what it's like to be a local. Cemetery tours and riverboat tours are other fun options that are sometimes less expensive than you would think.
Where to stay in New Orleans
The Mansion on Royal is a budget-friendly, 3-star hotel centrally located in the city. The rooms here are clean and comfortable. You can sleep soundly away from the hustle and bustle of the city but be right back in the action within minutes.
New Orleans is a city of rich culture, architecture, and history that can be readily enjoyed without breaking the bank!
Where to eat in New Orleans on a budget
Johnny's Po-Boys is a great place to visit if you want to save some money on food but still want a great experience eating some authentic Southern food. It is a yummy restaurant in the heart of the French Quarter with great reviews.
Recommended by Exploring the Gulf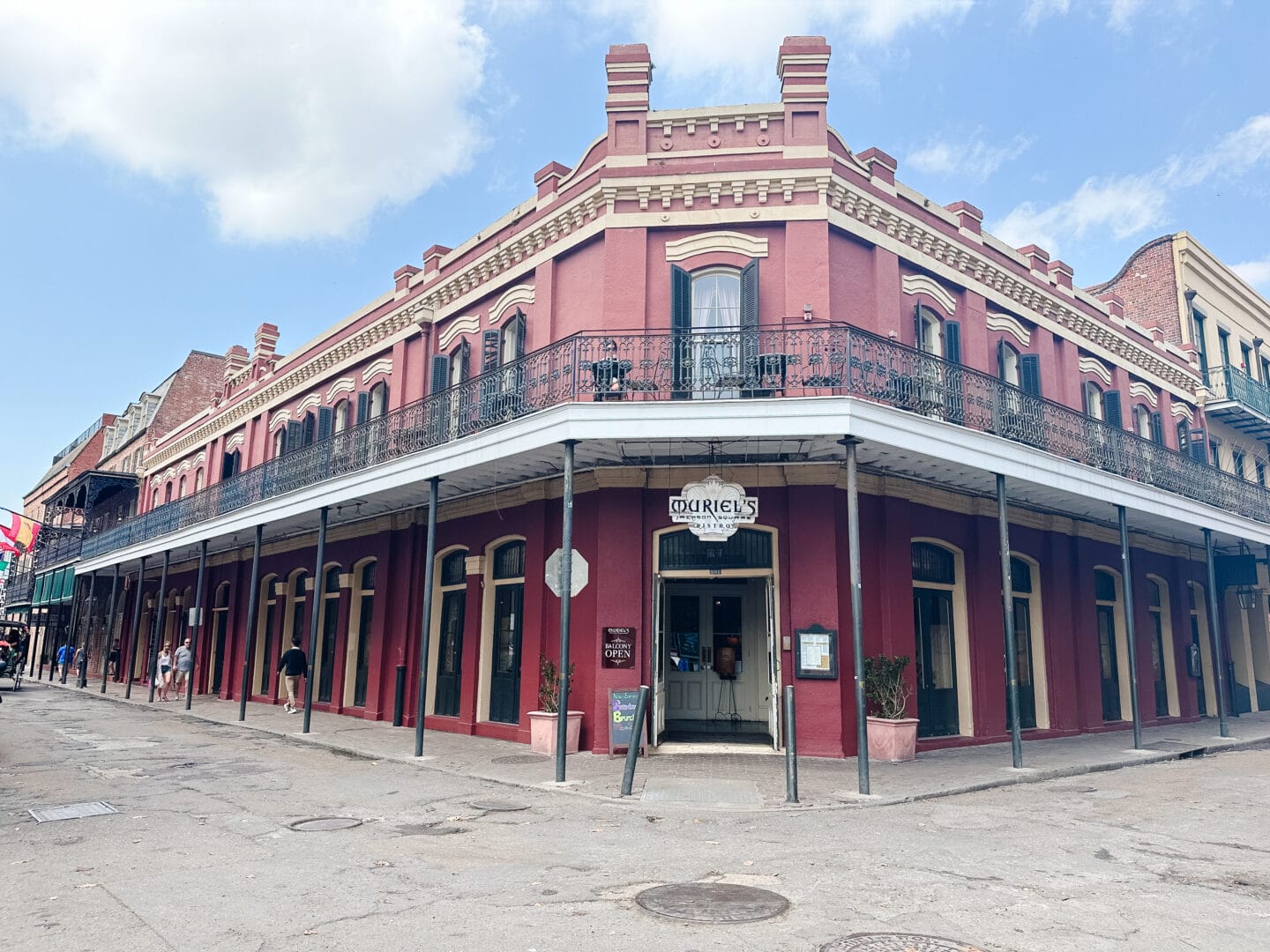 8. Madison, Wisconsin
Madison, Wisconsin is the perfect US travel destination in the summer. Since it's a college town, there are plenty of free activities to enjoy on those long Wisconsin summer days. It's a great choice for everyone from couples to families researching college options.
Things to Do in Madison during the summer
Visit the Capitol building: Madison is the capital of Wisconsin, and touring the Capitol building is one of the top things to do in Madison. You can explore the Capitol for free, and be sure to go up to the observation deck and enjoy 360-degree views of Madison!
See the Olbrich Botanical Gardens: These gardens are one of Madison's top attractions, and you can explore the outdoor garden areas for free. Don't miss the stunning Thai pavilion and garden, a gilded jewel nestled within the gardens.
Go for a walk in the Arboretum: The University of Wisconsin-Madison Arboretum spans 1200 acres and is a great place to enjoy a hike without going too far out of town. There is no charge to explore the arboretum and admire its beautiful plants, trees, and flowers!
Where to stay in Madison
Stay at the Holiday Inn Express and Suites Madison Central. It's much more budget-friendly than the hotels near the Capitol, and is still close to Madison's top attractions.
Where to eat in Madison
Start your day with a hearty breakfast at Mickie's Dairy Bar, a local favourite. Try 'The Scrambler', a huge platter of potatoes, eggs, cheese, and gravy. It sounds weird, but it's very tasty!
Recommended by Lisa Garrett of Waves and Cobblestones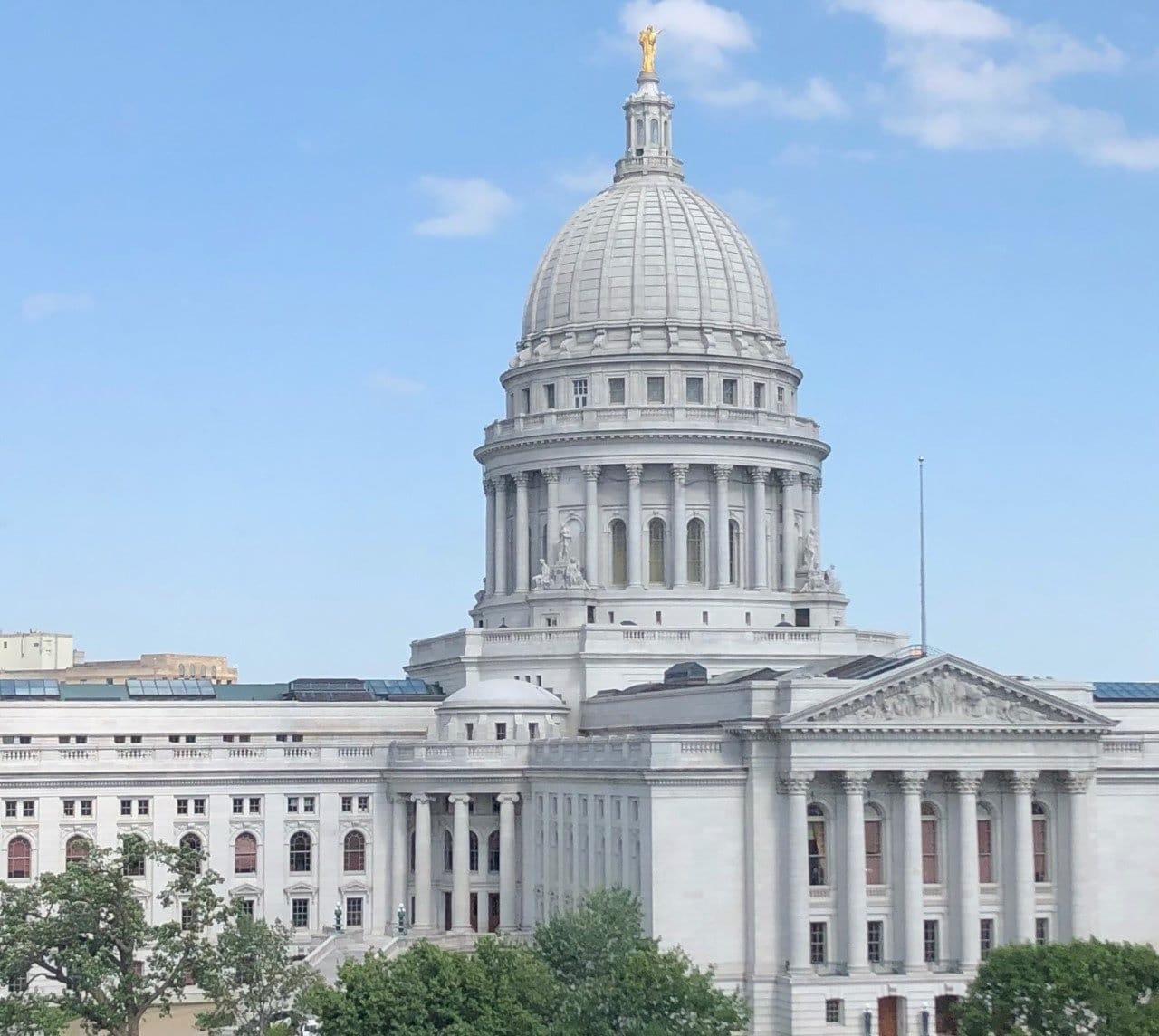 9. Honolulu, Hawaii
When planning an affordable summer vacation, you probably didn't have Hawaii on your mind. Though it's a pricey destination, you can find budget-friendly accommodations and activities in Honolulu. The capital city sits in Oahu, the most affordable island in all of Hawaii. Honolulu has so much to offer for everyone, from families to couples to girls' trips!
Things to do in Honolulu in the summer
Relax on the sand at Waikiki Beach, and go for a dip in the water
Hike on Diamond Head to get panoramic views of Honolulu
Snorkel at Hanuma Bay
Pay respects to the fallen soldiers at Pearl Harbor National Memorial
Eat and shop your way through Kalakaua Avenue, Waikiki's most famous street
Where to stay in Honolulu
Shoreline Hotel Waikiki is an affordable boutique hotel that is located 5 minutes away from Waikiki Beach. They are most known for its Instagrammable lobby with hot pink walls and neon signs. They also give you a sample of Dole Whip ice cream upon checking in; talk about Hawaiian hospitality!
Where to eat in Honolulu
For some delicious Hawaiian and Japanese fare mixed with cuisine from Mainland America, Aloha Table is sure to tickle your tastebuds. They are most known for their award-winning loco moco (they even have a vegan version!). Be sure to get the pineapple Pina colada! And unlike most restaurants in Hawaii that close early, Aloha Table is open until midnight everyday.
Recommended by Hanna On Horizon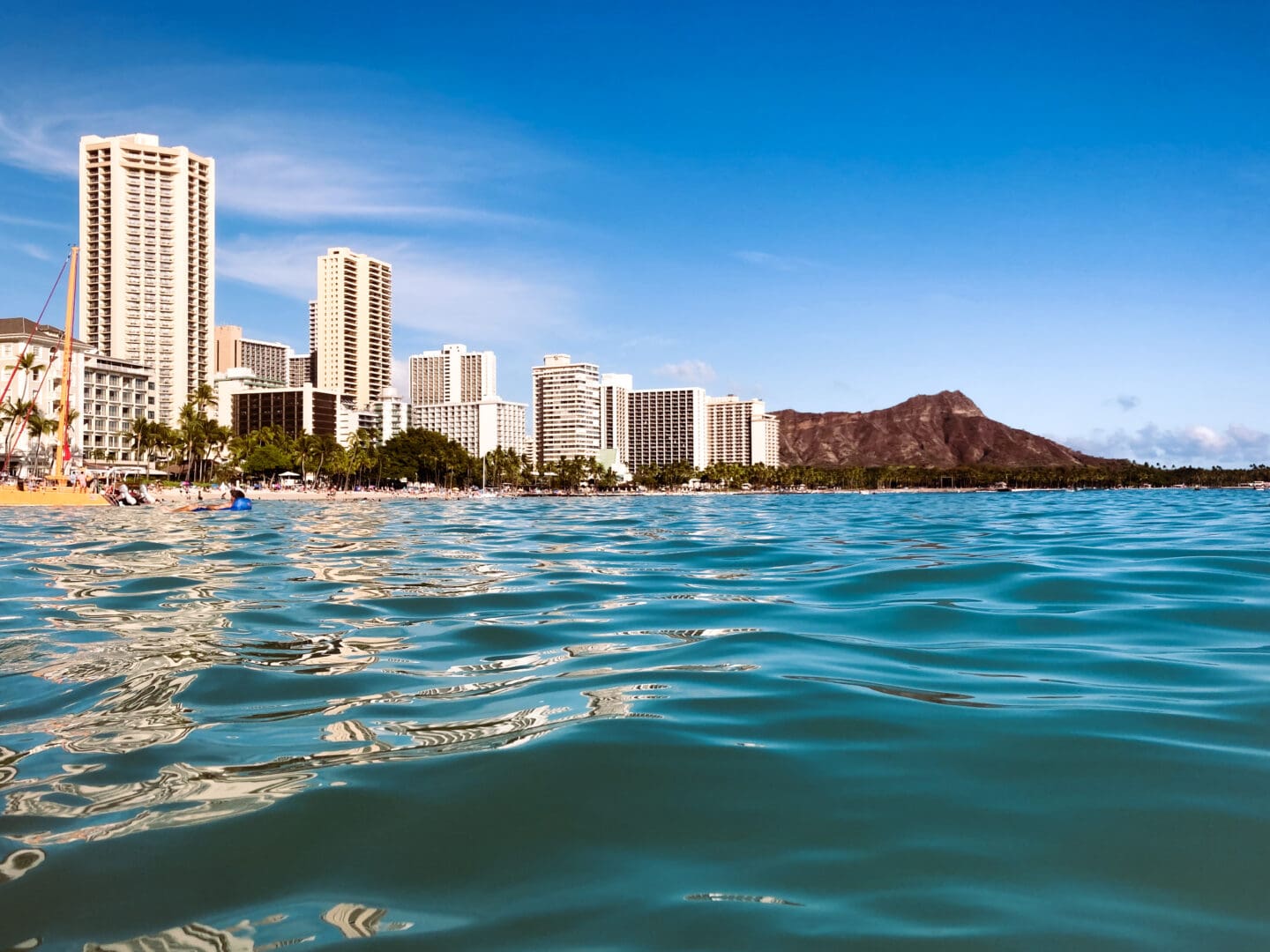 10. Gulf Shores, Alabama
Gulf Shores, Alabama is an excellent summer travel destination for those on a budget or those seeking an affordable beach vacation. The cost of living in Gulf Shores is generally lower compared to larger cities in the United States, which means more affordable accommodations, dining options, and activities. The beach town of Gulf Shores is also great for all types of travelers including families, couples, or individuals.
Things to do in Gulf Shores in the summer
There are many things to do in Gulf Shores during the summer. Many of the following are even free!
Gulf Shores is known for its beautiful, sandy beaches. Spend a day relaxing, swimming, sunbathing, and enjoying the natural beauty of the Gulf Coast.
Explore Gulf State Park, which offers a wide range of free activities. Take a walk or bike ride along the park's trails, have a picnic in one of the designated areas, go birdwatching, or visit the park's nature center.
Visit the Alabama Gulf Coast Zoo, which houses a variety of animals, including lions, tigers, giraffes, monkeys, and reptiles.
Gulf Shores offers opportunities for various water sports such as paddleboarding, kayaking, jet skiing, parasailing, and surfing.
Waterville USA is a water and amusement park with thrilling water slides, wave pools, lazy rivers, go-karts, mini-golf, and more.
If you have your own fishing equipment, you can enjoy fishing from public piers, bridges, and shorelines.
Where to stay on a budget in Gulf Shores
Comfort Inn & Suites Gulf Shores East Beach near Gulf State Park is an excellent choice for budget-friendly accommodation in Gulf Shores.
Where to Eat in Gulf Shores
The Hangout is a must-eat while in Gulf Shores. This restaurant is located on the beach and is fun for all ages.
Recommended by Traveling Swansons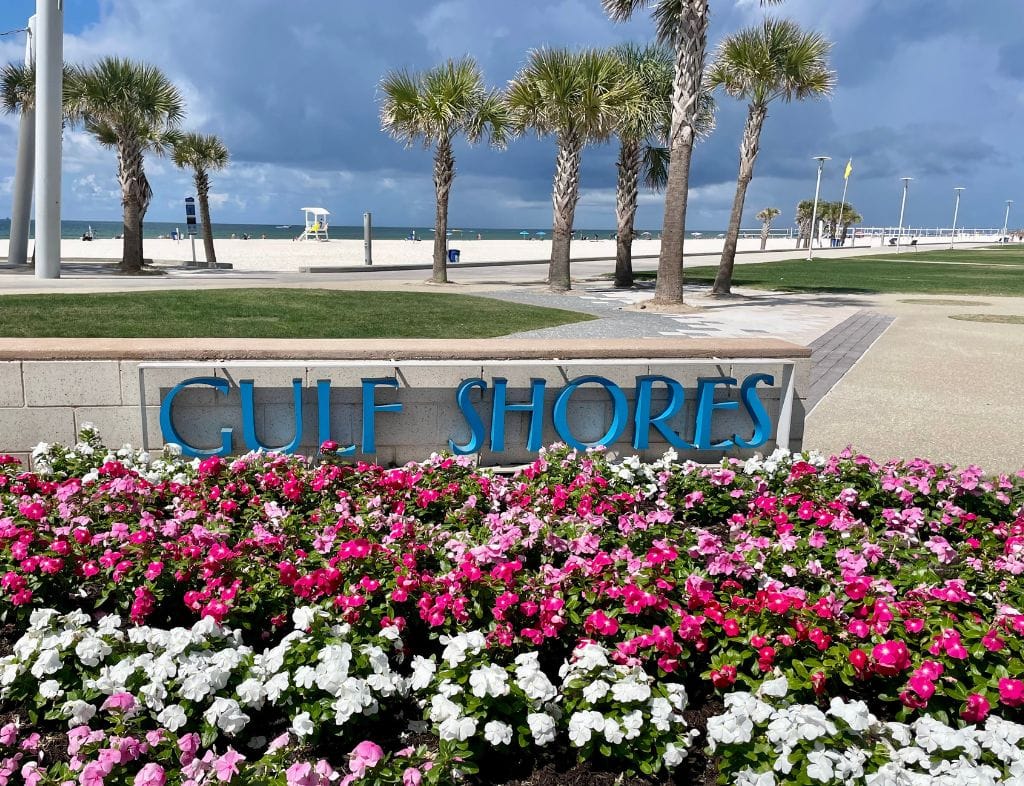 11. Gettysburg, Pennsylvania
Gettysburg, Pennsylvania, is a wonderful destination to visit during the summer because it offers a unique blend of history, natural beauty, and budget-friendly attractions. Whether you're travelling solo, with a spouse, or bringing the entire family, there is plenty to do in this charming history-filled town that won't break the bank.
Things to do in Gettysburg during the summer
History: Gettysburg is well known for its pivotal role in American history as the site of the famous Battle of Gettysburg during the Civil War. History enthusiasts can immerse themselves in the town's rich heritage by visiting the 6,000-acre Gettysburg National Military Park. There is no fee to drive, walk or bike through the battlefield.
Nature and Scenery: The picturesque landscapes surrounding Gettysburg offer a beautiful escape for nature lovers. The area boasts numerous hiking and biking trails, allowing visitors to explore the beautiful countryside without spending a dime.
Free Museum Attractions: The David Wills House, where President Abraham Lincoln spent the night before giving his Gettysburg Address, is free to tour (limited hours). The Gettysburg Museum of History, which is one of the nation's most extensive private collection of artifacts, relics and antiques, is also free.
Gettysburg Battle Reenactment: This year marks the 160th anniversary of the Battle of Gettysburg (July 1, 2 and 3). Though the reenactment is not free, it offers a once-in-a-lifetime opportunity to see how soldiers operated during the Civil War, including cavalry, artillery and infantry demonstrations.
Where to stay in Gettysburg
The Farnsworth House Inn is located right in the heart of the tourist district and has the added bonus of being one of the most haunted buildings in Gettysburg. Breakfast is included in the price, making it a good bargain and ghost tours take place in the basement.
Where to eat in Gettysburg
If you are staying at the Farnsworth House you can grab lunch or dinner there at their pub or fine dining establishment. For the best bargain in town (where the locals go), visit Ernie's Texas Lunch on Chambersburg Street. It has a 100-year-history with an old-time diner feel and you won't find anything cheaper.
Recommended by Past Lane Travels
12. Las Vegas, Nevada
Are you dreaming of a thrilling summer vacation in Las Vegas, but worried about breaking the bank? Worry no more, we will show you how to plan a budget-friendly trip to Las Vegas without sacrificing fun or style.
To maximize savings and still enjoy great weather, consider planning your vacation during the cheaper summer months between June and September when room rates can be 50% to 70% cheaper.
One of the best ways to save money while in Las Vegas is by taking advantage of all the free attractions and shows. While there are many to choose from, here are some great options to consider.
Free things to do in Las Vegas during summer
Explore the Conservatory & Botanical Gardens and Fountains at Bellagio: This beautiful garden display changes every season and the choreographed fountain display are both completely free for visitors to enjoy.
Visit the Welcome to Fabulous Las Vegas Sign: Stop by this iconic landmark for a photo op, completely free of charge.
Check out the street performers at Fremont Street Experience: This pedestrian mall offers live entertainment and music for free.
Outdoor enthusiasts will love hiking at Red Rock Canyon which is just 15 miles from the Strip. The park offers breathtaking natural scenery, including sandstone peaks and red rock formations.
Where to stay in Las Vegas on a budget
Some budget-friendly resorts include Mandalay Bay, Luxor, LINQ, and Flamingo—each offering comfortable rooms at discounted rates while still providing numerous amenities like pools and casinos.
With the right timing, affordable accommodations, free and low-cost activities and food, you can maximize your fun in Las Vegas without breaking the bank.
Where to eat in Vegas for cheap
If staying on the Strip, finding affordable dining options can be a bit tricky. Some of the best inexpensive options on the strip include Tacos El Gordo, Secret Pizza, Ocean One Bar and Grill and The Peppermill Restaurant & Lounge.
Recommended by Three Days in Vegas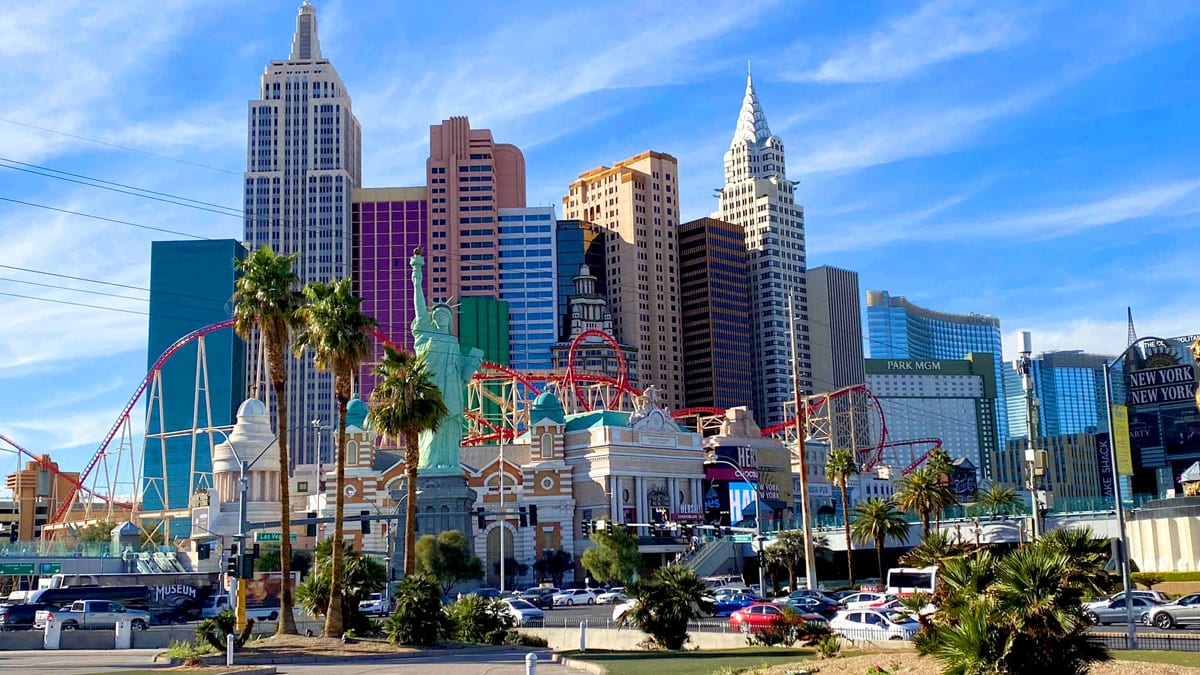 13. Lewes, Delaware
If you're looking for a lovely coastal escape on the East Coast, head to the small Delaware beach town of Lewes. Located on the Delaware Bay, Lewes is an idyllic summer vacation destination for those who want to avoid the larger crowds of the more popular DE beaches.
As a quieter destination, Lewes is perfect for families with small kids, especially due to its calm waters that are perfect for young swimmers!
There are plenty of other fun things to do in Lewes for visitors of all ages, even if the main attraction is the serenity of the sea.
Things to do in Lewes during the summer
For the budget-conscious, the most obvious free thing to do is to head to Lewes Beach for some good old-fashioned summertime fun!
Head to Cape Henlopen State Park to enjoy the 3-mile Gordon's Pond Trail for an accessible walking or cycling path.
Take the ferry over to Cape May, NJ, for a unique day trip!
Where to stay in Lewes
There aren't lots of hotel options in Lewes; it's more of a vacation rental destination with large homes making for a more budget-friendly family getaway.
But the Home2 Suites By Hilton is just a few miles up the road and offers all the amenities you'd expect from a Hilton — including an indoor pool in case you get bad weather!
Where to eat in Lewes
For outdoor dining on a patio overlooking the water, you can't beat The Wheelhouse. You can expect plenty of seafood options on the menu with a great vibe overall.
Recommended by Hey! East Coast USA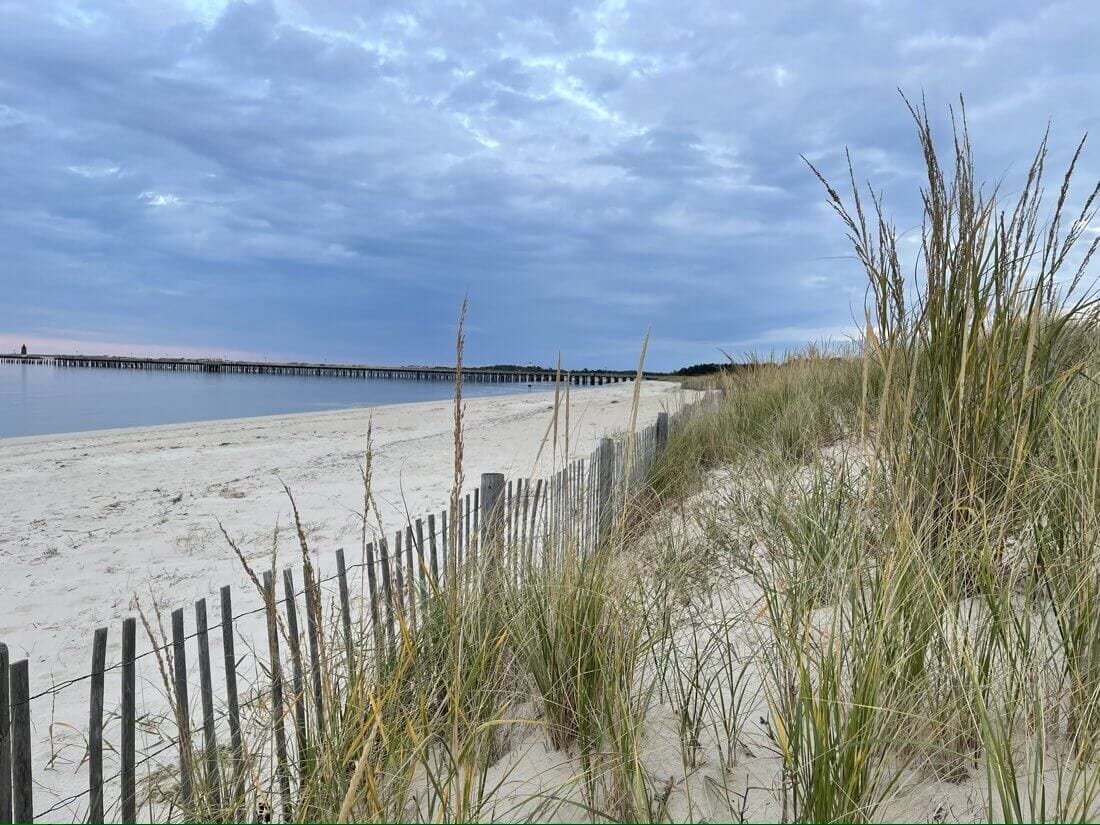 14. Savannah, Georgia
One of the best budget-friendly summer travel destinations in the USA is Savannah, Georgia. It sits along the Savannah River, bordering South Carolina. Savannah is easy to get to by plane or car. It's also a very walkable city, so you won't have to spend money on transportation once you're in town.
Things to do in Savannah in the summer on a budget
There are a lot of free things to do in Savannah. You can take advantage of free walking tours, visit historic homes and film locations, or wander around the many parks and squares. During the summer, there are also many free events.
Forsyth Farmers' Market – Every Saturday, 35 vendors get together and offer fresh produce, pastured meats, local honey, artisan dairy and cheeses, bread, and baked goods.
Savannah's Waterfront Independence Day Celebration – Enjoy performances by multiple military bands, then an incredible fireworks show that lasts about 20 minutes.
Free Disney classics at the Lucas Theatre for the Arts – Kids 12 and younger receive free admission.
As you can see, there are options for any budget traveller travelling to Savannah. It's a great city for families, couples, and even solo travellers.
Where to stay in Savannah
For your stay, consider the Staybridge Suites Savannah Historic District. The location is perfect and your stay includes free breakfast.
Where to eat in Savannah on a budget
There are a lot of great places to eat in Savannah. To accommodate everyone in your group, head over to Starland Yard. This food truck park is made up of repurposed shipping containers! There is a bar, pizzeria, and rotating food trucks.
Recommended by The Traveling Monkey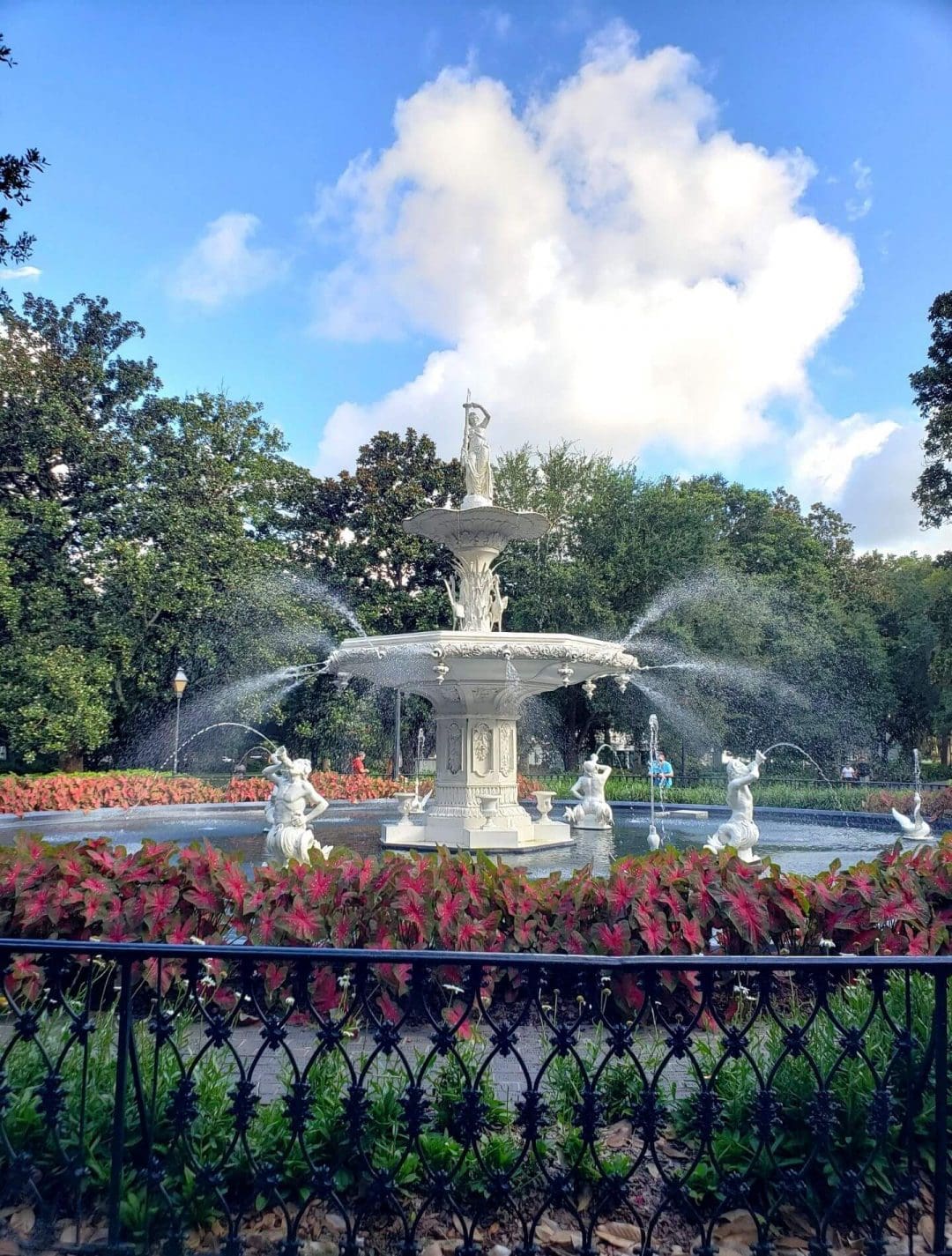 15. Lubec, Maine
Travel to Downeast Maine to visit the budget friendly town of Lubec. Located on the Atlantic Ocean near the Canadian border, Lubec is a great summer destination for everyone from solo travelers to families.
Many of the activities near Lubec are free or low cost.
Things to do in Lubec for cheap during summer
Walk out to the West Quoddy Head Lighthouse at low tide. The lighthouse is on the easternmost point in the United States. A small donation will get you in the historical museum there.
Cross the Canadian border to visit Campobello Island where you can spot whales swimming off the many beaches of the island.
While on Campobello, visit Roosevelt Campobello International Park, the family summer retreat of Franklin and Eleanor Roosevelt. Admission to the historic buildings is free.
Hike the trails of Cutler Coast Public Land. You will see the famed Bold Coast of Maine, a mecca for passionate sea kayakers.
Sea kayaking to one of the islands in Cobscook Bay is a fun family activity. Go with a tour or rent your own kayaks if you are experienced.
Where to stay in Lubec
The Inn on the Wharf has waterfront rooms with amazing views and kayak rentals.
Where to eat in Lubec
Lubec is a charming seaside town with great restaurants, a brewery, and shopping. Sample fresh-caught seafood at the Fisherman's Wharf restaurant.
Recommended by Outdoor Adventure Sampler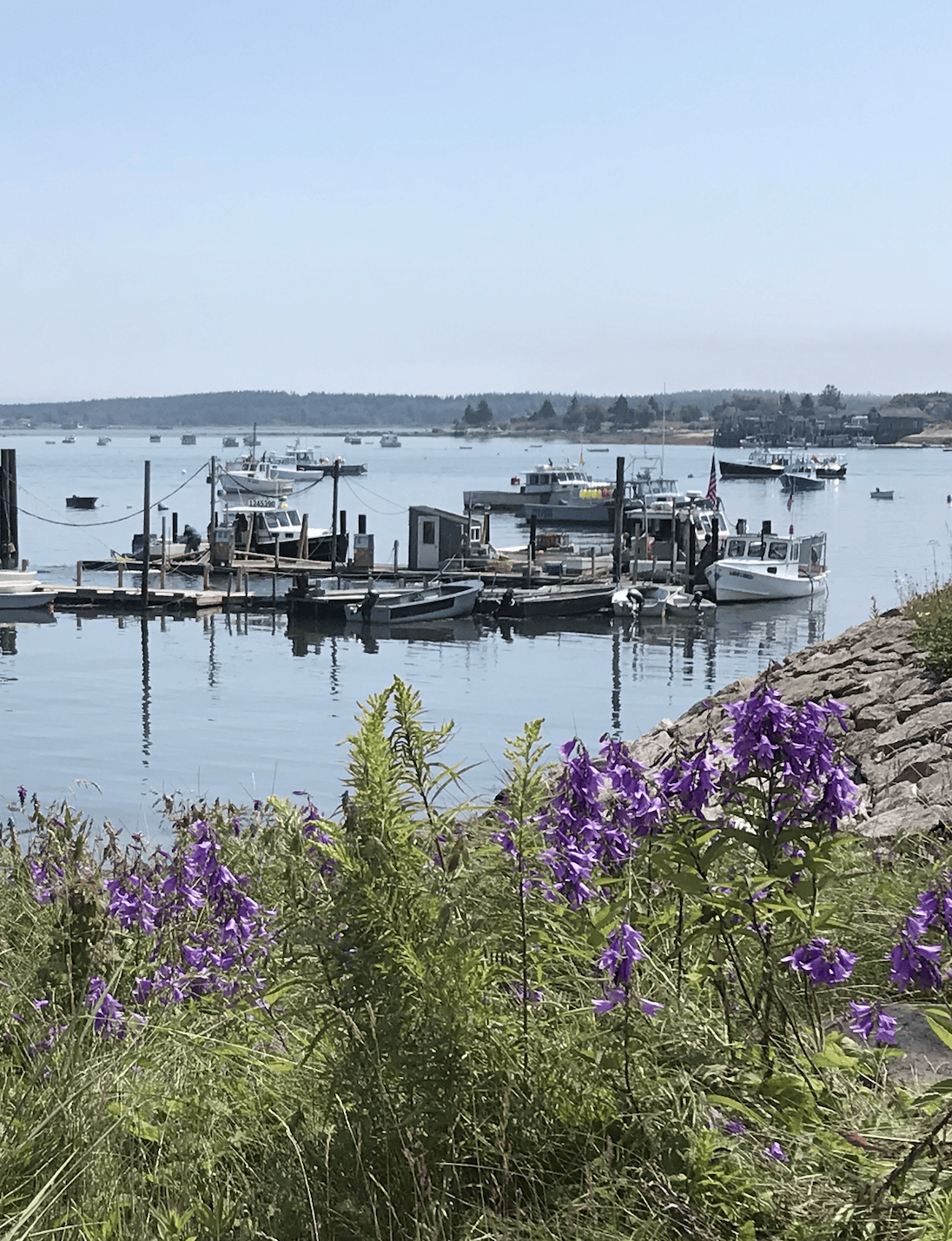 16. Destin, Florida
Destin, Florida on Florida's Emerald Coast has some of the prettiest beaches in the US, and the many outdoor activity options during the summer months make it a great choice for travellers on a budget. This beautiful stretch of coastline will appeal to families looking for an active vacation, as well as couples looking for a romantic getaway.
Things to Do in Destin during the summer
The #1 thing to do in and around Destin in the summer is hit the beach – and there are plenty of great beaches with free public access and free parking, including Miramar Beach and James Lee Beach
If you're looking for a more natural, undeveloped setting, check out Henderson Beach State Park, which has a small admission fee (currently $6 per vehicle), but is away from the vacation rentals along the rest of the shoreline
Head to St. Andrews State Park (admission currently $8 per vehicle) for the chance to spot wildlife like devil rays and alligators
Walk around the Destin Harbor Boardwalk and check out the food, entertainment and activities including water sports rentals and dolphin-watching cruises
Where to stay in Destin
Hotel Effie Sandestin has an outdoor pool, free bikes and kayaks to borrow, and a complimentary shuttle to take you to the beach.
Where to eat in Destin
Mimmo's is the place to go for great Italian food and a lovely ambiance.
Recommended by Destinations and Desserts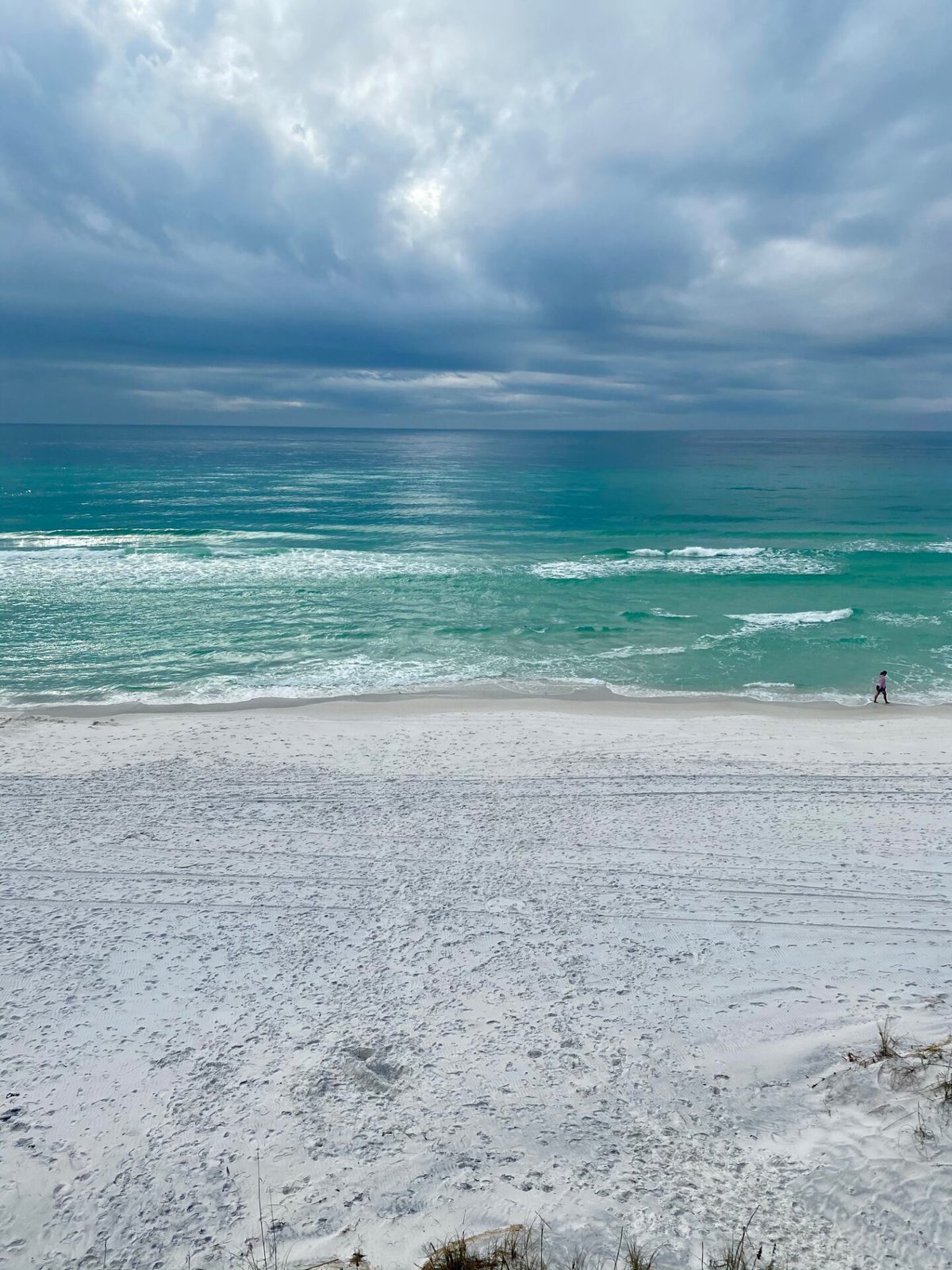 17. Cape Cod, Maine
Cape Cod is a great summer destination for those looking to experience the beauty of New England. The summer months are a perfect time to visit. The cold New England weather has finally gone away and it is the perfect time to visit over 550 miles of stunning coastline.
Cape Cod comes alive in the summer with so many things to enjoy. It makes for a perfect family vacation, but there are also so many things to enjoy for solo travellers and couples. With 15 towns all different and unique, there truly is something for everyone.
Things to Do on Cape Cod during the summer
Cape Cod is a classic New England summer destination and for good reason.

Visitors can expect to spend long days at one of the many beaches on the Cape, with so many options to choose from.
Enjoy festivals taking place all summer long
Catch a game by the Cape Cod baseball league
Take a tour of the Cape Cod lighthouses
Go fishing and whale watching.
For the adventure lovers, Cape Cod has miles of hiking trails and options for kayaking, bike riding on the 25 mile rail trail, and so much more.
Where to stay on Cape Cod
Most visitors prefer beach house rentals for the flexibility. There is also a large variety of hotels and resort type hotels available. Sesuit Harbor House, located in East Dennis has great prices, excellent reviews, and a central location on the Cape.
Where to eat on Cape Cod
Skippers Chowder House in Yarmouth, MA is a wonderful option with delicious food and a comfortable atmosphere. Reservations are not accepted, and the place fills up quickly so try to get there early.
Recommended by Family Trips and Travels
18. Rapid City, South Dakota
Rapid City in South Dakota is an amazing budget-friendly destination to visit in the summer. It is a hub for a family road trip through the Black Hills region.
Rapid City has plenty of affordable accommodation options, places to eat, and activities. Summer temperatures rarely exceed 85°F, making it an enjoyable destination for outdoor exploration.
Things to do in Rapid City during the summer
Drive through the rough terrain of Badlands National Park. You can visit this park for free with America the Beautiful pass.
Tour Jewel and Wind Caves. Guided tours start at $16 per adult. Get a reservation in advance to guarantee a spot.
Stop by Mount Rushmore National Memorial and Crazy Horse Memorial. You can get free views of both mountain carvings from the highway viewpoints.
Take a scenic drive through Black Hills. Choose between Needles Highway, Iron Mountain Road, and Peter Norbeck Scenic Byway.
Go on a wildlife safari in Custer State Park. It's $20 per vehicle for a chance to see buffaloes, antelopes, deer, burros, and prairie dogs.
Where to stay in Rapid City
Summer prices for lodging range between $100 and $200 per night. Look no further than Best Western Plus Rapid City Rushmore for a great hotel close to the city and the sights.
Where to eat in Rapid City
If you're looking for a restaurant off the beaten path, go to Everest Cuisine. This restaurant is top rated for Indian and Nepalese dishes.
Recommended by Travel Realist
19. Ludington Michigan
Ludington Michigan is a beautiful beach town on the shoreline of Lake Michigan. It is the perfect location for families to visit in the summer as there are so many family-friendly activities. Tourists come to enjoy the beaches, swimming, boating, outdoor activities, and festivals.
Things to do in Ludington during the summer on a budget
Some of the best things to do in Ludington for a summer vacation include:
Ludington State Park – The park has over ten different major trails running through the park and also has canoes, single and tandem kayaks, paddle boats, row boats, and stand-up paddleboards to enjoy on Hamlin Lake.
Sandcastle Children's Museum – The museum is a place where families can unleash their creativity and explore hands-on activities. Designed to captivate children aged 2-10, this interactive museum offers endless entertainment for kids, especially on rainy days.
Mac Wood's Sand Dune Tour – This 40-minute tour takes guests on a dune ride in a 20-person four-wheel drive vehicle as you climb to the top of sand dunes and catch some amazing views of Lake Michigan and Silver Lake.
Where to stay in Ludington
If you are looking for somewhere to stay, then you will want to choose Hobby Crest Resort. The resort is the perfect spot to act as a home base while you adventure and explore Ludington.
It is conveniently located at the shore of Hamlin Lake, so guests can easily spend an entire day enjoying fishing, boating, swimming, kayaking, paddleboards, and even pontoon boats. The sandy beach, grassy area, and playground offer enjoyment for kids of all ages.
Where to eat in Ludington
If you are looking for somewhere local to eat, you will want to enjoy The House of Flavors Restaurant, which serves breakfast, lunch, and dinner, and even better is the amazing ice cream they serve.
Recommended by Getting Stamped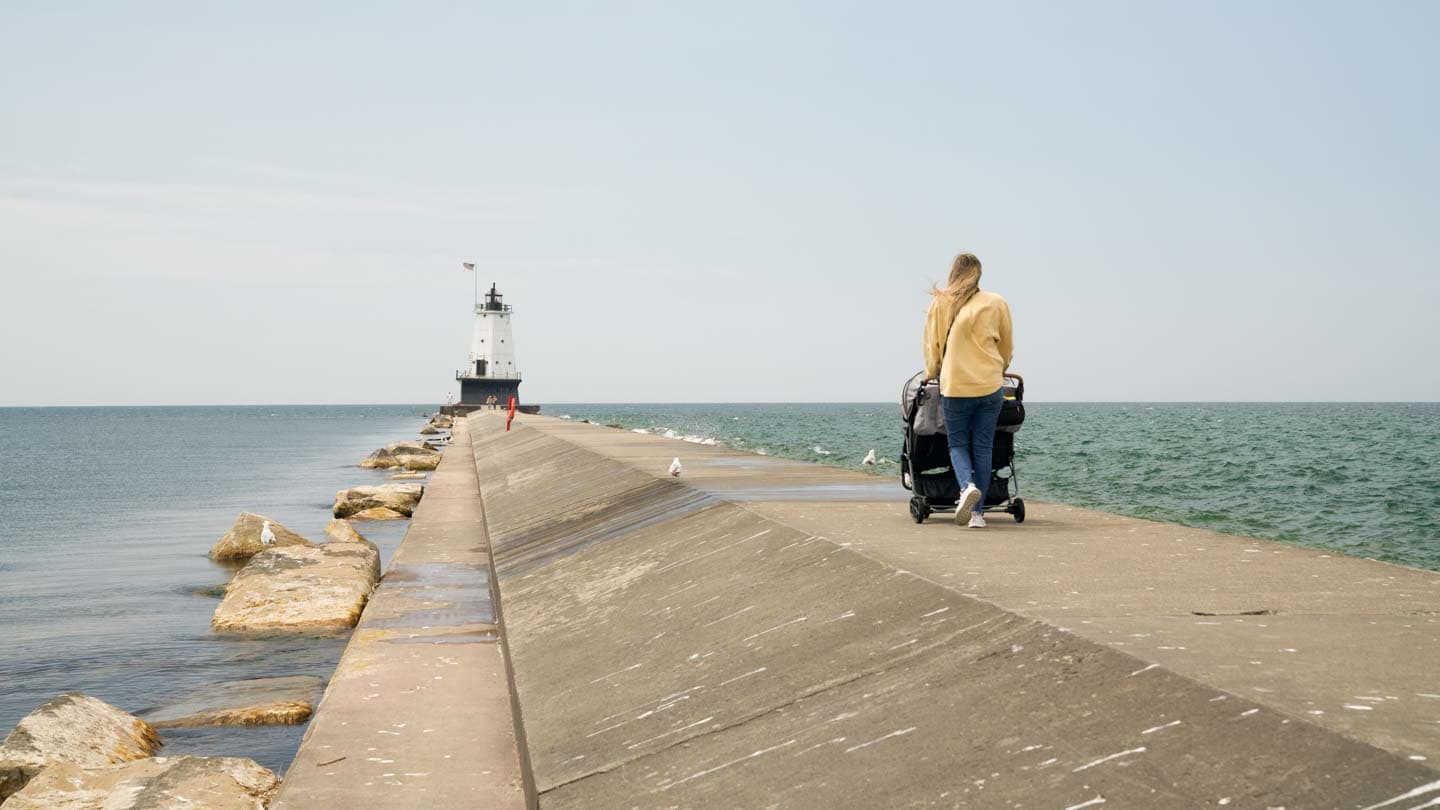 20. North Shore, Minnesota
The North Shore of Minnesota is one of the best summer travel destinations in the U.S. Starting in Duluth and ending at the Canadian border, this scenic area stretches alongside Lake Superior for 150 miles. From the aerial lift bridge and ships in the Duluth harbor to waterfalls, hiking, kayaking, tunnels, and lighthouses, you'll find lots of budget-friendly summer activities on the North Shore of Minnesota.
Things to do on the North Shore during the Summer
If you love the outdoors, summer is the perfect time to visit Minnesota's North Shore. A few budget-friendly things to do:
Purchase a Minnesota state park pass for $35 and explore seven North Shore state parks: Gooseberry Falls, Split Rock Lighthouse, Tettegouche, George Crosby Manitou, Temperance River, Cascade River, and Grand Portage. Lighthouse tour is extra.
Go fishing and paddling on the North Shore rivers or Lake Superior.
Picnic at colorful beaches like Black Sand Beach and Iona's Beach – aka Pink Beach.
Ride the gondola and alpine slide at Lutsen Mountains.
Here's a complete guide to the best stops on the scenic North Shore of Minnesota.
Where to stay on Minnesota's North Shore
One of the best and least expensive family-friendly resorts on the North Shore is Caribou Highlands Lodge in Lutsen, Minnesota. Centrally located, enjoy the pools, bonfires, kayaking, canoeing, and yard games. This dog-friendly resort offers lodge rooms as well as two- and three-bedroom units.
Additionally, campgrounds and roadside motels are relatively inexpensive on Minnesota's North Shore.
Where to eat on the North Shore in Minnesota
The best place to eat on the North Shore in Minnesota is the world-famous Betty's Pies in Two Harbors. Not only do they offer delicious pies, their all-day menus are kid- and budget-friendly.
Recommended by KMF is Writing
21. Olympic National Park, Washington
Olympic National Park in Washington state is incredibly diverse, with lush rainforests, towering mountains, and craggy beaches all within a few hours drive. The summer is the best time to visit—the skies are sunny and clear and its incredible hiking trails, even at higher elevations, will be open to be explored. Plus, beyond the park's nominal entrance fee per vehicle ($30 for a week), all of your entertainment here can be totally free. And with a host of accommodations to choose from, ranging from free dispersed camping sites to mom and pop hotels, you'll have no trouble finding an affordable place to stay. It's the perfect destination for any lover of the outdoors, from couples and solo travelers to families.
Things to do in Olympic National Park in summer
Rent kayaks or stand-up paddleboards at Lake Crescent
Plan a backpacking trip along the Enchanted Valley Trail, a hike that takes you through the primeval ferns and massive trees of the Quinault Rainforest to the beautiful Enchanted Valley, with a wall of vertical, snow-capped mountains on one side and a dense pine tree forest on the other
Hike in the Hoh Rainforest, a UNESCO World Heritage Site and UNESCO Biosphere. The Hall of Mosses is a family-friendly trail that will take you under the forest's towering cathedral of western hemlock and spruce trees.
Watch the spectacular sunset at Ruby Beach.
Where to stay in Olympic National Park
One of the best home bases in the park is the teeny town of Forks, which is known as the setting of the teen vampire romance, Twilight. The family-owned and operated Pacific Inn Motel offers a clean and comfortable place to stay in Forks after your day's adventures.
Where to eat in Olympic National Park
Port Angeles' Barhop Brewing not only holds the title of the northwesternmost brewery in the United States, but they also happen to make a killer pizza. Perfect for carbing up after your day on the trails!
Recommended by Uprooted Traveler
22. Charleston, South Carolina
A great budget friendly Summer travel destination to visit in the US is Charleston, SC. Charleston is a place that lights up in the Summer. There's so many activities to do and places to see for people of all ages. This makes it a great destination for families, couples, or even solo travellers.
Great activities to do in Charleston during summer
Visit the well known Rainbow Row. Rainbow Row is a row of 13 colourful houses built from 1748-1845. This is a highlight of Charleston and something that shouldn't be missed. (Free)
Take a respectful visit to the Old Slave Mart Museum and learn about the history of this former slave auction building.
Take the ferry to Fort Sumter to see where the first shots of the Civil War were fired.
Go for a stroll around Joe Riley Waterfront Park and take a photo in front of the iconic Pineapple Fountain. (Free)
Where to stay in Charleston on a budget
For a great budget friendly place to stay on your visit to Charleston, consider booking at Hyatt Place Charleston Airport / Convention Center. This hotel offers clean rooms in a safe location. It's also a short drive to the things you'll want to see and do in Charleston.
Where to eat in Charleston
One restaurant that shouldn't be missed in Charleston is Fleet Landing. Most locals will recommend you eat there, and for good reason! It's located right on the water, the views are fabulous and the food is extraordinary!
Enjoy your budget friendly trip to Charleston, SC.
Recommended by Adventures of Chels
23. Cayucos, California
Cayucos is one of the most budget-friendly places in California for every kind of visitor. It's located along the Pacific coast with long stretches of beach, cliffs, and tidepools. Cayucos also has a charming downtown area with restaurants and shops. There are also plenty of activities for visitors like fishing, whale watching, or walking along the pier.
Cheap things to do in Cayucos during summer
There are quite a few free and budget-friendly things to do in Cayucos:
One of the most popular things to do in Cayucos is hanging out at Cayucos State Beach. It's a dog-friendly beach so bring your furry friend for a picnic, play at the park on-site, or go surfing.
Another great activity is to take a self-guided tour of the Cayucos murals, which are located all around town. They were painted by local artists that tell stories about life in the area.
You can't miss out on the Cayucos Pier, which is part of the Whale Trail in California. From here, you can fish, whale watch, or enjoy the sea breeze.
To really get a feel for this small beach town, explore the antique shops on Main Street–you never know what you'll find!
Head to Estero Bluffs to check out the tidepools or go in later in the afternoon and catch a sunset. It's magnificent!
Where to stay in Cayucos
One of the best places to stay in Cayucos is the Cayucos Beach Inn. It's in the perfect location–only one block away from Cayucos State Beach and Main Street. The Inn also has all the amenities to fit your needs.
Where to dine in Cayucos
When you're ready to eat, head on over to Duckies Chowder House for some fresh seafood. The service is quick and the food is delicious. After your meal, grab dessert at the Brown Butter Cookie Company–you won't regret it!
Enjoy your stay in this quaint and charming beach town!
Recommended by Her Wanderful World
24. Yellowstone and Grand Teton National Park, Wyoming
America's national parks are a top choice for budget-friendly destinations, and summer is the best time to visit Yellowstone and its lesser-known neighbour, Grand Teton National Park. As the only time these parks are fully accessible, wildlife and outdoor enthusiasts need only a national park pass to explore all its activities and attractions.
Inexpensive things to do in Yellowstone and Grand Teton National Park during the Summer
Hiking: With over 1,000 miles of trails in Yellowstone and 250 miles in Grand Teton, trek hikes around jagged peaks, alpine lakes, or geothermal features.
Geothermal features: Yellowstone's geysers and hot springs, like Old Faithful, Grand Prismatic Spring, or Mammoth Hot Springs, are some of the park's most famous attractions.
Wildlife watching: More than 200 species of animals live in this protected area of Wyoming. Summer is one of the best times to see foraging bears or herds of elk and bison blocking the roadways. Go on a Grand Teton wildlife tour or spot animals in Yellowstone's Lamar or Hayden Valley.
Water activities: Kayaking Grand Teton's alpine lakes and rafting on the Snake River can be done on a budget by bringing your own equipment or renting from a local outfitter.
Where to stay in Jackson
While camping is the most affordable option, Antler Inn in Jackson, Wyoming, is an ideal starting point to exploring the nearby parks.
Where to eat in Jackson
With its charming log cabin decor, Cafe Genevieve is a highly-rated restaurant serving classic American cuisine.
Recommended by Nomadicated
25. Bend, Oregon
Bend, located in central Oregon, is a haven for anyone seeking adventures outdoors. Visiting during the summer means you get to take advantage of all the alpine lakes, hiking, and mountain biking in the area. Bend is great for families and solo travellers, with many ways to cut costs while travelling on a budget.
Budget-friendly things to do in Bend during the summer
Go for a hike in the Central Cascades. The Broken Top Trail to No Name Lake is rated as hard and lengthy. But the payoff is incredible to this opaque turquoise lake with a colourful mountain backdrop.
Paddleboard or kayak on Sparks Lake with amazing views of Mount Bachelor, Broken Top, and South Sister.
Watch the sunset at Smith Rock State Park. There are hiking and climbing opportunities here as well, but you can also just watch the sunset a short walk from the main parking lot.
Float down the Deschutes River on an inner tube. What better way to cool off in the summer than to do a river float?
Head to the free summer concert series, Munch and Music. Listen to free live music outdoors at Drake Park weekly! Local vendors also participate serving beer, wine, spirits, and food trucks.
Take the Cascade Lakes Scenic drive. This byway starts just outside of Bend and will take you to Sparks Lake, Elks Lake and through the Cascade Mountain Range. It is a great way to spend a few hours of your day.
Where to stay in Bend
Cascade Lodge is a highly-rated stay that offers comfortable rooms at an affordable price. There is also an outdoor pool available in the summer.
Where to Eat in Bend
Bangers and Brews is one of the best places to eat in town. You won't see many spots like it around, as they serve up artesian sausages with an Argentinian flair.
Recommended by Kate Roams the World
Related Posts
Pin it for later!