If you're looking for a weekend escape across the border (when it's open!) from Toronto or Niagara, reaching the Finger Lakes only takes about two hours from Buffalo!
There are so many charming places to visit in this scenic area and the Finger Lakes region makes for one of the most romantic getaways in upstate New York!
The Finger Lakes is one of New York's most scenic areas, with 11 long and narrow glacial lakes dotted with cute towns and dramatic scenery, making it the perfect destination for the outdoorsy type looking for the best of adventure and comfort.
If you've never visited before, there's no better time to start planning a road trip, and with so many destinations to pick from, it can be difficult to choose the right one!
The Finger Lakes is well-known for its wineries, scenic landscapes, waterfalls, parks, and small-town charm. Here's a list of some of the most cute towns in the Finger Lakes to visit and fall in love with during any time of the year!
This post contains affiliate links which means I earn a small commission if you purchase through one of my links at absolutely no additional cost to you. Feel free to read my disclosure policy. Thank you for supporting my blog!
Canandaigua
The town of Canandaigua, located in upstate New York on the northern tip of the Finger Lake of the same name, is beautiful, quaint, and definitely worth a visit.
Canandaigua Lake is the westernmost of the major Finger Lakes, and can be reached by driving an hour and a half east of Buffalo. Canandaigua is home to just over 10,000 people and has plenty of sightseeing opportunities. Walking down Main Street through town feels like taking a step back in time.
Sonnenburg Gardens and the Granger Homestead are both great historical stops, or take a lake cruise on the Canandaigua Lady for beautiful shoreline views. There is a wine trail with six stops around Canandaigua Lake, with one of the stops located within the town, the Finger Lakes Wine Center.
There are plenty more options for visiting breweries in the town of Canandaigua. While wandering around town, be sure to stroll down to the Canandaigua City Pier. In addition to up-close views of the lake, there are 80 still functioning boathouses which make for great photo opportunities.
End your day with a meal at the NY Kitchen, where the chefs prepare fresh dishes highlighting great locally sourced ingredients. End the night laying your head at one of the few bed & breakfasts around town, a great way to really immerse yourself in the charm of Canandaigua.
By PAonPause.com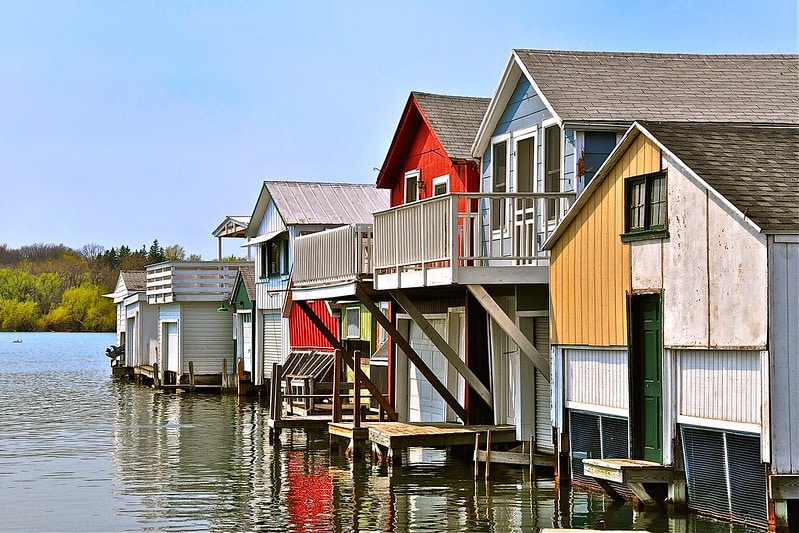 Ithaca

One of the cutest towns in the Finger Lakes region is Ithaca. "Ithaca is Gorges" is the perfect phrase to describe this beautiful town in New York as its home to gorges offering 150 incredible waterfalls. Besides having several gorges and beautiful landscapes, Ithaca is also steeped in history with domestic Civil Rights and Women's Rights.
Ithaca is a perfect base to explore nearby lakes, wineries and the famous Watkins Glen State Park of New York. Few of the must visit waterfalls of this region include Cascadilla Gorge, Ithaca Falls, Six Mile Creek, Buttermilk Falls, Lucifer Falls and Taughannock Falls. Cayuga Lake, one of the 11 lakes of the Finger Lakes region, is found here.

The Cayuga wine trail has several amazing wineries including Hosmer Winery and Goose Watch Winery. Along with the winery trail, you can also find amazing breweries, distilleries, and cideries in this region. During weekends, a visit to the Farmer's market is ideal for foodies as there are several food stalls of different cuisines from all over the globe.
Home to Cornell University, Ithaca town has a very chilled and fun vibe. The Ithaca Commons is the pedestrian-only street where one can find shops, boutiques, restaurants and cafes.
The entire town has several beautiful murals that make this town even more charming. Two restaurants that are highly recommended for all foodies are Moosewood and Mia. With so much to explore, a long weekend in Ithaca is an ideal time to experience the beautiful places this town has to offer.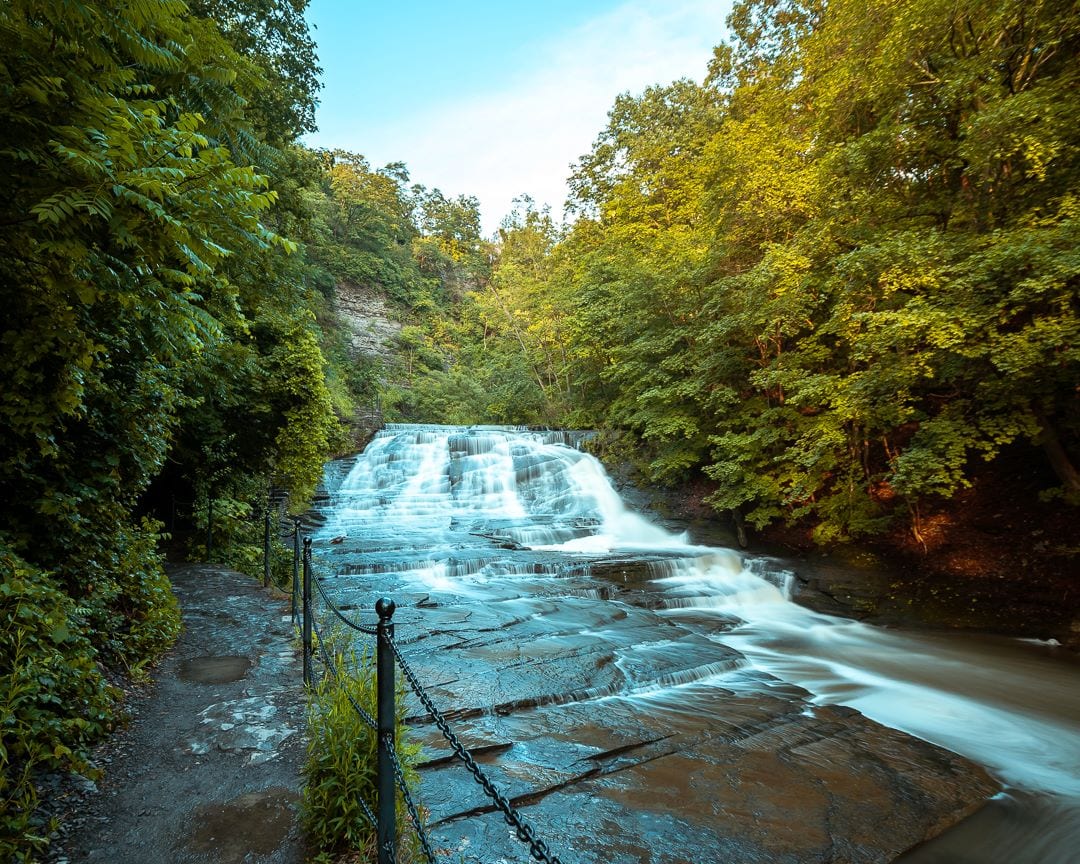 Aurora
Located on the eastern shore of Cayuga Lake, Aurora is enjoying a 21st century renaissance. The village was once home to elegant family estates, a cozy stagecoach inn, and a prep school for girls that taught literature, French, and lawn tennis.
However, like many upstate New York towns, Aurora gradually underwent an economic downturn and by the 1990s, the once-stately homes and businesses sat in various states of disrepair. In stepped Pleasant Rowland, a wealthy entrepreneur and alumna of local Wells College. Rowland donated her time, money, and talent until the weathered buildings were restored to their former glory.
Five of these revitalized properties now make up the Inns of Aurora and because they're all within walking distance of one another, the historic inns—along with many other restored buildings—largely make up the village's identity.
Beyond its visual charm, however, visitors will find plenty of things to do in Aurora, such as wine tasting at Heart & Hands Wine Company or Long Point Winery.
The headquarters of MacKenzie-Childs, a home décor company, is also located here. Take a guided tour of their farmhouse, decorated entirely in their whimsical patterns, and then shop at their outlet store for your own signature pieces to take home.
Outdoor lovers can rent kayaks and canoes at Finger Lakes Adventure Gear, while Inns of Aurora guests can use complimentary kayaks and bicycles, or for a fee, sign up for nature walks, paddling, and archery. There's also a brand new, state-of-the art spa in town.
By From Inwood Out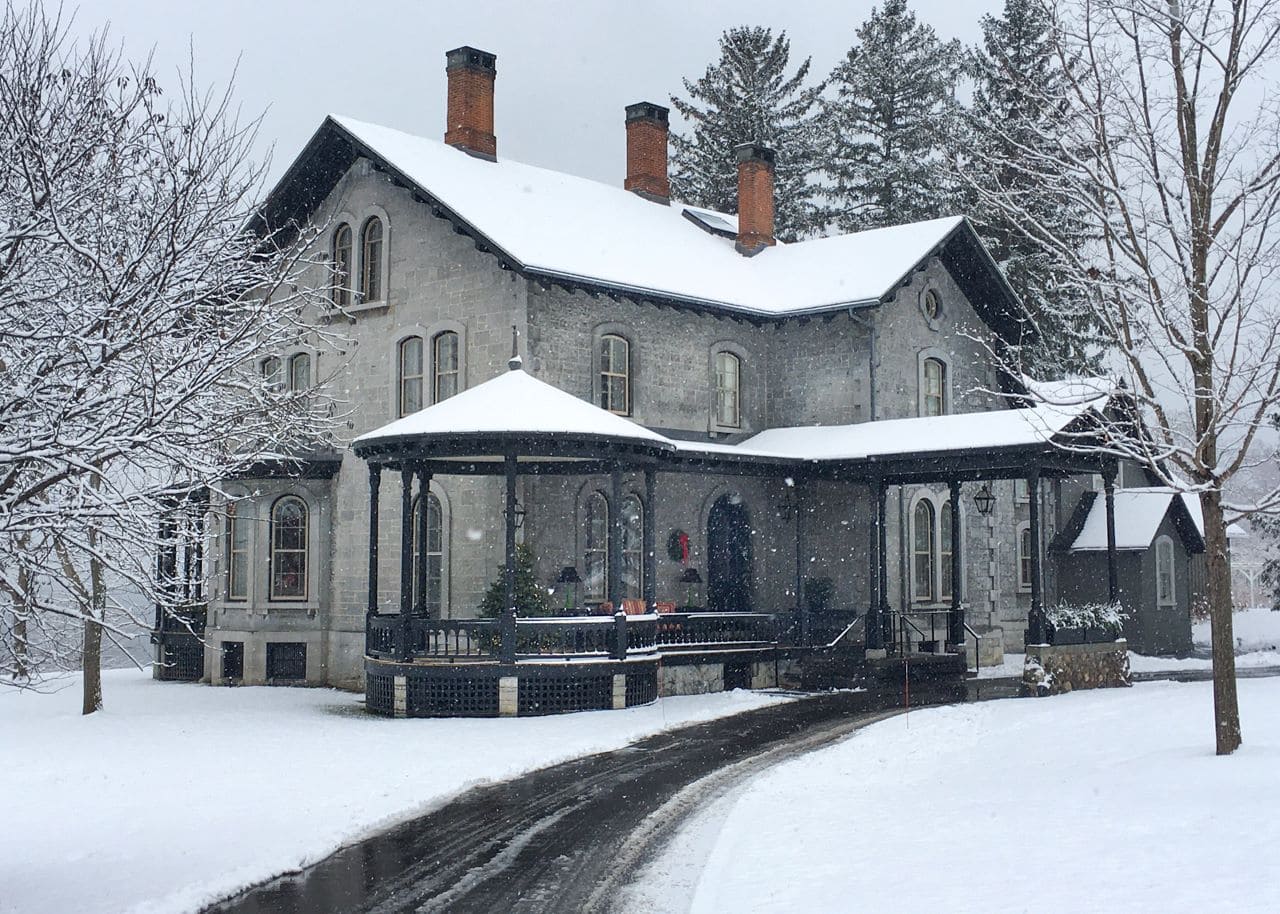 Seneca Falls
If you are into women's history and drinking wine, then Seneca Falls, NY is the place to visit. This small town located on the western tip of Cayuga Lake is the home of the first Women's Rights Convention, held in 1848, and is separated by the Cayuga-Seneca canal.
Downtown Seneca Falls offers you great restaurants, shopping, and historical landscapes.
Here you will find the Women's Rights National Historical Park along with Wesleyan Chapel. The chapel was where the First Women's Rights Convention was held among many other political events throughout history. Located adjacent to Wesleyan chapel is a lawn that is dedicated to all that signed the Declaration of Sentiments with a forever fountain of engraved names and passages.
When looking for a hotel on your visit, you have to check out The Gould Hotel, just in the heart of the town.
The hotel is over 100 years old, but when you step inside you would never know it. Decorated in modern elegant style, the décor of the hotel gives a visitor a Great Gatsby feel upon their stay.
If you are interested in wine tasting, Seneca Falls is a short drive to the Finger Lakes wine trails. Head west to explore the Seneca or Keuka wine trails or south from Seneca falls around Cayuga Lake to explore the wineries of Cayuga Lake.
From Portly Passengers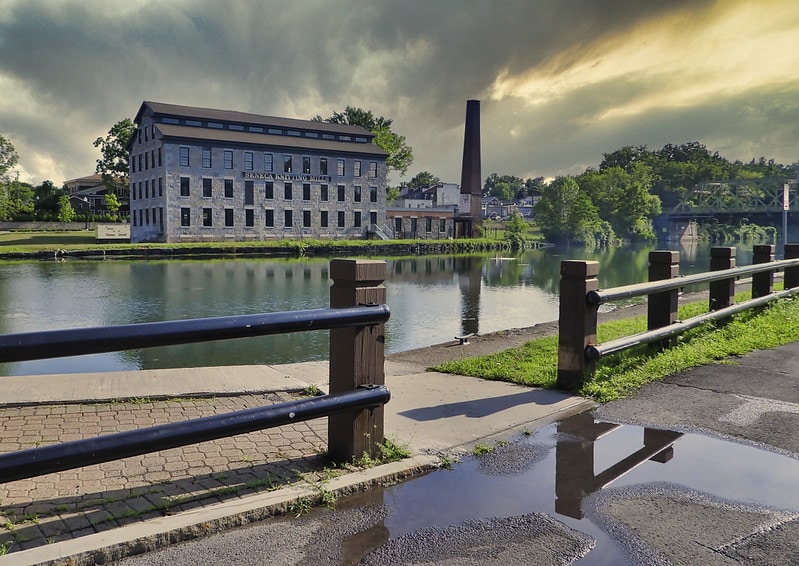 Geneva
Just two hours from Buffalo on the northern shores of Seneca Lake is Geneva, a stunning historic town chock full of beautiful views, stunning architecture, trails, fishing, farm-to-table restaurants, craft microbreweries and endless wineries.
There are over 35 wineries surrounding the area, making Geneva an ideal wine touring location, and is also the most popular with visitors and locals! Stunning scenery, panoramic views, and lush landscape makes touring the wineries here an obvious choice.
For a romantic place to stay with lake views and fireplaces, Geneva on the Lake Boutique Resort is the ideal hotel to make your visit to this charming town in the Finger Lakes.
Built to resemble an Italian villa, Geneva on the Lake sits on well-manicured grounds and offers numerous getaway packages, many of which include winery tours, massages, private dinners, champagne and more! Take advantage of the free boat cruise around the lake!
Geneva is an adorable town to visit at any point during the year. Whether you're strolling through winding trails in the spring, wine tasting in the summer, enjoying the changing season of the fall, or curled up next to a fireplace in the winter, Geneva is a must-visit town in the Finger Lakes!
Watkins Glen
While it's best known for the ever beautiful hiking trails at Watkins Glen State Park, the town of Watkins Glen itself is the perfect getaway in the Finger Lakes.
Spend some time exploring the adorable shops and eateries in town while enjoying the brilliant views of Seneca Lake. If you're feeling adventurous, rent a kayak to see Watkins Glen from a new angle on the water!
You can also cover a wider area with an epic horseback riding adventure at Painted Bar Stables just east of Watkins Glen in the neighbouring town of Burdett. Chances are you'll be a little thirsty after all that adventuring but luckily you're in the heart of New York's wine country!
With over 100 in the Finger Lakes Region to choose from, head a little north on either side of Seneca Lake to get started. Of course, don't forget to stop in at the aforementioned Watkins Glen State Park and check out the Gorge Trail where you'll see 19 waterfalls within a length of 2 miles!
If you still haven't had your fill of waterfalls, there are a number of others close by including Hector Falls just east of town, Lucifer Falls in Robert H Treman State Park, Ithaca Falls and more!
From I've Been Bit! Travel Blog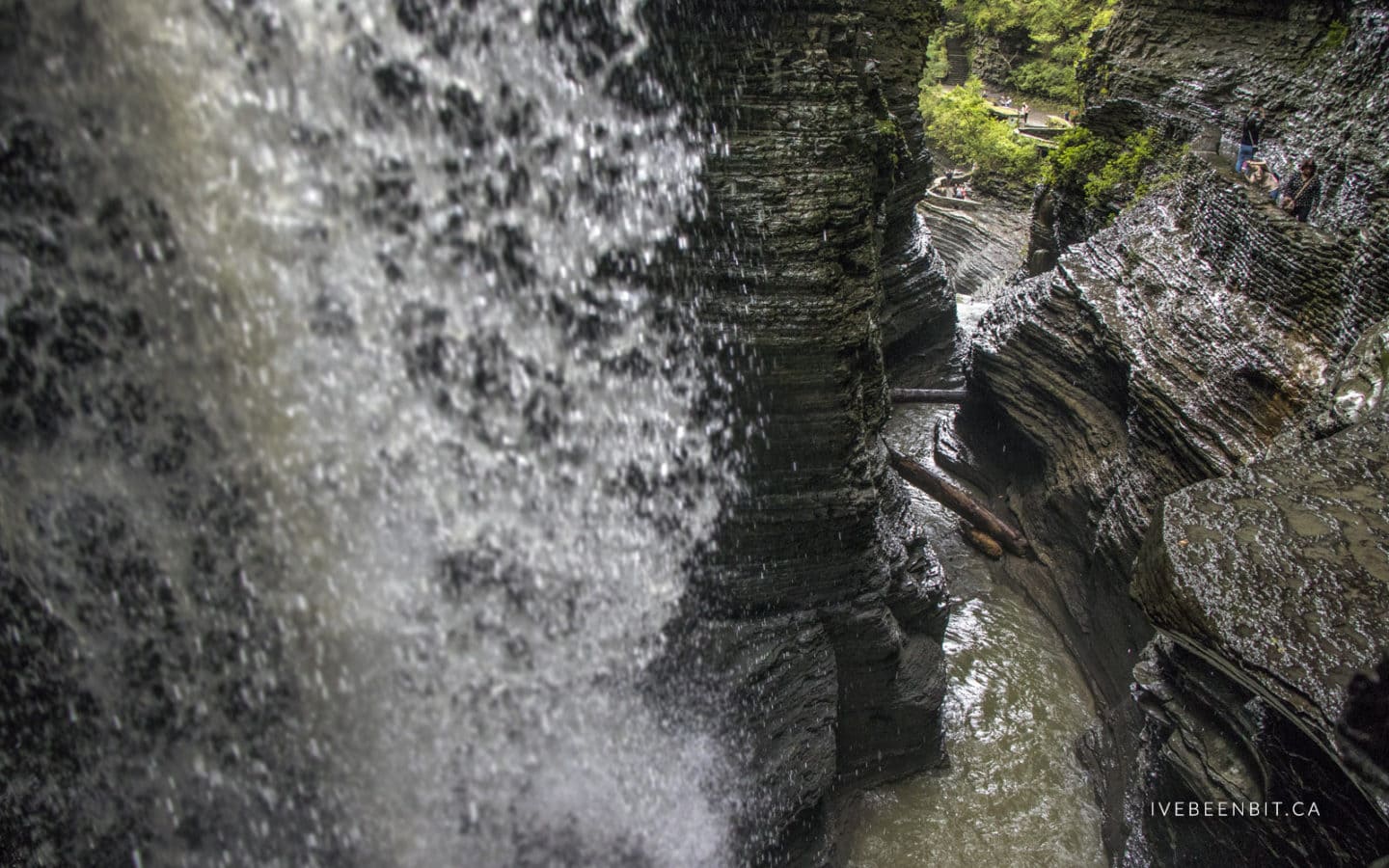 Pin it for later!
Related Posts