Are you looking for a quick escape from the usual sights and sounds of Buffalo? Luckily, there are plenty of great options for day trips from Buffalo within a couple hours drive from the city.
From charming small towns to natural wonders, there's such a variety of places to get out and explore, all easily visited in one day.
Whether you're looking for a relaxing day by the water, a different city to explore, or an adventure in the great outdoors, these destinations for day trips from Buffalo won't disappoint.
This post contains affiliate links which means I earn compensation when you click on the links at absolutely no extra cost to you! Feel free to read my disclosure policy. Thank you for supporting my blog!
Plan your next vacation using these tools!

✈️ Book flights: SkyScanner
🏨 Book hotels: Booking.com
🚘Book car rentals: RentalCars.com
🎫Book tours: GetYourGuide
🍽️Local food experiences: EatWith
🌍Favourite travel item: Packing cubes
🧳Favourite travel bag: Osprey 40L Fairview
📱 ESims: Airalo
🩹 DIY Travel Medical Kit
💸 20 Cheap Travel Items Under $20
1. Letchworth State Park
Letchworth State Park is a prime example of the natural beauty found in Western New York. Known as the "Grand Canyon of the East," this park boasts over 14,000 acres of breathtaking scenery. The Genesee River flows through the park, creating 3 large, spectacular waterfalls and dramatic gorges.
Visitors can explore some of the park's best scenery on foot along the Gorge trail, which runs along the riverbank. The Upper Falls, Middle Falls, and Lower Falls are must-see attractions and provide stunning photo opportunities. Adventure-seekers can enjoy whitewater rafting on the Genesee River for a thrilling experience.
Be sure to stop at Inspiration Point and many of the other pull-offs along the road through the park to take in the spectacular views. While the park gets busier during the fall, this is one of the best times to visit Letchworth on a day trip from Buffalo. The foliage is stunning during peak season.
The park also offers many campsites and cabins for those who want to extend their day trip. Visitors can partake in other outdoor activities such as horseback riding and winter snowmobiling.
Letchworth State Park is truly a gem of Western New York.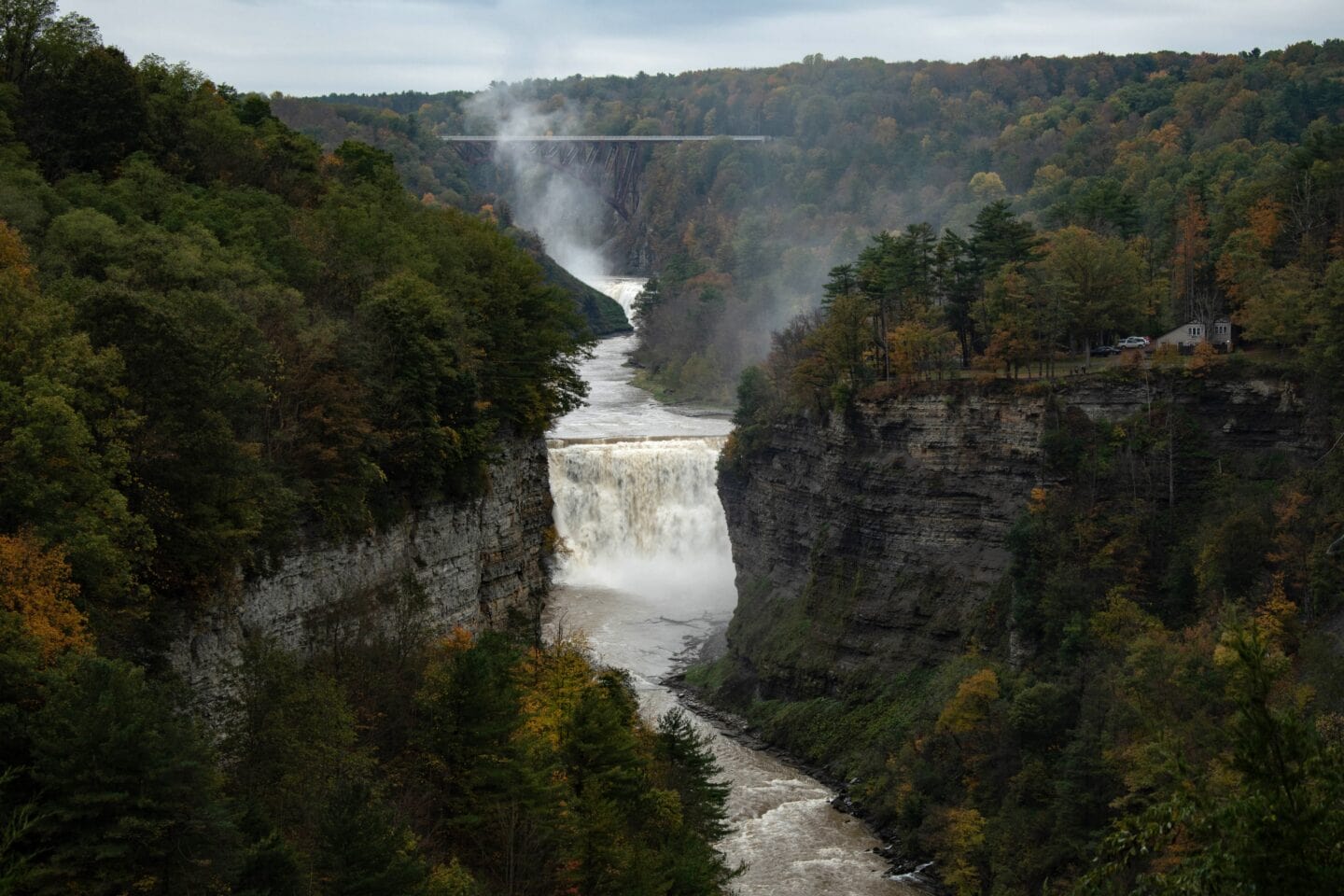 2. Ellicottville
Ellicottville, located just an hour's drive from Buffalo, is a quintessential day trip location for outdoor enthusiasts and those who love small town getaways.
This charming village is renowned for its exceptional ski resorts, including Holiday Valley Resort and the private HoliMont Ski Resort. With each resort having over 50 slopes, both offer thrilling skiing experiences for beginners and advanced skiers alike. For non-skiers, Ellicottville has plenty of other attractions, including hiking trails, which offer spectacular views of the surrounding hills.
One of Ellicottville's unique offerings is the Salt Cave, a spa experience where visitors can rejuvenate in a tranquil environment surrounded by 200 million-year-old salt crystals. Another must-visit attraction close to Ellicottville is the Griffis Sculpture Park, a 450-acre park featuring impressive metal sculptures displayed across the vast property.
In addition to the outdoor activities, Ellicottville also boasts a charming downtown area filled with unique shops, eclectic dining options, and local breweries. Overall, Ellicottville is a fantastic day trip destination for those looking to escape the city, explore nature, and enjoy a variety of activities.
3. Niagara Falls
Niagara Falls is an absolute must-see when visiting Buffalo, as it's just a half-hour drive from the city. This natural wonder of the world draws visitors from all walks of life, offering stunning views of some of the most powerful waterfalls in the world.
One of the best ways to experience the falls is aboard the Maid of the Mist boat ride, which takes visitors right up to the base of Horseshoe Falls, providing an up-close and personal experience.
The Skylon Tower also offers incredible views, with panoramic vistas of the falls and the surrounding areas.
There are also cliffside parks, like Niagara Falls State Park, where visitors can take a leisurely stroll while taking in the beauty of the falls and the various points of interest.
There are many unique ways to experience and get great views of Niagara Falls. Be sure to experience the areas around the Niagara Gorge, like at Whirlpool State Park, to get away from some of the heavier tourist-type crowds. It's a perfect day trip for anyone looking to explore within a short drive of Buffalo.
4. Watkins Glen
Nestled in the beautiful Finger Lakes region of New York, Watkins Glen is a must-see destination for those seeking a thrilling adventure in nature.
The Gorge Trail at Watkins Glen State Park is a must-see, taking hikers through a deep gorge alongside the park's 19 waterfalls. Spectacular views of Rainbow Falls are a highlight, as are the many unique and striking rock formations that line the trail.
The entrance to the park is located right in the town of Watkins Glen, and you can walk through town all the way to Seneca Lake, if you'd like. Enjoy dinner near the water at Seneca Harbor Station or stop at a few of the wineries along Seneca Lake on your way back to Buffalo. Take a few bottles of the region's award-winning bottles home to enjoy at a later date.
Whether you're an avid hiker or just looking for a beautiful place to escape, Watkins Glen is a day trip from Buffalo not to be missed.
5. Toronto
Located just a short drive north of Buffalo, typically taking less than 2 hours, Toronto is an ideal day trip destination for those seeking more entertainment options outside of the city of Buffalo.
One of the major draws of Toronto is its fantastic shopping scene, which includes everything from high-end designers to local brands. No trip to the city is complete without a visit to the Eaton Centre, Toronto's premier shopping destination. It's the largest one in eastern Canada!
Another must-see attraction in Toronto is the CN Tower. Standing at over 100 stories above the ground, the tower offers breathtaking views of the city, Lake Ontario, and surrounding areas. Visitors can take a trip to the top to experience panoramic views from the observation deck or enjoy a meal in the tower's revolving restaurant.
Toronto is a perfect day trip destination for those in search of high-end shopping and a fantastic urban experience.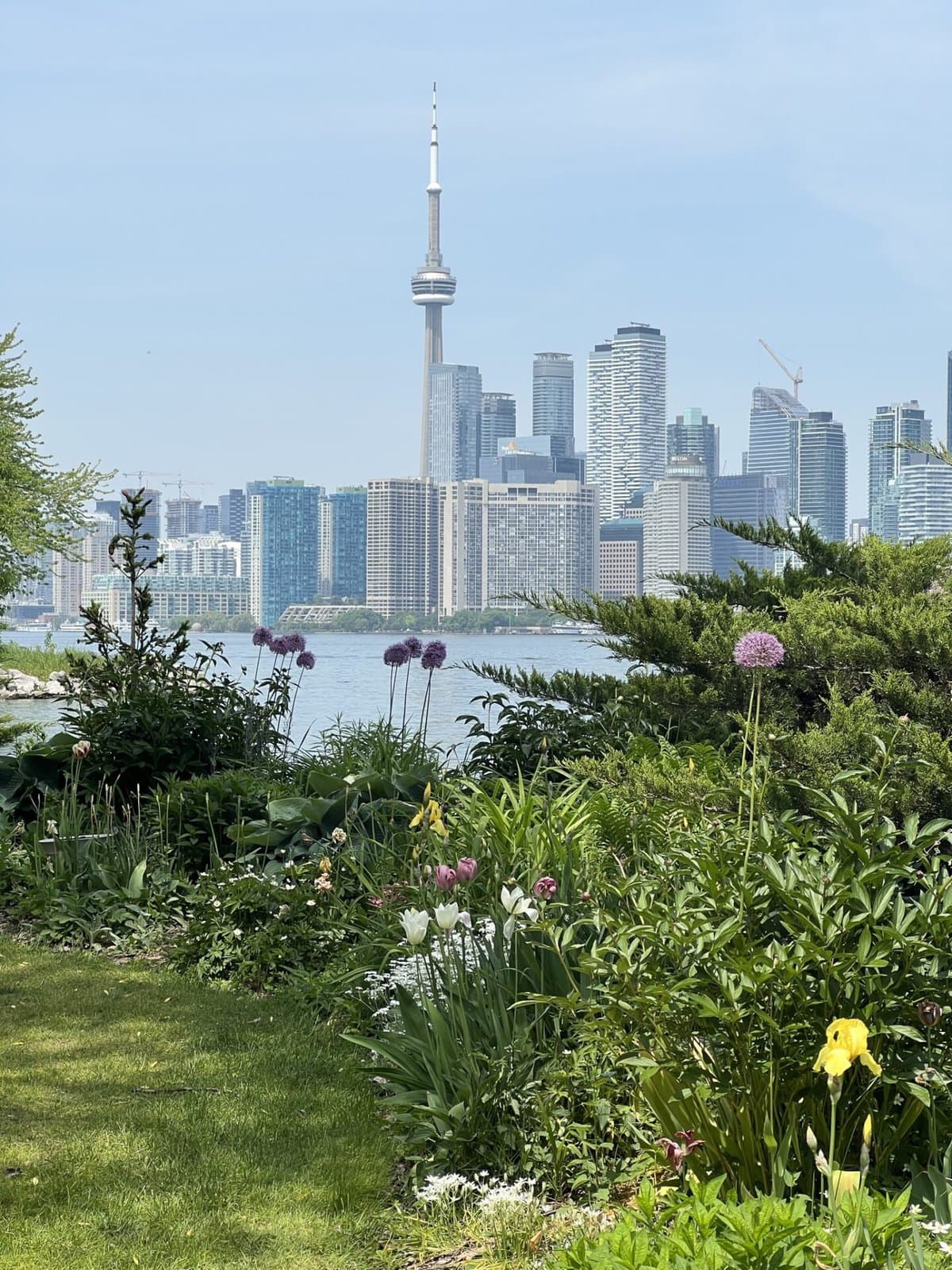 Related: The Ultimate Guide to the Toronto Islands (How to Get There & Things to Do!)
6. Niagara-on-the-lake
Niagara-on-the-Lake is a charming tourist town located just across the border in Canada. It sits right on the edge of the Niagara River, where it empties into Lake Ontario. Visitors can spend time strolling along Queen Street, take in the historic buildings, and enjoy a horse-drawn carriage ride through town.
For a truly indulgent experience, afternoon tea is a must.
Niagara-on-the-Lake is perhaps best known for its proximity to Ontario's wine region, where some of the best ice wines in the world are made. The town is surrounded by vineyards, and visitors can take tours, sample wines, and learn about the wine-making process.
The annual Ice Wine Festival is a popular event that takes place during winter when temperatures drop enough to allow for the harvesting of frozen grapes used to make this sweet wine. Use the festival as an excuse to take a day trip from Buffalo to the Niagara Peninsula, if January weather permits!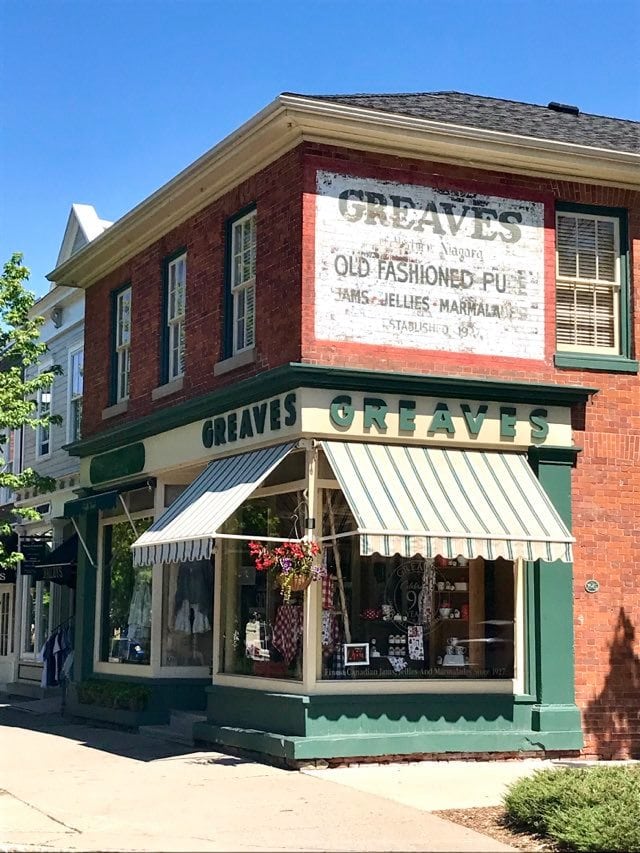 7. Chestnut Ridge Park
One of the most awe-inspiring natural wonders in the Buffalo area can be found at Chestnut Ridge Park. It's an easy drive from Buffalo, typically taking 30 minutes or less!
A visit to this 1,151-acre park is a must for those looking to experience the mesmerizing Eternal Flame Falls. To witness the naturally-occurring flame tucked behind the waterfall, follow the signs with little flames on them!
The entire hike typically takes less than one hour, and it follows along a well-marked trail that leads to a creek bed, and eventually the falls itself. It can be slippery descending into the creek bed, especially during muddy or cold conditions. Plan appropriate footwear, and bring spikes in the winter.
You might also want to toss a lighter in your pack, just in case heavy rains or winds have put out the flame. It can easily be relit for everyone to enjoy again.
The park offers plenty of opportunities for exploration beyond the waterfall, with other hiking trails and picnic areas. Discover the park's hidden gems or simply relax with a picnic and enjoy a getaway at Chestnut Ridge.
Chestnut Ridge Park is a perfect day trip destination from Buffalo for families, outdoor enthusiasts, and nature lovers.
8. Rochester
Rochester is a city that often goes overlooked as a day trip destination from Buffalo but is actually full of exciting things to see and do. As a hub for art and culture, Rochester boasts an array of museums, galleries, and theatres.
History lovers will enjoy visiting the Susan B Anthony House, Strong Museum of Play, and George Eastman Museum, all of which celebrate the city's rich history.
Foodies and beer enthusiasts are also in luck, as Rochester has a thriving culinary scene and a number of craft breweries. Visitors can sample a wide range of cuisines and try locally-brewed beers while exploring the city's diverse neighbourhoods.
The beautiful waterfront is another must-see attraction, with plenty of activities like boating and fishing available for both locals and tourists alike.
With so many museums, galleries, restaurants, and attractions to explore, Rochester is a fantastic day trip destination from Buffalo.
9. Darien Lake
Just a short 45 minute drive from Buffalo lies Six Flags Darien Lake, a 1,200-acre amusement park that offers fun-filled adventures for all ages.
The park is known for its thrilling roller coasters, with eight different coasters that will leave riders screaming and breathless. Visitors looking to cool off in the hot summer months can also enjoy the park's ten water rides, including a lazy river and a wave pool.
Enjoy a bite to eat from one of the food stands serving classic American fare like burgers and hot dogs, or sweet treats like funnel cakes and ice cream.
A live outdoor concert venue also hosts concerts throughout the summer months, so plan a day trip to catch your favourite artists in person.
10. Syracuse
Syracuse is a popular day trip destination from Buffalo, located just over 2 hours to the east.
With a mix of urban and outdoor attractions, there are plenty of things to do to fill a day trip. Onondaga Lake Park offers fantastic views and outdoor activities like hiking, biking, and fishing.
On the opposite side of the lake sits the New York State Fairgrounds, which hosts concerts and events throughout the year in addition to the state fair towards the end of summer.
For a bit of culture, check out the Erie Canal Museum, showcasing the history of the canal that put New York on the map. The Everson Museum of Art is also noteworthy, featuring a range of American art styles.
Whether you prefer urban attractions or outdoor activities, Syracuse is a great day trip option.
11. Canandaigua
Located in the Finger Lakes region of New York, Canandaigua is a charming lakeside town on the western-most side of the region that makes for an ideal day trip from Buffalo.
One of the must-visit attractions in Canandaigua is the picturesque Sonnenberg Gardens and Mansion State Historic Site. This beautifully preserved mansion and garden offer a glimpse into the life of an affluent family at the turn of the 20th century. Visitors can wander through the gardens, tour the mansion, and enjoy special events and exhibits throughout the year.
Canandaigua Pier is another must-see attraction in the town. This scenic pier offers gorgeous views of Canandaigua Lake and is an ideal spot for a romantic stroll or a family picnic.
Kershaw Park, not far from the pier, is a beautiful park that boasts abundant green space, a children's playground, and a sandy beach. Visitors can enjoy swimming, fishing, and boating on the lake.
Just a short drive from Buffalo, Canandaigua is a convenient Finger Lakes day trip destination that offers plenty of small town charm. Whether you're interested in history, outdoor activities, or just relaxing by the lake, Canandaigua is the perfect day trip.
12. Erie
Erie, Pennsylvania, is a charming port city about 1 hour and 30 minutes to the west of Buffalo. This Pennsylvania city boasts a plethora of tourist attractions, making it a must-visit destination for outdoor enthusiasts and history buffs alike.
One of the most popular attractions in Erie is Presque Isle State Park, which is a peninsula surrounded by Lake Erie. This sprawling park features miles of sandy beaches, nature trails, and a paved bike path circling the peninsula, making it an ideal place for swimming, fishing, hiking, and picnicking.
In addition to the Presque Isle State Park, Erie is home to the Erie Maritime Museum, which houses interactive displays and exhibits about the maritime history of Lake Erie. Visitors can learn about the War of 1812, explore a replica of the ship used by the famous explorer Commodore Oliver Hazard Perry, and view other maritime artifacts from the region..
For those looking for a more adult-oriented attraction, the Lake Erie Wine Country just east of the city is the perfect place to visit. This region features dozens of wineries, some with microbreweries and distilleries on the grounds, offering visitors a chance to sample the region's best wines while enjoying the beautiful scenery. Enjoy a change of pace from the Finger Lakes wine region.
13. Allegany State Park
Nestled in the foothills of the Allegheny Mountains, Allegany State Park is a great option for those seeking outdoor adventure. With over 65,000 acres of stunning forests and rolling hills, the park is a hiker's paradise with miles of picturesque hiking trails winding through beautiful scenery.
Red House Lake is a popular spot in the park, perfect for fishing, swimming, and kayaking. Visitors can also enjoy a picnic lunch or take a leisurely stroll around the lake. Check out the small covered bridge not far from Red House Lake, a unique feature of Allegany perfect for photo opportunities. For another unique experience, check out Thunder Rocks, a stunning rock city formation with a cool native origin story.
On the other hand, the Quaker Lake area of the park is often a little quieter, but just as beautiful.
When it comes to lodging, Allegany State Park has no shortage of options. Cabins are littered across the park's acreage, and there are 2 campgrounds if you'd like to extend your stay to more than just a day trip.
14. Jamestown
Jamestown is the perfect day trip destination from Buffalo. It is the birthplace of legendary comedienne and actress Lucille Ball, and home to the National Comedy Center, making it a mecca for comedy fans.
Visitors can learn more about the life and career of Lucille Ball at the Lucille Ball-Desi Arnaz Museum or experience the latest in comedy at the National Comedy Center.
Jamestown is not just about comedy, though! The city is located near the shores of beautiful Chautauqua Lake, providing plenty of opportunities for water-based activities such as fishing, kayaking, and boating.
Jamestown is an ideal day trip destination for those interested in comedy and water activities on the lake. Whether you're a fan of Lucille Ball or just looking for a fun day trip, Jamestown is definitely worth the visit.
15. Kinzua Bridge State Park
If you're looking for a unique day trip from Buffalo, Kinzua Bridge State Park is a must-visit destination. Located in the Allegheny National Forest in northern Pennsylvania, this park is home to the Kinzua Bridge Skywalk, a breathtaking engineering marvel that was once the tallest railroad bridge in the world.
The Kinzua Bridge was originally built in 1882 and stood for over a century before a tornado destroyed a portion of the bridge in 2003. The park has since rebuilt a portion of the bridge as a skywalk, allowing visitors to walk out over the valley and take in stunning panoramic views of the surrounding forest.
The twisted metal of the fallen bridge remains in the valley below, helping visitors to appreciate the raw power of nature.
In addition to the skywalk, the park offers hiking trails, picnic areas, and a visitor centre with exhibits on the history of the Kinzua Bridge.
Whether you're a history buff, an engineering enthusiast, or just looking for a beautiful outdoor adventure, Kinzua Bridge State Park is a day trip from Buffalo that you won't want to miss.
Buffalo is a great city, but the surrounding areas have so much to offer as well. From the stunning natural beauty of Niagara Falls and Letchworth to the charming towns of Ellicottville and Canandaigua, there are plenty of day trip options for anyone looking to explore Western New York.
When you just need to get away from the city, take advantage of these great destinations within a short drive!
About the Author
Samantha is the owner and creator behind PAonPause, exploring travel around the US's Great Lakes states and the National Parks. She believes that any occasion can be a great excuse to travel and does so as much as possible while still working full-time. She loves to share her time exploring the outdoors with her 2 rescue dogs.
Pin it for later!