Toronto Island, also known as the Toronto Islands, and Toronto Island Park, is a collective group of 15 islands spanning 600 beautiful acres interconnected by bridges and pathways.
A short ferry ride on Lake Ontario over Toronto Island gives you the perfect city escape with lots of things to do!
With stunning views, quiet strolls, beaches, picnic areas, and great cafes, a visit to the Toronto Islands is a fun activity for families, couples, and solo visitors!
Ferry services run to one of three main islands: Ward's Island, Centre Island, and Hanlan's Point, and allows frequent and convenient service back and forth between Jack Layton Ferry Terminal along the Toronto Harbourfront.
The Toronto Islands is a vehicle-free zone (aside from work vehicles) making this a great pedestrian-friendly place to visit. It's easily walkable – in fact, the whole stretch of islands is roughly 5 km and can be walked in about an hour from point to point!
Don't rush it though, there is a lot of fun stuff to see along the way!
Ready to visit the Toronto Islands? Check out this guide on how to make the most out of your visit and what to do on Toronto Island.
This post contains affiliate links which means I earn compensation when you click on the links at absolutely no extra cost to you! Feel free to read my disclosure policy. Thank you for supporting my blog!
Plan your next vacation using these tools!

✈️ Book flights: SkyScanner
🏨 Book hotels: Booking.com
🚘Book car rentals: RentalCars.com
🎫Book tours: GetYourGuide
🍽️Local food experiences: EatWith
🌍Favourite travel item: Packing cubes
🧳Favourite travel bag: Osprey 40L Fairview
📱 ESims: Airalo
🩹 DIY Travel Medical Kit
💸 20 Cheap Travel Items Under $20
Are the Toronto Islands Worth Visiting?
Toronto Island is definitely worth visiting! I can't believe I've never been before, even though I lived in Toronto while I was going to school. While it's a short ride over on the ferry, being on the Toronto Islands feels as though you're worlds away!
With picturesque scenery, adorable architecture, the cutest cafes, beautiful, paved trails and boardwalks, lots of picnic areas, beaches, and so much more, a visit to the Toronto Islands is worthwhile!
Check out the Toronto Islands map
This inexpensive activity is a great break from the city and a great day trip without having to leave Toronto at all!
If you need a place to stay while visiting the Toronto Islands, it's important to know that there is no place to stay there overnight. You will have to book accommodations downtown Toronto, and there are a lot of options!
It comes as no surprise that Toronto can be expensive when it comes to accommodations. Keep an eye out for Travelzoo and Groupon deals to save some money!
How To Get To The Toronto Islands
If you live in Toronto, you'll want to head to Jack Layton Ferry Terminal. This is located along the Toronto Harbourfront, and more specifically, at 9 Queen's Quay, which is at the intersection of Queens Quay and Bay St.
If you're arriving from outside of Toronto, there's a good chance you're either driving yourself or taking the GO Train.
If you are driving to Toronto and are looking for parking near the ferry terminal to Toronto Island, the closest parking lot is located right at Harbour St and Bay St, at 30 Bay St. Pricing as of June 2023 was $25/day.
If you are arriving by GO Train to Union Station, it's a quick 10 minute walk straight down Bay St to the ferry terminal!
P.s. Take advantage of the GO Transit promotions! If you're travelling mid-week, you can get weekday group passes and save money vs. purchasing individual tickets. On weekends and holidays, you can purchase a $10 all-day ride pass, or if you're visiting Toronto (or anywhere else GO Transit goes!) then you can purchase a $15 weekend ride pass.
Taking The Toronto Island Ferry
The easiest and cheapest way to get to Toronto Island is by ferry. The Toronto Island Ferries running back and forth to the Toronto Islands are available every 30-40 minutes, and you don't need to prebook a time!
The Toronto Island Ferry departs from Jack Layton Ferry Terminal, located at 9 Queens Quay West. The easiest landmark is to look for the Westin Harbour Castle, as the ferry terminal is right beside it!
You can choose to board the ferry to Ward's Island, Centre Island (most popular) or Hanlan's Point. Your ticket is valid for any of the three.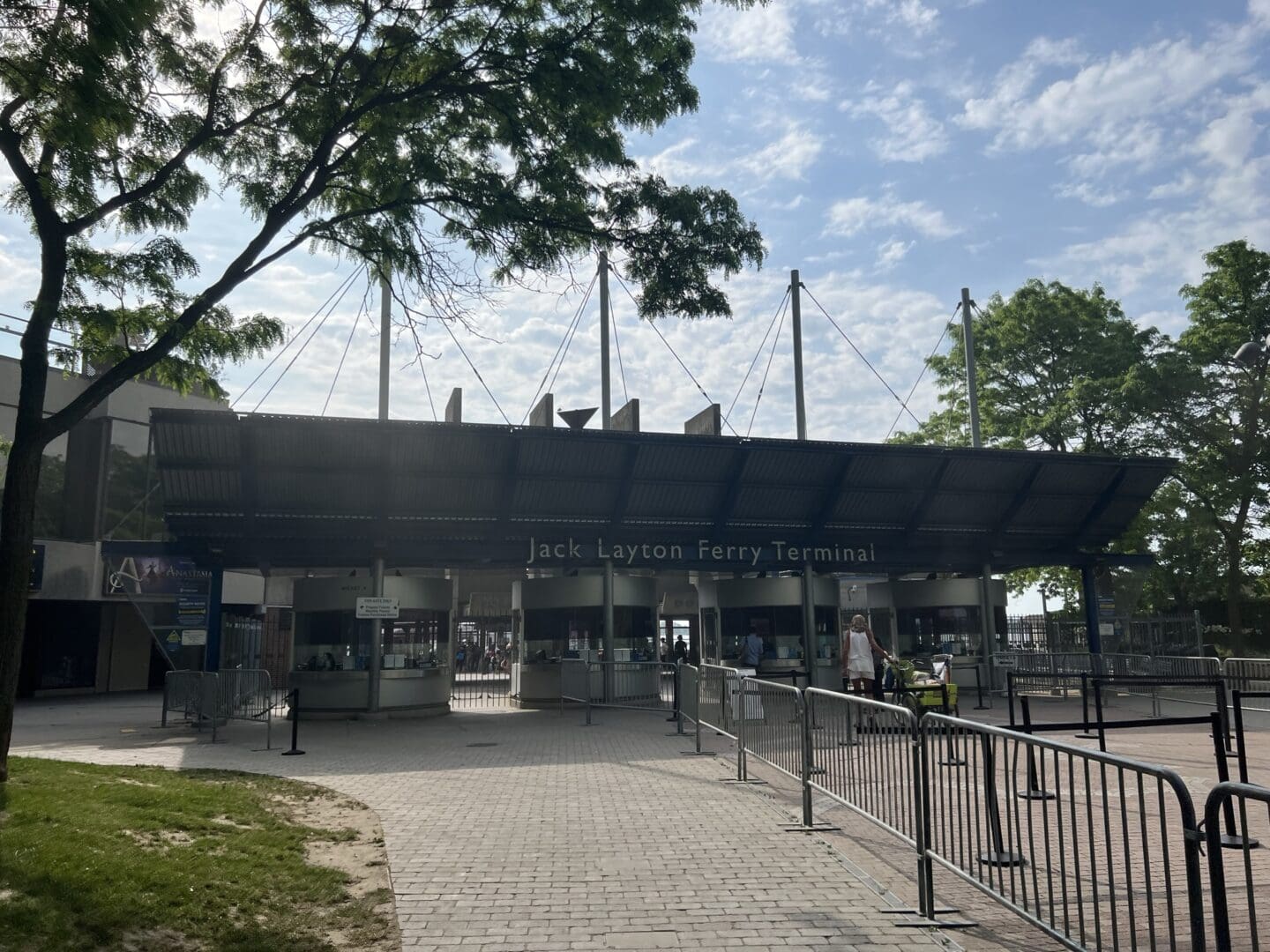 You also do not have to show your ticket to return! They actually took my printed copy when we went through the gate. Tickets as of 2023 cost $9.11 per adult roundtrip. You can purchase Toronto Island tickets directly from the ferry terminal, or you can purchase online.
In fact, when you purchase tickets online, you can use them at any point during the same calendar year!
Keep in mind that if you plan to visit the Toronto Islands during the summertime, lineups to purchase ferry tickets can be quite lengthy. I'd recommend buying tickets online; there is a separate gate for those who already have pre-purchased tickets and you'll be able to skip through any ticket lineups.
Check out the Toronto Island Ferry Schedule for the most up-to-date departures.
The ferry is an enjoyable 10 minute ride from the Harbourfront to Toronto Island. You can get some amazing shots of Toronto from this angle from the upper deck during this smooth ride over.
There are benches available for seating, but if it's busy there's a good chance you'll have to stand for the ride (which is okay if you want to get some great shots!).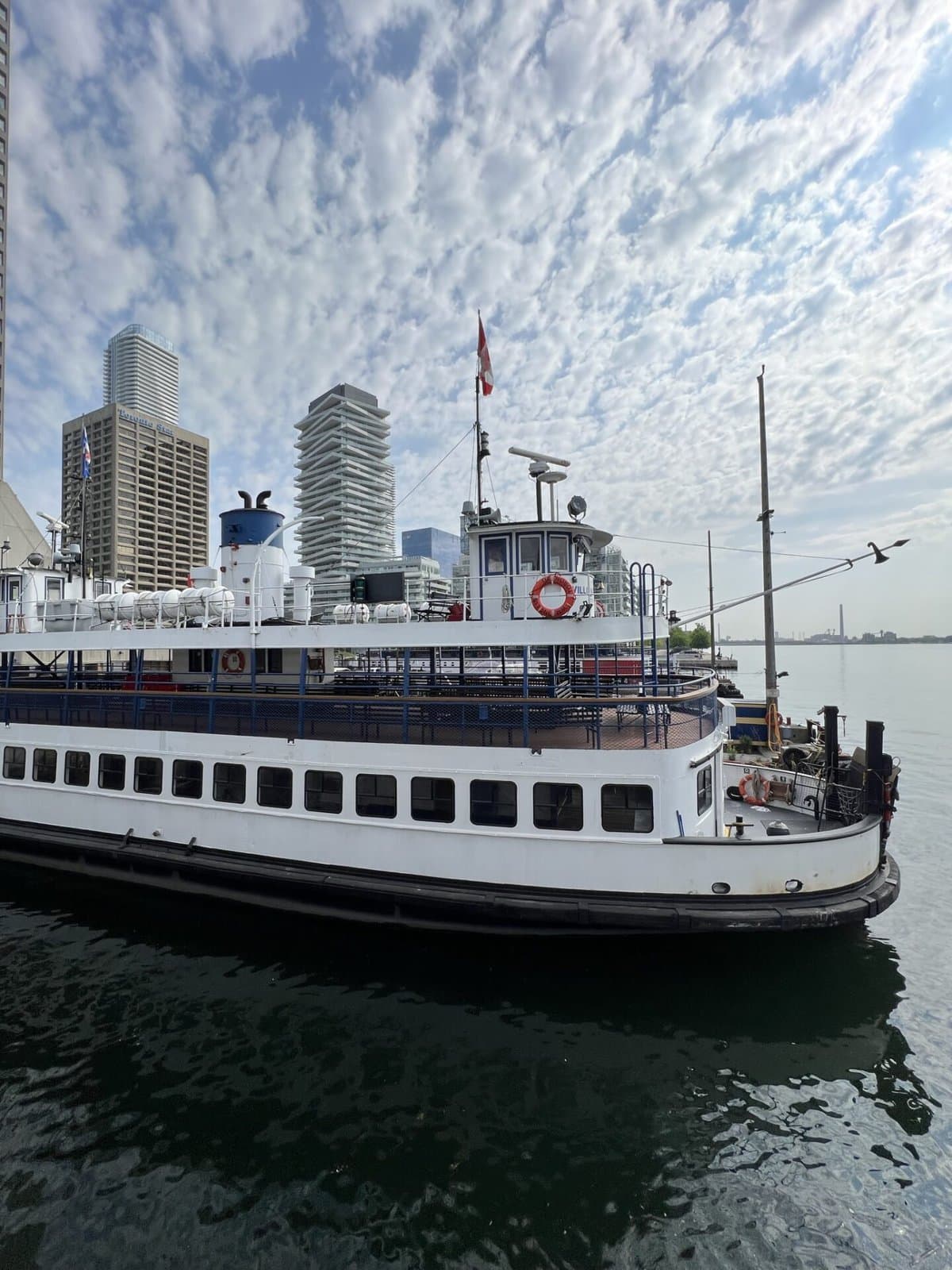 Taking a Water Taxi to Toronto Island
If you want to avoid lengthy lineups for the ferry over to Toronto Island, you can opt to take a quick water taxi ride!
For only a couple dollars more ($12.50/adult), you can zip across to either Centre Island, Ward's Island, or Hanlan's Point. It's important to note that pricing is per way, so if you don't want to pay $25 round trip, choose to hop on one of the Toronto Island ferries going back to the mainland.
Bikes, strollers, and dogs are free on all water taxi services.
$12.50/person. Debit and credit card transactions are an additional $1.
Two locations to board at – 5 Queens Quay West and 207 Queens Quay West.
Goes to Hanlan's Point, Centre Island, and Ward's Island
Paid parking is available at Ontario Square, Harbourfront Centre, at 225 Queens Quay West. This is a 3 minute walk from either dock.
Hours for the water taxi during peak season, June 1 – September 30th are daily:

Monday – Thursday: 9:00am – 10:00 pm
Friday and Saturday: 9:00 am – 11:00 pm
Off peak (May and October) are determined day to day
Fun tiki themed water taxi travels to Hanlan's Point and Centre Island.
Departs from 437 Queens Quay West (at the end of Spadina)
$12/person. Passes available. Cash and credit card available.
Hours for the water taxi during peak season are daily:

Monday – Friday: 10:00 am – 9:00 pm
Saturday – Sunday: 9:00 am – 10:00 pm
$12.50/person. Debit and credit card transactions are an additional $1.50.
Departs from 145 Queens Quay West.
Daily ferry services from mid-June – beginning of September. Daily departures Monday-Friday at 12:00 pm. Weekend departures from 10:00 am.

Weekday departures every 15 minutes, and every 5-10 minutes on weekends.
Pirate themed water taxis travel to Hanlan's Point, Centre Island, and Ward's Island.
$12/person. Ride passes available. Tickets can be bought online.
Debit and credit cards accepted only.
Two locations to board at – 375 Queens Quay West and 285 Queens Quay West
Hours for the water taxi during peak season are daily:

Sunday – Thursday: 10:00 am – 9:00 pm
Friday and Saturday: 10:00 am – 10:00 pm
Which Island Should You Visit: Hanlan's Point, Centre, Or Ward's Island?
Wondering which Toronto Island to visit? Fortunately, they're all so close together (about an hours' walk from end to end!) so you can visit all of them in a day!
Ward's Island
Ward's Island is the residential island of Toronto Island. Yes – there are people that live here year round!
Adorable cottages await you at every turn and no two are alike. English-style gardens skirt the sides of the homes and walking down the residential streets is like walking into a fairy tale!
The homes on Ward's Island remind me of the Painted Ladies of Historic Grimsby Beach!
Fun fact: Houses rarely go up for sale on Ward's Island. In fact, there is a lottery with 500 names on the list. Only people whose name is on the list are able to buy one of the homes on Ward's Island. Since 1994, only 70 homes have been sold, at an average of 1-2 a year. When a home comes up for sale, offers go out to the top 150 people on the list. Interested buyers have to pay $50 annually to stay on the list!
Centre Island
Centre Island is the most popular island people go to when visiting Toronto Island.
While all three are walkable, Centre Island is the place most catered to visitors. There is close access to places to eat, washroom facilities, bike rentals, beaches, Far Enough Farm, and Centreville Amusement Park!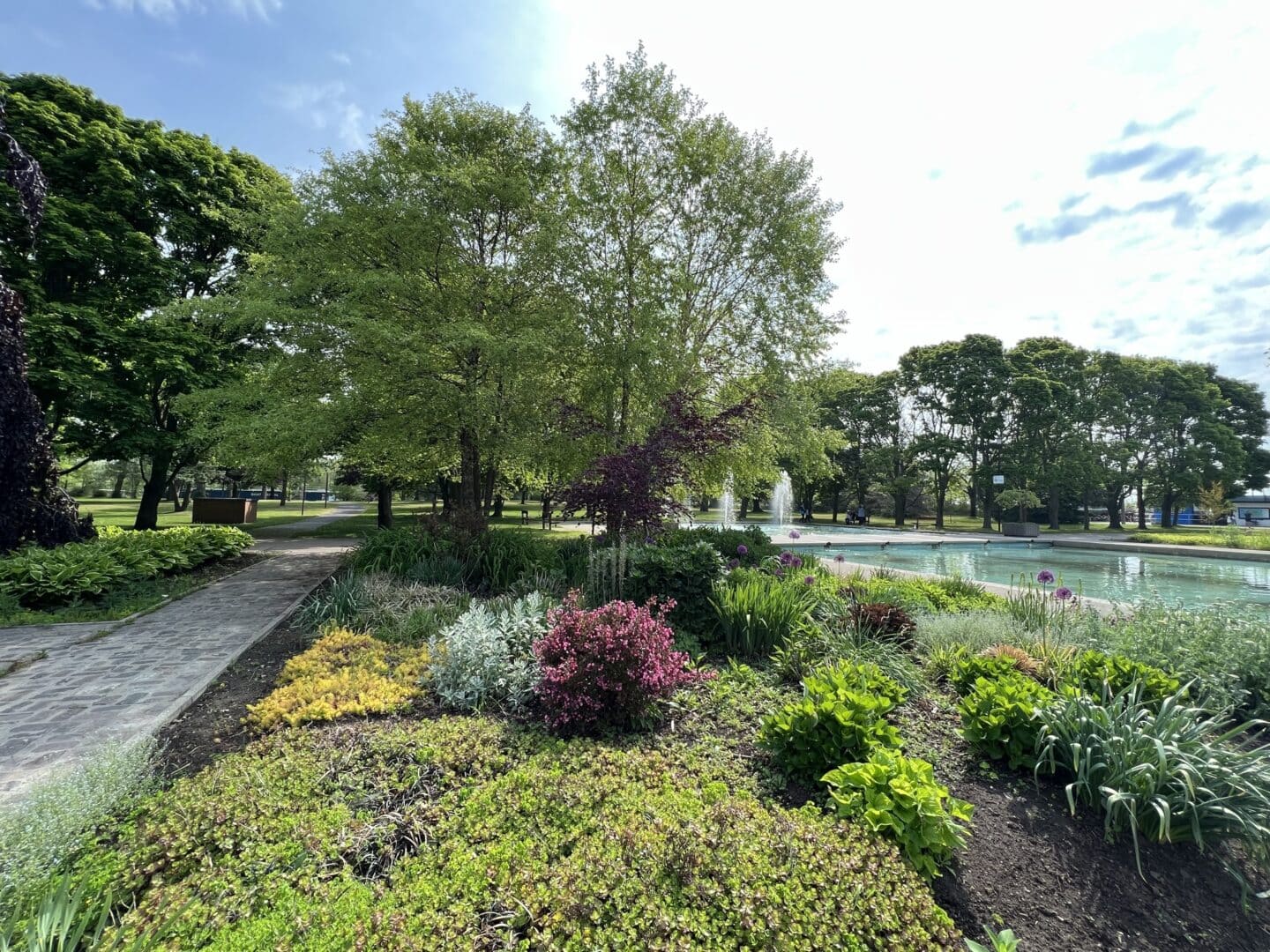 Hanlan's Point
Hanlan's Point is home to the Great Lakes' oldest surviving lighthouse: Gibraltar Point Lighthouse.
It's also known for its nude beach (if that's your thing!) and lots of places to play sports. It's the quietest of the three main islands. It's also the best side of the island to watch the sunset.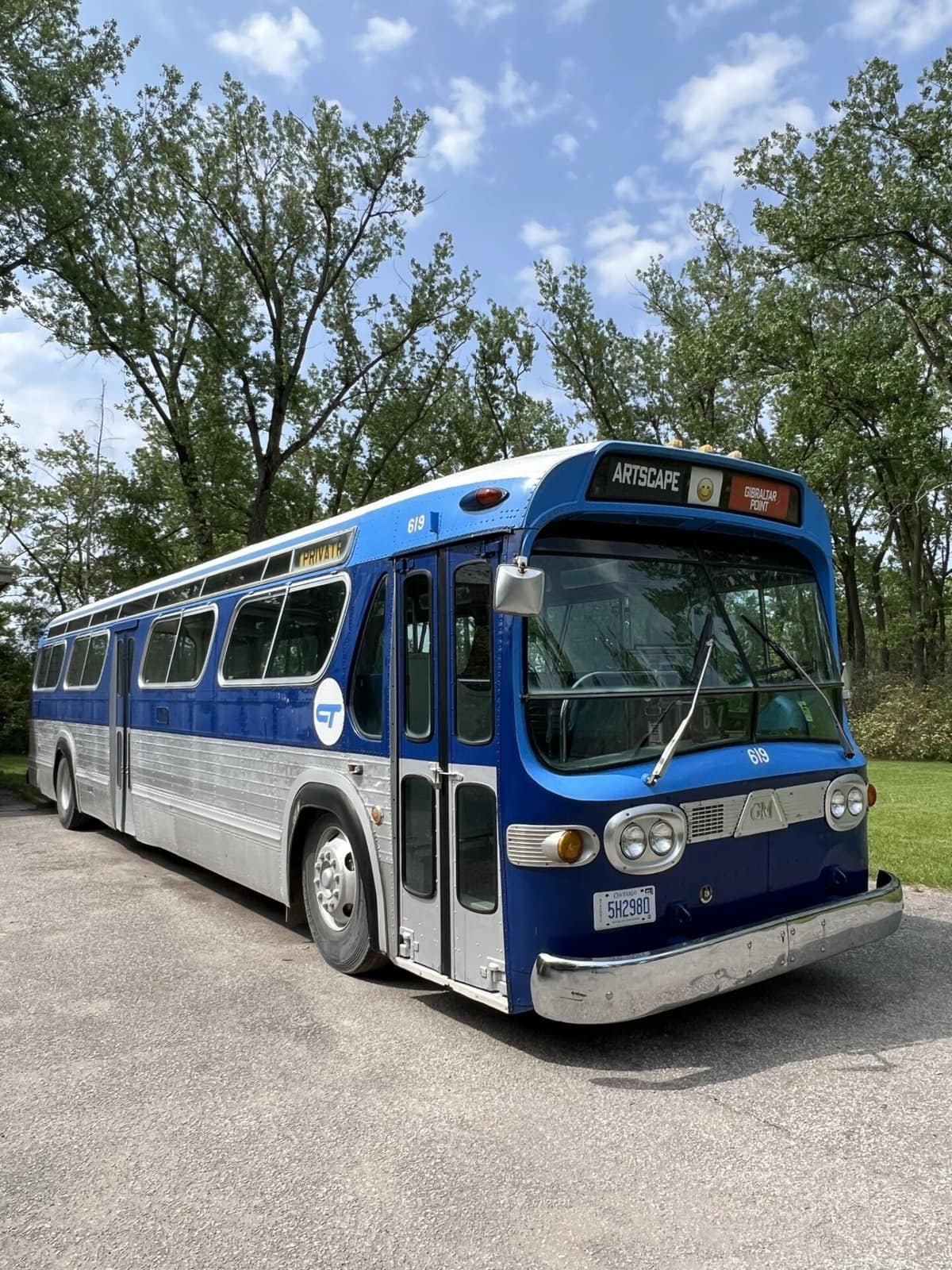 How Long Do You Need On the Toronto Islands?
How long you spend on the Toronto Islands is really up to you! If you've never been before, I highly recommend doing what we did on our first visit. Arrive early, walk from one end to the other, and stop at a few cafes to rehydrate and to refuel!
My husband and I spent 6 hours on Toronto Island. We could've easily stayed longer and enjoyed the views along the waterfront for hours. Picnic benches and colourful Adirondack chairs dot the shoreline and provide amazing views of the CN Tower and city skyline.
If you are visiting with kids during the summer and going to the Centreville Amusement Park, I'm sure they will dictate to you how long you'll be spending there! There are all kinds of fun rides (over 30!), a petting zoo, and picnic areas that the whole family will enjoy.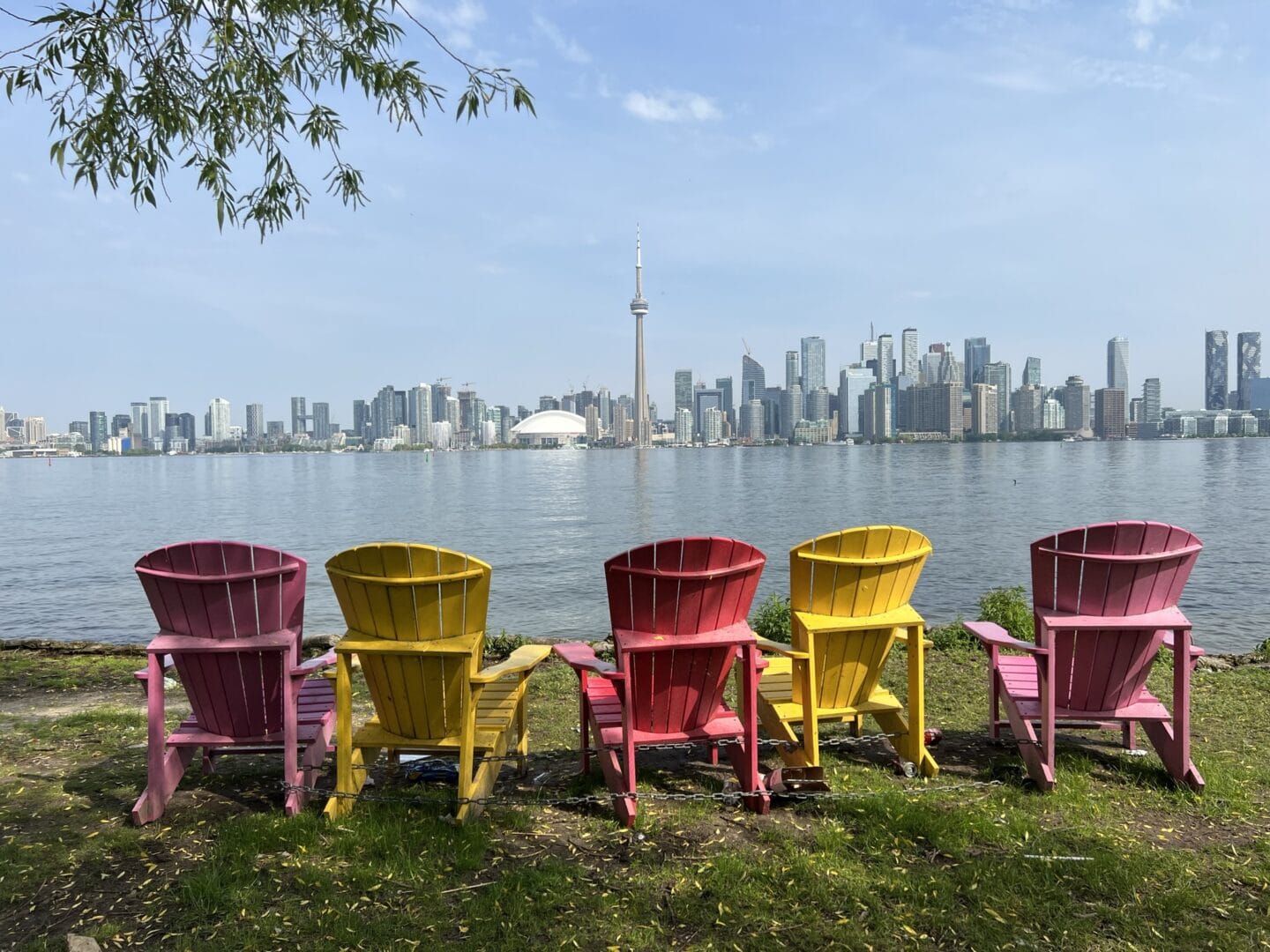 Getting Around the Toronto Islands
Toronto Island is very walkable, but be prepared it is a fair bit of walking if you really want to see everything! We clocked in 20,000 steps and 14 km during our 6 hours on Toronto Island, but we really saw it all (except perhaps the nude beach!).
If walking from point to point on the Toronto Islands really isn't your cup of tea, you can rent bikes. This is definitely something we want to do on our next visit. You can rent single bikes, tandem bikes, or even 2-seater and 4-seater quadricycles!
Bikes are rented by the hour at a reasonable $10-$38, depending on which bike you rent. If you split it between your group, it's an economical way of getting around the Toronto Islands!
Don't worry about getting lost, there is lots to see and enjoy if you happen to make a wrong turn. There are lots of maps posted around the islands, with great scenery along the way.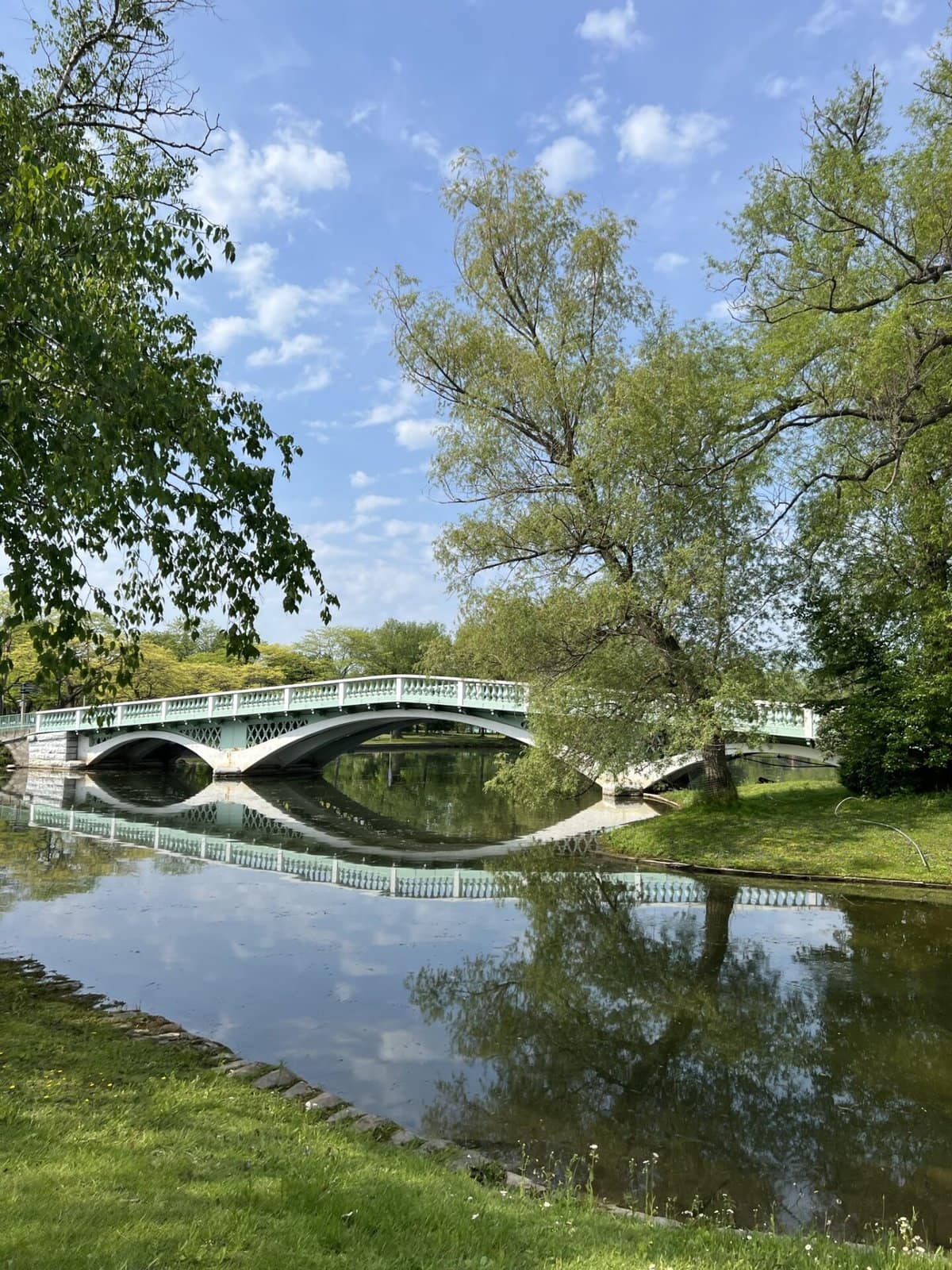 Where to Eat on Toronto Island
Before going to Toronto Island, I didn't really expect much in the way of cafes and eateries. We were pleasantly surprised! We found a number of charming and quaint cafes that made the perfect spot to relax and soak in the views.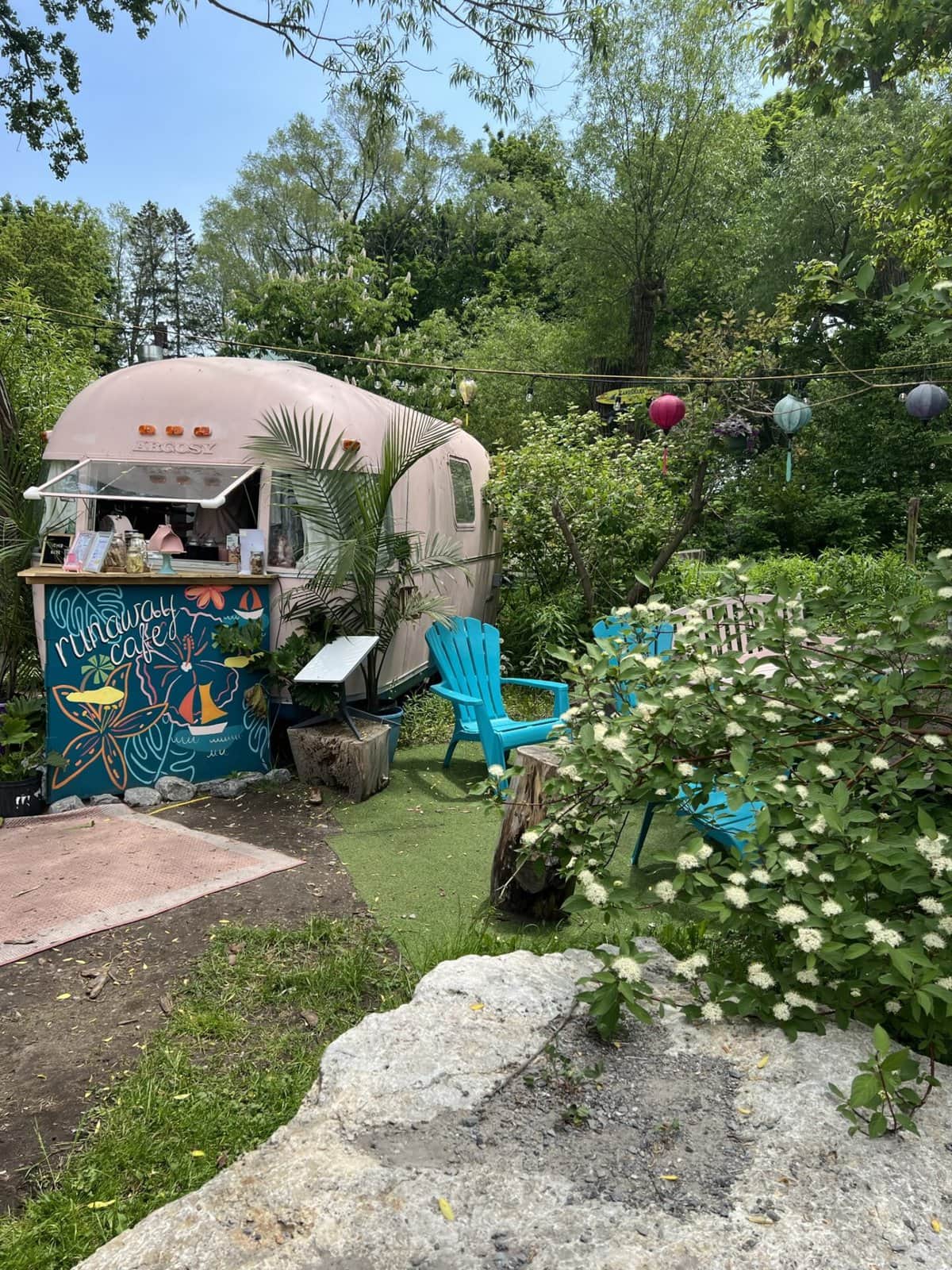 We stopped by the Island Cafe for a cold drink after walking around all morning and it was so spacious and colourful! There were a ton of food and beverage options here (including vegan) and had the most relaxing atmosphere to just sit and enjoy the ambience.
We also stopped by the Riviera. This caught my eye while we were walking along the boardwalk because the patio is huge and is shaded with beautiful large trees, and an old white building covered in ivy. We opted to rehydrate (😂) with their margarita pitcher!
For lunch we stopped by Toronto Island BBQ & Beer Co based on reviews from other visitors. My husband had the burger and fries and I opted for a power bowl with brisket, which was delicious! Food is a bit pricey (as is to be expected in a tourist area right by the ferry dock) but the views were unbeatable. Watch your food items, because those seagulls can be sneaky!
For a quieter vibe, head over to the Upper Deck at the Marina, just a short walk from Toronto Island BBQ. Its peaceful patio is nestled within the marina surrounded by boats with views of the CN Tower. Prices were very reasonable here for food.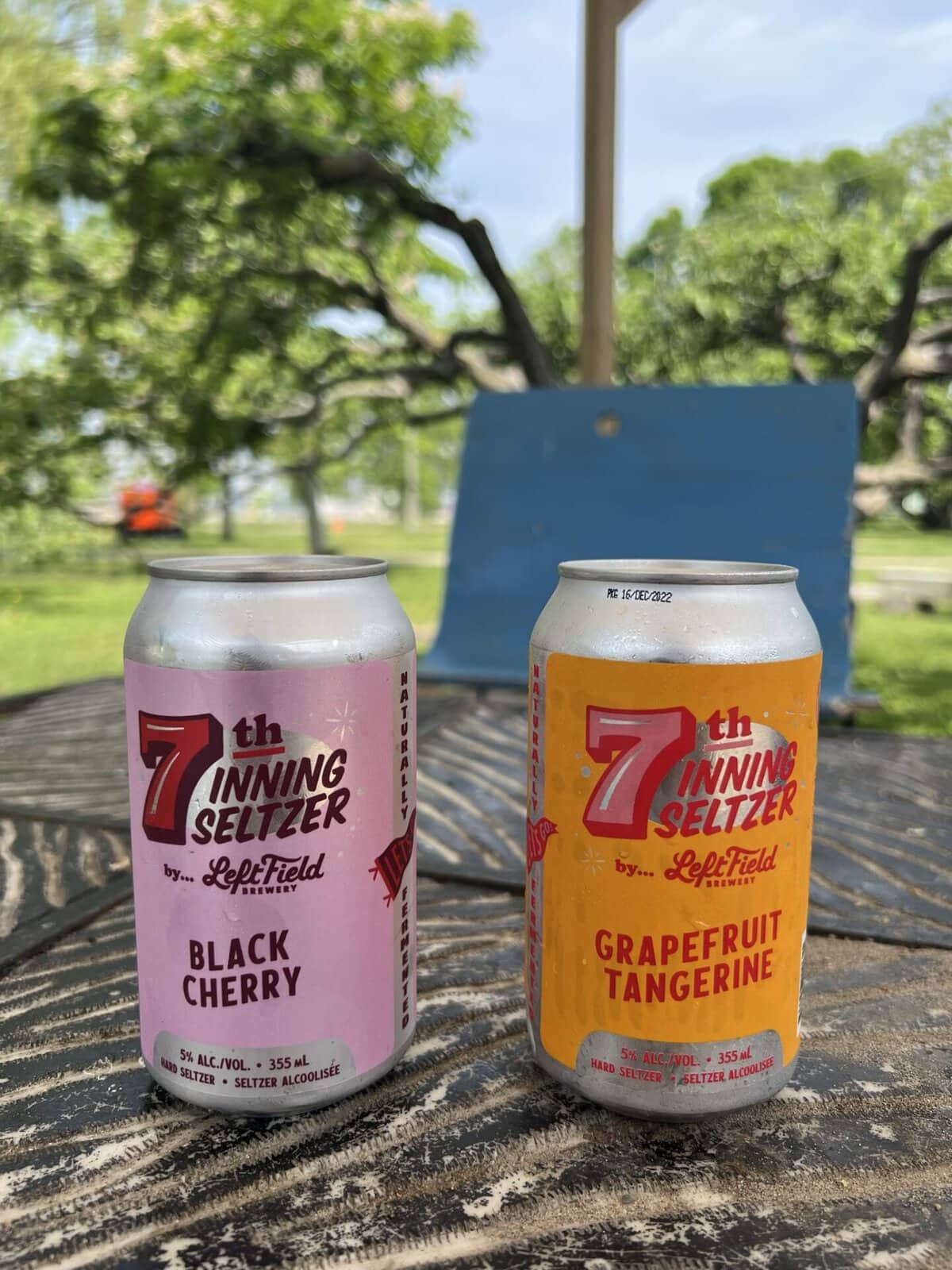 Things To Do on Toronto Island
If you're asking "is there anything to do on Toronto Island?" The answer is a resounding YES!
Whether you choose to take time to experience some peace and quiet and sit on some cute chairs along the shoreline, relax on the beach, soak in some views, dine at some great cafes, or take advantage of the entertainment on Toronto Islands, there is something for everyone to enjoy!
Here is just a sampling of all the things to do on Toronto Island!
Visit the Centreville Amusement Park
If you don't want to go all the way to Canada's Wonderland for some fun rides, you can easily hit up Centreville Amusement Park on Toronto Island!
Just a short walk from Centre Island ferry dock, Centreville Amusement Park is an amazing place to visit for family fun and is open from May to September. The hours vary throughout the week, so it's best to check their online schedule and hours in advance to help plan your visit!
Entrance to Centreville Amusement Park is free, but tickets or passes are required to ride. There are over 30 rides to pick from!
If you purchase online (at least a day in advance), all day ride passes are $40.71 + tax for those 4' and up, and $31.64 for kids under 4'. You can also purchase season passes and family passes, so you have lots of options to pick from! You can also buy tickets and passes on-site for a slightly higher price.
Say hello to animals at Far Enough Farm
Far Enough Farm is a great interactive experience with farm animals that live on the Toronto Islands! It's one of Toronto's oldest attractions and has been operating since 1959. You'll find goats, donkeys, mini horses, and lots more, even peacocks! There are 40 species of farmyard animals and exotic birds to see.
Located right beside the Centreville Amusement Park, Far Enough Farm has multiple paddocks and enclosures to view and interact with animals. Even though I grew up in the country, I always love seeing animals, and it's an exciting opportunity for city kids to see some cute animals up close and personal!
The animals at Far Enough Farm are here during the spring summer and are brought back to their farm just north of Toronto during the fall and winter, so if you're visiting during the warm weather months, be sure to stop by!
Admission to Far Enough Farm is free!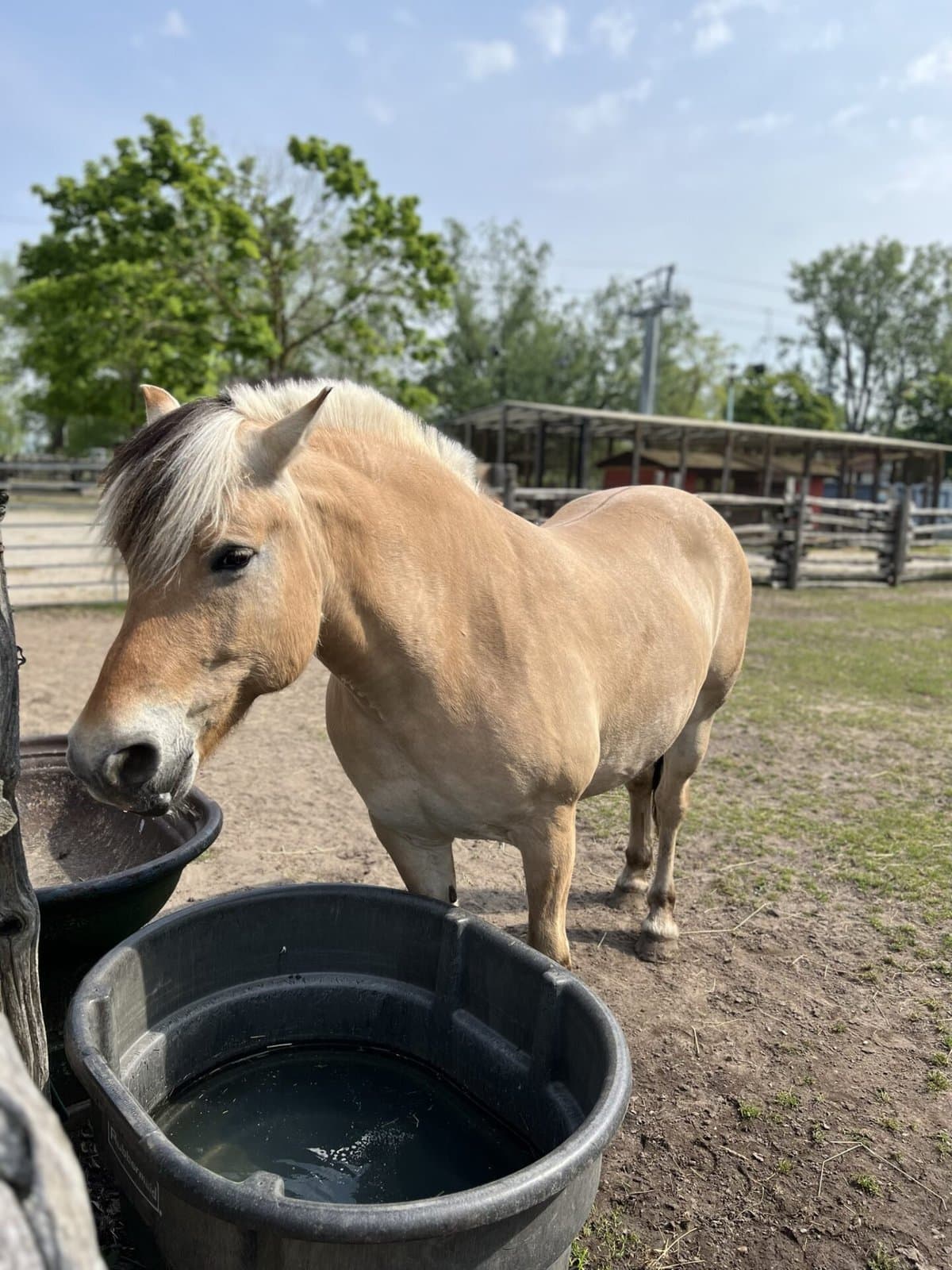 Snap a photo of Gibraltar Point Lighthouse
While you're visiting Toronto Island, head over to Hanlan's Point to visit the Great Lakes' oldest surviving lighthouse, one of Toronto's oldest buildings, and Canada's second oldest surviving lighthouse! Gibraltar Point Lighthouse was built in 1808 to protect ships from running aground into Toronto harbour.
It's made entirely of stone from Queenston near Niagara Falls and towers 82 feet high. It's actually not located along the shore, but rather it's situated quite a distance from the water. It hasn't been moved since it was built, and where it's now situated is due to a build up of sand that now puts it 100 feet from the beach!
Its lamps were fuelled with hundreds of gallons of whale oil for years before switching to coal, and eventually, an electric light was installed in 1917. The colour of the light was changed to green in 1945 to distinguish
Gibraltar Point Lighthouse is famous for its tale of its first lighthouse keeper. JP Rademueller was murdered by two soldiers from Fork York. His body was never to be confirmed, although a skeleton nearby raises suspicions if it's his or not.
It's said that his ghost returns every summer, and during the night, his howls can be heard from one end of the island to the other.
Get some sun on Toronto Island beaches
If you're looking for an easy day trip from Toronto to a beach, just hop on a quick 10 minute ferry to the Toronto Islands!
There are a number of beaches here to enjoy with full amenities – bathrooms, changerooms, access to bike and canoe/kayak rentals, and restaurants and cafes, making it a great escape from the city!
Relax on the beach on Centre Island at Centre Island Beach (also known as Manitou Beach), which is the main beach that most people venture to. There's a pier to walk on with close access to all the amenities you may need.
Centre Island Beach has the calmest, shallowest, and warmest water of the three main beaches on Toronto Island because of the rock breakwater built to provide a barrier from Lake Ontario.
For those seeking a bit more quiet and solitude, head over to Hanlan's Point to Gibraltar Point Beach. It's a stone's throw from Gibraltar Point Lighthouse (and artist residencies!).
You also have the option to continue further to Hanlan's Point Clothing Optional Beach. It should be noted that there is a clothing-mandatory section of this beach. This beach on the Toronto Islands has amazing views of the Toronto skyline and is one of the best spots to watch the sunset!
My favourite beach on Toronto Island is Ward's Island Beach. You can easily follow the pathway along the islands until you reach a 1.5 boardwalk that skirts along the lake, through adorable cottages, and straight to the beach.
Which Toronto Island beach will you choose?
Enjoy a picnic with a view
When we were arriving on the ferry, I could already see how many picnic spots there were with great views of Toronto! It seemed like there were endless places to picnic along the shoreline with tons of picnic tables, Adirondack chairs, and firepits!
This trend of finding family-friendly picnic areas continued around the Toronto Islands, with lots of beautiful shaded spots to sit and relax. You're actually encouraged to walk on the grass on Toronto Island, so there's space for everyone to enjoy a picnic or just lounge in the sun with a gentle breeze!
Bike your way around Toronto Island
Biking around Toronto Island is a fantastic way to get around! My husband and I walked around which is entirely manageable, but in hindsight, on a 30 degree day, a bike would've been more fun!
You can rent a bike hourly from Island Bicycle Rental which is located right by the pier and Centre Island Beach. It's about a 10 minute walk from the Centre Island ferry dock.
You can rent a bike daily from 11:00 am to 5:00 pm. You can rent a single bike for $10/hour, a tandem bike for $19/hour, or my favourite: the tandem 2 seater!
We saw tons of these around the island and it looked like so much fun! The tandem 2 seaters are $20/hour and you can even rent a 4 seater for $38/hour.
Good to know: You will be required to leave an ID (like your driver's license) behind while you're out biking as a deposit.
Walk along a 1.5 km boardwalk
Toronto Island is home to the longest boardwalk I've ever been on! Located on Ward's Island, this 1.5 km boardwalk stretches from close by the pier all the way to Ward's Island Beach!
It's a lovely stroll along Lake Ontario with lots of little cut-throughs if you decide to hop on the main paved trail to access cafes or washrooms.
Admire the Architecture
We instantly fell in love with the homes on Toronto Islands. These little cottages are all unique and just so cute! Colourful homes and ornate gardens make you feel as though you've stepped into a fairy tale.
Take your time strolling the streets and appreciating how special these homes really are! If you've ever been to the Painted Ladies of Historic Grimsby Beach, you'll notice a lot of similar qualities. While these homes aren't of the Victorian era, they all appear as though they've been plucked from a child's story book.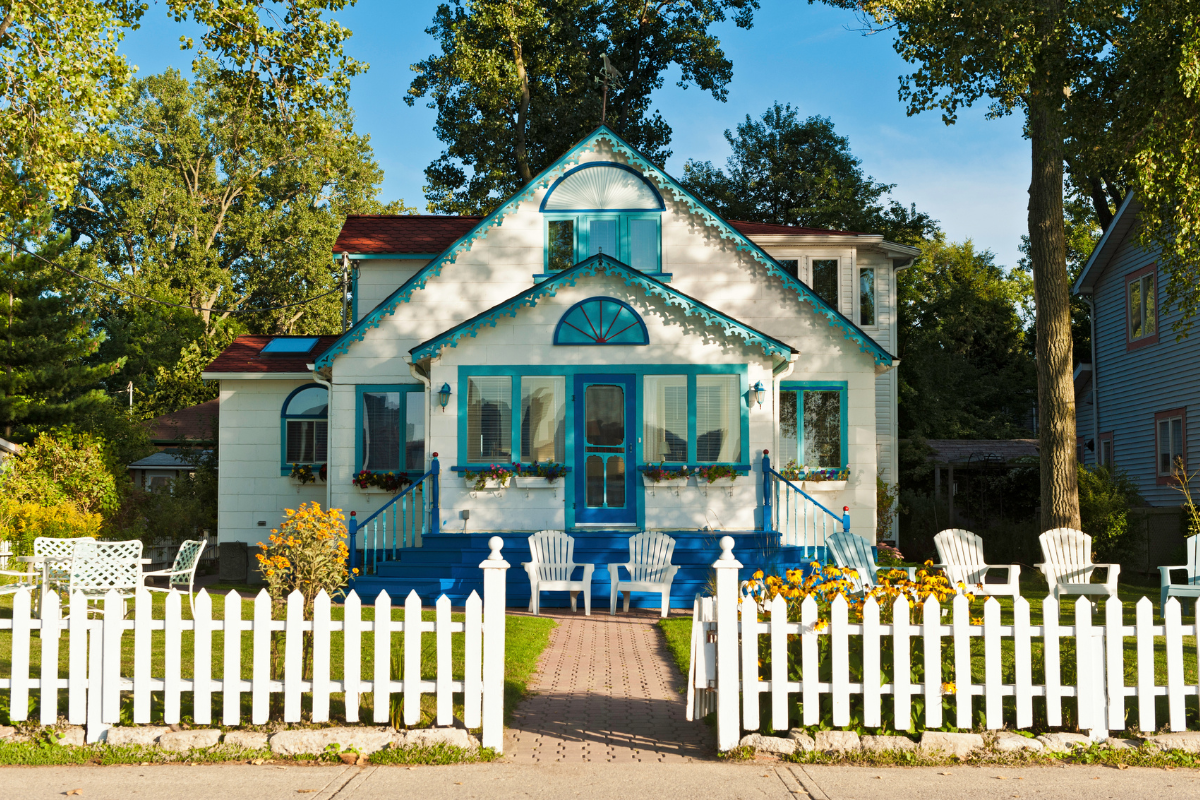 Soak in the views of the Toronto Skyline
There are endless spots to take amazing photos of the Toronto skyline! I took so many photos when we visited but I couldn't decide which one I loved the most!
All along the waterfront there are lots of opportunities to go and snap a shot. My favourite by far is from Ward's Island.
A tiny beach called Freda's Garden and Beach is nestled in an adorable community and has a gorgeous garden which provides a perfect backdrop for the CN Tower and the Toronto skyline.
There is no bad view of Toronto from the Toronto Islands!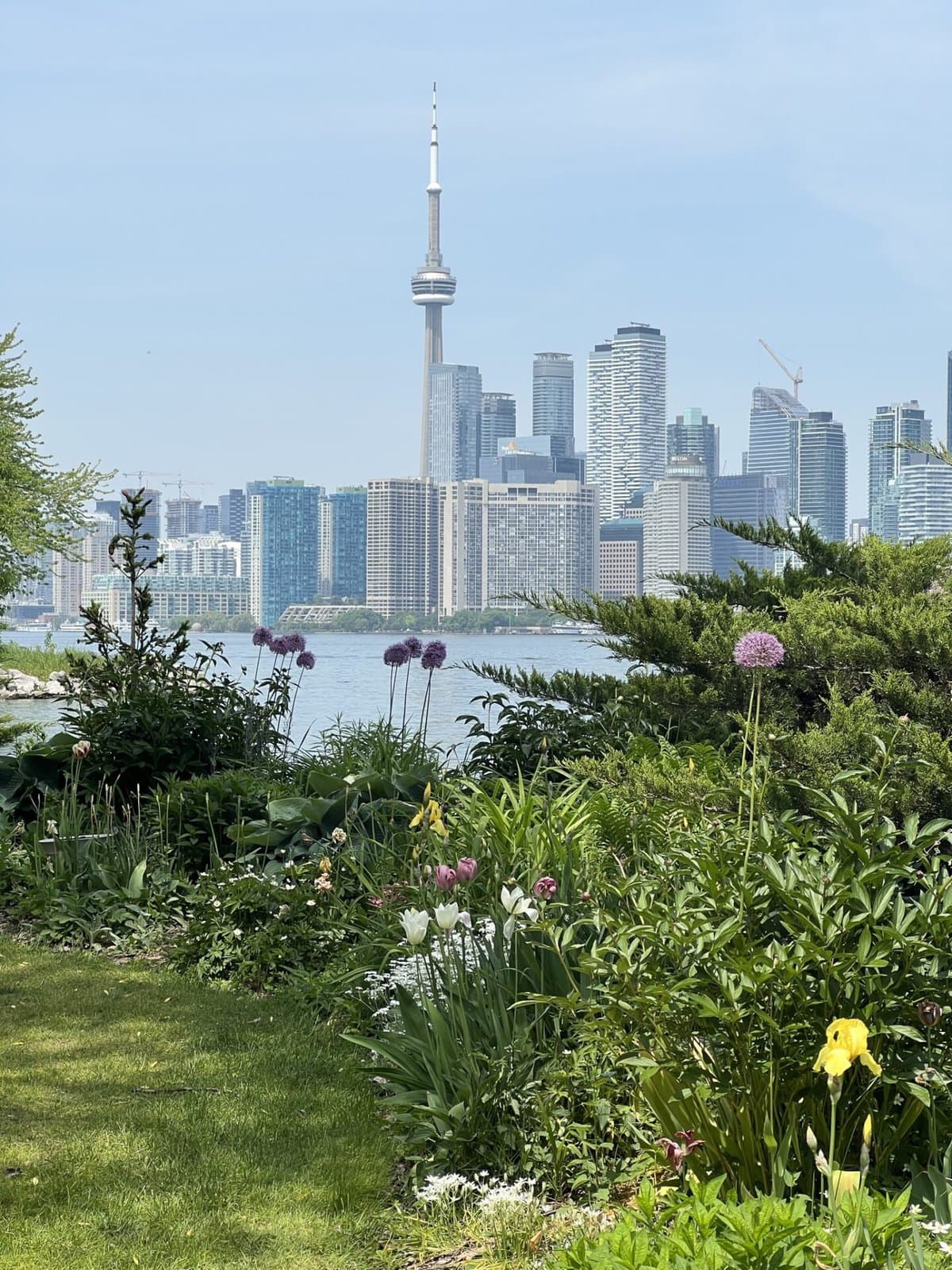 Canoe in Calm Waters
In addition to renting bikes on Toronto Island, you can also rent canoes and kayaks! The water is so calm around the islands, providing a great opportunity for a relaxing paddle.
Canoe and kayak rentals can be found beside the bike rentals, right by the pier and Centre Island Beach.
Canoes are $30/hour and a solo kayak is $19/hr. You can also rent tandem kayaks for $38 for the first hour.
Good to know: You will be required to leave an ID (like your driver's license) behind while you're out kayaking as a deposit.
You can also rent SUP boards from Toronto Island SUP! Prices range from $30 -$90 for the first hour depending on which board you want to rent, and a smaller fee for each additional hour.
Find Toronto Island SUP at 4 Channel Avenue on Centre Island.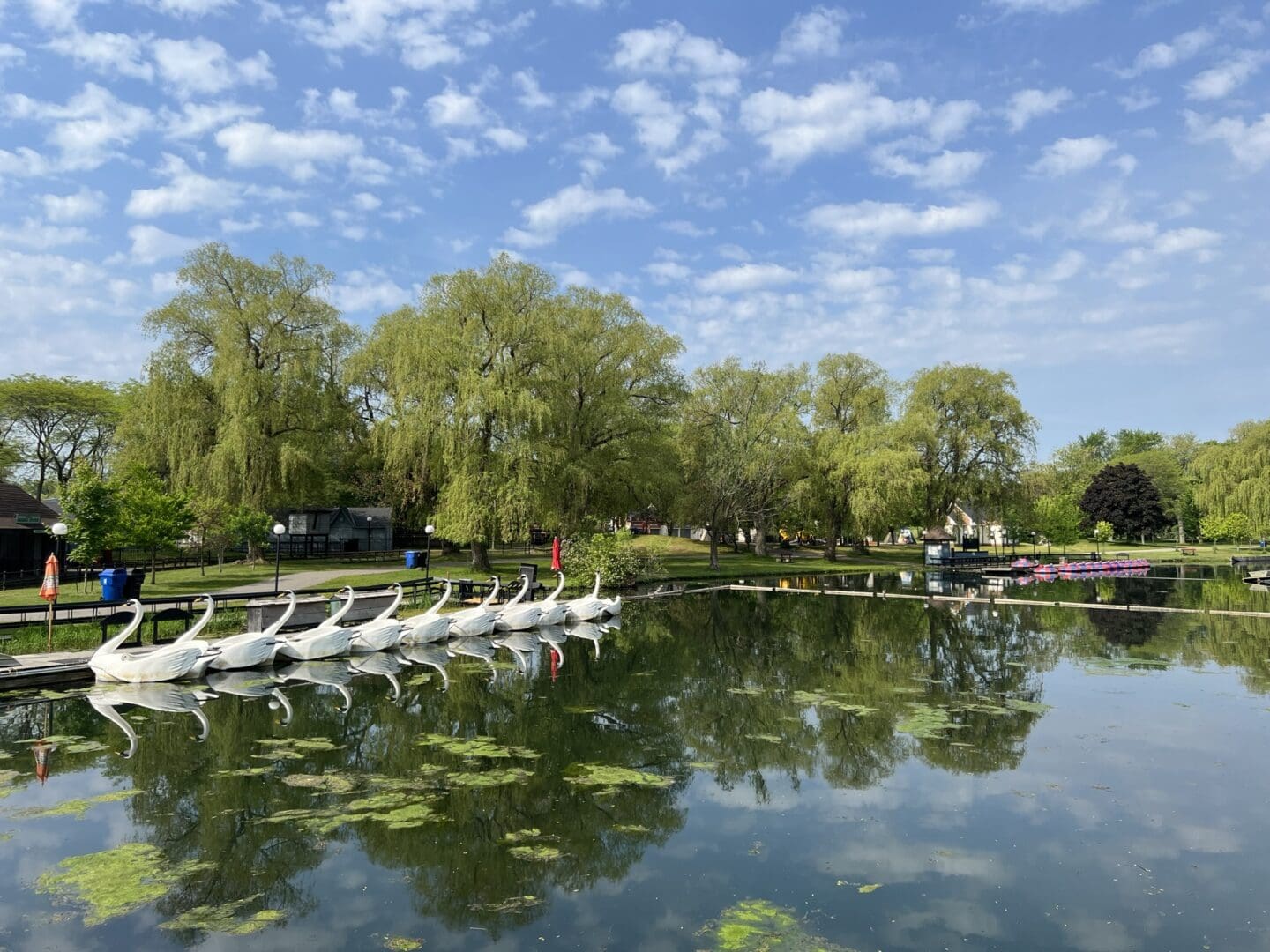 More things to do on Toronto Island
Play Disc Golf at one of many nets scattered throughout the islands.
Get lost at William Meany Maze, located right by the fountain on your way to the pier.
Pay a visit to St. Andrew's by the Lake church. It was built in 1884!
Toronto Island Park Tips
Bring a hat and sunscreen! While many areas are shaded, some of the paths are not. Be mindful of the heat and be prepared! For those who love to wear ponytails, this is my absolute favourite hat to wear!
Bring cash or card for snacks, meals, and drinks! Or, pack a picnic!
Bikes are welcome on the ferry.
The Toronto Islands are dog-friendly!
Related Posts
Pin it for later!