Canada's Wonderland opened in 1981 and is our country's first major theme park! It's also the most visited seasonal amusement park in North America and by far the most popular attractions in the region. Summer in Canada is short but we sure do know how to take advantage of it!
Canada's Wonderland is open daily from late April to September with weekend openings in October and early November. It's located 25 km from downtown Toronto (about 45 minutes) or if you're coming from the Niagara Region like us, it's a little over an hour.
With over 200 attractions and 62 rides (including 17 roller coasters!) plus the 20-acre Splash Works water park, you can easily spend a jam-packed weekend at Canada's Wonderland.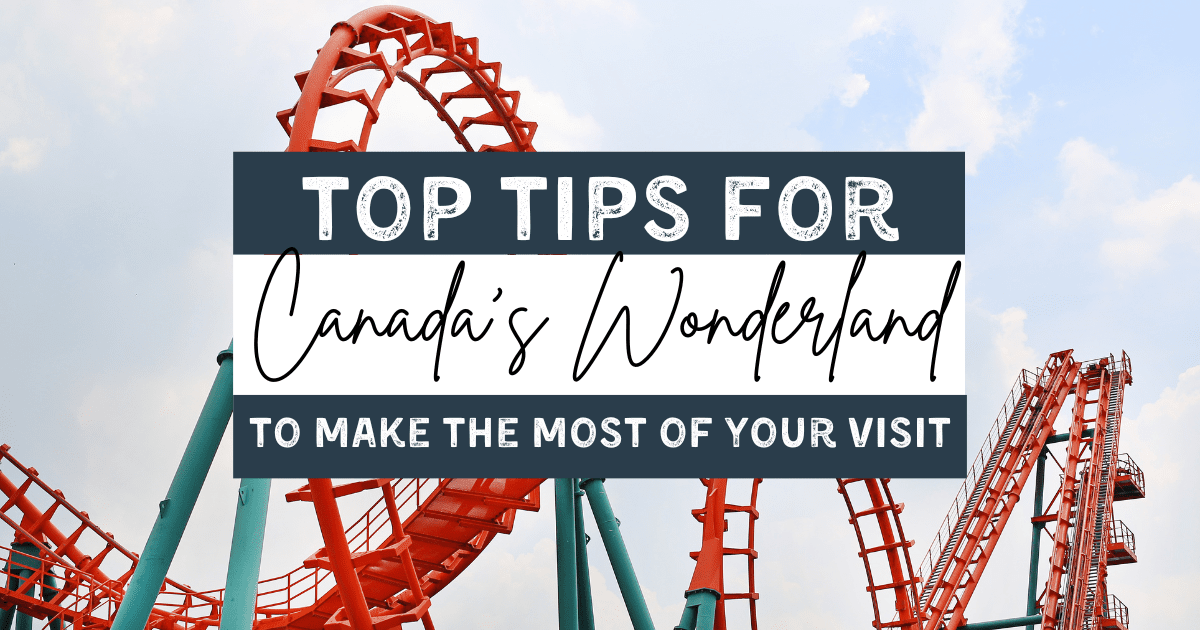 We took my 9 year old niece here for the first time – her first-ever time on roller coasters – and she rocked it! We all had a blast on the rides and made memories we'll never forget.
While Canada's Wonderland is known for their summer fun, they also have fall fun (and scares!) with their Halloween Haunt and WinterFest with magical holiday attractions.
Planning a trip to Canada's Wonderland? Make the most of your trip with these 10 best tips!
This post contains affiliate links which means I earn compensation when you click on the links at absolutely no extra cost to you! Feel free to read my disclosure policy. Thank you for supporting my blog!
1. Buy your tickets to Canada's Wonderland online (and save!)
Buy your tickets to Wonderland online ahead of time and save money and time! Get discount tickets online and save over 30% off gate admission.
There are numerous ticket options online such as the Daily Pass, Two-Day Ticket, Group Tickets, and more!
Pay $59.99 for adults or $39.99 for juniors/seniors (plus tax as of 2022) vs $75 at the gate! Of course, it would be well worth it to purchase the season pass if you plan on visiting twice or more during the season.
Tip: The Season Pass and Two-Day Ticket are the same price, so opt for the season pass in case you decide on returning again for some more fun!
By purchasing your Canada's Wonderland tickets online ahead of time, you can also add-on other packages such as drinks, dining, Fast Lane, and more!
Parking is an additional fee and costs $30 online or at the gate.
There is a $6.99 processing fee for booking online at www.canadaswonderland.com, but you will still come out ahead by saving on admission prices!
Insider tip: If you're a CAA member, you get even cheaper one day or two-day admission tickets to Canada's Wonderland! We paid $44.49 each – a whopping $30 off of gate prices and $15 cheaper than booking direct online! We also purchased cheaper add-ons like the drink package and parking. Check with your place of work if they have a corporate rate, too! It'll be the same as the CAA discount. Costco no longer sells Canada's Wonderland tickets.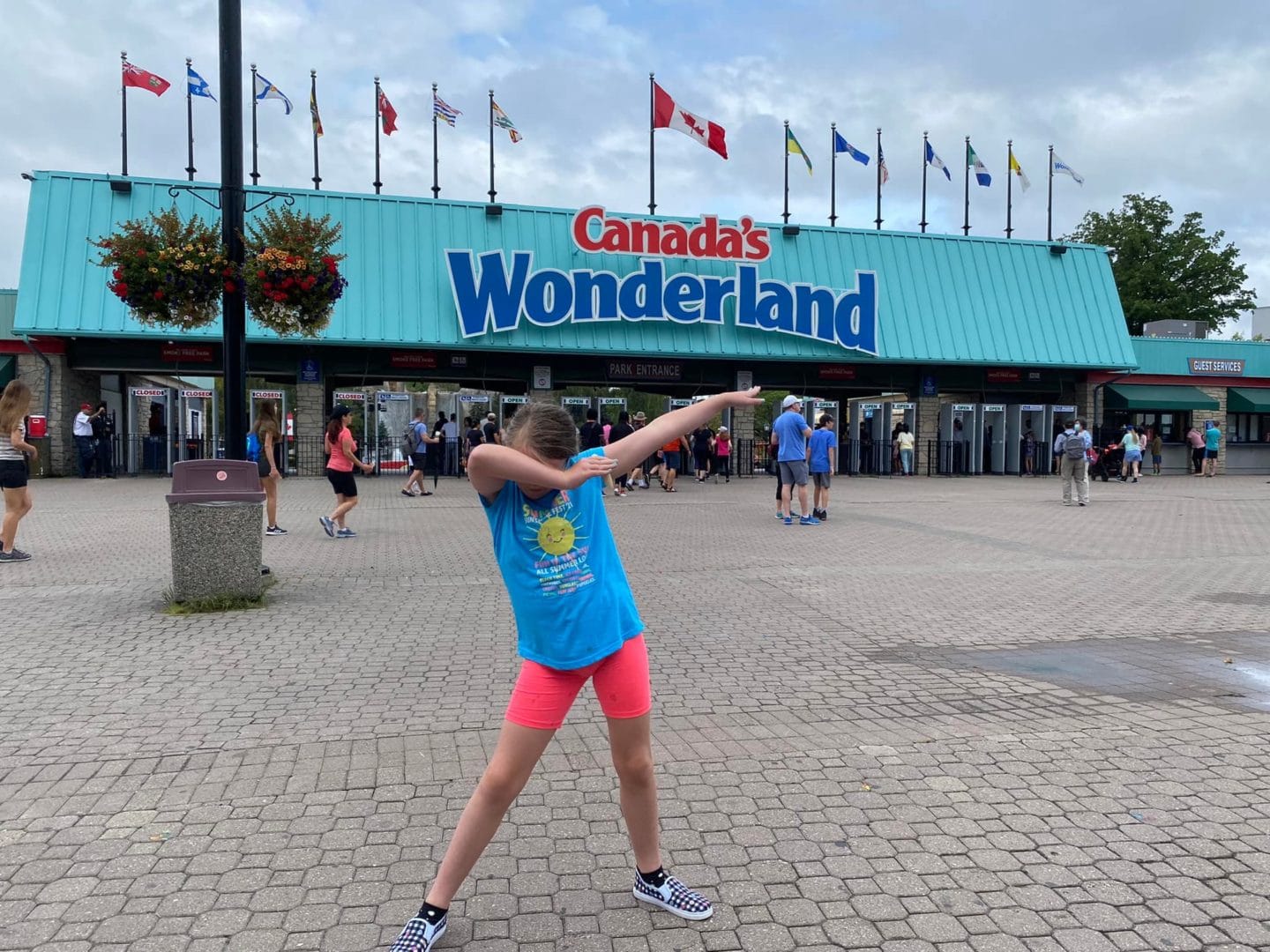 2. Plan ahead!
I'm a huge planner (maybe even an obsessive over-planner?!) but I love looking at maps and information ahead of time to maximize our visit.
Check out the Canada's Wonderland map to get a feel for the park. You can even scope out the rides ahead of time, check height restrictions, watch POV videos of roller coasters, source out the bathrooms, check out the dining options, and much more!
By planning ahead, it gave us a direction to head in and where to start at the beginning of the day so we wouldn't waste any time!
You can also check out what special events are happening while you're there.
Download the Canada's Wonderland app – it's free! Use it with the park's free Wi-Fi and get updated on ride wait times, enjoy special offers and discounts inside the park, use the interactive map, view height requirements, mark where you park, and much more! This is a super handy feature to have if you aren't familiar with the park.
Insider tip: There is a height check station near the front gates to help you and your kids figure out what rides they can go on. This saves time from having to run up to the entrance of each ride to check if they are tall enough to ride (and to avoid disappointment!). You can also check out the height requirements for each ride online.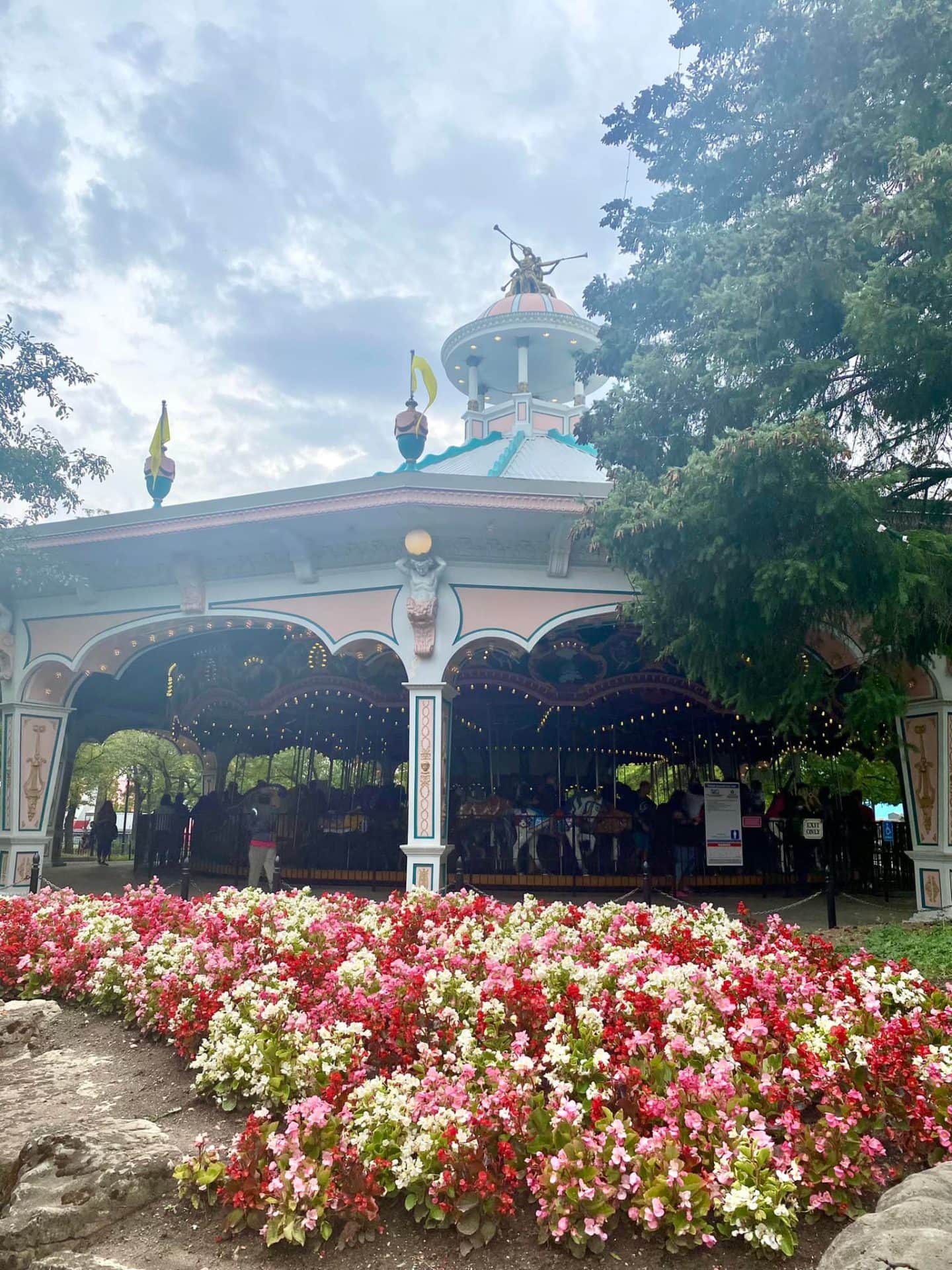 3. Arrive early
Canada's Wonderland opens at 10:00 am daily. If you want to park close to the gate, arrive early! The later you arrive, the further you'll have to walk (and you'll already be walking a lot)! Plus, it's handier to park close to the gate if you have small children.
We left our home around 8:00 am and stopped at Tim Hortons on the way up (how Canadian, eh?😂), and we arrived by 9:20 – plenty of time. We thought we'd be bored waiting but we hung out, drank our coffee, and headed into the park around 9:40.
You can enter Canada's Wonderland after a quick security screening and head in the general direction you want to start in, before being blocked off.
The blockages are promptly removed at 10:00 as a stream of people start running to their preferred ride. 😂 As it turned out on our visit, there was no rush! The forecast wasn't looking very favourable but I think that turned a lot of people away – we hardly had to wait longer than 5-10 minutes for a ride on a Sunday!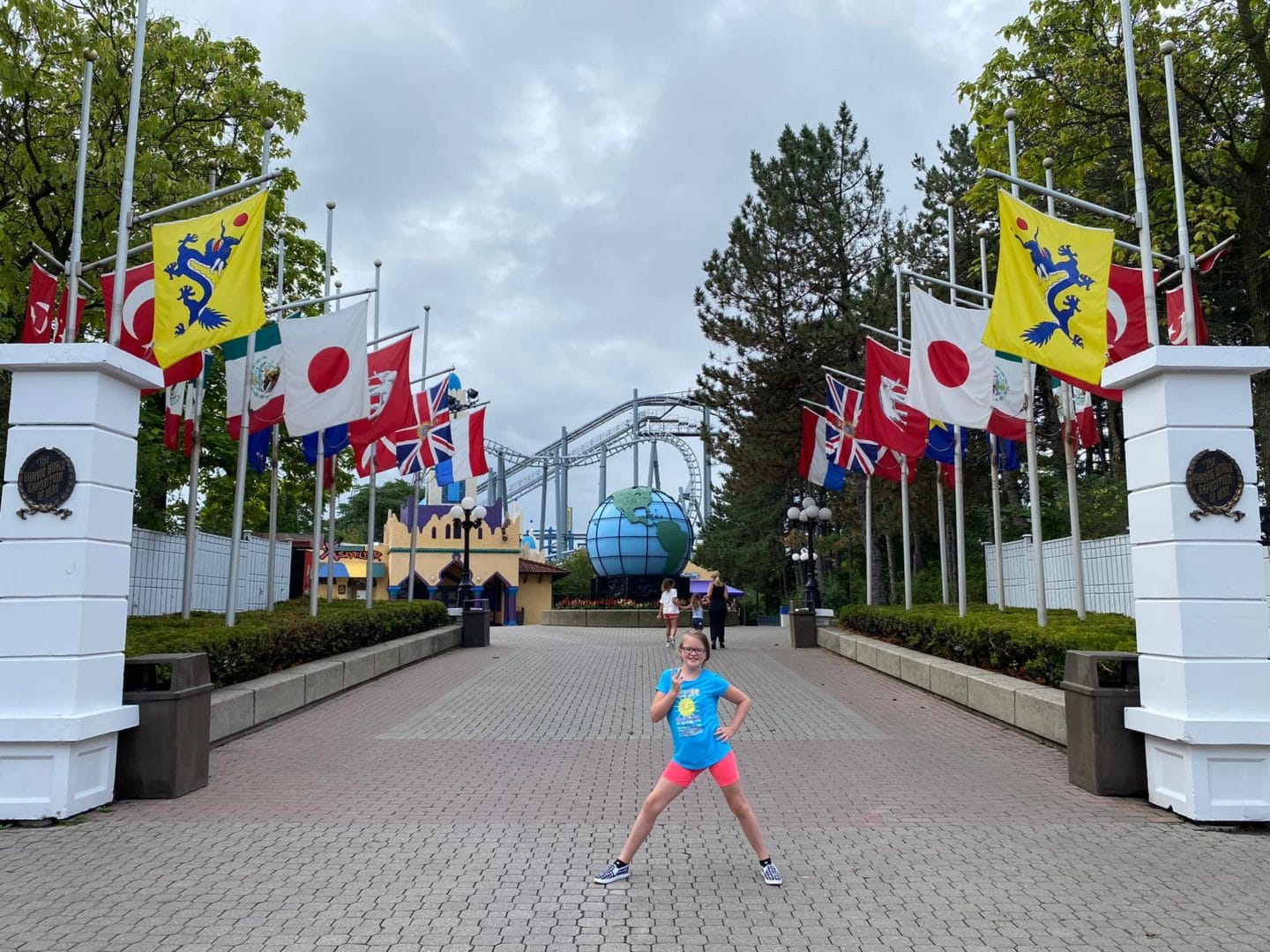 4. Bring a small crossbody bag or purse
Leave your extra paraphernalia in your car. Lockers are available but expensive – they cost anywhere from $17-$30 for the day depending on size.
You don't need anything but your car keys, phone (for photos or to use the Canada's Wonderland app), and a debit card or credit card, since the park is entirely cashless now! All of these items fit perfectly in a small crossbody bag!
The rides have storage bins to leave your stuff behind since you can't have any loose objects – I would also recommend removing any glasses and hats (we saw a few of those go flying!).
The storage bins are secure and are locked when you go on your ride. Some are even on a pulley line so they greet you on the other side of the platform after riding!
There is no storage bin for the Vortex or the Guardian. I rode with my small crossbody bag on the Vortex but sat the Guardian out while Dana took Scarlett on the Guardian, since you can't have any loose personal items and there aren't any bins for that ride. You have to store your belongings in a paid locker or leave it with a non-rider.
5. The Single Day Drink Refill is worth it!
I highly recommend the drinks package! For $16.99 (or $12.99 when bought as a Ride & Refresh Package with CAA), you can get a 16 oz refill of water, soda, ice tea, sparkling water, lemonade, and much more every 15 minutes!
The refill stations were located all throughout the park. You're given a wristband which gets scanned and you're given a new cup every time – which saves you from having to carry a refillable plastic cup around the park!
If you were to purchase a drink individually, you're looking at $6-$7+ each time!
You can also bring your own water bottle (if you're willing to carry it around, or maybe you're bringing a stroller!), as there are a few water fountain fill stations located around the park.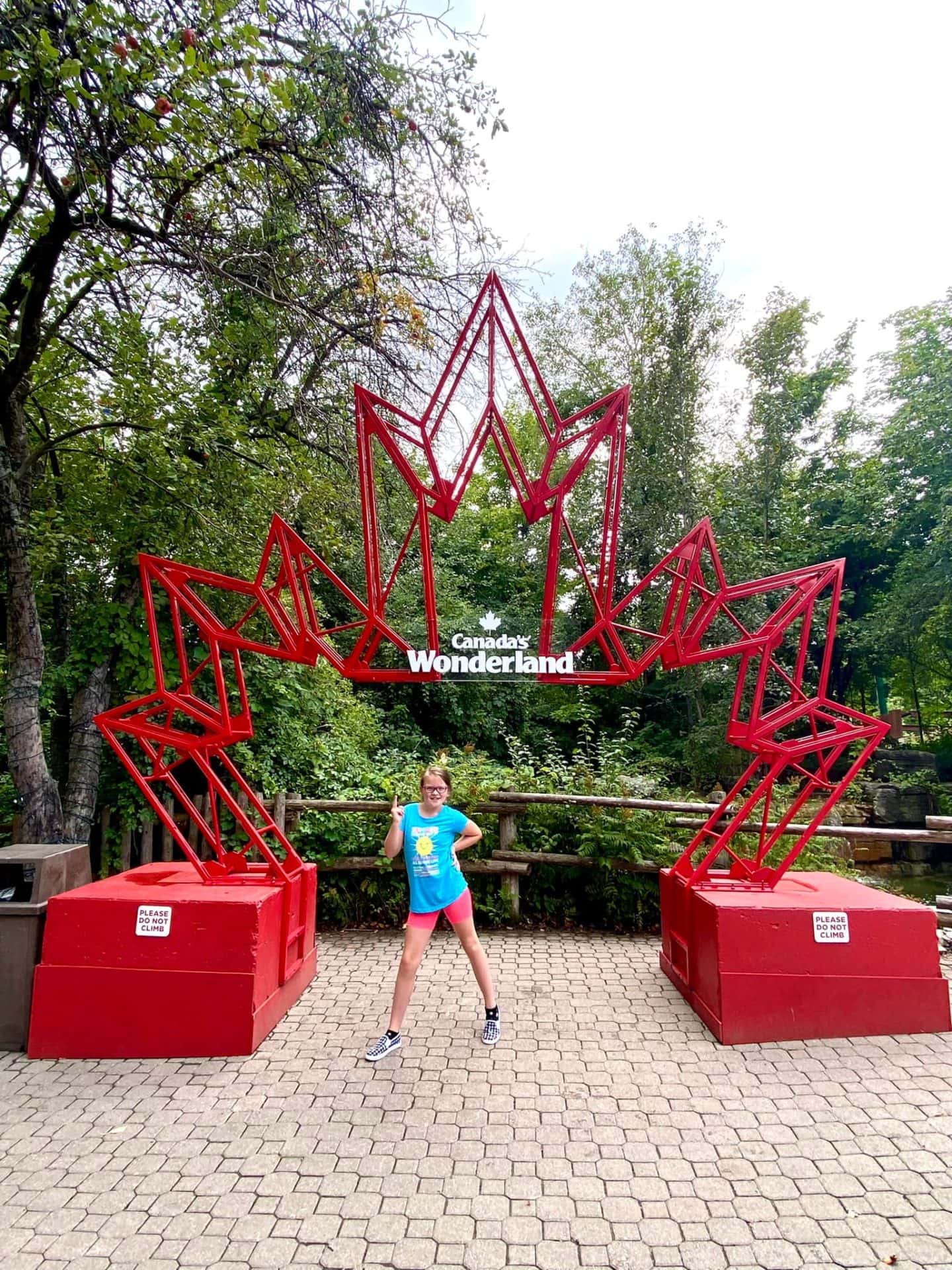 6. Wear sturdy shoes!
While I saw loads of people in flip flops, I've come to appreciate supportive footwear as I'm getting older. 😅
Not only will you be doing a lot of walking throughout your visit to Canada's Wonderland, you also can't removed your shoes and leave them behind in the storage bins. I'd be worried to lose my flip flops on a ride! For that reason, I'd highly recommend wearing running shoes.
7. Get the FunPix pass!
This was by far the best purchase of the day. Some of the roller coasters snap a photo of you while you're midway through the ride, leaving you with hilarious captures of your time on the coaster.
The FunPix pass is totally worth getting to keep those memories to look back on. It was $25 for unlimited digital photos, which just made sense getting since an individual photo is $17. The FunPix pass is perfect for those wanting to get photos from every ride it's offered on and if there are multiple people in your group that want a copy.
During our visit, photos were being offered at Leviathan, Behemoth, Yukon Striker, and Ghoster Coaster.
You're sent an email link to create an account and you can access and edit all your photos! Head to the photo booth after your ride and load it on your card yourself or head to the counter for assistance.
We loved this option since it's way more convenient than carrying around a printed photo with you all day (although that is still an option!).
Tip: It's $19.99 to purchase the FunPix pass online. You can also purchase a season pass for $44.99! It's also valid for photos with Peanuts characters and for the roaming photographers throughout the park!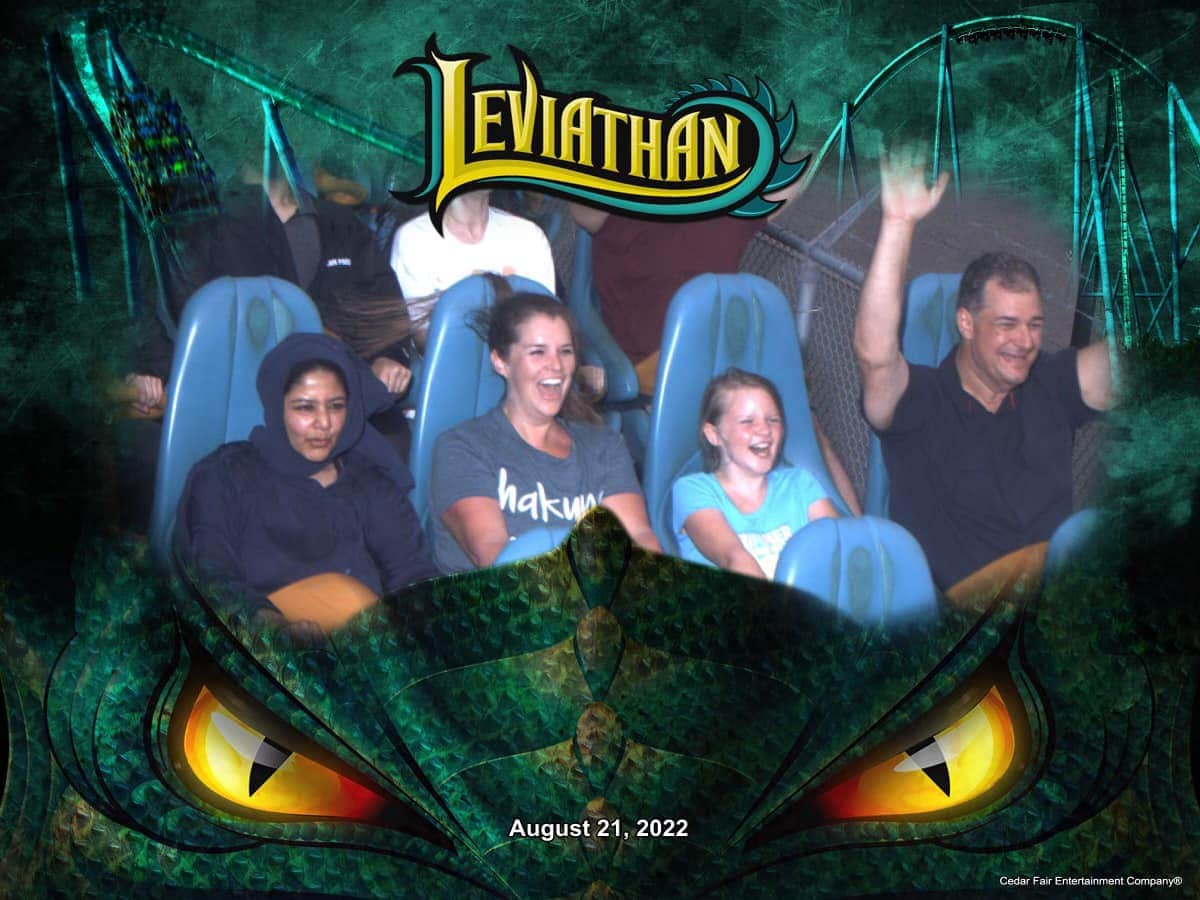 8. Be sun safe!
Be sure to apply sunscreen prior to entering the park so you don't have to pack it with you. Sun is deceptive and you can easily get burnt while waiting in line. Bring a hat (check out my favourite ponytail hat!) and sunglasses but be sure to remove them prior to hopping on a ride!
9. Pack a cooler!
While Canada's Wonderland has a no outside food policy (aside from baby food and water bottles) and they check your bags at the gate entrance, you can pack a cooler to keep in your car with drinks and snacks for a picnic if you don't want to purchase park food or just need a break from the rides.
There are plenty of grassy areas for a picnic just outside the gates. Just be sure to have your hand stamped prior to exiting so you can get back in! This is when arriving early comes in handy so you can grab a parking spot closest to the gates!
There are, of course, plenty of dining deals and dining options within the park but it does add up quickly. There are gluten-free dining options along with vegan, halal, and more!
Insider tip: Is it even a Canada's Wonderland trip without indulging in a funnel cake? They're the epitome of theme park food fare for me, and are a must!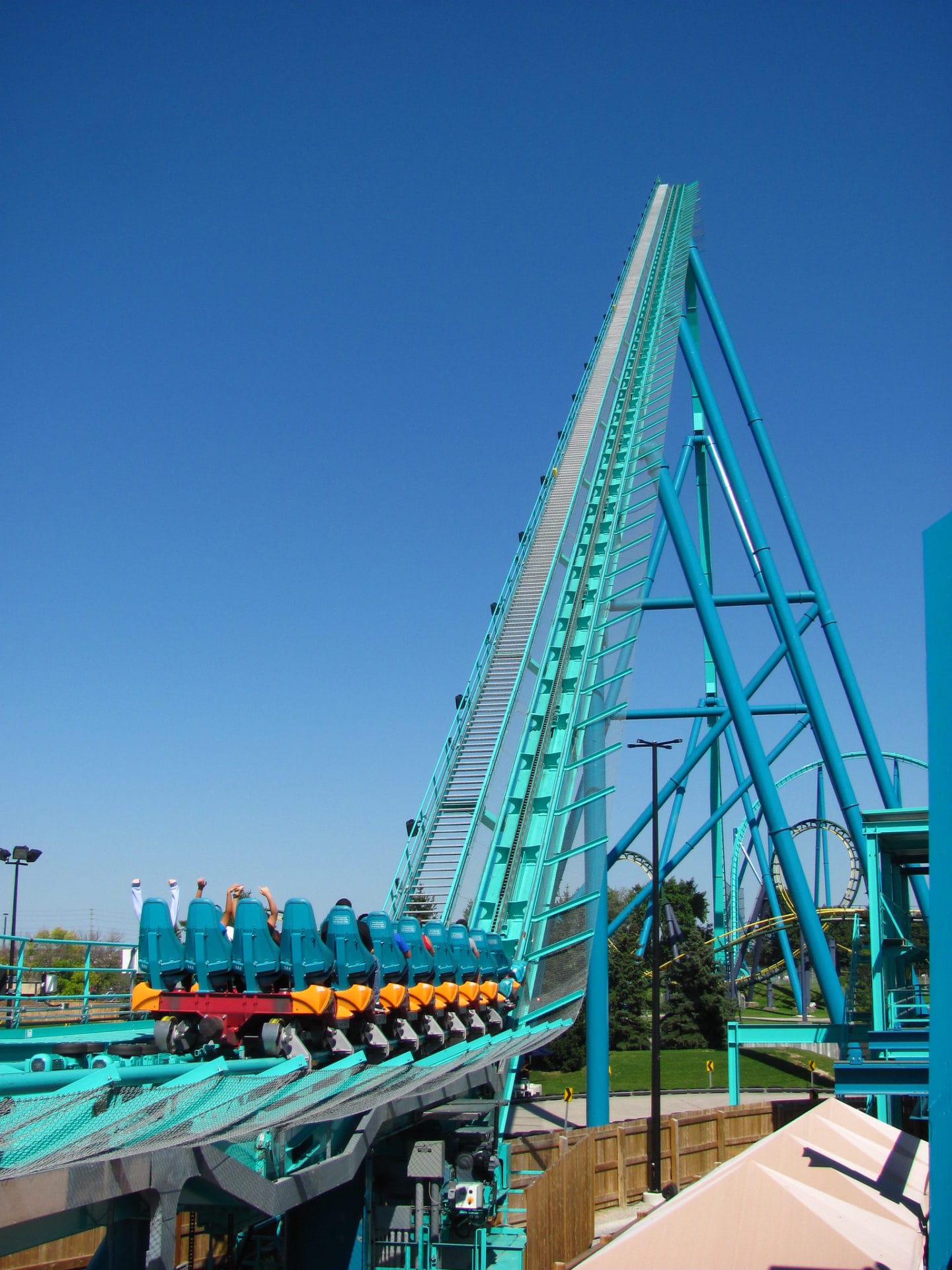 10. If you plan on visiting the Splash Works, bring towels!
We fully anticipated visiting the water park, but we were having so much fun on the rides we ran out of time! Splash Works opens daily at 11:00 am.
If this is something you're planning to do on your visit to Canada's Wonderland, be sure to bring your swimsuit, towels, and sunscreen!
This set of beachtowels comes in a pack of four and is Amazon's Recommended Choice!
You will have to rent a locker for your items and they must be paid for with a credit card (debit cards are not accepted).
What to pack for Canada's Wonderland
A cooler with drinks and snacks (plus lunch if you plan on having a picnic!)
A small crossbody bag or purse that can easily be tucked away in the cubbies on rides
Comfortable shoes
Sunscreen
Hats and sunglasses (just be sure to remove prior to riding any roller coasters!)
Bandaids or rock tape for blisters (I never go anywhere without rock tape!)
Credit card for purchases (or your debit card, but remember the lockers don't accept them!)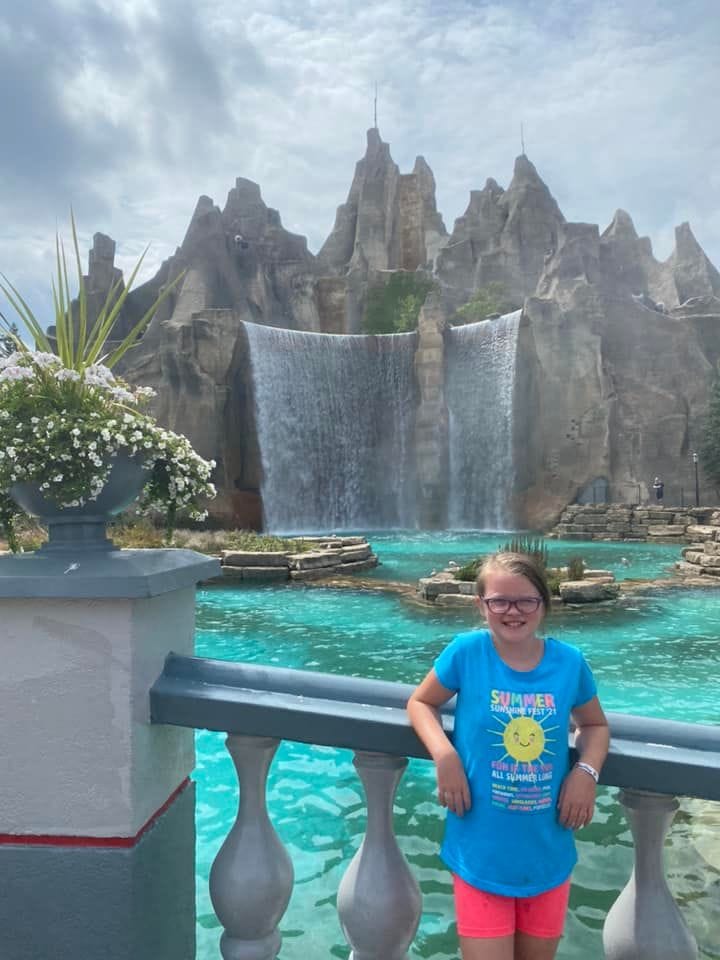 Canada's Wonderland Essential Information
Address: 1 Canada's Wonderland Drive, Vaughan L6A 1S6
How to get there: Your best bet is driving or carpooling. Exit off the 400 to Rutherford Road in Vaughan (exit 33) then head straight through the lights on Canada's Wonderland Drive. Parking is $25 (or discounted through CAA).
Hours: Wonderland is open daily from 10:00 am – 10:00 pm. Splash Works is open daily from 11:00 am – 7:00 pm.
Admission: Gate admission is $80 (2023). Grab your tickets online and save 30% and pay $54.99 for adults or $39.99 for juniors/seniors. There is a $6.99 processing fee. Kids 3 and under do not require a ticket.
Rentals: If you require a stroller or wheelchair rental, those are available. You can rent a single or double stroller for $15.99 and $25.99 respectively for the day, or $20.99 for a wheelchair or $50 for an electric convenience vehicle.
Related Posts
Pin it for later!