Have you heard of the Eternal Flame Falls? There is a hiking trail that leads to a one-of-a-kind waterfall with a never-ending flame in Orchard Park, New York!
That's right – this waterfall is literally on fire, year round, and it's quite a sight to see! This Eternal Flame Falls attracts plenty of visitors who come to visit the eternal flame – where fire and water live in harmony.
Located within the Shale Creek Preserve in Chestnut Ridge Park, western New York, the Eternal Flame Hiking Trail that takes you down to a creek bed and straight to this unique waterfall.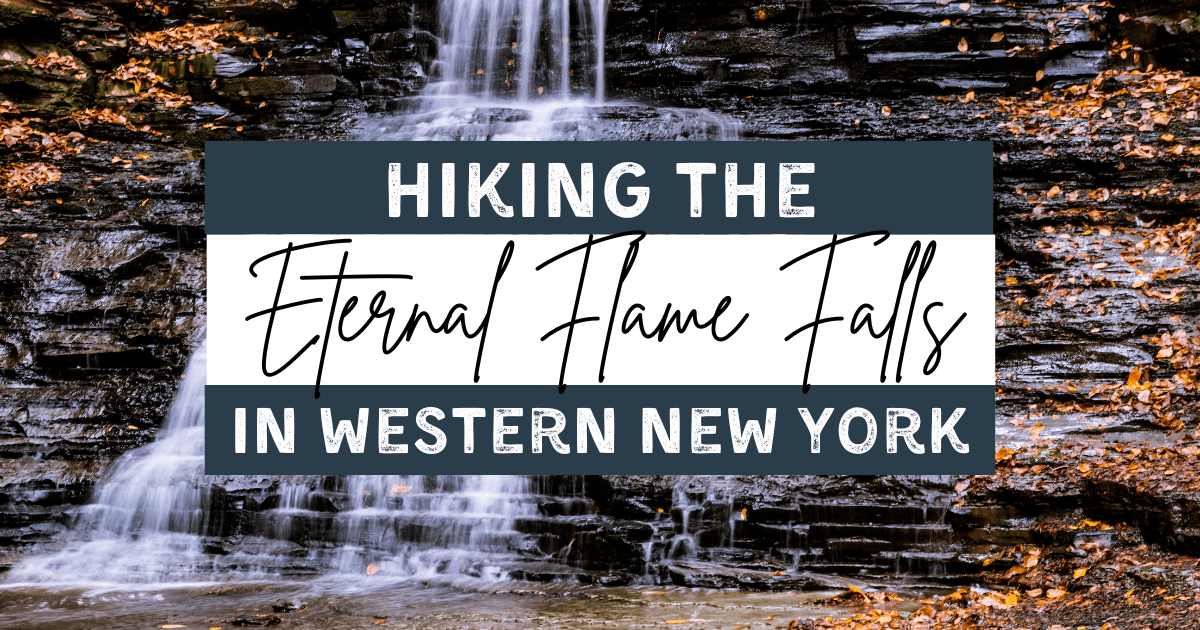 This small but mighty flame flickers all-year round, and it's breathtaking to see as you wind your way through the creek.
I was so excited to finally visit this magical wonder after seeing it on a Youtube clip a year ago. I had no idea it was right across the border, and so close to us! So on our first trip back to the USA after 2.5 years, we made a point to come hike this unusual trail!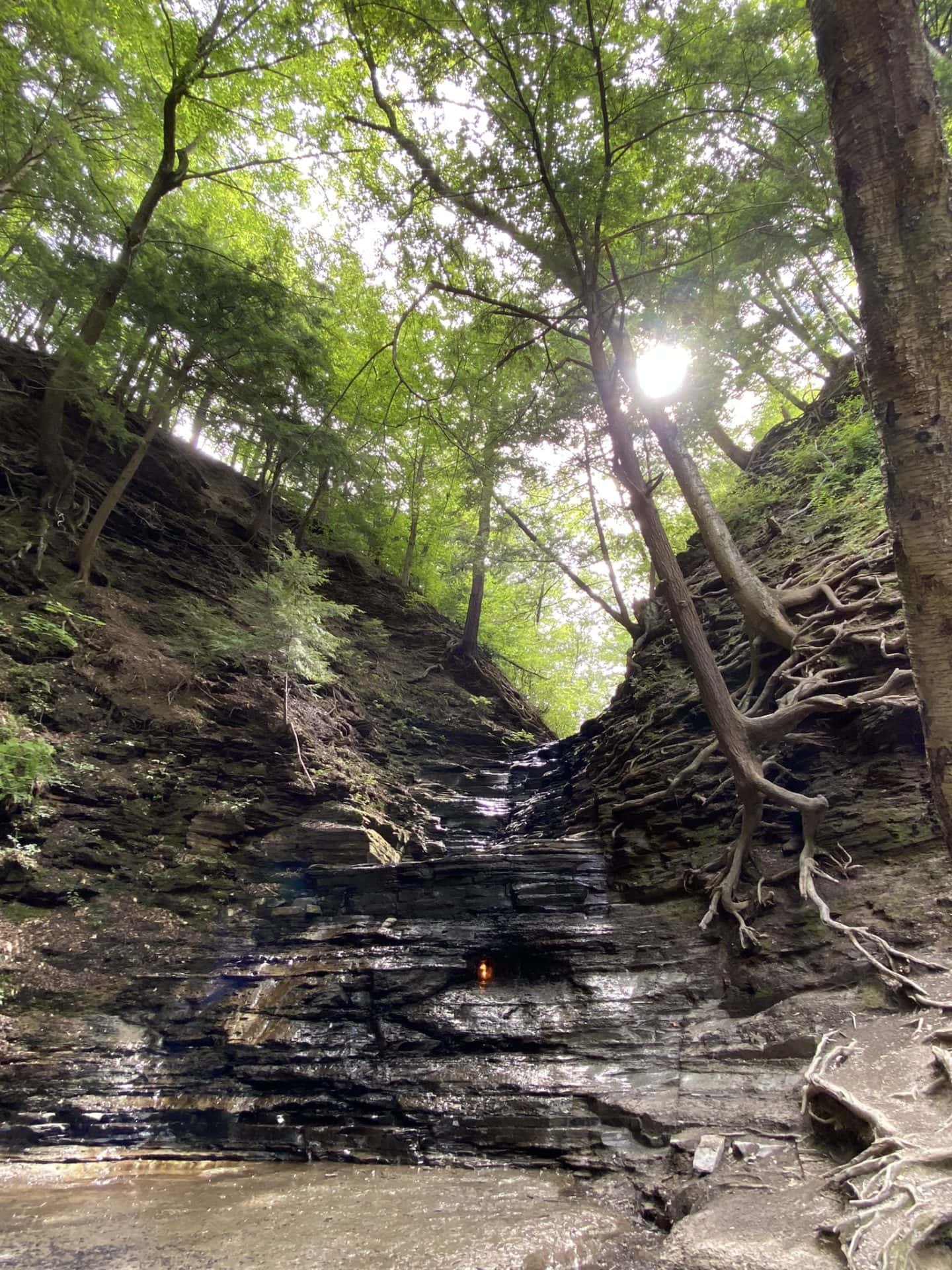 How does the Eternal Flame Falls stay lit?
This stunning 35-foot waterfall is made of shale, and tucked away within one its grottos near the base of the falls, there is a small flickering flame roughly 8 inches tall with a mysterious origin.
The flame is present due to a gas pocket that rises from the old shale bedrock. However, no one really knows why it's there.
What we do know is that this crack in the bedrock was caused by shifting tectonic plates, which allows the gas to escape to the surface. Other smaller gas seeps were also found in other areas of the waterfall.
While gas seepage and flames have occurred worldwide for millions of years, the bedrock at Eternal Flame Falls isn't hot enough or old enough to create a flame.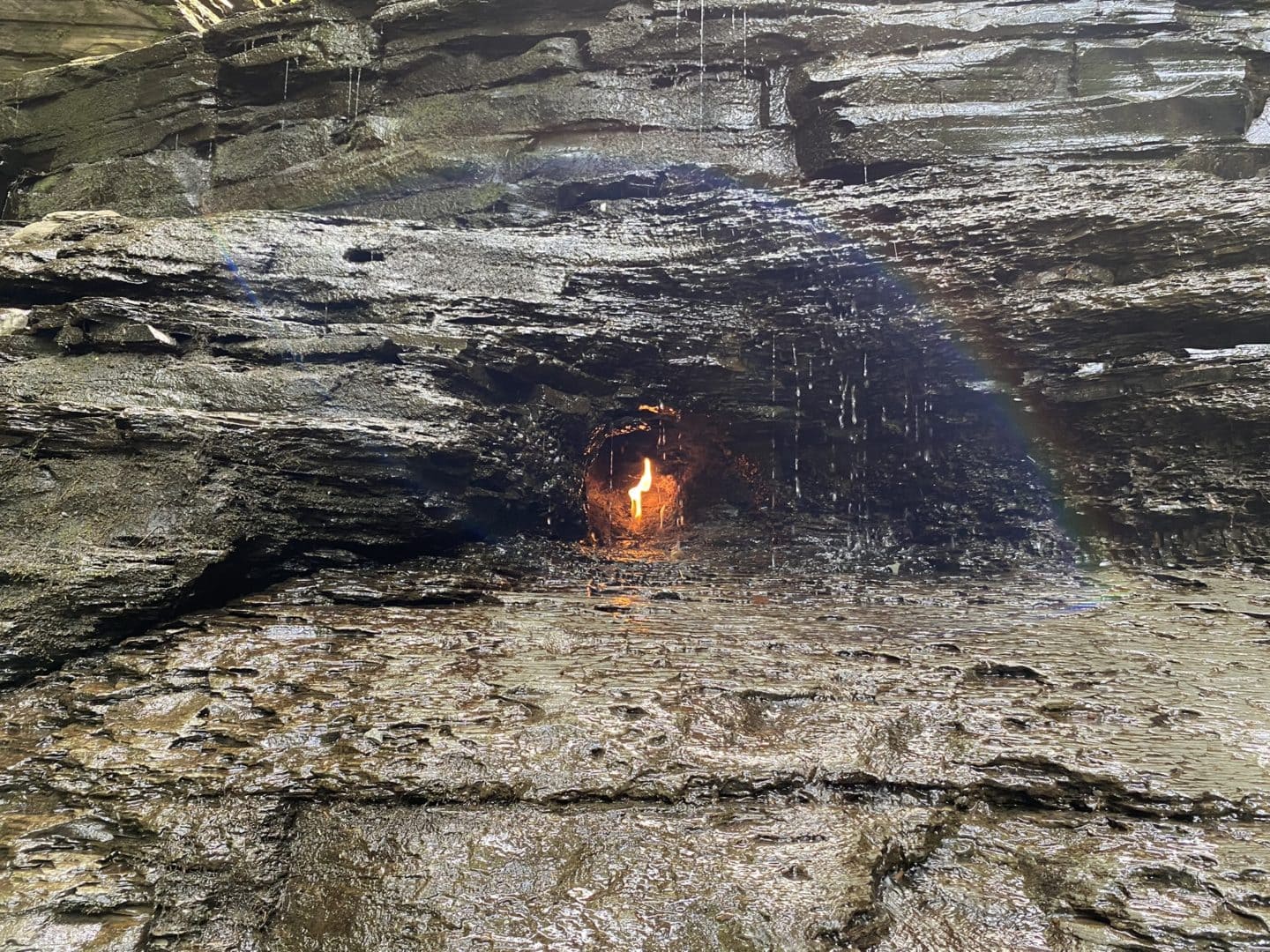 Usually high temperatures would break down the carbon molecules in shale – around 100°C, creating the natural gas smell – and as evidenced by the flame.
In fact, the temperature of the bedrock shouldn't even be able to produce that much gas, yet it keeps seeping through the waterfall's grotto.
Fun geological fact (since I studied these types of things in school!): Geologists from Indiana University Bloomington and Italy's National Institute of Geophysics and Volcanology found this natural gas seep at Eternal Flame Falls has higher concentrations of ethane and propane (~35%).
This is higher than other known natural gas seeps, which usually contain more methane. It's estimated the natural gas being emitted from the waterfall is approximately 2.2 lbs of methane per day.
Scientists believe there is some other force driving the continuous gas production – and the answer still isn't clear.
It's possible that the unique phenomenon indicates another process that contributes to the creation of natural gas in shale – one that is capable of breaking down shale in cooler conditions.
Had enough of me nerding out? 😂 Let's find out some more…
How old is the Eternal Flame Falls?
There are 10 natural eternal flames in the world – not man made – and although it may occasionally need to be relit by kind hikers, and the gas responsible for this flame originates back to the Upper Devonian period, between 419 and 359 million years ago!
Who first lit the fire at the waterfall?
It's rumoured that the Eternal Flame Falls was lit by Native Americans thousands of years ago!
Others say there are mysterious woodland fairies that live near the waterfall. But like any natural wonder, there is always a logical explanation.
Who lit the flame? No one really knows for certain. That may forever be a wonder.
Eternal Flame Falls Hiking Trail
At the end of the parking lot, you'll see a trailhead sign with a map indicating the route.
The path from the parking lot is gravel as it winds its way into the woods, surrounded by beautiful tall trees. It slowly starts to descend, which isn't bad, until you realize you have to come back uphill again!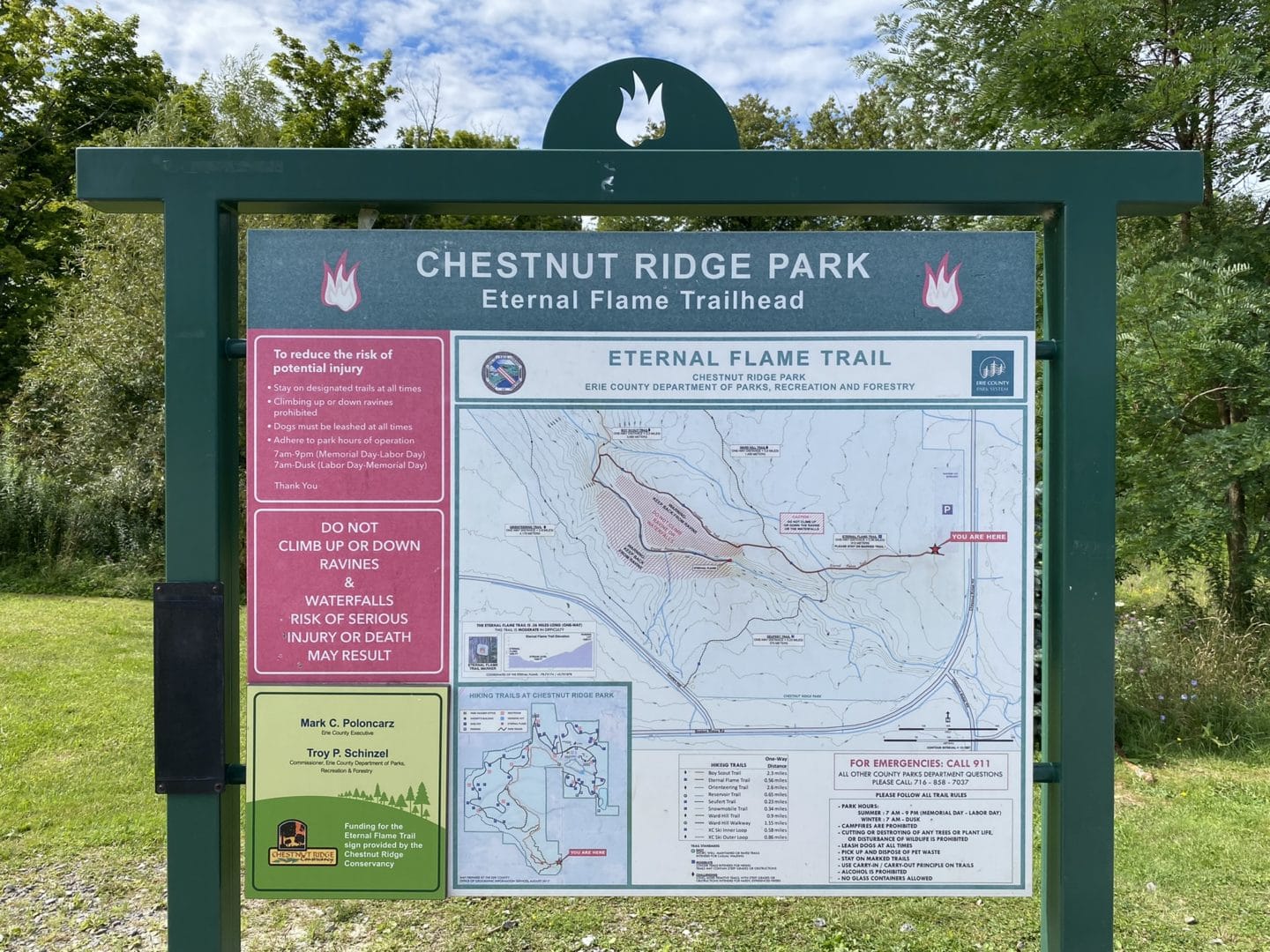 There are plenty of markers leading the way on the Eternal Flame Falls hiking trail – cute numbered flames – to keep you on the right path.
Once you get down to the creek bed, turn left. The marker signs disappear but keep following the creek until you reach the waterfall. It would be difficult to get lost making your way to the Eternal Flame.
You'll pass by some interesting features and even another waterfall, which was dry when we passed by, as well as some fallen trees you'll have to navigate by.
Once you round the corner in the creek, you're greeted by a stunning 35-foot waterfall, which varies in appearance with rainfall. Your eye will catch the flame that shines brightly near the base of the falls.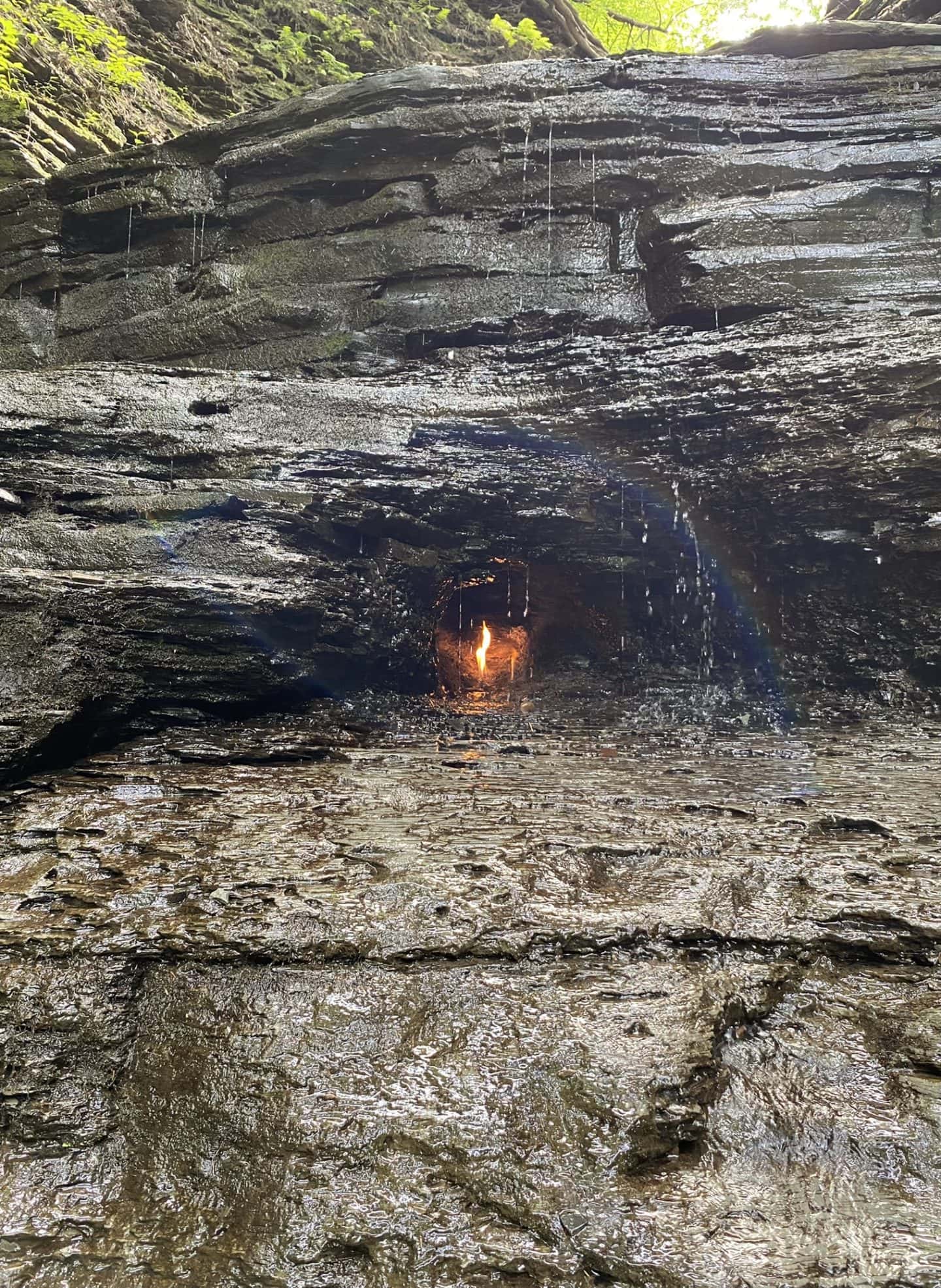 I could've stood there all day watching this flame dance under the waterfall. It would be incredible to visit during the winter to see it surrounded by ice and snow.
You could also smell it. It's quite obvious that there is a natural gas presence here.
The Eternal Flame Falls hiking trail isn't a loop, so you'll have to retrace your steps to get back to the parking lot, or join onto another trail within the park.
This is a great place to get some fresh air and see some cool natural wonders!
How long does it take to hike the trail?
If you are visiting just for the waterfall, you should allot roughly 45 minutes, so you can spend some time at the waterfall itself.
The hiking trail leading to the Eternal Flame iIt only took us 15 minutes to get to the base of the waterfall, which was a bit surprising! This, of course, could take you longer if you have younger kids. Of course, my husband said it would've taken us even less if I didn't stop as often to take photos.😂
Tips for Hiking the Eternal Flame Falls
I read some reviews saying to bring a lighter, since the flame can occasionally be blown out when the wind blows water into the falls. However, it was going strong while we were there!
You don't really need anything more than a sturdy pair of running shoes during the summer for this hike. You will want something with grip, since the creekbed can get quite slippery. Use caution in the fall and winter – the path leading down to the creek and back up the parking lot can easily be precarious with some mud!
Watch your step! The path leading through the trees is covered with exposed tree roots. Stay on the marked paths. The creek is also a bit slimy in some areas.
Dogs are welcome on a leash.
Please do not litter! Increased popularity for this amazing natural gem has drawn more crowds. Make it enjoyable for everyone and bring out your trash with you.
There is a porta-potty on site, but I wouldn't recommend using it, if you catch my drift. Plan accordingly!
Where is the Eternal Flame Falls?
Eternal Flame Falls is located in Orchard Park, Western New York. It's about 25 minutes from downtown Buffalo.
If you're visiting from Ontario – it's less than an hour from the border!
How much does it cost to hike the Eternal Flame Falls trail?
It is free to hike the Eternal Flame Falls trail and to enter Chestnut Ridge Park.
Parking is also free!
Where do you park for the Eternal Flame Falls trail?
While you can park at the main Chestnut Ridge Park parking lot, there is a large parking lot just down Route 277 which brings you much closer to the waterfall.
If you punch in "Eternal Flame Falls" into your maps or GPS, it'll take you right to the parking lot closest to the waterfall.
This rocky, unpaved parking lot is large enough to accommodate an RV. There were plenty of vehicles when we visited, but I can't ever see this parking lot being full.
Address: Eternal Flame Hiking Trail, Orchard Park, NY 14127, United States
Related Posts
Pin it for later!