When most people visit Australia, they often only get to the east coast. It is understandable, Sydney Harbour and the Great Barrier Reef are well known attractions. But if you want an unforgettable trip to Australia have a look at Western Australia.
There are some amazing things to do in Western Australia. It has coral reefs and incredible gorges and desert landscapes. In the south of the state there are forests with some of the tallest trees in the world and the Margaret River region has international award winning wine. And you can meet the happiest animal on earth, Rottnest Island's famous smiling quokkas.
Check out this list of the 12 best things to do in Western Australia and see why you should go west when you visit Australia!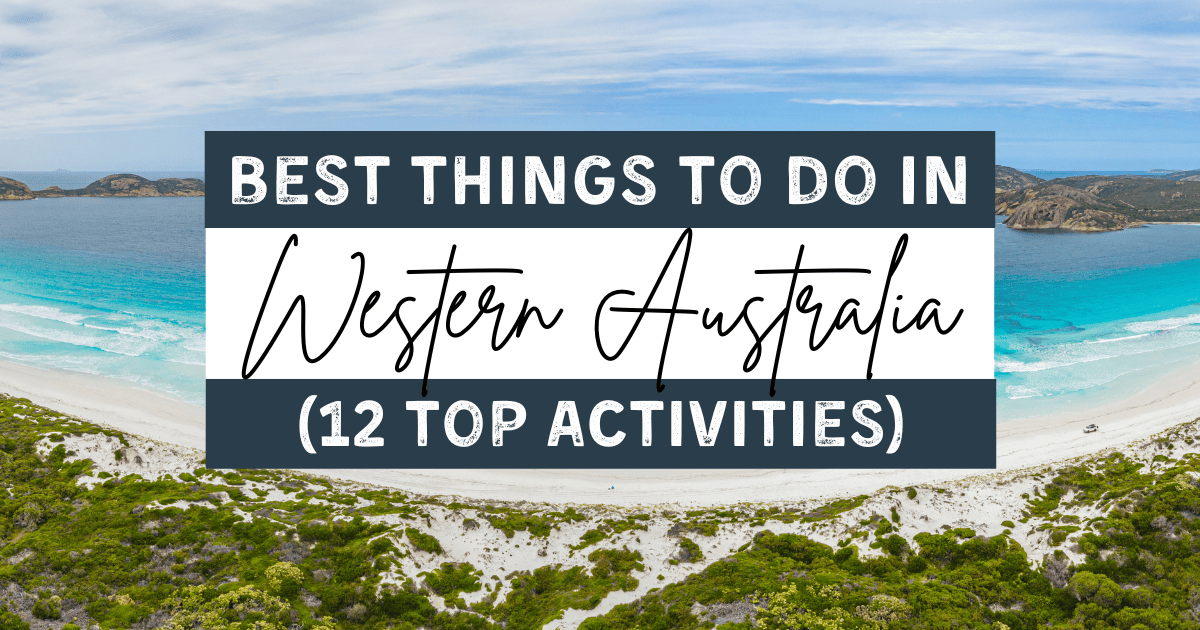 This post contains affiliate links which means I earn compensation when you click on the links at absolutely no extra cost to you! Feel free to read my disclosure policy. Thank you for supporting my blog!
Plan your next vacation using these tools!

✈️ Book flights: SkyScanner
🏨 Book hotels: Booking.com
🚘Book car rentals: RentalCars.com
🎫Book tours: GetYourGuide
🍽️Local food experiences: EatWith
🌍Favourite travel item: Packing cubes
🧳Favourite travel bag: Osprey 40L Fairview
📱 ESims: Airalo
🩹 DIY Travel Medical Kit
💸 20 Cheap Travel Items Under $20
1. Snorkel and swim with whale sharks on Ningaloo Reef
Ningaloo Reef is one of the best things to see in Western Australia. It is the longest fringing reef in the world, and you can access it straight off the beach. The best place to experience the reef is at Coral Bay and Exmouth, 1200 km from Perth There are tours to swim with whale sharks, sea turtles, manta rays, and humpback whales. From shore, you can snorkel with everything from rays, reef sharks and dugongs to a huge range of colourful fish.
If you have 7 – 10 days, do the Perth to Exmouth road trip. Along the way you will see many of the best things to do in Western Australia including the Pinnacles Desert, Kalbarri Skywalk and Shark Bay – all mentioned below.
2. Explore The Pinnacles Desert
The Pinnacles Desert is an amazing landscape. Limestone pillars are dotted across the yellow desert sand that was once an ancient seabed. Set against a clear blue sky with the ocean in the background they are a striking sight. At sunrise and sunset there is a magic atmosphere as the Pinnacles' long shadows spread across the sand. It really feels like you are on the surface of another planet.
The Pinnacles Desert is in Nambung National Park, 2 hours north of Perth. There is both a loop drive and short walking tracks that take you into the desert. There are tours from Perth, or you can drive there yourself. If you do have your own transport, visit neighbouring Jurien Bay where you can swim with Australian sea lions. It is one of the best wildlife encounters you will have in Western Australia.
3. Meet the dolphins at Monkey Mia
The Monkey Mia dolphins have been enthralling visitors for years. If you have never seen dolphins up close, this is your chance. The responsibly managed resident population make daily visits within arm's reach of shore. Learning about them from the guides and feeding them is a great experience. Monkey Mia is part of the Shark Bay World Heritage Area, 800 km from Perth.
While you are there make sure you see Francois Peron National Park and Shell Beach. The 60km long Shell Beach is made entirely of tiny white cockle shells. Francois Peron National Park has rust red cliffs meeting crystal clear water and lots of marine life. The main town in Shark Bay is Denham. It is a good base for exploring the area which you could do for 2 or 3 days.
4. Defy Gravity at Kalbarri Skywalk
One of the most breathtaking sights in Western Australia is the view from the Kalbarri Skywalk in Kalbarri National Park. The twin viewing platforms take you beyond the edge of Murchison Gorge where you can look down 100m to the Murchison River below. Once you stop wondering what's holding the platforms up, you can take in bird's eye views of the gorge and meandering river below.
Another feature of Kalbarri National Park is Natures Window, an eroded piece of rock that provides a perfect natural photo frame of Murchison Gorge. The coastal section of the park has the Bigurda Trail, a boardwalk along 100m high sea cliffs with amazing views of rocky features like Natural Bridge and Shellhouse Grandstand. The Trail is also a top spot for whale watching.
5. Discover a lost world at Karijini National Park
Exploring the gorges, rock pools and canyons of Karijini National Park is an unmissable thing to do in Western Australia. It is a remote location 1300 km northwest of Perth, but the effort to get there is rewarded many times over by the hidden worlds within Dales, Weano, Hancock and Hamersley Gorges.
Every gorge has different shaped, coloured and contoured folds of red, purple and orange rock. There are water-filled chasms to walk through, waterfalls to cool off under and rock pools you climb down to.
Trees grow out of ancient rock walls and fish kiss your toes while you relax at fern lined pools. Bring your walking shoes and allow 2 or 3 days to see everything. There is a range of accommodation at the Karijini Eco Retreat.
6. Ride a camel on Cable Beach
At over 2000 km from Perth, the old pearling town of Broome is about as remote as you can go in Western Australia. There are flights to Broome from Perth which make it more accessible to holiday makers. Broome is home to Cable Beach which is regularly voted one of the best beaches in the world. A Cable Beach camel ride at sunset is one of the most iconic things you can do in Western Australia.
Broome is also known for its Staircase to the Moon where the reflection of the full moon casts a rippled glow on the exposed mud flats. Another popular Broome attraction is Gantheaume Point where vivid red rock meets turquoise water and you can see dinosaur footprints in the rocky shoreline.
Broome is also a good base for the next couple of best things you should see in Western Australia.
7. Jet Boat through Horizontal Falls
The north of Western Australia has enormous tides. When the massive amounts of water start to flow out on the low tide it creates horizontal waterfalls. Tours from Broome take you to Talbot Bay in the Buccaneer Archipelago to see this incredible natural phenomenon.
You fly there on a sea plane then board a jet boat for a thrilling ride through the falls as the water pours between narrow gaps in the islands. It is the sort of thing you must see and do in person so you can appreciate the power of the water and the beauty of the archipelago from the air.
8. See the incredible Bungle Bungle Ranges
As a testament to how remote they are, the striped domes of the Bungle Bungle Ranges in Purnululu National Park were only discovered by western explorers in the 1980s. Covering a large area, the 200-300 metre-tall domes are best seen from the air which you can do from Broome of Kununurra.
They are an extraordinary feature that have a lot of significance to the indigenous landowners. If you have time, you can also do a walking tour of the Bungle Bungle ranges with indigenous guides who take you into Cathedral Gorge where you can see the stunning tiger-like stripes of the domes close-up and here about their cultural significance.
9. Get a selfie with a quokka at Rottnest Island
A 90 minute ferry ride from Perth will take you to Rottnest Island. Ringed by pristine beaches and a good spot for snorkelling and whale watching, Rottnest Island is home to one of Australia's most photographed animals – and it's not a koala or kangaroo.
Rottnest Island is home to the quokka, a wallaby about the size of a cat that has a permanent smile on its face. Just Google quokka selfie to see why a day trip to Rottnest Island is one of the best things to do in Western Australia!
10. Wine Tasting at Margaret River
Margaret River is 3 hours south of Perth. The region was first known for its excellent surf beaches but in recent years, Margaret River has become an internationally renowned wine region.
There are over 90 cellar doors where you can sample some of the region's famous cabernet sauvignon and shiraz wines. While you can drive to Margaret River for a day trip, it is worth spending a day or two in the area to sample all the excellent food and wine.
11. See Australia's tallest trees at Valley of the Giants
The red tingle tree forests are quite a contrast to the desert, gorges and coral reefs in the north of Western Australia. These giant trees can grow up to 75 metres tall and reach over 400 years of age. Denmark, 5 hours south of Perth, is home to a forest of Tingle trees which you can see at the Valley of the Giants. You can walk amongst the trees and go up into the canopy on the Tree Top Walk.
Western Australia is also known for its huge variety of wildflowers. The Walpole Wilderness Reserve where you find the Valley of the Giants is home to over 4000 types of wildflowers. From August to November, the Australian spring, they are in full bloom so it's the perfect time to look up at the trees and down at the many flowering plants.
12. See the whitest sand in Australia at Lucky Bay
Another remote part of Western Australia is Esperance, 700 km southwest of Perth. From Esperance it is only a short drive to Cape Le Grand National Park where you will find Lucky Bay which has the whitest sand in Australia. The brilliant white, super fine sand looks even more stunning when you see the iridescent turquoise water lapping up onto the shore.
It is one of the most beautiful places in Western Australia. If you have self-contained accommodation, you can stay there, otherwise you can base yourself in Esperance and drive there for the day. It is not uncommon to see a kangaroo on the beach too. While you are in Esperance the 40 km Great Ocean Loop Drive shows off the area's dramatic coastal scenery.
Tips for Travelling around Western Australia
Western Australia's capital city is Perth, you can fly there from all major cities on the east coast of Australia. It is important to realise how big Western Australia is. It makes up one third of Australia!
If you visit Western Australia, allow 1 or 2 weeks to look around. To see everything on this list you will need at least 3 to 4 weeks. From Perth you can fly to remote centres like Broome and Exmouth which will save you days of travel in a car. But you will still need a car when you arrive in these areas.
The other option is to go for a road trip from Perth. This is a great way to see the amazing things in Western Australia, but don't underestimate the distance between some of the attractions.
The best time to travel in the north of Western Australia is from May to October. From November to April, it is very hot, humid and wet and some attractions, like Karijini National Park, are closed.
About the Authors
Natalie and Steve manage Curious Campers, a popular Australian travel website featuring experiences, wildlife encounters and road trips for people wanting information and inspiration while travelling Australia. You can connect with Curious Campers on their Facebook group Experience Australia.
Related Posts
Pin it for later!