The Yucatan Peninsula is known for its lively fiestas and crystal clear cenotes. Thanks to the coastal Pueblo of Tulum gaining massive virality on Instagram, the price of a stay in the area has shot up in recent years. But for those wanting to visit the Yucatan on a budget, the region is still accessible if you know where to look.
Whether you're a backpacker, a family or a solo holidaymaker on a budget, there are quite a few hidden gems in the Yucatan.
This post contains affiliate links which means I earn compensation when you click on the links at absolutely no extra cost to you! Feel free to read my disclosure policy. Thank you for supporting my blog!
Plan your next vacation using these tools!

✈️ Book flights: SkyScanner
🏨 Book hotels: Booking.com
🚘Book car rentals: RentalCars.com
🎫Book tours: GetYourGuide
🍽️Local food experiences: EatWith
🌍Favourite travel item: Packing cubes
🧳Favourite travel bag: Osprey 40L Fairview
📱 ESims: Airalo
🩹 DIY Travel Medical Kit
💸 20 Cheap Travel Items Under $20
A quick introduction to the Yucatan Peninsula
Mexico is a huge country in North America and connects the US to Latin American countries like Belize. The Yucatan Peninsula encompasses the states of Campeche, Yucatan and Quintana Roo, a large area to the South East of the country.
The three most famous vacation spots in the Yucatan are Cancun, Playa del Carmen and Tulum. This piece highlights free and budget-friendly activities to see and do in these locations, alongside some more hidden towns in the Yucatan.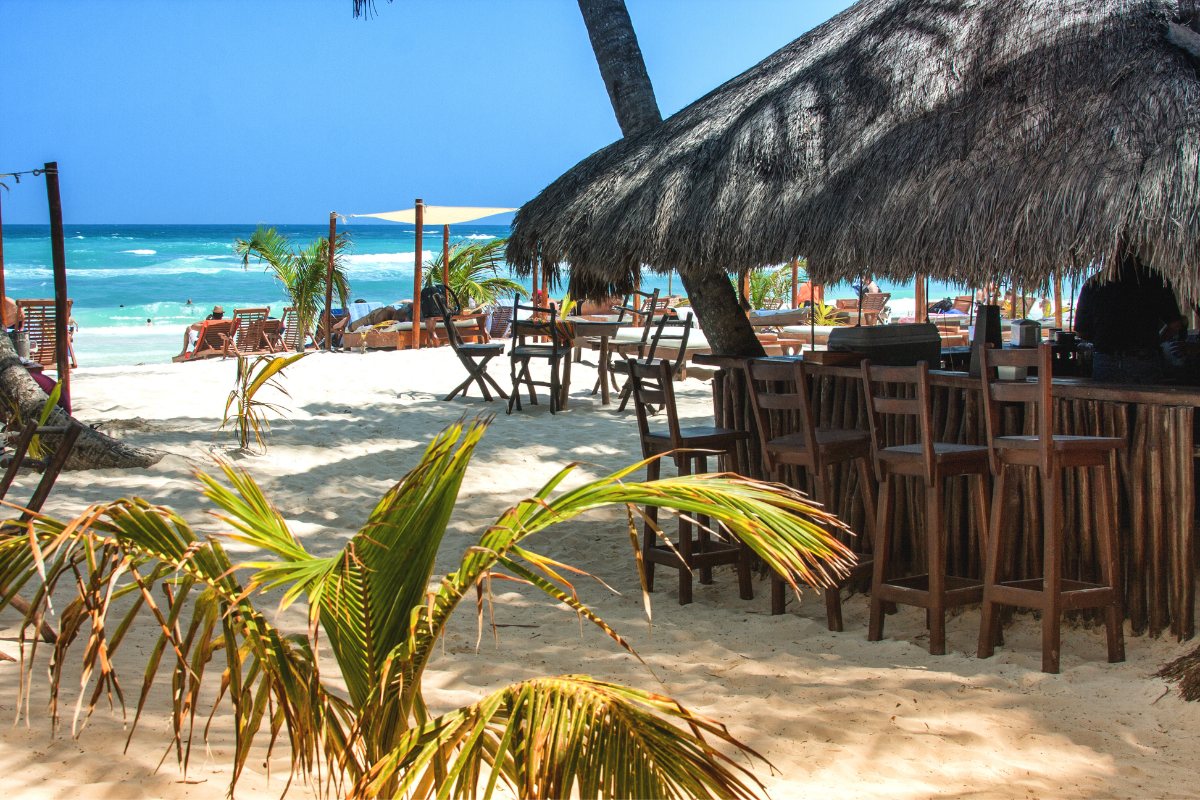 Free things to do in the Yucatan
Surprised? Many people are shocked, thanks to the viral nature of this area of Mexico. And it's true that in general, prices have skyrocketed here within the last decade or so. But there are actually many free things to see and do in the Yucatan, like:
Ixchel Temple
Go to the beach
Visit Bacalar Lagoon
Cenote Aldea Zama
Ixchel Temple
Ixchel Temple is located on Isla Mujeres, which translates to Island of Women. It's a collection of ancient Mayan ruins dedicated to the goddess Ixchel, who is often depicted as a rabbit. She symbolizes the moon and fertility and many Mexican women still worship her today.
Reach Temple Ixchel by heading to Punta Sur, the southernmost tip of Isla Mujeres. The temple itself used to act as a lookout point for ships on the horizon – but now have been worn down through erosion and environmental damage. So it's not so much one historical site but a large guided coastal walk around the ruins, alongside some modern day features like statues.
Upon arrival, the coastal path is in clear view, providing two different directions to walk. Luckily, the route is circular so everyone ends up seeing the same sights. At the entrance point, there is also a statue of an Iguana – and there might be many living reptiles on the route, too.
At Temple Ixchel, there are a few modern art pieces, as well as depictions of the goddess Ixchel herself. Some of these are located in a specific garden dedicated to sculptures, and others can be found dotted around.
The best thing about Temple Ixchel is the fact that people from all areas of the globe get an insight into real Mayan history. Here, everyone can explore the ancient stones and imagine where an entire temple once stood. It serves as a brilliant education into Mexican culture.
Related: 25+ Fun Excursions in Cancun and the Riviera Maya
Go to the beach
Of course, one of the free activities you can count on at any coastal destination is going to the beach. Spending the days sunbathing or splashing around in the waves is never a waste of time!
So, what are the best beaches to visit in the Yucatan?
Playacar: Playa del Carmen
Playa Caracol: Cancun
Playa Paraiso: Tulum
Playacar
Dive straight into the warm Caribbean waters from Playacar beach, which attracts both locals and tourists. Fortunately, the authorities prioritize cleaning this beach regularly, so you won't have to worry about feeling any slimy seaweed in the waters.
It's located near to the main mall of Playa del Carmen and totally free to put a towel down. There are also opportunities to purchase sun loungers for those wishing to upgrade the level of comfort – but this is totally optional.
Playa Caracol
Since Cancun is so known for hosting epic parties – it does make sense that many of the beaches have been turned into beach clubs, where paid entry is expected. Fortunately, Playa Caracol is a quieter, free beach, and although there are tons of hotels on this strip, it's accessible for tourists too.
Playa Caracol is an enjoyable beach to visit thanks to its shallow and calm waters. Ofcourse, swimmers will have ample space to exercise here, but it's mostly used for holidaymakers to splash around and relax.
Playa Paraiso
Those who vacation to Tulum won't find many cheap activities, so it's fortunate that there are plenty of beaches in the area. The diamond of the bunch is Playa Paraiso – where the sea emits a beautiful gradient of blues and greens.
Since it's well-known as one of the most beautiful beaches on the continent (maybe even the world!), this beach in Tulum tends to get busy. Luckily, it's a very long stretch of beach, but if you're worried about the crowds, just make sure to get to the beach in the early morning to secure your spot.
Bacalar Lagoon
Bacalar is a lesser-visited area of the Yucatan, thanks to its Southern location which is much closer to the border of Belize. It's approximately a four and a half hour drive from Cancun.
For those that haven't seen photos of this place yet, prepare to get excited; the views are considered once-in-a-lifetime. In fact, Bacalar is known as the Maldives of Latin America, thanks to their crystal clear blue waters.
At Bacalar Lagoon, there are plenty of options for paid activities such as:
But the best part of the lake is that it's freely accessible for swimmers! With a number of jetties around the lake, there are a few different access points to jump into the water (bonus tip: these make great photo opportunities, too). So backpackers tend to spend their days here just lounging around the lake, enjoying easy access to cool water while the temperatures usually soar into the 80s every day.
Cenote Aldea Zama
Cenotes are cave-like sinkhole structures, formed millions of years ago and filled with rainwater that has been naturally collected over the years. They are very special, because cenotes are native to only the Yucatan region of Mexico (although there are some similar sinkholes in Thai destinations). This typically makes a cenote visit quite an expensive day out – but in Tulum, there is one exception.
Cenote Aldea Zama is a completely free cenote to visit. It's a bit of a hidden gem, and it won't be advertised much online. But this cenote is easily reachable from anywhere in the Tulum area – just to the South of the main centre in Tulum (near Kokoro).
Because it's so hidden, it's a pretty small space and visitors should arrive early (before 9 am) to secure their spot. From then onwards, it becomes pretty crowded and stays that way when the weather is nice, usually until it gets dark.
Related: 16 Best Cenotes to Visit Near Tulum
Budget Activities in the Yucatan Peninsula
Along with free things to see and do, Yucatan offers many cheap and cheerful activities for even the most budget-conscious traveller. Here are some of the most popular budget-friendly things to do:
Eat some street food tacos
Visit Los Rapidos in Bacalar
Go to Merida's centre
Psst – are you considering a solo trip to the Yucatan? Check out 5 pros and cons to solo travelling.
Try Tacos
When landing into Cancun airport, or heading into Playa del Carmen, it's easy to become overwhelmed by all of the chain restaurants. Most of the prices at these locations are inflated thanks to the high rates of tourism. But those looking for cheap eats have a reliable option in any Yucatan pueblo; tacos.
Down almost any side street, visitors can find carts of handmade taquitos, meats, salsas and more. Here, tacos cost only around 20 pesos each, which is the equivalent of $1.20 USD. Tacos are one of the most classic dishes in Mexico, alongside burritos, enchiladas and tamales, for example.
They're a must-try for any visitor – but a word of warning is required. Each diner should ensure they sample the sauces before coating their tacos, as many homemade sauces are incredibly spicy. As in, blow your head off spicy!
Try tacos al pastor (roast pork), tacos de camarones (seafood), or better yet, ask the locals what they recommend!
Los Rapidos
Los Rapidos, translating to the rapids, is just as exciting as it sounds. Found at the Southern side of Lake Bacalar, it's like visiting a mini village. Entry into Los Rapidos costs $160 MXN, which roughly translates to $9.50 USD.
A Los Rapidos entry pass allows each visitor unlimited access into the rapids to play around and a bracelet to prove it. There's a lazy river to float around in, and an onsite bar and restaurant. When ready to leave the water, visitors can make their way onto the nearby hammocks to relax and lounge around, while taking in the breathtaking views.
While it's not totally free, Los Rapidos in Bacalar is a fun and low-cost activity that every traveller to the Yucatan should try! Just don't wear sunscreen as it can damage the corals.
Centro Historico of Merida
Merida is the official capital of the Yucatan region, and deserves its own mention in this post. Once reaching the city centre, there are a ton of free things to see and do in Merida, such as:
Cathedral (Catedral de Merida)
Park (Parque Santa Lucia: the oldest park in the city)
Free walking tour
Merida is a unique part of the Yucatan because it's not on the coast – instead, it's located to the West of Cancun. But for those craving a pinch of sand, it's only just over an hour's drive away.
For the travellers who have a few spare dollars in their pocket, Merida is home to some really cool museums. Find the museums of anthropology, art and culture each at an entry price of between $2-$5.
Budget travel in the Yucatan is more than possible, it's easy
Saving thousands of dollars for a trip to Mexico might not be necessary after all. While travel and accommodation are two of the most expensive parts of the budget, the price of daily activities can actually be kept to a minimum – without wasting the holiday!
About the Author
Shannon Trimble runs Cowork Review, a knowledge base of coworking sites for digital nomads. Shannon and the team specialize in honest reviews sharing the good, bad and ugly coworking spaces for remote workers around the world.
Related Posts
Pin it for later!