When it comes to packing for vacations, one thing I always have to keep in mind is how many items of clothing to bring because of one thing: laundry. Fortunately, the Scrubba Wash Bag is the answer to overpacking.
This lightweight wash bag is essentially a portable washing machine that allows you to travel with less (hello carry-on travel!).
I hope this review of the Scrubba Wash Bag – a portable wash system – answers your questions on whether or not it's worth buying. But spoiler alert – it definitely made packing much easier!
This post contains affiliate links which means I earn compensation when you click on the links at absolutely no extra cost to you! Feel free to read my disclosure policy. Thank you for supporting my blog!
This is a sponsored post. I was given a Scrubba Wash Bag to review. Opinions are my own.
Plan your next vacation using these tools!

✈️ Book flights: SkyScanner
🏨 Book hotels: Booking.com
🚘Book car rentals: RentalCars.com
🎫Book tours: GetYourGuide
🍽️Local food experiences: EatWith
🌍Favourite travel item: Packing cubes
🧳Favourite travel bag: Osprey 40L Fairview
📱 ESims: Airalo
🩹 DIY Travel Medical Kit
💸 20 Cheap Travel Items Under $20
Scrubba Wash Bag: How is it a portable washing machine?
The Scrubba Wash Bag is a nifty little travel item only weighing 5 oz and barely takes up any room in your luggage. It touts itself as the world's smallest washing machine. When it's rolled for storage it's a mere 16 cm x 6 cm x 6 cm – barely taking up any room in your luggage!
You can see how tiny it fits into the sleeve of my Osprey pack!
p.s. If you're on the hunt for packing cubes, my Well Traveled compression packing cubes are incredible! I brought so much with me in my backpack with these awesome cubes!
When laid flat and ready for use, it unfolds to 53 cm x 32 cm, which is easily manageable and portable to wash clothes effectively.
The Scrubba is a wash bag equipped with two waterproof seals and a scrub board inside the bag. The flexible inner washboard feature enables you to wash articles of clothing in just a couple of minutes. It's super simple to use, doesn't require any electricity, and can be done even in the smallest of spaces!
Check out the price of the Scrubba Wash Bag on Amazon.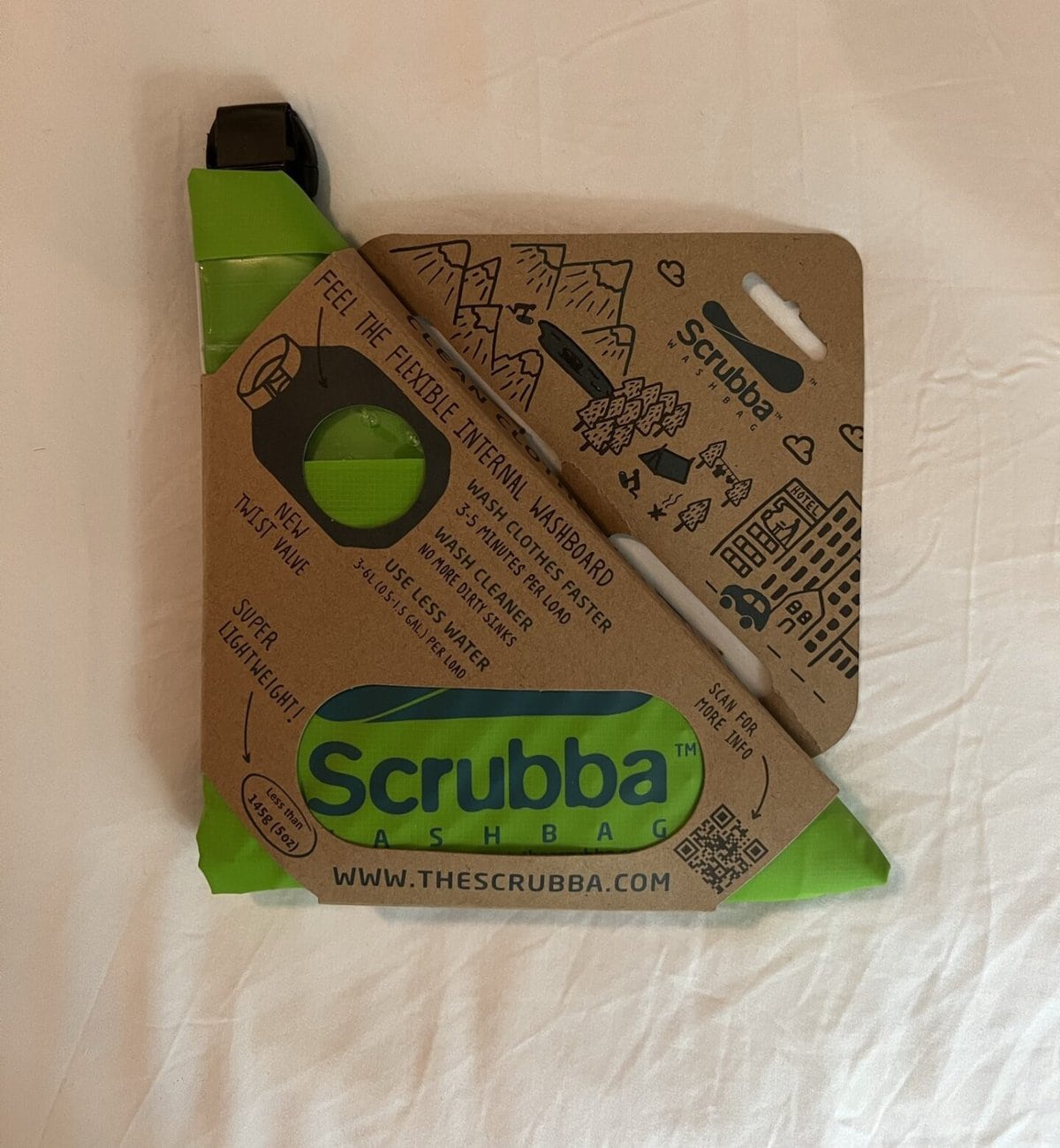 How to use the Scrubba Wash Bag
Using the Scrubba Wash Bag is very easy. There are 6 easy steps to having clean clothes!
Fill the Scrubba with clothes you want to wash (there is an infographic on the side of the bag indicating what it can accommodate), fill to the appropriate water line with warm water, add your detergent, and seal!
Note: You can use cold water, but warm water will give the best wash.
You can wash up to two t-shirts, two pairs of underwear, and two pairs of socks at a time, but I definitely fit more in there. It might depend on the type of underwear you're washing. 😂
If you're washing kids clothing you can also fit a lot more in the bag.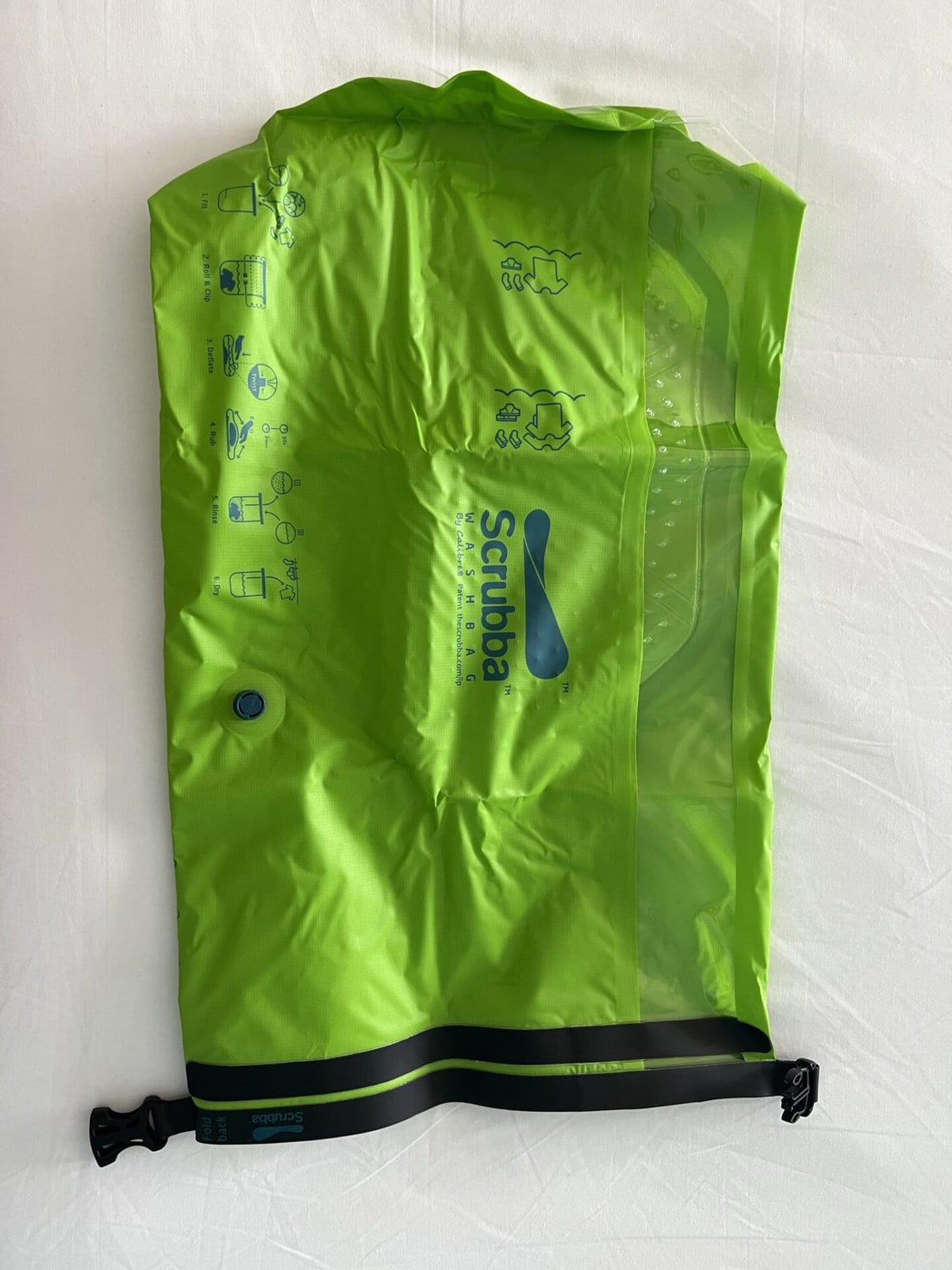 P.s. It's recommended to use liquid detergent, as the powdered laundry detergent takes longer to dissolve.
Roll the bag to seal from the top down 4-5 times. Make sure you buckle the clip at the top of the bag.
Once the washbag is sealed, release the valve and squeeze the air out of the bag. It's easiest to do this when the bag is standing straight.
Start rolling! Rub the Scrubba with the washboard on a flat surface anywhere from 30 seconds to 3 minutes. Larger items of clothing or a fuller load will take longer to wash.
Dump out the water, refill with fresh water, and rinse!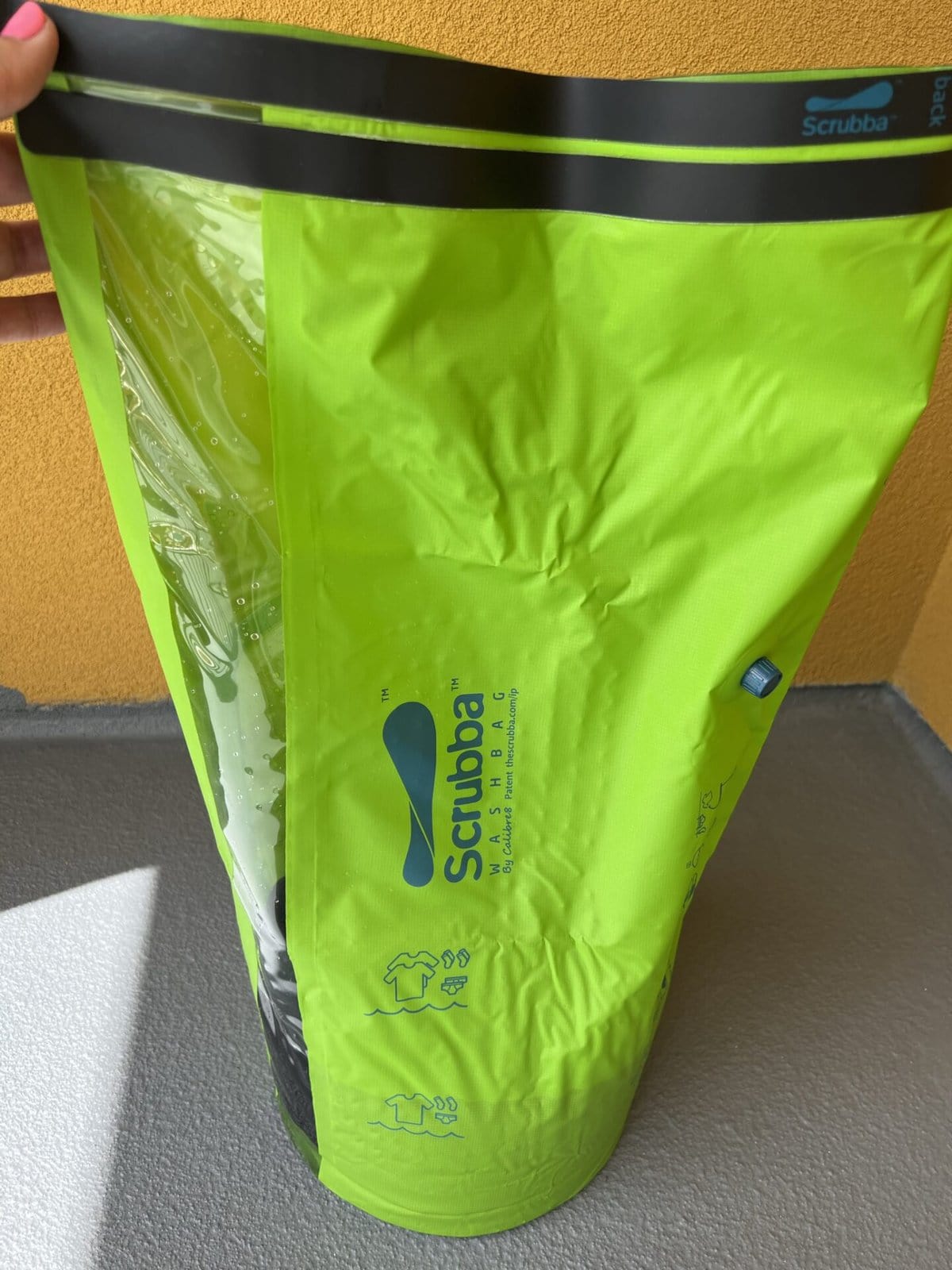 You can repeat as necessary until the soap is gone from the bag. There is a clear panel along the wash bag to let you see what's going on.
Once you dump the water out for the last time, roll the clothes in the bag to remove any excess water then hang to dry!
We also hand-wrung clothes once they were out of the bag to help remove any added moisture. Rolling clothes in a dry towel will also help expedite the drying process.
We bring liquid laundry detergent in a reusable squeeze bottle (that's also TSA approved!), but if you don't want to bring that with you, shampoo or dishwashing soap will work, too!
Hang your Scrubba inside out to dry.
Scrubba Wash Bag Review
Wondering if the Scrubba Wash Bag is worth buying? Let's review the pros and cons!
Pros of the Scrubba Wash Bag
The most obvious pro of getting the Scrubba Wash Bag is that it can really minimize the amount of clothing you need to bring.
It makes the perfect solution for those who travel with a carry-on!
I washed shirts, socks, bathing suits, and underwear using this bag. We purposely brought less with us on our trip to Curacao so we'd have no choice but to use the bag, and I'm glad we brought it!
You can wash clothes wherever you want – so long as you have access to water!
For the environmentally conscious travellers, the Scrubba also hardly uses any water compared to a washing machine.
The Scrubba is a great item to pack for all–inclusive vacations, extended periods of travel, camping, road trips, and so much more!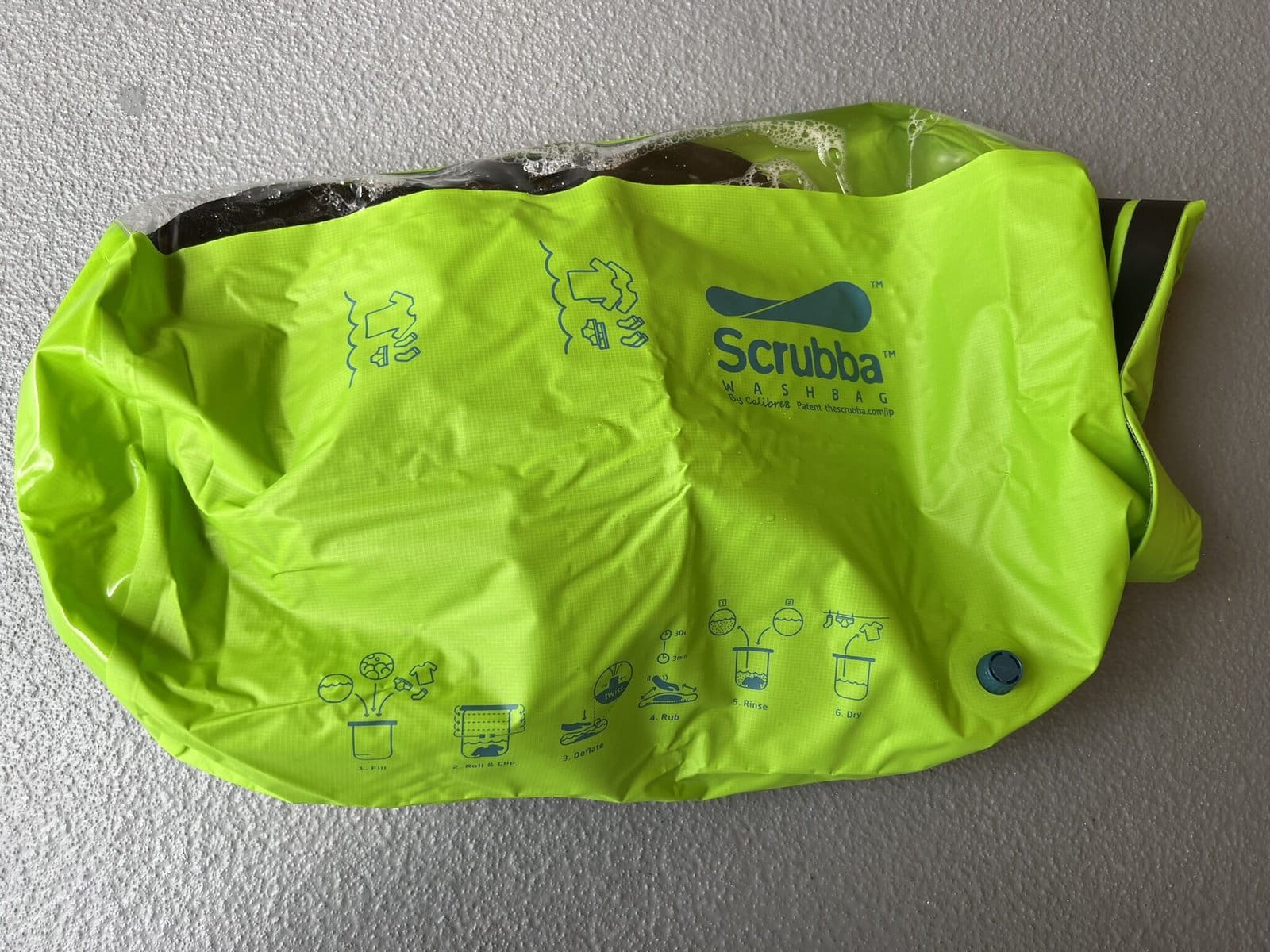 What else can you use the Scrubba Wash Bag for?
You can use the Scrubba anywhere where there isn't easy access to a washing machine. It's also great for:
Budget-conscious travellers who don't want to use laundry facilities
Camping or RVing
Staying in a remote area
Those who want to pack lightly
For those with delicate items of clothing that need hand washing
I liked that it contained the laundry washing to one bag. We normally wash our clothes in sinks when we travel when we don't have access to a laundry machine, and the Scrubba Wash Bag made our clothes feel so much cleaner.
There is a grippy surface on the outside of the bag so it doesn't slide around when you're washing clothes. I definitely appreciated that.
It also doubles as a dry bag, which can be really handy for outdoor adventures!
Cons of the Scrubba Wash Bag
The Scrubba Wash Bag is a nifty little item to add to your travel must-haves. The idea of the bag itself is a game changer for those of us who travel with carry-on luggage.
The only downside to using the Scrubba wash bag would be having some place to dry your clothing. If you have a balcony in a tropical location to dry your clothes, it's an amazing travel gadget to have.
We used the Scrubba on our most recent trip to Curacao, where we had a clothesline in the shower and a balcony.
Naturally, the clothes outside dried way faster than inside. If you're travelling to a location without appropriate means to dry your clothes, it would be a bit of a drag. But you can always go to a laundromat and use the dryer if needed!
Of course, this isn't anything directly to do with the Scrubba Wash Bag. It's something I would definitely use again and again because it makes travelling that much easier.
You also can't fit a regular load of laundry in the bag – but obviously that's to be expected. You may have to do frequent loads if you don't bring a lot of clothing. But fortunately, it doesn't take a lot of time to use, either!
Final thoughts on the Scrubba Wash Bag
Overall, I really liked the Scrubba! It's so easy to pack and use, and can easily cut down on the amount of clothing needed to travel. I also like that I can save money by not having to find laundry facilities when we travel.
The Scrubba is also made out of durable materials, so I think it'll last a long time.
If you travel frequently and want to reduce how much you pack (and cut down on luggage fees!), this nifty little travel item is a great addition to your suitcase or backpack!
By saving on checked luggage fees and the cost of laundry facilities, the Scrubba virtually pays for itself.
The Scrubba Wash Bag also makes a great gift for travel lovers!
Check out the prices of the Scrubba Wash Bag on Amazon.
Pin it for later!
Related Posts