One of the things I loved most about our trip to Curacao was immersing ourselves in the local culture. Part of that is the wide array of awesome cafes to enjoy for morning coffee and breakfast.
I made it my mission this trip to find some of the best cafes in Willemstad, the capital city of Curacao!
The cafes and coffee shops in Curacao are so cute and have their own unique vibe, feel, and decor, and are definitely some of the best cafes we've ever been to!
Plus, these coffee shops and cafes are all walking distance wherever you're staying in Willemstad. From Otrobanda, Punda, and Pietermaai, there are no shortages of places to grab a coffee from. As an added bonus, they all have incredible breakfast menus, too!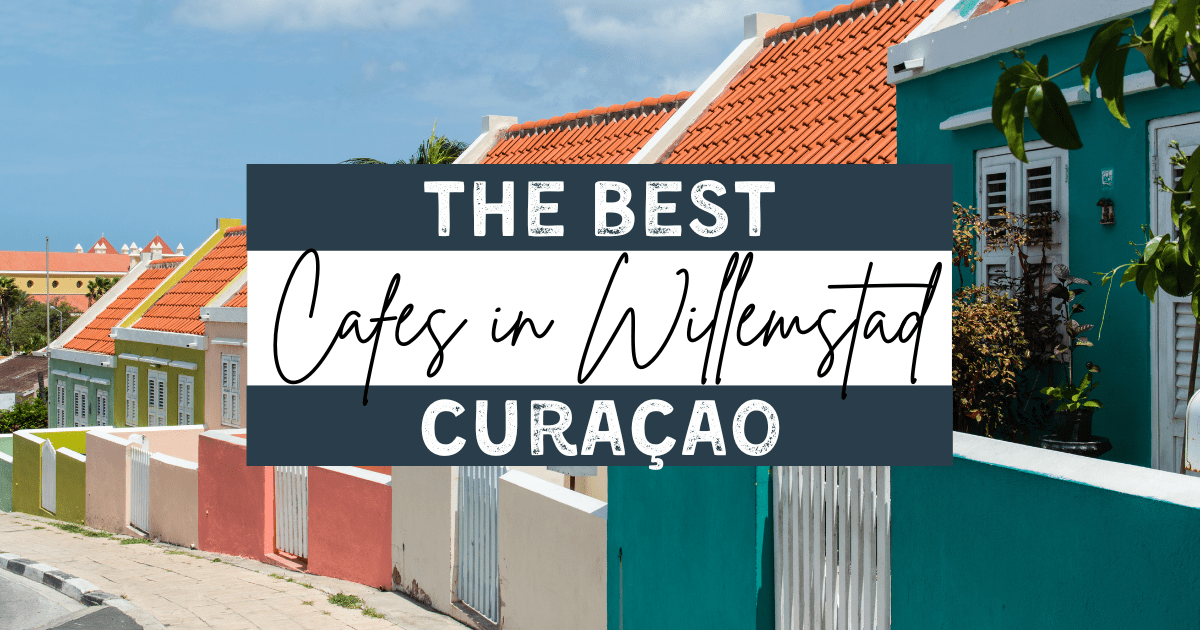 Some of the best coffee I've had anywhere is in Curacao, and it's one of the things I miss the most about this beautiful Caribbean island.
Here are my favourite cafes in Willemstad. Add a few of these to your Curacao itinerary!
This post contains affiliate links which means I earn compensation when you click on the links at absolutely no extra cost to you! Feel free to read my disclosure policy. Thank you for supporting my blog!
Plan your next vacation using these tools!

✈️ Book flights: SkyScanner
🏨 Book hotels: Booking.com
🚘Book car rentals: RentalCars.com
🎫Book tours: GetYourGuide
🌍Favourite travel item: Packing cubes
🧳Favourite travel bag: Osprey 40L Fairview
🩹 DIY Travel Medical Kit
💸 20 Cheap Travel Items Under $20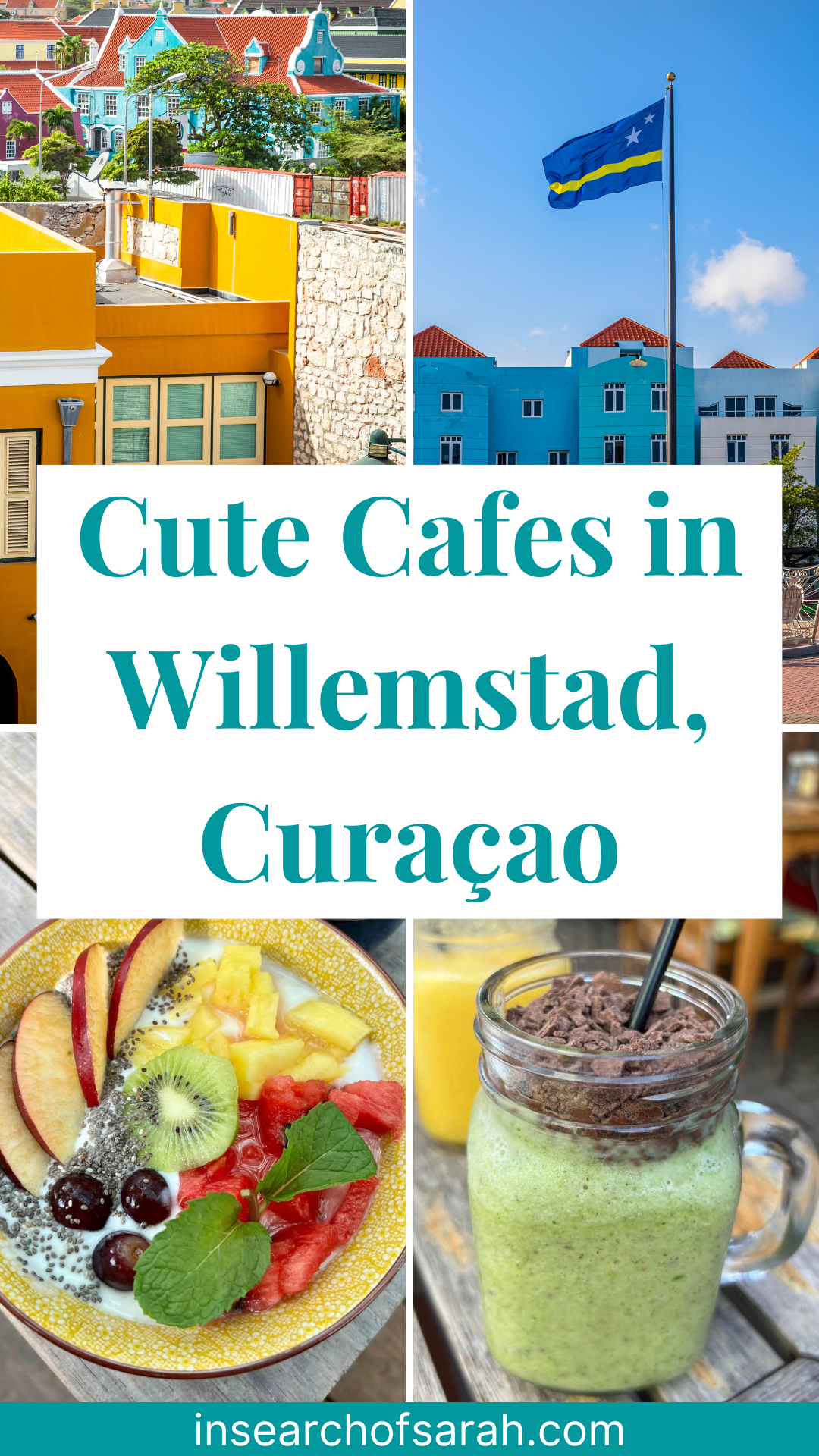 Best Cafes in Willemstad
Whether you choose to enjoy morning coffee and breakfast down a vibrant alleyway, in a quiet shaded off-the-beaten track location, or inside cooling off, there is no lack of choice when it comes to choosing a cafe in Willemstad!
La Bohème Curaçao
La Bohème Curaçao is located in Punda down a colourful alley that instantly gives Bohemian vibes. This adorable cafe serves up a huge array of fresh fruit smoothies, breakfast foods, coffee, and so much more.
It's relaxing and colourful location is a great way to start your day exploring Punda and Willemstad. Plus, it's hard not to snap a bunch of photos at this picturesque cafe!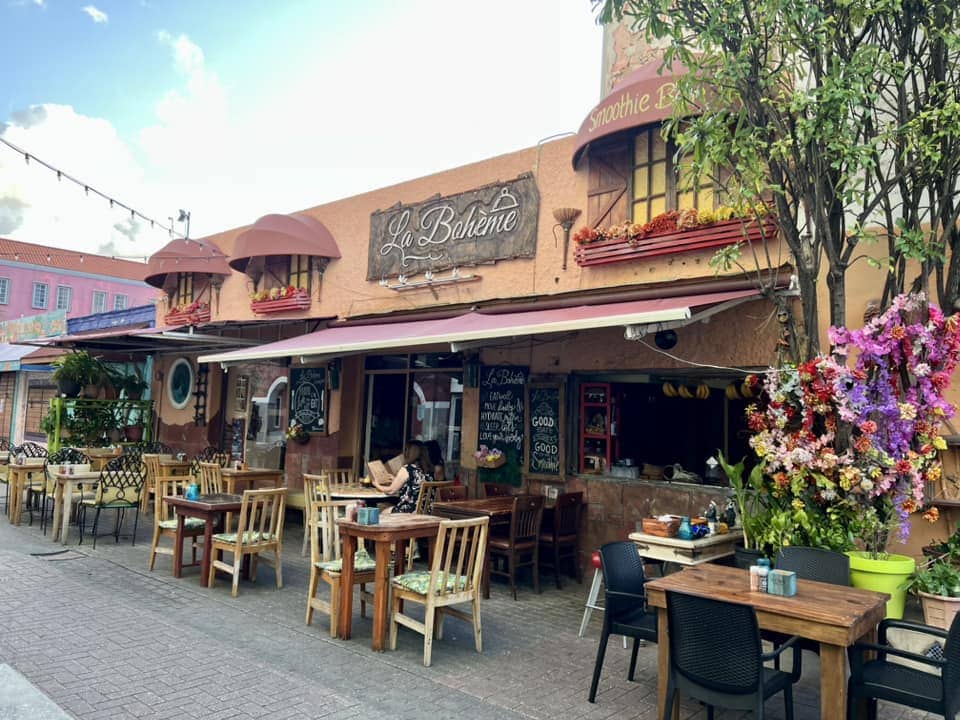 The fruit and yogurt parfait is beautiful, and it's hard to pick which fruit smoothie to choose from the menu!
P.s. Just so you know – any drinks in Curacao with lemon is VERY lemony. If you like tart and sour, keep that in mind! If you don't, try to pick drinks with more coconut, banana, or pineapple for added sweetness.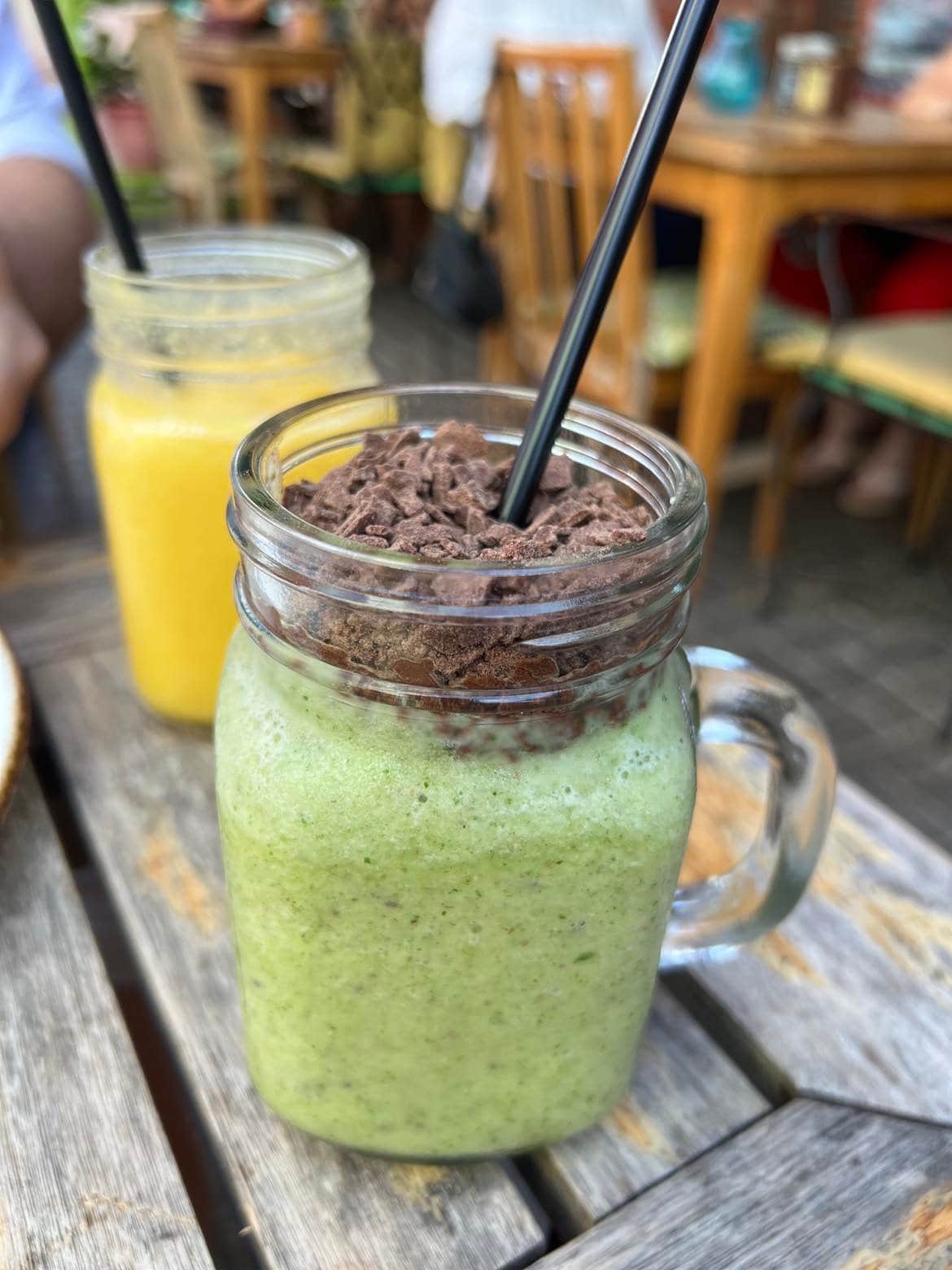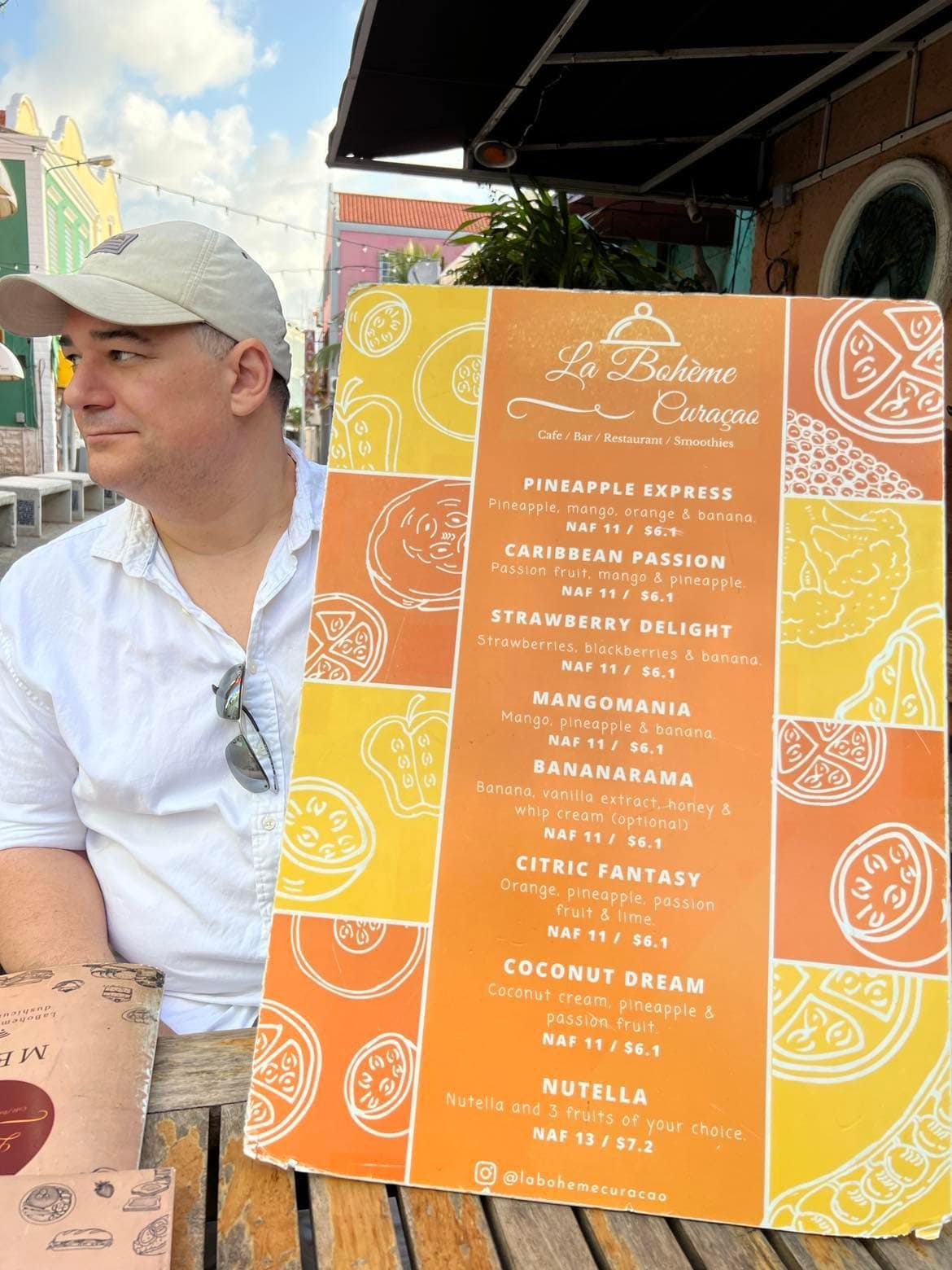 La Boheme is open 8:00 am – 10:00 pm Monday – Saturday (yes, you can grab lunch and dinner here, too!). Closed Sundays.
Address: Columbusstraat 4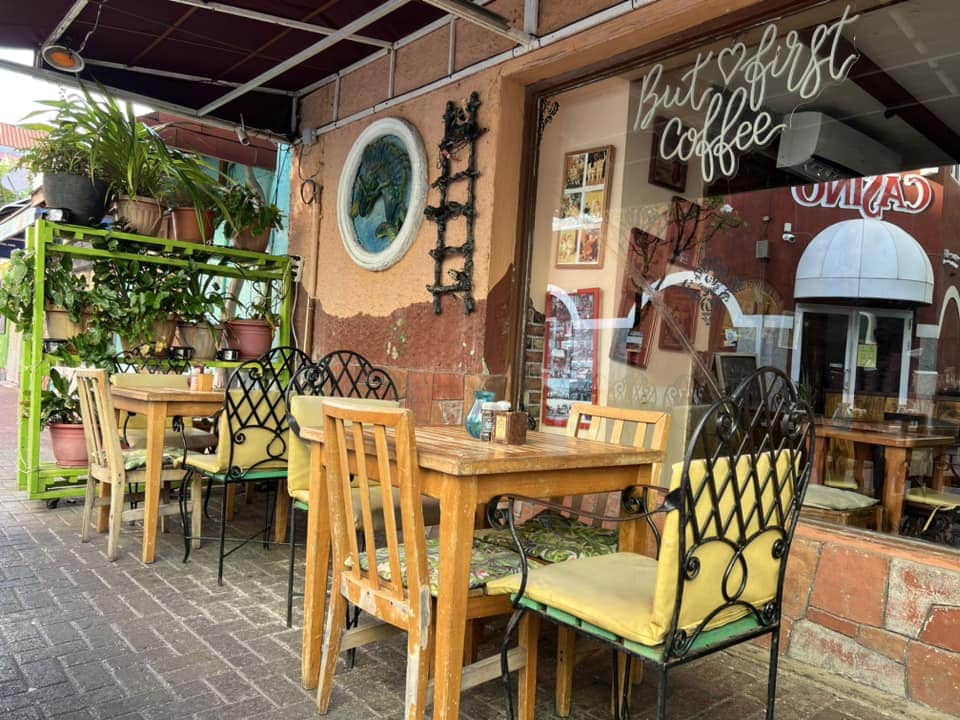 Van Gogh Speciality Coffee & City Roastery
I am more or less obsessed with all the cafes in Curacao that we've been to. Van Gogh Coffee Roasters is no exception.
This vibrant bright blue building has an assortment of delicious coffee concoctions, fresh fruit bowls, breakfast foods, and comfortable indoor seating with air conditioning as well as patio seating with some seats offering generous shade.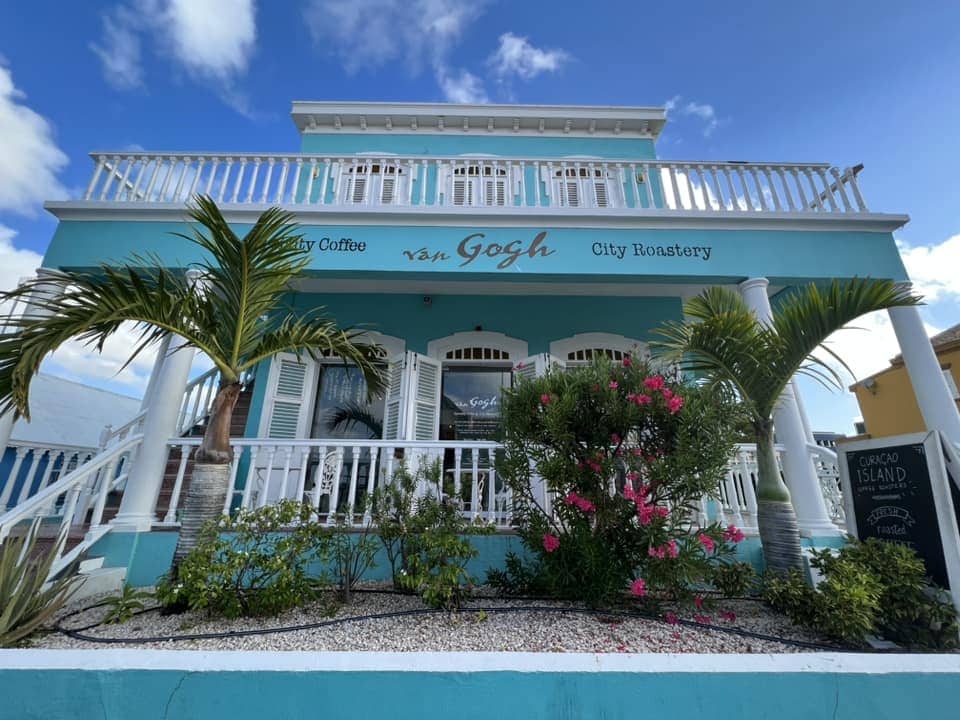 What's unique about Van Gogh Coffee in Pietermaai is that it also has the cutest drive-thru set up.
There is an old Citroen delivery van converted into a coffee shack. Vehicles drive into the parking lot, place the order into a speakerbox, then drive around to collect their order. It was fun to watch.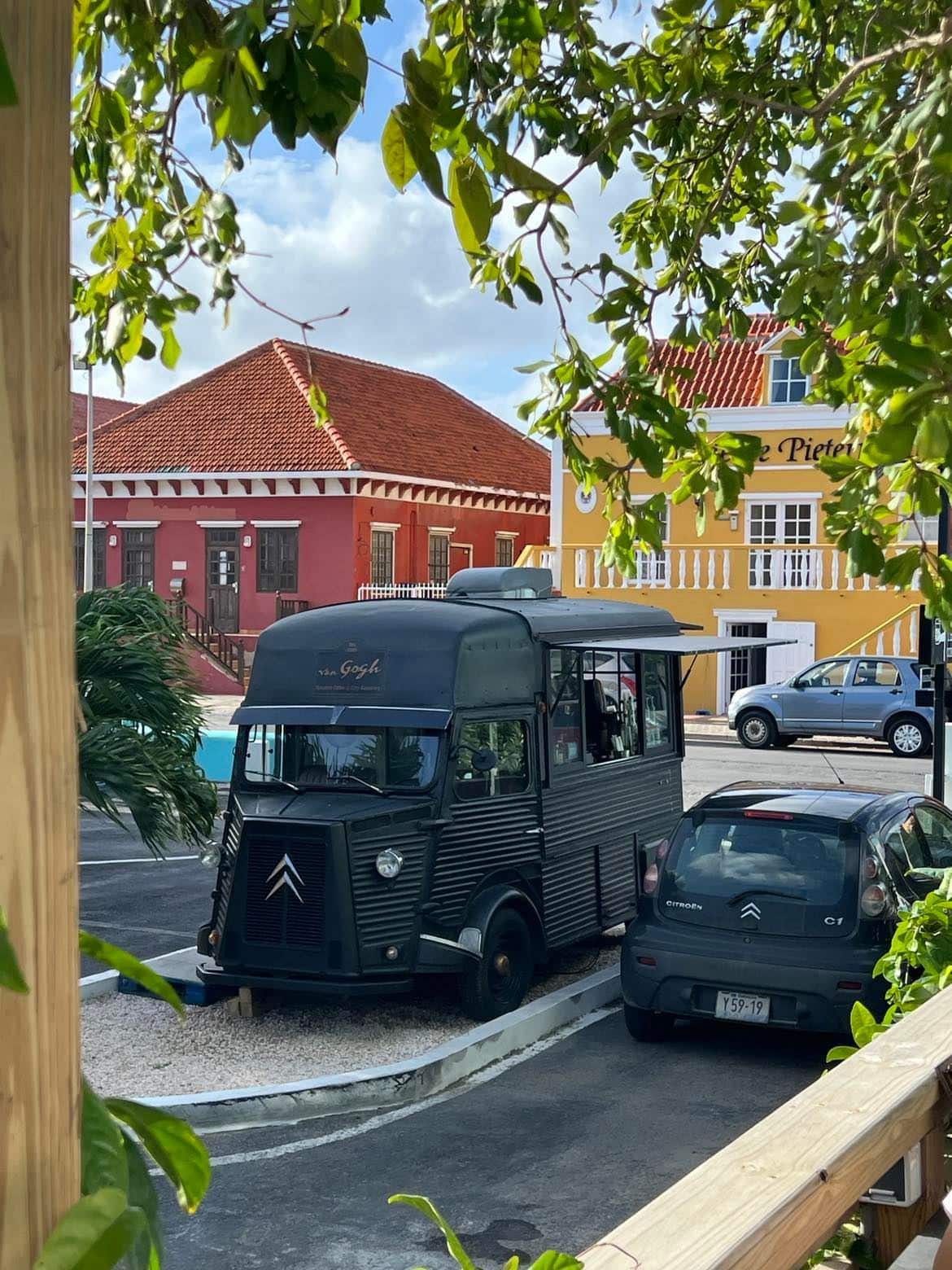 Van Gogh also offers the option for plant-based milk and vegan breakfast foods. The avocado hummus toast is HUGE and will give you the fuel to start your morning around Willemstad!
Van Gogh Specialty Coffee & City Roastery is open 7:00 am – 4:00 pm Monday – Friday and 8:00 am – 4:00 pm Saturdays. Closed Sundays.
Address: 25 Pietermaii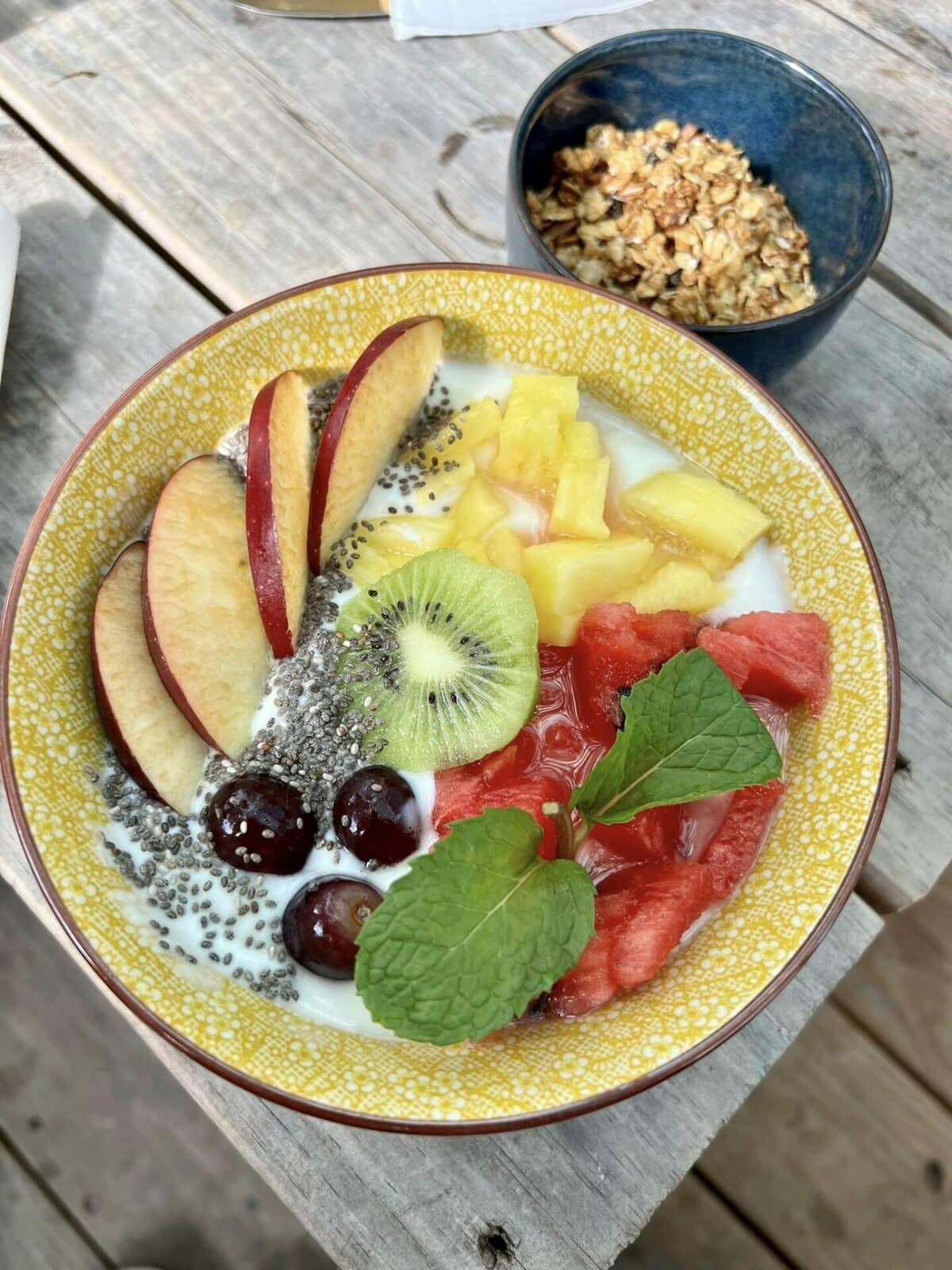 La Reina
La Reina is one of my favourite places to grab coffee in Curacao.
Located in Pietermaai, just down the road from Van Gogh, La Reina is a stunning red building with black and white checkered floors on the patio.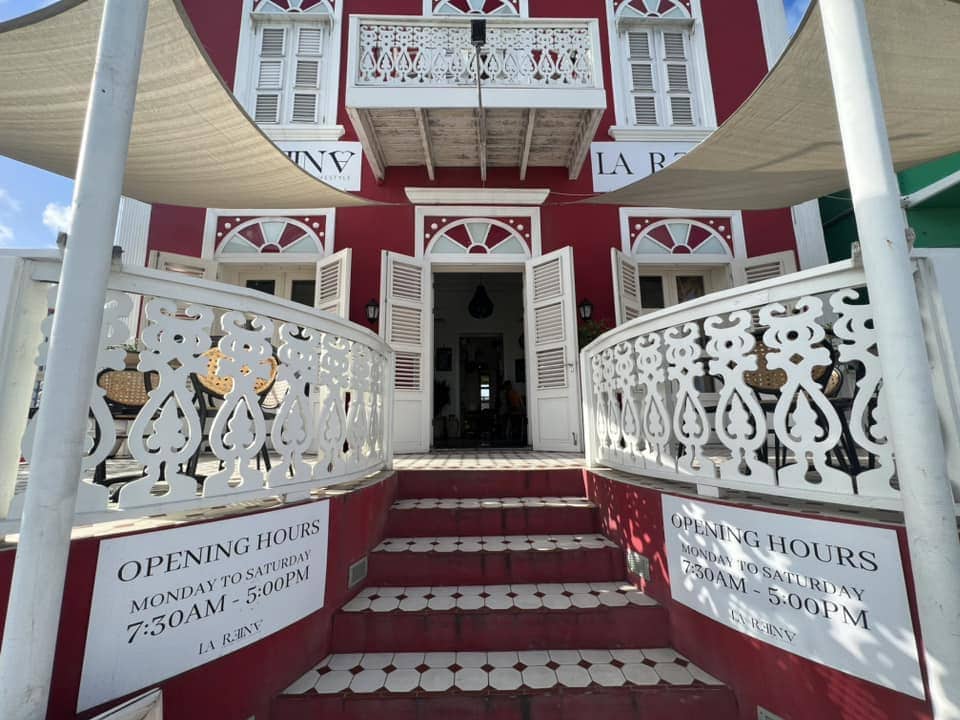 Once you step inside you'll be greeted with a gorgeous boho vibe with a light and airy feeling. The interior of La Reina is also a shop, so feel free to browse through what's there during your visit!
We appreciated the air conditioning interior, as it was way too hot to sit out front first thing in the morning – although the front patio is covered – so that is always an option too!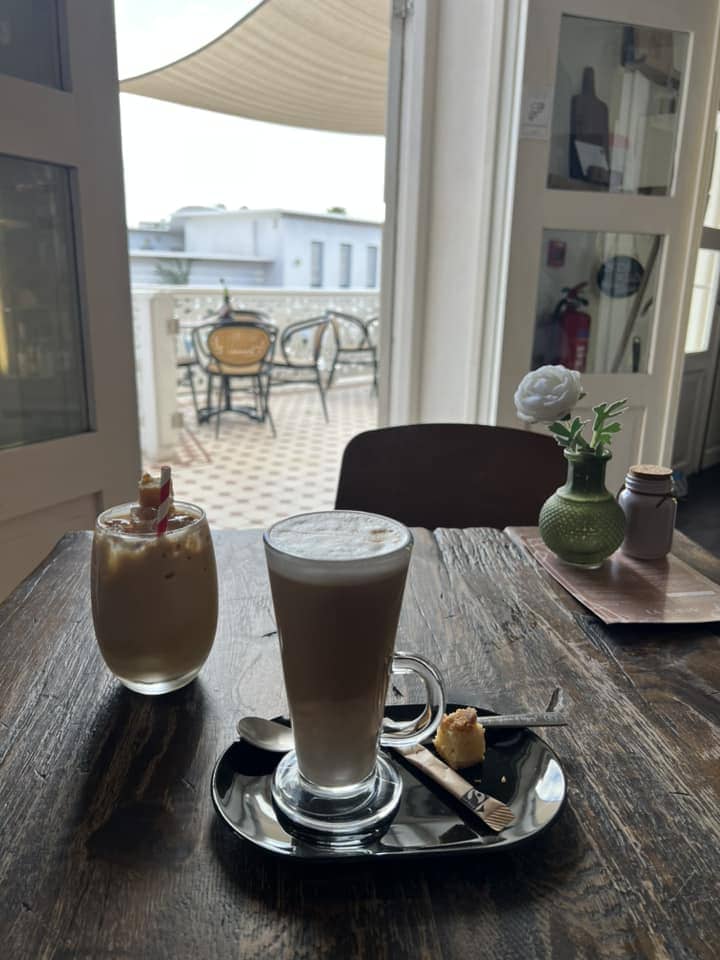 The lattes and ice lattes are delicious, and the pastries are some of the most beautiful we've seen. We would definitely return for breakfast or tea time to indulge.
La Reina is open Monday-Saturday 7:30 am – 5:00 pm. Closed Sundays.
Address: 86 Kaya Wilson Godett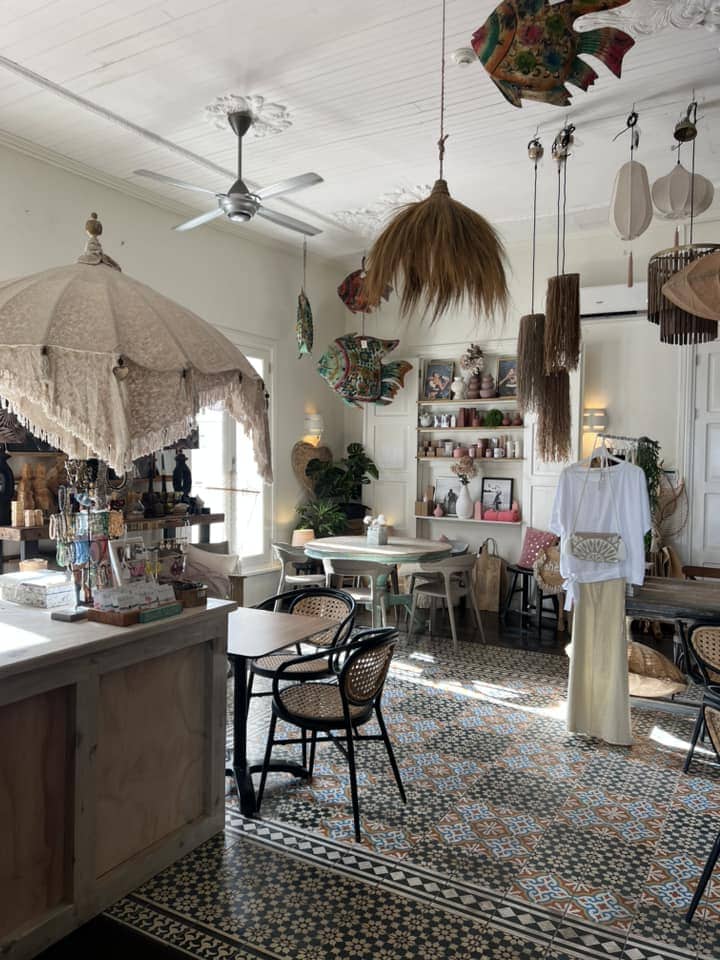 Related: 10 Epic Things to do in Willemstad (Especially from the Cruise Port!)
Bonchi Coffeehouse
I wish we discovered Bonchi Coffeehouse sooner. Walking through the door is a feast for the eyes!
It's decorated in the most delightful way and I couldn't help taking a bunch of photos. We sat inside to enjoy the air conditioning and soak in the atmosphere. It was a great spot to enjoy a morning latte and grab some food.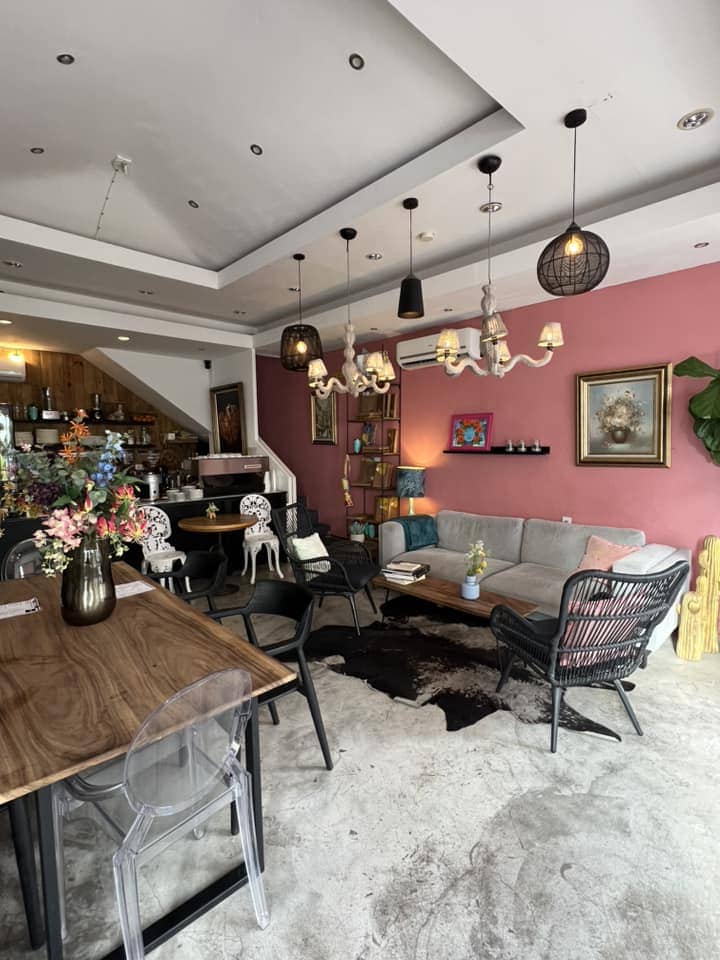 There are a lot of healthy breakfast options (including vegan ones) including the chunky monkey bowl, power smoothies, avocado toast and more.
P.s. If you see avocado on the menu, try it at least once. It's so delicious in Curacao!
Bonchi Coffeehouse is open 7:30 am – 2:00 pm Monday – Friday, 7:30 am – 4:00 Saturdays, and is closed Sundays.
Address: 14 Hanchi Snoa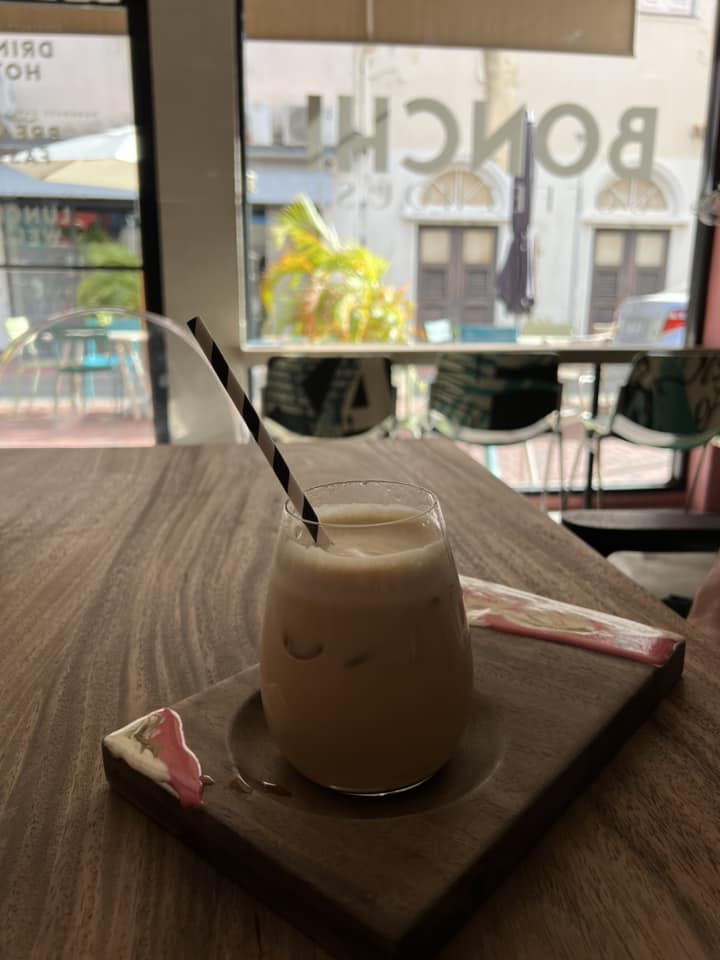 Mi Familia
We stumbled upon Mi Familia on our first day walking throughout Punda and Pietermaai.
It was charming and rustic with picnic benches with umbrellas outside, and a farmhouse feel inside. You order at the counter outside and grab a seat inside or out.
This is where I had my first encounter with lattes in Curacao and I haven't looked back.
Mi Familia is open from 7:30 am – 10:30 am daily.
Address: 5 Nieuwestraat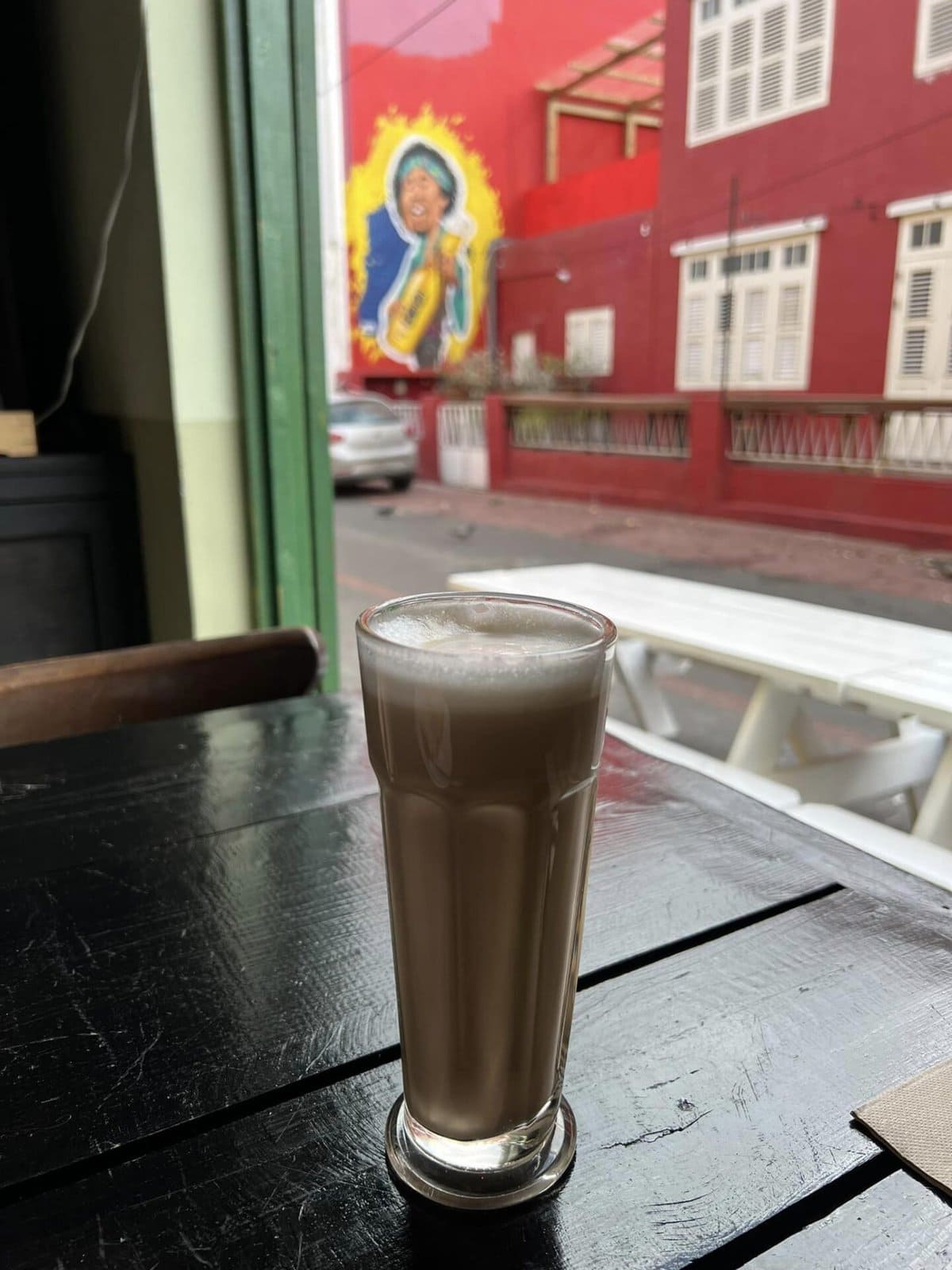 Related: 20+ Best Things to do in Curaçao
Rustiq
Rustiq is a new cafe and restaurant (just opened December 2022) tucked away by the Kura Hulanda museum near the Kura Botanica hotel.
We came across it during our free walking tour and had to come back. Rustiq has such a light and airy feel, with a large canopy covering the patio area and beautifully decorated walls, and gorgeous tree tables.
The juices are freshly squeezed, the breakfast items are creative and unique, and the surroundings are stunning. There is a huge mural on the wall that, to me, is the most beautiful one in Willemstad.
You can also get fresh coconuts here – and once you're finished drinking, they will cut it open for you to eat the coconut meat!
Rustiq Restaurant is open 8:00 am – 10:00 pm Monday-Saturdays and 9:00 am – 5:00 pm on Sundays.
Address: Columbusstraat 4
Pin it for later!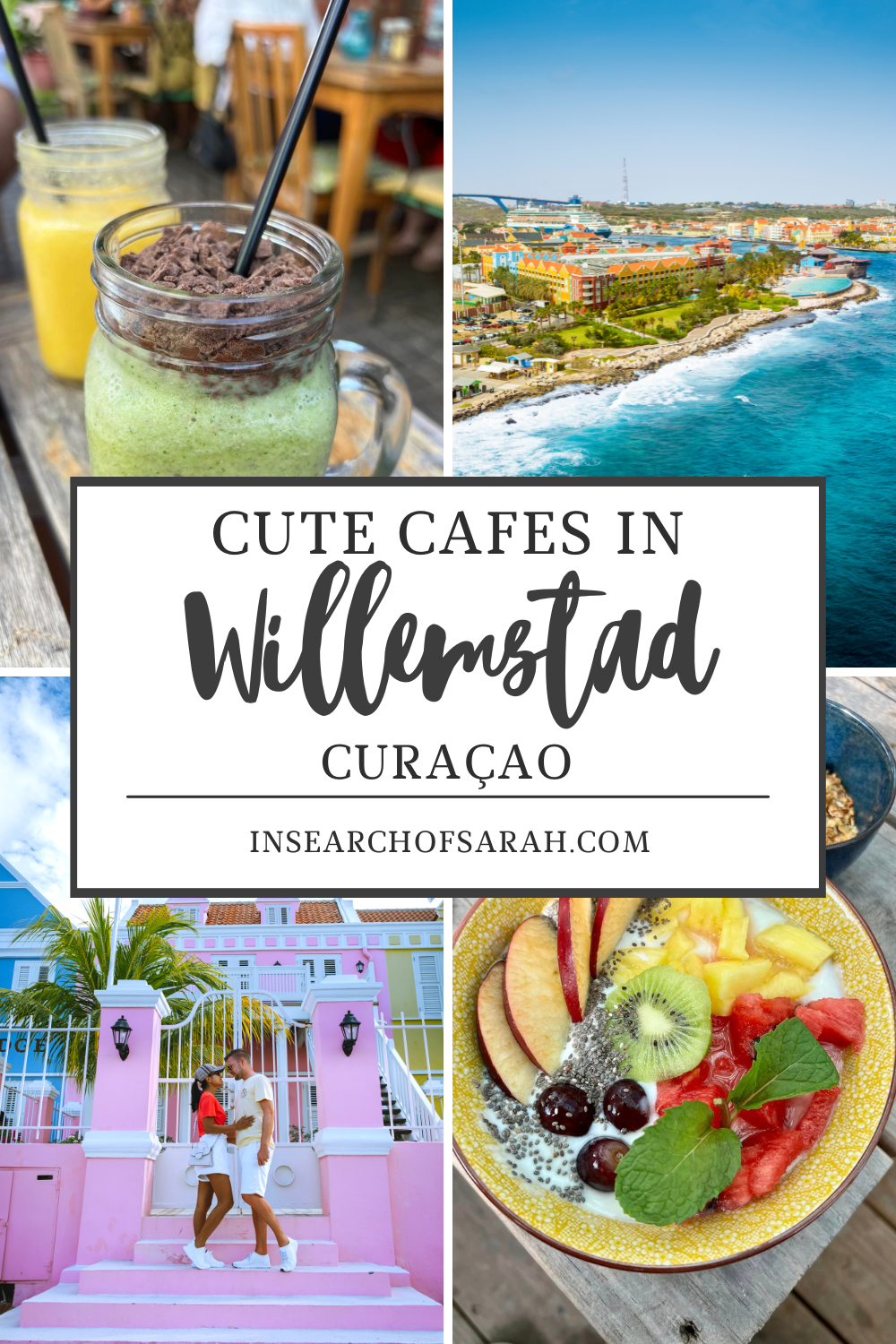 Related Posts