If you're looking for an epic adventure in Curacao and want to feel accomplished after spending time lounging around one of the island's spectacular beaches, plan a hike to Mount Christoffel – also known as Christoffelberg.
Curacao is known for its fantastic beaches and consistent temperature year round, but it also provides some interesting hiking opportunities, too!
When you fly over Curacao before landing at Hato Airport, you'll be passing over some stunning land formations. The most prominent one is Mount Christoffel – or Christoffelberg – the highest point in Curacao.
It's known as one of the best hikes in the Caribbean.
Hiking Mount Christoffel is one of the most difficult hikes I have ever done – but don't let that scare you. It's also one the best hikes I've done, too. Keep reading!
This post contains affiliate links which means I earn compensation when you click on the links at absolutely no extra cost to you! Feel free to read my disclosure policy. Thank you for supporting my blog!
Plan your next vacation using these tools!

✈️ Book flights: SkyScanner
🏨 Book hotels: Booking.com
🚘Book car rentals: RentalCars.com
🎫Book tours: GetYourGuide
🌍Favourite travel item: Packing cubes
🧳Favourite travel bag: Osprey 40L Fairview
🩹 DIY Travel Medical Kit
💸 20 Cheap Travel Items Under $20
Don't have time to go through the whole guide right now? Save it for later!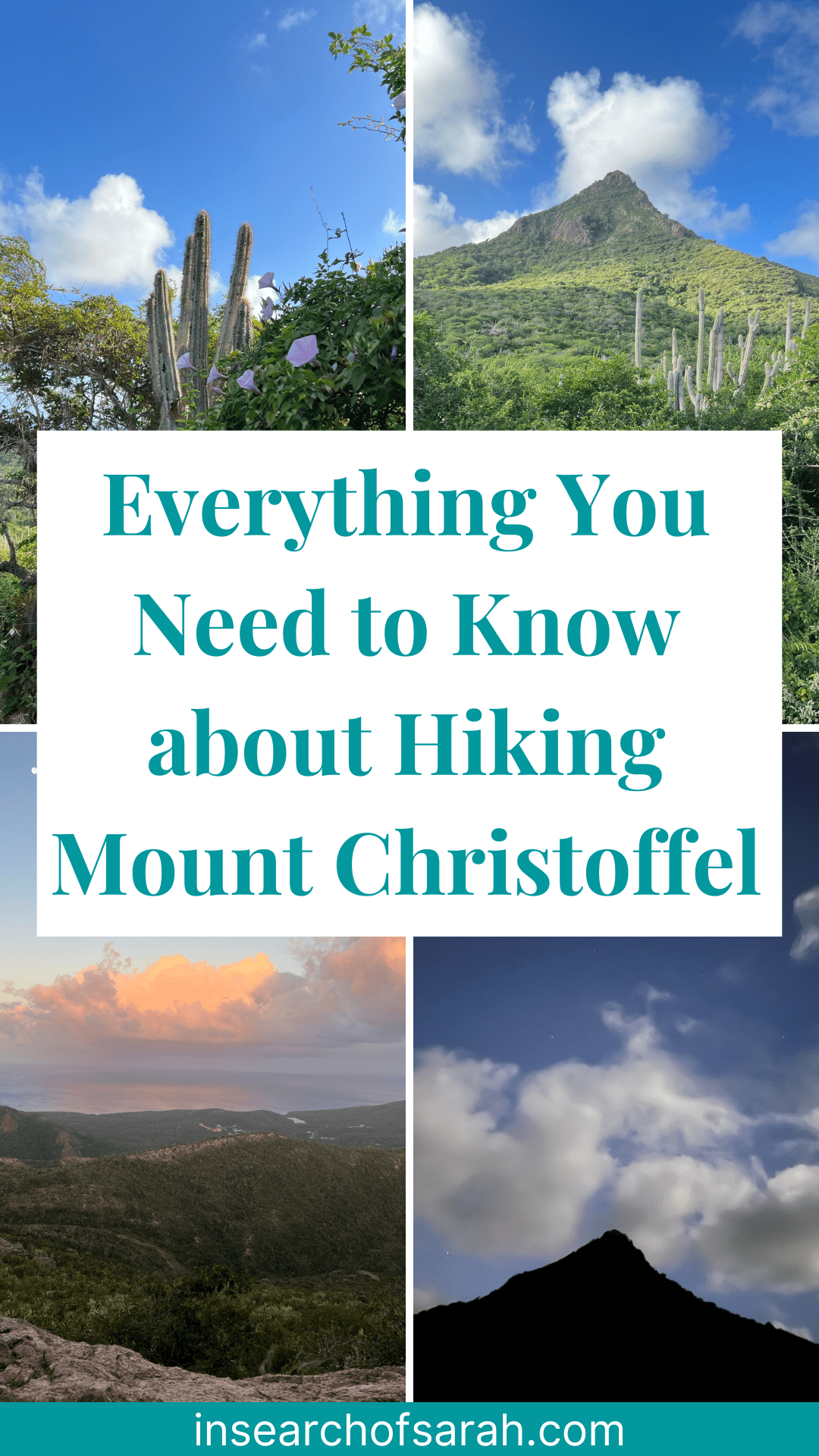 I read a lot of blog posts from people saying how it was nearly impossible to do even at a high level of fitness. I don't believe this to be true.
Why? Because I am not fit. 😂
I definitely wouldn't say it's easy, but if you are prepared and hike at the right time, you should be able to accomplish hiking Christoffelberg!
Plus, if you have strong mental fortitude and no health or mobility problems, you should be able to complete the hike at Mount Christoffel. It is by no means easy, but will leave you with such a sense of pride. That alone is worth doing this hike!
Reaching the peak of Christoffelberg means you'll be hiking to the highest point in Curacao – at a breathtaking 1220 feet above sea level. The views are unreal, especially if you make it time for sunrise.
Yeah, sunrise. It's an early start to the day. But trust me, it's worth it.
Let's dive into this complete guide on how to hike Mount Christoffel in Curacao!
About Christoffelberg
Christoffelberg – also known as Mount Christoffel – is the highest peak of Curacao and the lower Netherland Antilles – collectively known as the ABC islands (Aruba, Bonaire, and Curacao).
At 1220 feet high, the peak of Christoffelberg is rugged and requires an interesting climb to reach it.
Much of Curacao is made up of limestone, but Mount Christoffel is unique in that it's made of metamorphic rock – mostly a hard quartzite. There are also caves on the lower slopes of the mountain.
P.s. If you want to check out some amazing caves, head over to Hato Caves!
Covering the mountain is a mix of various cactus (I almost grabbed onto one to regain my balance in the dark 😂), trees, and small shrubs.
You can also find lizards, parakeets, iguanas, and different types of birds up there, too. The Curacao White Tailed Deer can be found at Christoffel National Park, but they are not often seen.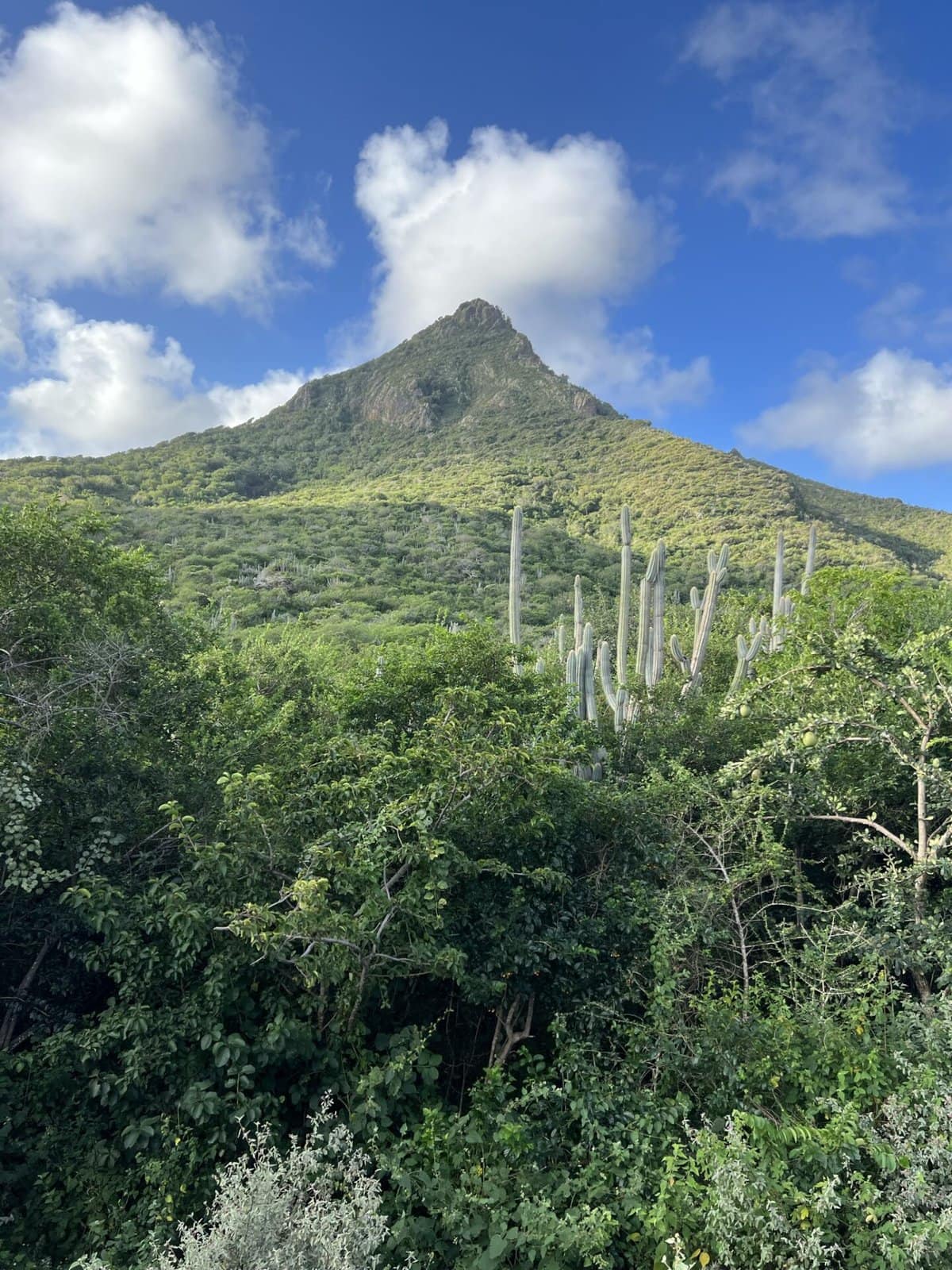 How do you get to Christoffel National Park?
The drive to Christoffel National Park is an easy one, and the easiest way to get to Christoffelberg is by car. If you are renting a car, it gives you so much more flexibility with travelling throughout Curacao.
You can also reach Christtofel National Park by taxi, but I would not recommend it because 1) taxis are insanely expensive in Curacao (in my opinion) and 2) you would have to leave super early in the morning to get there for when they open.
I would not recommend even attempting to reach Christoffel National Park by bus because the busses aren't entirely reliable, especially during the early hours. The busses can also take forever to get there. And then you have to find your way back. Not advisable.
Assuming you have a car while you're in Curacao, driving to Mount Christoffel is a breezy 45-60 minutes if you're saying in Willemstad. We stayed at the Renaissance Wind Creek Curacao in Otrobanda and it took roughly 45 minutes.
It was basically a straight drive from one end of the island to the other.
You'll follow the main southeast to northwest road on the island (Weg Naar Westpunt) to Band'Abou – following the signs for Westpunt. Once you reach the village of Barber, there are signs to follow to the park. It's an easy drive and isn't busy.
I used Maps.Me for my directions and GPS. This free app allows you to download a map of an area (while you have a connection to WiFi or data), and it functions entirely offline.
I found it a bit more reliable than Google Maps actually, for directions to more of the well-known locations.
Maps.Me was super handy because we only had a SIM card with 3 GB of data during the time we had our car (we purchased our SIM card through our car rental company, which actually ended up being cheaper than at the store).
Address: Plantation House Savonet, Weg Naar Westpunt
When to visit Mount Christoffel
Christoffel National Park is open year-round, so you can visit any time!
You may think I'm crazy – but the best time to hike Mount Christoffel is right when Christoffel National Park opens at 6:00 am.
It. is. early.
We woke up at 4:00 am and left by 5:00 am. We pulled up to the park 15 minutes before 6:00 am and were actually surprised to see a few other cars there waiting to get in.
Why hike that early?
It's best to hike Mount Christoffel when the park opens because you'll beat the scorching sun and heat of the day. You will also have the opportunity to see the sunrise if you hike that early too, and it was incredible to see from the highest point in Curacao!
FYI – you can't actually hike past 10:00 am – they won't let you because the heat becomes unbearable. We felt so bad for the people we saw coming up one our way back down the mountain at 8:30 am.
I would also advise against hiking after rainfall.
We met someone who did this, and he said it was an absolute death trap. This is because the "trail" isn't exactly a trail. You basically follow the path that the water has carved out going down the mountain. There is also a fair amount of rock climing to overcome. Mixing that with water would be insanely slippery.
Just a tip: If you're renting a car and are driving in the early hours of morning, you're likely used to a vehicle with automatic headlights. Check to see if yours are automatic or if they have to be manually turned on prior to leaving. I speak from experience!
What is it like to hike Christoffelberg?
We saw some YouTube videos and I read some other blogs about how to hike Mount Christoffel, so we sort of knew what to expect.
Once you get to Christoffel National Park, and once the gate is open, you'll have to make your way to the visitors office.
Early in the morning there is someone standing at the doorway handing out waivers to sign. You'll be given a pen and paper to read over the rules, sign and date your name, and give a phone number.
Once your form is complete, you'll be allowed to go inside (one person per group), hand in the forms, and pay the entrance fee. The entrance fee to Christoffel National Park is $15 USD.
Once through, you'll be asked to show your receipt before exiting the visitors office. You're given instructions on how to get to the parking lot (right, left, left, as I have drilled into my head!).
There's a road directly across from where the ticket office is, which is about a 10 minute drive down a one-way, very windy and hilly road. Be mindful of taking this road in the dark because it's very unpredictable (we felt like we were on a Jurassic Park ride at Universal!), and the edges of the road drop off a few inches.
P.s. You can also walk from the ticket office to the trailhead, but honestly you would be insane to do it. It would add an extra hour each way to your hike. Believe me when I say that you'll need your energy for the actual hiking up the mountain.
Once at the parking lot, you'll see Mount Christoffel looming over you. We got to the parking lot at 6:15 and just saw this big black shadow towering over us with the stars twinkling in the sky and birds chirping all around us. We really felt immersed into a jungle-like environment.
There is a sign posted at the trailhead so you'll know which direction to start in. The trail starts off with a slight incline for about 5 minutes. It feels strange to be walking through the trough the water has carved out on its way down the mountain.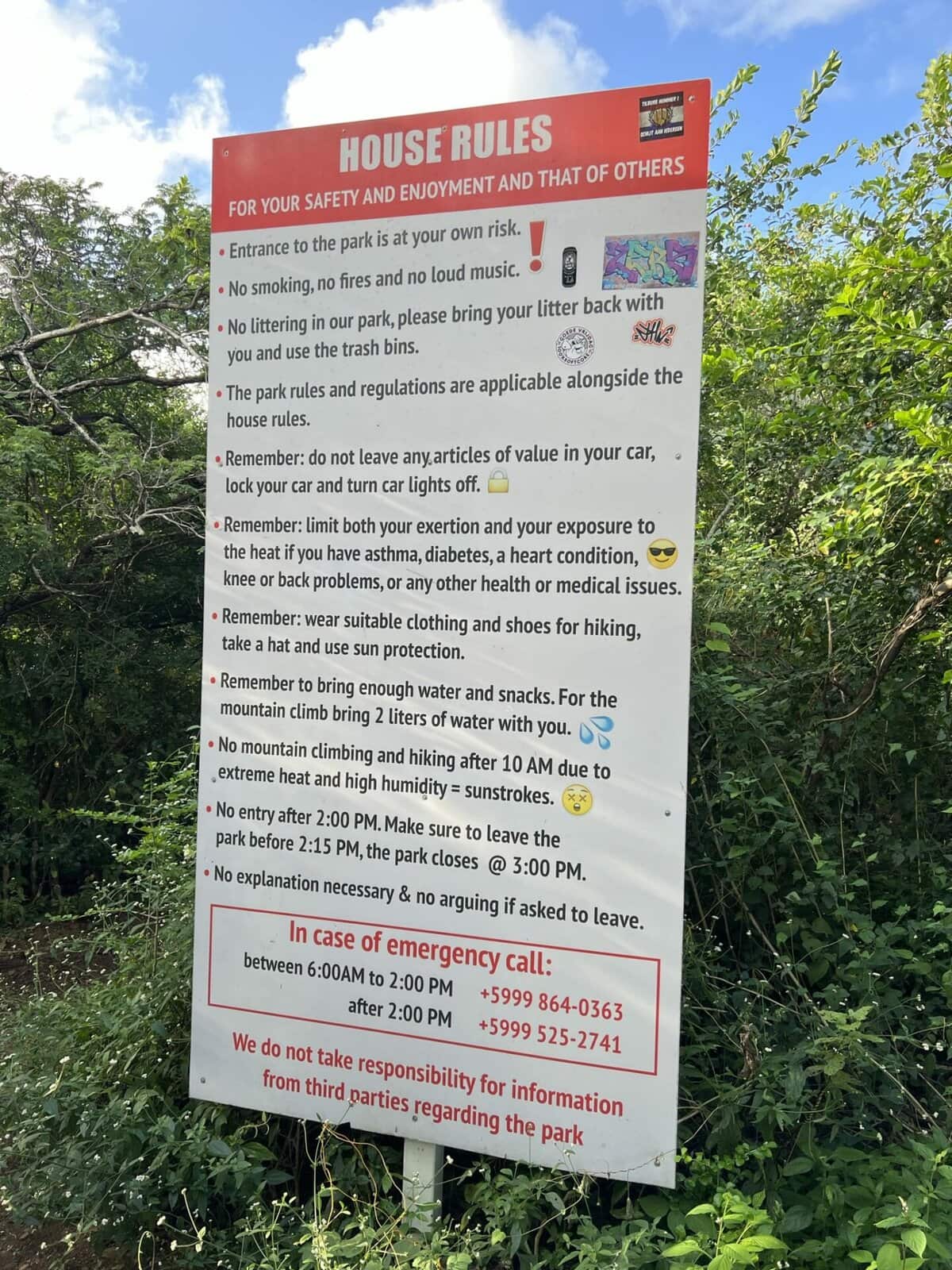 Soon after, you'll start going uphill and will be navigating through small boulders. This is when things get serious. Continue like this and take rest stops when needed. We were so grateful to see a bench part way up the mountain. We rested for 5 minutes and felt much better after that.
We also reached a rocky clearing before sunrise, where the sky was pink. It was gorgeous lighting and a great spot to catch our breath.
We eventually saw the half-way mark and I couldn't believe we were only half way. There were acutally a few times when I didn't think I could do this hike, but I am too stubborn to ever quit and I just had to take more breaks haha.
There is one final rock-free path up the side of Christoffelberg before the real challenge began: rock climbing. I can now add bouldering to my list of skills. 😂
At some points during the hike, we were legitimately rock climbing up near-vertical rock faces. It felt easier than doing the hiking portion, and took my mind off of how winded I felt. I noticed some spray paint on the rocks where good areas to grab on to were, and we quickly made our way up.
One last rest stop and we met another family hiking. They said, "5 more minutes to the peak", which gave me the last boost I needed to reach the summit.
Almost at the peak you'll reach a fork: turn left for an 'easier' pathway, or go right and pass by an abyss. It's advised that those with an aversion to heights are not recommended to take this route. In short, we did not take this route. 😂
P.s. I was so worried we'd miss this turn off and I was expecting it way sooner than basically at the summit. Don't worry, you won't miss where the trail splits left and right.
One final clamber over boulders and we reached the summit just at sunrise: 7:09 am. The views and cool breeze made everything worthwhile.
It made us feel like if we can accomplish reaching the peak of Mount Christoffel, we can do anything.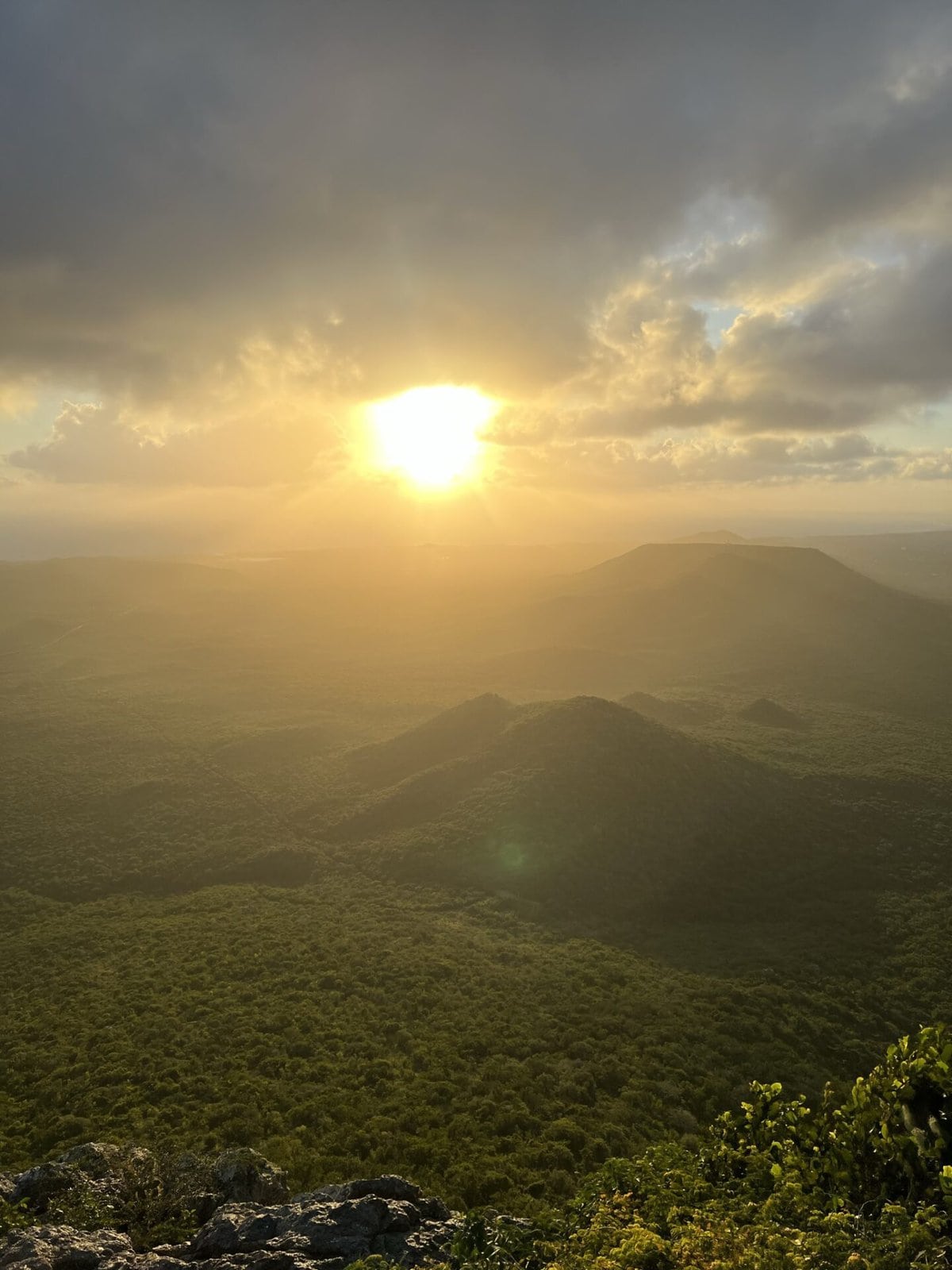 After resting, taking photos, drinking a lot of water, and enjoying the views, we started our descent. It was starting to get busy with all the other groups of hikers that started around the same time we did.
While doing down is slightly easier, it was more challenging on the thighs I think. As I sit here writing this two days after hiking, my quads are still screaming at me.
You have to think more about where to put your feet and how to get back down the steep rock faces. Fortunately it was dry out and we all managed to get a good grip on the rocks.
Reaching the parking lot gave such a sense of relief and gratitude, but also empathy for those just starting out. 😂
P.s. Did you know White-Tailed deer live at Christoffel National Park? We didn't see any, but we saw (and heard) a lot of colourful birds!
How long does it take to hike Mount Christoffel?
When I first started researching how to hike Mount Christoffel, we saw a range of time anywhere from 45 minutes to 2 hours. We thought, pfft, it will only take us 45 minutes.
We weren't too far off, and we reached the peak in under an hour.
I am not a super fit person, but boy was I ever winded. I was winded in the first 5 minutes. 😂
If you take lots of breaks (we did) and stop for photos (we did), it should probably take around an hour to reach the summit.
We stayed up top for about 30 minutes to take in the sunrise, catch our breath, take photos, and enjoy the breeze and the views. I highly recommend absorbing the amazing vistas you'll see from up there and don't rush back down.
It does get busy at the summit, and there isn't a whole lot of room. Be mindful of your steps!
It took about 50 minutes to climb back down.
If you hike early enough, you will likely be waiting for some people to climb up as you're making your way back down, since the path is two-way. We were also slowed down by having to navigate climbing down rocks and boulders.
Make sure you bring shoes with a solid tread on them!
What to pack for hiking Mount Christoffel
There are a few things we brought with us to hike Mount Christoffel that made our lives so much easier.
Hiking Mount Christoffel recap
Bring at least 2 litres of water with you and some snacks to refuel
Wear shoes with tread (very important!)
Start early!
Admission to Christoffel National Park is $15 USD per person
There is no admission to hike Christoffelberg past 10:00 am
P.s. If you're wondering what to wear, I wore an active-wear t-shirt (since I was burned and didn't want my backpack straps rubbing my shouders), and active capris. I almost wore shorts but wasn't sure what the hike up Mount Christoffel was like, and didn't want to scratch my legs up. After having hiked Christoffelberg, you can definitely wear shorts if you want – it's a lot cooler!
Christoffel National Park Hours
Christoffel National Park opens at 6:00 am daily and closes at 3:00 pm. You cannot start hiking past 10:00 am due to high heat and humidity.
There is no entry to the park past 2:00 pm. Christoffel National Park closes at 3:00 pm.
What is the highest point in Curacao?
Mount Christoffel is the highest point in Curacao.
How tall is Mount Christoffel?
Mount Christoffel is 1220 feet tall – or 366 metres.
Other things to do at Christoffel National Park
You can spend the entire day at Christoffel National Park if you wish! There are a few driving trails to take around the mountain, as well as the Savonet Museum – 'Landhuis Savonet' – a former plantation house.
Christoffel National Park is also very close to Shete Boka National Park (you can see it from the summit!), and a number of gorgeous beaches in the west end of Curacao. From the peak we saw Playa Lagun. You earned a relaxing afternoon after hiking Christoffelberg!
Related Posts
Pin it for later!