Visiting Curacao and want to check out the island? The best way to get around Curacao is by renting a car. Renting a car in Curacao is super easy – there are a number of rental companies on the island that are reputable and reliable to rent a car from!
The stunning Netherlands Antilles island has so much to offer; magnificent beaches, beautiful, rugged scenery, unique natural sights, and so much more.
To truly appreciate what Curacao has to offer, a vehicle most definitely should be rented.
Driving in Curacao is very easy, especially for us in North America – and much of the world – since they drive on the right hand side of the road. Don't let driving in a foreign country hold you back from experiencing this amazing island.
Let's dig into the reasons why you should rent a car in Curacao – plus what you need to know before renting one!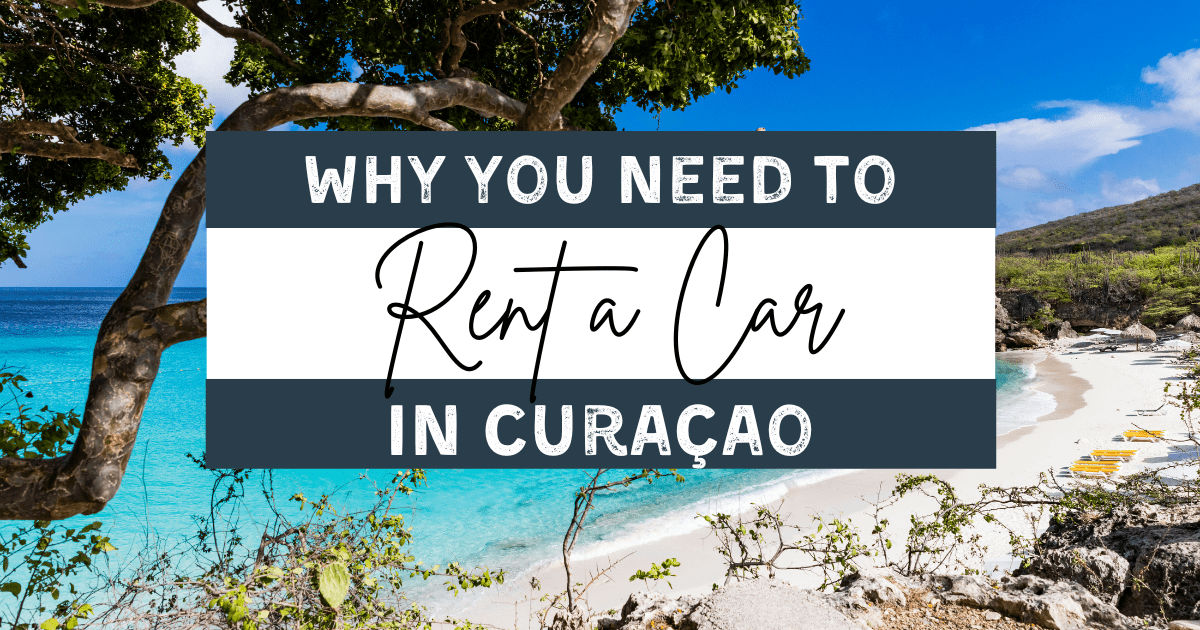 This post contains affiliate links which means I earn compensation when you click on the links at absolutely no extra cost to you! Feel free to read my disclosure policy. Thank you for supporting my blog!
Plan your next vacation using these tools!

✈️ Book flights: SkyScanner
🏨 Book hotels: Booking.com
🚘Book car rentals: RentalCars.com
🎫Book tours: GetYourGuide
🌍Favourite travel item: Packing cubes
🧳Favourite travel bag: Osprey 40L Fairview
🩹 DIY Travel Medical Kit
💸 20 Cheap Travel Items Under $20
Don't have time to read this guide right now? Save it for later!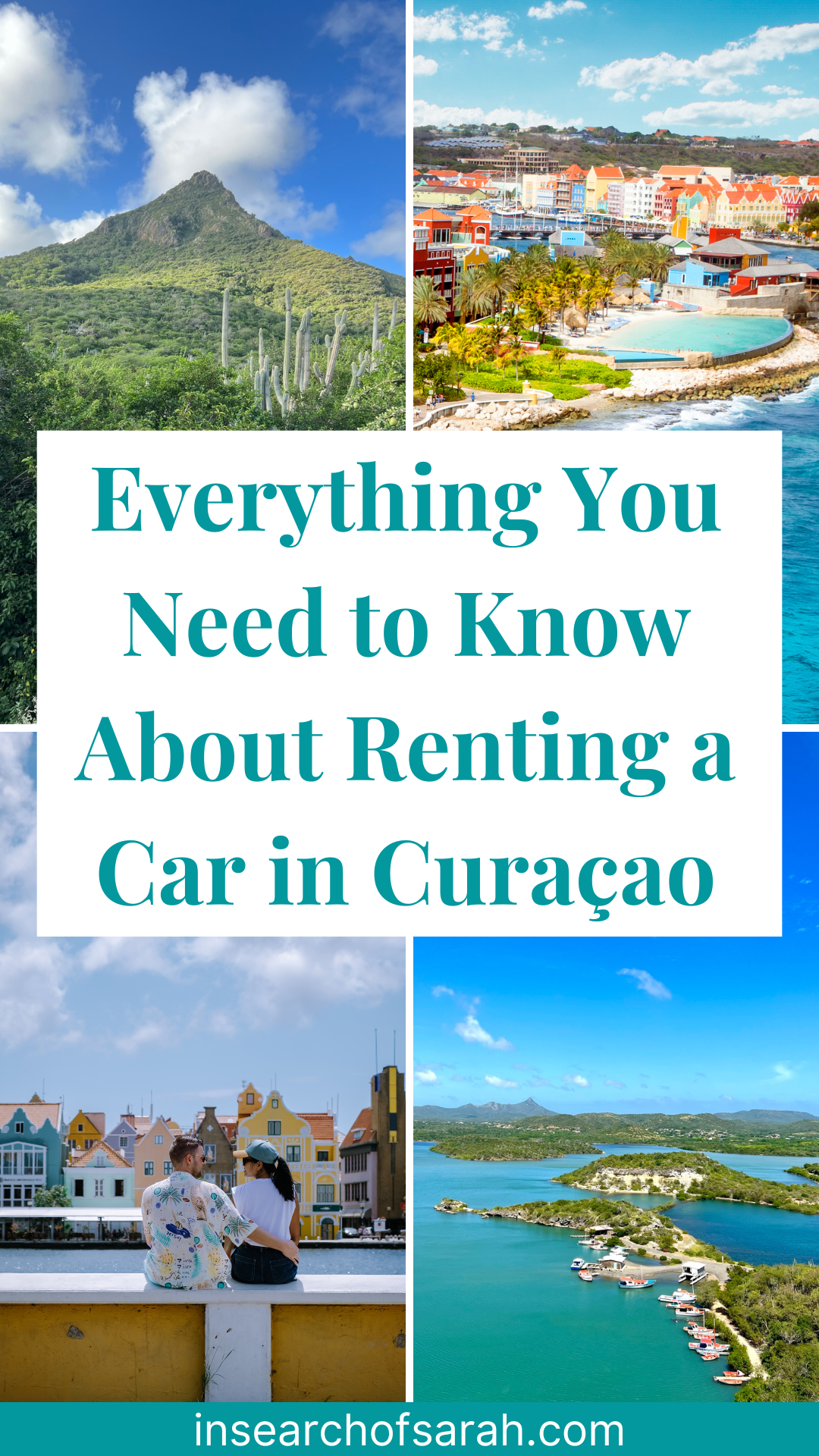 Is it worth renting a car in Curacao?
It is absolutely worth renting a car in Curacao. If you want to get around to the beaches and check out some amazing scenery and attractions, renting a car is your best bet to get around the island.
It doesn't take far to get anywhere on the island – its entirety is only 38 miles long, or 61 km, and 7 miles (11 km) wide, and parking is free everywhere. In fact, it really only takes about an hour or so to drive from tip to tip, however, there are so many amazing things to see along the way!
It can be relatively inexpensive to rent a car for two people, or if you need to rent a larger SUV like we did, it can still be economical if the price is split.
I advise this: do your research. Check out all of the incredible things Curacao has to offer, figure out how much time you have on the island, and plan away!
You may not need a car rental for the entire time, but you also don't want to cram it all in within a short amount of time. I am guilty of that. Ask my family. 😂
Plan an itinerary, use Google Maps to plot the distance and how long you want to be out each day, and see what fits best within a day. That will give you a better indication of how long you need a car rental for.
Is it hard to drive in Curaçao?
Curacao is one of the easiest places I have ever driven. It's stress-free and as long as you have some good navigation and know where to go (I have tips on that below!), driving in Curacao is a very enjoyable experience!
What side of the road do they drive in Curaçao?
Driving is done on the right side of the road in Curacao, making this an easy place to get used to driving around if you're from North America or most of Europe!
What kind of car do you need in Curaçao?
Compact cars will be the cheapest option for renting a car in Curacao, and it's an option that will get you safely around the island. You do have the option to also rent compact SUVs or larger SUVs if you have a bigger group to accommodate.
We had a mid-size 7-seater SUV and had no issues driving around the island or parking anywhere!
Related: 10 Epic Things to do in Willemstad, Curacao
Reasons to Rent a Car in Curacao
So WHY should you rent a car in Curacao? Well, aside from it being very easy to rent a vehicle (all you need is your driver's licence and a credit card!), it gives you the flexibility to explore the island at your own pace.
Let's check out the reasons!
Renting a car in Curacao gives you freedom to explore
Plus, driving around Curacao is super easy and traffic is never really heavy, at least by Canadian standards.
If you really want to explore all the beauty Curacao has to offer, the best way to do that is to rent a car. You can travel around at your own pace and your own schedule, rather than being tied to scheduled departure and pickup times. It's your vacation, right? Why stress!
Taxis are expensive
Now, I know I can be cheap, but when a taxi can cost upwards of $40 for a 10 minute drive, it can become very cost prohibitive to take a taxi around Curacao.
Everyone local we spoke to said taxis were expensive, and we thought, okay, probably not too bad?
We went out for dinner one night 5 minutes outside of town and spent the equivalent of $60 CAD for a return trip. Ouch! That's the daily price of an SUV rental!
If you want to visit the gorgeous beaches and some awesome places to eat that aren't within walking distance, it really is cost-effective to rent a car in Curacao!
Renting a car is cheaper than taking a tour
Before we went to Curacao, I looked into taking organized tours as a possibility to visit some of the beaches and natural attractions the island offers.
I couldn't believe how expensive some of these tours were. For the price of two of us to do one day tour, it would've cost the same as our 3 day SUV rental!
It pays to do your research! Of course, some places in Curacao can only be done by organized group tour, but if you want to beach hop and go on your own schedule, definitely rent a car!
The bus system can be confusing, unreliable, and time consuming
While taking the bus around Curacao is certainly an option, it can tie up a lot of your day and isn't always the most reliable option.
I wouldn't want to wait (and hope) that a bus will arrive while I'm on vacation. Plus, if you take a bus, they may not always stop exactly where you want to be, so you will have to do some walking. In the heat of the day, it's not a fun option.
Try to budget in a car rental, even if for a few days. It's well worth it.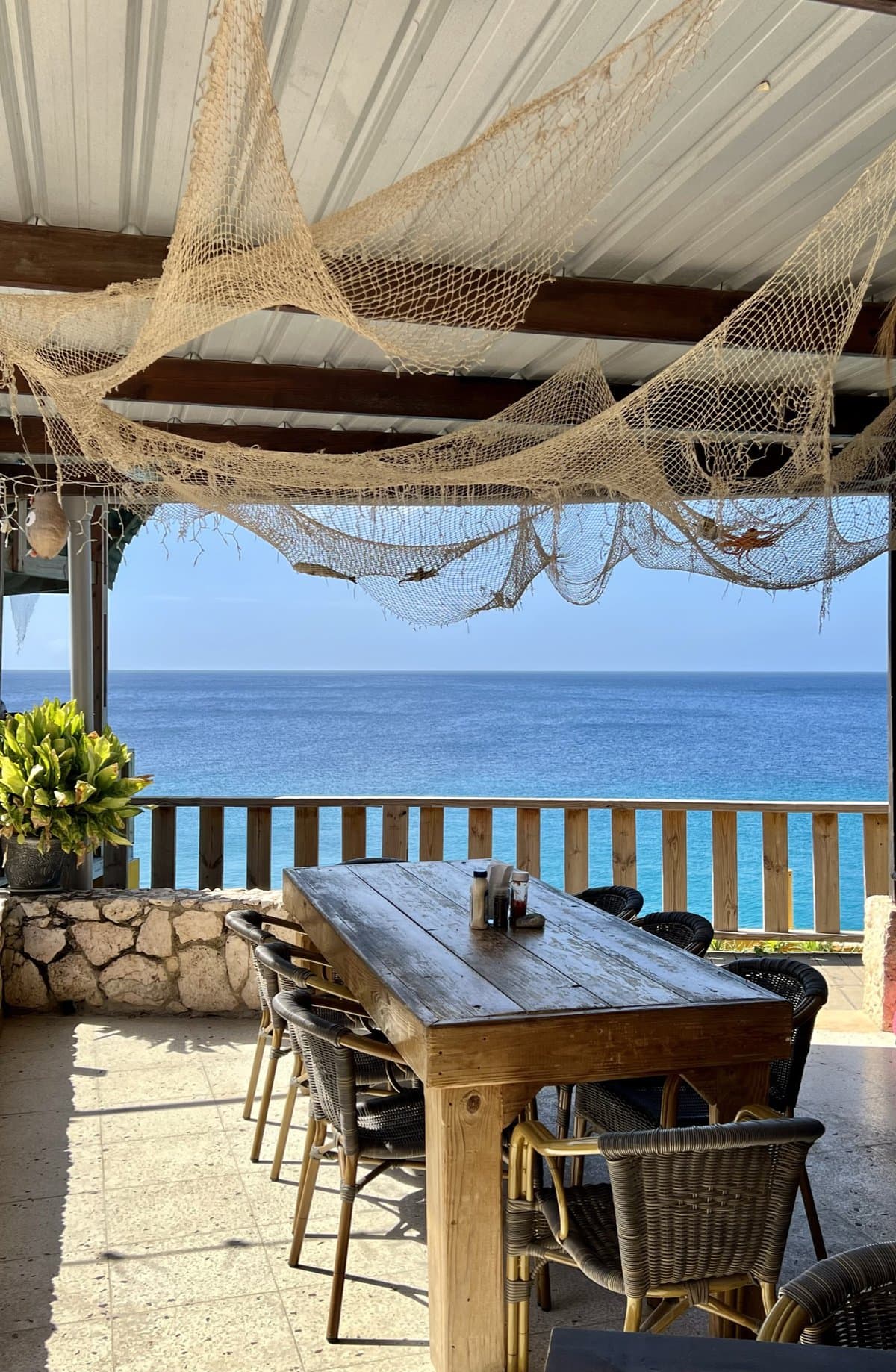 What to know before renting a car in Curacao
There are a few helpful tips when it comes to renting a car in Curacao. Our car rental company told us most of these, but I had to figure out some of these the hard way. 😂
Book your car rental early!
Of all the tips, remember this one!
Car rentals are incredibly popular in Curacao, mainly because if you want to see anything outside of Willemstad, you need a car.
As soon as you know your travel dates, secure your rental to avoid any disappointment! You will (more than likely) have to pay for your rental at the time of booking to guarantee your chosen vehicle.
If you are travelling with more than 2-4 people, this is even more important to remember. If you wait to book your car rental, you may not get a vehicle large enough to accommodate your whole group.
If you want to chance a car rental, just know that there are cruise ships virtually ever day pulling into port, and many of these customers will rent a car for the day. The representative I spoke to at Smart Wheels said they had 20 rentals one day just from cruise passengers!
If you want a vehicle rental during your trip in Curacao, I implore you to secure a rental early!
Do a walkaround prior to taking the keys
Your car rental company will do this too, and likely take photos, but it's good to have a second set of eyes as they're doing this to ensure every scratch, dent, and mark is noticed. Once you have the keys, it's all on you!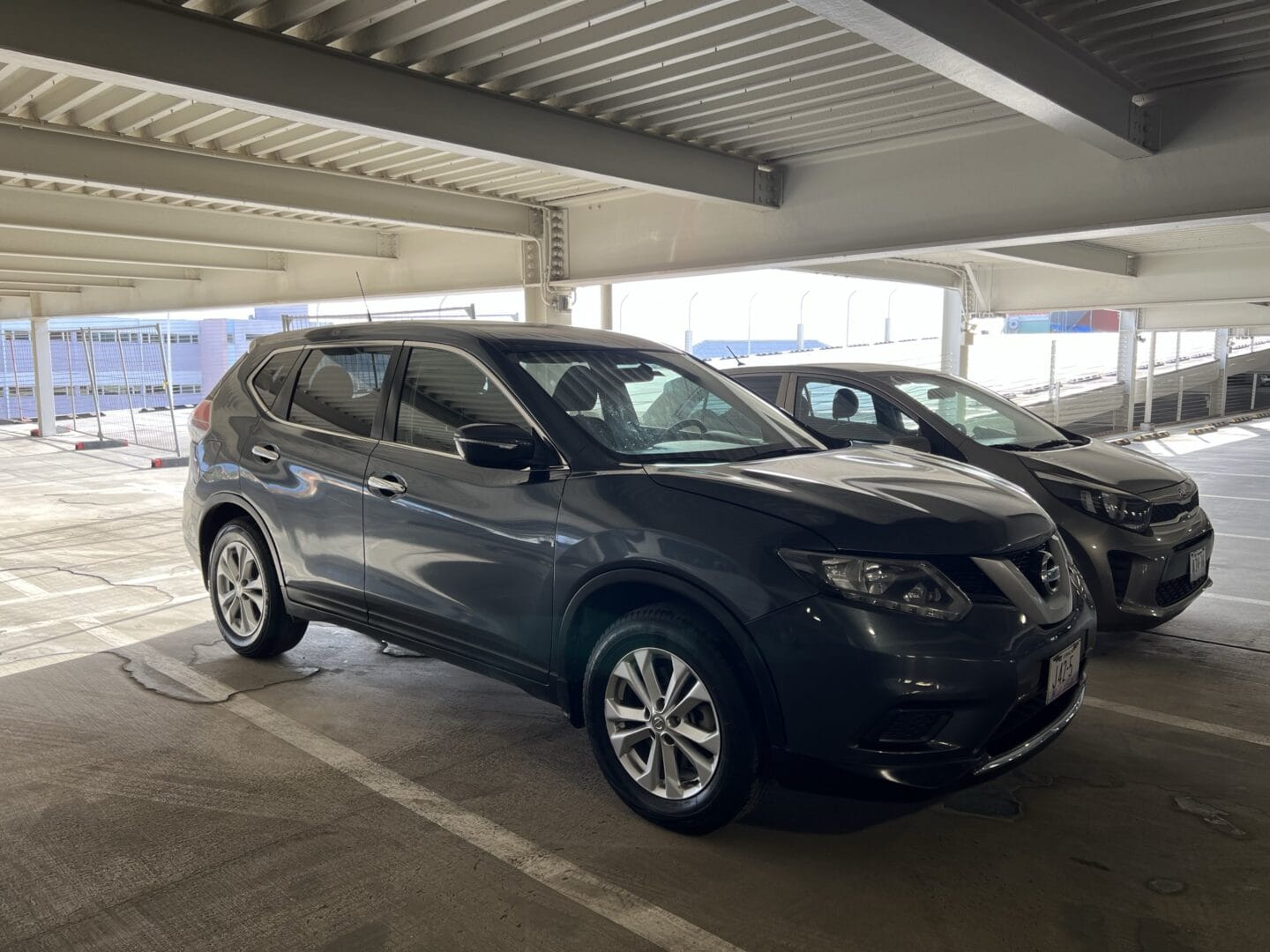 How to get gas in Curacao
If you're from the USA, you may not find getting gas in Curacao confusing, but as a Canadian, it took me a hot minute to figure out how to get gas properly. 😅
There are gas stations dotted around Curacao – and if you're renting near the cruise port, there's a handy location on Pater Euwensweg, right across from the Mangrove Beach Corendon Resort.
It's important to note that these gas stations only take cash – so be prepared! Many of them will have a drive-thru setup when you pull in. You'll drive up to the booth, place however much money you think will fill the tank (it's better to overestimate), then you'll be told which pump to fill up at.
Regular gas is the yellow handle in Curacao – confusing for us Canadians as that's diesel. But be sure to pick up the yellow handle when filling your rental with fuel!
You'll either fill up to the amount you gave, or will have a full tank. If it didn't reach the money you gave, you will have to drive back around to the drive-thru and collect your money.
It's fairly straightforward if you know what to expect.
Local currency – NAF – or USD is accepted as cash payments.
Make sure you refill your rental before returning it to avoid charges! Some car rental companies in Curacao offer a prepaid option for a flat fee so you don't have to refuel the vehicle yourself.
Check your lights at night or early morning
Ok – I know I'm spoiled by modern conveniences of having my lights automatically come on. That's a perk of driving a newer North American car, haha, and it's been years since I had to manually turn my lights on.
So in my defense, I just expected them to come on automatically.
Our rental wasn't exactly new, but it didn't even occur to me as we set off to hike Mount Christoffel at 5:00 am that only my meager daytime running lights were on.
That was until I almost drove right into a roundabout.
THAT woke us up. 😂
It was a quick lesson to learn and fortunately there wasn't much traffic at that time of day, but let this serve as a reminder to you that you really do need to check your lights if you're driving in the early morning or after sunset.
Get the full insurance
I learned this lesson from my dad a long time ago with all the rentals we've had over the years: always get the full insurance.
Just get it.
It may cost an extra few bucks a day, but it will allow you to just walk away from any accident or mishap.
I could've had a $500 deductible, but for $5 more a day I had zero liability in the event of a car accident.
You may never get into an accident – and hopefully you don't! – but do you really want to risk it?
Car repairs are not cheap. I'm in the auto industry for my day job and I know this from experience.
P.s. Some car rental companies in Curacao may offer separate insurance for a few items.
The first insurance add-on is theft protection. Our rental company, Smart Wheels Curacao, offered this for $2.50/day. I read numerous stories about never leaving anything valuable in your vehicles because window breakage is common – although I will say I never saw any of this during our week there.
This protection covers the reduction of cost of window breakage, vehicle parts, and theft up to $100 USD. Your regular car rental insurance will not cover this, so you will have to purchase this separately.
The second option you can add is roadside assistance. Some of the roads can be straight up awful in Curacao (hello, Shete Boka!) and I can definitely see a few tires being punctured on these pot-holey roads.
It was only $3.00/day, and I didn't really want to risk any mishaps or breakdowns.
P.s. If you do happen to get into an accident, you will be instructed what to do by your rental company prior to taking the keys. Our rental company told us the numbers to call in the event of an accident were on the sun visor, and they said to leave the vehicle exactly where the accident happened – even if it is in a live lane!
Note: Some car rental companies in Curacao include the insurance in their pricing, which can lead to huge savings. Ask for what it includes and if there are any additional charges.
Don't leave any valuables in the car – at any time
We were advised by our rep at Smart Wheels to never leave any valuables in the vehicle. I assume this meant at beaches or any high traffic areas.
Our rep also told us to lock the vehicle – which contraries what other visitors had said about leaving vehicles unlocked, because a locked vehicle means you're protecting something.
My instinct told me to lock the vehicle each and every time, and we never faced any instance where we felt like our car may have been a target.
Still – it's better to be safe than sorry. If you're heading to the beach, bring only the necessities with you on your journey and bring everything with you to the beach.
Never leave your wallet, or loose change, or anything of value in plain sight, but that's kind of common sense, eh? 😉
I am SO glad I knew about this app prior to travelling – so now it's my mission to let everyone else know about this amazing free app.
Maps.Me allows you to use navigation offline – without a signal. All you need to do is download the map within the app ahead of time, and you're golden!
To be totally honest, I actually preferred this to Google Maps, as I found it provided better instructions.
This will easily navigate to major attractions and sites, but for smaller places like not-so-frequented restaurants that we had to drive to, I did find I had to flip back to Google Maps.
Still, Maps.Me provides a fantastic, free alternative so you don't have to dip into your data package.
P.s. Speaking of data packages, check with your rental company if they offer SIM cards. We got ours from Smart Wheels for $20 USD including 3GB of data which we found significantly cheaper than what stores offered.
Learn the Road Signs
It's important to note the speed limits when driving in Curacao, because it's probably slower than what you may be used to.
Residential areas usually have a speed limit of 45 km/hr, and 60-80 km/hr outside of town.
Side note – I loved that Maps.Me shows the speed limit of where you're driving, too!
Road signs are pretty self-explanatory, and many are the same as where you're from, but there may be one you don't recognize.
The priority intersection sign essentially means the road you're travelling on has right of way, whereas the cross-streets have to wait until you've gone through.
To be completely honest, I didn't really see a lot of stop signs in Curacao, so you will have to pay attention at cross-streets!
Is it cheaper to rent a car in advance or on the spot?
Given that car rentals are very popular in Curacao, you will want to rent a car in advance if you can.
When it comes to renting a car in advance or on the spot, the pricing will oftentimes be the same.
However, some companies may offer a discount for booking in advance online, so if you know your travel plans (and want to get the type of vehicle you want!), it's best to book in advance.
We rented from Smart Wheels and noticed we paid the same price in advance as it was posted at their office.
Is it cheaper to rent a car by week or by day?
Renting a car just for one day will often come with a short-term rental charge. I noticed Smart Wheel's were an additional $10 for a single day car rental.
It would be more economical to rent a vehicle for a few days or a week than a day or two sporadically during your trip.
Car rentals pay for themselves if you factor in where you want to go in Curacao and what it would cost for a taxi.
The good news is, you won't have to pay for parking anywhere, so that's an added bonus!
Renting a car from Curacao Airport
While it is easy to just hop off the plane and go to the car rental counter at Hato Airport, renting a car from the airport in Curacao is expensive.
Renting a car from Hato Airport will cost you more money than using a company downtown.
Why?
Airports generally charge a premium for the convenience of picking up and dropping off your rental right at the airport.
While it can be argued that the added cost is worth the convenience, I resent paying more for something when I know I can get it less elsewhere, haha.
Car rental companies in the city offer pick up and drop off for free, so it's juuuust as convenient booking with them, and will save you a few bucks!
Actually, a lot of bucks, when you compare an economy car at $35/day outside the airport vs $90/day from the airport!
Car rental companies near the Curacao cruise port
If you are looking to rent a car in Curacao at the cruise port, your best (and most convenient) option is Smart Wheels Curacao.
Smart Wheels has a location at the Mega Cruise Terminal, making renting a car during your visit to Curacao easy and seamless!
You can, of course, reach out to independent car rental companies in Curacao to arrange drop off and pickup of your rental if you want to explore other options.
Best car rental companies in Curacao
There are a number of fantastic car rental companies in Curacao that come highly rated by past visitors and extended-stay visitors.
I can firstly vouch for Smart Wheels Curacao. The convenience of having them located directly across from the Renaissance Wind Creek was an added bonus, plus the security of the parking garage opposite the hotel, too.
Renting a car is very easy in Curacao; you just need your driver's license and credit card! Since I uploaded my license and paid for the rental in advance, we only had to go over the vehicle and once I signed off on it, we were on our way.
Note: Many of these rental companies offer free pick up and drop off at the airport or at hotels in Curacao. Ask them prior to booking if they offer this service if you cannot find it on their website.
Other car rental companies in Curacao include:
Now that you know all about how to rent a car in Curacao and why you need a rental to get around this incredible island, hopefully it gives you the confidence you may need to drive in a foreign country, if you never have before.
Driving in Curacao is fun and easy and there is so much to explore. Enjoy!
Related Posts
Pin it for later!