Curacao has something for everyone. Check out this list of my favourite and best things to do in Curacao!
The vibrant Dutch Caribbean island of Curacao is a treasure trove of incredible things to do. From the idyllic azure blue beaches, stunning mountains, colourful street art, and wondrous natural attractions, there are a number of things to do in Curacao to enjoy the best of what the island has to offer!
With the whole island only taking a mere hour to drive tip to tip – uninterrupted – there are a plethora of incredible things to see and do in between.
Of all I've experienced and written about Curacao, I am most excited to share the best things to do while visiting this southern Caribbean island. There is something for everyone to enjoy – including adults and kids of all ages!
Let's check out some of the best things to do in Curacao!
Visiting Curacao for the first time? Here's what to know before going (plus helpful tips!)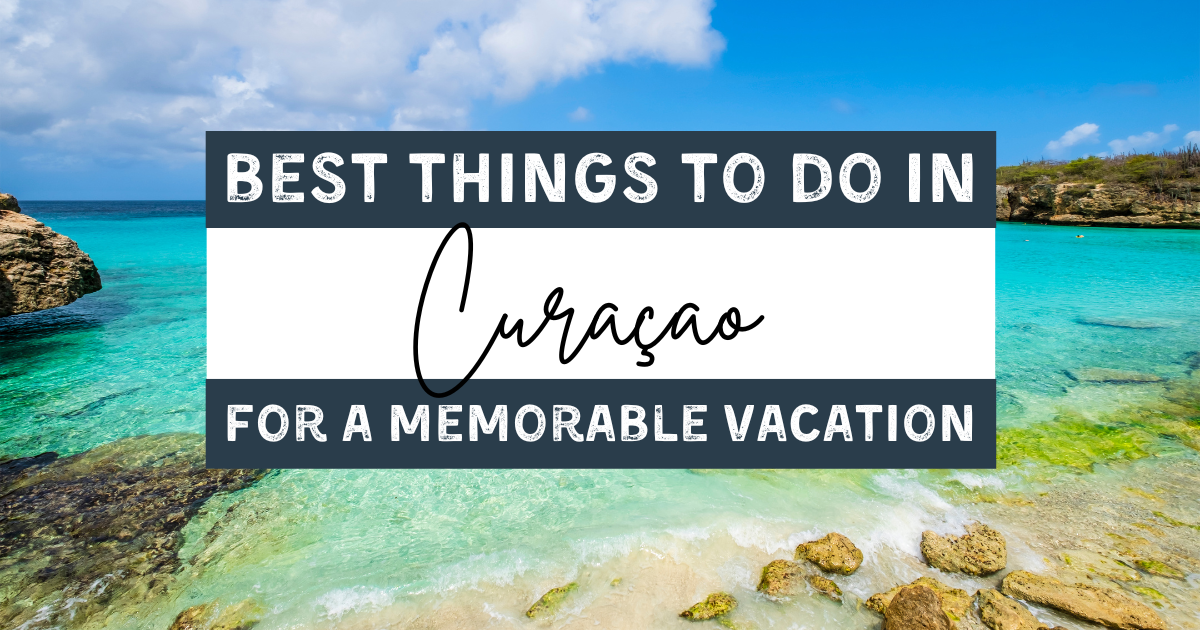 This post contains affiliate links which means I earn compensation when you click on the links at absolutely no extra cost to you! Feel free to read my disclosure policy. Thank you for supporting my blog!
Plan your next vacation using these tools!

✈️ Book flights: SkyScanner
🏨 Book hotels: Booking.com
🚘Book car rentals: RentalCars.com
🎫Book tours: GetYourGuide
🍽️Local food experiences: EatWith
🌍Favourite travel item: Packing cubes
🧳Favourite travel bag: Osprey 40L Fairview
📱 ESims: Airalo
🩹 DIY Travel Medical Kit
💸 20 Cheap Travel Items Under $20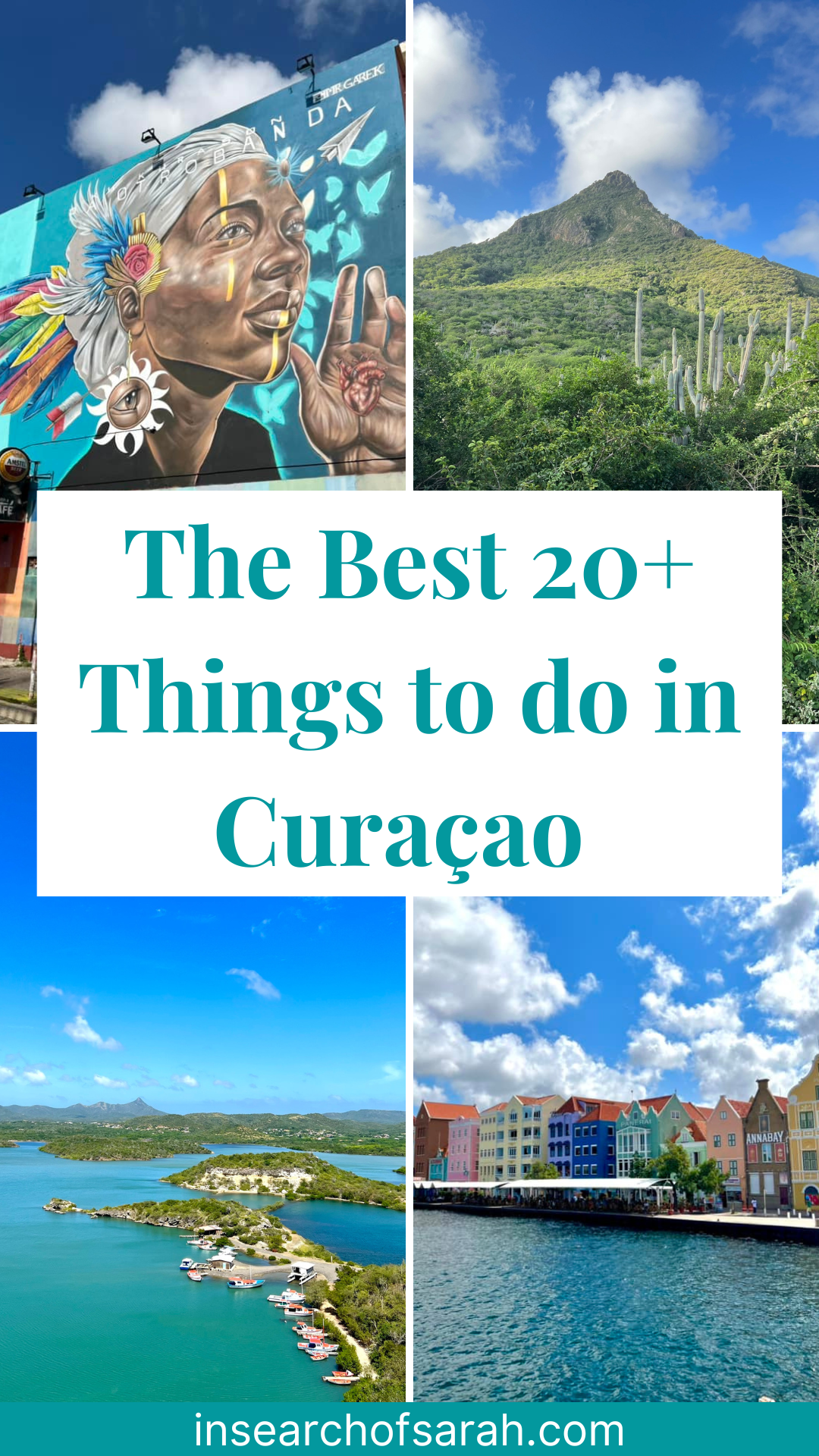 Where is Curacao?
Curacao is a part of the ABC islands (Aruba, Bonaire, and Curacao) and sits roughly 40 miles off the coast of Venezuela.
Due to its proximity to the equator, it's below the hurricane belt and while it can sometimes be windy, that warm breeze is a welcome feeling on those consistently warm 80 degree days year round!
Where to stay in Curacao
There are a number of places to stay in Curacao, but my favourite and recommended area is right in the heart of Willemstad.
We stayed at the beautiful Renaissance Wind Creek Curacao Resort which is located in Otrobanda, right next to the historic Rif Fort that has been converted into a number of shops and restaurants.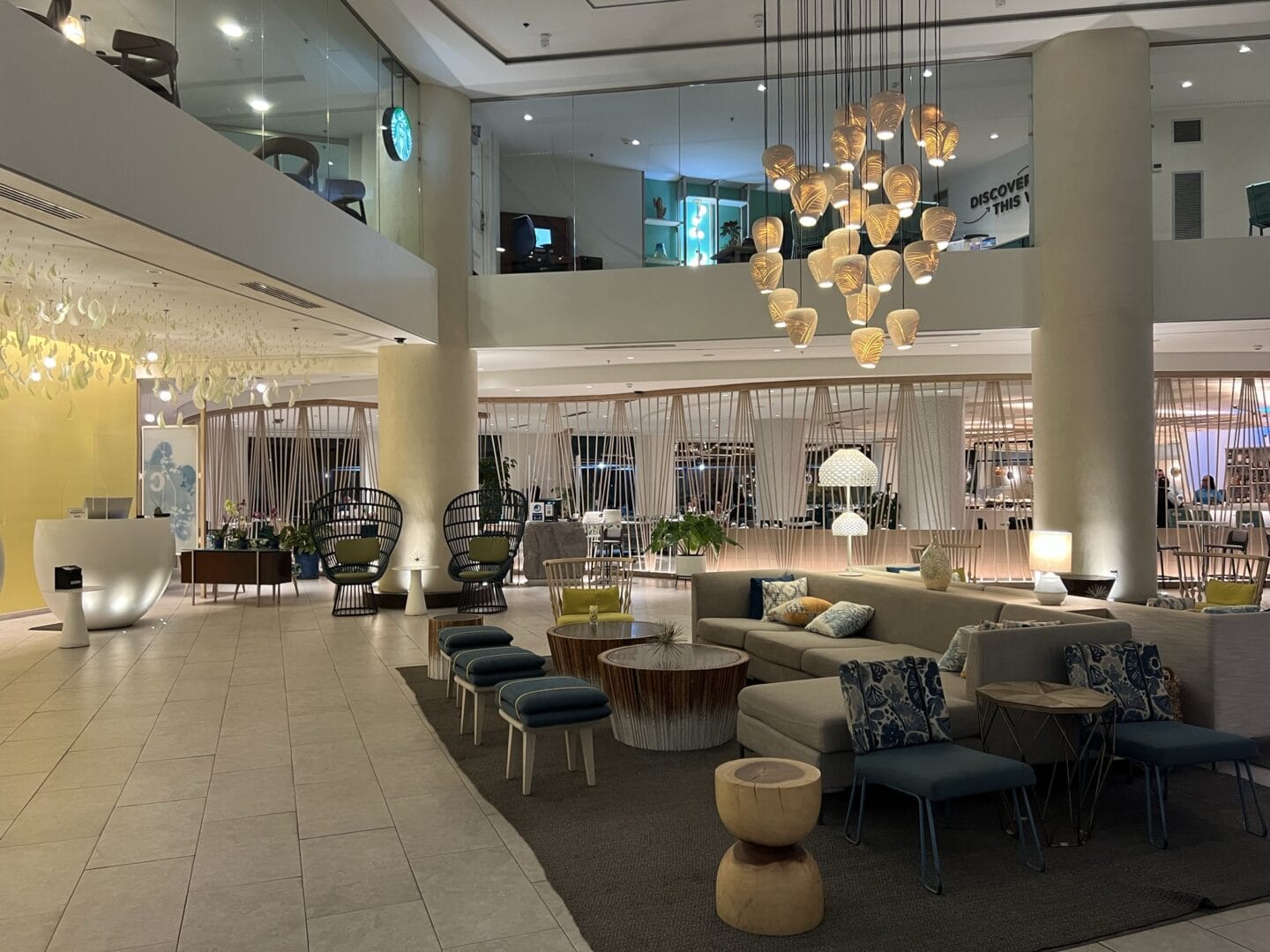 The Renaissance Wind Creek provided a fantastic base to explore Willemstad and get around Curacao.
It had a car rental place right across from the hotel, quick access to the Queen Emma Bridge, Punda, and Pietermaai, with a number of awesome restaurants, shopping, and things to do nearby!
We loved waking up every day and seeing which cruise ship was in port that day. There is an awesome made-made infinity beach on the resort, entirely filled with sand. It's pretty unique to have that right in Willemstad!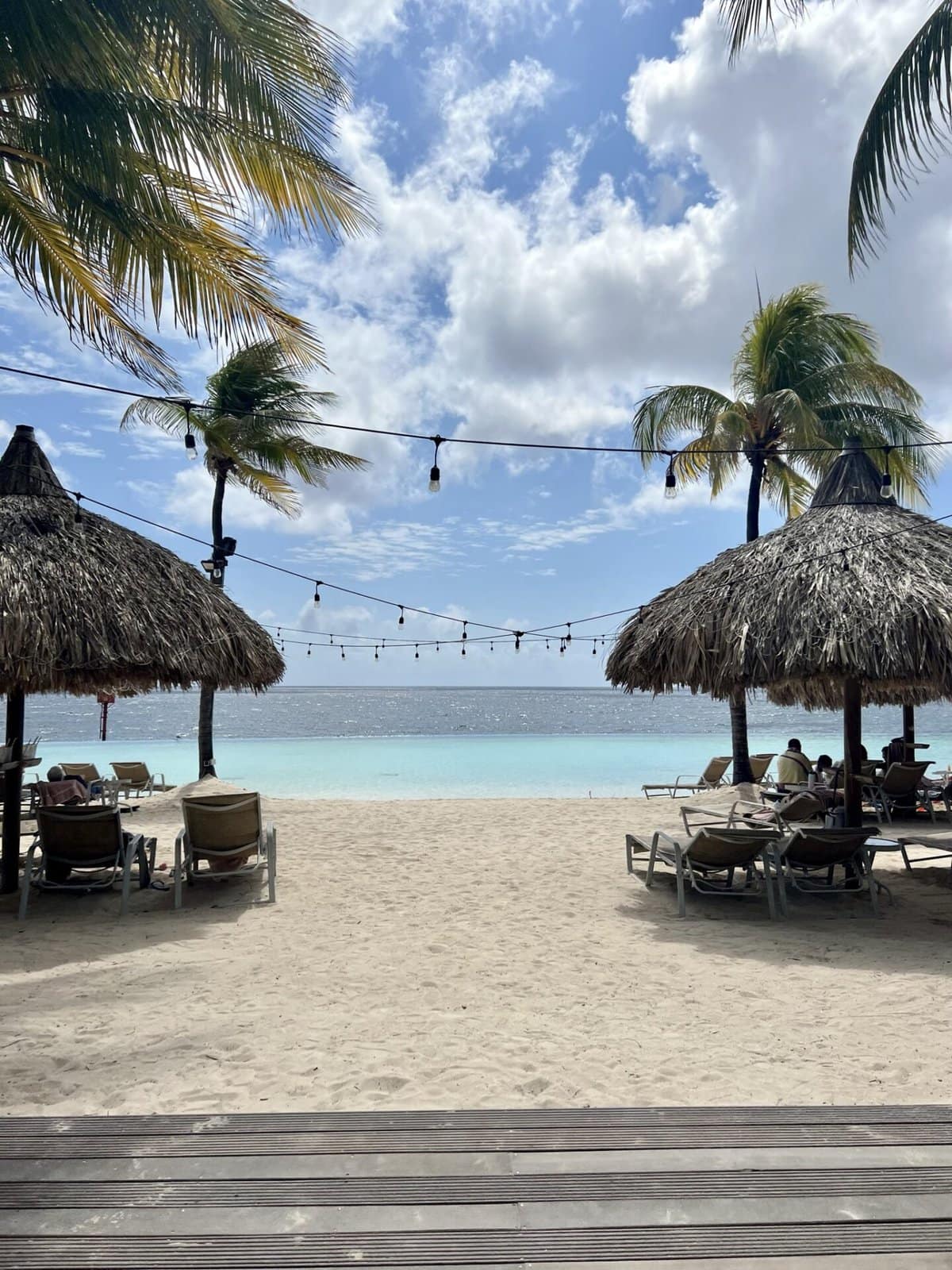 Helpful Curacao travel tips
There are a few things you should know before going to Curacao.
First, be sure to fill out your digital immigration card! You can do this a week before leaving for your trip. It's simple to do, and you can either print it out (I did this, much easier!) or display it on your phone. Take a screenshot though for easy access!
English is widely spoken in Curacao, as is Dutch and the local language, Papiamentu. Papiamentu is a Creole language based on Portuguese, Spanish, Dutch, French, and English.
You may pick up a few words while you're there, and be prepared to hear and see dushi a lot! It can describe a wide variety of things, from food to people with many meanings, like sweet, nice, cute, or even sexy.
Bring USD! USD currency is accepted everywhere. If you pay in cash, you may receive the local currency back. The Netherlands Antillean Guilder is the equivalent of $0.76 USD or $0.56 CAD.
Check out what other things you should know before going to Curacao!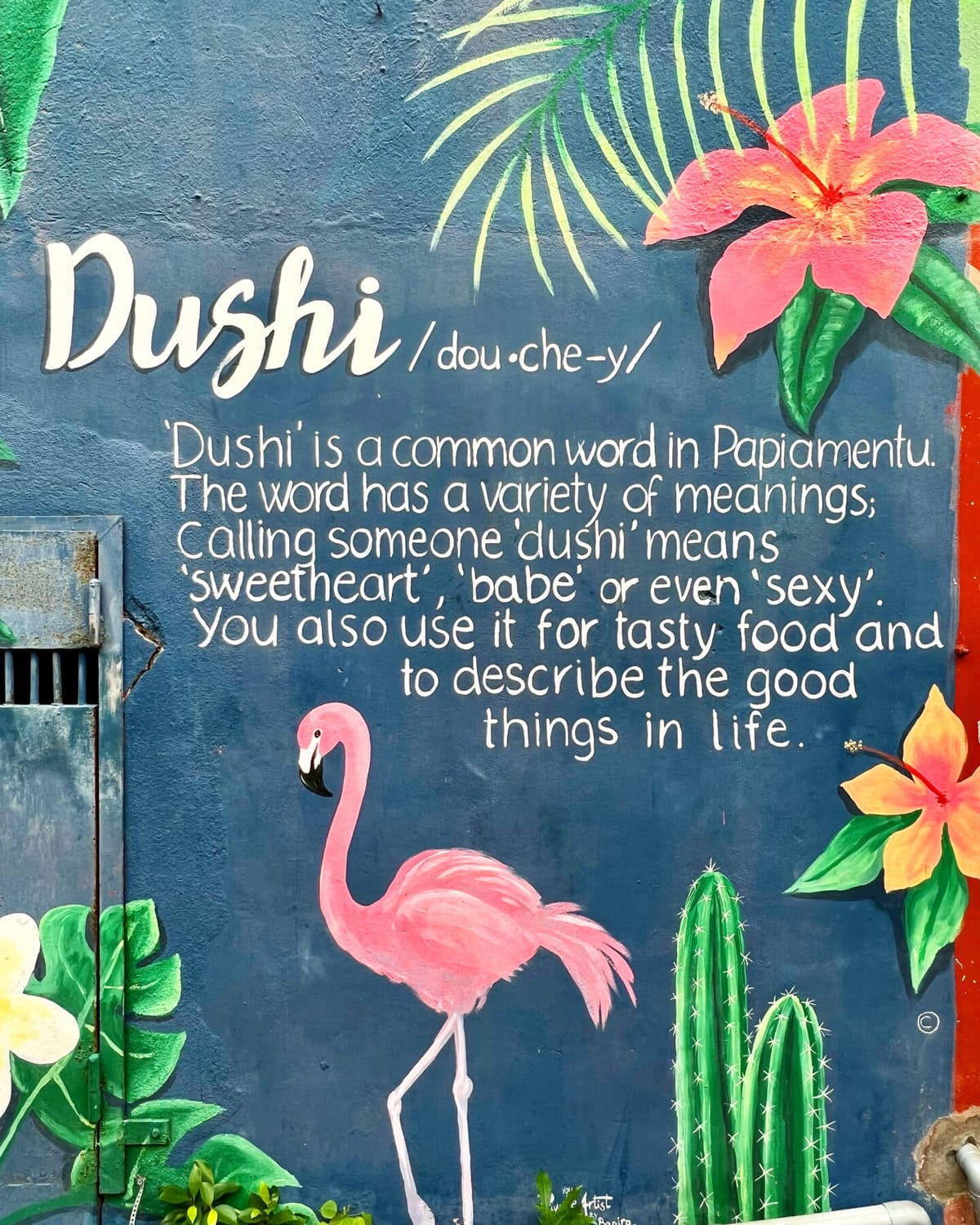 Is Curacao worth visiting?
Without a doubt, Curacao is absolutely worth visiting. It became our favourite Caribbean island and it's definitely one of the most memorable and best trips we've ever had.
Visiting Curacao will completely change your view of Caribbean travel. We were kind of feeling ~over~the all-inclusive vacations, and while it served its purpose of "chillaxing", we craved more. Curacao gave us that and so much more.
There is something for everyone on this colourful island. Want to hike? Curacao has you covered. Want to check out some beautiful beaches? You can visit one a day for a month and still not see them all? Into diving and snorkelling? It's some of the best in the Caribbean. Want to learn some history and check out some art? You can easily do that too.
Curacao is incredible. We weren't really sure what we were going to expect when visiting, but now that we've been we can't wait to return. It's great for families, solo travellers, couples, and those seeking relaxation and adventure.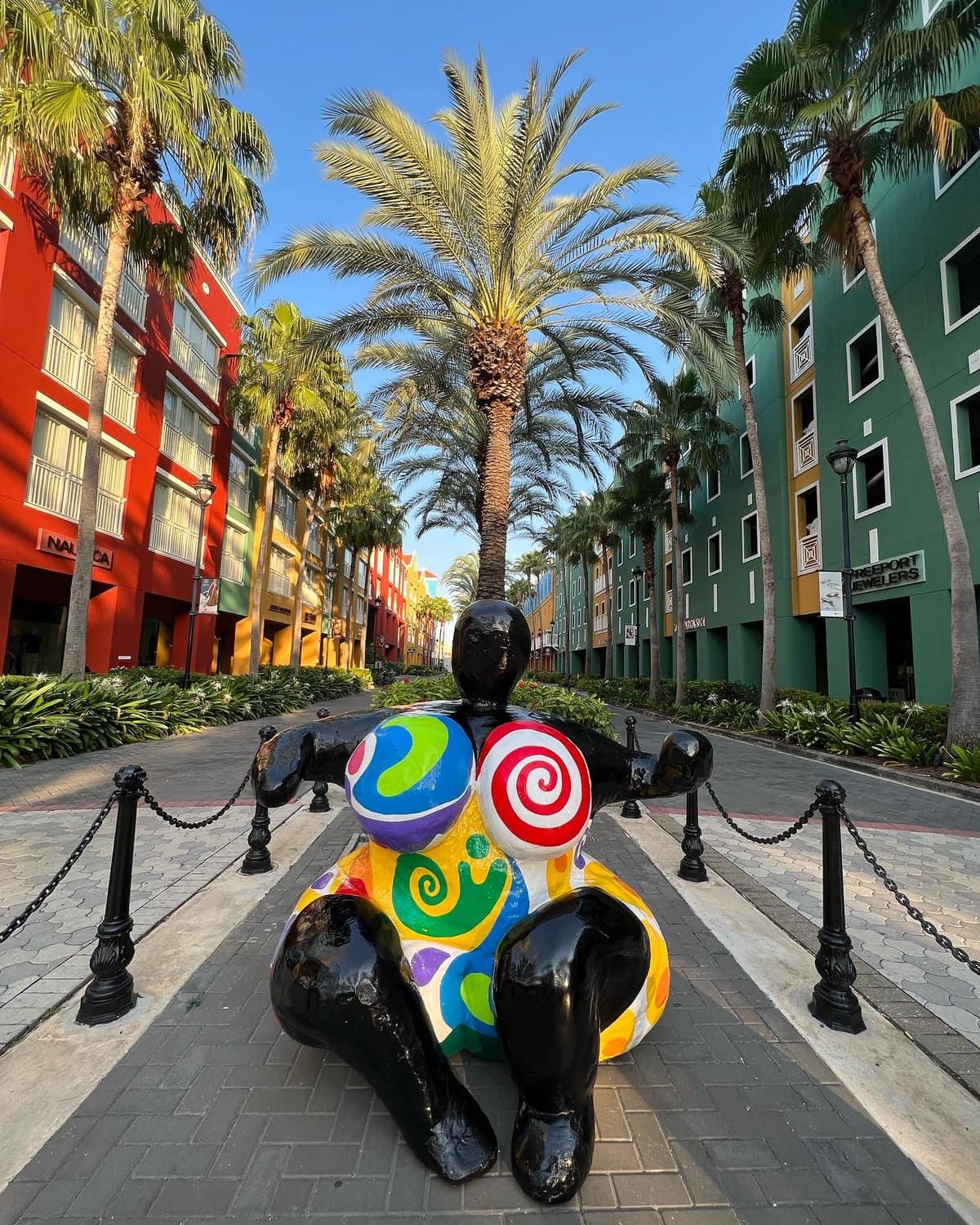 Best Things to do in Curacao
For those of us who typically lounge around on tropical vacations indulging in all you eat meals and drinks, this is not that type of trip. By all means – it certainly can be – but trust me, you would be doing a disservice to Curacao!
Curacao has some of the most beautiful places I've ever seen!
Come experience the island, rent a car (driving is easy in Curacao!), and immerse yourself in the local culture. It'll be one of the best decisions you'll ever make and you'll finish your trip to Curacao with lasting memories while yearning to return!
Here are my favourite things to do in Curacao!
Walk across the Queen Emma Bridge
Walking across the Queen Emma Bridge is kind of an obvious given while in Curacao, but hey, I had to mention it!
Queen Emma Bridge – also known as the "Swinging Old Lady" – is the longest floating pontoon bridge in the world!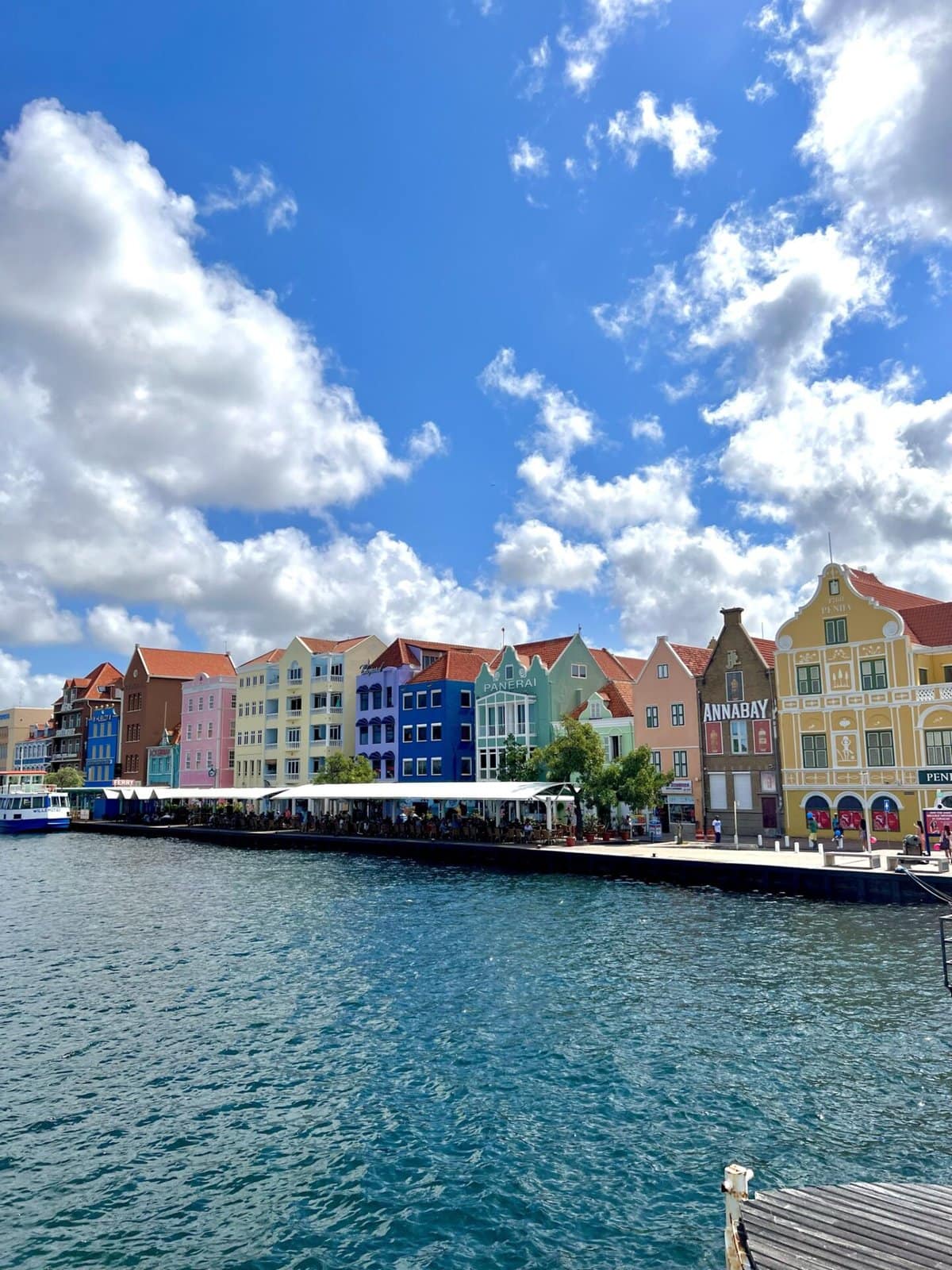 Originally built in 1888, this bridge floats across St. Anna Bay and joins Punda to Otrobanda. It also swings right open to allow for larger ship traffic to pass through the channel.
Worried about the bridge being open and trying to get across? Don't fret it – there are free ferries that run back and forth from Otrobanda to Punda while the bridge is open.
The Queen Emma Bridge offers that perfect postcard photo of Handelskade during the day time. Be sure to visit at night, too. That's when the bridge is the most beautiful, in my opinion!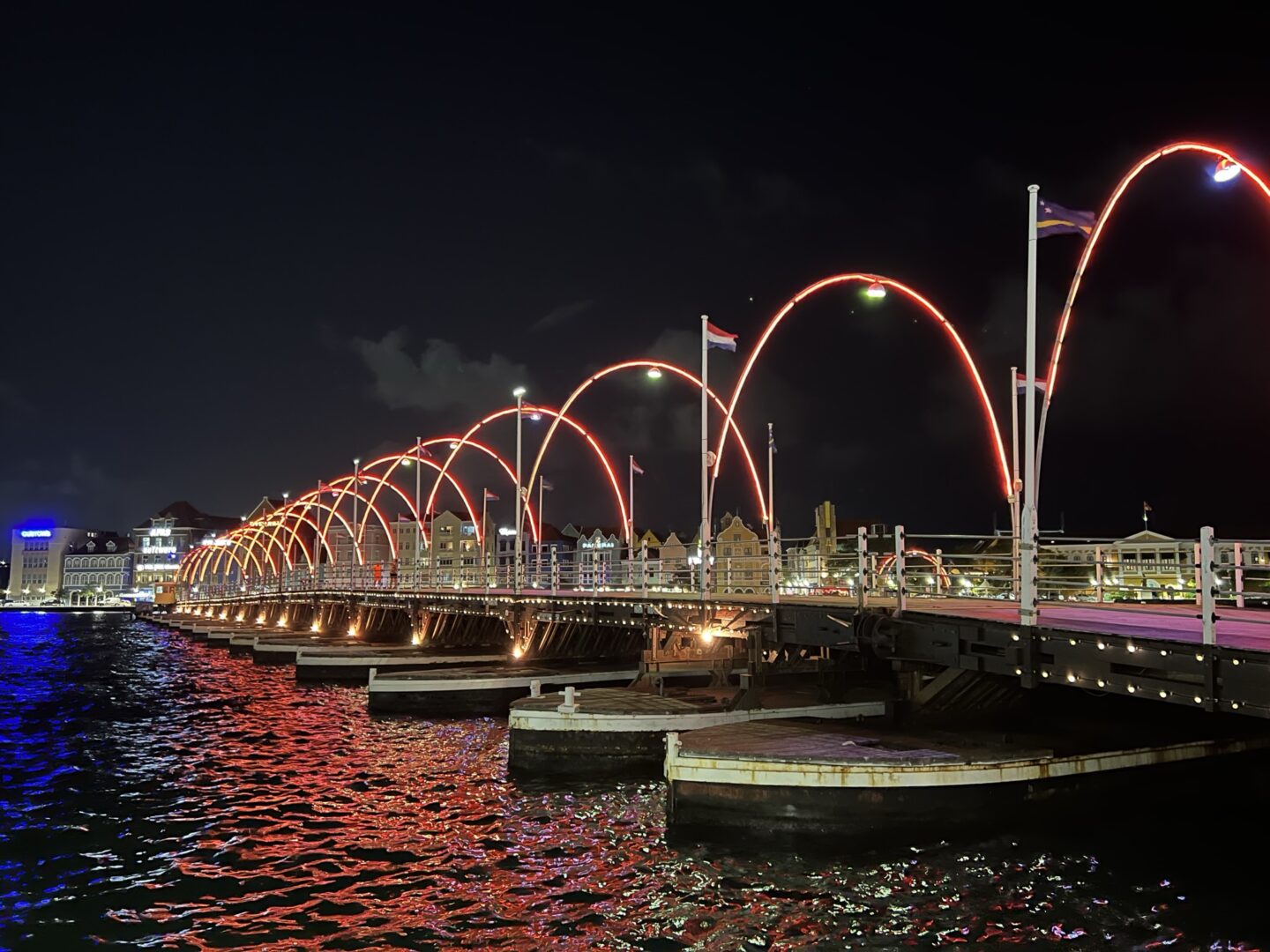 Look for for Flamingos
Did you know you can see flamingos in Curacao? There is a flamingo sanctuary located on salt pans of Jan Kok in St. Willibrordus, also called the saliña of Rif-Sint Marie.
We went here with high expectations, but due to the timing of the tides and our early morning visit, we only saw three way out in the distance. I'm sure if you visited later in the afternoon when the tide is higher, you would see a lot more! This is what we were told by locals and other visitors.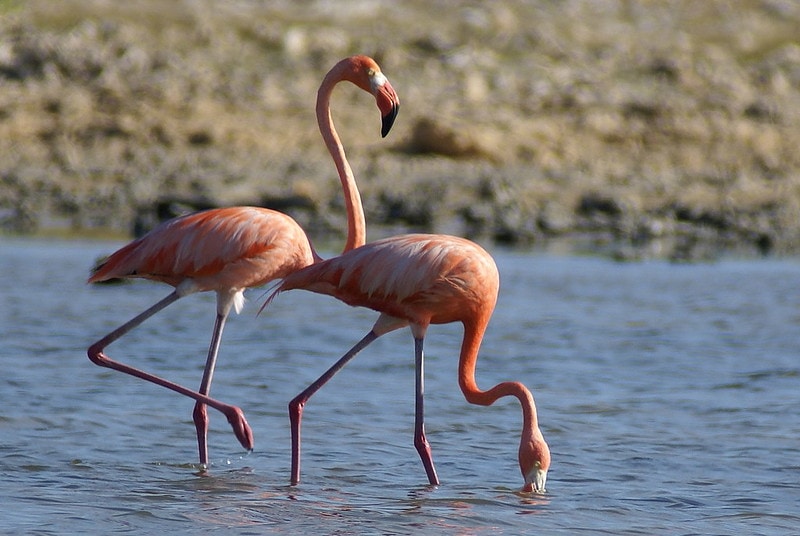 That being said, the grounds are really unique and the scenery is awesome too, so it was well worth the stop!
If you're a bird watcher, this is a great place to come! There is a lookout tower you can go up for a higher vantage point of the salt pans.
There is no dedicated parking lot for seeing the flamingos at Jan Kok, but there is ample shoulder parking along the road. Just be sure to lock your vehicle!
Hike to the highest peak in Curacao
If you told me that I'd be climbing a mountain before sunrise on a Caribbean vacation, I'd think you were nuts.
Seriously. Who exercises on vacation?
Let me rephrase that. Who wakes up at 4:00 am on vacation to hike and rock climb 1220 feet before sunrise?
Hiking Mount Christoffel at Christoffel National Park was one of those things where I felt invincible after reaching the summit. It was a life moment I will never forget since there were some points during the hike I didn't think I was going to make it.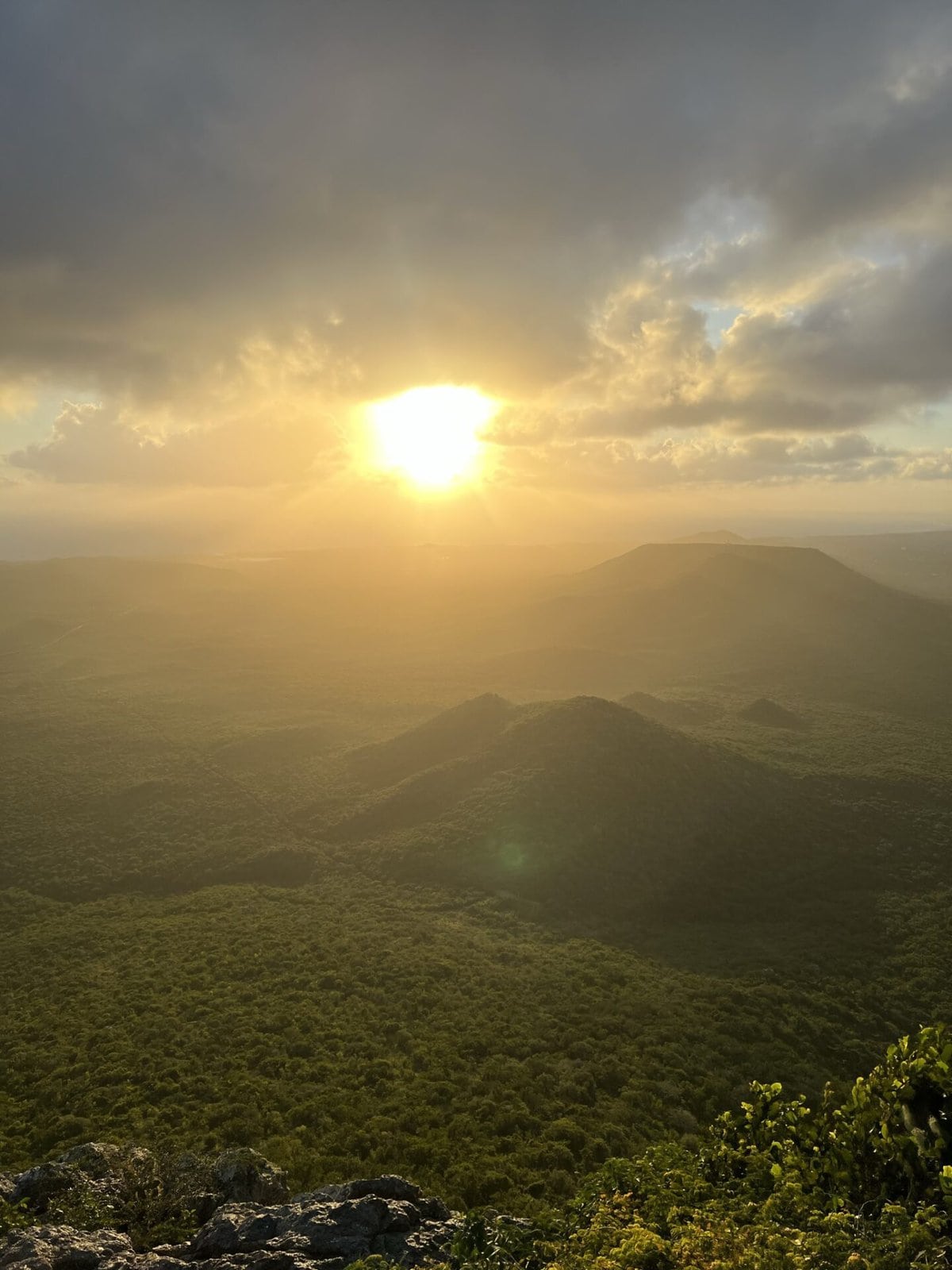 Mount Christoffel – also referred to as Christoffelberg – is the highest peak on Curacao. Its breathtaking climb leads to amazing views that will make you feel alive – and accomplished.
While hiking Christoffelberg isn't for the faint of heart (I wouldn't recommend it if you have mobility issues!), those with strong mental fortitude will be rewarded with a cool mountain breeze and unbelievable views. Bonus points for those who hike up in the dark and make it to the peak for sunrise!
There is a lot of steep climbing – and rock climbing involved – and it's by no means easy, but those who are determined to make it to the top will achieve it.
You can't actually start hiking Christoffelberg past 10:00 am. It gets too hot and quite honestly, even after our descent we reached the parking lot at 8:30 am and pitied those just starting. The sun was beating down on us and it was much better hiking in the dark with headlamps.
Visit a beach – there are 40 to pick from!
Curacao has some of the bluest water and best beaches I've ever seen. In fact, there are over 40 beaches you can visit on the island.
The best beaches in Curacao are found on the west end of the island – a quick 25-45 minute drive from the capital city of Willemstad, and they will leave you speechless.
Want to cliff jump? There's a beach for that! Want to see wild pigs? You can do that too! What about snorkelling with sea turtles? You're in luck, because Curacao offers that too – and it's all free – just pay your cost of admission to the beach (if applicable) and rent your beach chair!
We definitely didn't get to visit nearly as many beaches as I had hoped on our recent trip (that'll be our focus next time!) but we visited Playa Porto Marie, Playa Forti, Mambo Beach, and Tugboat Beach.
The beaches in Curacao are all diverse and no two are alike, which is why we loved them so much.
Some of the most scenic beaches include Cas Abao and Grote Knip – with stretches of white sand and teal blue water. They're definitely a feast for the eyes!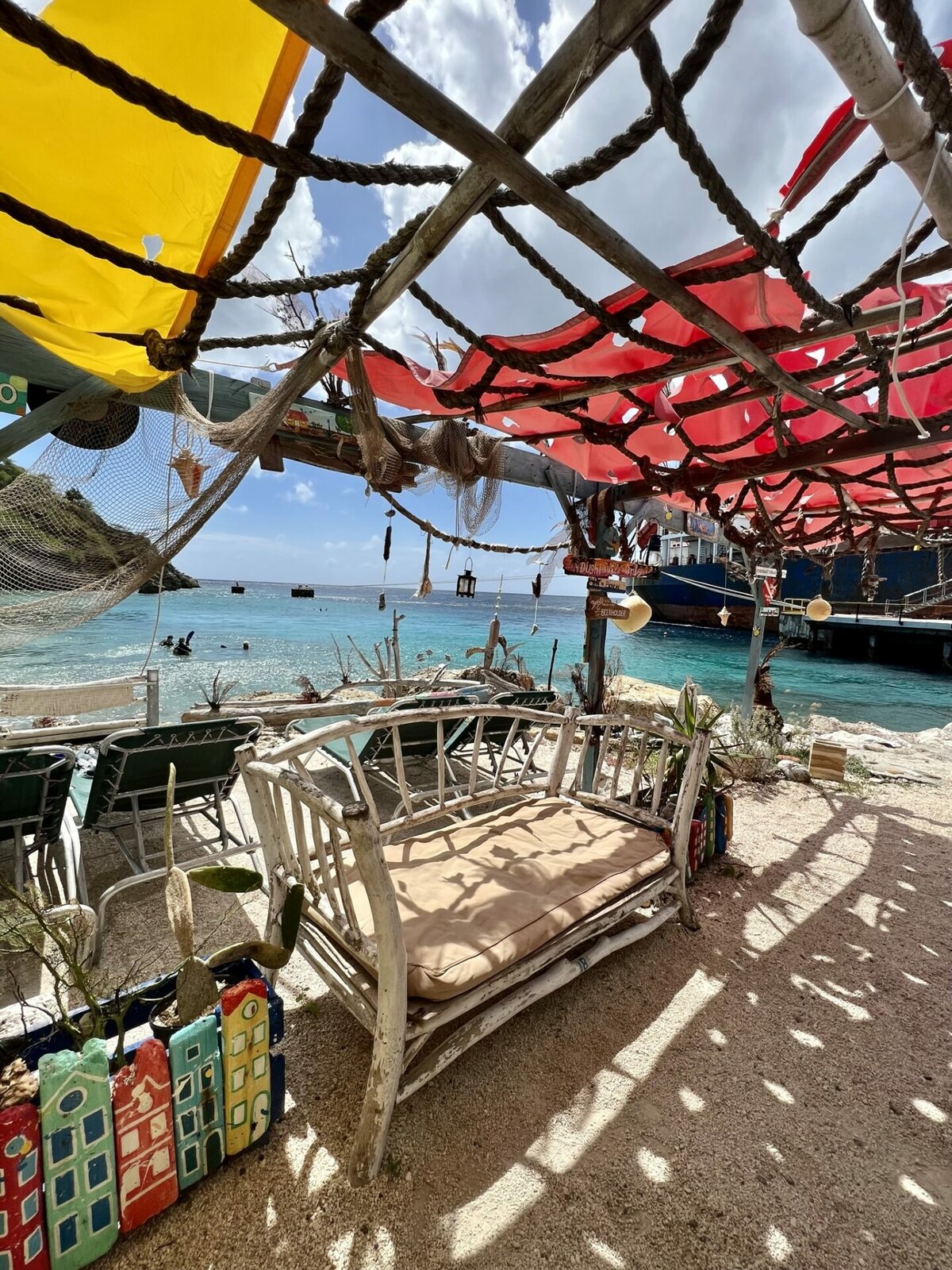 Sample local cooking at Plasa Bieu
Of all the amazing restaurants in Curacao we ate at, by far our favourite is Plasa Bieu.
You can't visit Willemstad without heading over to Plasa Bieu for some hearty local cooking. You have a choice of 7 vendor stalls serving up traditional Curacaoan dishes, and be prepared to see iguana on the meal!
We have never had such flavourful food at such an incredible value; Plasa Bieu had the cheapest meals we found on the island.
Be sure to try fried plantain, curry goat, and pumpkin pancakes. Have a seat at one of the various picnic tables and enjoy the local vibe.
Related: Adorable Cafes in Willemstad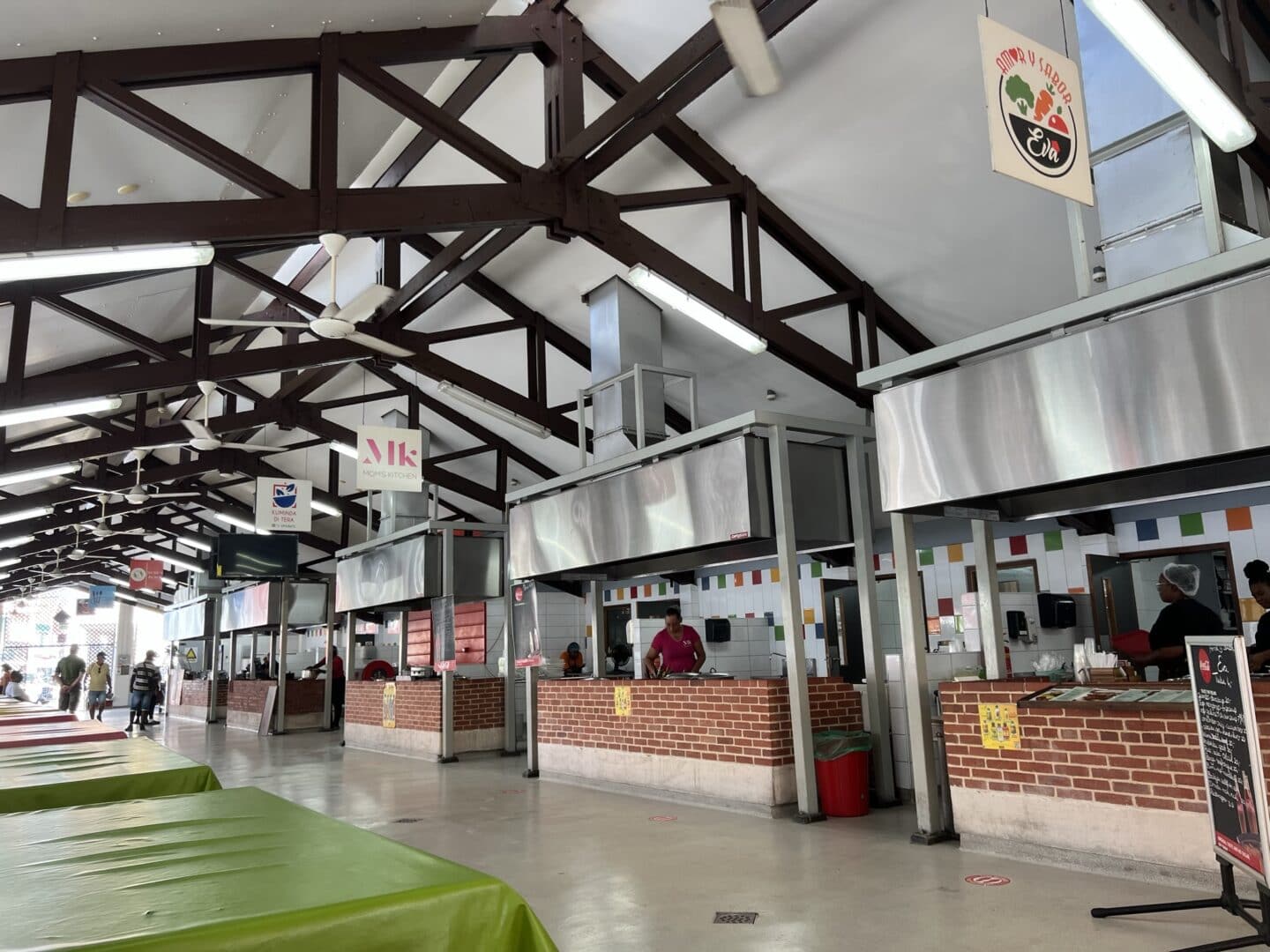 Explore Hato Cave
As soon as I found out that Curacao has caves, I knew we had to visit Hato Cave.
Located right by Hato Airport, Hato Cave is an other-worldly place that almost looks unreal, or like it's right out of a movie set! It used to be underwater hundreds of thousands of years ago, and now provides unique insight to the past.
Guided tours cost $10 USD per adult, and last around 45 minutes. You'll be taken through the various chambers of the caves and will learn its history, like how it used to be a place where escaped slaves would seek refuge. You can even see scorch marks from fires on the ceiling of the cave.
Be prepared to see bats (trust me, they're cute!), all kinds of stalactites and stalagmites, and unique formations.
There are 49 steps leading up into Hato Cave, and plenty of cooling fans inside, so your visit will be interesting and comfortable.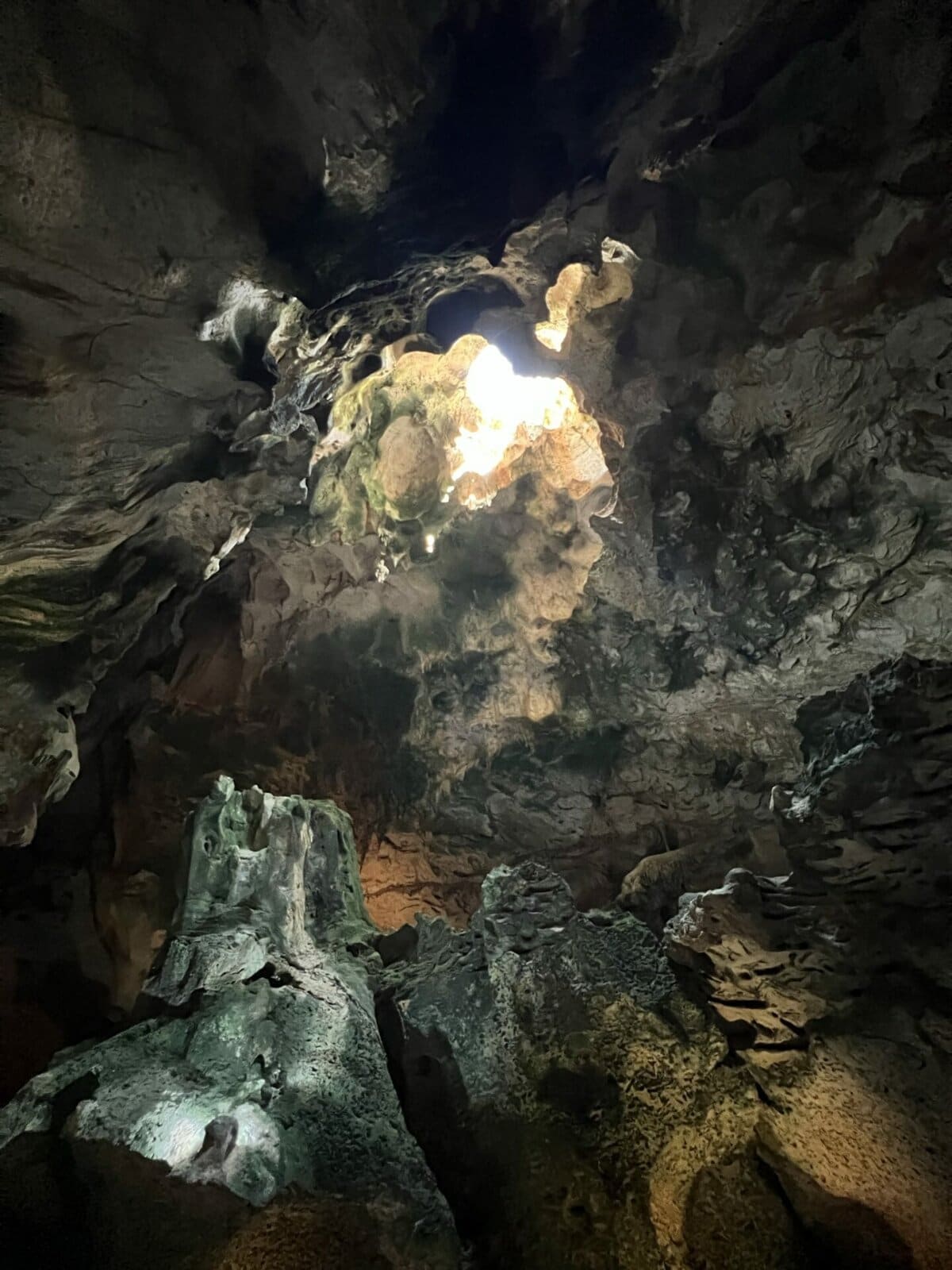 Explore an old fort: Fort Beekenburg
You can explore around the grounds of an old fort for free! Fort Beekenburg is located near Tugboat Beach and is a fun thing to do at the same time if you're out that way.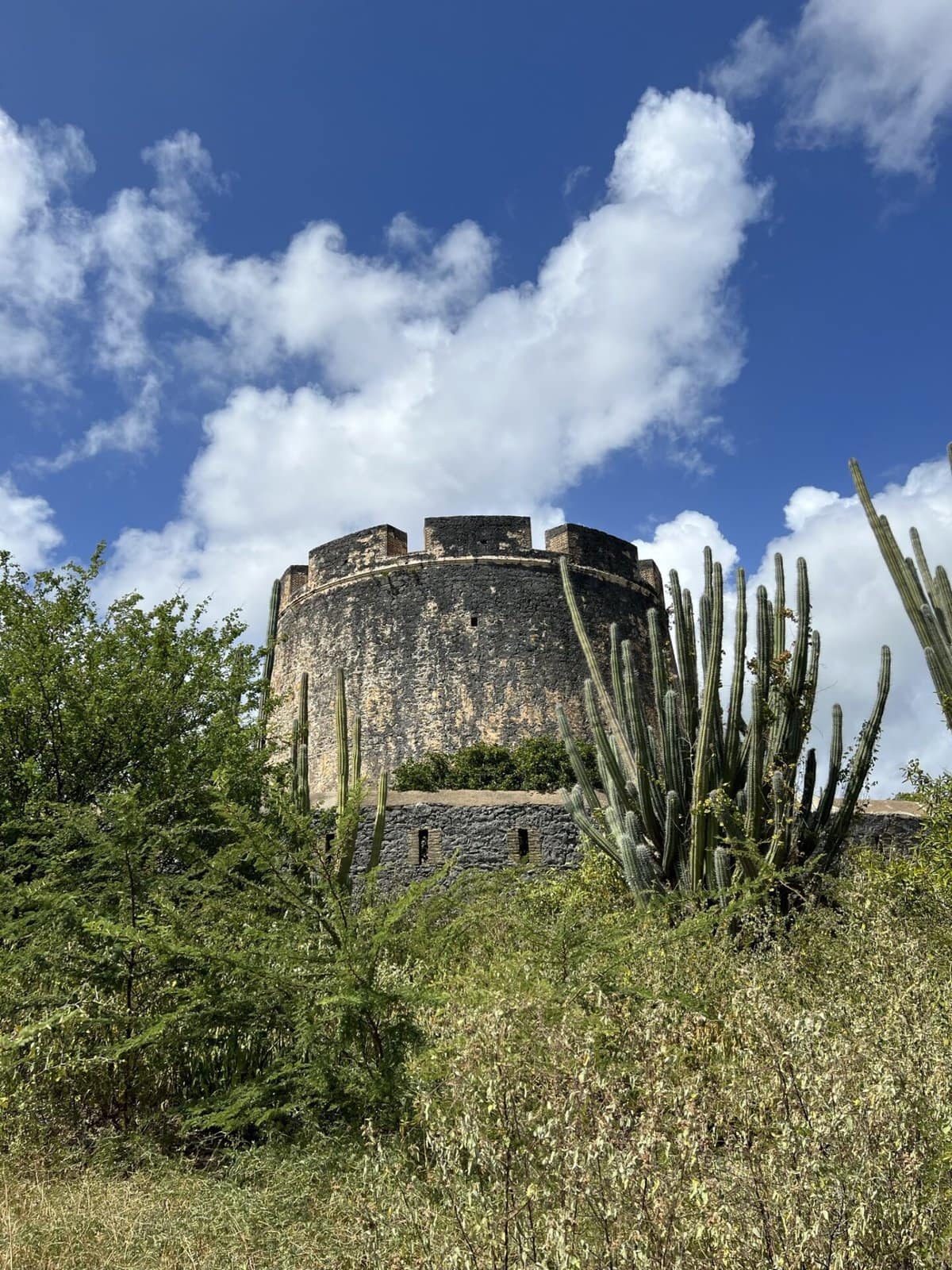 Fort Beekenburg is a Dutch military fort that was originally built in 1703 to protect Caracas Bay and Spanish Water from the British, French, and even pirates!
The views from Fort Beekenburg are breathtaking. There are old cannons laying about, an old cistern to hold water (which is above ground and looks like an old house!), and a tower you can climb for 360 views.
If you head down to the beach here, you'll notice is almost entirely made up of coral pieces. The water literally sings to you as it laps the shoreline. You can also find sea glass here, too!
Go on a free walking tour
One of the best ways to get to know a location is to take a free walking tour.
We took the best free walking tour in Willemstad with Free Walking Tours Curacao and learned so much about Curacao and Willemstad's history.
We were also taken to some incredible places with street art we probably would've missed on our own since they're off the beaten path.
I highly, highly recommend taking a free walking tour of Willemstad while you're visiting. Tours run daily at 9:00 am and meet just outside the Rif Fort.
Walking tours last roughly 1.5 – 2 hours and meander through Otrobanda and Punda. Wear sunscreen, comfortable shoes, and a hat!
Releated: 10 Epic Things to do in Willemstad (Especially from the Cruise Port!)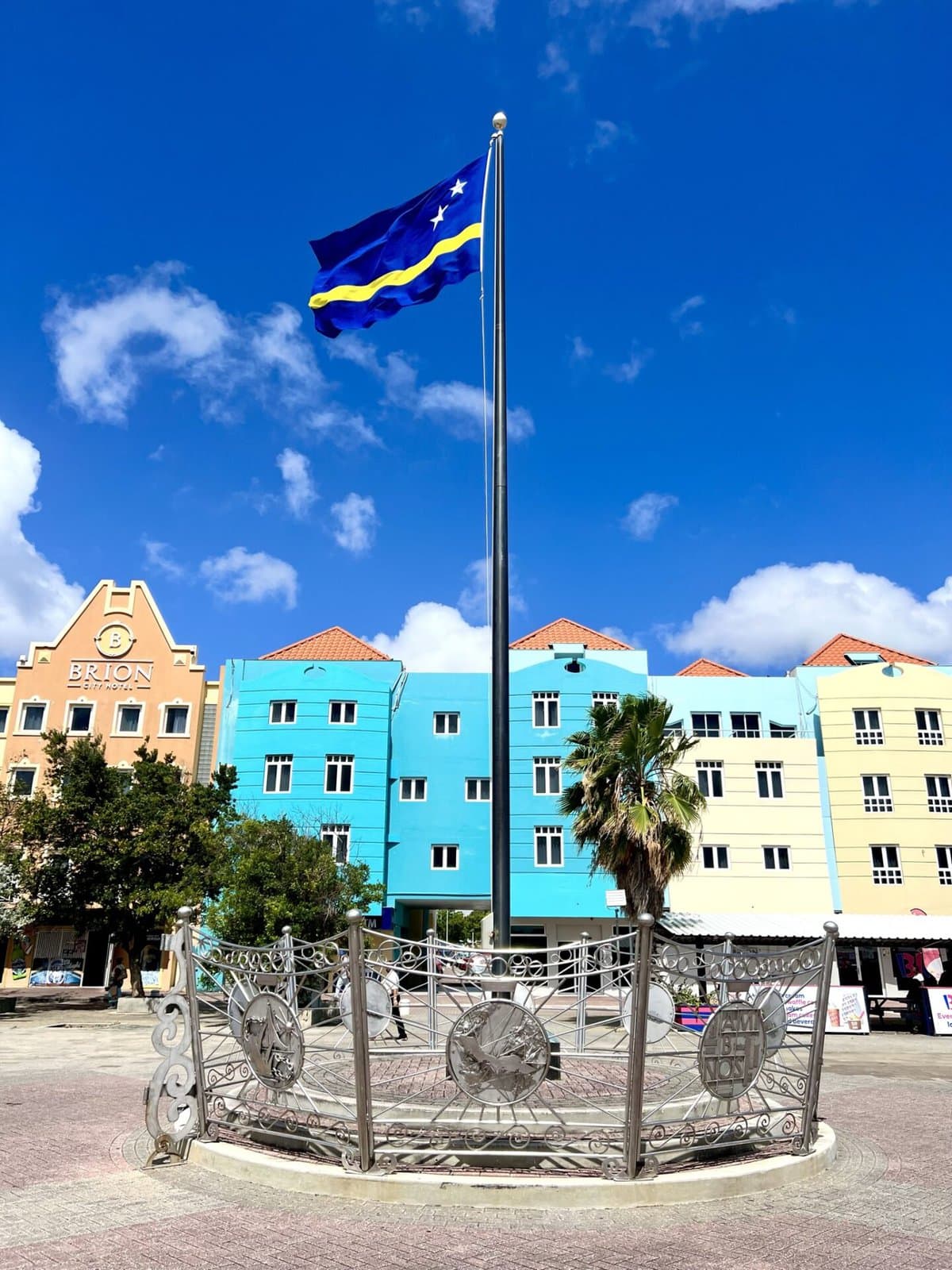 Get amazing views at Santa Martha Bay
One of the best places to get a breathtaking view of Curacao, aside from Mount Christoffel, is Santa Martha Bay.
It's only reachable by car (or by guided tour or taxi) and it's well worth the winding road to get there.
There is a tiny parking lot for 2 cars and the views sweep over Santa Martha Bay. It's a great spot for a rest while you're out visiting Westpunt (the west side of the island).
Be mesmerized by ocean waves at Shete Boka National Park
Visiting Shete Boka National Park was by far one of my favourite things to do in Curacao. I could've stayed there all day – and I would have too – if they weren't closing!
Shete Boka National park translates to 'seven inlets' along 10 km of rugged coastline where you can see enormous waves crash against the craggy cliffs and up into the air.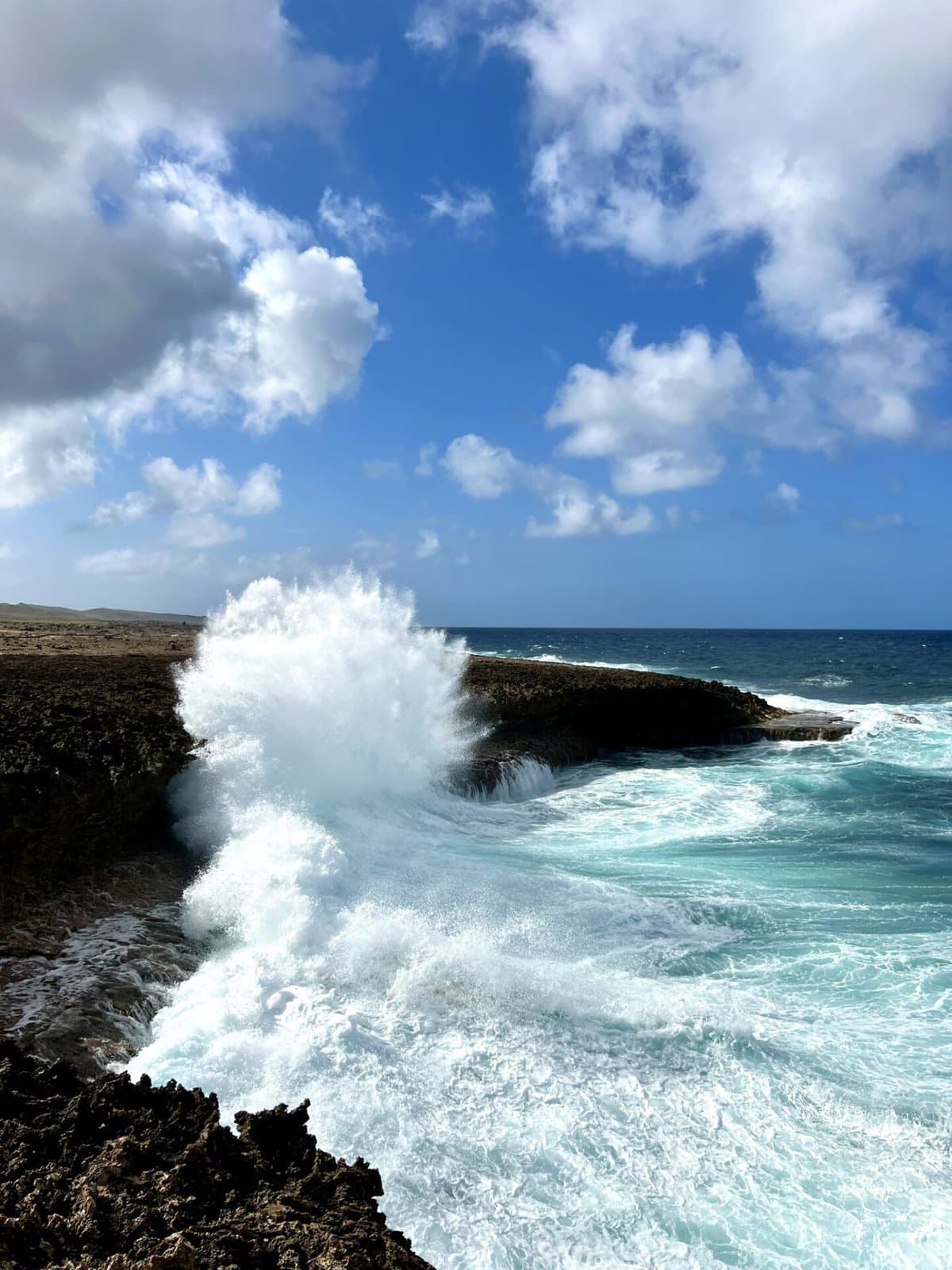 Shete Boka National Park was established in 1994 as a protected area for nesting sea turtles. It's hard to imagine a spot like this being a nesting area for Hawksbill, Loggerhead, and Green turtles!
Nesting season is May – December.
Shete Boka is an other-worldly place in Curacao located on the north coast. It's absolutely worth the drive out to the Westpunt (the west side of the island), and can easily be tied in with beach hopping or a way to relax after hiking Christoffelberg!
P.s. The road to Boka Pistol is pretty awful, so take your time navigating around potholes and deep ruts. This was our favourite one to visit, so it's worth the trek! You don't need 4×4 here, but just be wary of where your tires are!
The park is open daily from 9:00 am – 4:00 pm.
Entrance is $10 USD per person. Maps are available for $1 USD.
Have dinner with views from above at Fort Nassau
If you're looking for a memorable place to eat (and one that's romantic to boot!), head to Fort Nassau.
Fort Nassau was built in 1796 to protect St. Anna Bay and Willemstad from attacks. It's since had various uses, including a control tower for the Queen Emma Bridge, and has been used as a restaurant since 1959.
Visiting Fort Nassau for lunch or dinner will be one of your most memorable dining experiences in Curacao. This restaurant had some of the best food we tried at a restaurant while we were in Willemstad.
Perched 223 feet above Willemstad, Fort Nassau is a spectacular place to view the sunset while enjoying your dinner. Be sure to arrive early to explore the old fort a bit first, and book your reservations online to guarantee a table!
Fort Nassau is best reached by your rental car or a quick taxi ride from Willemstad by heading over the Queen Juliana Bridge.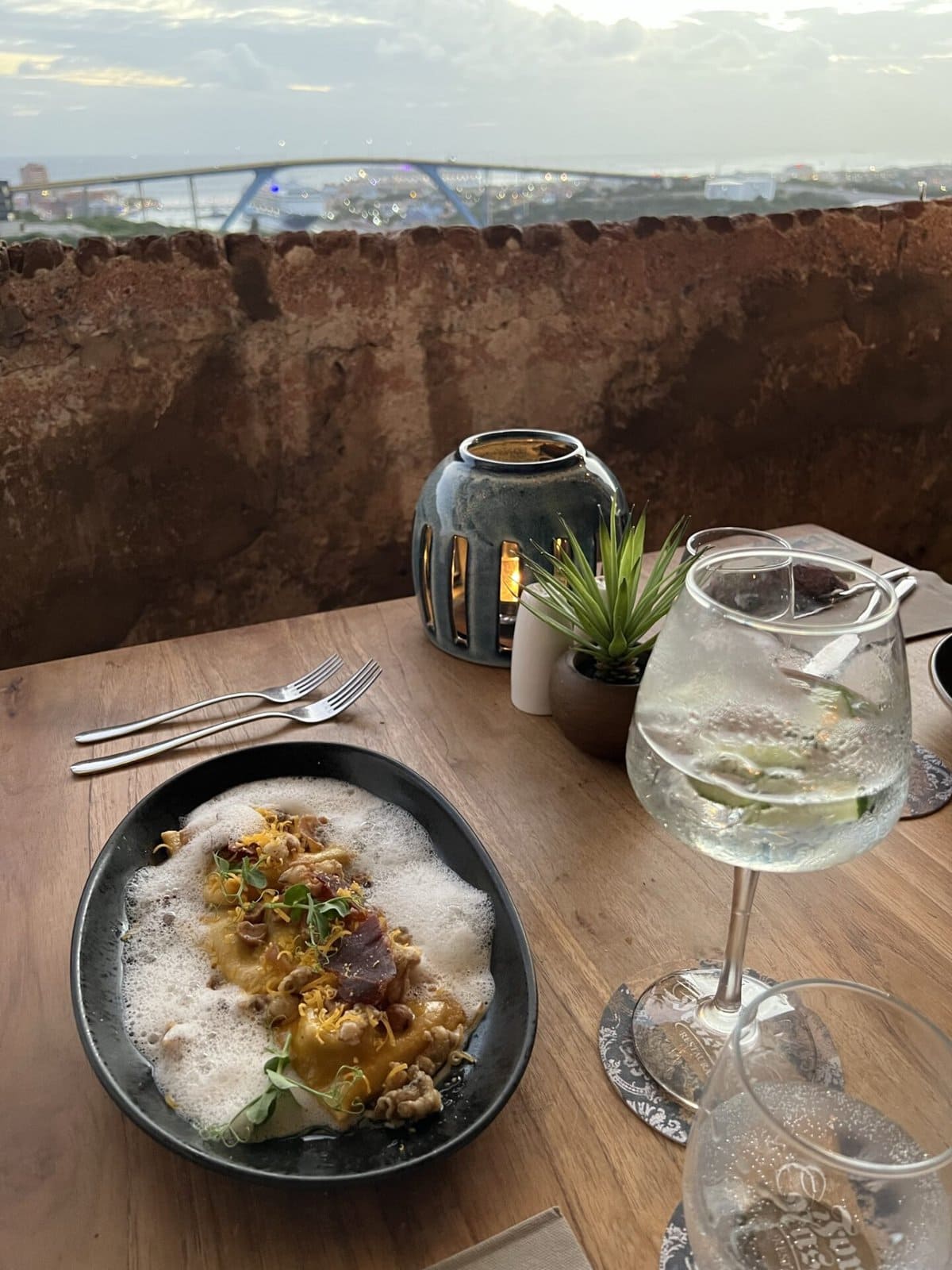 Cheap and Free Things to do in Curacao
There really wasn't anything we did in Curacao that was expensive. There are a number of free or cheap activities to do in Curacao that won't break the bank! Of all the things to do on the island, the most expensive activity was eating!
Most museums charge $10 USD per person. Mount Christoffel is $15 USD per person, Hato Cave is $10 USD per person, and Shete Boka is $10 USD per person. These activity costs are minimal considering virtually everything else in Curacao is free to do!
Keep in mind while most beaches are free to access, if you want a lounger you'll have to pay! Beach chairs range anywhere from $2.50 – $5.00 USD per person.
Cheap and free things to do in Curacao
Visit Hofi Pastor, the oldest tree in Curacao! It's predicted to be at least 800 years old. Entry is $3 USD per person.
Take a free walking tour of Willemstad! Guided tours are free, and guides work based on tips. (Recommended $10-$15 USD per person in tips, which is well worth it!)
Go on a self-guided street art tour of Willemstad. You can easily spend half a day wandering Otrobanda, Punda, and Pietermaai! (free!)
Visit one of the island's many beaches (free – just pay for beach chairs if you wish!)
Go cliff jumping at Playa Forti (free – if you're brave enough!)
Visit the lookout at Santa Martha Bay (free!)
Snorkel with sea turtles at Playa Piskado and Playa Grandi (free!)
Visit with wild pigs at Playa Porto Marie (your best best is early evening. Entry is $3 USD per person plus lounger)
Take a self-guided tour of an aloe farm (free!)
Other awesome things to do in Curacao
Visit the Cathedral of Thorns. Explore a full building-sized illuminated labyrinth made entirely of thorns from the Acacia Tortuosa bush. Loaded with symbolism, the Cathedral of Thorns is a great place to reflect. Visit at night for a tour with the artist himself. Admission is $20 USD per person.
Learn (and sample!) Blue Curacao at Landhuis Chobolobo. This liquor is one of the things Curacao is best known for. It's made with the dried peel of the Laraha citrus fruit (similar to orange), which is grown in Curacao! Take a guided tour of the facility (entry also grants you a cocktail!). Tours start at $15 USD per person.
Learn some history at one of many museums. From the Maritime Museum, Hura Kulanda Slave Museum, Jewish Cultural Historic Museum, and the Curacao Museum, there are a variety of ways to spend an hour or two if you're looking for a reprieve from the sun! Museums are $10 USD per person.
Take a catamaran over to Klein Curacao. This uninhabited island has gorgeous water, an old lighthouse, and a shipwreck to discover! This also includes a BBQ lunch, awesome snorkelling, and unlimited drinks!
Related Posts
Pin it for later!